$100 for fabric!? Best giveaway ever! Harts Fabric is sponsoring this giveaway, which I am really excited about because I love Harts Fabric and you will, too. This is the kind of site that has everything in every color. They especially have a ton of fashion and the best apparel fabric, which is the hardest for me to source online. They are based out of Santa Cruz and have a storefront if you're local!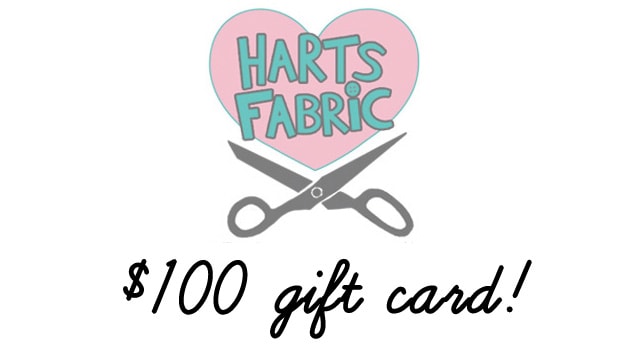 I think my favorite part of the site is how easy it is to find things. You can shop by color, which is really fun or by designer, theme, fabric type…so many ways to find what you need! It's easy to navigate and they seriously have everything. Here a just a few gorgeous things you can find in there:
1. Tons of jersey knits
2. Raincoat and Outwear fabric! (see…they have everything!)
3. Nani Iro Colorful Pacho Double Gauze
4. Stretch Twill (really want to make some boy pants with this!)
5+6. Liberty of London 
7. Stretch Velvet
8. Kokka Imports (dancing bears, adorable!)
9. Unique swimwear fabrics
When I was designing for Project Run and Play All-stars I bought my pink wool fabric for the bubblegum coat from Harts after looking everywhere for the perfect wool. I had a vision for the outfit and they had the color I needed. It is super great quality and I love sewing with nice fabric. Good fabric can really change the way you sew. So Harts Fabric is definitely the place to look if you need a certain fabric for a certain project!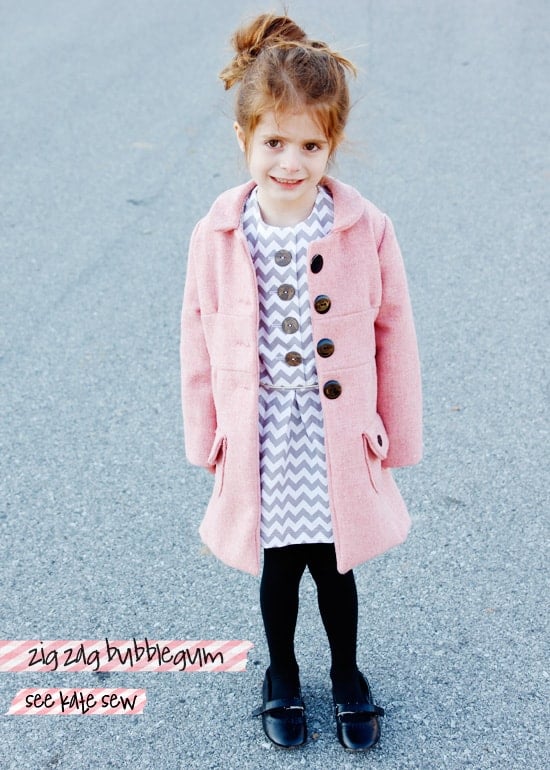 They also have a huge selection of knits, prints and solids! Ribbed knits, cable knits, sweater knits, interlock knits… (All kinds of knits!) I'm in a little knit-craze as of late, for obvious reasons, it's so fun to sew with! They have some truly unique stuff. I picked out a few favorites, shown below.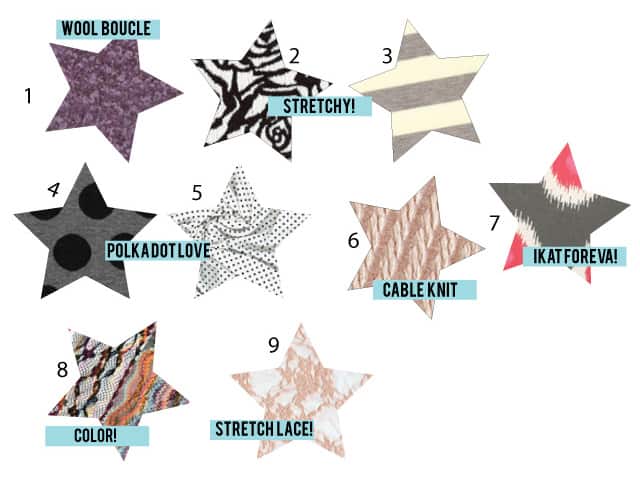 1. Wool Boucle (winter is coming!)
2. Knit Rose Print
3. Striped Knit
4. Onyx Interlock Dots Grey
5. Stretch Rayon Polka Dot
6. Pink Cable Knit
7. Ikat Home Dec (oh, they have home decor fabric, too! and just check out all the ikats! 4 pages!)
8. Colorful Zig Zag Lace (I want a slouchy tee made of this!)
9. Pink Stretch Lace
I told you, they have everything you could ever possibly want! I mean double gauze and stretch velvet in the same place!? So…want to win $100 to spend at Harts Fabric? What kind of question is that? Enter below in the Rafflecopter widget!