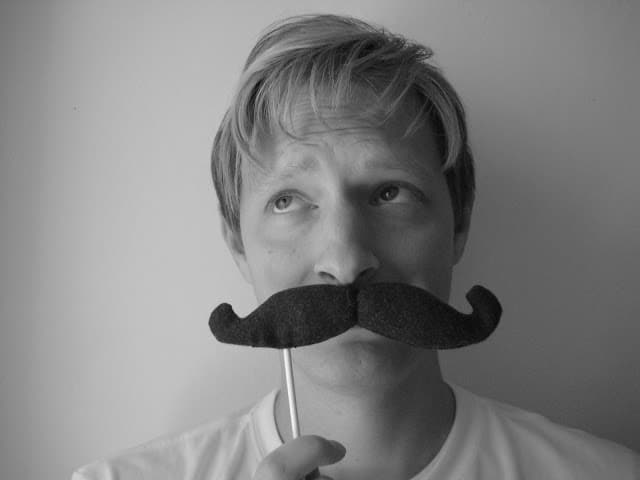 Why not take a thousand pictures with a silly mustache?? I can't think of any reasons! I'm too embarrassed to model this one but my super husband isn't.

This is a pretty easy project, much easier than growing one! 


1. Gather Materials
black flannel or similar material (any kind will do, but not too thick!)

lollipop stick (available in the candy section at craft stores)

glue gun

fiberfill

needle and black thread to close the stache
2. Cut out template and pin it to your fabric. Cut out stache, leaving about 1/4″ seam allowance all the way around.
3. Sew around the stache. I just leave the paper on and sew right along the edge of the paper. Leave a hole about 1 1/2″ on the underside of the stache where the stick will go.
4. Trim edges and clip corners. 

5. Turn right side out.
6. Stuff with fiberfill. 
7. Cover the end of the lollipop stick with glue and hold the hole open wide while you stick the stick in. Make sure it is straight before the glue dries. The glue will stick to the fiberfill and part of the stache.
8. Sew up the hole with the black thread using a blanket stitch (although it doesn't really matter what stitch you use if you have black fabric, no one will see!)
9. Tie a few lengths of black thread around the middle of the mustache to give it a more rounded and "trimmed" effect.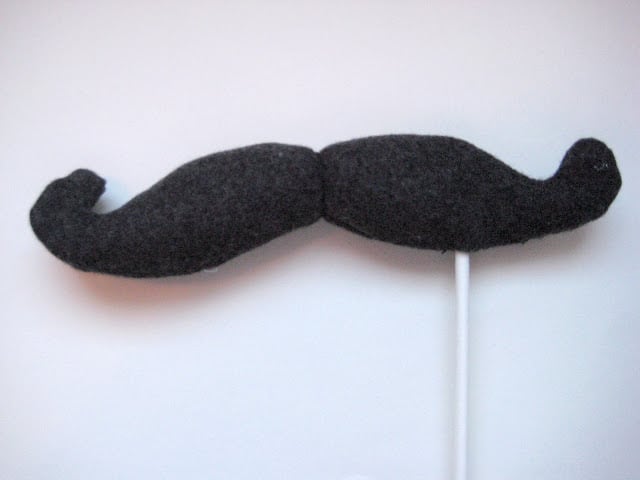 You're done! Thanks for reading! Now it's time to model that stache!