I had one of those weekends you never want to have again so I was left with very little time to make this romper. I had big plans to make a matching pair of booties to go along, but I just didn't have the time. I had to make time because I love sewing something special for someone special for a special day. It's tough being a seamstress, I find myself planning outfits and projects for everything! But it's also a thrill.
Anyways, I'm glad to have a wonderful friend to run and buy this pattern for me yesterday and so grateful I bought 6 yards of ivory silk when I really couldn't afford it a few years back so I had enough now for this cute romper and a matching tie for daddy. (I made this skirt with the silk first, not intending to have family outfits, but I love that we matched.) It all came together.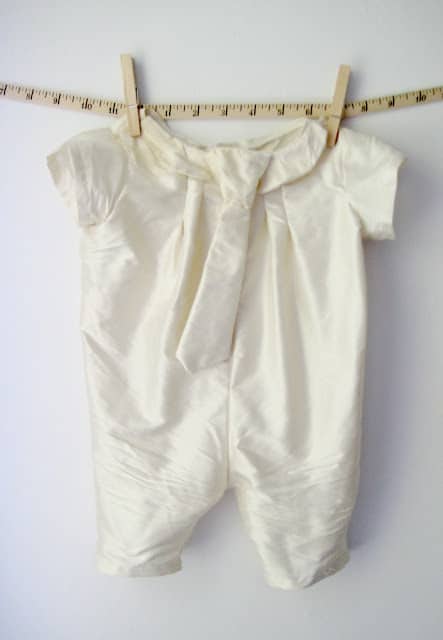 (Excuse the wrinkles and the spit up on the collar. It was well-worn today.)


ivory silk. cute boy. blessing day. perfect!
I used Simplicity 4243 with a few variations (sans pockets and plus a tie). I also had to eliminate most of the fullness in the body and legs because it was just looking too feminine. I thought it was cute and vintage looking (think 1920s) but it did make me think I want a girl someday because she'll be so pretty (okay he looked like a girl). So I took the legs in and added the tie to hide the peter pan collars a little. I love peter pan collars but the tie just finished the look for me.
Here's a little celebrity shot where I cut out everyone else in the photo(there was no good way to crop this one):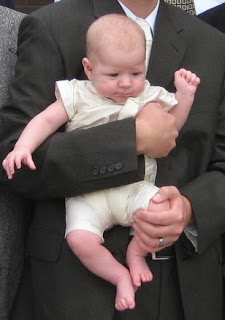 I'm in love with that little boy that I made. And making things to put on him is so much fun.