Last week I decided that we needed more pants since winter is coming and all. So I spent a week making pants and I thought I'd share it with you all week long. So…
Welcome to Baby Pants Week! I can say now say that we are stocked up on pants for the winter! Baby has 8 new pairs! Every time I finished a pair I was so impressed with myself! Don't you love that? My husband even asked where I bought one pair. Bought? Psh. I love it when I impress him, too!
For the next six days we'll be talking baby pants. I'll tell you all about my adventures in making pants!
Here's what to expect this week: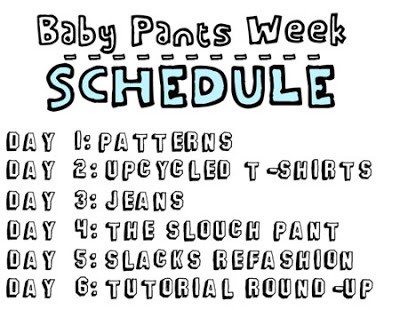 Come back tomorrow for Day 1! It's gonna be great!