The Create Room Dreambox is a game changer when it comes to craft room organization! This all-in-one craft organizer is the only thing you need to clean up your sewing space and create your dream craft room.
Save $100 with code SEEKATESEW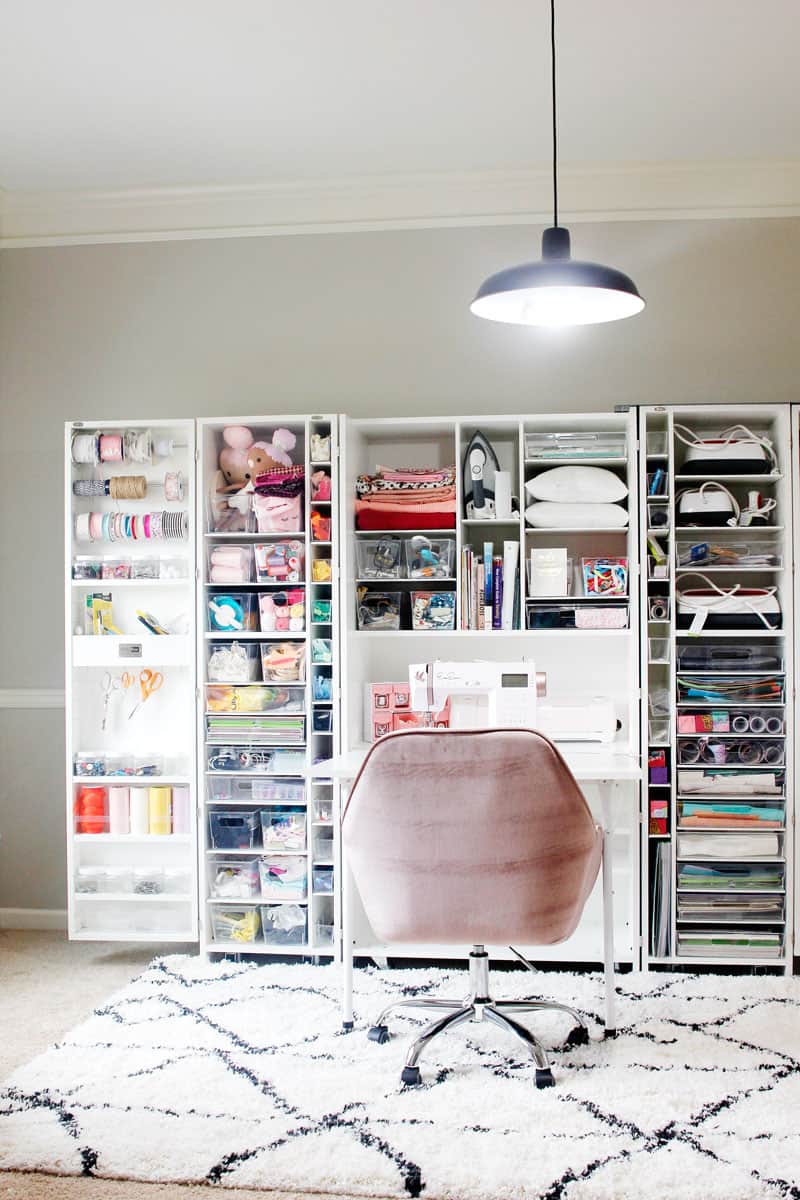 In this post I have a break down of my favorite options for the DreamBox. Since there are so many things to choose from I'll help you decide what options you need the most. GET THE DREAMBOX HERE
Dream Craft Room
I also included everything I know about Create Room Sales, Coupon Codes, Promos and more to help you as you dream about your DreamBox!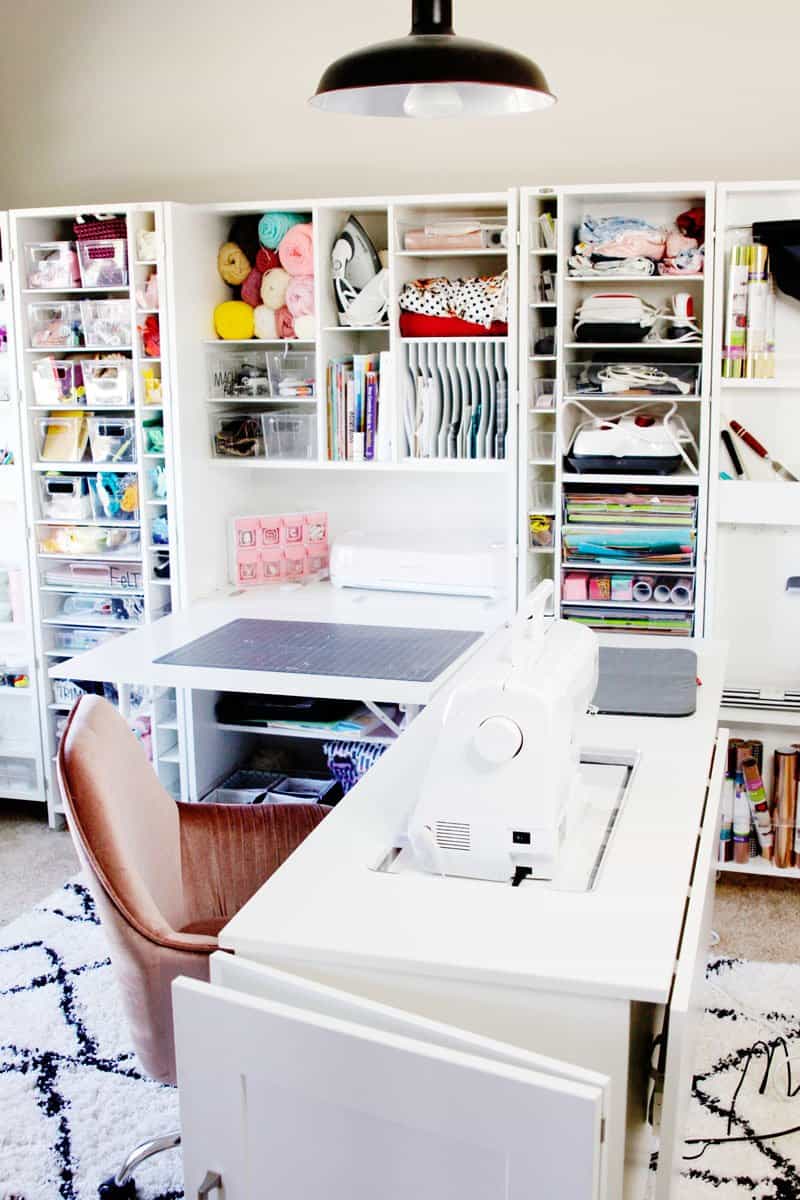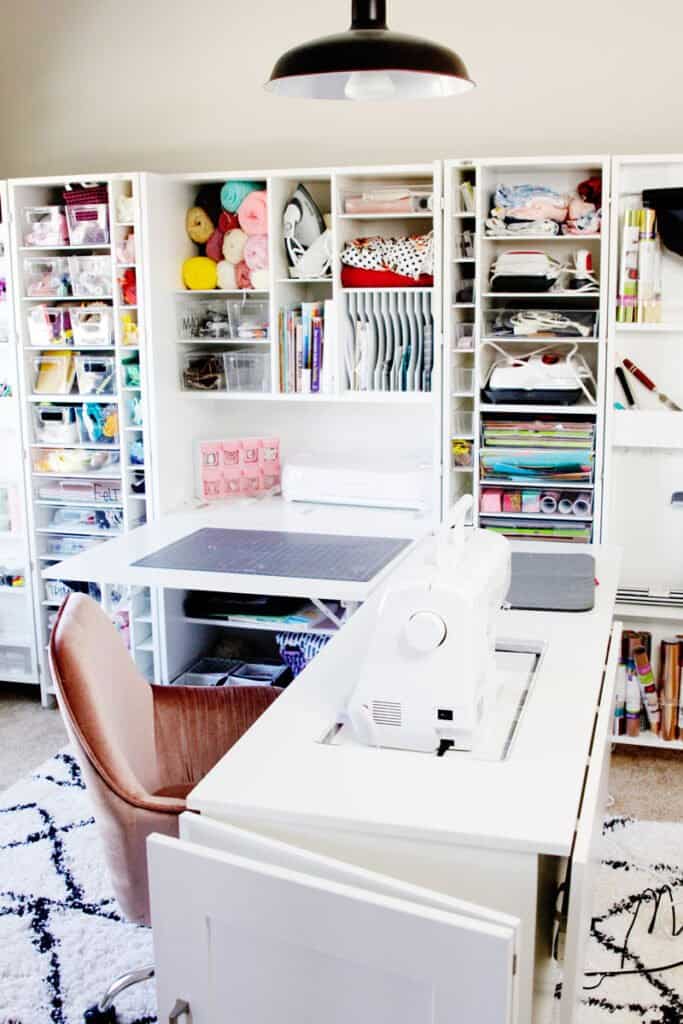 Create Room DreamBox Coupon Codes
For any DreamBox, use the affiliate code SEEKATESEW for $100 off your purchase
The code SEEKATESEW will give you $200 off if you purchase the DreamBox with the Sew Station
SEEKATESEWSS for $50 off the Sew Station
SEEKATESEWDC for $50 off the DreamCart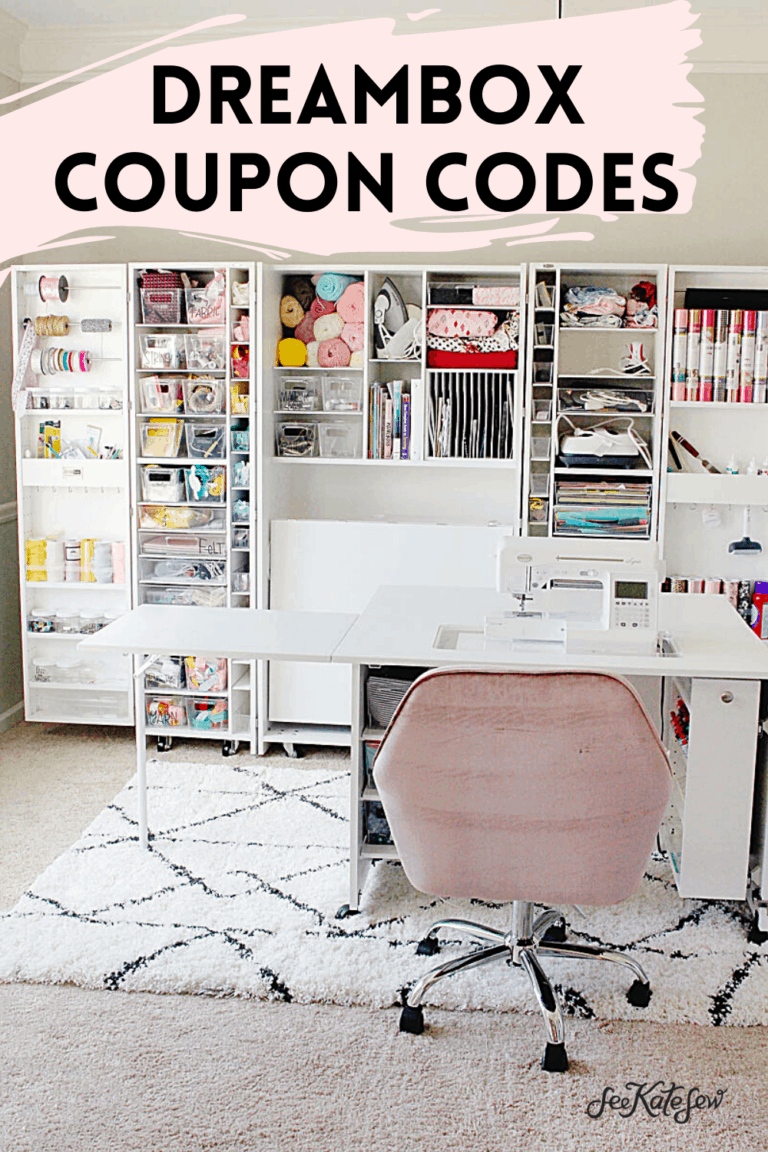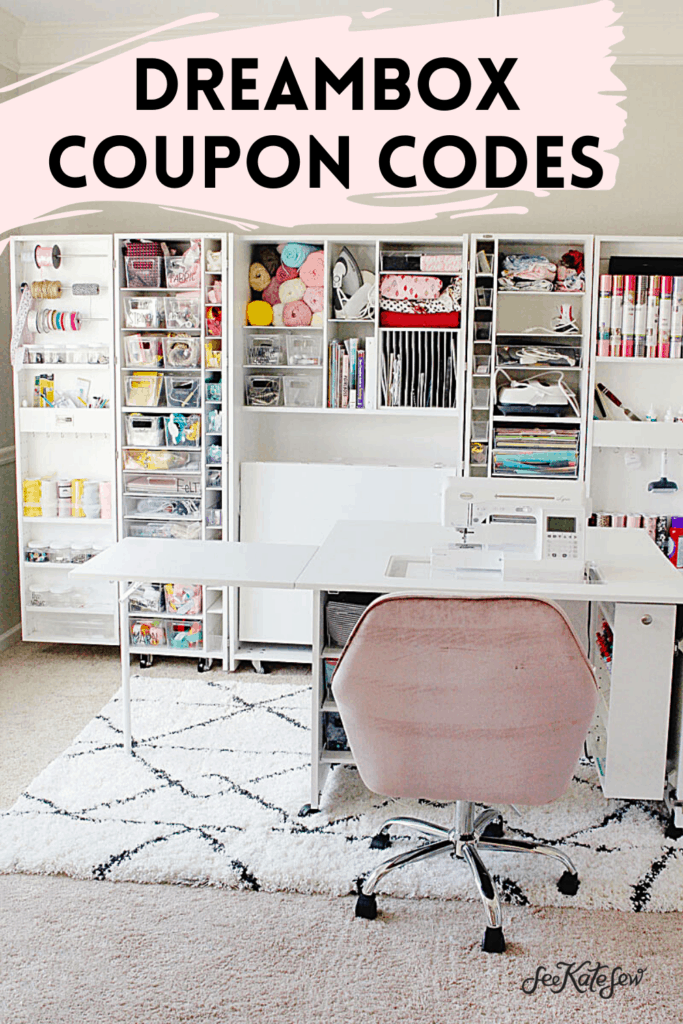 Join my newsletter for Create Room sale notifications and new coupon codes.
Create Room DreamBox Canada Sales
SKSCANADA for Canada discount.
Create Room UK and EU Coupon Code
Use affiliate code SEEKATESEWEU
Create Room Sales Schedule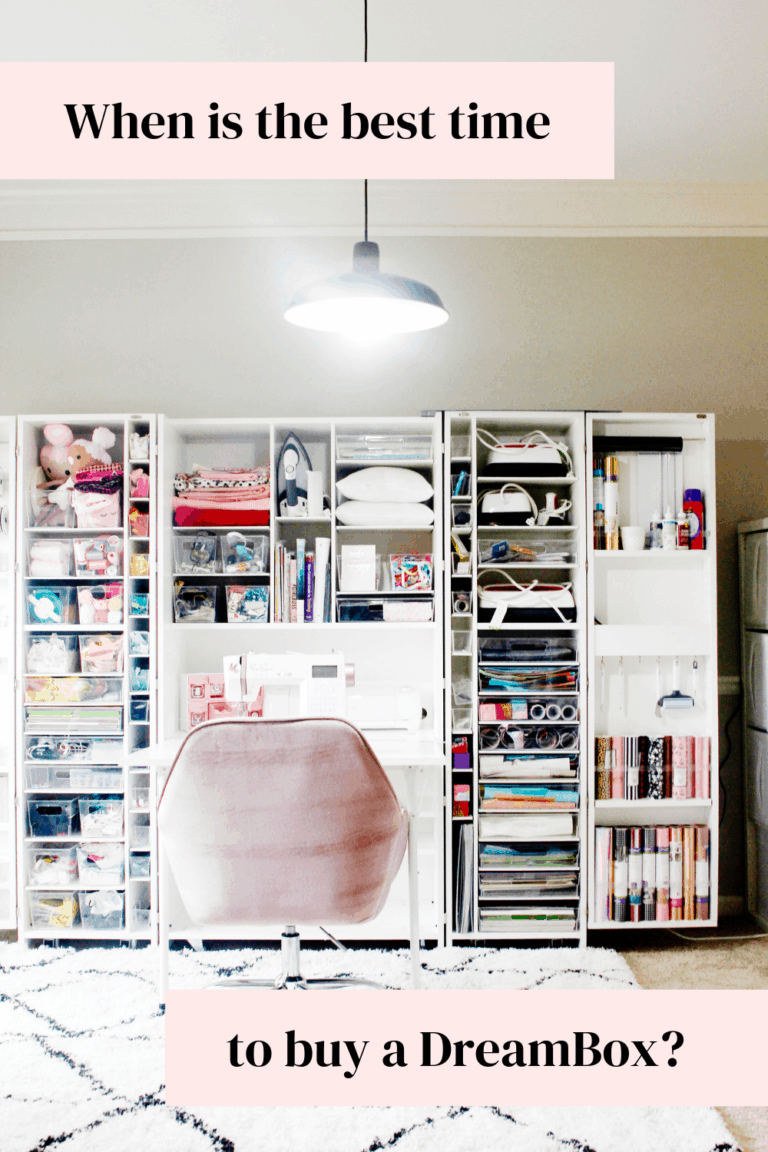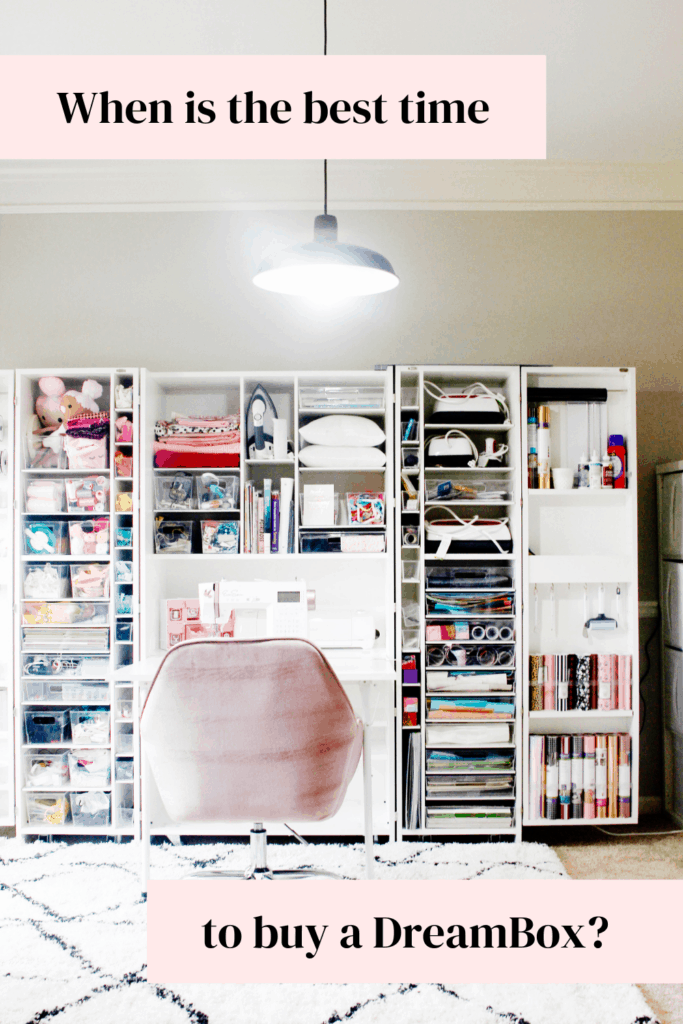 Although nothing is set in stone and sales can vary year to year there are typically two big sales:
The DreamBox Black Friday Sale comes up in November each year

Create Room typically does a big sale on the DreamBox and accessories. This is the best sale to wait for if you are wanting a decked out DreamBox.
The discount usually goes up when adding accessories and add-on, such as the Sew Station or DreamCart.
Sometimes there are deals on the PreBuilt service, Crown or other accessories you will want anyways

Mother's Day Sale happens in May and is typically similar to the Black Friday Sale
Other sales happen throughout the year, join my newsletter to keep informed!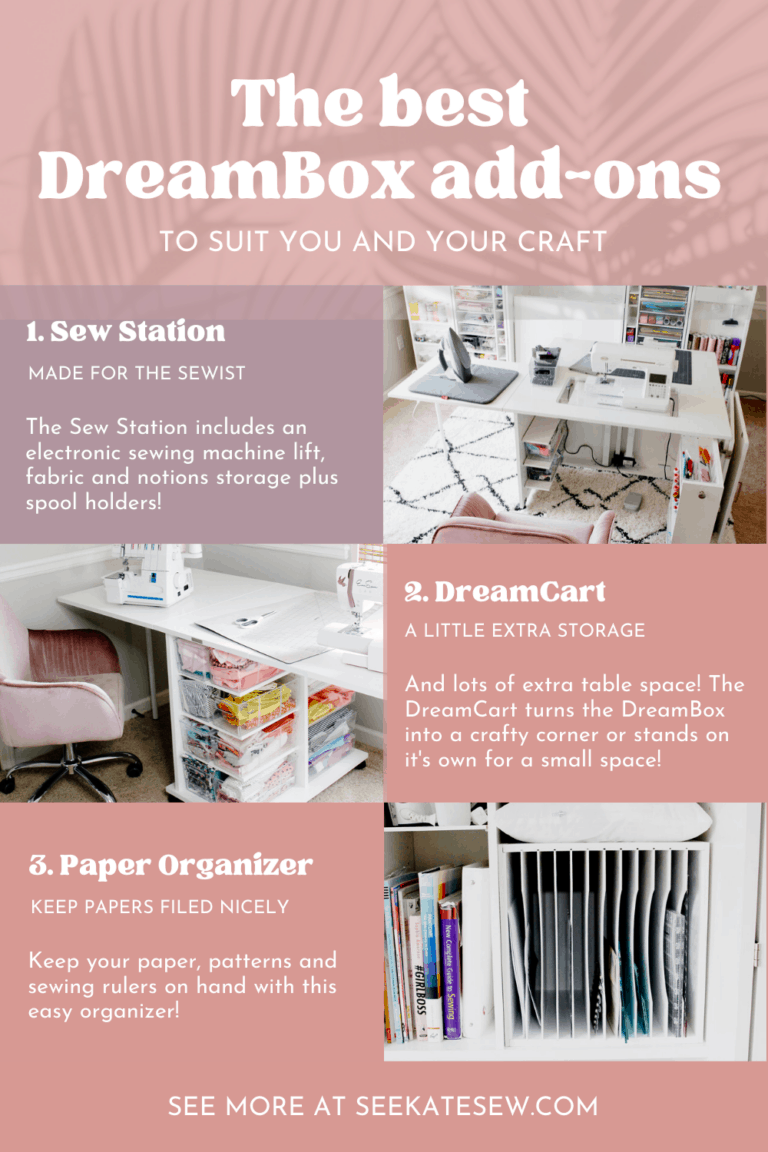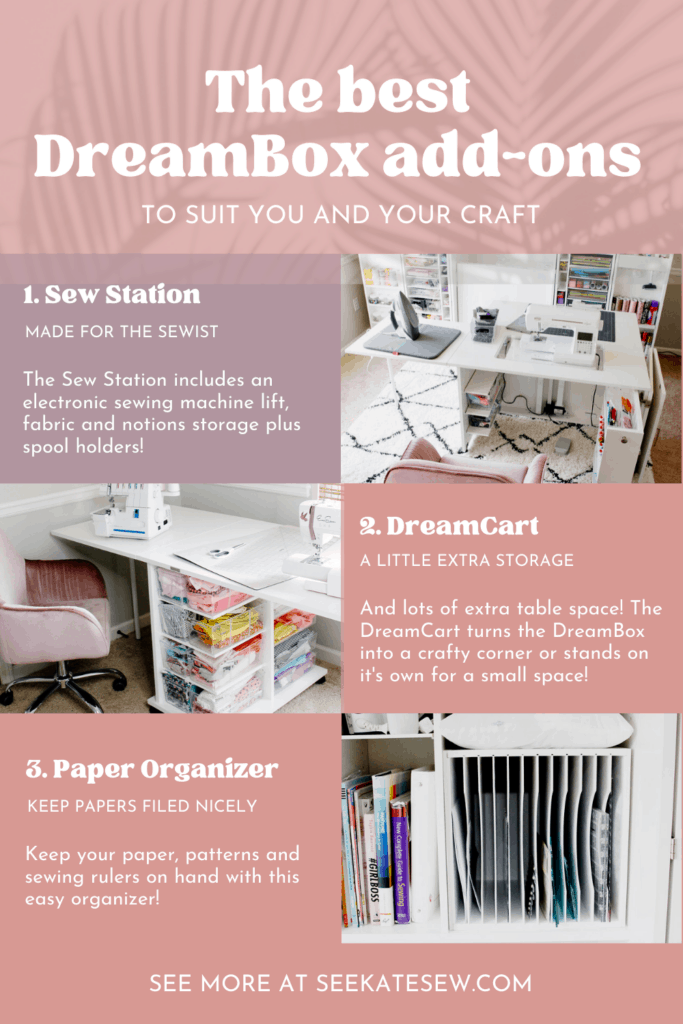 When is the best time to buy a DreamBox?
There isn't really a best time to buy a DreamBox because the sooner you get it, the sooner you can get started organizing your mess. Having an organized craft room will save you so much stress and time – so you'll be more efficient at your craft. If you're using the DreamBox for a creative business, the sooner you get it, the sooner you'll be crafting more productively. 
If you're planning to deck out your DreamBox will a lot of accessories and add-ons, it may serve you well to wait for one of the 2 *BIG* Create Room sales. The Black Friday and Mother's Day sales have historically saved purchasers up to $1000 – but only if you are buying all the add-ons (think $5000+). 
If you plan to buy just a base model DreamBox (around $2000), the smaller sales will give you a great deal. You can always use my code to get $100 off – use code SEEKATESEW to save $100 right now. Keep in mind, you can add to the DreamBox later with accessories, extra tables and more. The code SEEKATESEW will always save you $100.
Sometimes there are discounts on the prebuilt service or other things you may add to your cart.
The only downside to purchasing during a big sale is that shipping times may take a little longer.
DreamBox Craft Storage Recommendations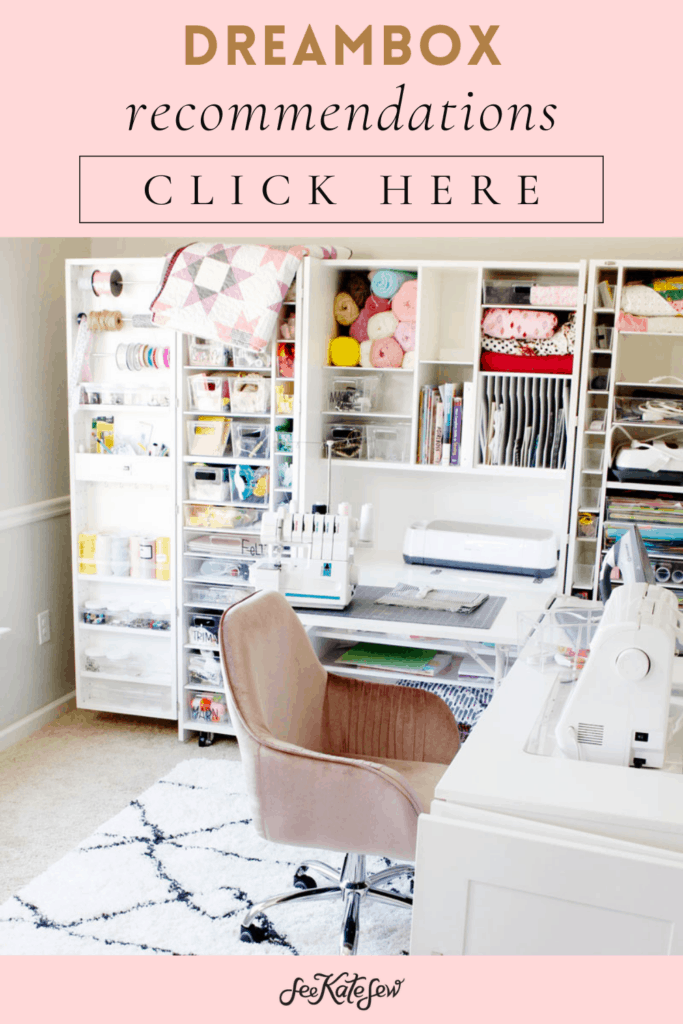 The best part about the DreamBox is that most of the accessories and add-ons can be added later! That means you can invest in a DreamBox and then customize it as your needs change.
When you get to the Create Room website, you'll find the DreamBox builder. There are lots of options and they change from time to time. The only accessory that is hard to add later is the 3-shelf insert so if you want that, get it now. 
The price changes based on the look of the DreamBox. If you are putting your DreamBox in a shared room and plan to close it, you'll want to pick a style that fits with your decor.
I keep my DreamBox in it's own room and to be honest, I NEVER close it! I just love the way it looks open and its so easy to just sit down and craft when I have a free minute. So, despite having the white Farmhouse style, I never see the front of it! Haha, so if you plan to do that, too, the cheapest option style may be the best one for you!
If you plan to add a Sew Station and/or DreamCart, those only come in white, so I recommend getting a white DreamBox to match.
The Sew Station is an add-on that I definitely recommend! It connects to the DreamBox on the side so you have a whole sewing oasis. You can read all about the Sew Station in this post, but the main features is an electronic lift table that holds YOUR machine perfectly (you get a custom insert) and is sturdy for sewing with speed! There are spool holders and notions storage. It was made FOR the sewist!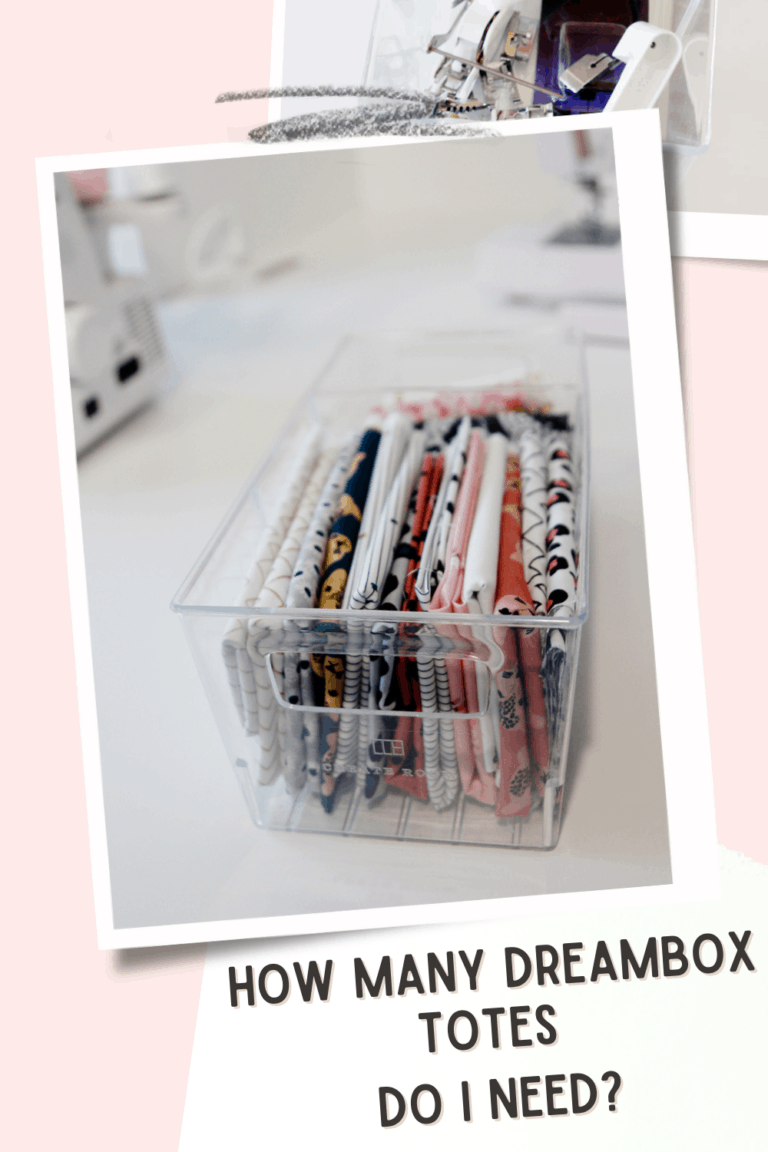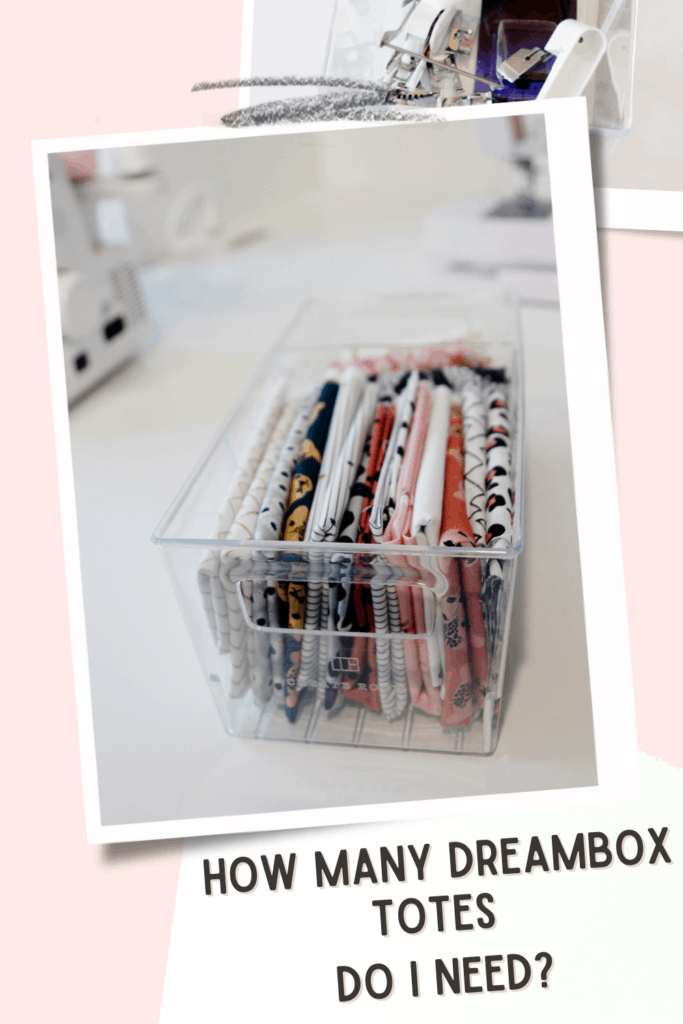 How Many Totes Do I need for my DreamBox?
There is one sorta big decision you have to make when you purchase the DreamBox and that is how many totes to buy. There are two options – 40 and 80. The 80 used to be standard, but the 40 was recently made an option to bring the price down a little.
To simplify the decision, I recommend getting 80 if you NOT be storing fabric in the box and only using it for smaller craft supplies and things. If you are going to store stacks or mini bolts of fabric, you can probably go for 40 totes and fill the rest of the box with fabric. Totes can be purchased later too.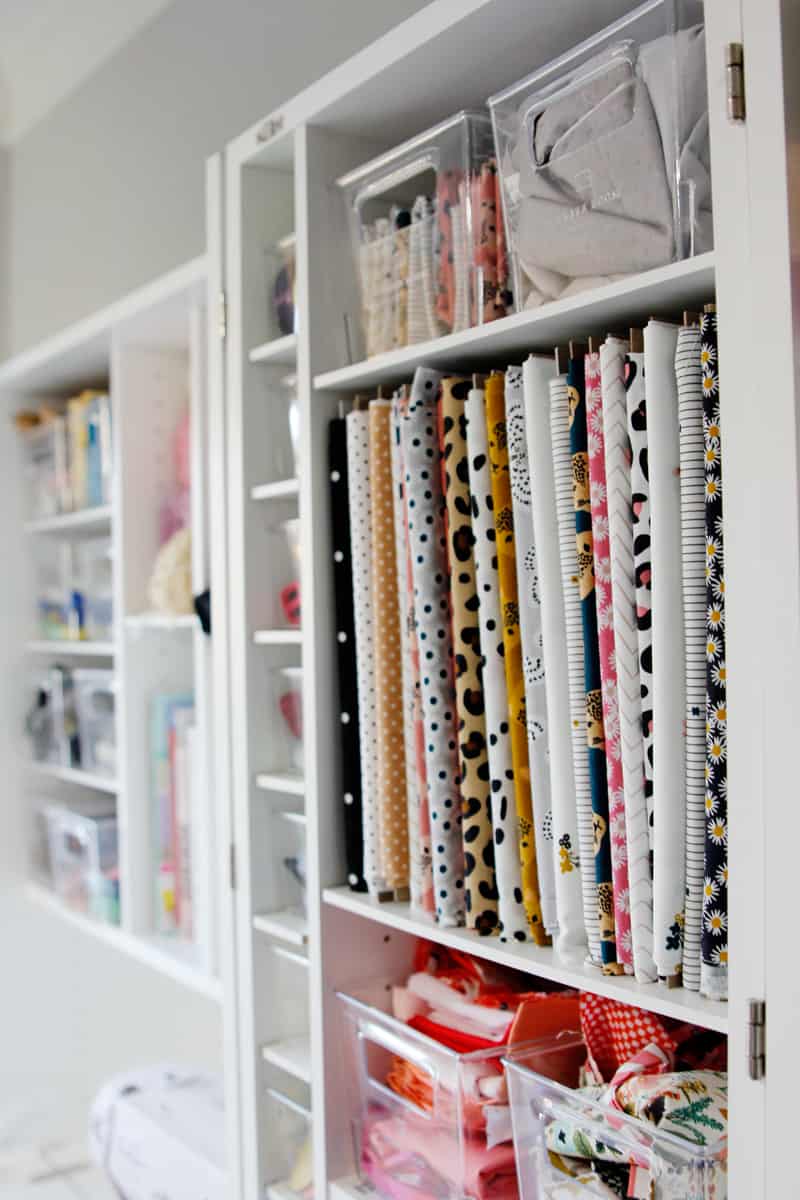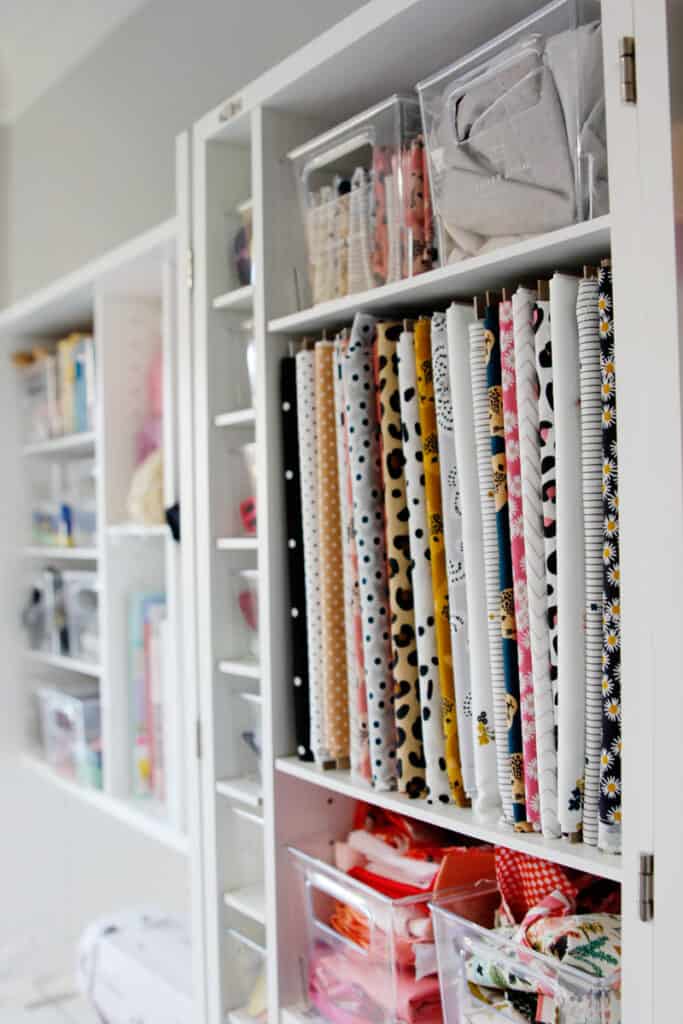 Other cool accessories you can get are extra spool rods, a tool cubby for pens, a drink holder, white boards for planning.
More posts about the Dream Box Storage from Create Room aka the Original ScrapBox