The DreamBox is definitely an investment piece, I totally get that! But since the Original ScrapBox (now Create Room) sent me a DreamBox, my life has CHANGED! The DreamBox is a total game changer for a few reasons! I know where everything is, down to my tiny scraps of ribbon and everything has a specific place to go back to. Setting up crafts is so easy since I can pull out all the totes I need and put them right back after. My productivity has increased SO MUCH since I always walk into a clean space! So this post includes 5 ways to build a DreamBox for different budgets and purposes!
Until Nov 29: Use code SKSMASSIVEJOY for 15% off
Use the code SEEKATESEW for $100 off a DreamBox!
I have posted a few times about my DreamBox craft organizing solution. I love it so much! My system before was just a bunch of tables and drawers, but nothing was really quite made for sewing and craft supplies. The DreamBox is just meant for crafters! Since this piece is such a large investment, I wanted to write a post that shows you how to build your box a few ways to fit your budget. This post is not sponsored by the Original Scrapbox but does contain affiliate links!
All 5 of these set-ups require using the $100 off code: SEEKATESEW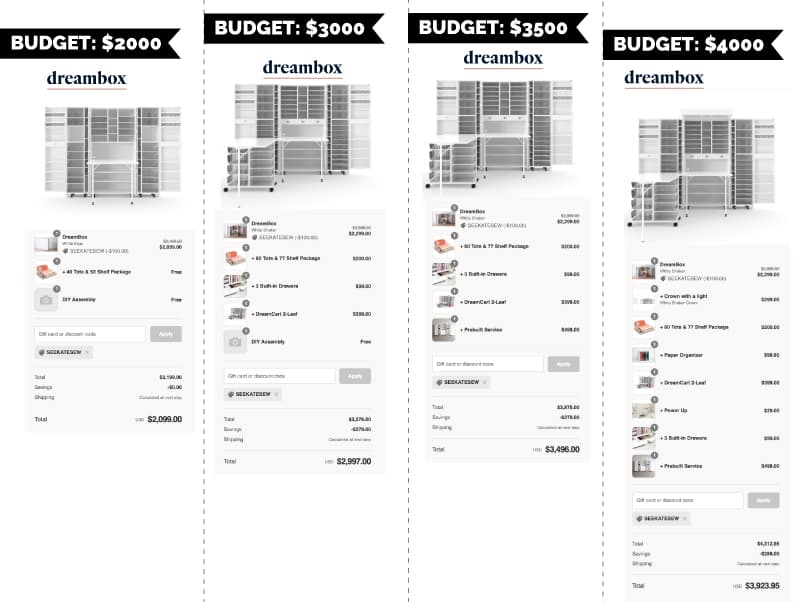 Build a DreamBox for $2000
The absolute cheapest way to build a DreamBox – it includes a barebones DIY set-up for $2099. You can add so many of the accessories later, that this is a great place to start. (Keep in mind the only thing you can't change is the finish, so if you don't like the White Ergo, pick a different one!)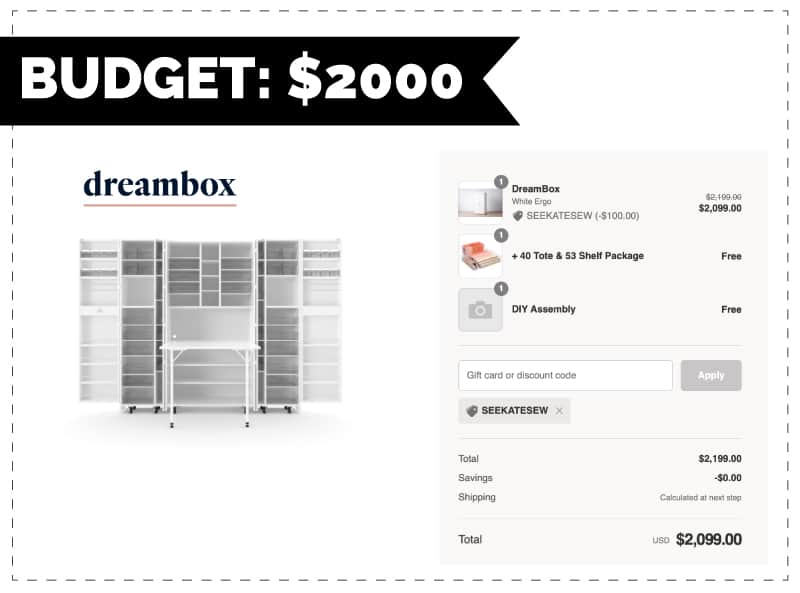 Got an extra $500? I definitely recommend the pre-built service! With the Pre-Built service, your DreamBox comes in 3 pieces. You just bring them into your space and add the shelves and totes!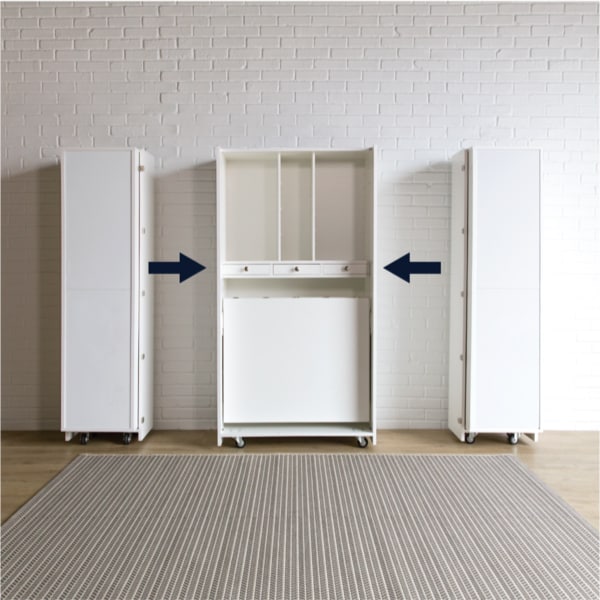 Build a DreamBox for $3000
If you can't increase your budget to about $3000, you can get an awesome, extended set-up! This DreamBox includes a White Shaker finish (my fave!), 80 totes(I have literally used 70 of mine!), 3 built-in drawers, and a DreamCart for extra crafting space. You will have to build it yourself at this price point.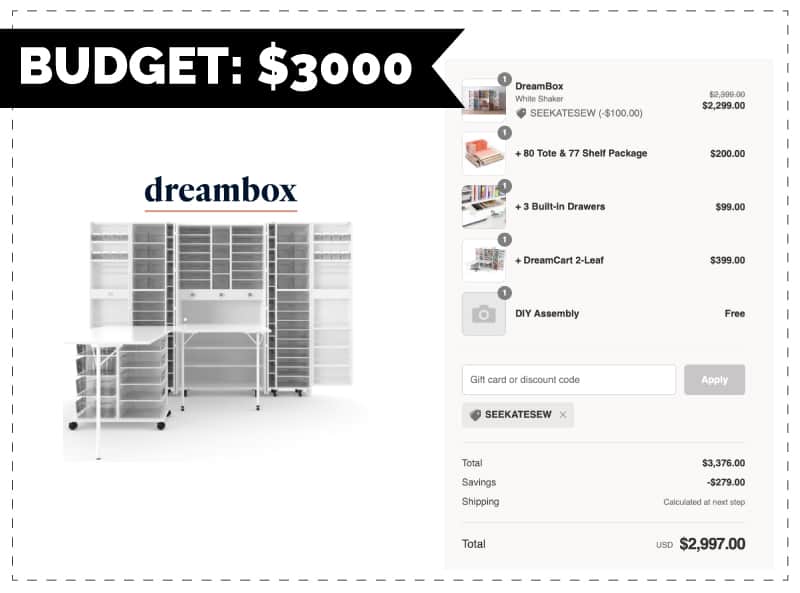 DreamBox Budget of $3500
This set-up is the same as the one above but includes the pre-built service. You can't take it back if you don't get the pre-built service so make sure you have the energy to build this thing if you go with DIY! This package is a super great, finished craft space!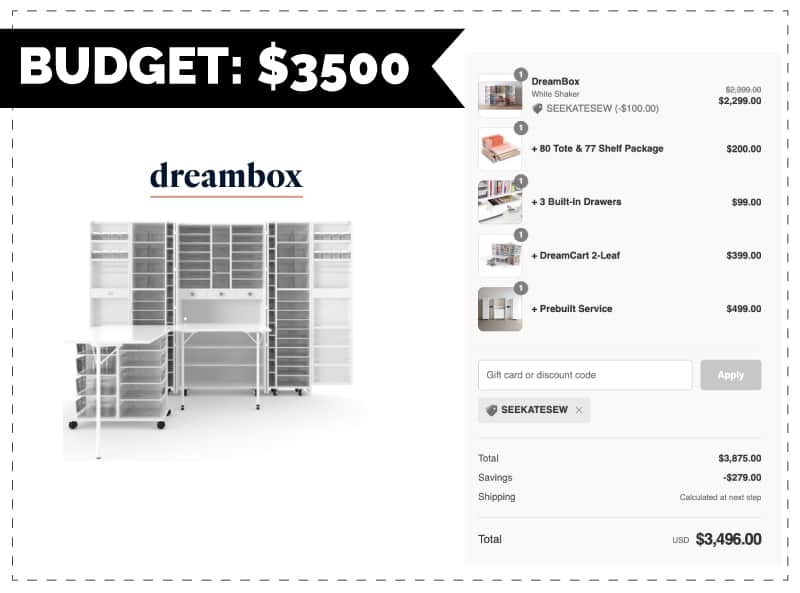 DreamBox Budget of $4000
I built this DreamBox for night-crafters! This box is fully loaded with accessories! It includes the lighted crown, 80 totes, paper organizer, DreamCart, Power strip, 3-built in drawers and the Pre-built service!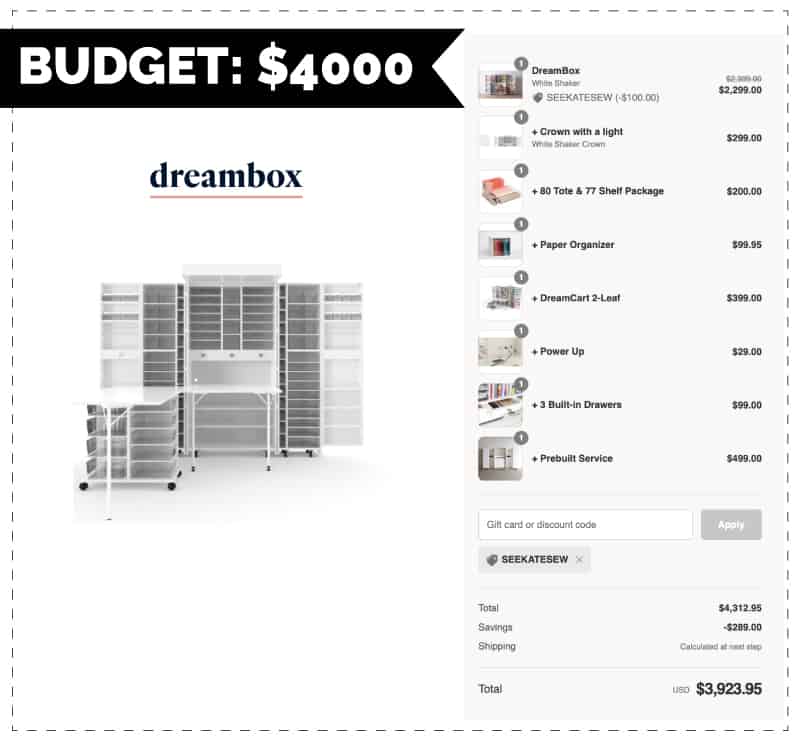 DreamBox + Sew Station Budget of $4000
This is closest to my set-up (I'll share my Sew Station super soon!) and keeps you right about $4000 with a place for your sewing machine! The Sew Station is a DreamBox add-on. The 80 tote upgrade and prebuilt service is included in the total price. Take both those off and you can get your DreamBox + Sew Station for just $3400.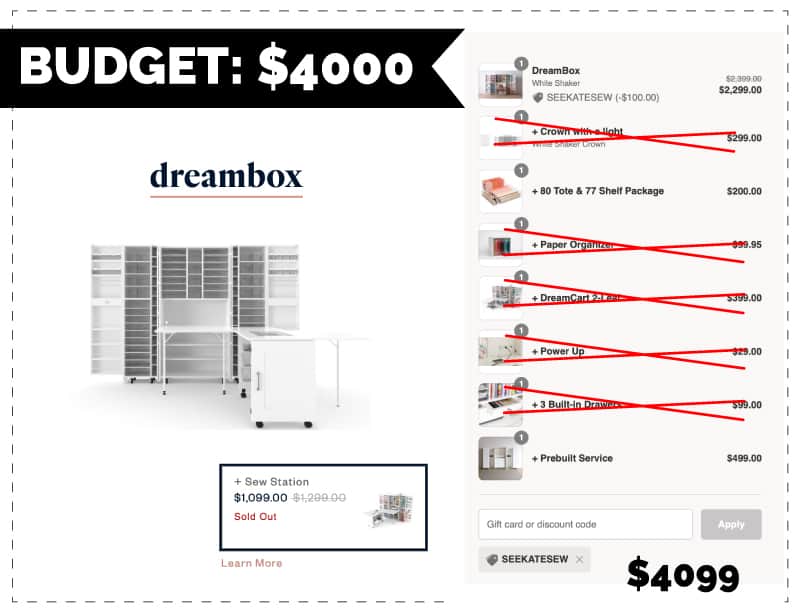 I hope this post is helpful for all the DreamBox Dreamers.
Check out my other DreamBox posts here: