I'm obsessed with my DreamBox, as you may know by now. I definitely want every one to have one but I know it is a big investment! The Dream Box craft cabinet is a total crafting game changer and the best for craft organization! This free printable is a DreamBox Savings Tracker to help you budget for your DreamBox!
Use code SKSMASSIVEJOY for 15% off the DreamBox until Nov 29!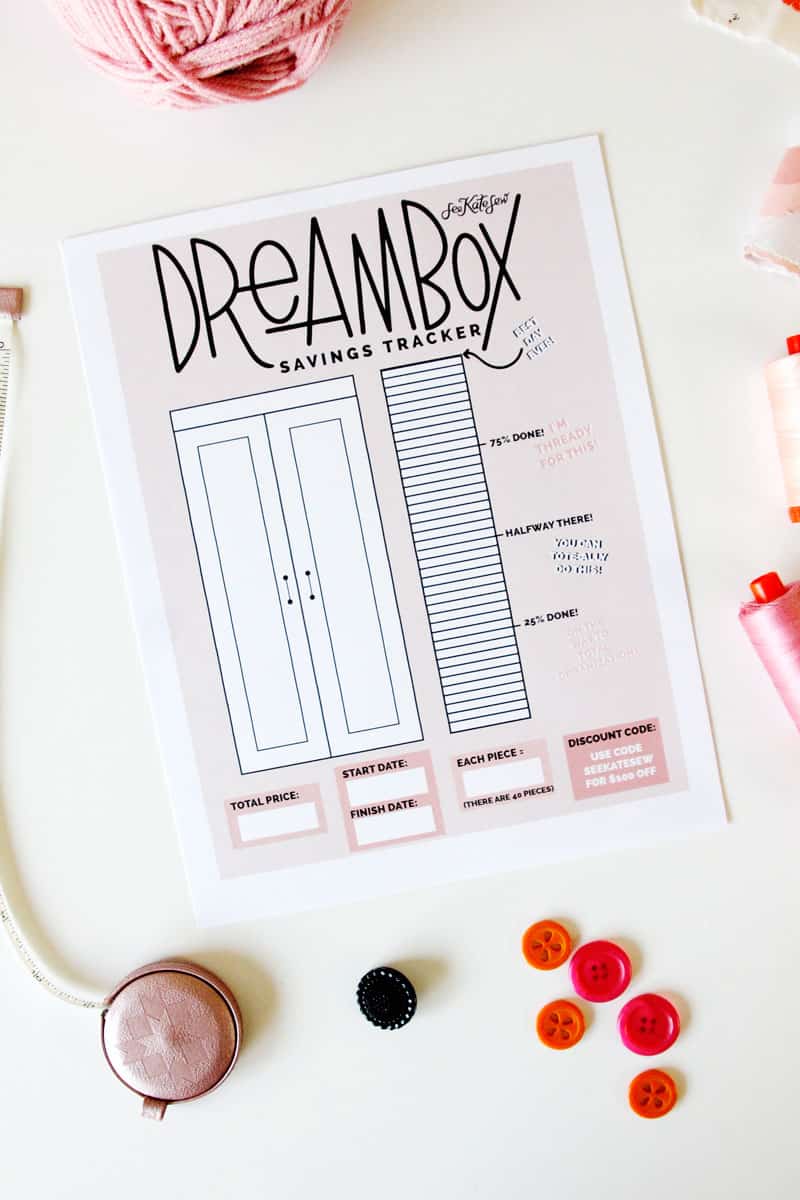 Use my affiliate code SEEKATESEW which takes $100 off the DreamBox! The DreamBox is made by Create Room, which recently rebranded from The Original ScrapBox!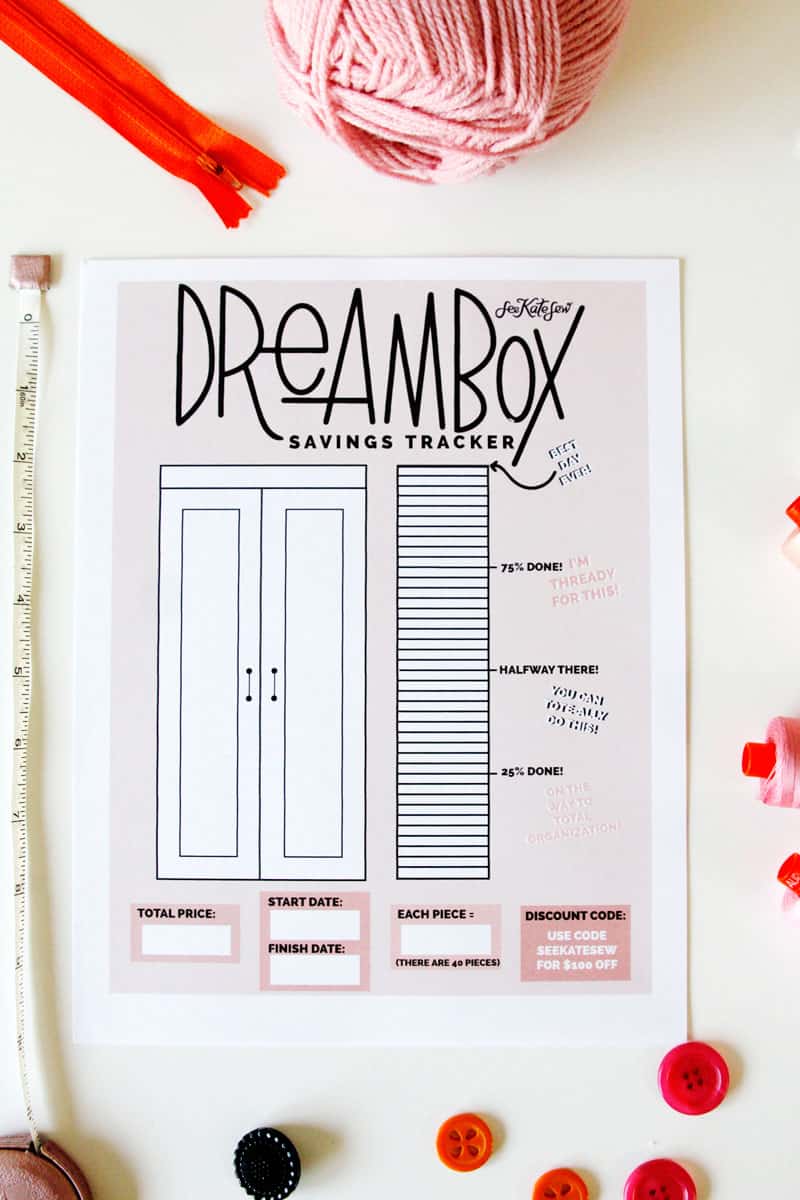 I love having a visual when I am saving for something or trying to pay something off, and this budget tracker allows you to save as you go! It's much easier for me to save money for something if I have a big picture of it right in front of me!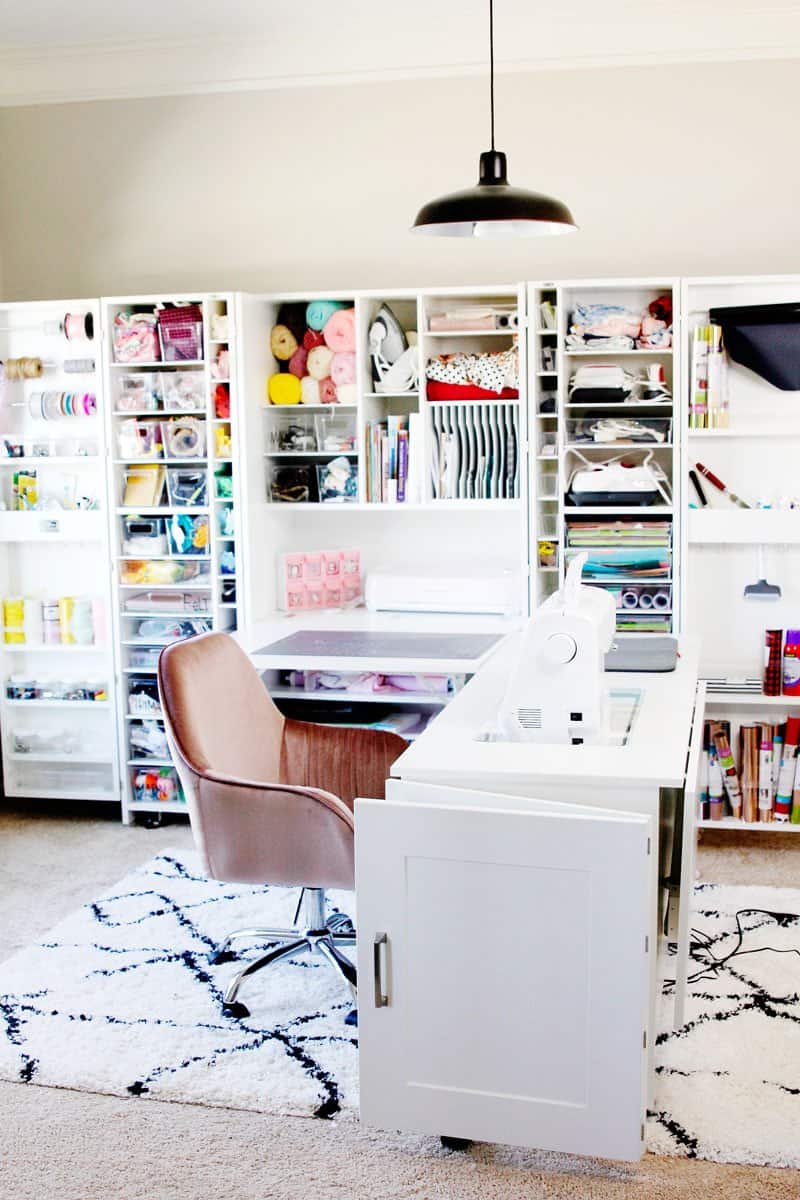 This printable has a picture of a DreamBox and a graph to fill-in so you can watch your progress. I love charts and graphs and think they are really motivating for goals like this!

DreamBox Savings Tracker Printable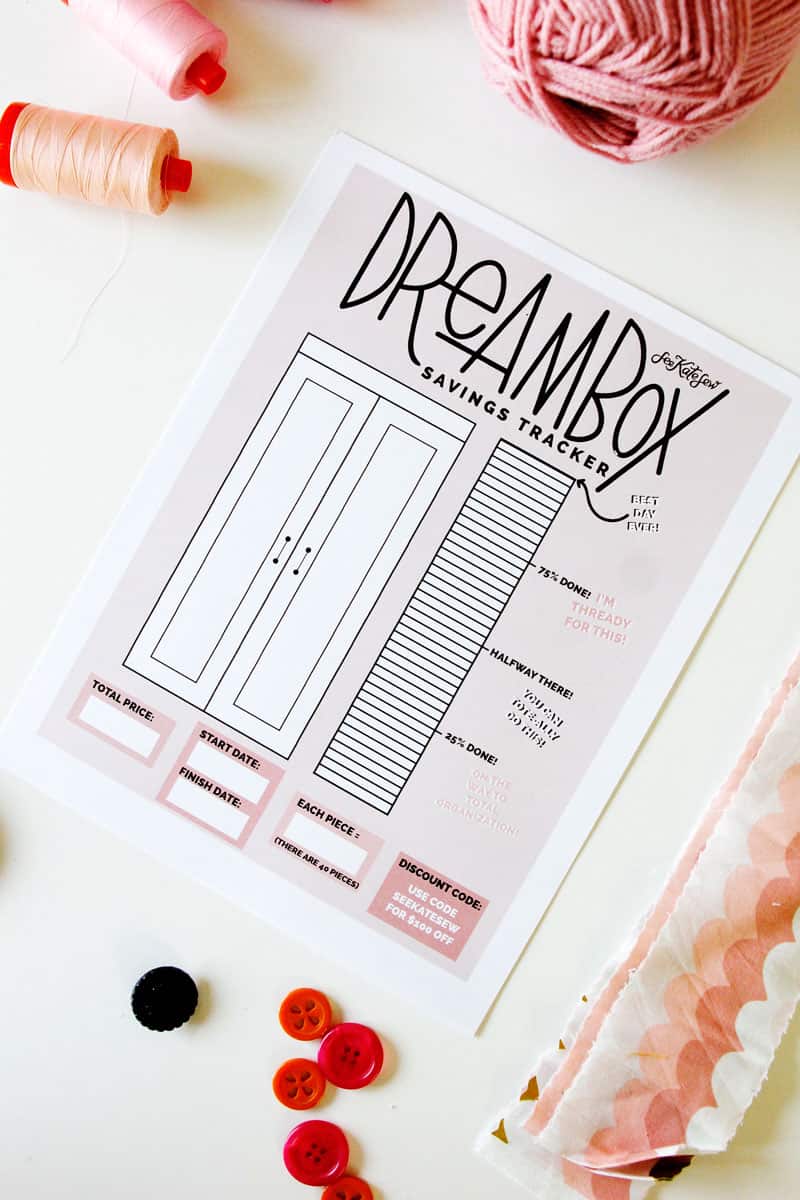 Since the DreamBox can be built different ways with or without accessories, the price is up to you! Visit the Create Room DreamBox Builder and build your DreamBox to your liking so you know the total price! You can also visit my post with 5 ways to build the DreamBox for 5 different price points!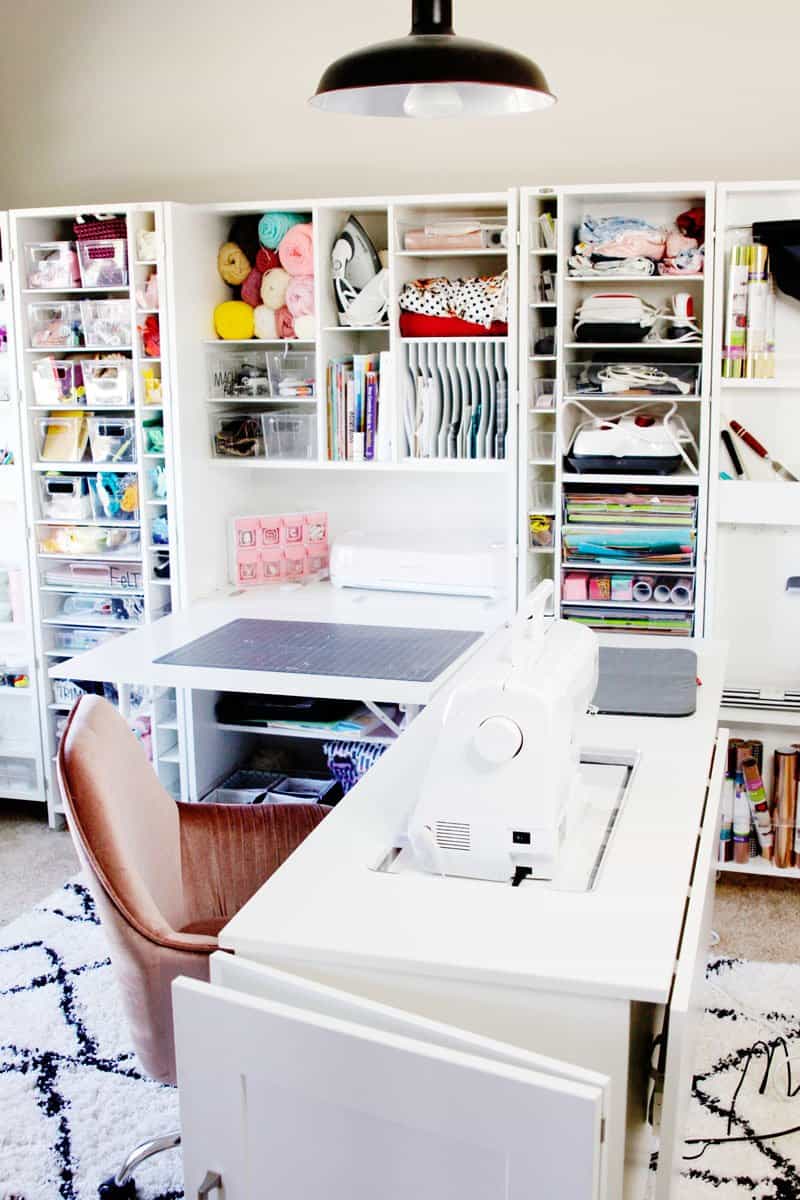 Then, divide that price by 40 and that is value to save for each of the boxes in the chart. You can decide to save that amount weekly, monthly or etc. until you have enough! You'll be able to set your own start and end date and don't forget to apply the SEEKATESEW discount code for a $100 off, or a free space on the graph!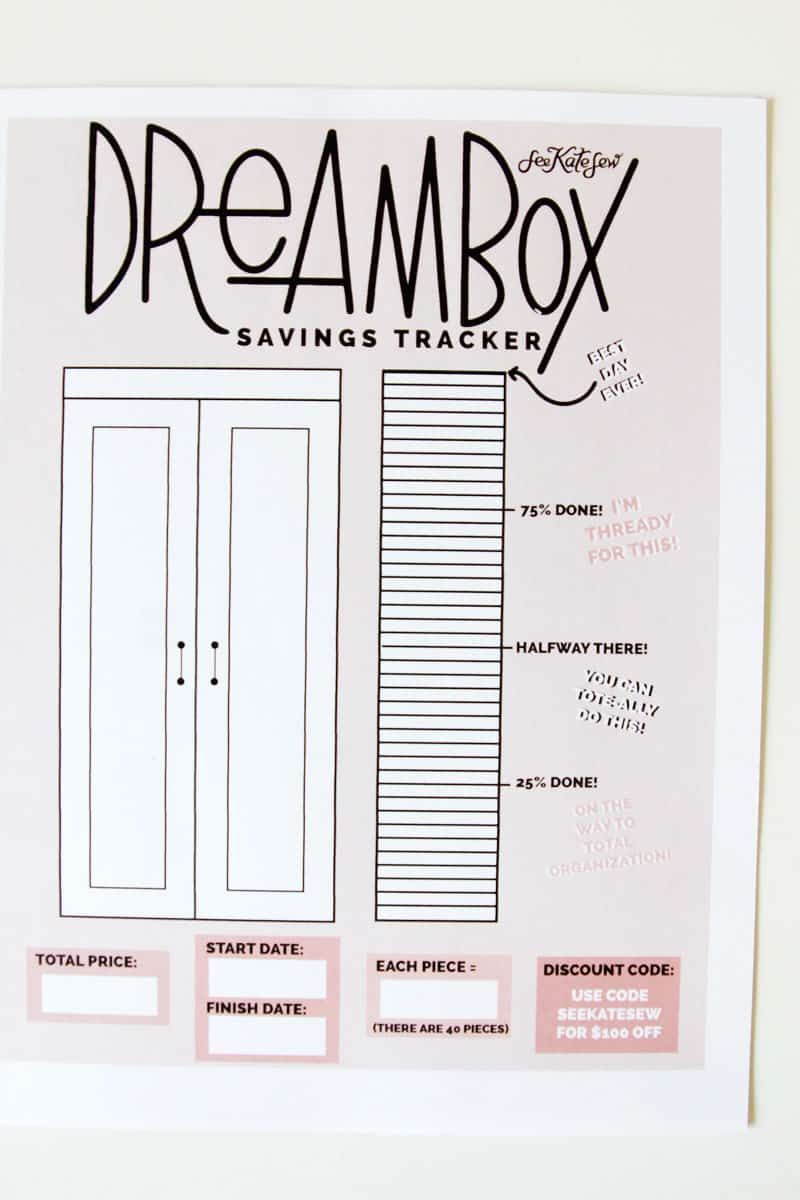 There are some great craft puns thrown in there, too! Hopefully "I'm Thready for This" and "You can 'tote'-ally do this!" will help motivate you to skip your fancy coffee and stash your cash for craft supplies! Hah!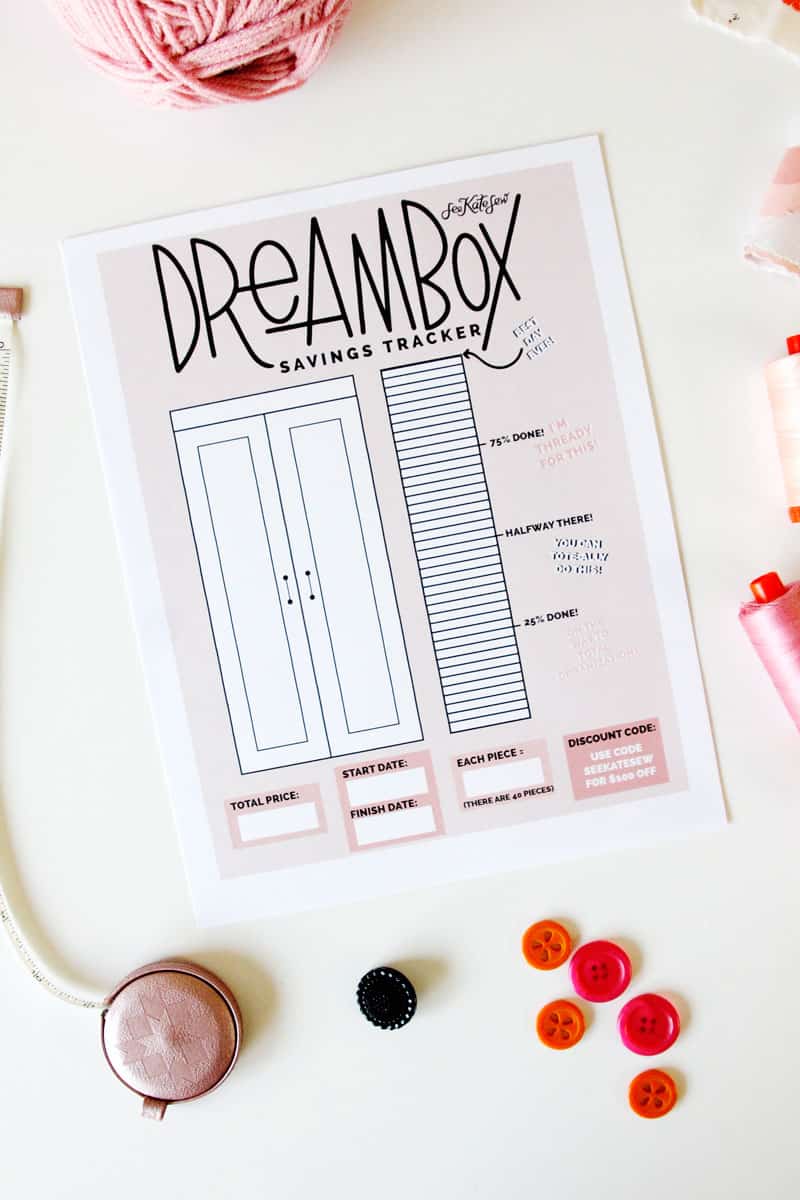 I hope you love the printable! Click on the button below to download and print! This is an 8″ x 10″ print. It is in color, but you can also print in greyscale.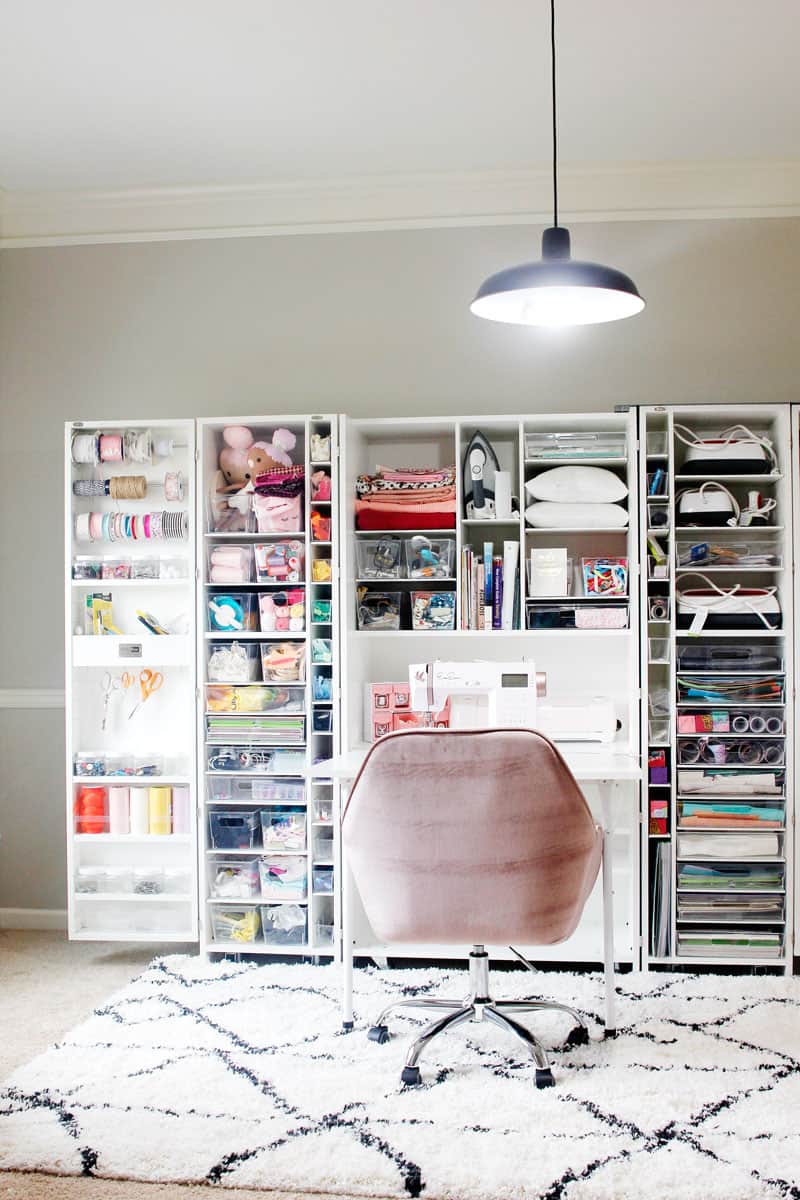 10 reasons I love my the Dream Box craft cabinet
You will never lose your supplies again – With the DreamBox, everything has a place. Storing craft supplies is always tricky especially when you have a lot of them!
More time to craft – With a DreamBox setup, you just sit down and craft! Everything you need is literally within arm's reach. The totes are the perfect size for your supplies so you'll spend less time looking and more time crafting!
Perfect for shared sewing spaces – The DreamBox folds up beautifully into a pretty armoire (see photo below!). So, you can put it in any room and then hide your craft if you need to make room for guests.
Folds up for safety –  Craft supplies can be dangerous, so folding them all up can be a way to keep them away from small hands and pets. The DreamBox comes with a wall anchoring kit for added safety.
Save money not double-buying craft supplies – When I broke down all the containers that I used to have my supplies in, I was a little surprised at how many glue sticks I had! So many hot glue gun sticks! I use my hot glue gun sparingly, so every time I needed it, I would buy more glue sticks! But now, I know where they are and I haven't bought glue sticks since. Hah! You can watch my YouTube video tour to see what kind of storage I was using before. It was not ideal!
Inspiration at your fingertips – 
The DreamBox has a place for everything – There is so much space in the DreamBox and there are a million ways you can fill it up. The tote and shelving placement is up to you so it will fit your specific craft!
It was created specifically for crafters – These aren't bookshelves turned craft shelves, the DreamBox was designed specifically for crafters. There is a place for everything that is just the right size for your supplies.
Cleaning up is a breeze! – Just take down the totes you need and put them back when you're done! It's so easy to keep the DreamBox neat and organized.
It's expandable and changeable – There are lots of accessories and extra things to add to the DreamBox. You can add a Sew Station and/or a DreamCart for extra storage space. Side tables are an option if you need lots of workspace. The accessories can be purchased later and shelves and totes are so easy to move around. You can continue to customize it as your craft supplies change and grow!

More Dream Box Craft Cabinet Posts