Notions, fabric, thread and other materials can take over your sewing room quickly! Want to peek inside my DreamBox? I pulled out some of my clear storage totes to show you some sewing organization ideas!
Save 15% off all DreamBox products until Nov 29 with code SKSMASSIVEJOY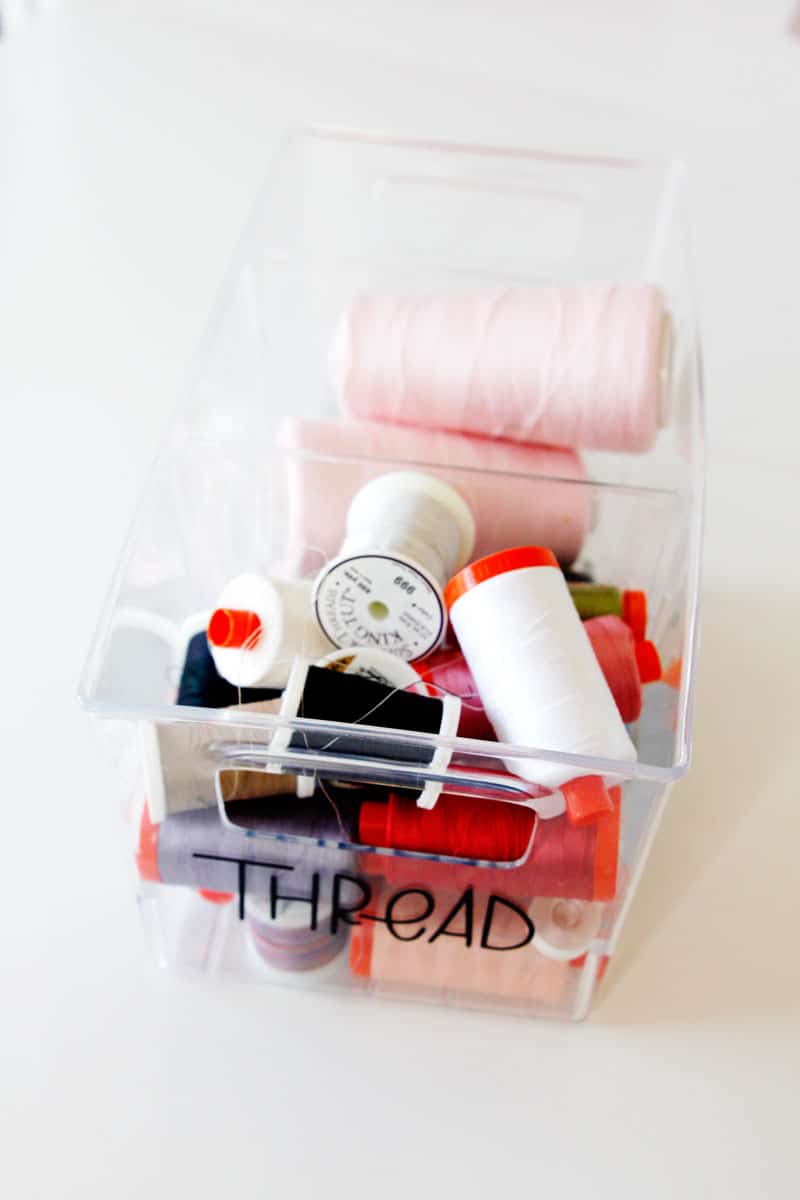 The DreamBox by Create Room has really changed my crafting. You can read 10 reasons I love my DreamBox in this post! Mostly, it's just so easy to find things! I labeled a lot of my clear totes with these vinyl labels.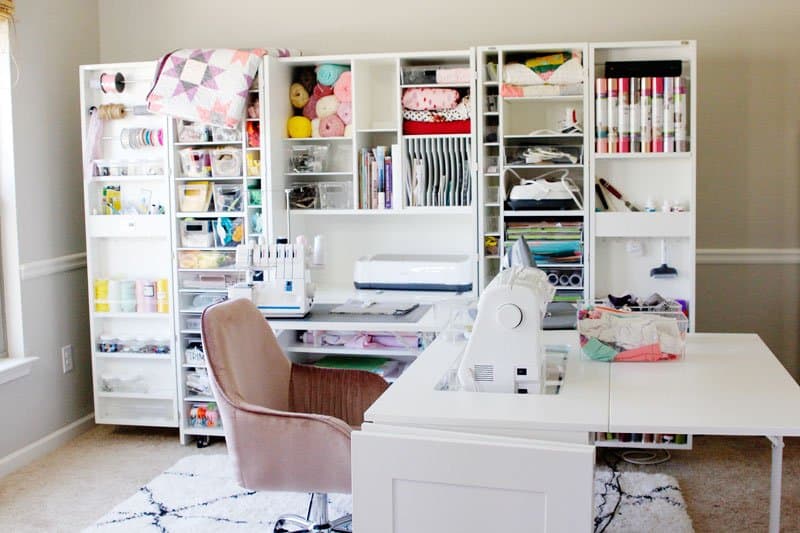 The DreamBox comes with either 40 or 80 of these clear totes – you can choose your number. I have 80 and used most of them. However, if you plan to store a lot of fabric yardage in your box you can probably get away with 40. After reading through this post about sewing organization ideas with the DreamBox, hopefully you can take a mental inventory of your own supplies and decide what you need!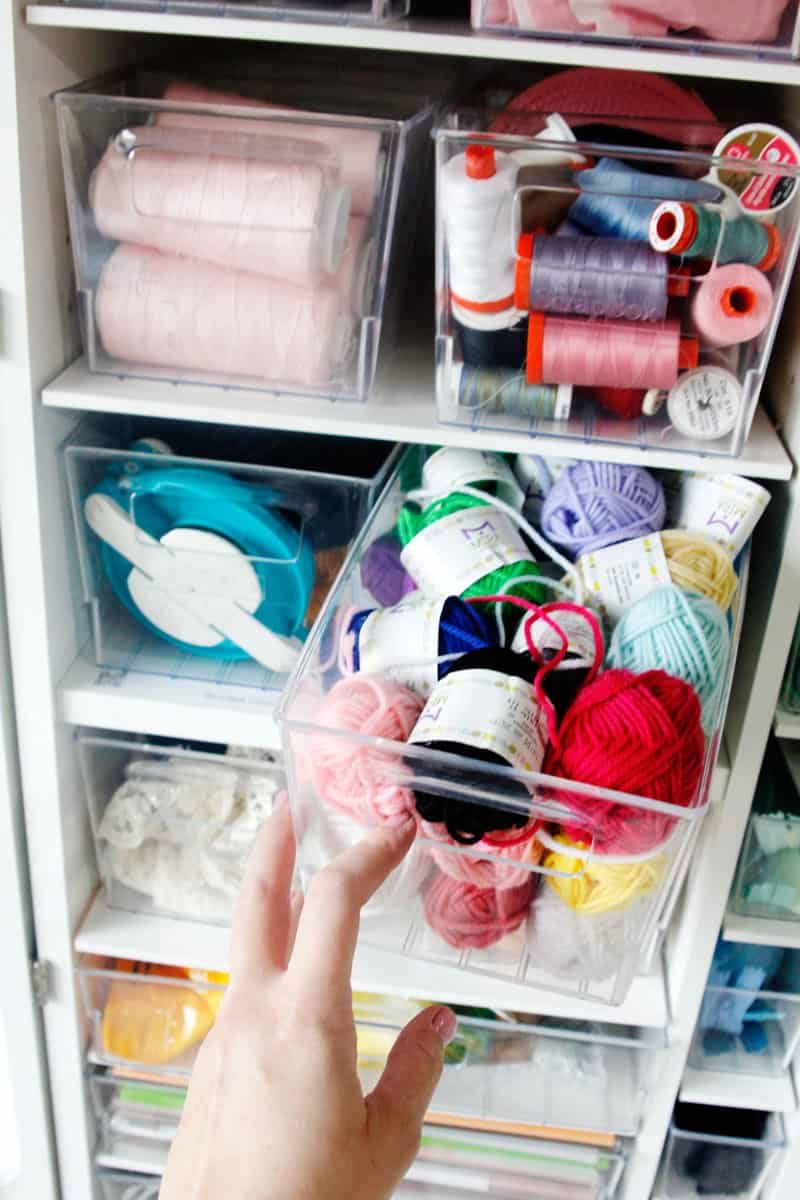 If you need help deciding how many totes you have, use this printable space planner to help you sort your supplies before your DreamBox comes!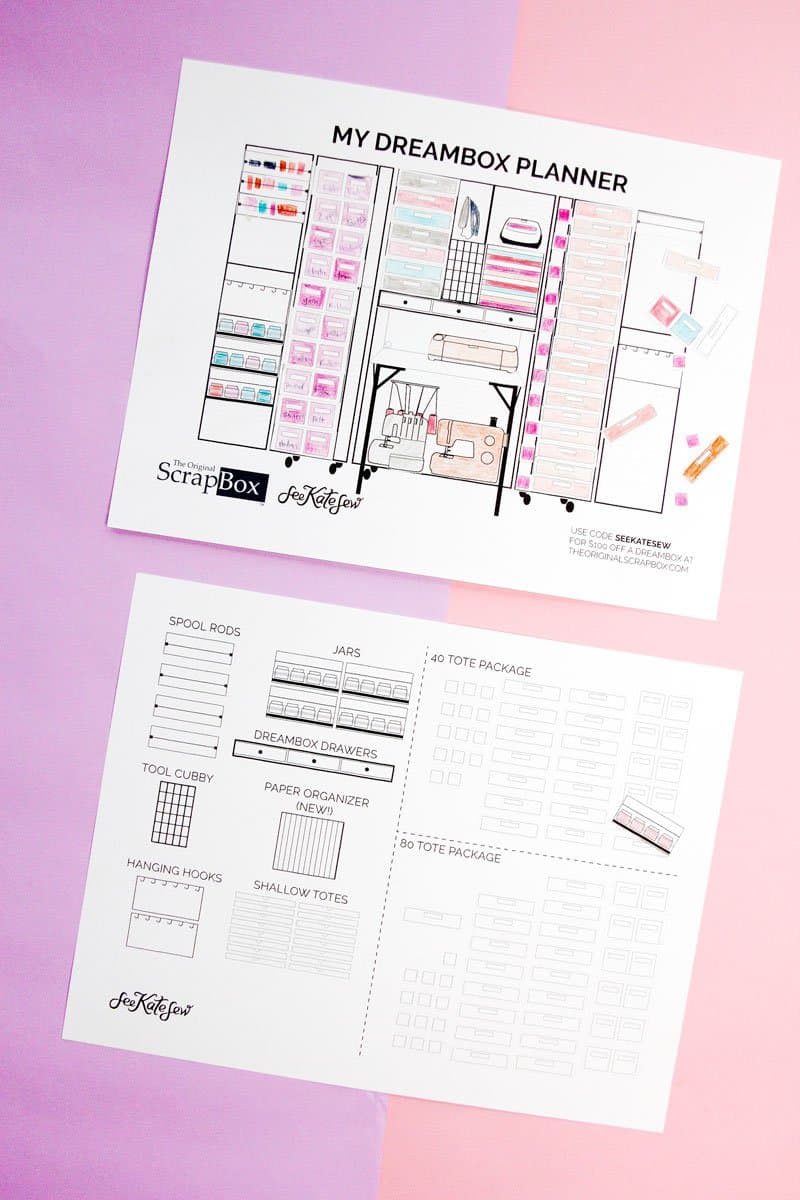 How to organize DreamBox totes for sewing supplies
For thread, I used the clear tote dividers (included with your DreamBox) to make 3 sections for small spools, serger spools and bobbins. These clear dividers slip into slots for up to 3 sections. I keep most of my thread spools inside my Sew Station but for the extras, this is great!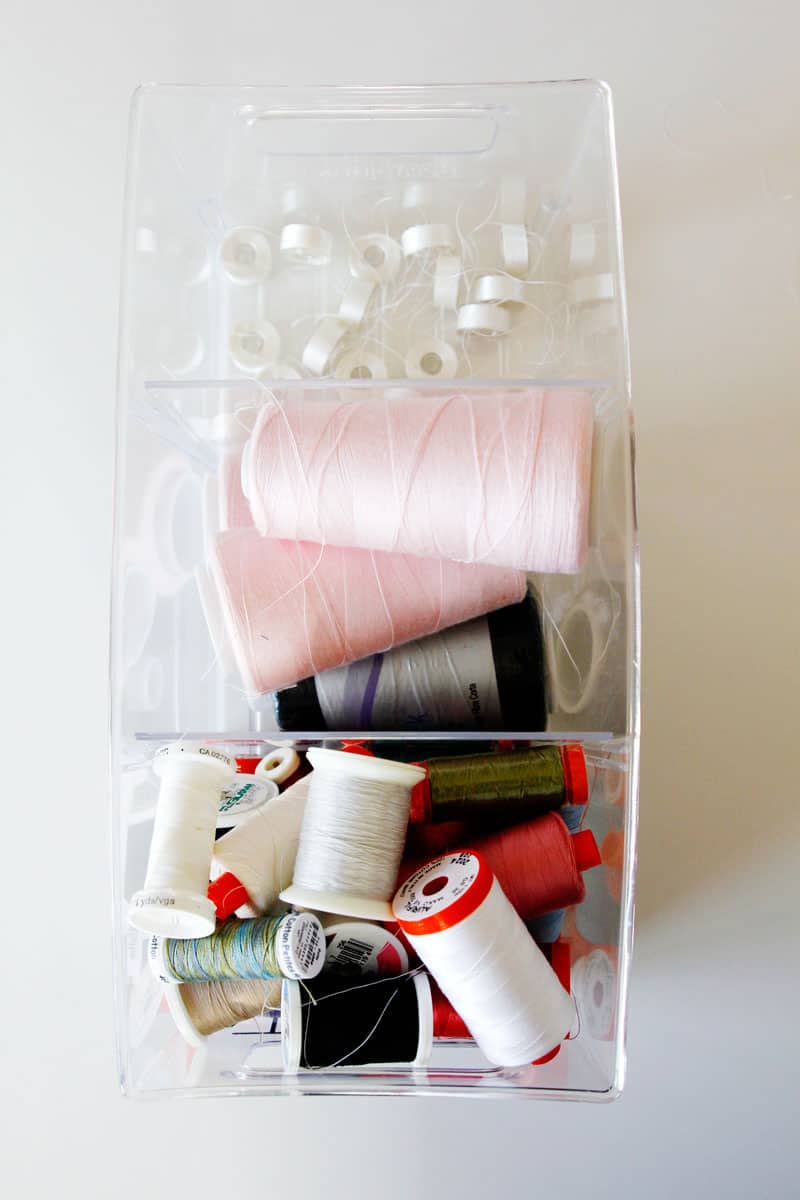 I only use yarn occasionally with various projects so I have lots of little skeins of different colors. They look so cute in the tote and I love being able to see them.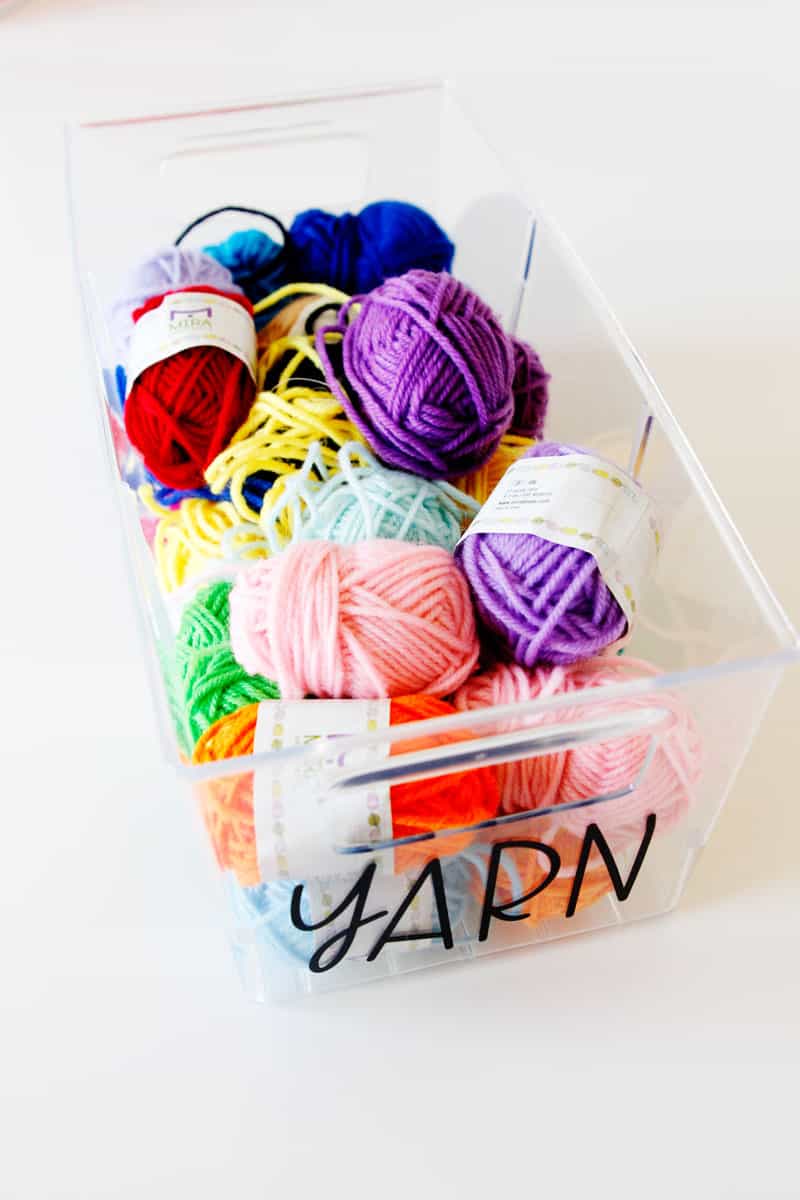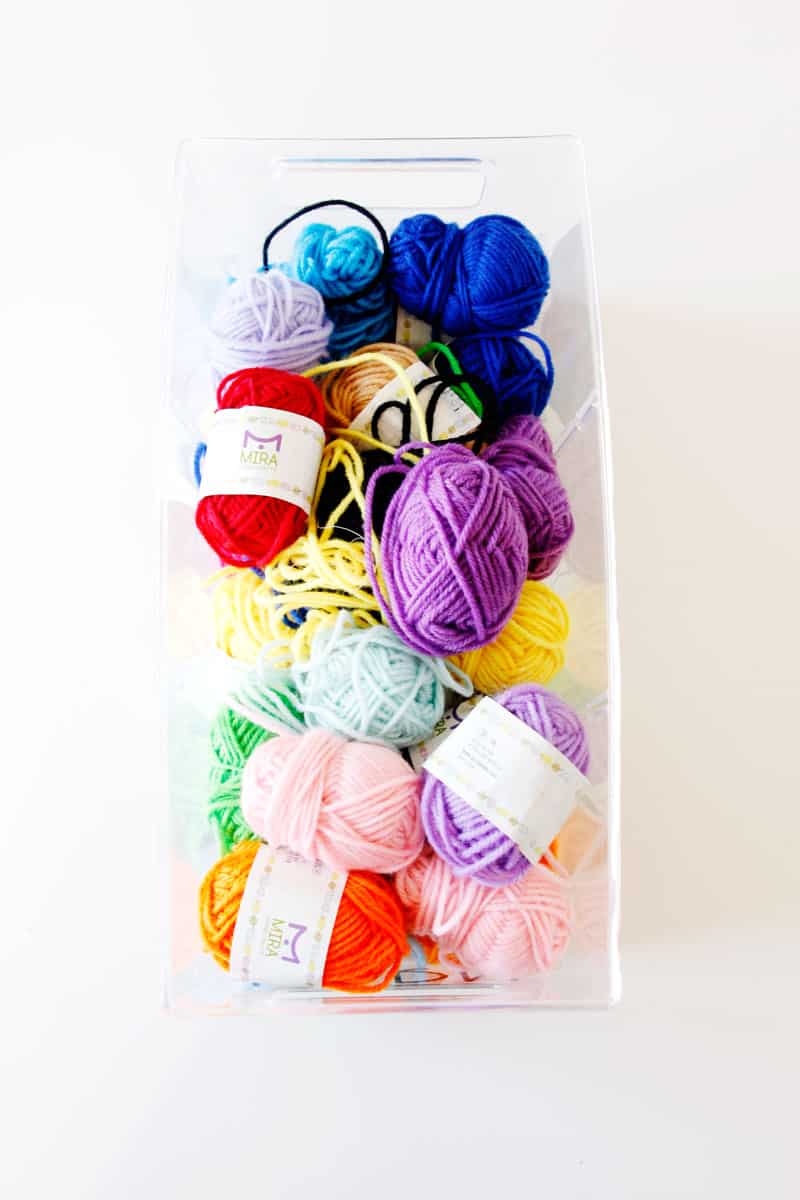 I have said this before but I'll say it again! The DreamBox saves me so much money and time and this tote is the perfect example. This is the flat tote that is big enough for 12″ by 12″ scrapbook paper.
In this one, I have my mini glue guns and all the glue sticks I have purchased because I could never find them when I needed them. But now, I know exactly where they are and I won't be needing to run to the store to buy glue sticks again for a few years!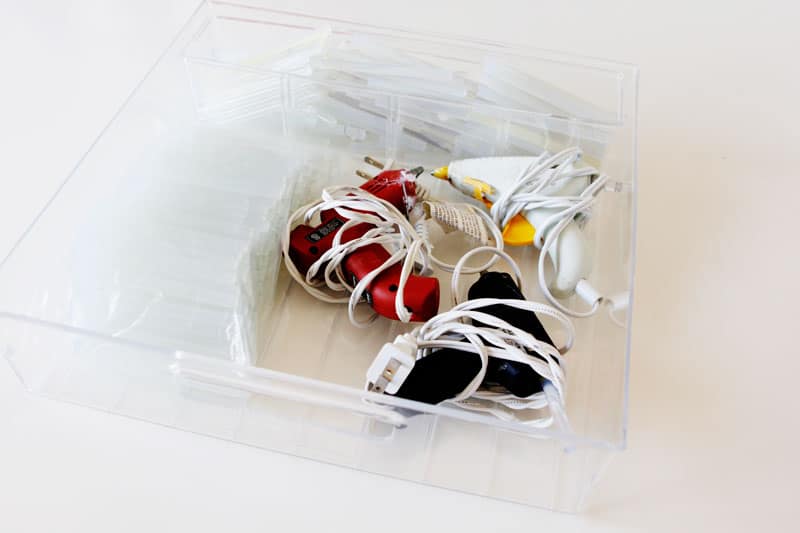 I love these flat totes because you can store so much in them.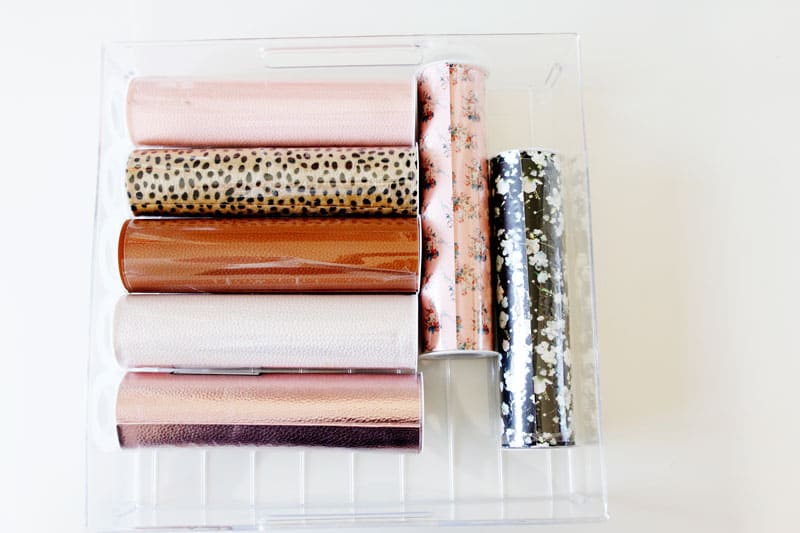 I keep some of my leather spools in the side doors, but these totes are a great spot for them, too.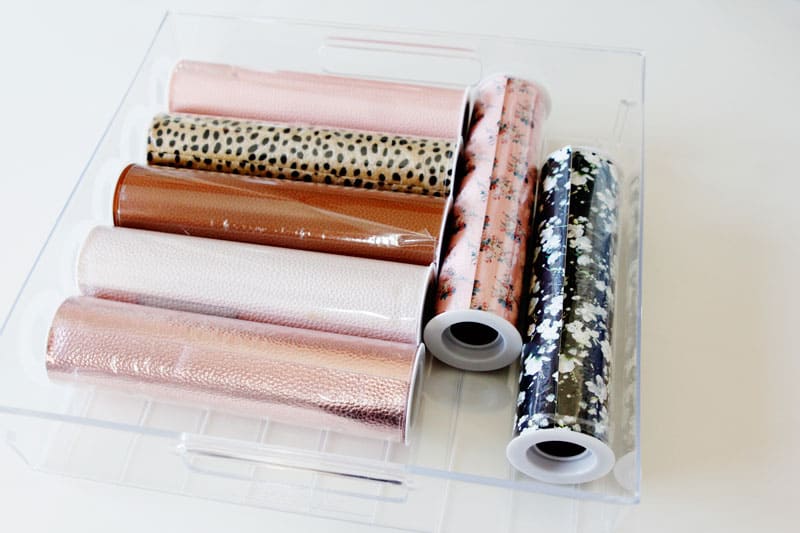 I use a shoe box tote for leather scraps. I don't use these a ton, but I love that they aren't at the bottom of a bin of fabric anymore!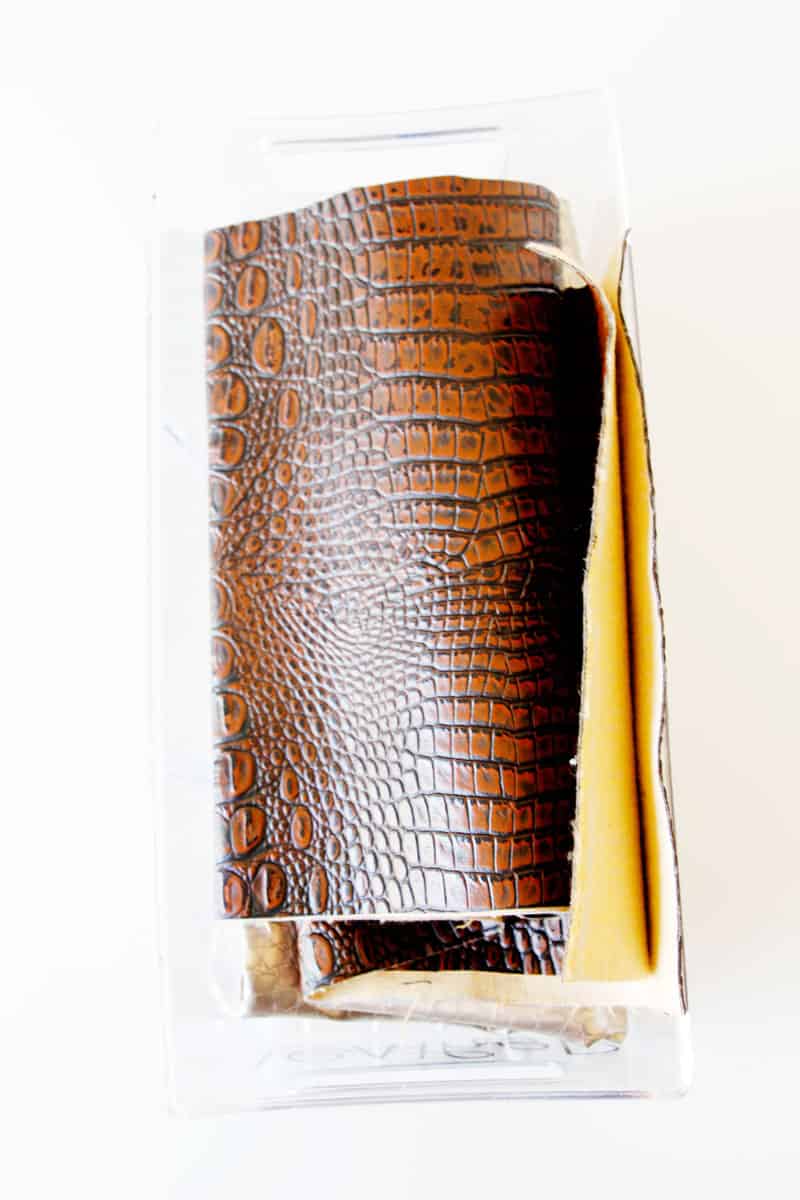 I use another divided shoe box tote for random machine things.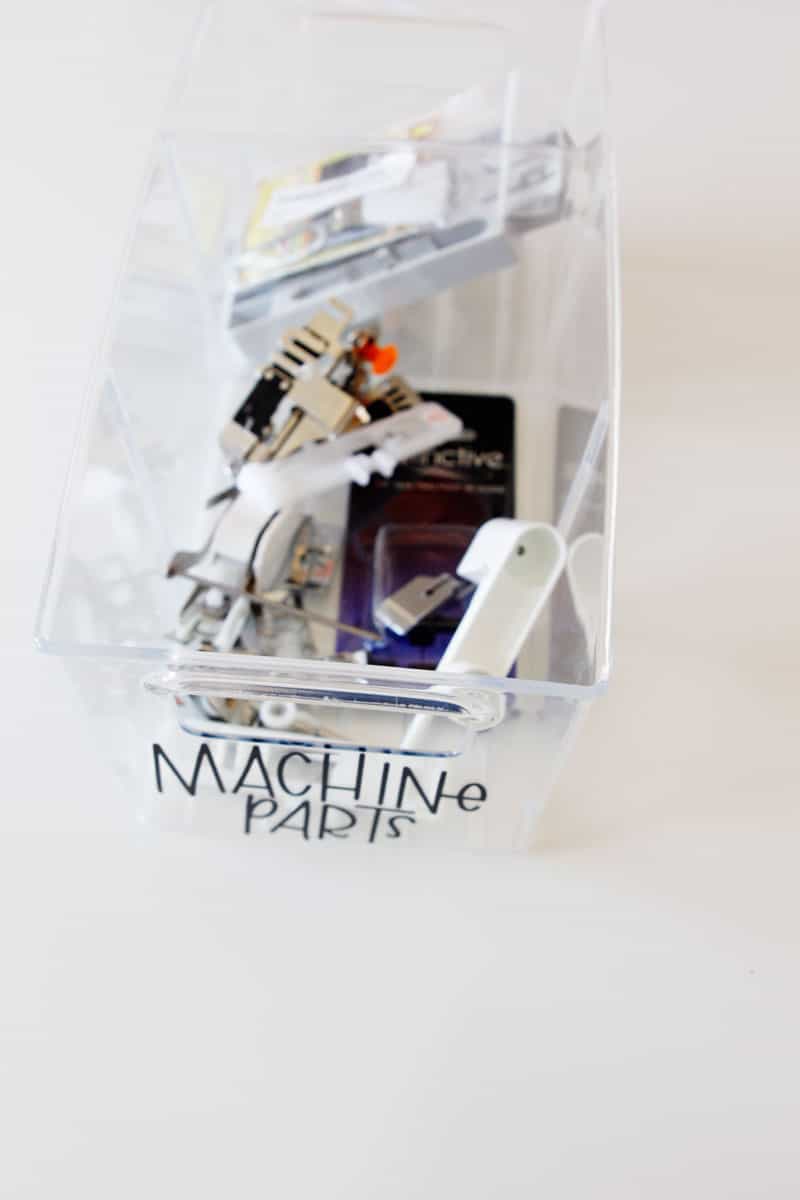 A lot of these came with my machine and I have never really used them. I also have machine feet in here that I do use. It's nice to have them handy.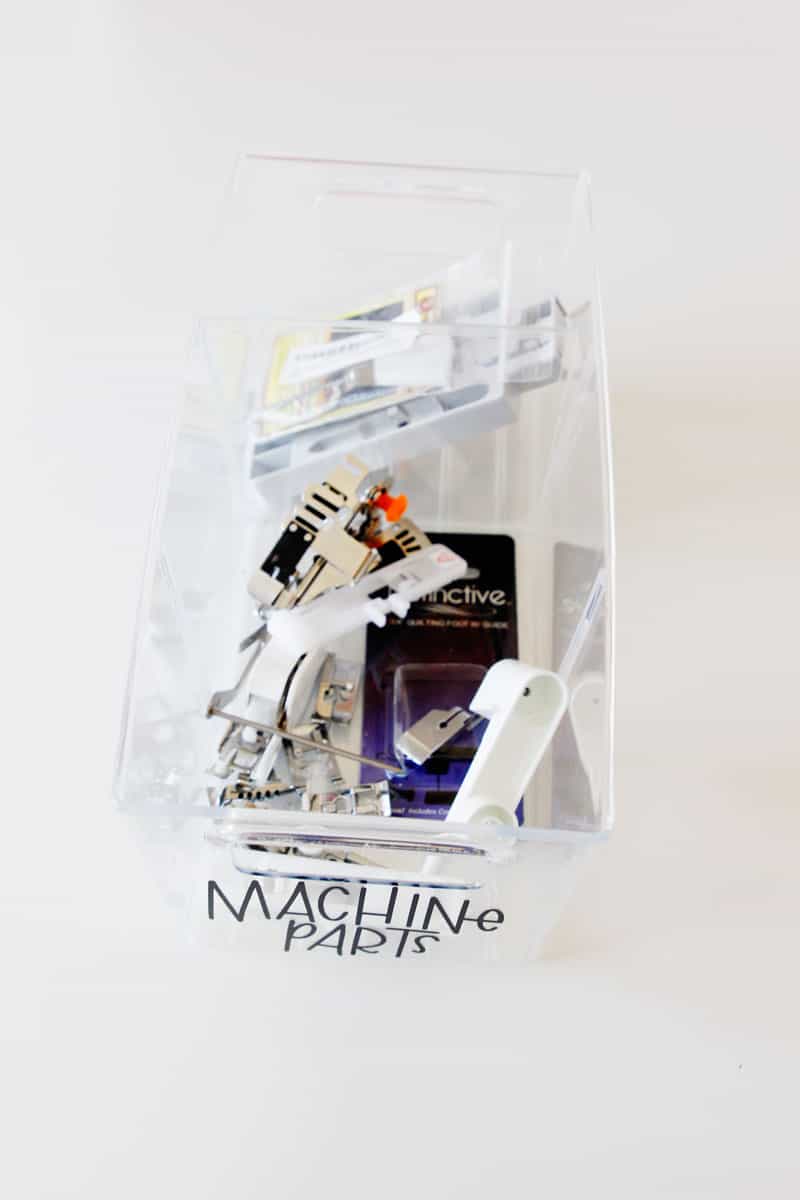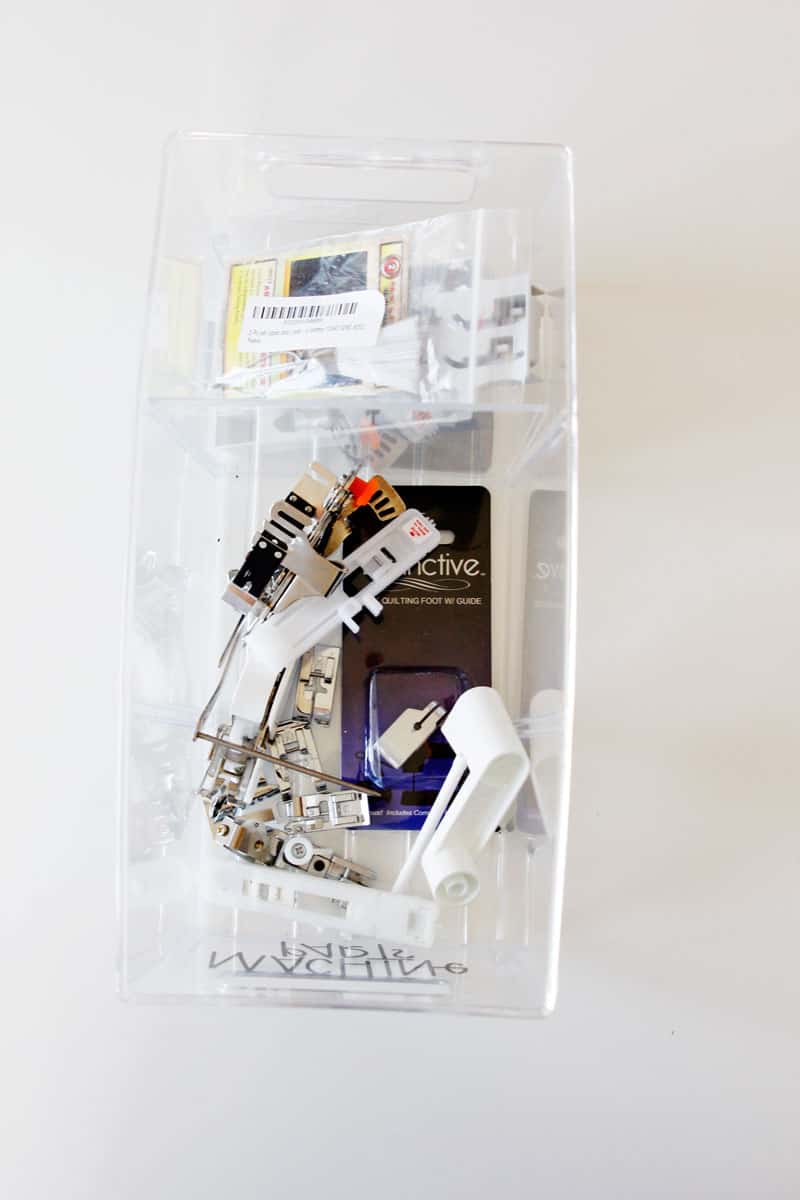 Another thing I love about these clear totes is you can stash fabric in them for a specific project. They are big enough so you can put all the fabric or patches you have started cutting for a quilt, for example. Then you can put it away and just pull it out when you want to work on it. I put a whole jelly roll of one fabric line in this one, a work in progress!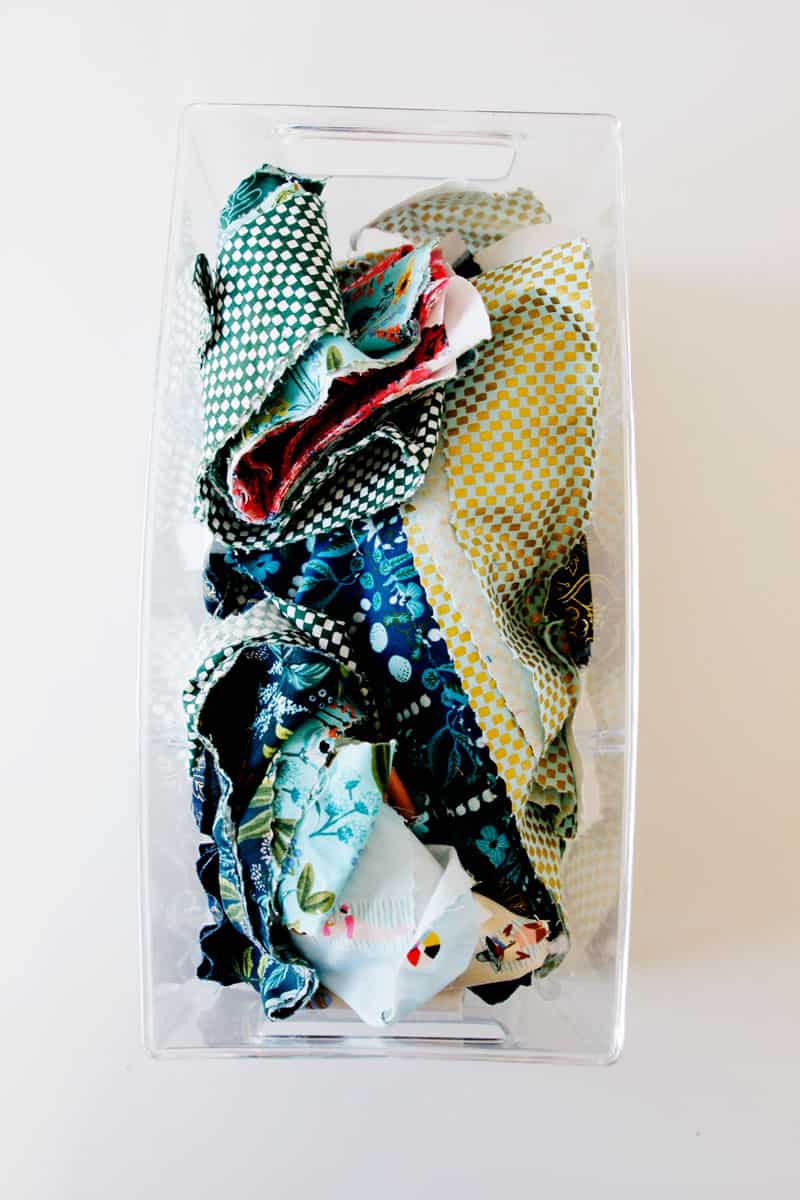 Probably the item that is most stressful for me to organize is trims, bias tape and ribbon. I love the ribbon spools that come standard with the DreamBox, but for pieces that aren't on a spool, the shoebox totes are great.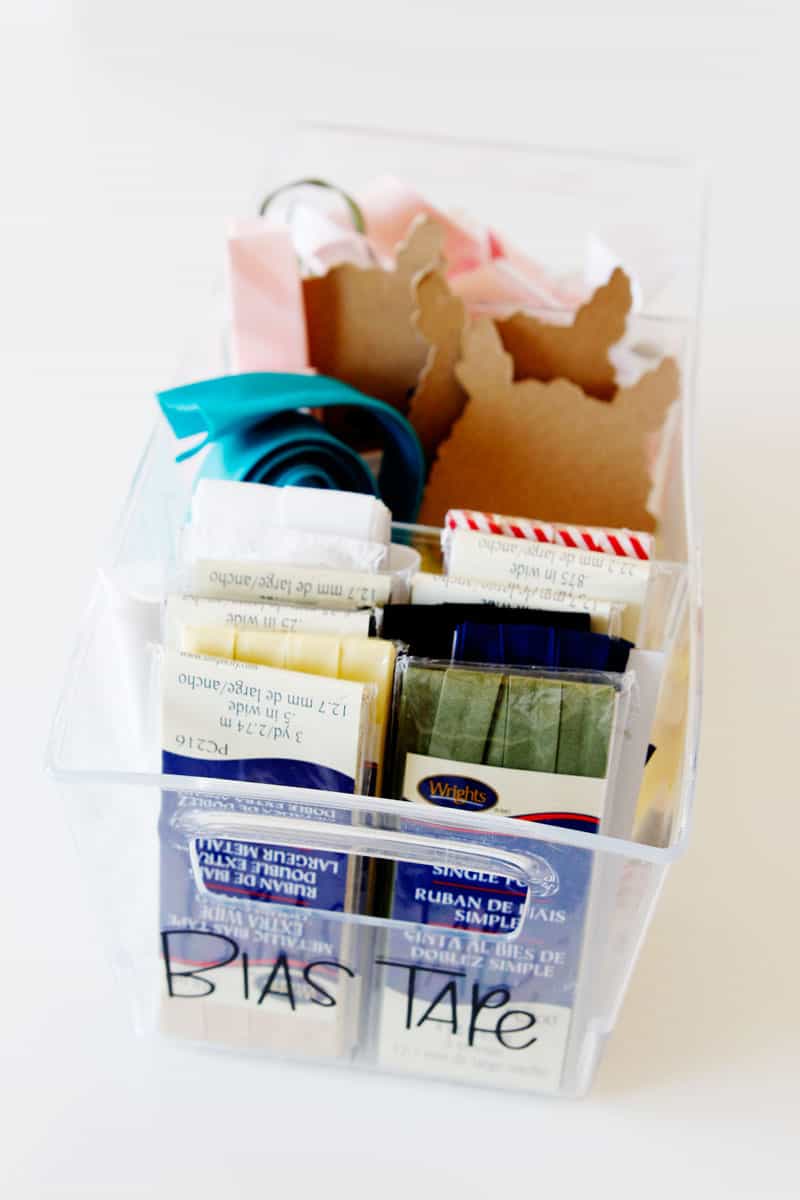 I used 2 dividers here to make 3 spots, one for unopened bias tape, one for ribbon and tape wrapped around llama holders and one for the mess leftover! I still have a few messes, but now they are organized!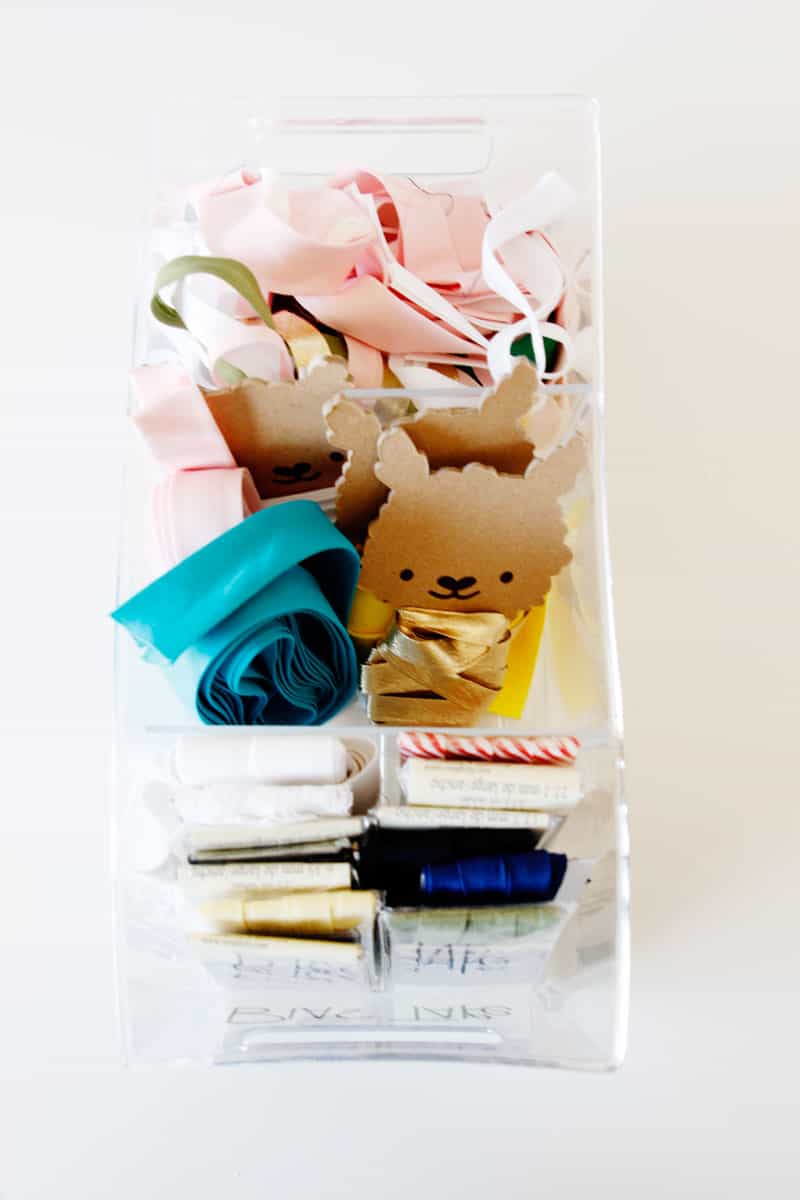 Here's another place that is a total fix from my storage before – embroidery floss! Oh this stuff can make a mess, but look! I made a divider for all the floss and put embroidery hoops in the other.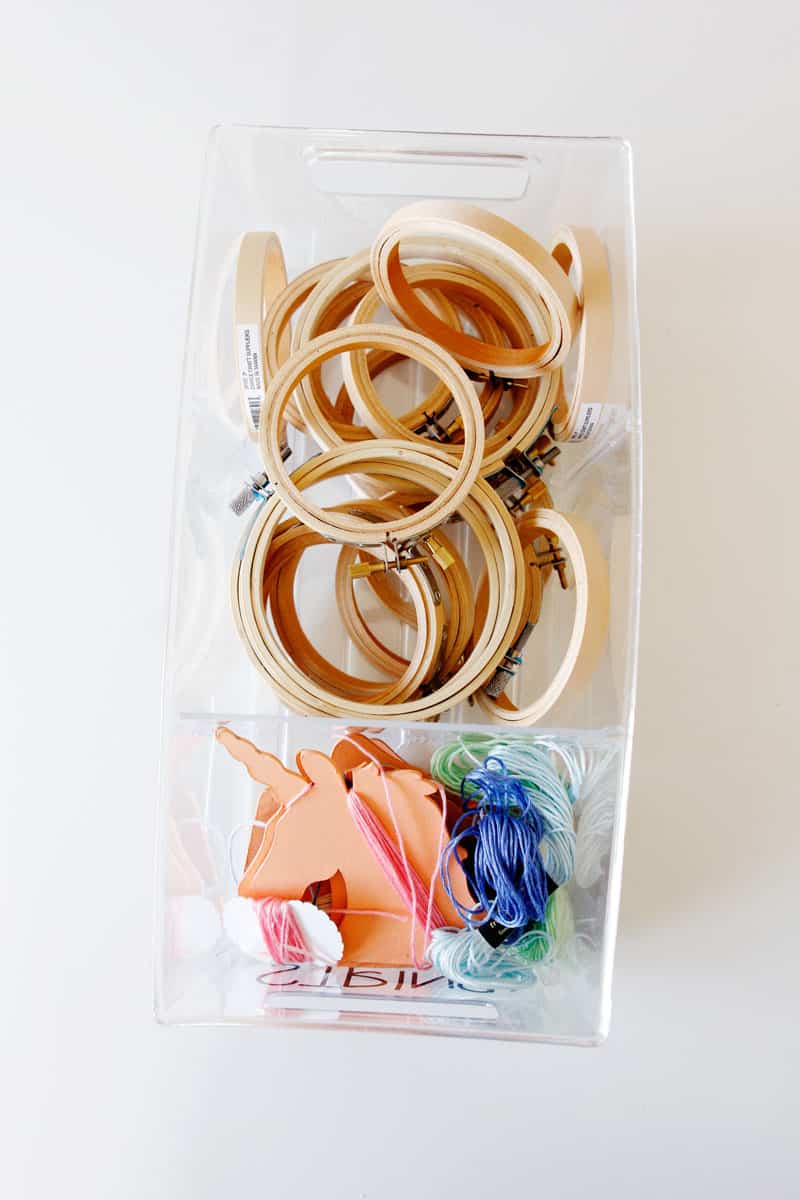 Ah so neat!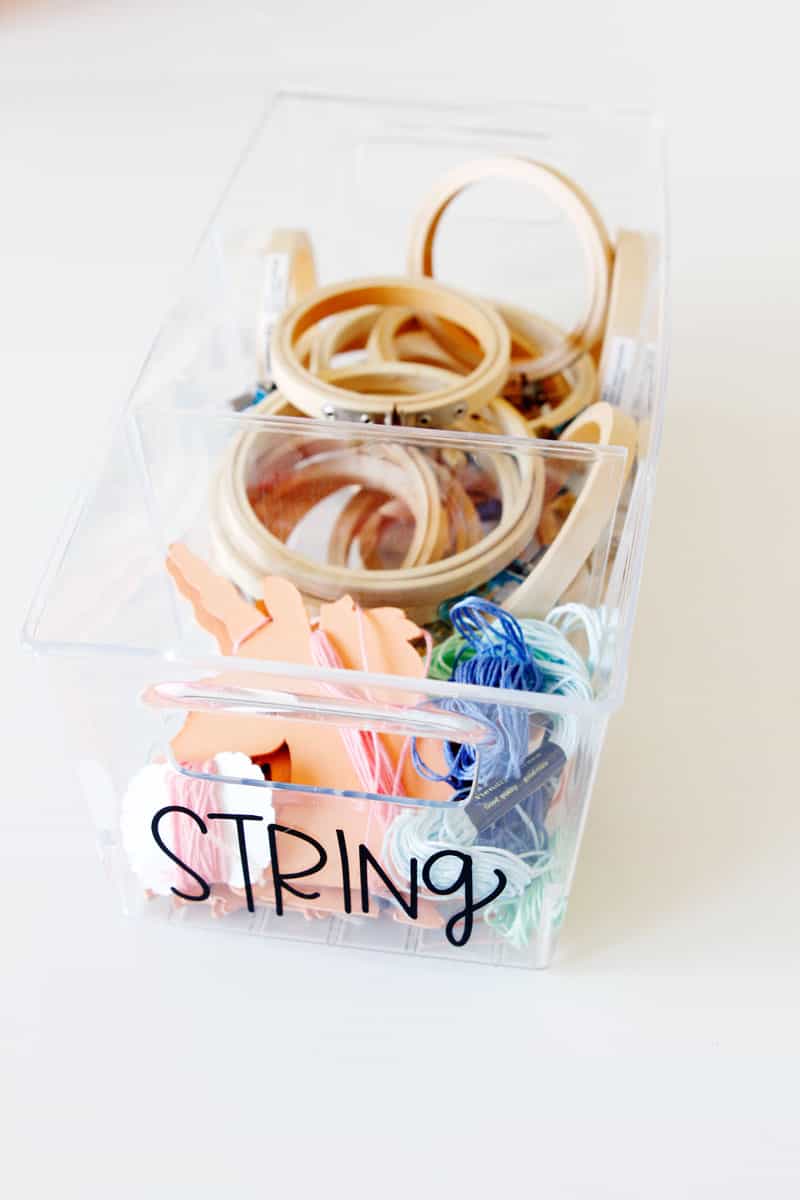 Hiding my KAM snaps has been a huge time saver, too. Mostly because my kids love to open that box up and spill the snaps everywhere. It used to be organized by color, wah! But at least it's all together with the snap placer and I can put it away (up high!) when I'm done.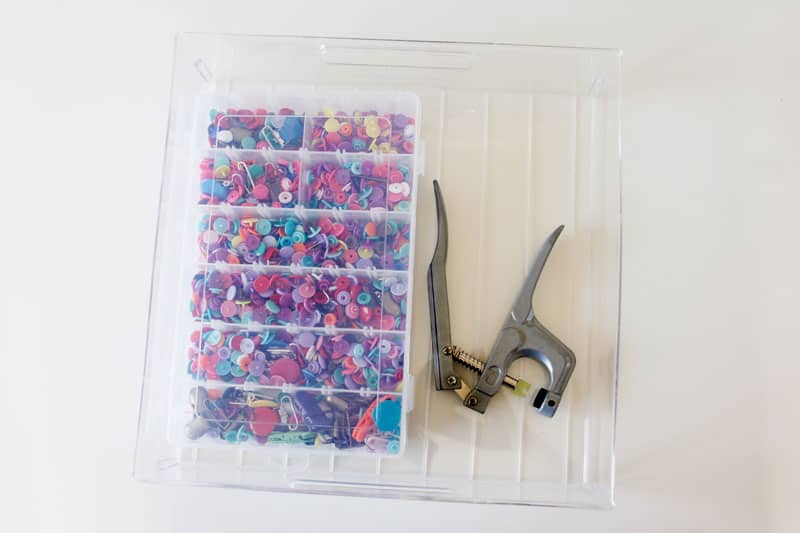 These flat totes are also fun to divide with fabric boxes (free pattern here). I love doing this for fragile things like chalk that could use a little padding.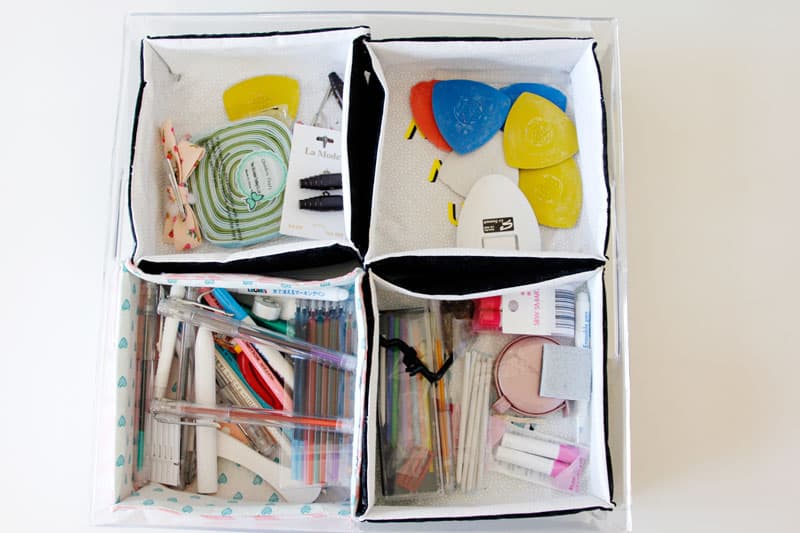 And finally, the other size totes is this long skinny notions tote. These go in the sides of the DreamBox between the doors and the middle. I have found these to be perfect for small things I don't have a ton of and ZIPPERS!
There are also dividers for these, so I store things like elastic, string, and washi tape.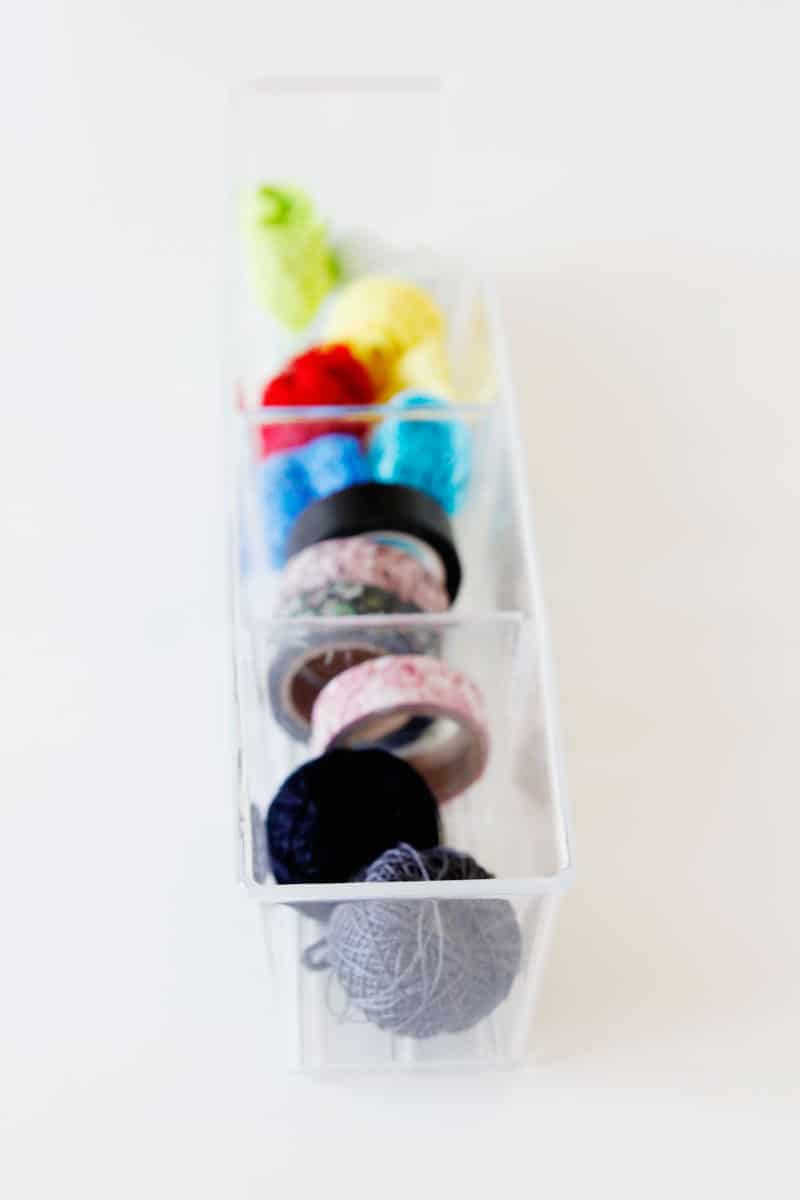 On the left side of my DreamBox I have a whole bunch of zippers in these skinny totes. I use zippers a lot so I have them organized by color. This has been so helpful to me especially when I am trying to order more zippers – I can easily see if I have what I need.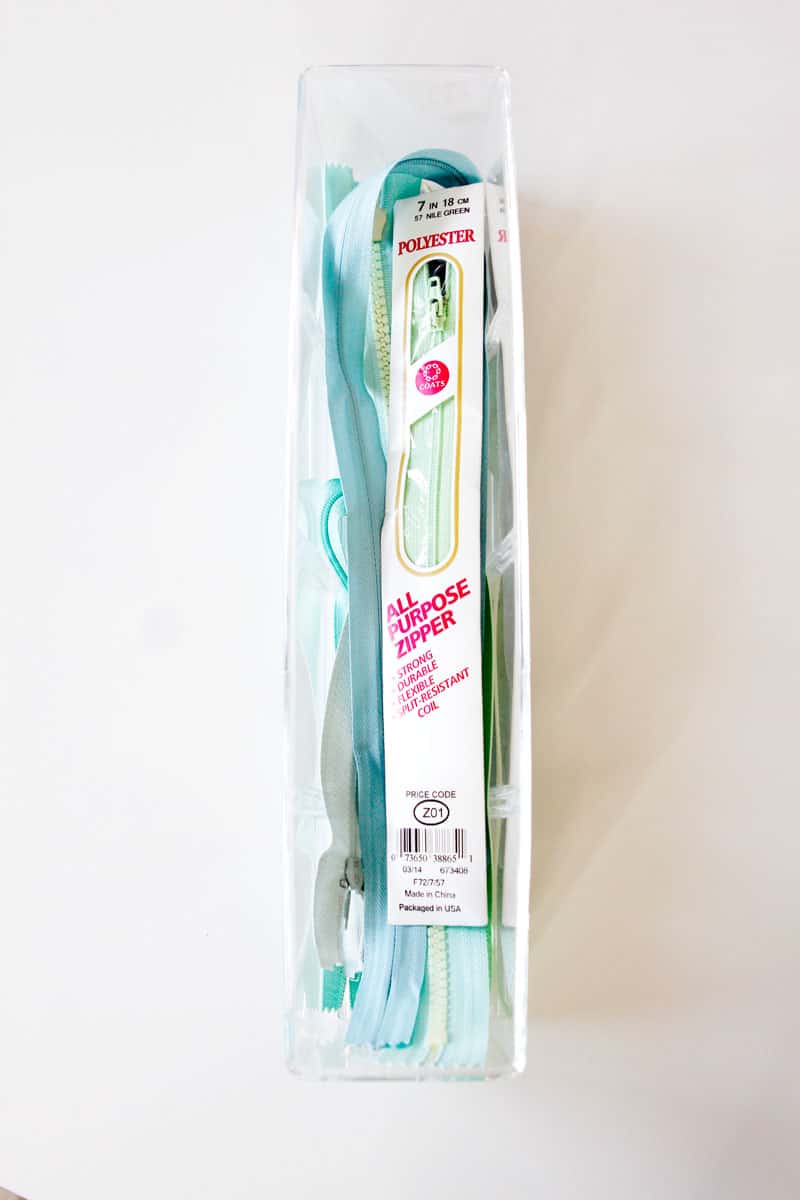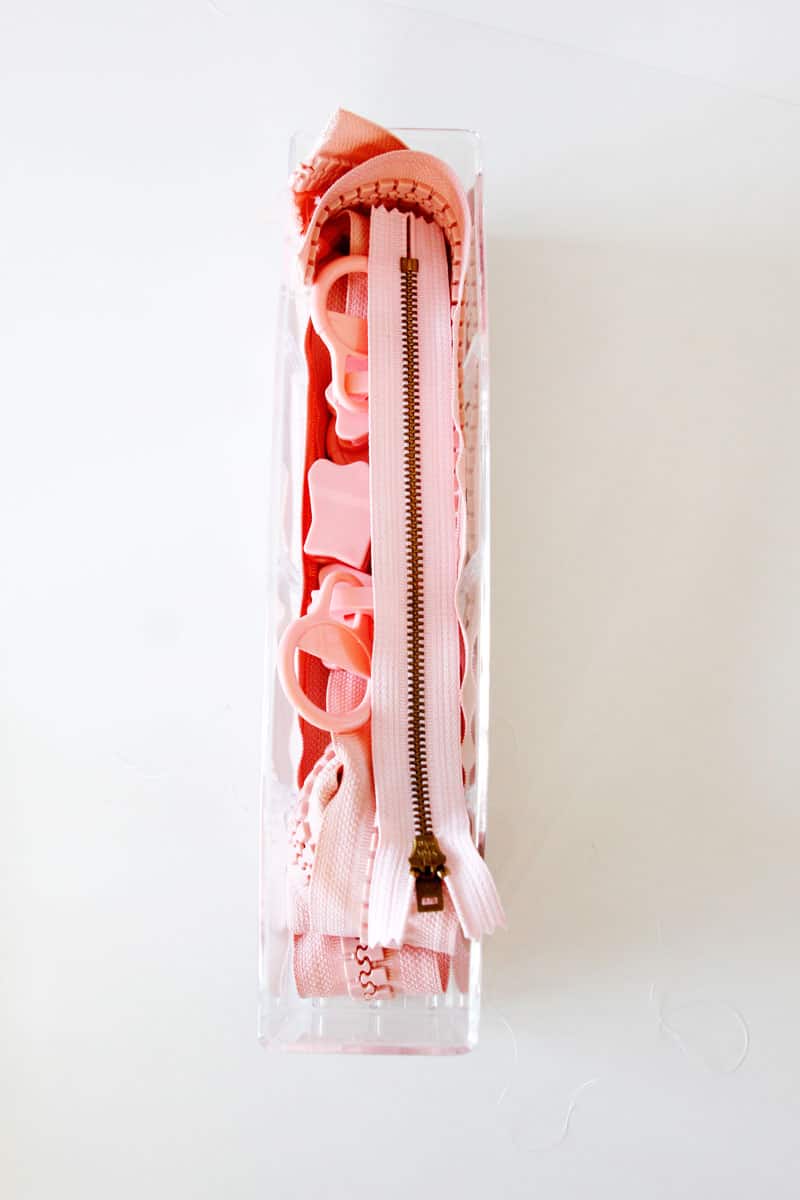 I hope this post has been helpful to you! One of the best parts of sewing room organization with the DreamBox is that you can evolve and change the shelves, totes, etc as your craft evolves and changes!
More Sewing Organization Ideas