During a few of the rounds of sytyc, I had some dilemmas on which idea to use. This was one of them, for the "thrift store" theme. Once I got about half way done I decided it was a no. I finished it anyways.  I used the little man diaper clutch instead and ended up winning the round. This was the only project that I finished but didn't use. I even wrote out the whole post! I thought it would give you a good laugh. 
geek chic keyboard clutch purse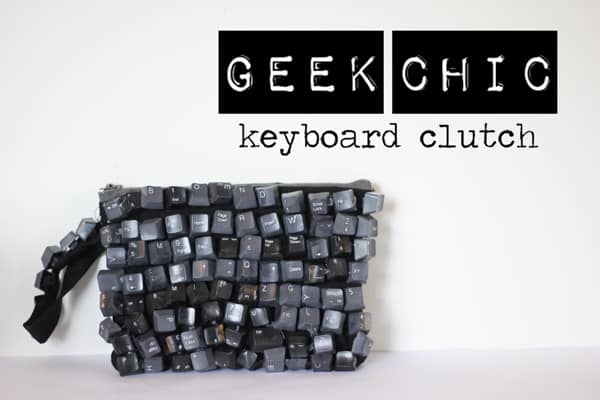 Computers are the new landfiller these days and thrift stores are full of them. I collected a few things that EVERY thrift store has: black keyboards, a women's suit and a lace dress from the thrift store and upcycled them into a conversation starter of a wristlet.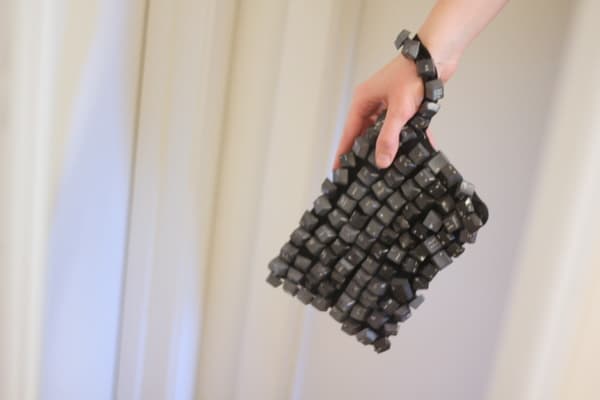 How do those keys stay on there? I essentially made each one into a button and sewed them all on. These are here to stay. It was time consuming, but makes a great statement piece. The suit is a perfect material because the keys sit nice and snug on it. I lined the inside with the lace dress because geeks like fancy things, too.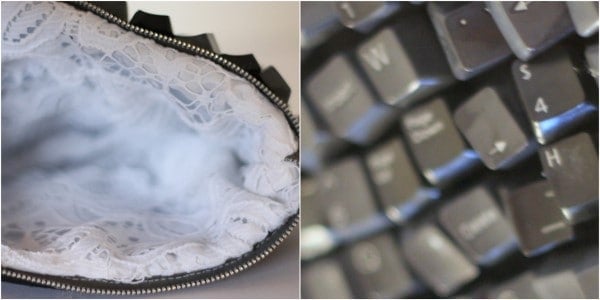 You can spell out anything with these letters! Or put them on in traditional QWERTY arrangement so you can practice your typing on the go! Now put on your cardigan, grab you wide frame glasses and let's geek out! 
So what do you think? Totally geeky or totally awesome? I wasn't thrilled with my execution. The keys didn't stay as straight as I wanted. I think that was because I used a stretch fabric suit.
Have a happy Tuesday. You are awesome!