I've been shopping for my little girl's birthday and Christmas presents recently. (She was born right after Christmas. I was timing contractions on Christmas day last year but gave the babe a break and held her in a few days. Had to get a pretzel from the mall first…)
Anyways, the baby doll market is new to me. I mean, I LOVE dolls and always have. But this is my first time purchasing a doll as a parent, which is totally thrilling. But MAN was I surprised to find that it was really hard to find a doll that wasn't weird looking, CREEPY lifelife, lifelike monkey baby what?, or otherwise not acceptable (belly shirt??). I couldn't even find a good list of not-creepy baby dolls, so I decided to make one. Here are 10 cute and sweet little baby dolls for your baby to love.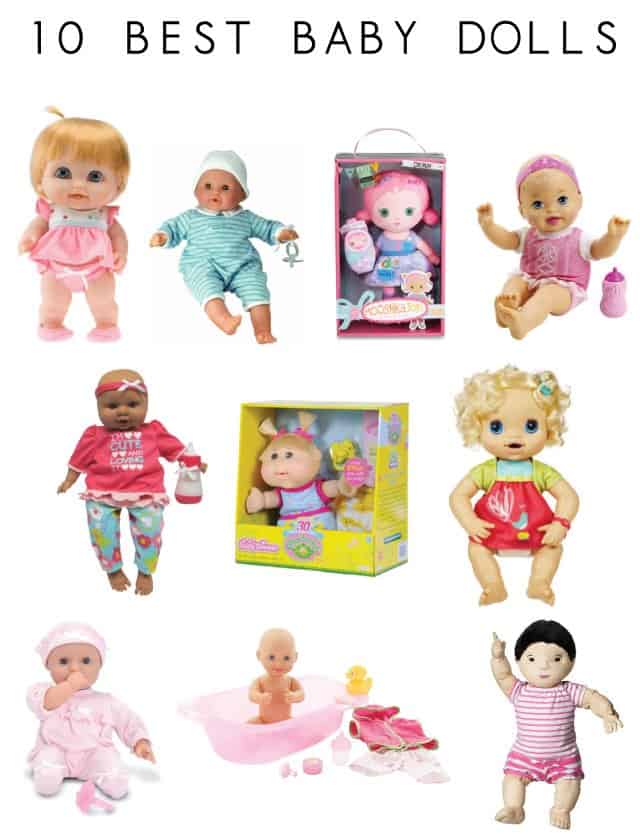 1. Lil' Cutesies – I love how out of proportion their eyes are. The ones with hair are my favorites. And the chub! Oh my gosh, the chub is cute.
2. Corolle – Soft body and sweet plastic head and arms. A classic babydoll, I love this baby boy one!
3. Mooshka Tots Doll
 – These are perfectly quirky and so sweet. They are a soft doll that I spotted at Target the other day. The one with pink hair is my favorite.
4. Little Mommy – These dolls are the perfect size for a baby girl.
5. Circo Feed & Sleep– These have a bunch of different dolls, boys and girls with different play sets.
6. Cabbage Patch Kids – These are the essence of my childhood! They are very unrealistic looking, which is what I love. And you can't pass up their adorable birth certificates and names.
7. Baby Alive – These are a little cartoony but I love the all-plastic body and hair.
8. Melissa & Doug Jenna – Pink and classic, although this one is a thumb sucker so I guess it depends on how you feel about that! Controversial baby doll parenting, hah!
9. Bath Time Doll – Nothing really special about these dolls, but they are relatively inexpensive.
10. Ikea LEKKAMRAT doll– These are soft and big, like pillows. Not a classic doll, but I love that they have some boys and different ethnicities.
And if you're not into any of these, you can definitely make your own with this list of 20 dolls and toys to sew and this list of 15 MORE dolls and toys to sew.
I'm sure I missed some good ones…what is your favorite baby doll? I grew up in Cabbage Patch Mania (thank you nineties!) so I am partial to CPK! But the new Mooshka dolls are so so fun!