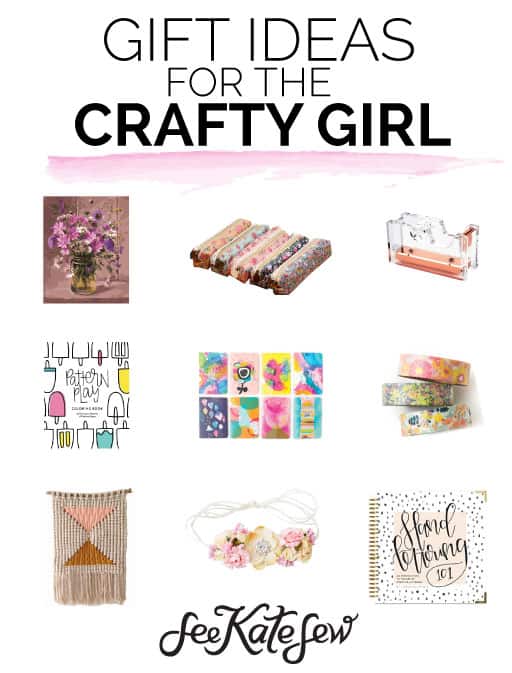 Whether you need a gift for a birthday, Christmas, or just to say, "I think you're awesome!" here are 15 ideas specifically for people who love to craft and create! Put a few of these on my list, thank you!
Lap Loom– Beautiful woven wall hangings seem to be everywhere right now! Get in on the action and learn to weave with a simple lap loom.
Pom Pom Maker– Pom poms are so fun to make into garlands or to add to pillows or gift packaging. This gadget helps you make a whole pile of poms poms in record time!
Hand Lettering Book– Pretty hand lettering is such a great skill to have! Learn and practice with this book.
Coloring Book – This adult coloring book is especially fun because it combines gorgeous hand lettering and cute images!
Dual Brush Pens – These awesome, pigmented pens will come in handy when practicing hand lettering or filling in a coloring book.
Washi Tape – This washi tape comes in so many cute prints!
Rose Gold Tape Dispenser – A tape dispenser? Really? I know! But crafters use a lot of tape and this dispenser is SO gorgeous you'll want to keep it out on your desk.
 Latch Hook Rug Kit – DIY rug!! How cute would one of these be by a vanity or bed?
Paint by Number Kit – Paint by number kits are a win win. You get to relax and unwind while painting and enjoy the beautiful art when you're finished.
Liquid Chalk Markers – Chalkboard markers are perfect for avoiding chalk dust and getting precise lines while lettering on chalkboards.
Lace Scrapbooking Tape – How dainty! How pretty! Decorative tape is always fun.
Cute Mini Notebooks – Pop one of these in your purse or pocket to have on hand when inspiration strikes.
Floral Crown Kit – How lovely would this crown/headband look with loose waves or a messy updo? ????
Tassel Maker – This is like the pom pom maker but for tassels! Add a few tassels to a shirt or curtains.
Pretty Storage Pouches – Keep all your crafty supplies in something practical but pretty!