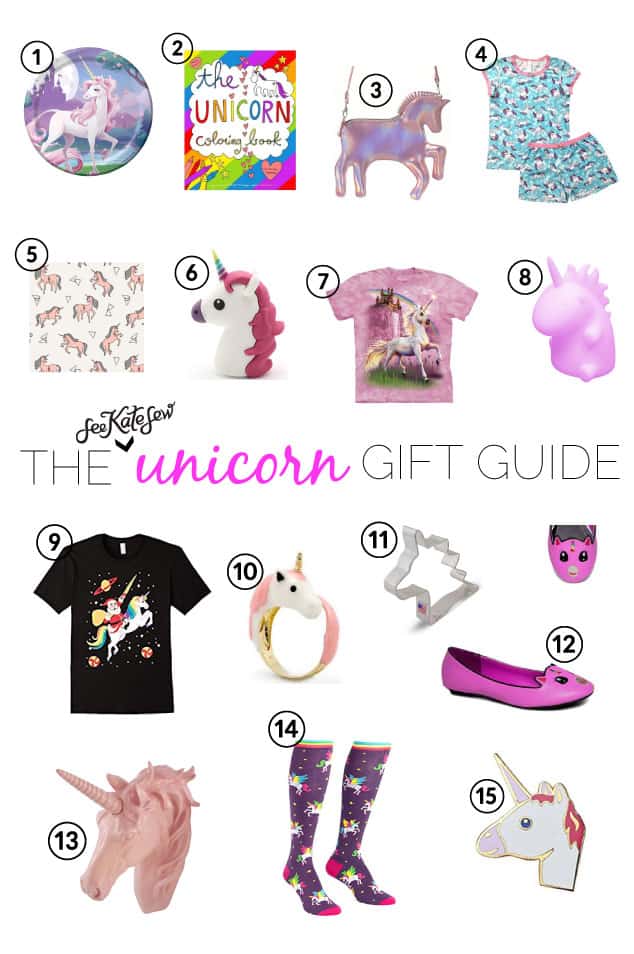 For everyone who knows how beautiful and important unicorns are, here's a little round up of some adorable and fun unicorn themed items! The ballet flats are SO CUTE!
1. Plate: Make meal time more magical!
2. Coloring Book: This is full of fun quotes, pictures and space to doodle!
3. Purse: How awesome is this?! It reminds me of Zenon.
4. Pajamas: Love this little short pajama set!
5.  Fabric: What would you make with this amazing fabric?
6. Charger: Charge on the go with this cute little gadget!
7. Shirt: How perfectly majestic is this shirt? ;)
8. Night Light: This gives off such a nice, soft glow!
9. Santa Shirt: Get into the Christmas spirit with this tee!
10. Ring: This is so dainty and pretty!
11. Cookie Cutter: Decorating unicorn cookies would be so fun!
12. Ballet Flats: OH MY GOSH, these are the cutest!!
13. Wall Mount: This would be so cool in a little girls room!
14. Socks: Stay cozy, stay cool!
15. Enamel Pin: Add this it to a denim jacket or canvas tote bag!
What's your favorite unicorn item??