I'm SEW excited to share my new sewing room organization with you! This is my DreamBox by the Original Scrapbox and it is already changing the way I sew! Update: Original Scrapbox is now called Create Room! Use my Create Room discount code SEEKATESEW to save $100 on the DreamBox.
Use code SKSMASSIVEJOY for 15% off until Nov 29!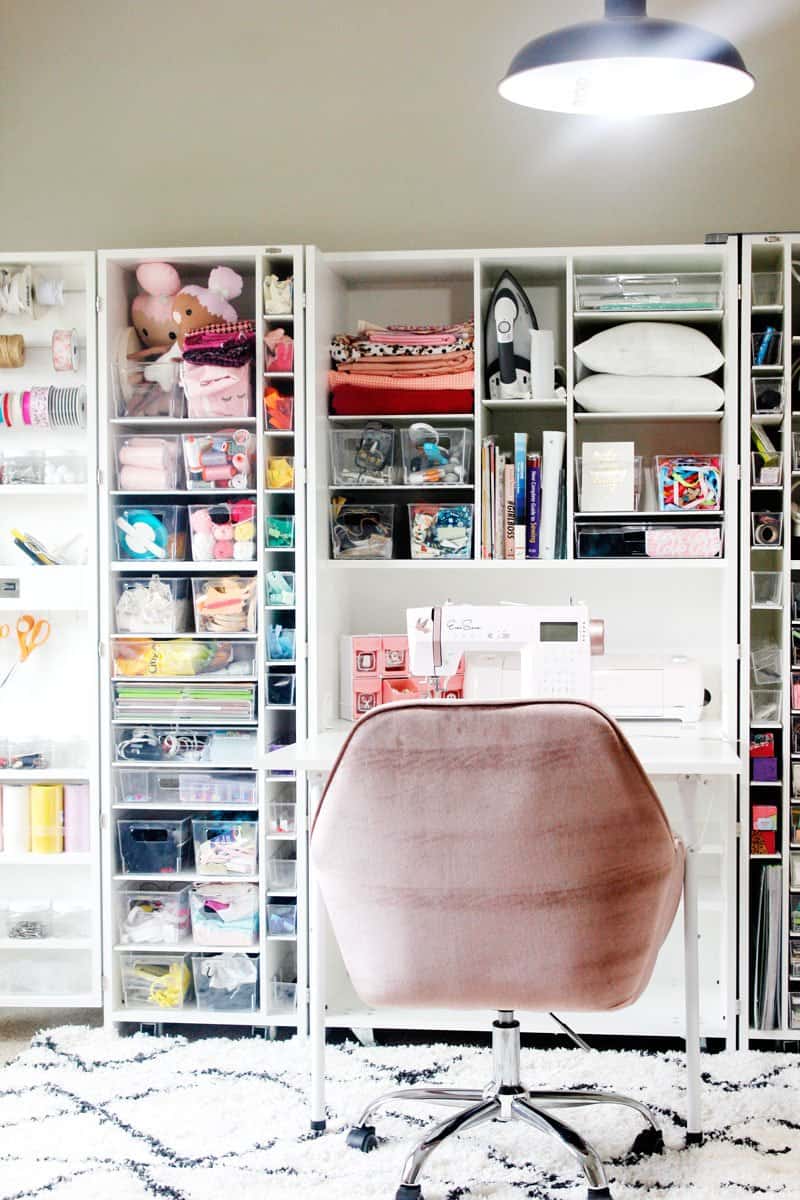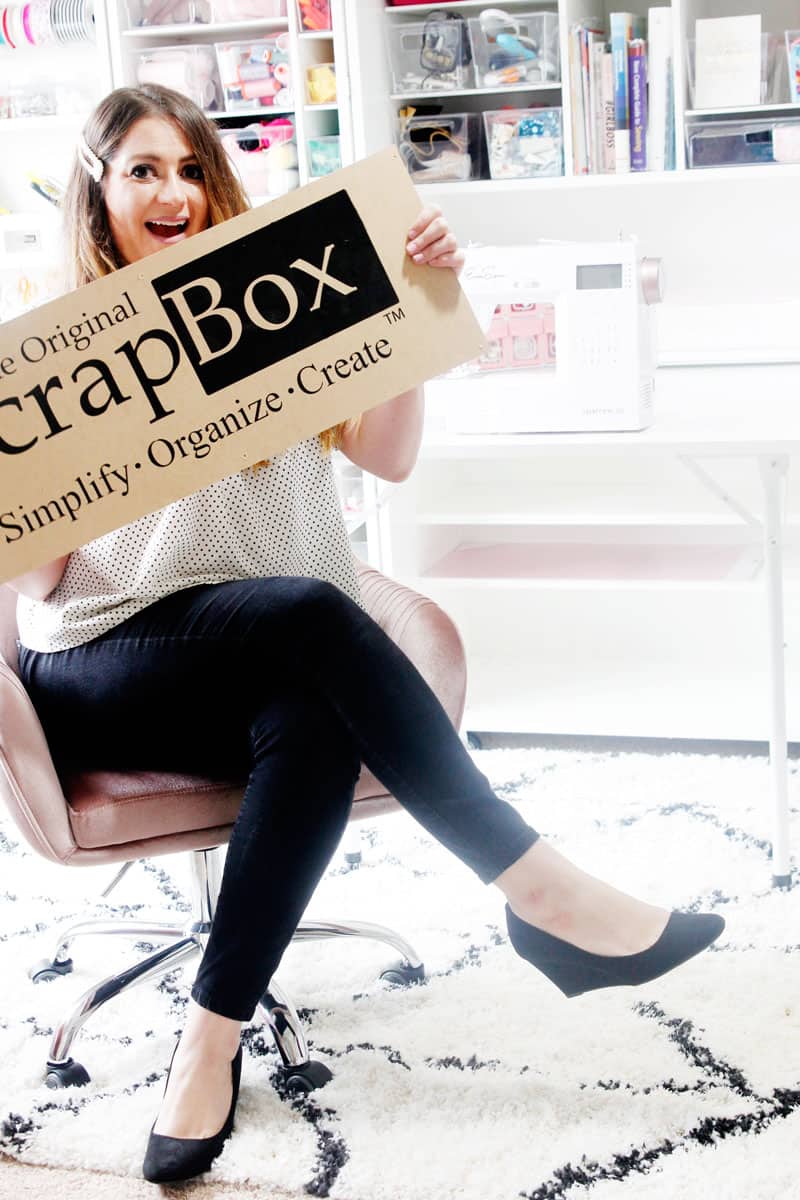 The DreamBox is made by The Original Scrapbox
and is the ultimate organizing tool! Use my The Original Scrapbox Coupon Code:
SEEKATESEW
to save $100 on your purchase!
Shop here!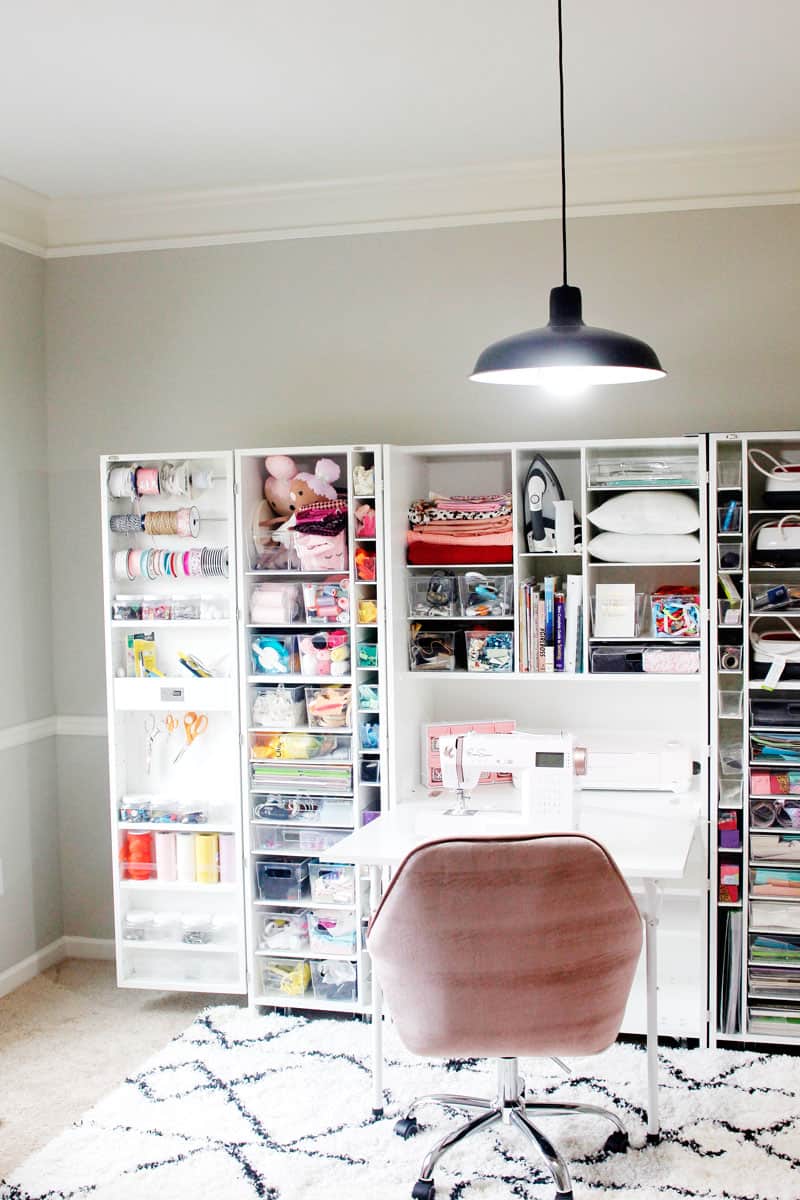 Ah! It is just so inviting! The DreamBox has solved all my sewing room problems!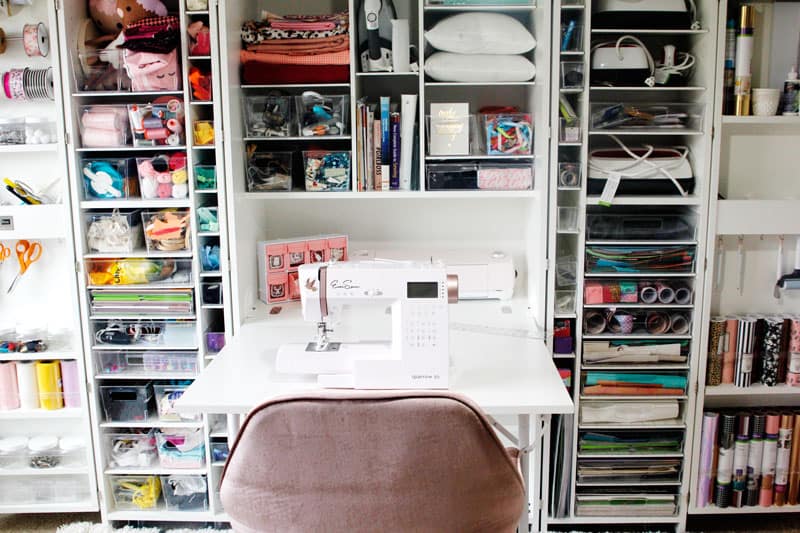 See how happy I am?! The velvet spinny chair helps, but the DreamBox is great for quite a few reasons.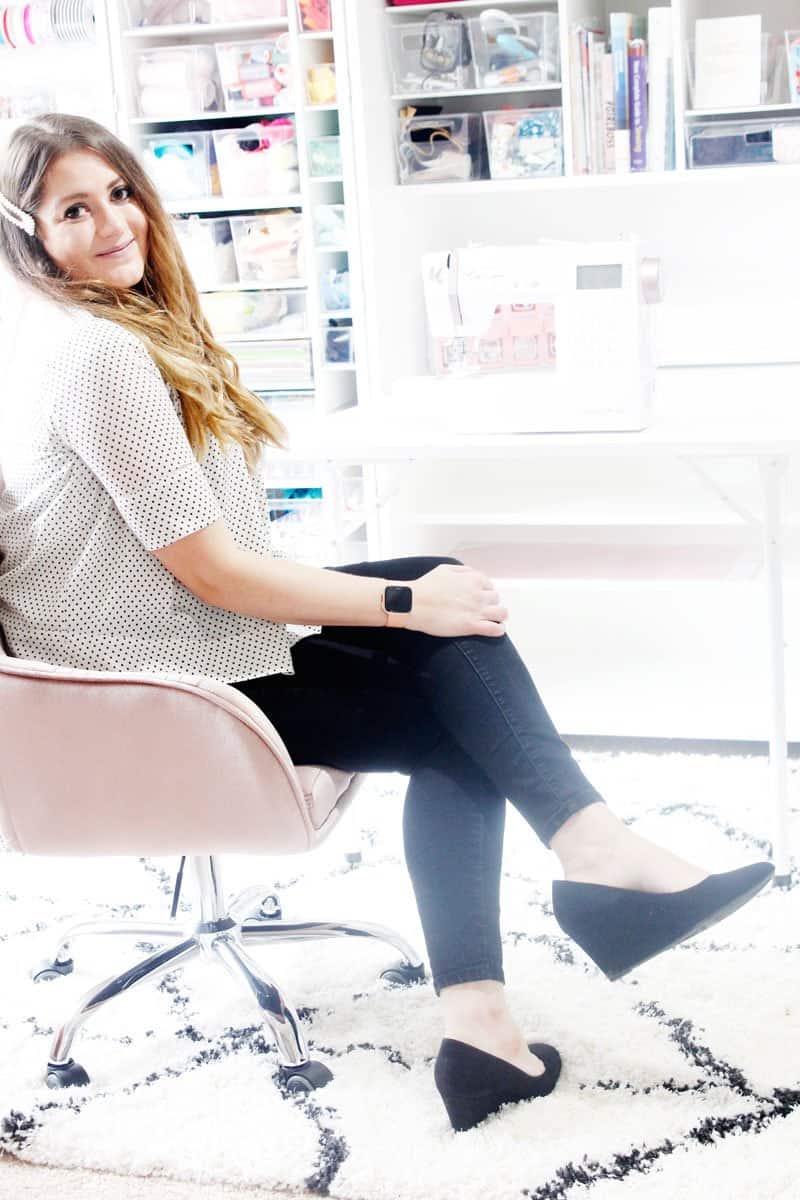 There's a place for everything and it's all visible and accessable! My creative process definitely thrives when I have supplies and materials right in front of me ready to inspire my next project. I get so much more sewing and crafting done with everything at my fingertips! And my projects are ending up with more fun materials since I know where they all are!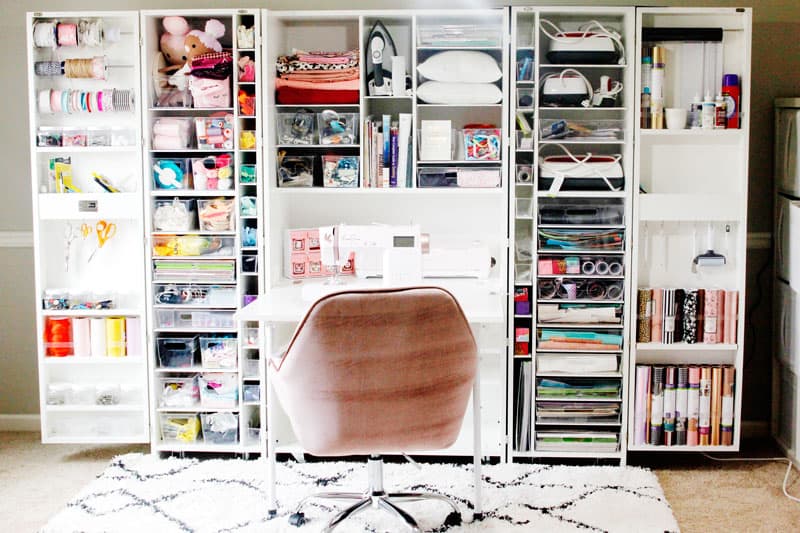 I also feel less stressed out. It's very easy for a sewing room to get messy and that mess always hinders my productivity. I also love knowing where everything is- it has changed my craft session. Need a glue gun? Got it! Need some tulle? Done! Everything has a place and I know where to find it!
Before the DreamBox, I found myself buying supplies that I knew I had, but I couldn't find anywhere. They were probably at the bottom of a box somewhere! While I was organizing all my supplies into the DreamBox, I found so many examples of this!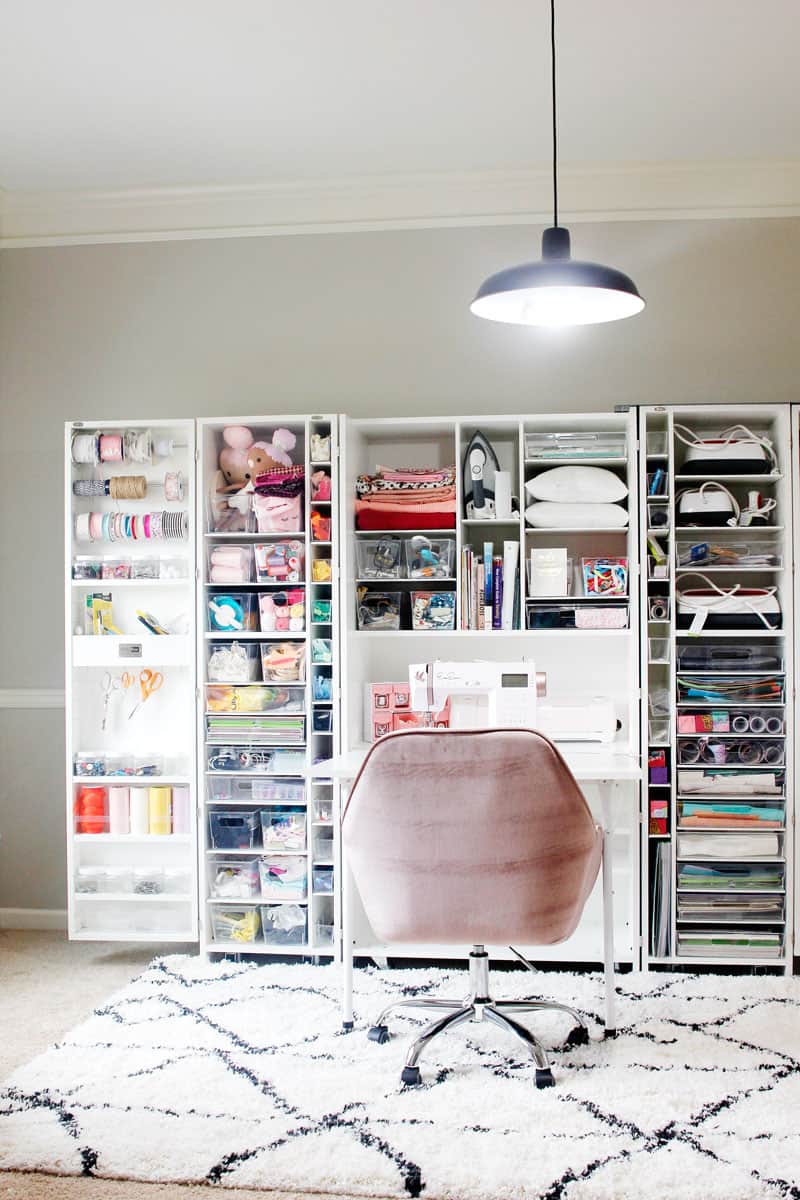 My previous "organization" was two ikea square shelves with boxes full of stuff. It didn't quite work and I would have to sift through each box to find what I needed. Craft supplies need specific organization, so I'm so happy to have the DreamBox in my sewing room now.
The Original Scrapbox company sent me a pre-built DreamBox, which is an add-on service. I definitely recommend the pre-built service if you can swing it – the whole thing took less than an hour to assemble.
I spent a little more time putting in shelves, making sure everything was JUST right, but it was very easy to do. If you want to rearrange bins and shelves later, it's super easy to do. The DreamBox will evolve with your crafts, so it's a great investment piece!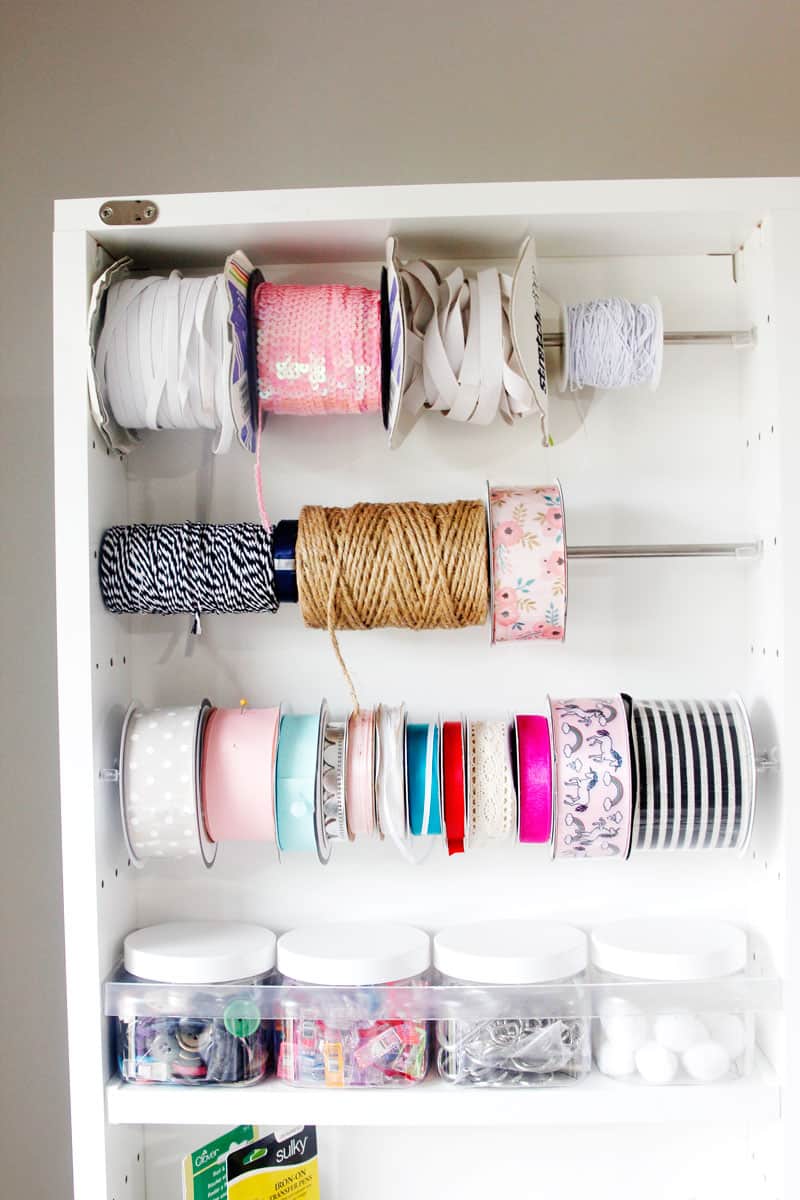 One of my favorite features of the DreamBox is these ribbon holders! On the left side, I put elastics, ribbons and twine that I use for sewing and gift wrapping. On the other side, I put a whole roll of black iron-on vinyl!
I also LOVE the plastic jars. They are so cute but also perfect for things like buttons, bag hardware, blank hair clips, etc.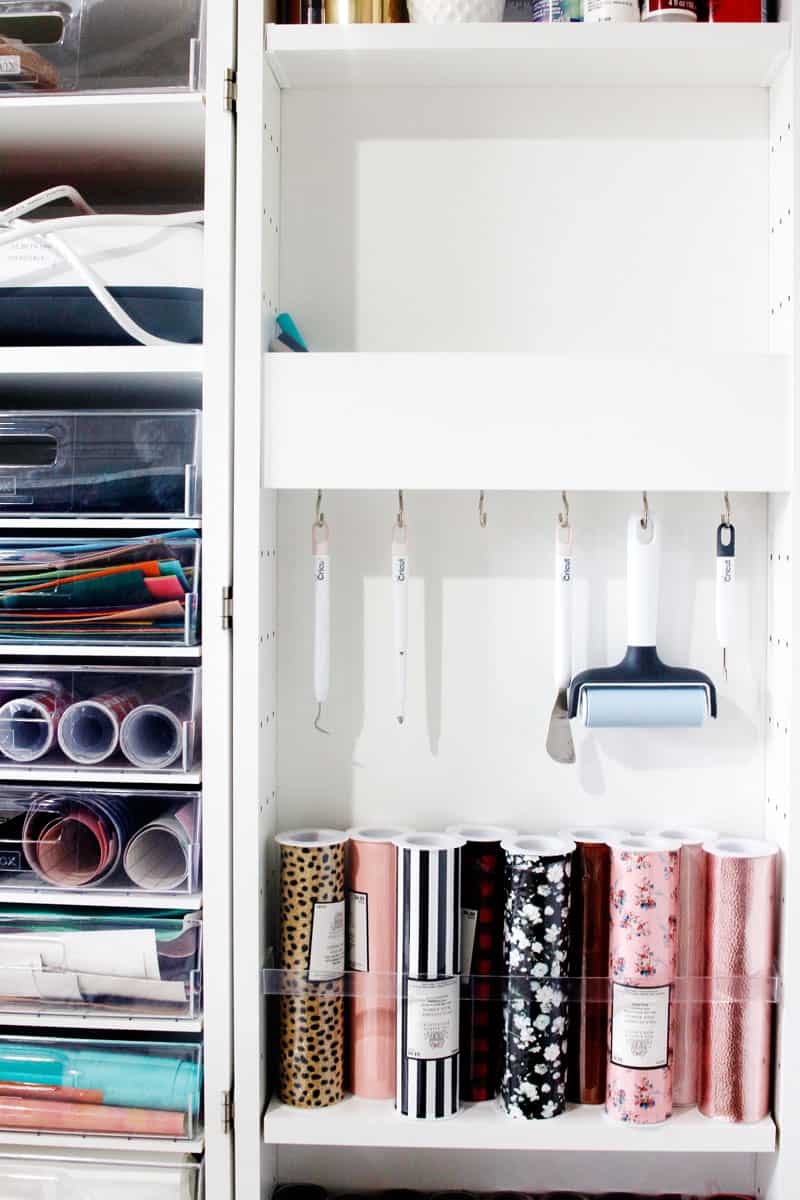 The door also has hooks to hold essential tools! I love them for scissors and Cricut supplies!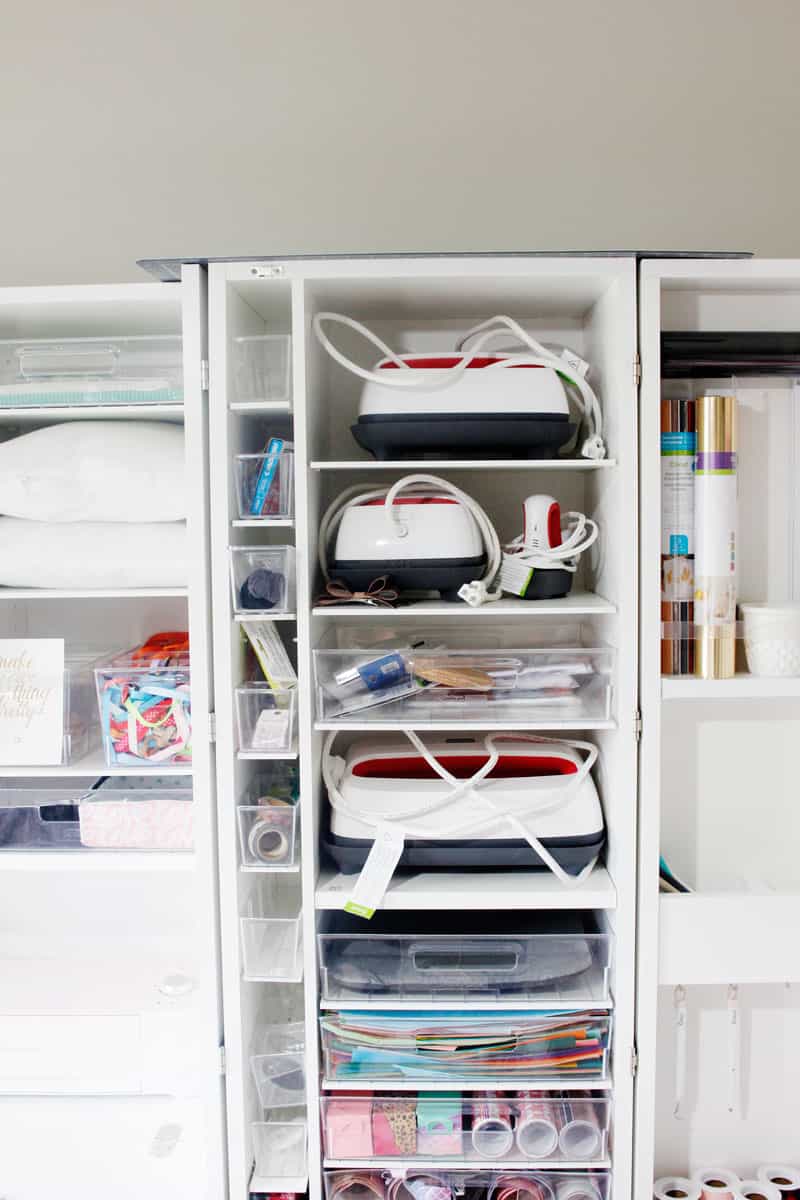 I organized most of my sewing supplies on the left door and most of my Cricut supplies on the right. The shelves are perfect for heat presses and the flat bins were made for cutting materials like leather, paper and iron-on vinyl. I have a scrap drawer for all my iron-on scraps, too.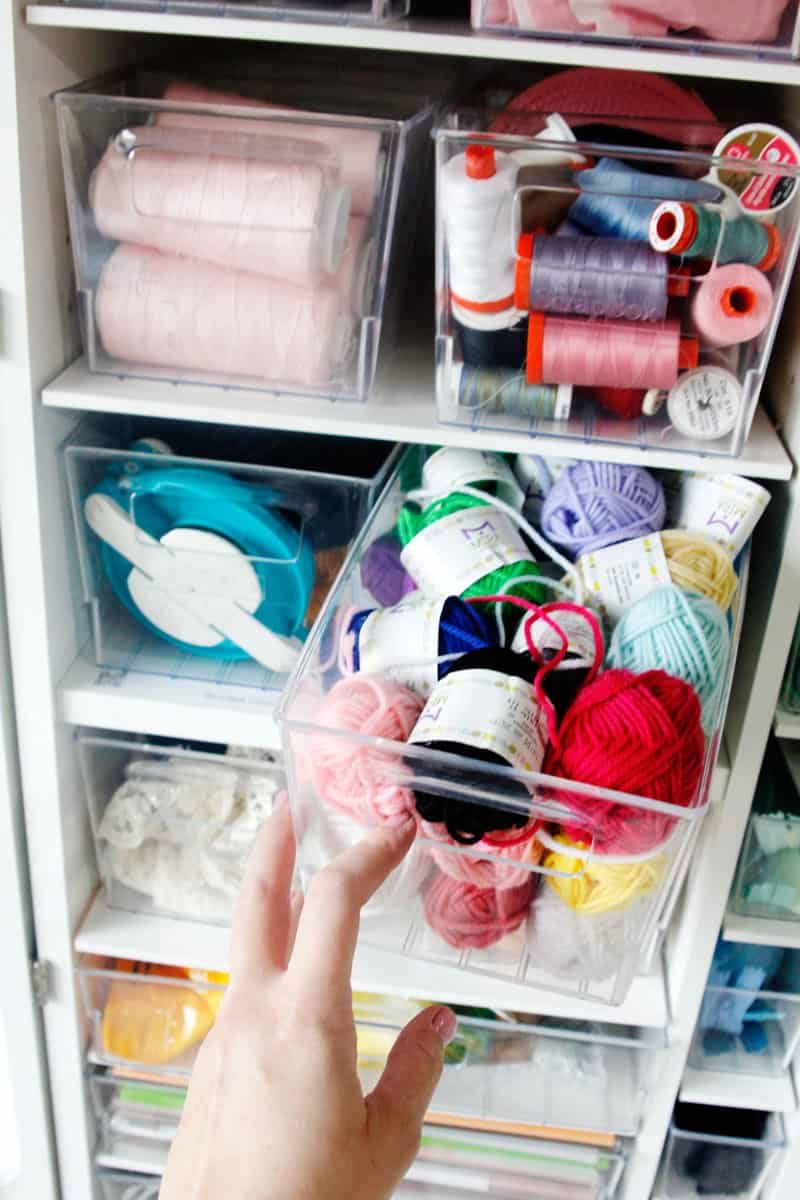 I love these bins – you can add dividers to break them down into smaller compartments for smaller items. It's just so functional! I have used this yarn in so many projects since putting together my DreamBox. I've had it for a year but it was just never where I could see it!
Here's how the divided bins work: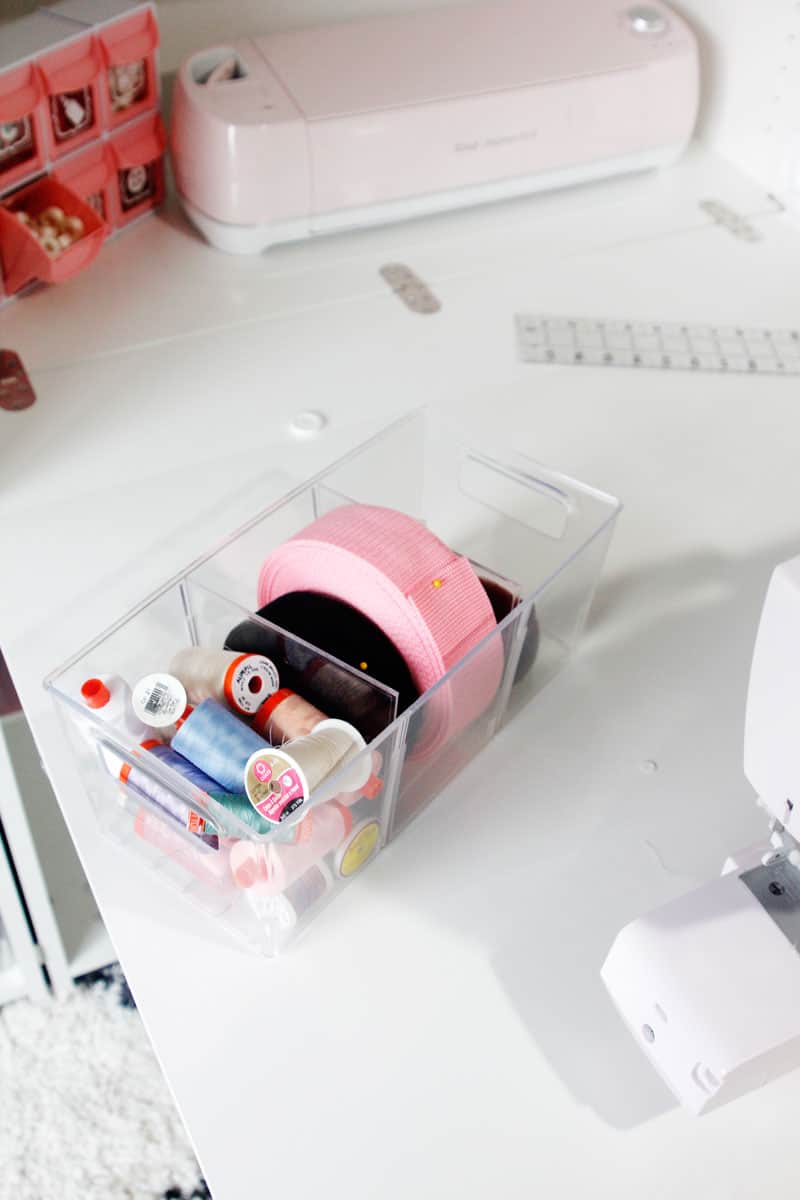 The table folds out and make a sturdy and sizable workspace! The DreamBox is an actual dream, they have perfected craft organization with this thing!
And a major selling point is that the DreamBox folds up into a beautiful armoire! This is perfect if you share your creative space. You can put this in the dining room, living room, guest room, or even master bedroom. It folds up so nicely! This is the Shaker White option – there are a few other finishes to choose from!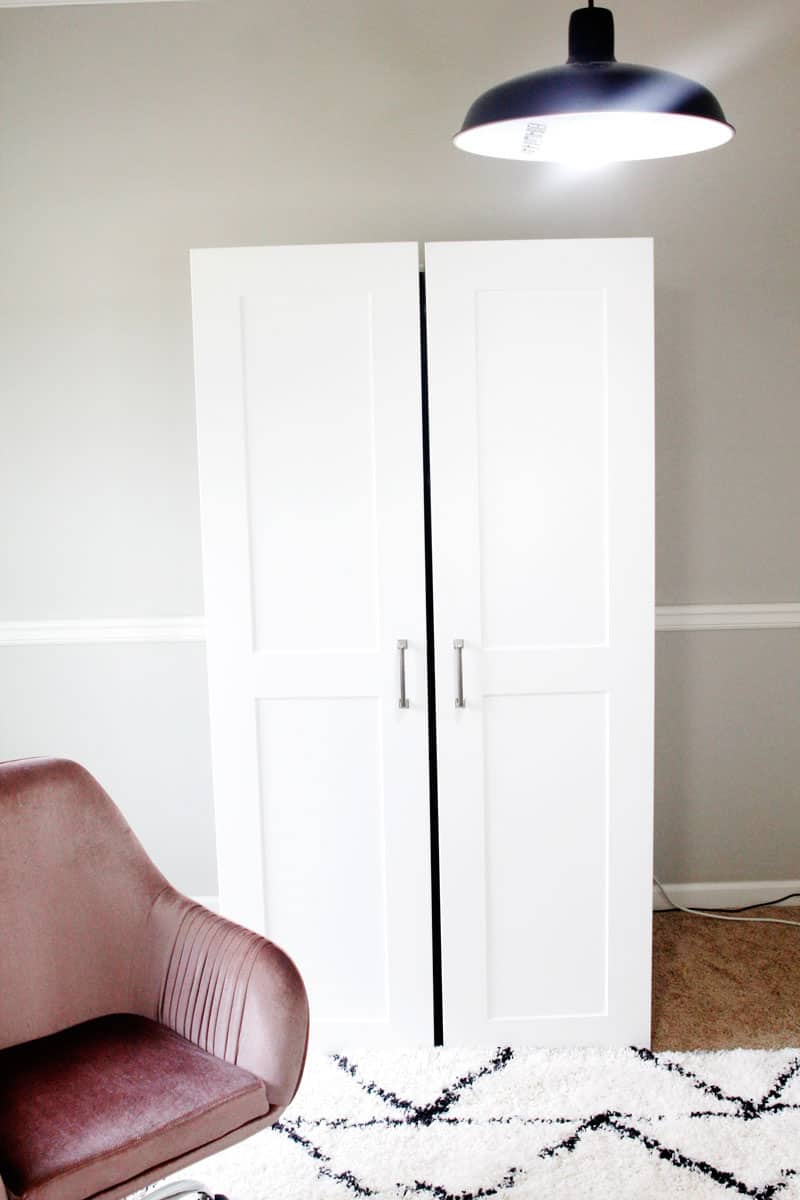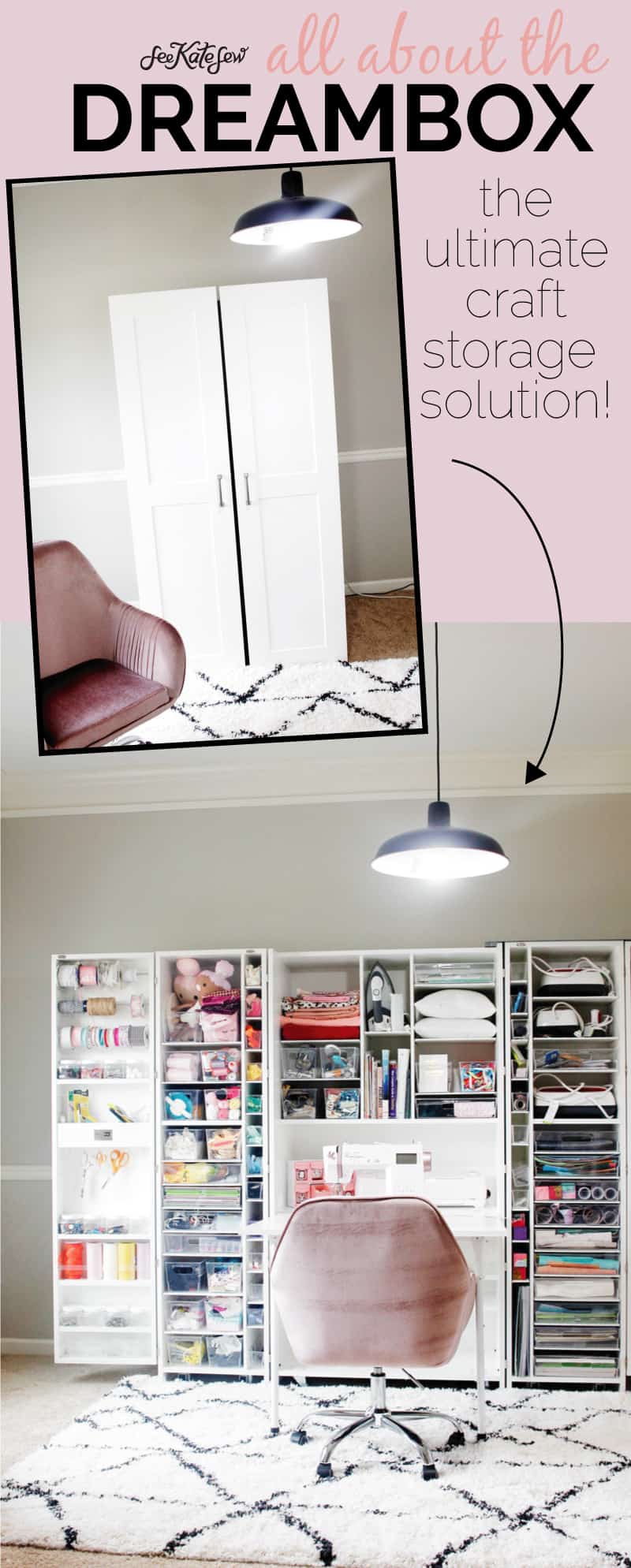 I'll share a few more posts about the DreamBox soon. Until then, check out the DreamBox options here!
The Original Scrapbox,now Create Room Coupon Code : SEEKATESEW ($100 off!)
If you liked this post, you'll love my 10 best craft room hacks!