We have had a very hot chocolatey winter so far and DIY hot chocolate bombs have been a fun part of that! Today I'm showing you how to make hot chocolate bombs with marshmallows inside!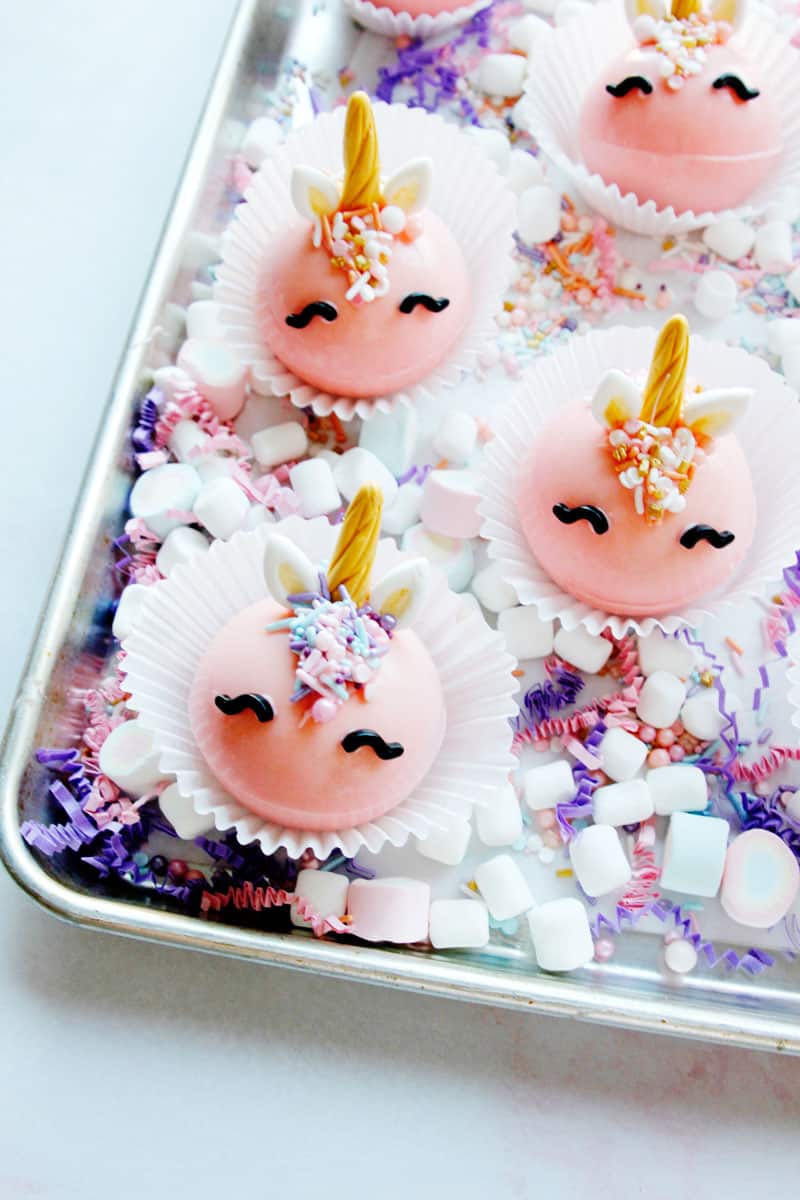 These unique hot cocoa bombs have unicorn faces – complete with a golden sugar unicorn horn and ears, sprinkle mane and cute eyelashes!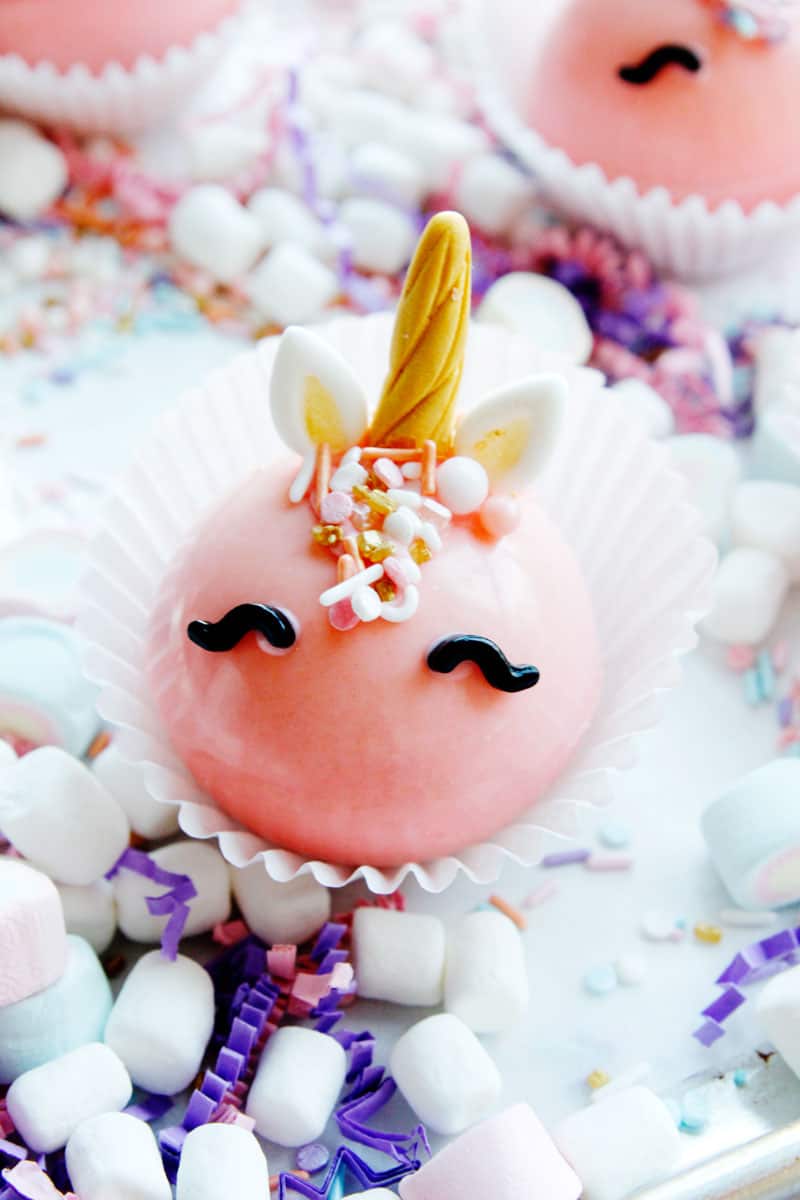 Unicorn hot chocolate bombs are great for a unicorn birthday party favor.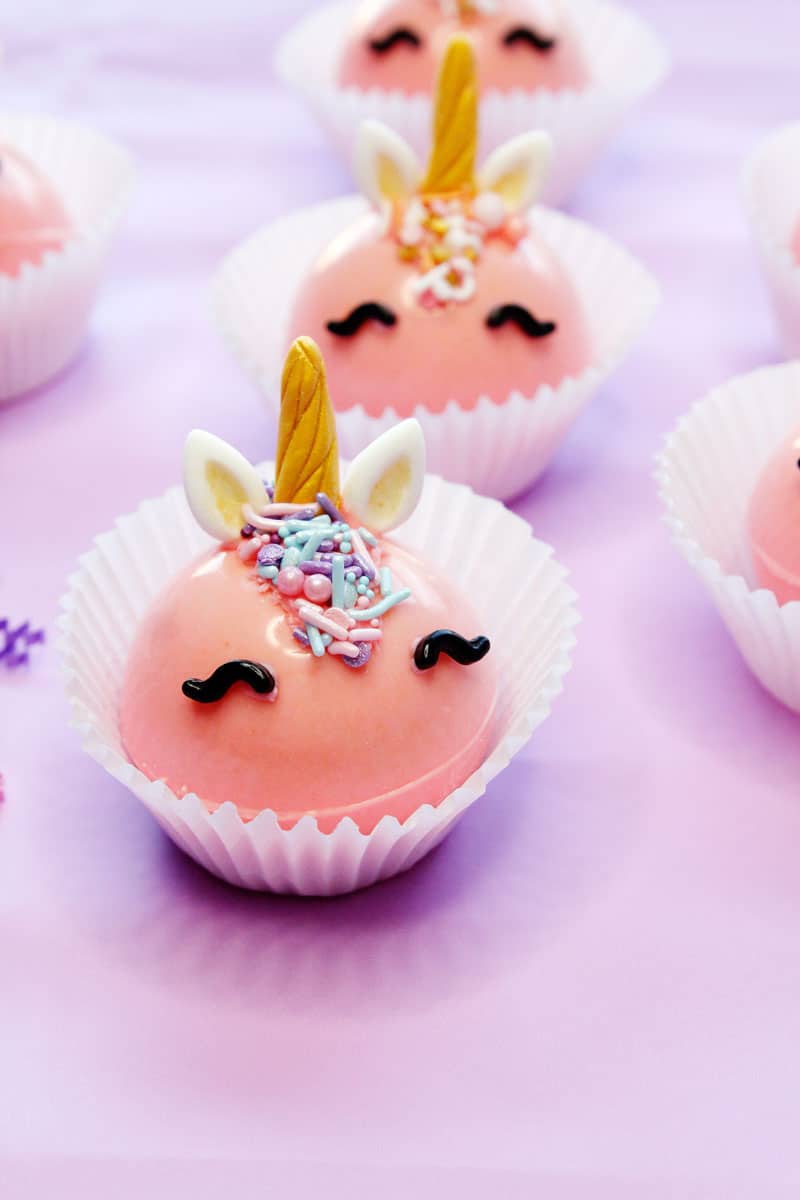 You can really adjust these for any theme or color scheme you want with sprinkles and other toppings.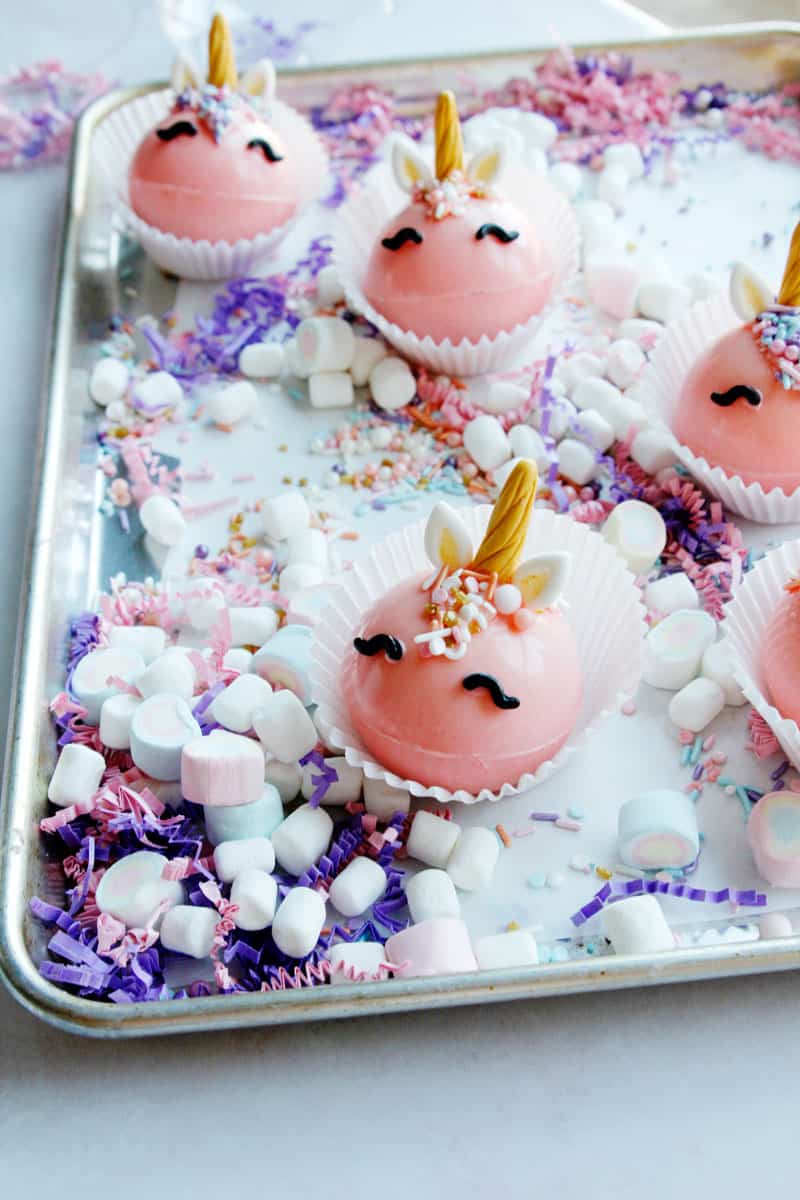 The best hot chocolate bomb sprinkle mixes have a variety of sizes, colors and textures to make your cocoa bombs more magical!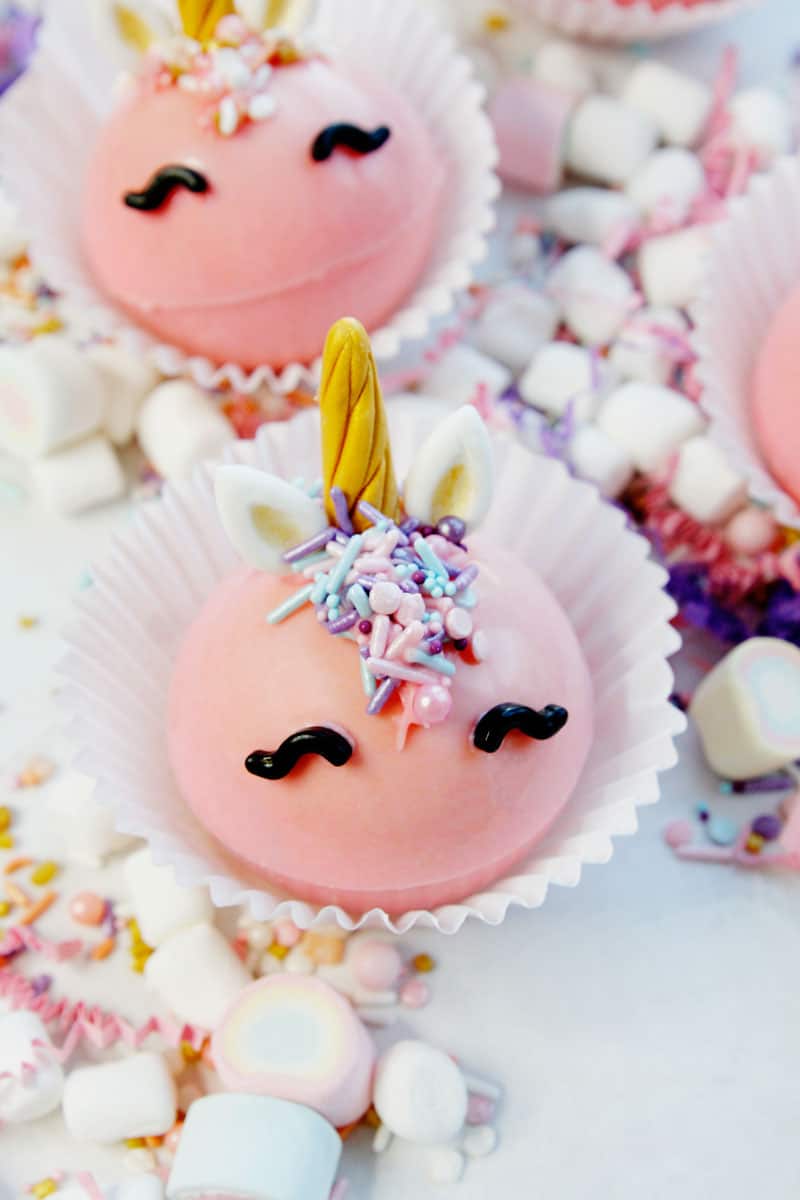 Drop a hot chocolate bomb into a cup of hot milk or water and pour more hot liquid over the top until it explodes with hot cocoa mix and marshmallows!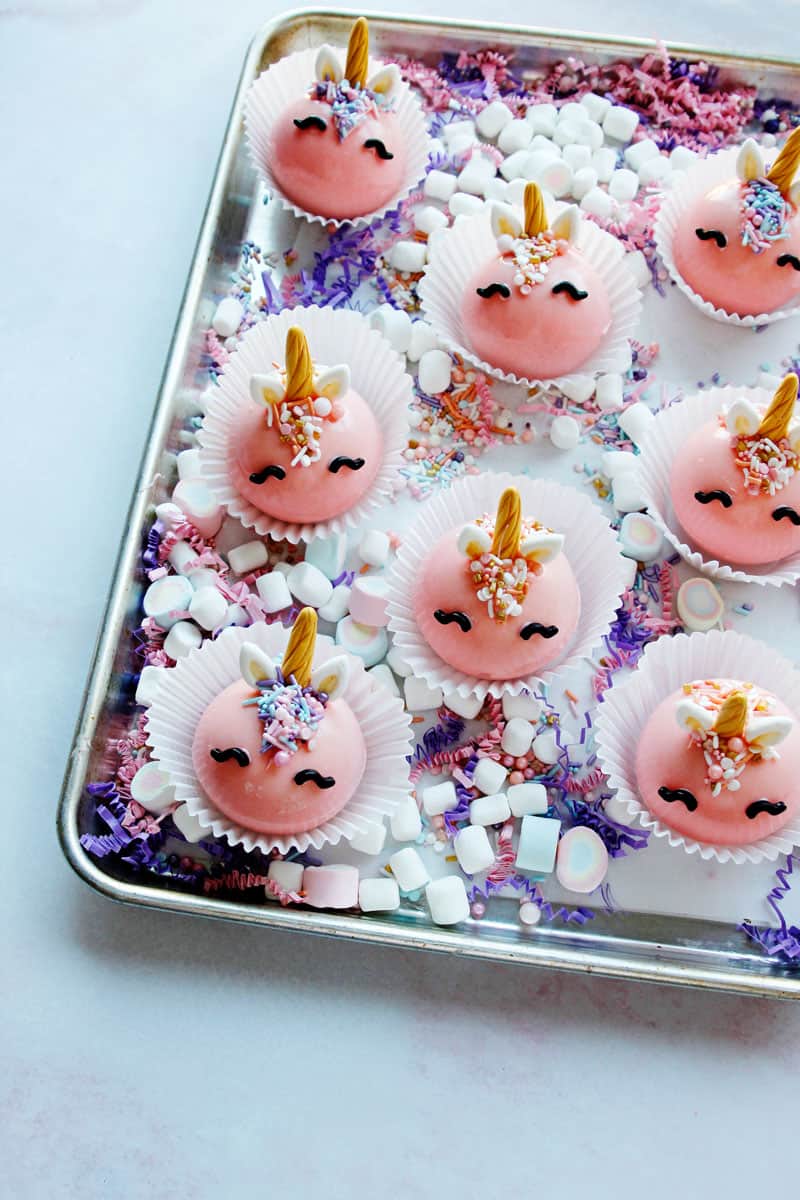 These are a fun activity to do on rainy days, too, since you get to watch the hot chocolate explode before eating it!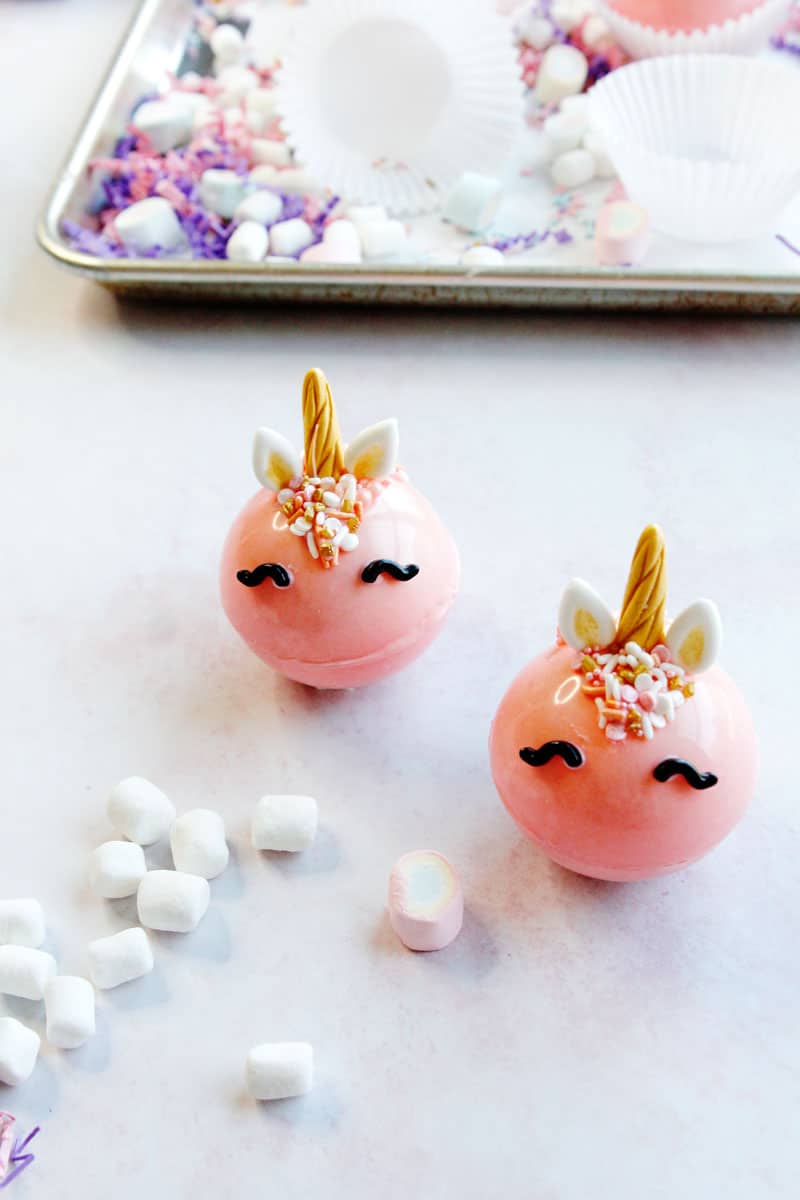 These are such a fun treat for kids and let's be honest – I even love them! DIY hot cocoa bombs are creamy and delicious.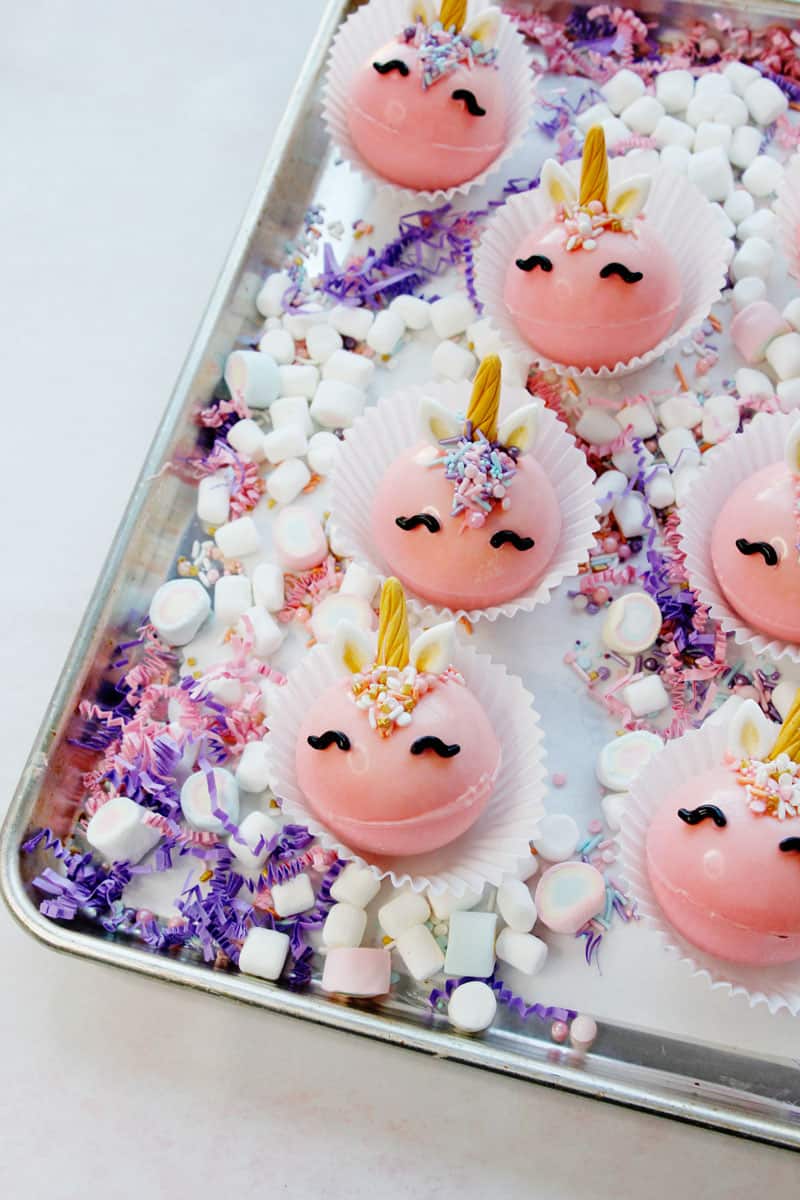 Although all hot cocoa bombs are fun, these are pink and sparkly to match all your unicorn magical vibes. They are perfect for gifts and will also make great valentines!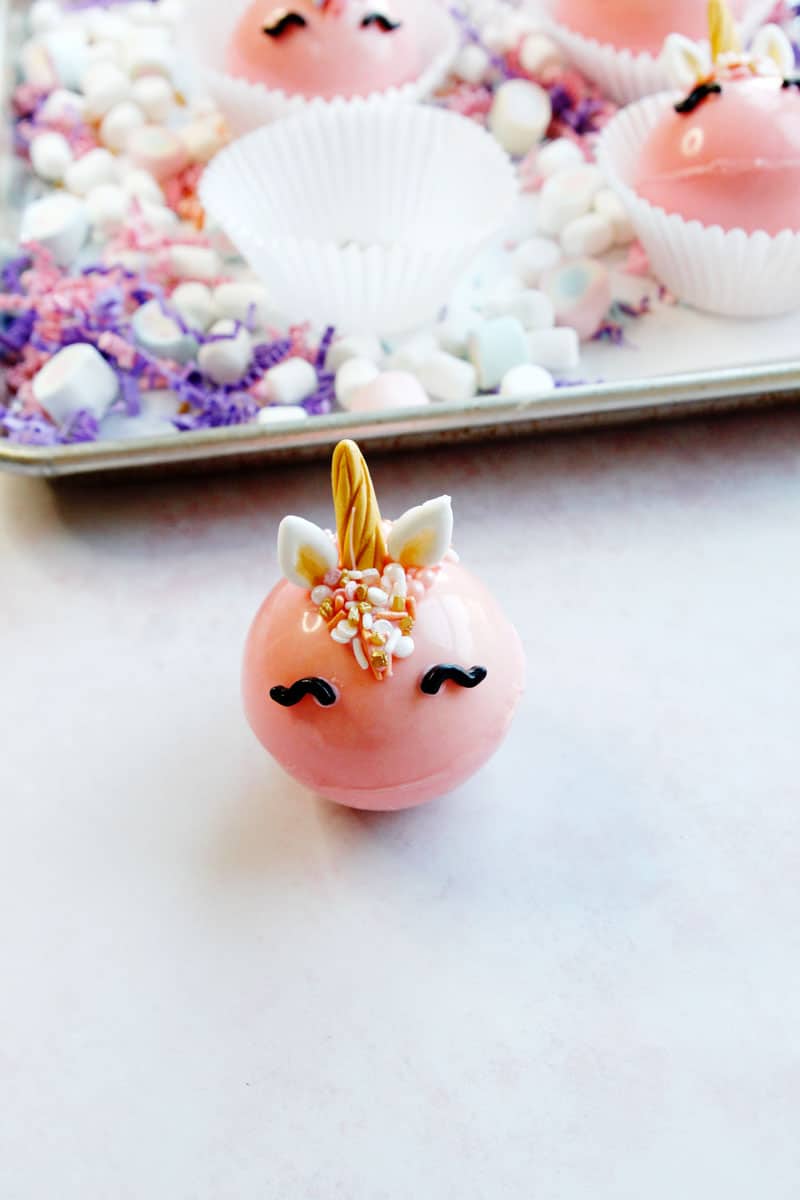 Click here to download the You're a Bomb printable to go with these!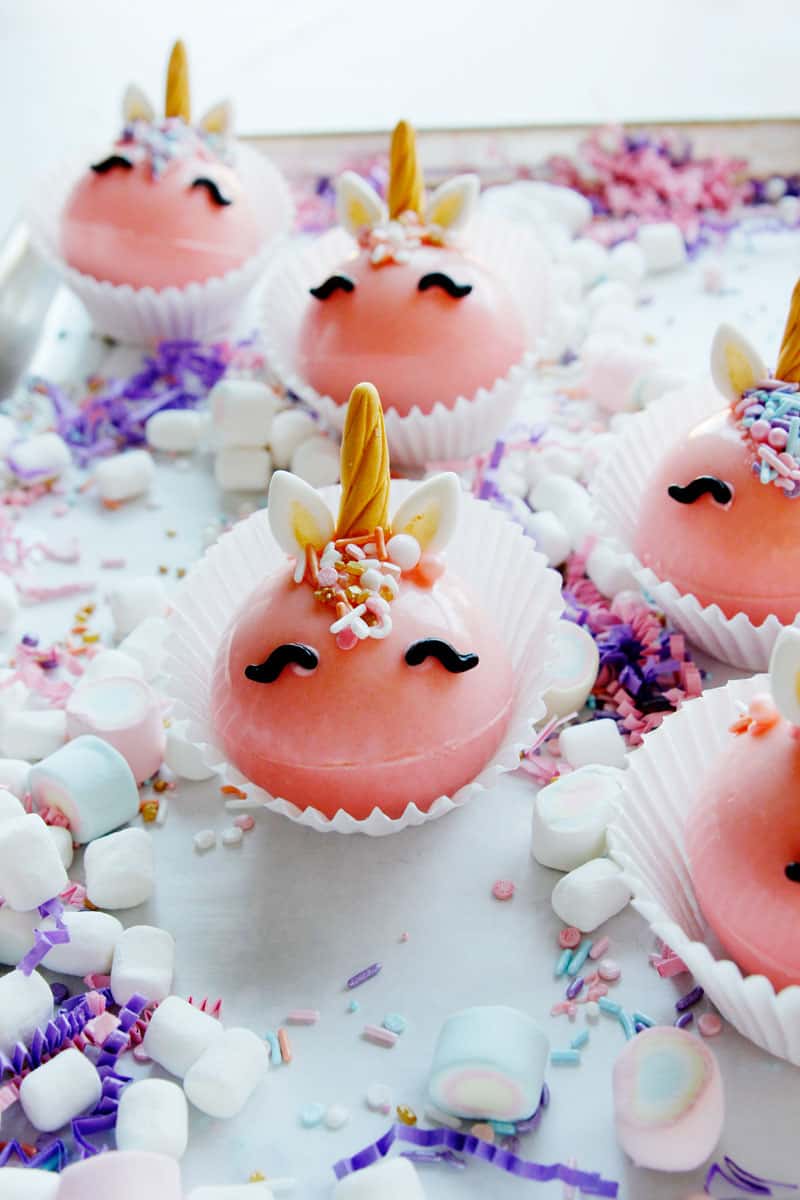 DIY hot cocoa bombs make the perfect gift for really any occasion! It's a fun at-home activity to do during the winter and will make anyone smile!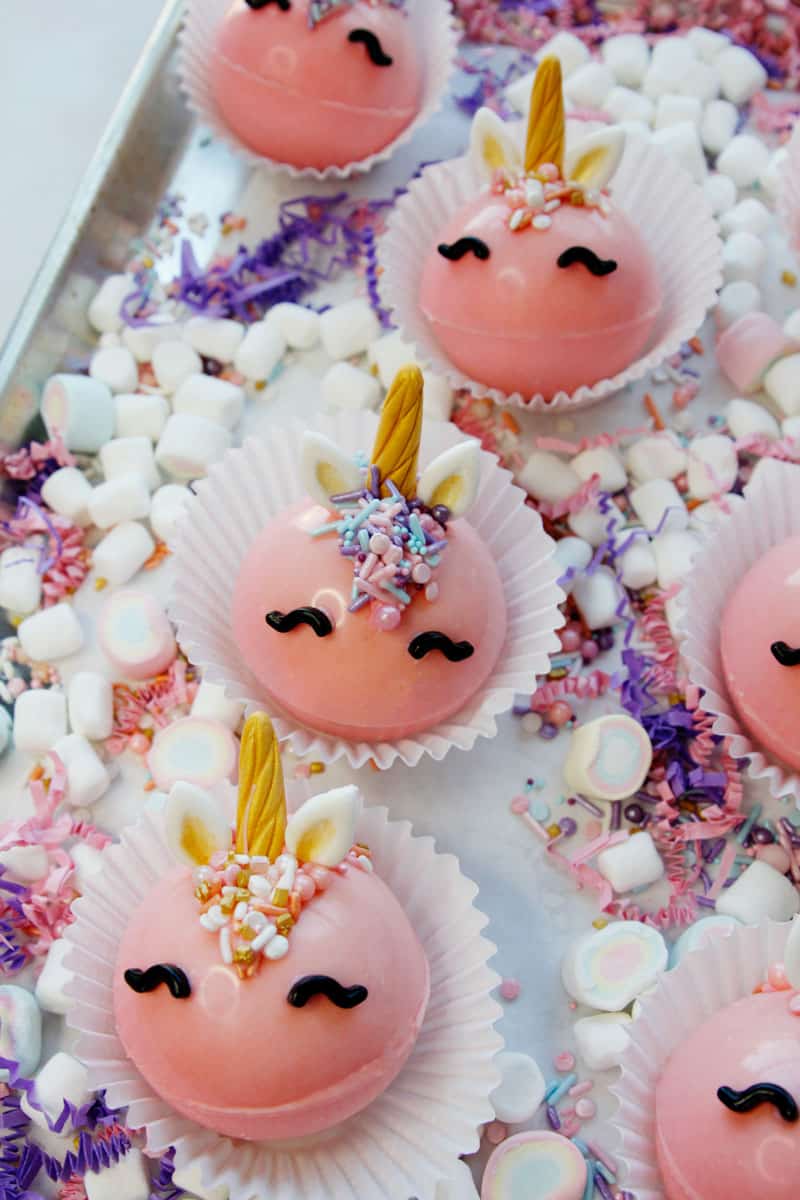 Hot Chocolate Bomb Recipe
This hot cocoa bomb recipe will make 14-18 bombs, depending on how much chocolate you reserve for toppings. Collect these ingredients
Hot chocolate mix (2 Tbsp for each bomb)
Gel food coloring,
Wilton Unicorn Cupcakes decorating kit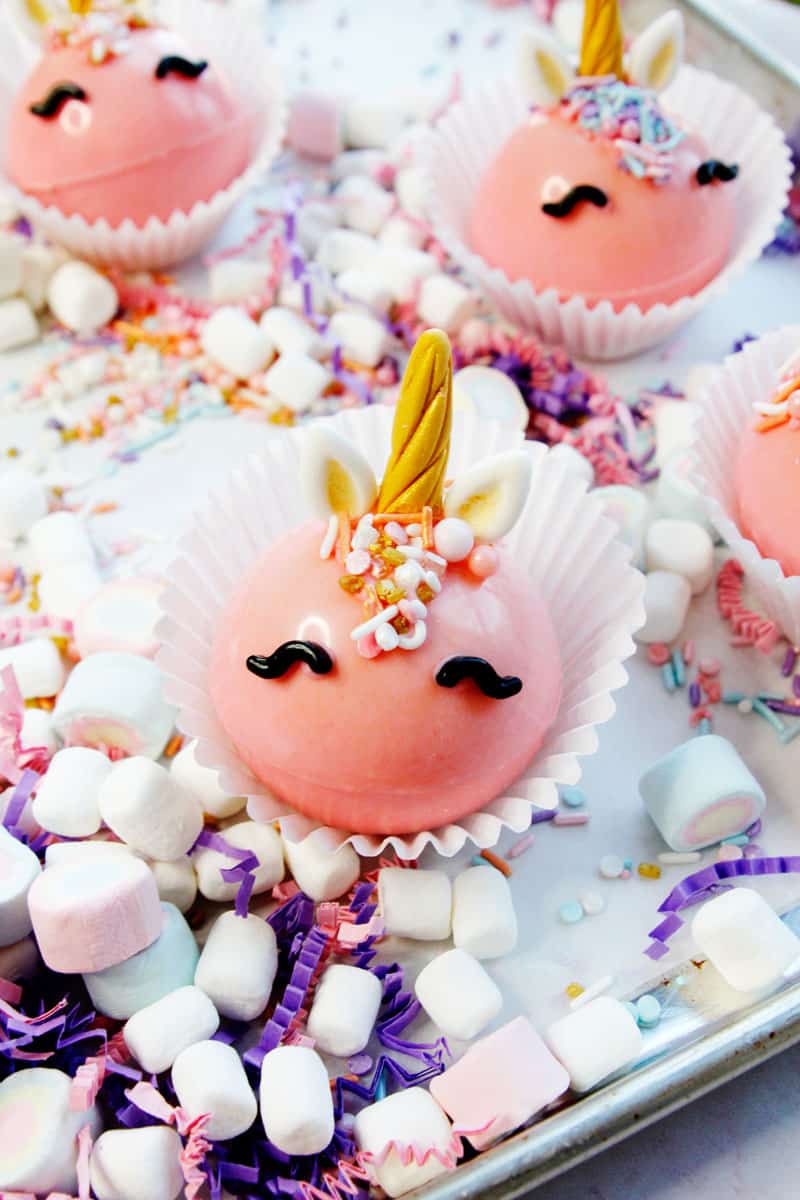 Hot Chocolate Bomb Materials
There are quite a few other materials and supplies you will want to get, depending on how you plan to use these! Of course you will need molds – get the 2.75″ or 3″ molds for a nice big cocoa bomb!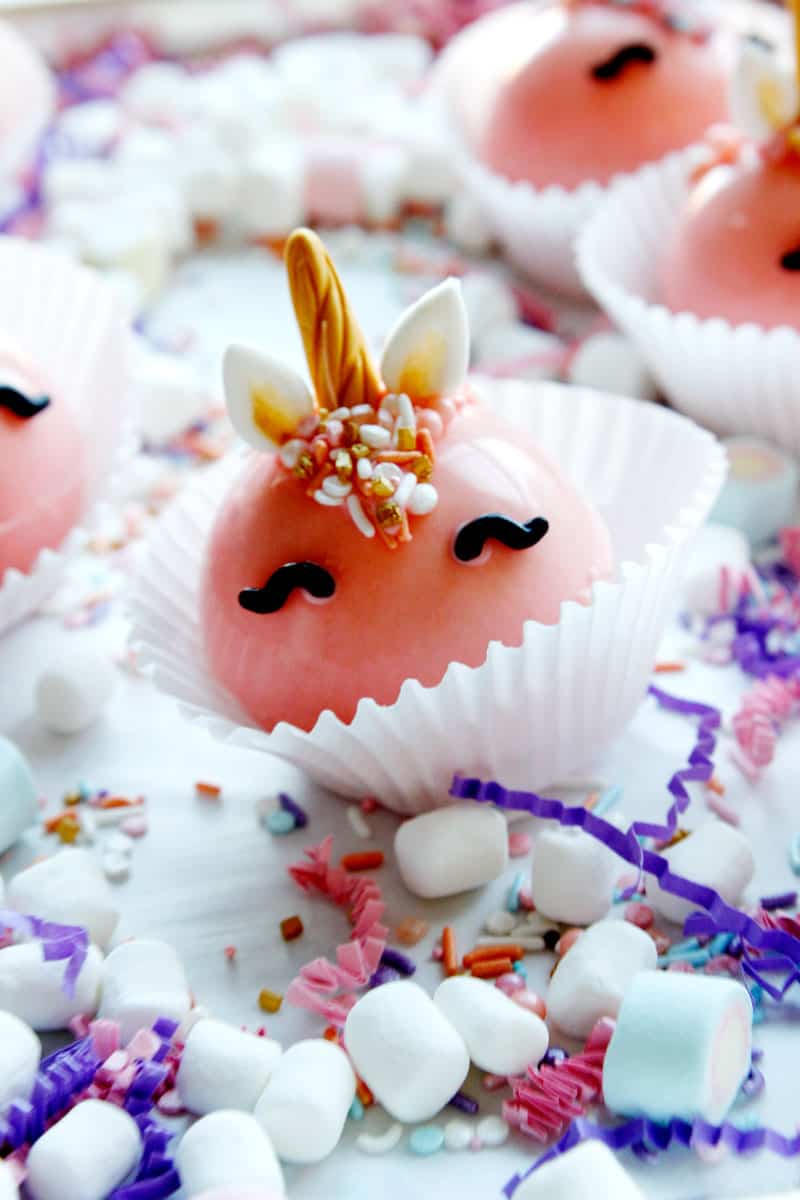 Some of these supplies are for wrapping and delivering to make them safe and cute!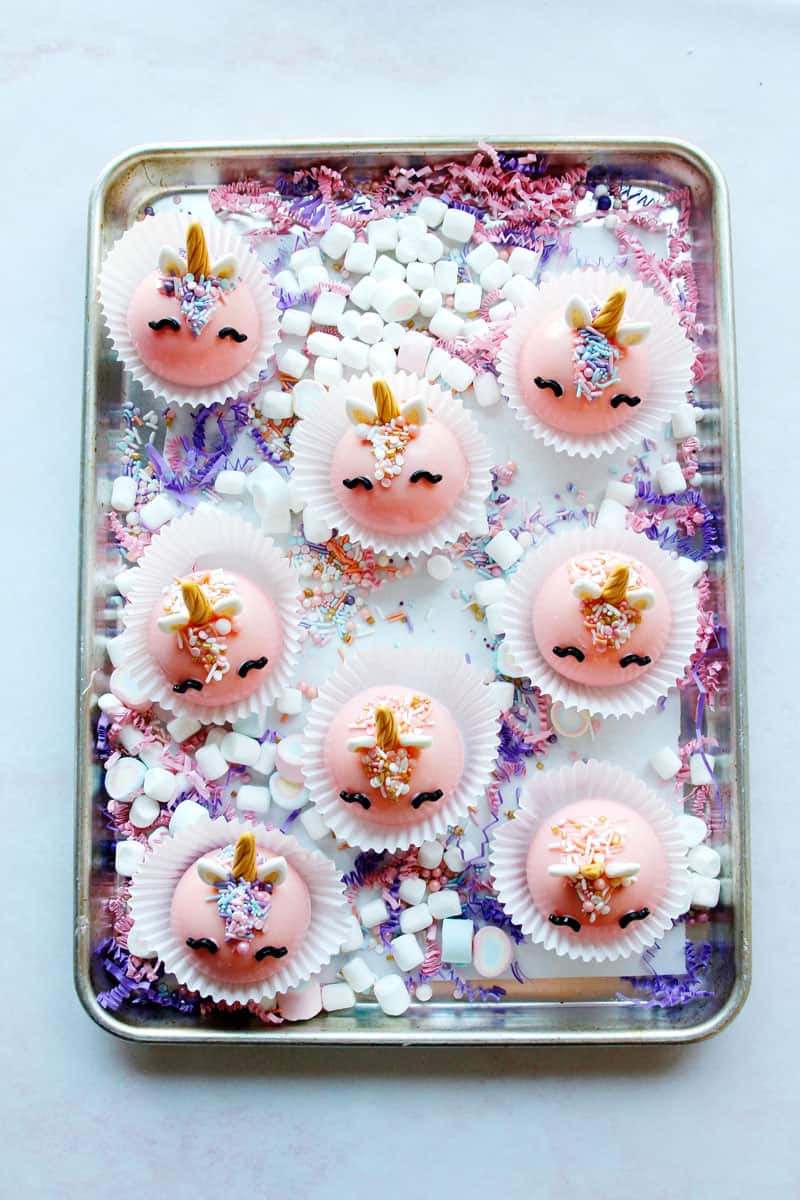 Best Sprinkles for Hot Chocolate Bombs
The sprinkles you choose for your hot chocolate bombs will really set the tone. These can be themed to a birthday party or a color scheme. Hot chocolate bombs make great party favors, valentines, and just-because gifts!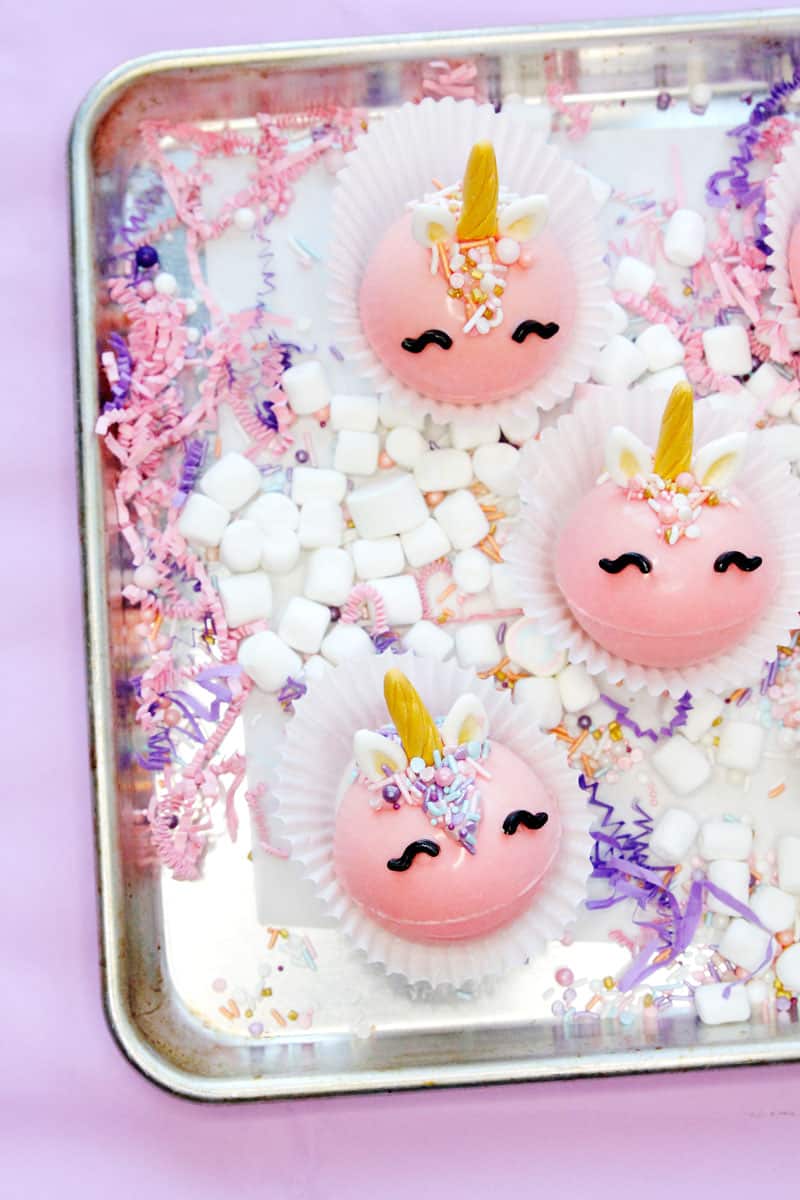 I love the variety sprinkle mixes that have a few different shapes, colors and textures.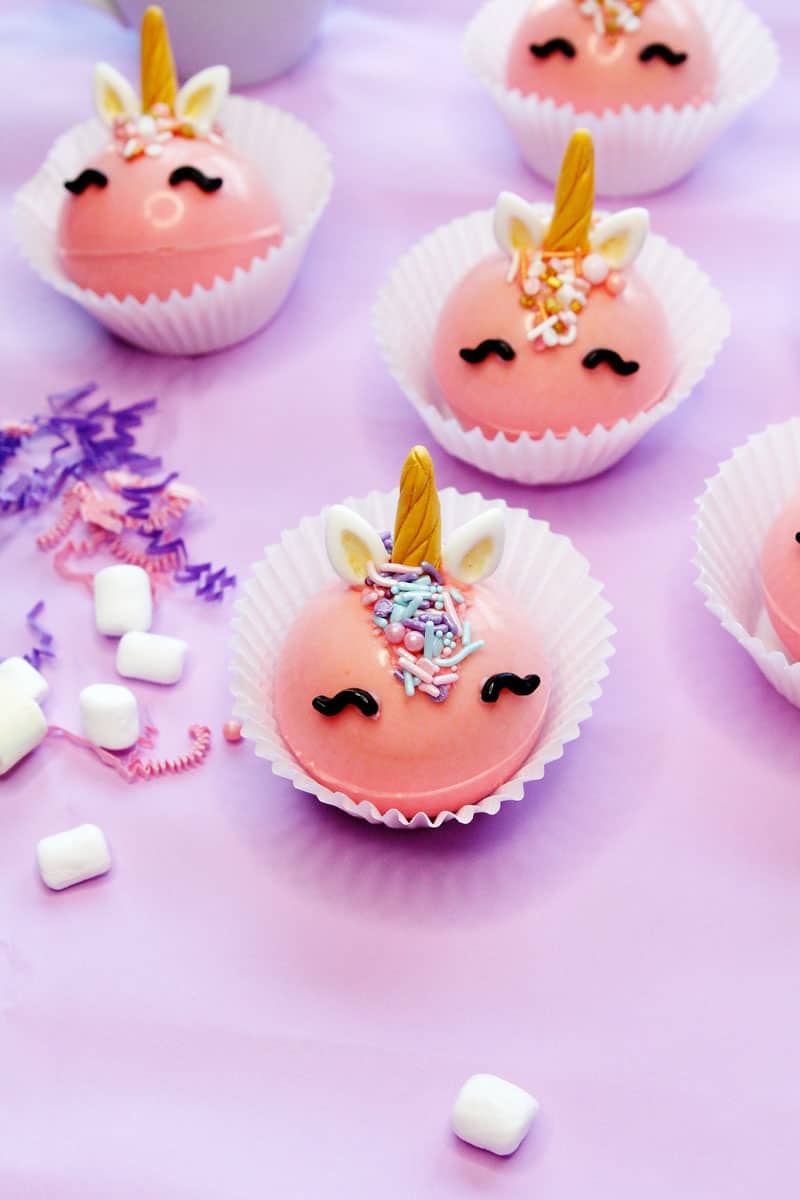 Hot Cocoa Bomb Instructions
Start by chopping up the almond bark.
Using a microwave safe glass bowl, such as a pyrex bowl, melt the almond bark in 30 second intervals for 1.5 to 2 minutes. Stir after a minute and finish melting.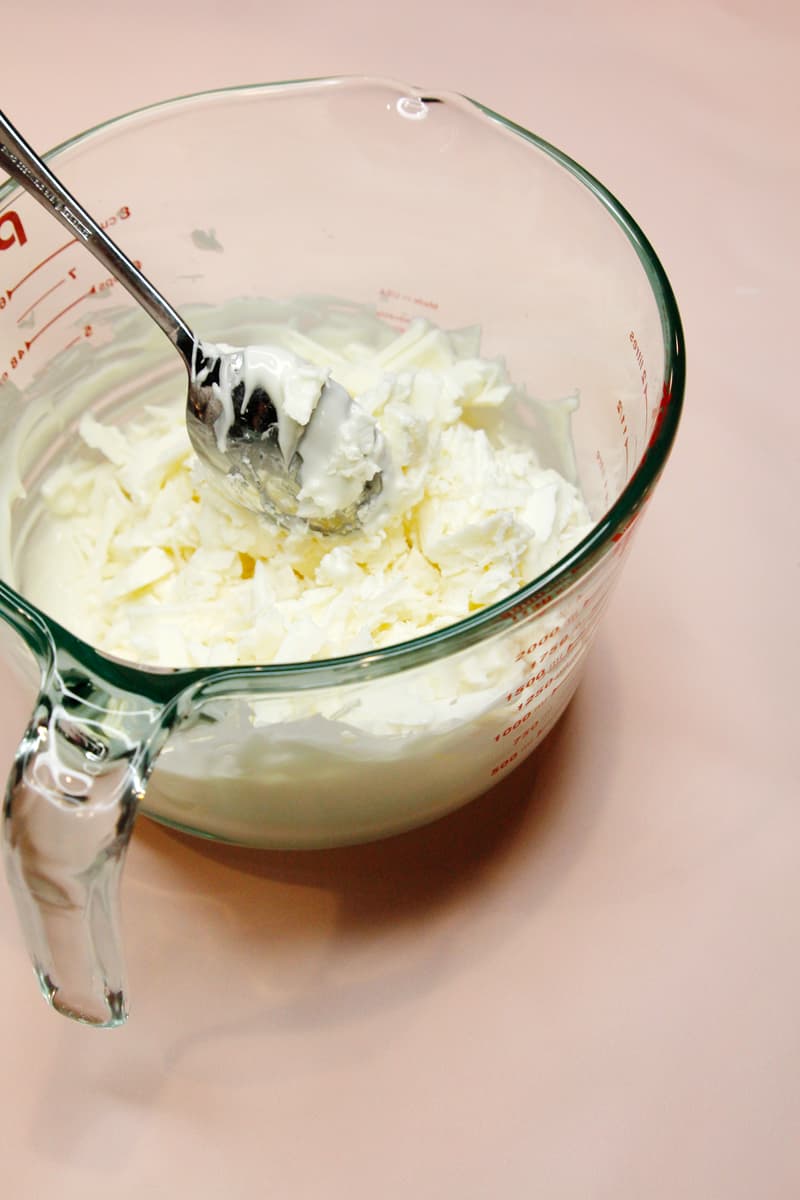 Melt until smooth.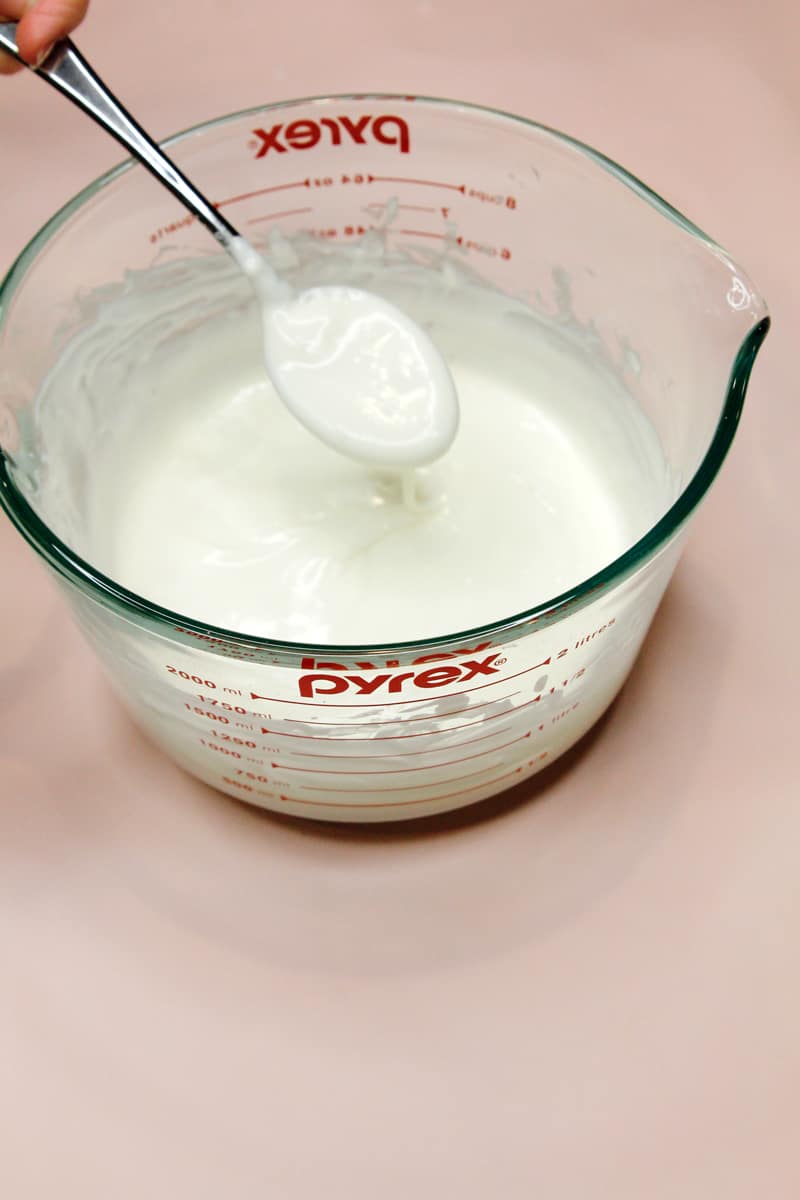 Use a spoon to coat silicone mold with chocolate. Push it up against the sides.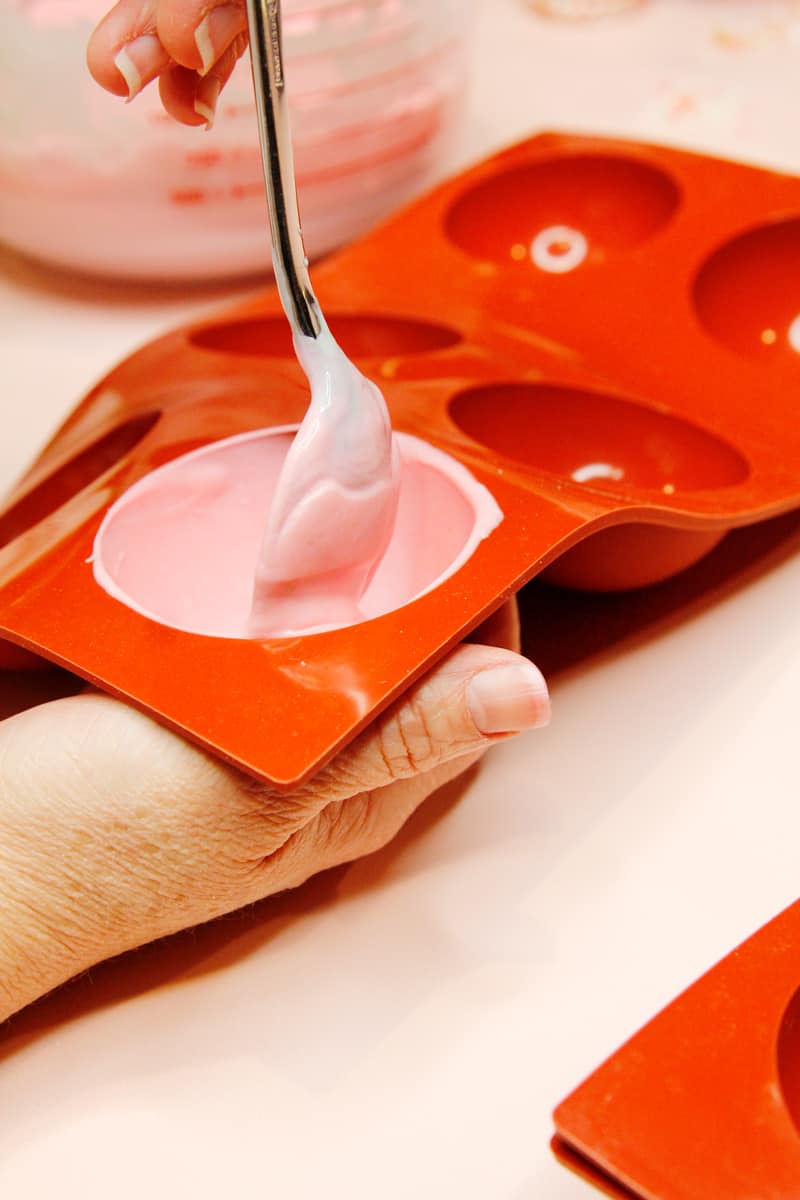 Refrigerate for about 5 minutes until the almond bark is set.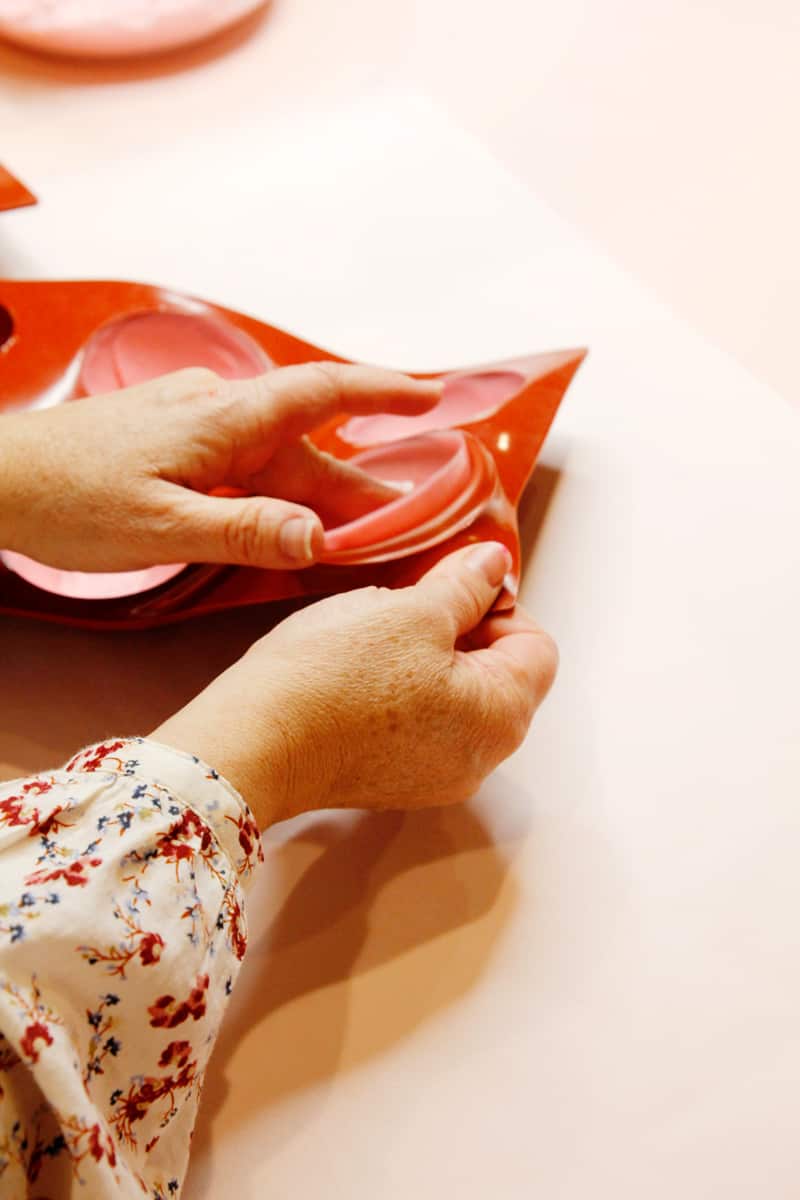 Peel the mold off the half dome shape and set aside.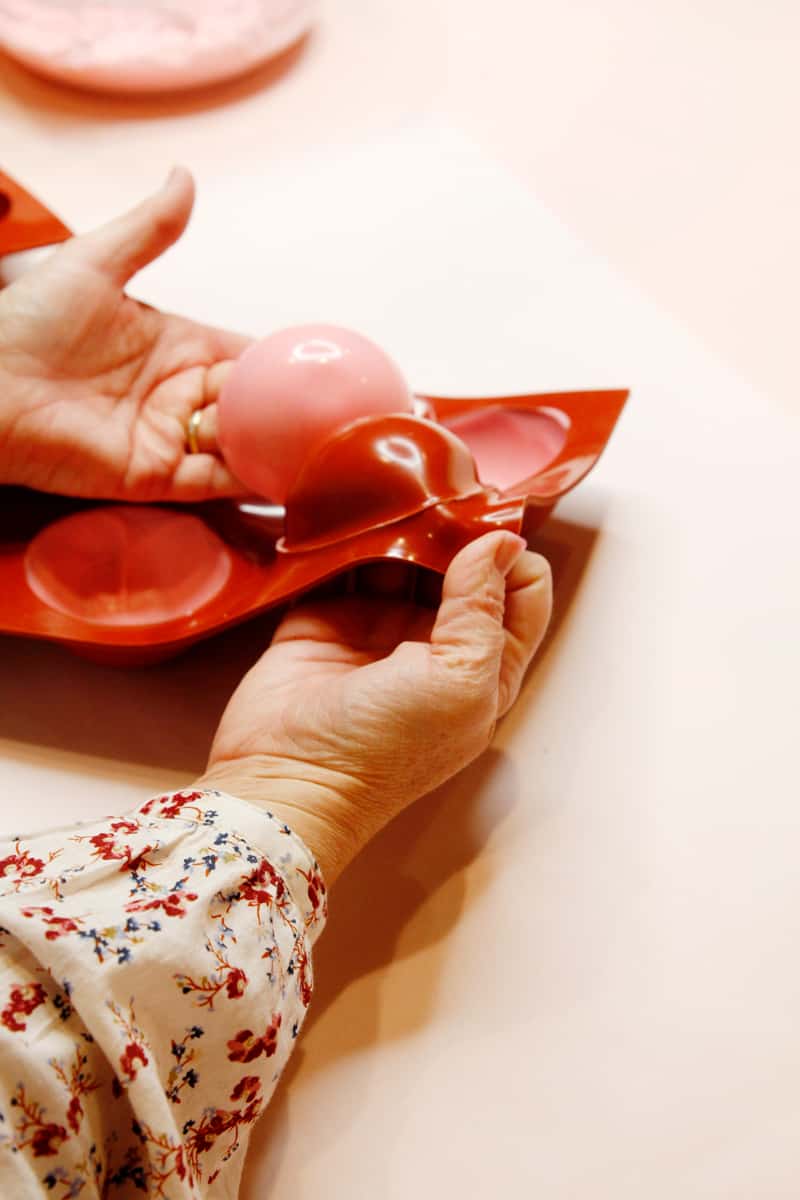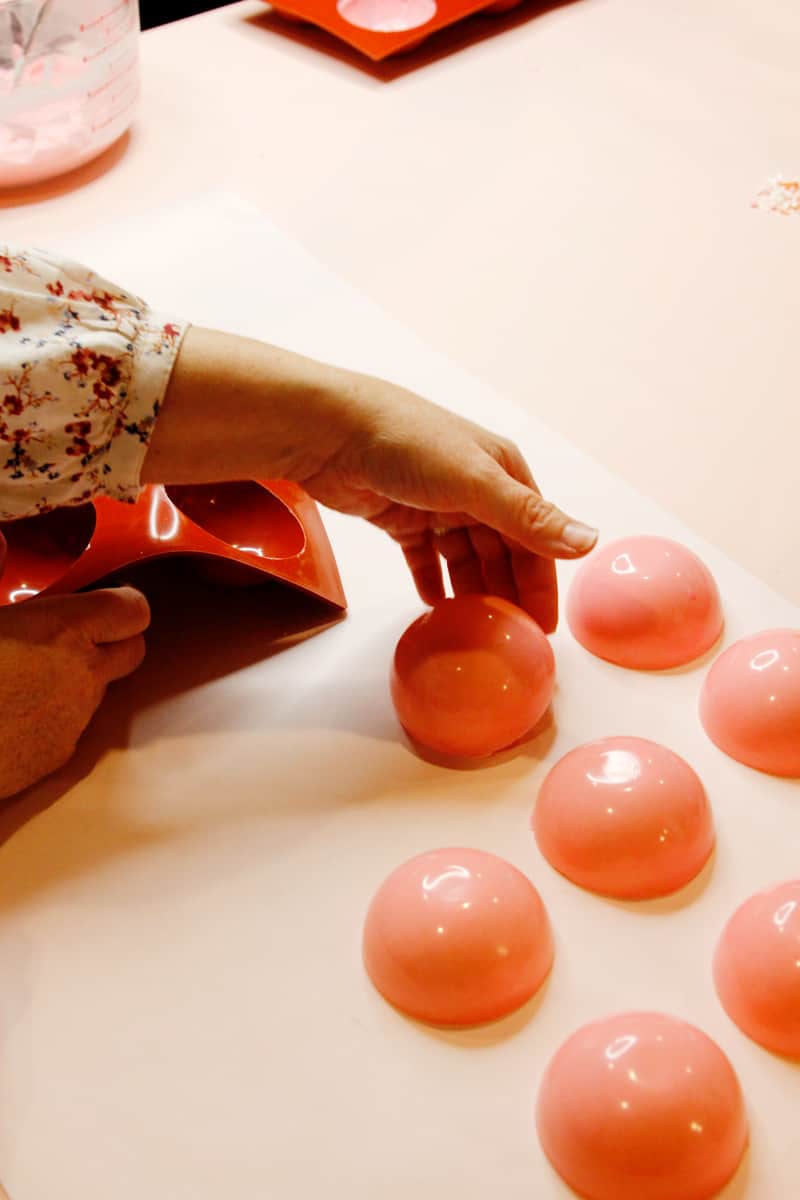 Heat another pyrex with water for 2 minutes. Place a plate on top to create a hot plate for melting the chocolate edges.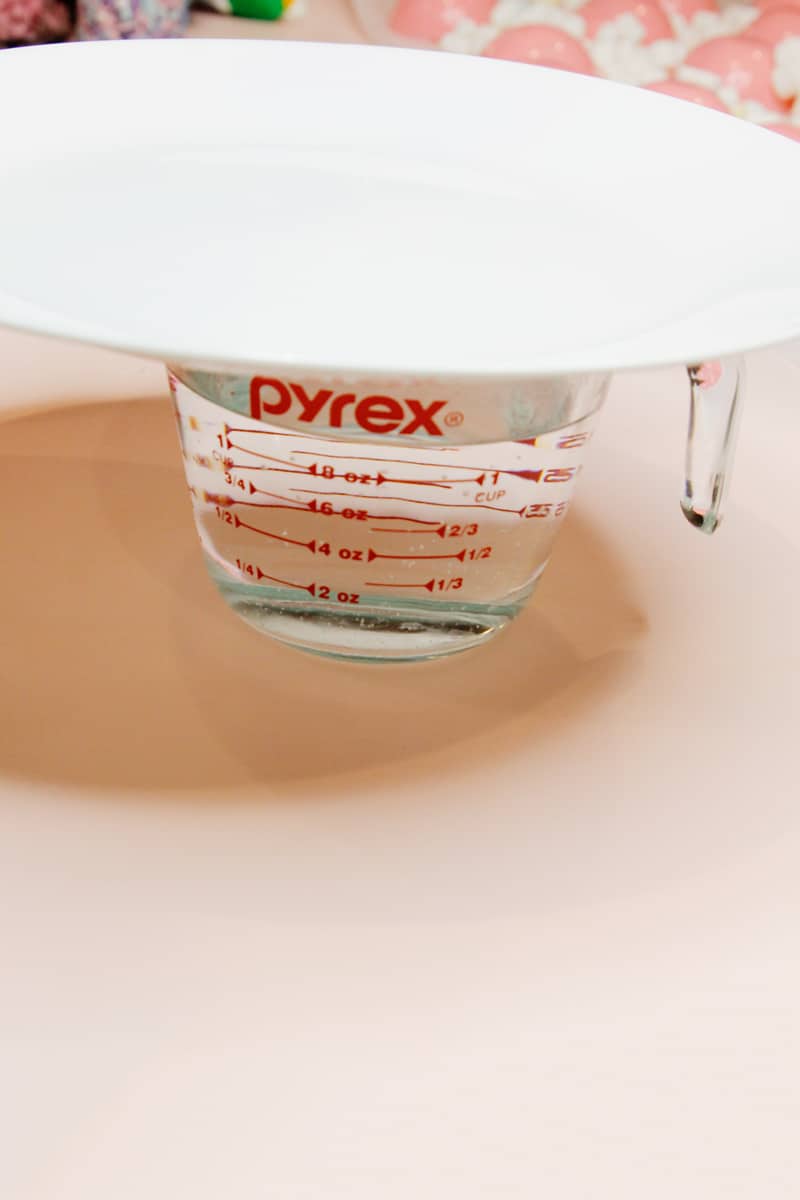 Use the plate to heat the edges of the ball.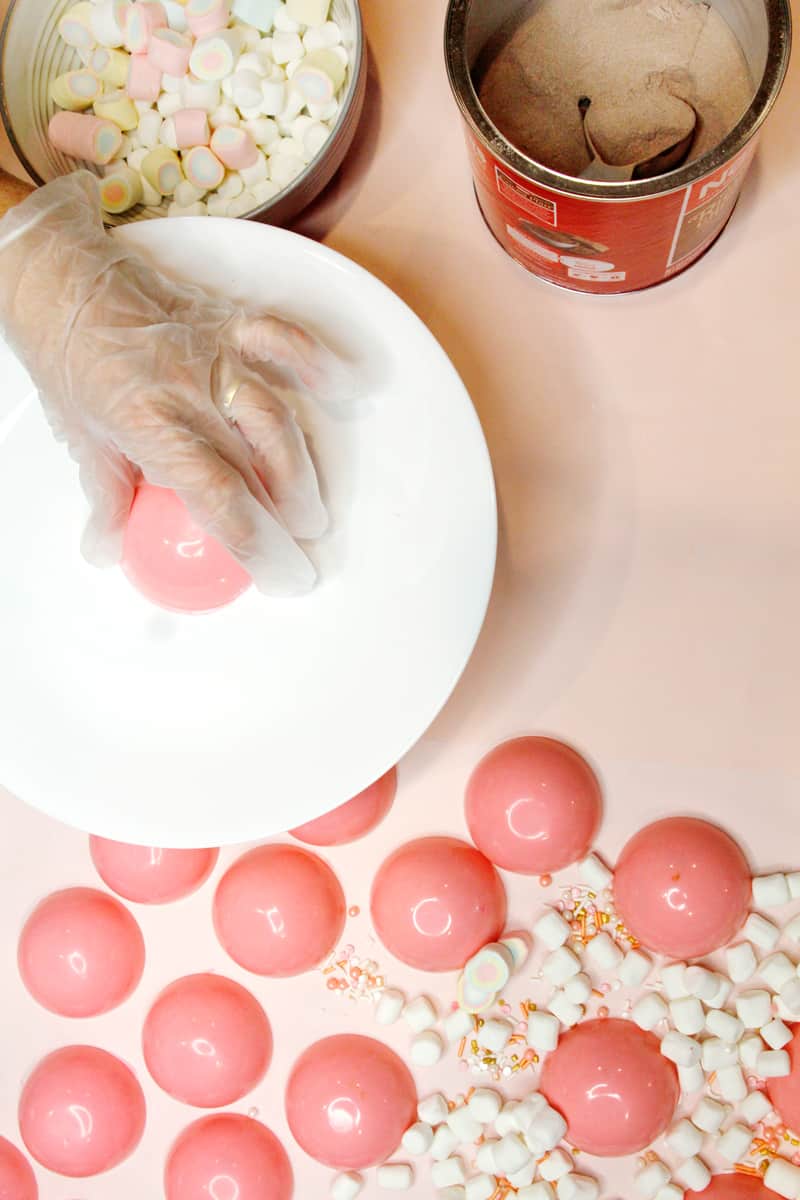 Fill with 2 T hot chocolate mix and as many marshmallows as you want.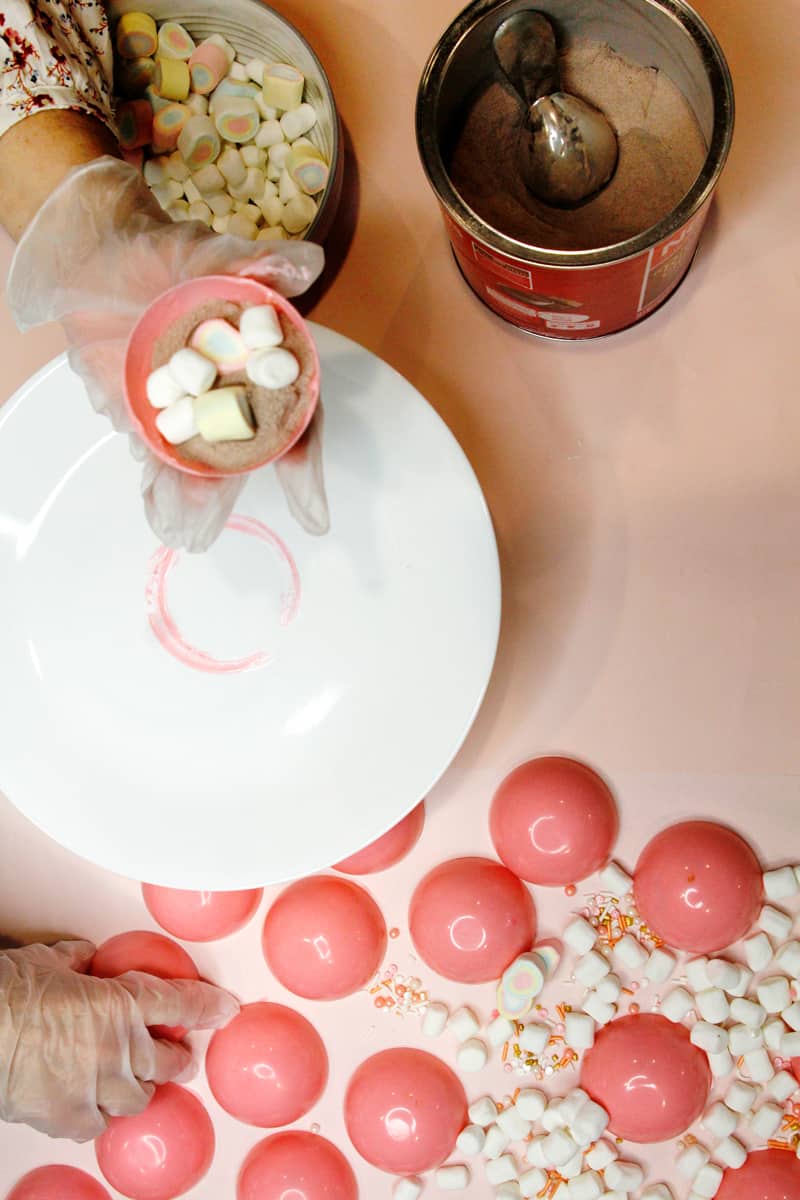 Heat the other side of the bomb and place on top. The melted edges will stick together.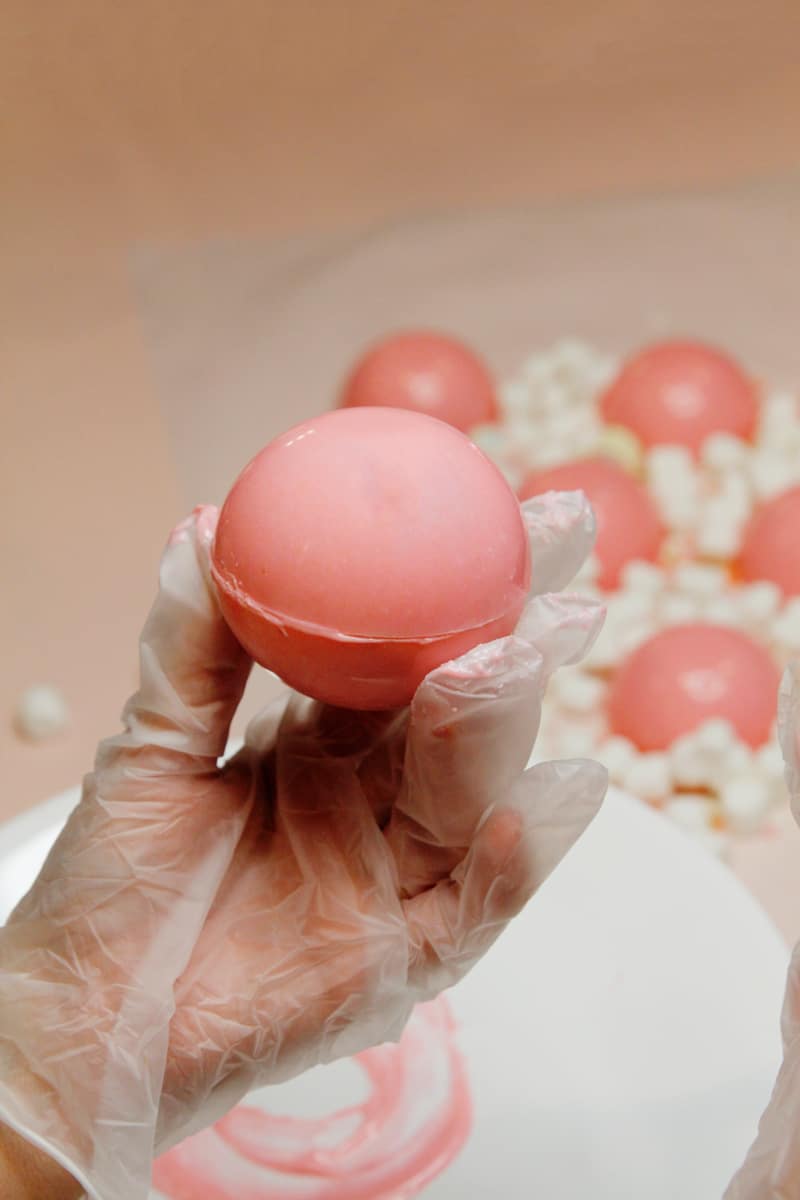 Ta da! The silicone molds make these so shiny!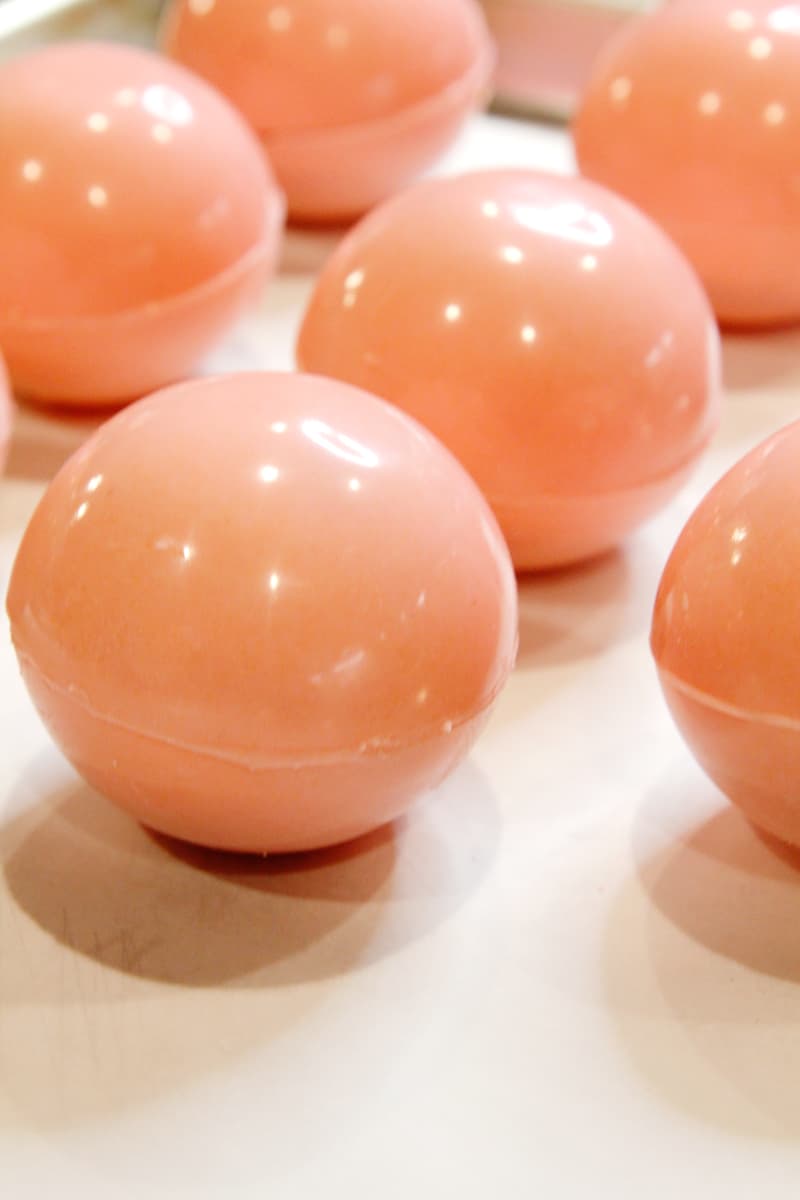 Fill a piping bag with leftover bark or candy melts. LET COOL a bit before using. If you pipe it onto the ball too hot, it will melt through.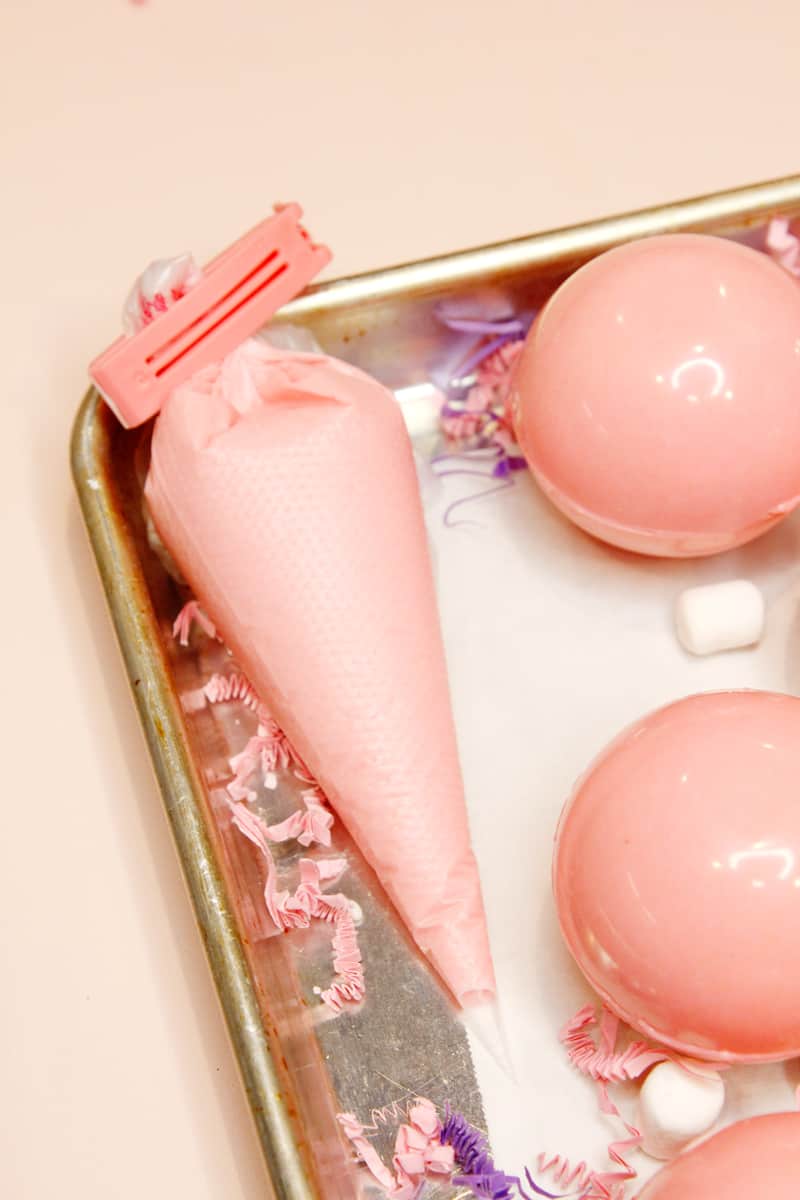 Use the piping bag as glue. Glue the horn and ears on top.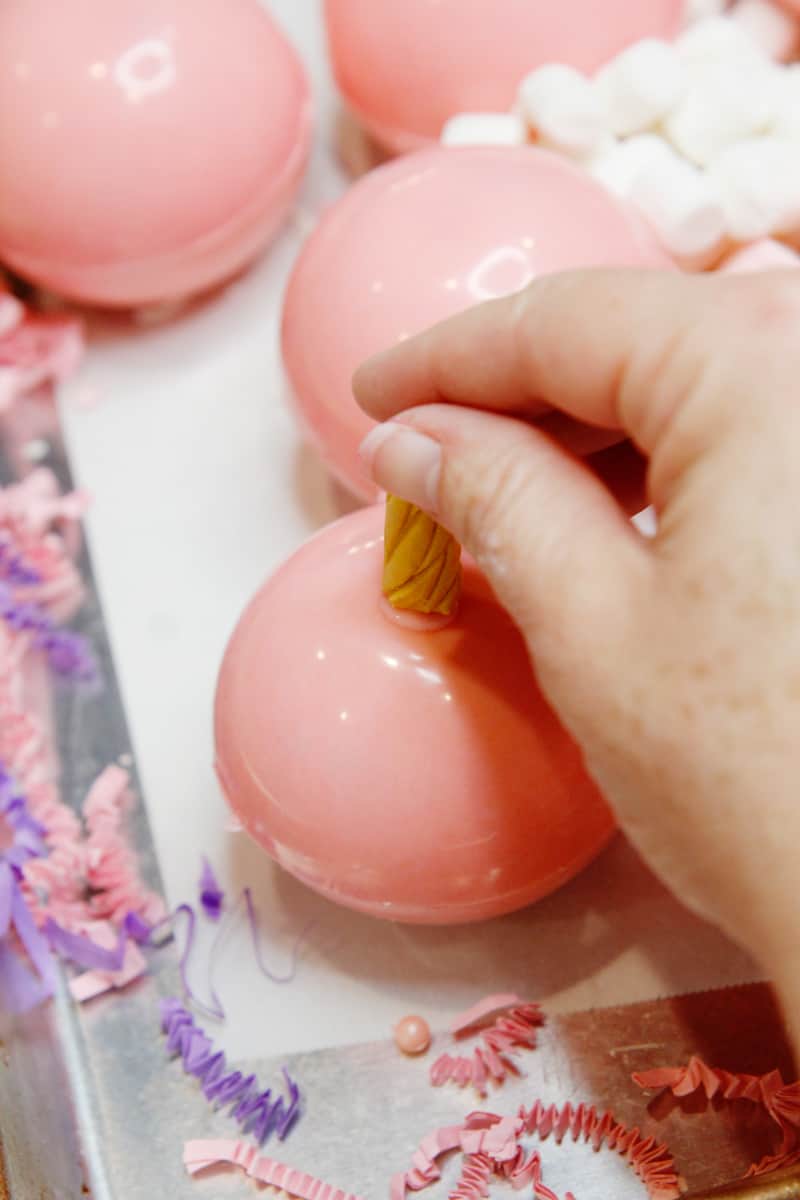 Hold until they set.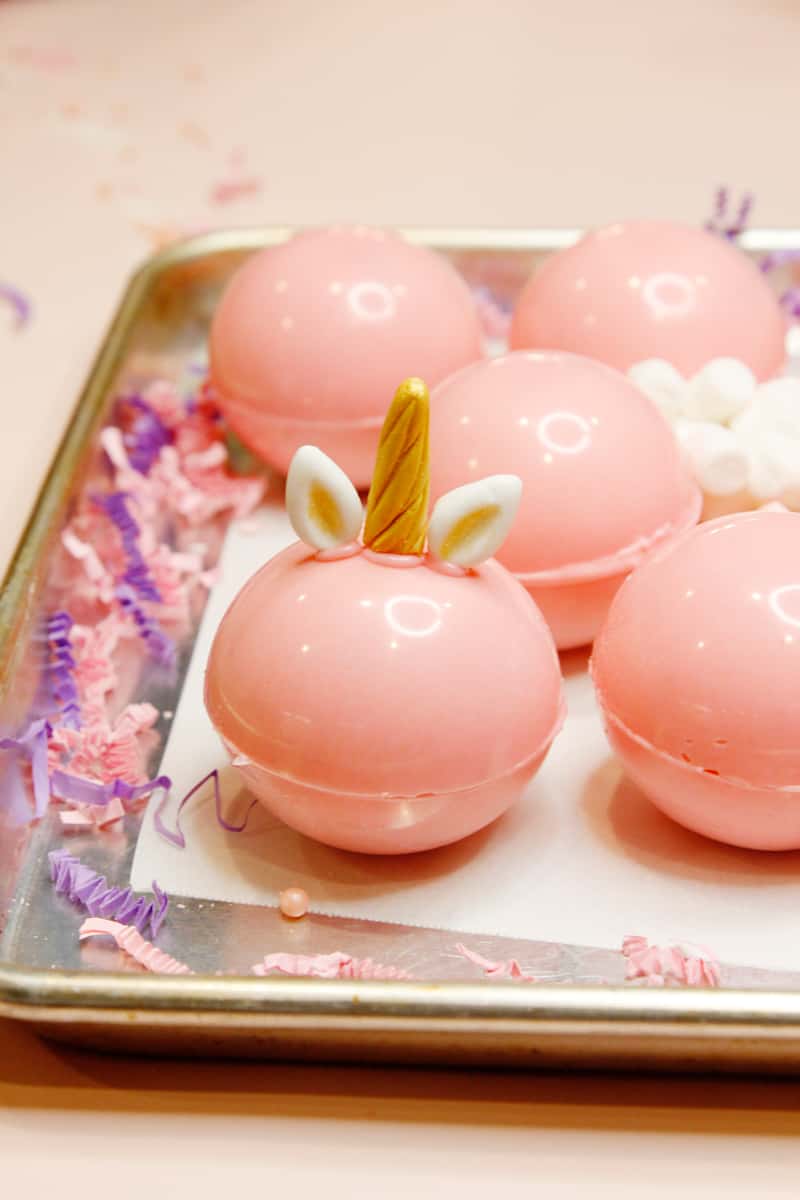 Pipe more chocolate on the front to create a mane.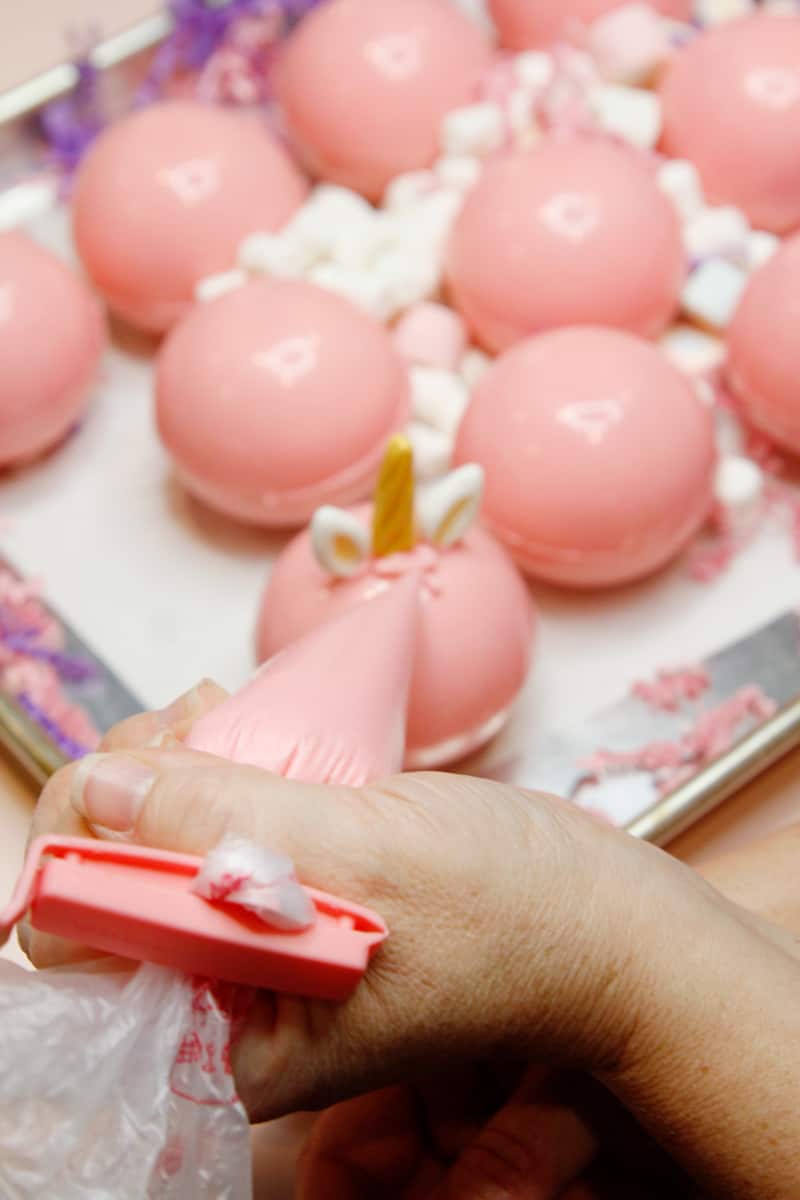 Spoon on sprinkles.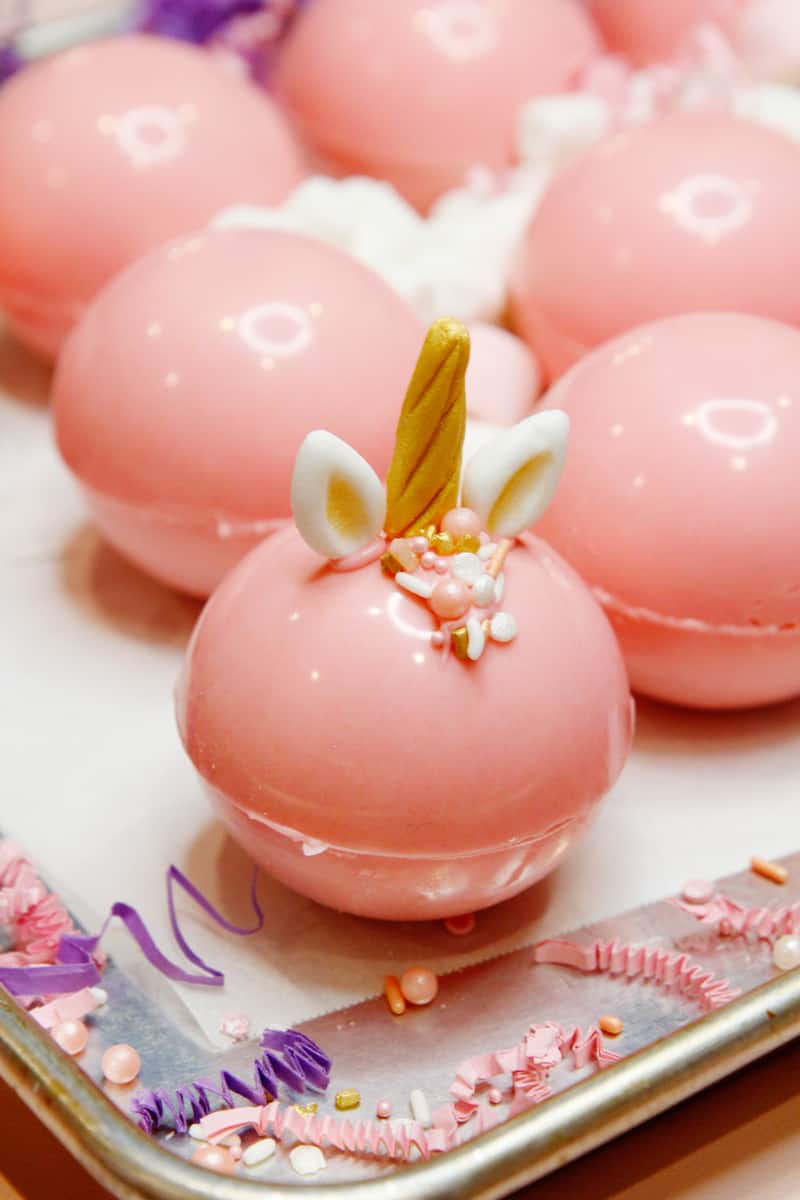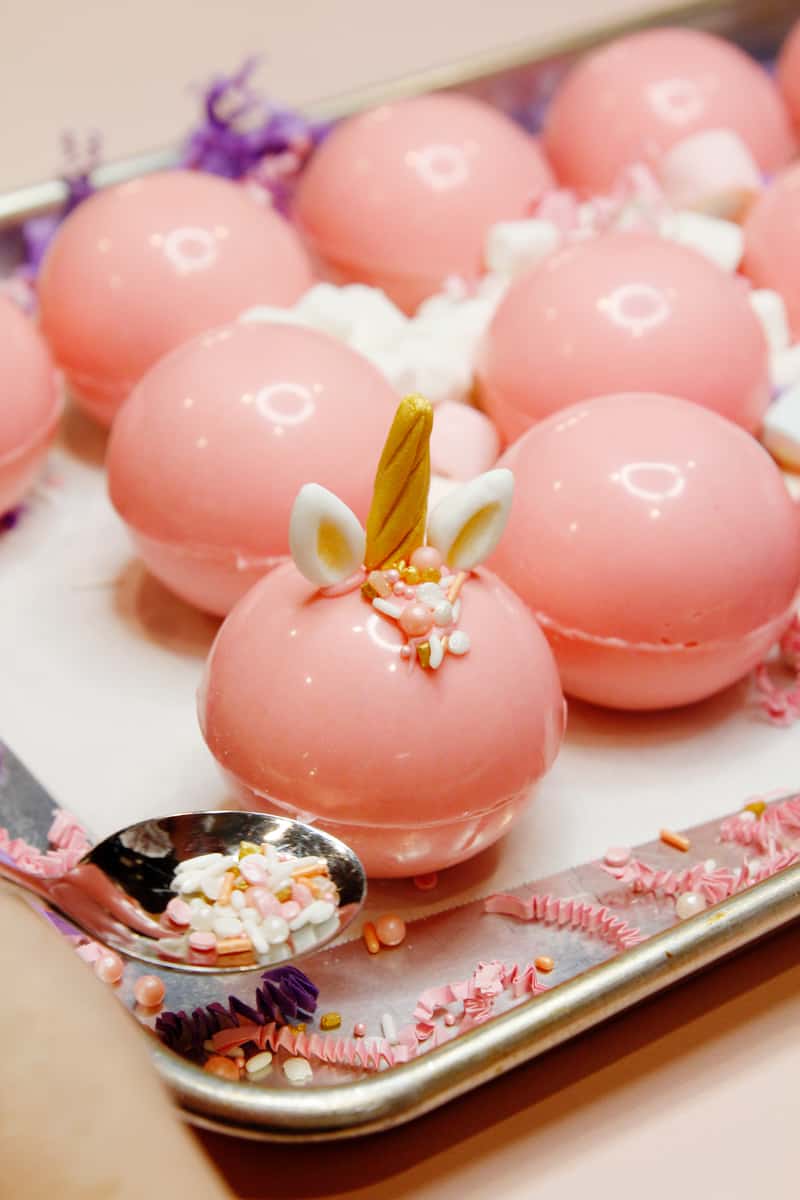 Repeat on the back for more mane.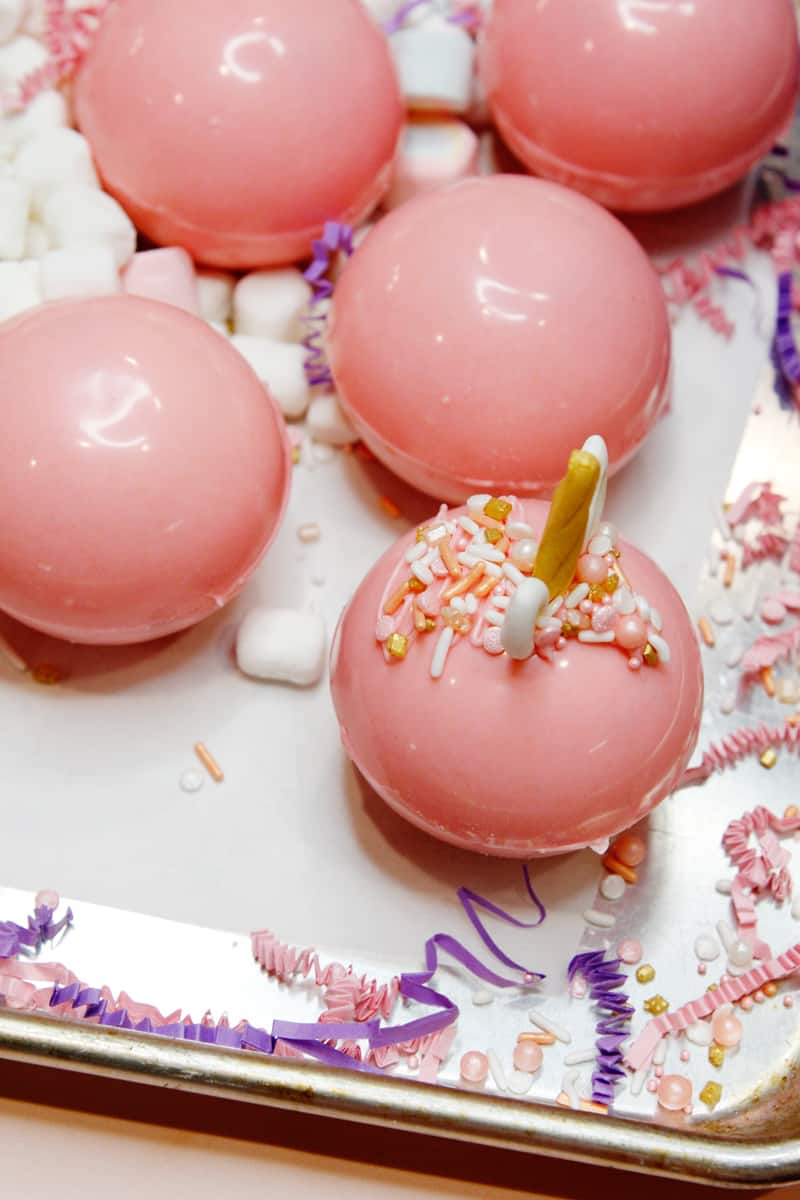 Attach eyelashes.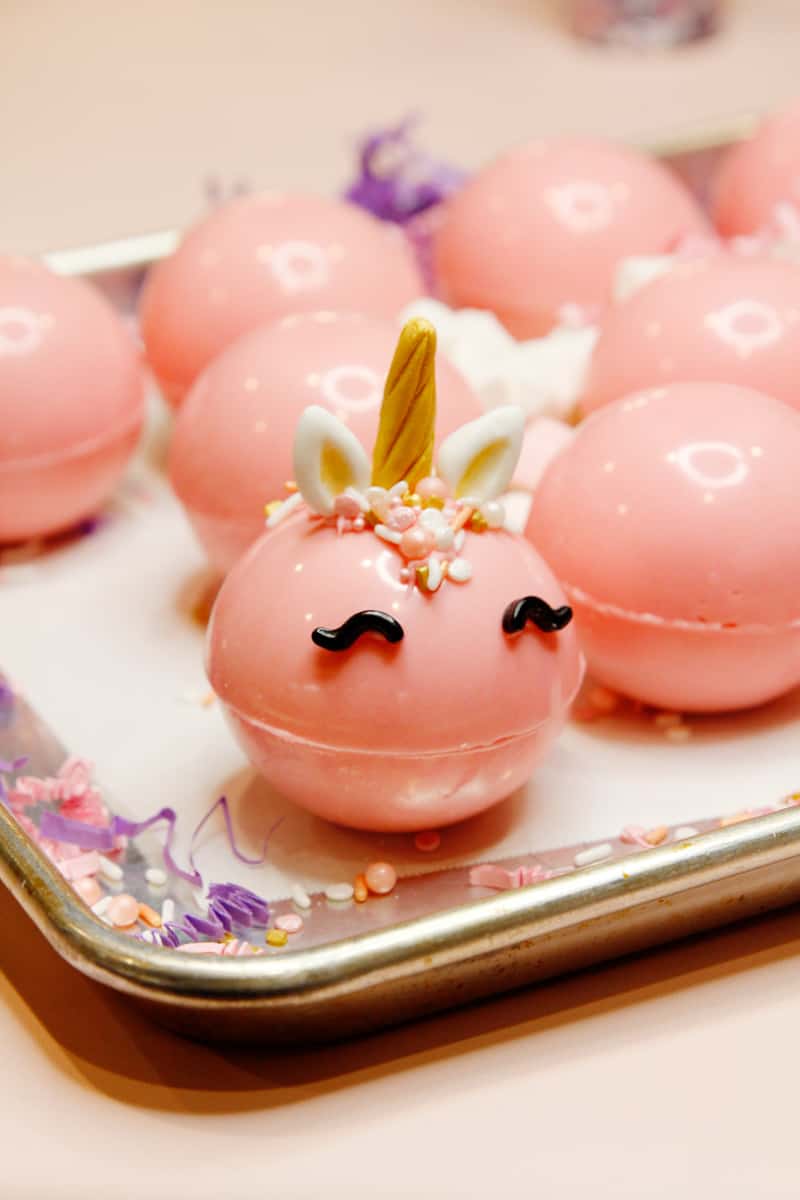 And you're done! See the video in this post to see how it melts!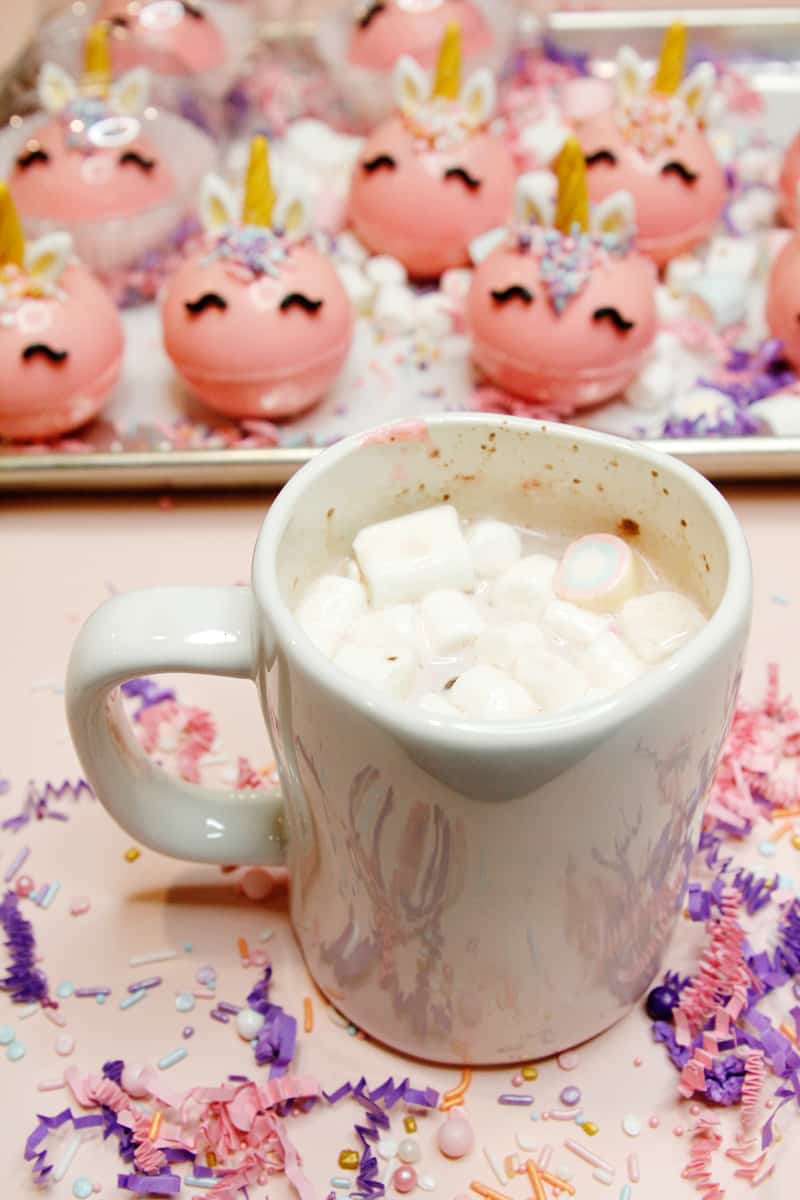 If you liked this post, you will love Unicorn Rice Krispies!