I'm in full-on last minute baby prep right now! In this post I'll show you how to sew a baby blanket with just 2 yards of fabric! I love making baby blankets and this one is super easy to sew and turns out really cute! Since you only need two full yards of fabric, it's easy to find fabric to get started – just pick any two prints from a fabric line and find a coordinating thread! I used fabric from the new Riley Blake line Let them Be Little by Simple Simon – it's a cute kid themed line that is great for home decor and clothing! My favorite print is the golden apples but I also love the main panel so I chose those two for this project!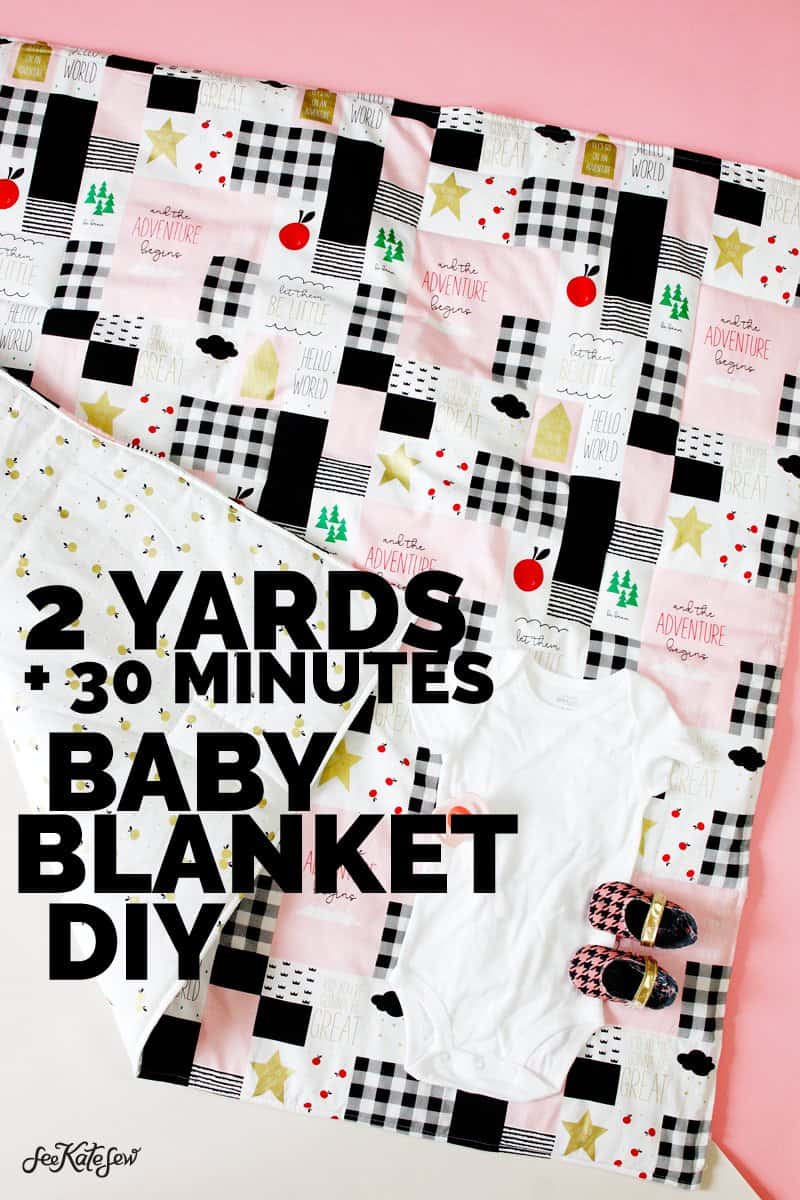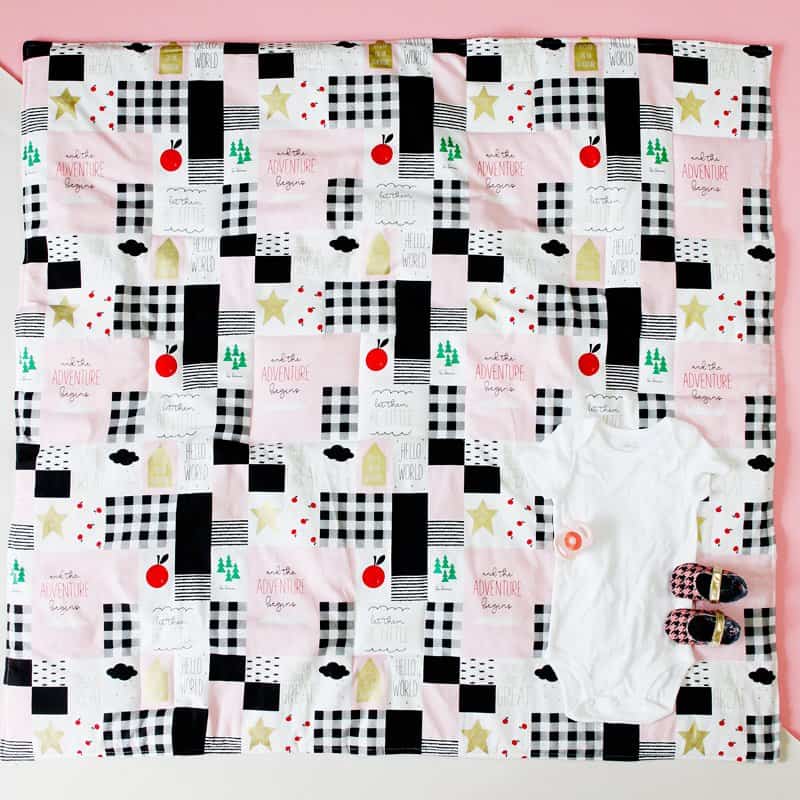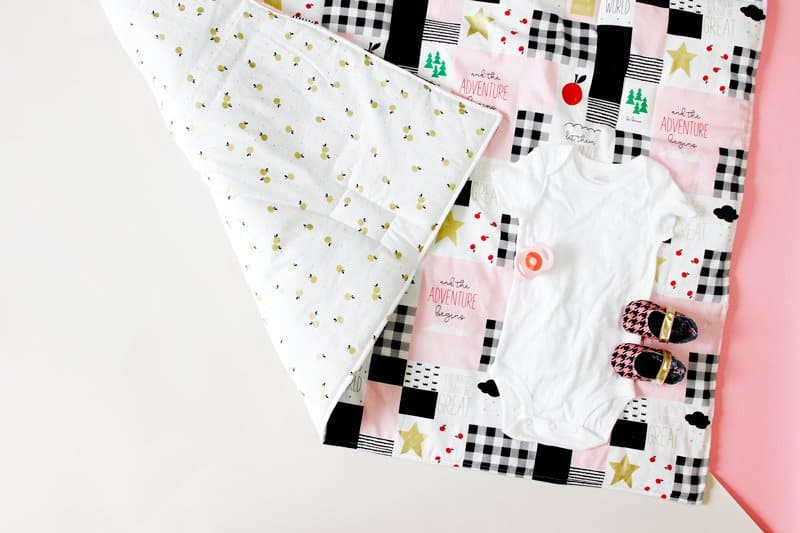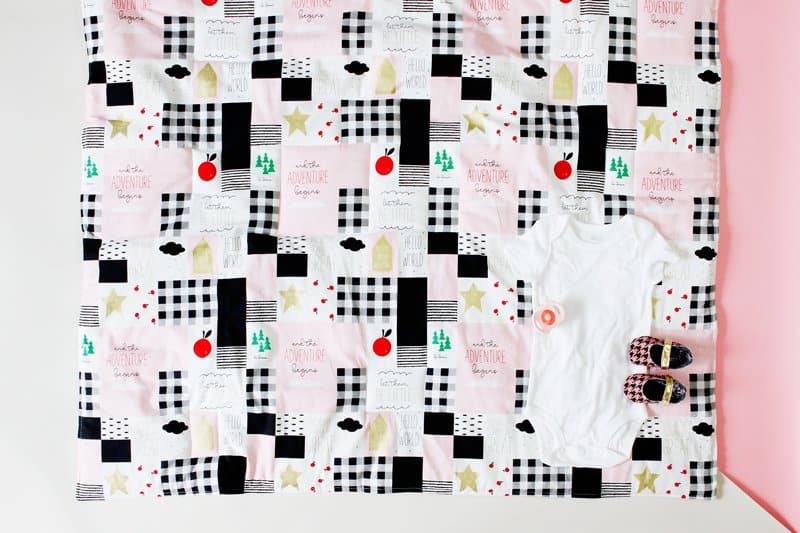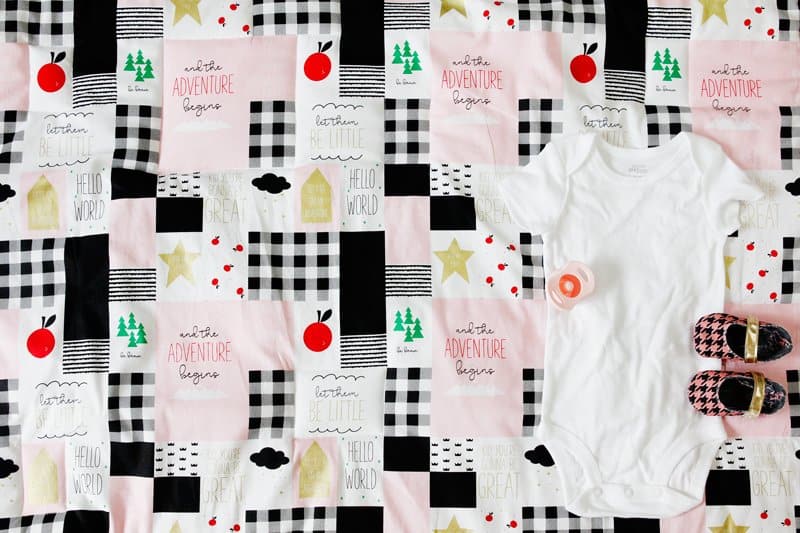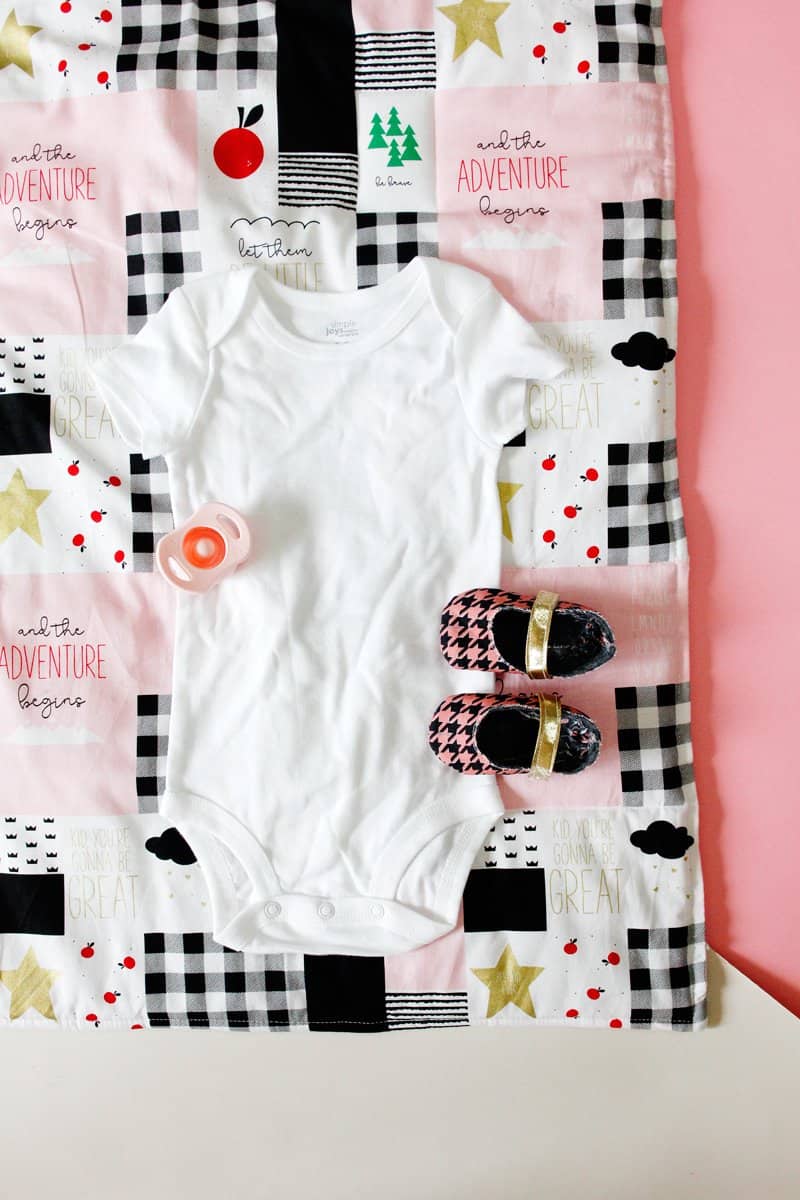 This baby blanket is the perfect baby shower gift or cute last minute project to sew while waiting for baby! The panel is brilliant because it looks like an intense quilt but only takes 30 minutes or so! I used a layer of batting in the middle and then quilted the top by following random lines on the panel. Tracing the boxes was really fun! Weirdly fun, hah! I wanted to trace them all, which would look cool, too.
This tutorial is very similar to this one where I tie the fabric with yarn to hold the layers together. I think this panel would be really cute with red or pink or blank yarn tied to it, also. So you have a few options for finishing the quilt.
Let's get started!
Materials//
–1 yard Let Them Be Little Panel Pink with Gold Sparkle
–1 yard Let Them Be Little Fruit White
-coordinating thread for quilting
–1 yard high loft batting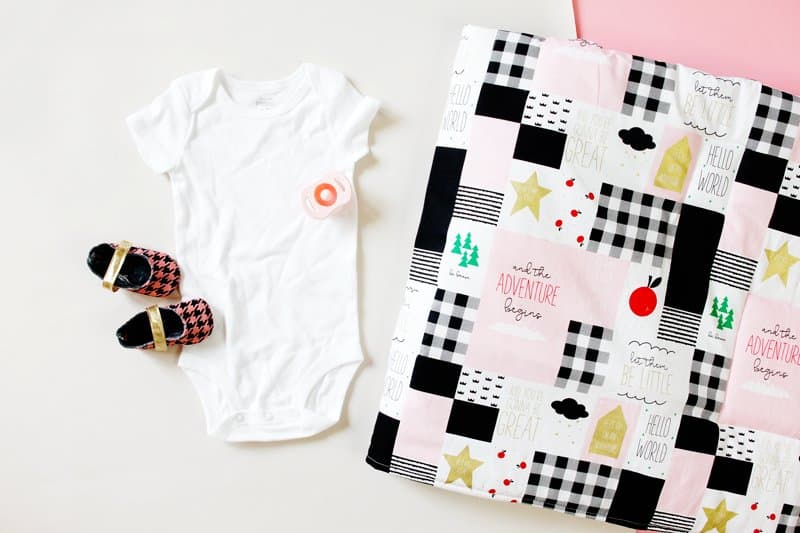 INSTRUCTIONs//
Trim off the selvage edges and clean up the edges of the fabric so they are the exact same size.
Cut a piece of batting the same size as the panel (about 44″ by 36″).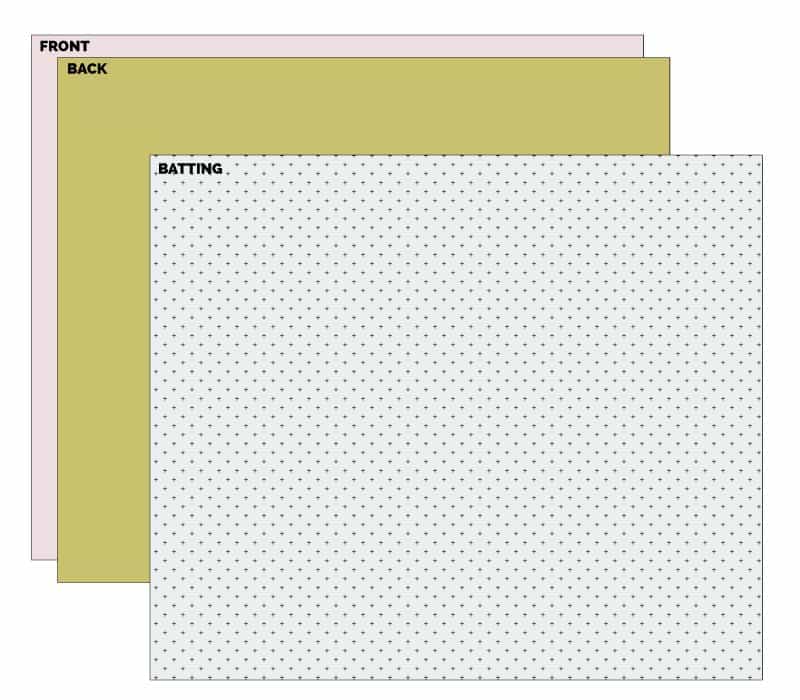 Pin it to the back of one of the fabrics and then pin the fabrics together, right sides together. So you'll have a stack like this: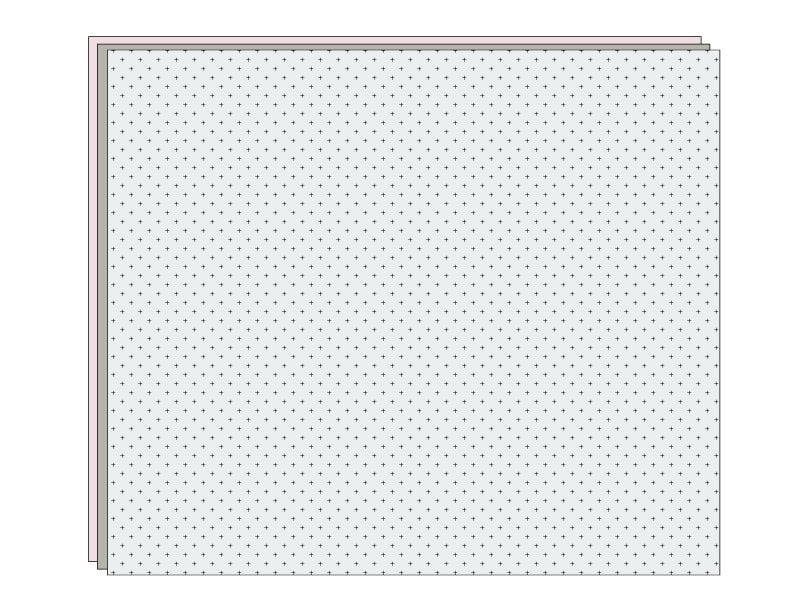 Sew all the way around the fabric with a 1/2″ seam allowance. Leave an opening about 4-5″ wide so you can pull the fabric right side out. Before you do that, trim the corners.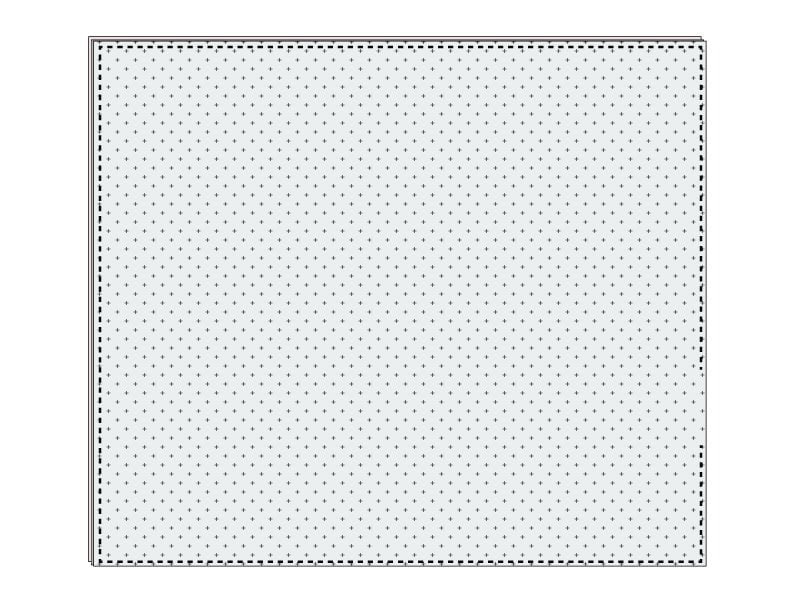 Turn right side out and press well, focusing on the edges. Press and pin the opening closed.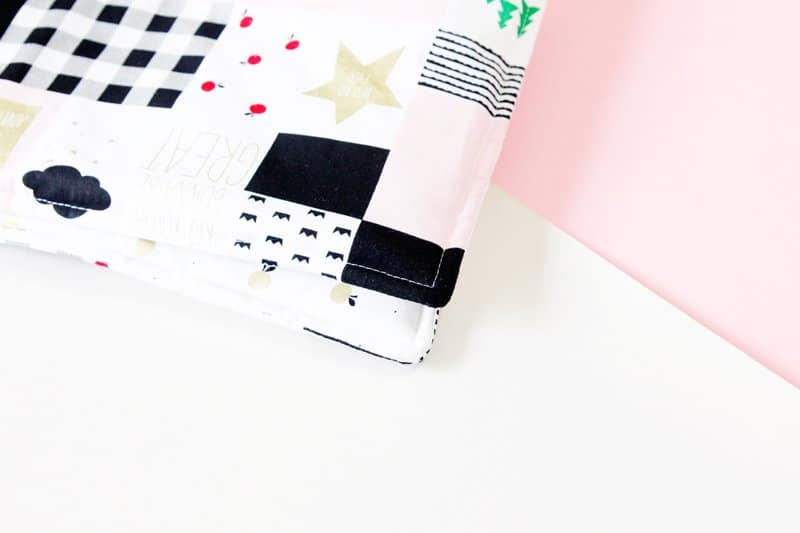 Topstitch around the edge, 1/4″ from the edge, closing the opening as you sew.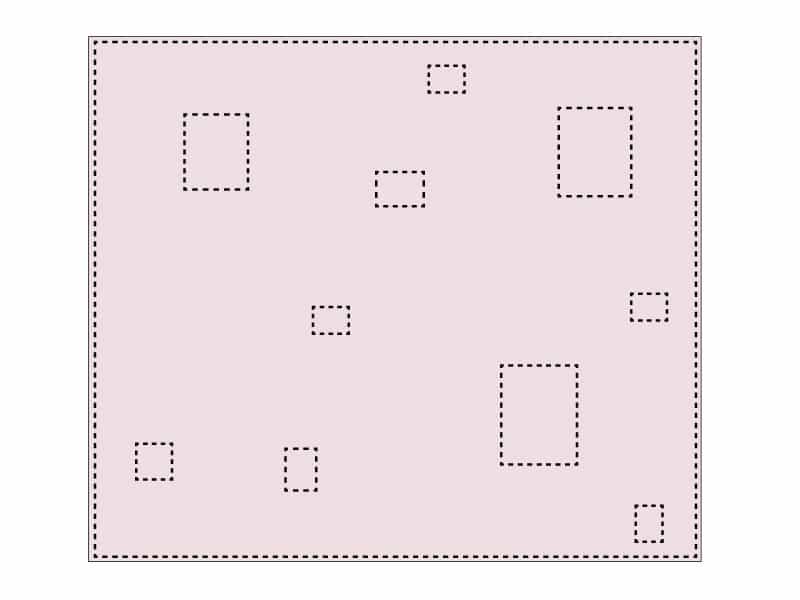 On the front of the quilt, topstitch around some of the panel boxes. This was really fun and pulls the layers together so it has a nice lofty look. You can do as many or as few as you want, until the quilt looks how to you want it to! Backstitch and trim threads.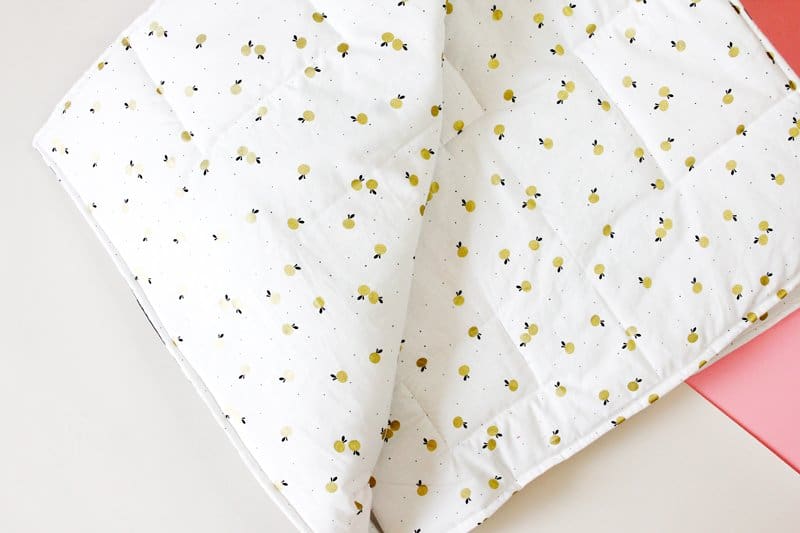 And you're done with the blanket! I love how lofty this blanket is and think it will be a perfect tummy time play mat also!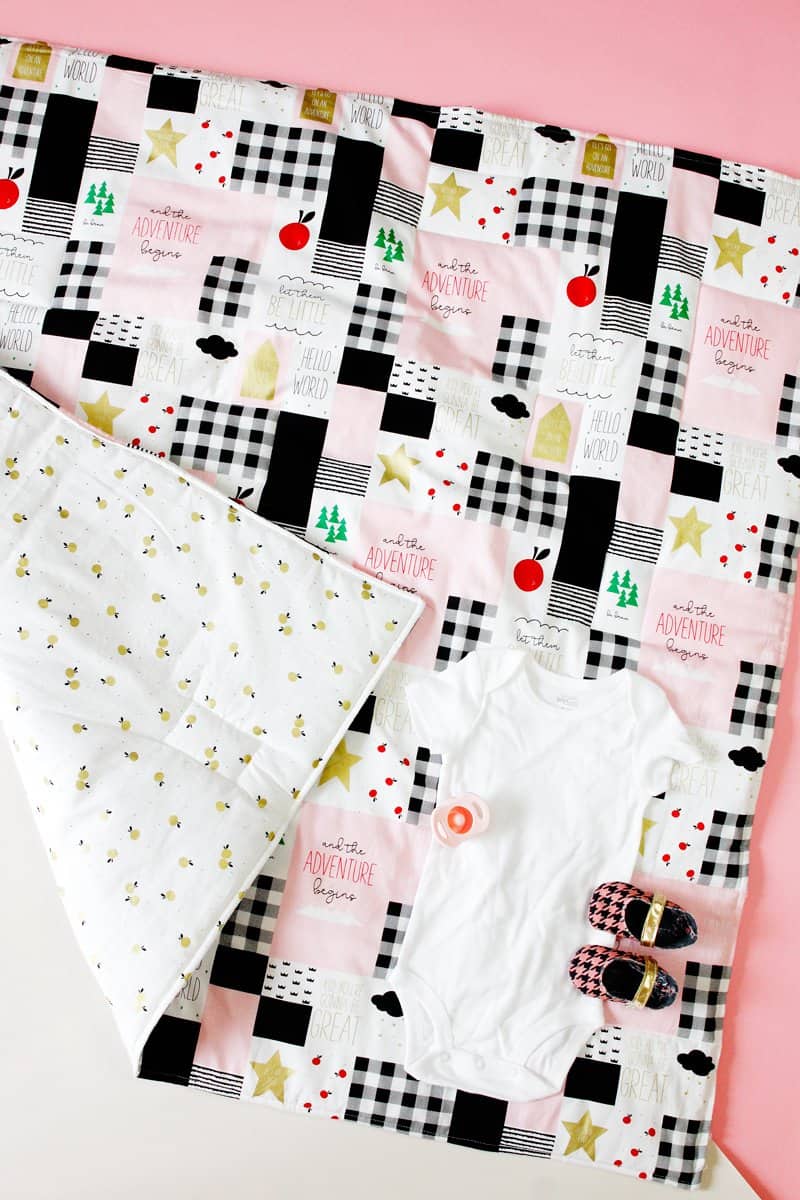 *