Well folks, my CWTS career is over. We got the boot. I guess my photography covered dresser was not well received. I kinda had a feeling everyone would do dressers.
But my husband loves it, so it's okay. Of course, plaster your child's cute face all over anything and you'll like it too :)
Here are some photos of it.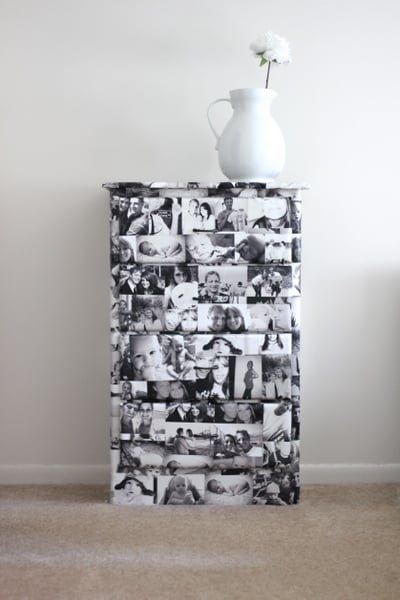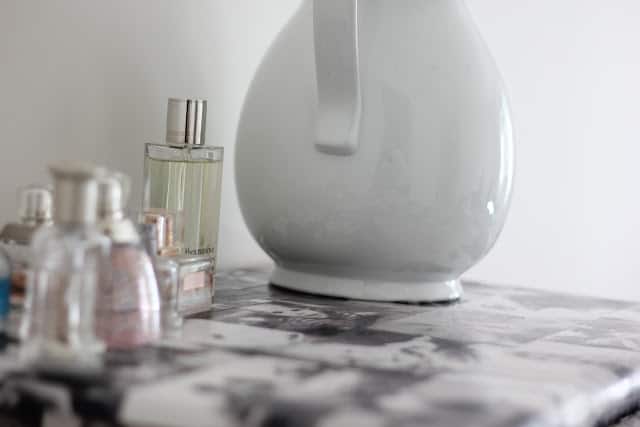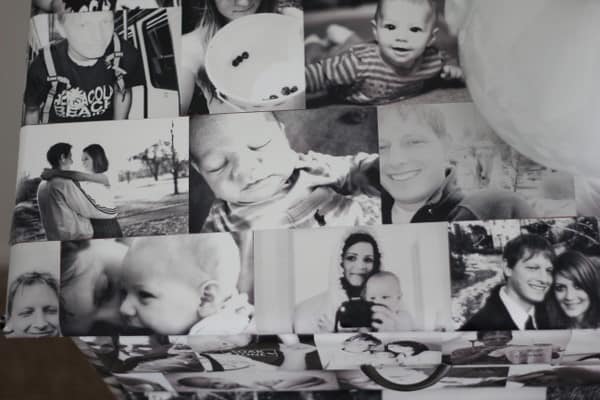 How to make your own photo covered dresser:
Materials:
One ugly dresser
lots of black and white photographs (I used 150+ 4″ by 6″ prints)
Matte Mod Podge for the outside
Glossy Mod Podge for the drawers
A paper cutter
Foam Brush
Paintbrush
New hardware (optional)


Step 1: Remove old hardware
Step 2: Go to town mod podging photographs all over your dresser every which way. Don't worry if they aren't too straight. 
Step 3: When you get to an edge, measure how much photograph you need to fill it and cut it down accordingly. I printed mulitiples of the same photograph so I could make sure each one was on there in full. 
Step 4: Mod podge under the photos and on top of them. All over. Use the foam brush to make it smooth.
Step 5: If the edges of your dresser are curved like mine, use a glue gun to glue the edges down. Mod podge isn't strong enough to hold over the curves.
Step 6: Continue mod podging until every inch of your dresser is covered.
Step 7: Measure the inside of your drawers and cut pieces of fabric for all the sides and the bottom. 
Step 8: Paint down a layer of mod podge. 
Step 9: Lay the fabric down and adjust it.
Step 10: Cover with mod podge. Lots of mod podge. I like the way fabric looks when its a little glossy so I used glossy mod podge.
Step 11: Let it all dry and replace hardward.


I think it would be great to use some 5″ by 7″ and 8″ by 10″ prints mixed in. I was planning on it originally but since the competition is anonymous I knew it would be too hard to not see faces with larger prints. 


Again, too exciting for photos of each step, but you probably don't need them for this anyways! Have fun!


Now, time to get back to my one million item to do list. 


Like making sure this little guy gets one hundred kisses per day.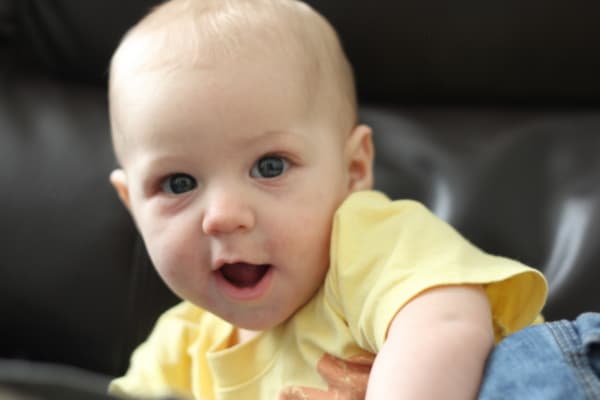 And not eating brownies for breakfast.


It was fun anyway! Go check out the winners, the doll house was my favorite, too!