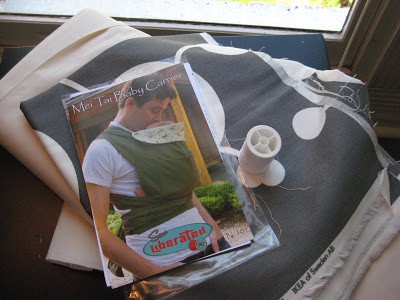 Baby and I have been hiding out indoors since his birth. We are really paranoid of all the diseases and dirty people on the outside. The doctor is backing us though and told us to avoid all crowds for 2 months. He even threatened us if he ever sees us with the baby at Wal-Mart. Plus, since its a new school year all the dirty kids mingle together and spread all sorts of stuff. We have been out a total of…5 times. That includes 3 trips to the doctor (@4 days, 2 weeks, and 1 month), 1 trip to get newborn portraits taken (@1 week), and a trip to the high school to go on a stroller ride and get some cute pics on the tennis court (@5 weeks). We go on walks down the street sometimes, too.
I haven't been a complete hermit. I went to school once, but quit the next day (I'll go back when my tailbone isn't broken from childbirth and when I can bare to leave the baby for more than 3 hours). I've also been to CVS multiple times (can't pass up those deals), and church a few. Saturday was a big day. I had to get my sewing machine fixed and buy some D-hooks and tissue paper and leggings from Old Navy and salmon at the grocery store. I went 6 places total! Big day. Any day is a big day when I put on jeans. On other days sometimes I don't leave the house at all. Although usually I try to at least go to the mailbox.
Anyways, baby is 5 weeks old now and we have our 2-month doctor's visit scheduled, in which he will get two shots and will let out the cutest wail and make a cute sad face that will make me want to kiss him. After that we're free to roam the world!
We're getting pretty excited but I'm not looking forward to carrying around a car seat. They are so stinkin' heavy. So I made this instead:
It also counts as a
fabric purge
project because I didn't buy anything new for it! I bought this home decor weight stuff years ago at Ikea and have wondered what to do with it. I'm so impulsive when it comes to buying fabric! I actually didn't have enough yardage because the straps are 90″ long, so I used muslin on the backside instead and came out with the perfect amount. I only have a few small leftover scraps, and used some of my bolt of muslin.
Fabric Used: Approximately 2.5 yards!
The pattern I used was really easy to follow.
You can buy it
here
, but I was lucky enough to find it at a local sewing shop.
I had to watch a youtube video to learn how to pronounce the name and how to wear it.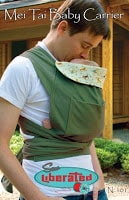 As I write this the baby is asleep on me, drooling all over my t-shirt. Why is everything he does so cute?
(Side note: My husband calls my sewing machine a "sew-er" instead of a sewing machine. I think he made that word up. :) )