September is National Sewing Month! I'm celebrating by…sewing and roping as many people into sewing along with me as possible! ;)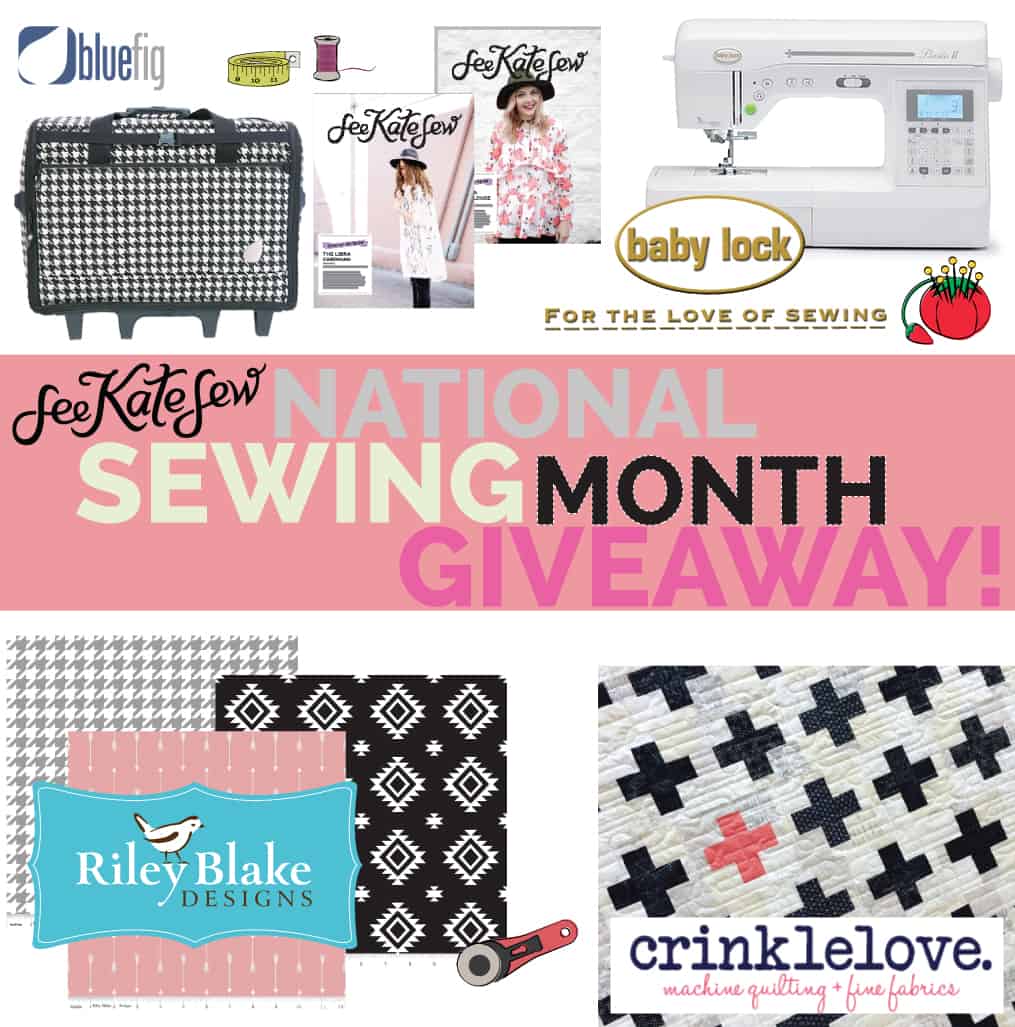 So I put together this sweet giveaway valued at over $2000!! $2000 dollars!! Thats a freaking mortgage payment or two! This truckload of sewing supplies is super to re-inspire you or extra-inspire you if you're already there! Some of these brands are new partners and some are old ones, but all of the above are amazing companies that I am thrilled to partner with.

Let me tell you about these prizes! Let's start with the BIG prize – a brand spanking new BabyLock Presto 2 machine! I've been sewing on a BabyLock for years now. The Presto 2 just launched but it has lots of features just like my Lyric machine, so I know you'll love it. Over 100 stitches to choose from, a bobbin winder, all the solid basics in a solid, quality machine. This is really everything you need to sew apparel, quilts, bags, etc! The features I love the most are the thread cutter on the side, easy load bobbin, LCD screen and it's nice sleek look. This machine has a $999 value!
And with your flashy new machine you're going to want a place to put it when when you go to craft night! Blue Fig is a brand of adorable sewing machine bags AND fun learn-to-sew kits! You'll get this gorgeous houndstooth bag to store your Presto 2 (and we can be twinsies because I have the exact same one!) and a learn-to-sew kit to make this cute lil' wrap! I love Blue Fig's line of sewing machine bags! They are so modern and cute and with the pockets! I think they would be super fun to load up. And their learn-to-sew kit selection is awesome, these would make perfect gifts!
Give a girl a sewing machine and she's going to need some FABRIC! Riley Blake is offering up a $200 stack of KNITS for you to get sew crazy with! I love the quality of RB knits and have some of their cute prints and solids on my cutting table right now! Hearts, houndstooth, stripes, polka dots, aztec, feathers, so much fun stuff to sew with! There is also a good selection of knit solids and more!
In the next few months I'm going to convince you to quilt (if you don't already) with some new quilt patterns. You'll be ready for them with a $200 credit to Crinklelove! Crinkle love is a long-arm service that has a mail-in option! So great! Just make your quilt top, package it up and Crinklelove will quilt it for you and send it back! Its like magic! My first quilt is on my way to Crinklelove right now and I can't wait to see it!
Just for good measure I'm throwing in 20 (TWENTY) of my own patterns, including a brand new release coming Monday! Your sewing list just got LONG! Hahah!
Okay let's enter already! You have to jump through a couple of hoops for this one, but you'll enjoying following all these brands if you don't already and $2000 prize, hello! Enter below: