It's group giveaway time. Here are some of my fab sponsors and their awesome shops! 
All prizes will go to 1 winner!
Modern Fabric Studio offers designer fabrics in rich and vibrant colors perfect for quilting, sewing and creating anything your imagination desires from curtains to pillows, purses, skirts and much more! We also supply patterns and sewing tools to assist in your many sewing adventures!


Shop:  http://www.modernfabricstudio.com
Blog: http://www.modernfabricstudio.com/blog
Facebook: http://www.facebook.com/pages/Modern-Fabric-Studio/192809437432068


Modern Fabric studio is giving away 3 yards of your choice from Amy Butler's new line LARK! 
**Modern Fabric Studio is having a Thanksgiving sale: Free shipping over $35 plus 15% off Anna Maria Horner and a few other designers!**
Remember all those times that you unexpectedly came across an amazing, must-have fabric and agonized over how much to buy?  Never again!  Slip these sturdy plastic reference cards into your purse and you can buy with confidence!  We've summarized the fabric requirements of thousands of sewing patterns and created your perfect fabric shopping companion

!  
Gywn Hug is giving away Winner's choice of any one card set.  Options are: (a) women's clothes, (b) women's plus size clothes, (c) men's clothes, (d) baby & toddler clothes and (e) children's clothes.  All sets are available in both US (Imperial) and metric versions.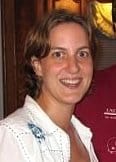 I started making purses because I wanted "the perfect purse" and that meant making my own with lots of pockets, adjustable strap and unique fabrics. I thoroughly enjoy the whole process of planning, pattern making, picking fabrics to the sewing and selling of the finished product.  And I especially love making something that is a 
one-of-a-kind!!  One of my dreams has been to have a creative job. Be the person who makes quality purses that are useful and appreciated by others.  Hopefully I have acheived that, right here in my humble little Etsy store.
Mandatory entry:
1) Leave a comment here with your email address!
Extra entries(leave a separate comment for each):
This giveaway will close Friday the 25th at midnight est. Winner will be announced on Saturday.
…………….
The winner of the Paradiso Designs Giveaway is…


Brandi S!