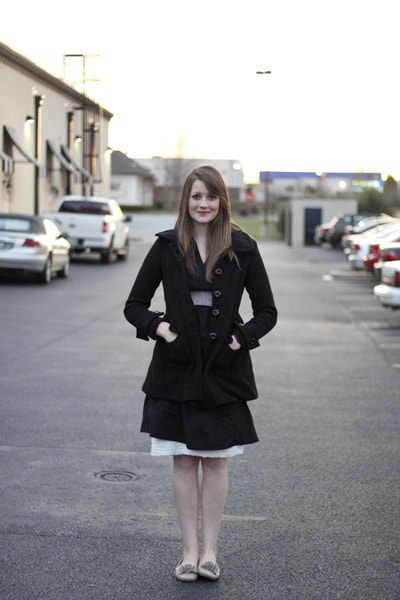 dress: motherhood (shhh…I still wear maternity clothes) 
shoes: Target (I wear these everyday, if you haven't noticed)
We went on our second date sans baby since June this weekend. We were planning on going to eat and then to look at lights and then bowling or something. But then we ate and got tired, so we picked up baby and went home. We're getting pretty lame. But, good news! Maybe some of that lameness will end this week when husband graduates. I can't stinkin' wait. 
I made the slip you see up there. I'm having a hard time not buying all the super cute but sorta short dresses/tunics lately. And in the case of this dress, I put it in the dryer and 3 inches were gone! But really if I can't wash on cold and tumble dry low, it doesn't really belong in my closet anyways.
So, I made this cute under slip thing to add some ruffles and a few extra inches to any dress that could also pass for a shirt. So I can wear it as a dress! 
I'll show you how I made it tomorrow. It extended my dress up wardrobe by at least 4 already!