Jenny from Seamingly Smitten just started selling sewing patterns recently! She sells them from her blog and new etsy shop. Right now she has two to choose from:
She emailed me the Swing Top and Pick-Me-Up Skirt PDF pattern to review.  Since I don't have any little girls, I love a good excuse to sew a frilly top, especially such a cute one! Plus, it goes with our ruffled up theme so well with a ruffle on the bottom. Perfect.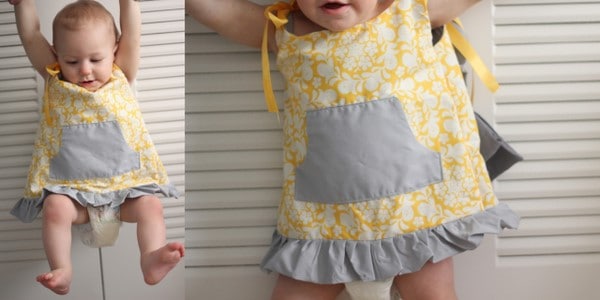 Nothing is better than a yellow + grey ruffly dress for the summer! My favorite part is the huge bow in the back. The skirt is super cute too and would complete the outfit.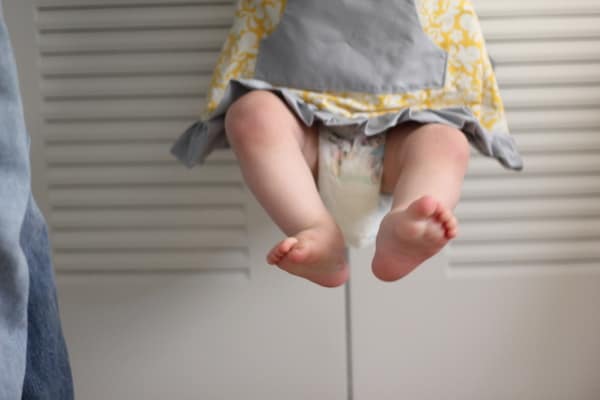 This pattern printed really easily at 100%. No messing with sizing and enlarging. You just have to tape it together. Easy peasy. I would recommend this to a beginner sewer as a learning project or an experienced sewer as a fun little project.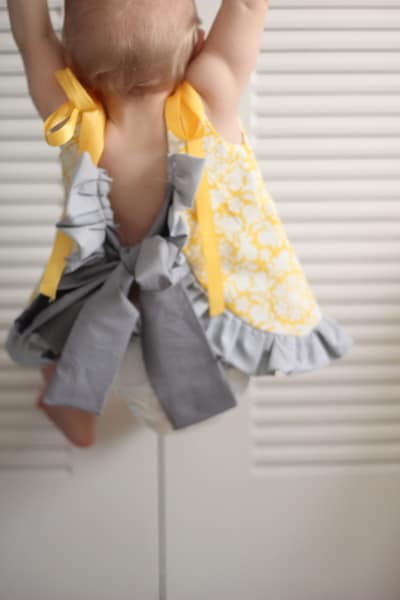 It was really fun to make this cute dress, and it turns out great, with beautiful details. I feel like I've made something solid that anyone would love to recieve. It may just be my new baby girl shower go-to gift.


I really love the front pouch, too.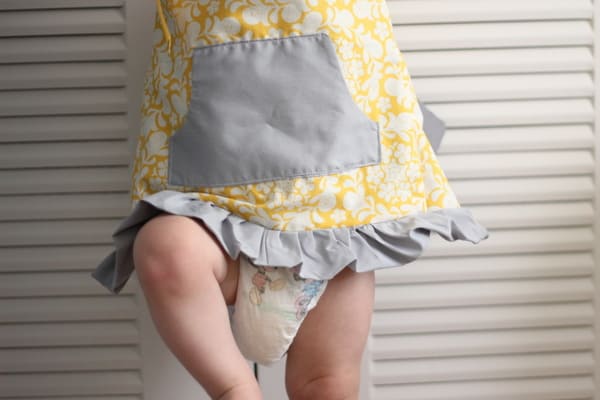 I had to cut out my little boy's face for most of these. I felt too guilty. This dress was on him for all of 2 minutes…for the record. (And sorry for that not cute huge diaper full of..um..pee. I shoulda put something else on him.)


Jenny's patterns are also for sale at the Crafty Girl's Workshop. She'll be teaching the Ruffled Halter Dress in person at the Crafty Girl's Workshop on June 4th in San Antonio. How cool!


Wanna win a pattern of your choice?


Here's how to enter:
Leave a comment for each thing you do. Include your email address in each comment.


1) Go check out Seamingly Smitten's etsy shop and come back telling me which dress pattern you would choose.


2) Favorite her etsy shop (one entry)


3) Add her etsy shop to your circle (one entry)


4) Go check out Jenny's blog AND leave a comment over there. (one entry)


5) Follow Seamingly Smitten the blog (one entry)


6) Upload a photo to the ruffled up flickr group (one entry)


Up to SIX entries! Leave a separate comment for each one with your email address in each.


And if you just can't wait to get sewing, use code KATE25 for 25% off your purchase! What a steal! This code is good while the giveaway is running.


Giveaway ends next Thursday at noon EST.