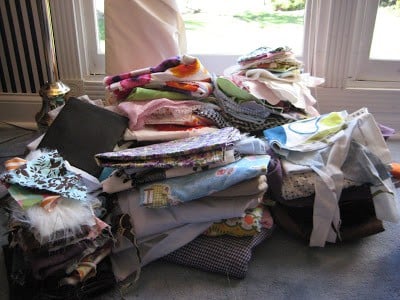 is getting ridiculous.

It's not as bad as it looks. It's worse. I left out a pile and a bag and all the pieces strewn about my craft room. Here's a better view:
I decided that I think I'm addicted to fabric. Most of it is quilter's cotton in mostly beautiful but some quite ugly (what was I thinking?) prints. I've been collecting for years. There is something about a new stack of perfectly folded fabric. I just can't ever seem to decide what to make. So I let it sit and buy more fabric.
There is a piece of faux fur in there. And some polyester chiffon. A whole bolt of muslin. Leftovers from a thousand sewing projects. Some of it even has pattern pieces attached. Unfinished projects. Squares of what were supposed to be quilts.
I'm making an empty promise to myself to stop buying fabric and to use this all up by the end of the year. It's an empty promise because I know I can't do it. Not when Anna Maria Horner just released this line: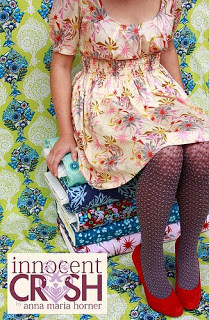 But at least I will feel a little guiltier and a little more inclined to make good use of it.
Hopefully some posts will follow of the amazing things I've created with all this fabric. Or maybe just a bigger mess of fabric.