Today's guest is Summer from
Sumo's Sweet Stuff
! Her blog is full of fun, including her recent gender reveal party(it's a girl! And I totally guessed right.). She has a weekly link party and tons of cute projects. Check out this
pinwheel tutorial
. Another
sweet canvas
, so cute! And with all those girls, there are sure to be a ton of girly
clothing tutorials
.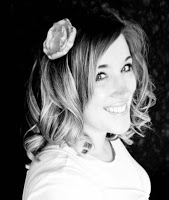 ……………
Hello everyone! I'm Sumo. Well, my real name is Summer, but my husband has had everyone calling me Sumo since we were dating. Yes, I still married him after he gave me that nickname! I have a little blog called Sumo's Sweet Stuff. I share tutorials of things I've made, host a linky party every Monday, spotlight other bloggers, have giveaways, and more!
I was excited when Kate asked me to be a part of pleat week for a couple of reasons. First of all, Kate is fabulous, is she not? And, if you can believe it, I've never made anything with pleats before this project! I've only been sewing for about a year and a half, so I'm still learning all of the ins and outs. It was fun to try something new, and to figure out how I wanted to apply it.
We've got two little girls, with another little lady on the way. Naturally, our house is FULL of all things girly, so the newest baby sister isn't in need of much. But I still want her to have some new things of her own. I thought it would be fun to make her a car seat tent using pleats! I wasn't sure how this was going to turn out, but if I must be honest, I am kind of in love with it!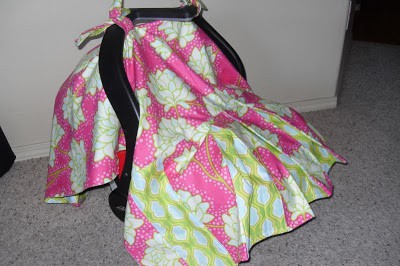 Here's what you'll need:
– fabric: I got one and a quarter yards of two different fabrics each
– sewing machine & accessories (thread, scissors, pins, etc.)
– iron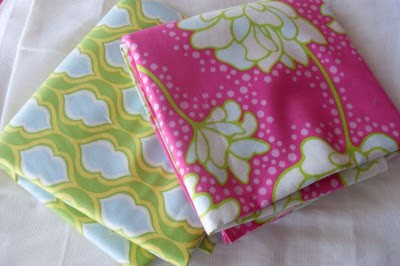 I have a tutorial for a
basic car seat tent
on my blog, so I started off using those measurements to cut my two large pieces of fabric. I cut them both 36″ wide x 46″ long.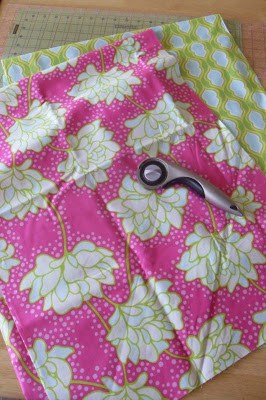 Next you need to decide how much of the part of your car seat tent hanging down you want to be pleated. I wanted mine to hang about 13″ down with pleats, so I cut 13 1/2″ off of both pieces to account for the 13″ plus my seams. Make sure you cut this width wise, not length wise!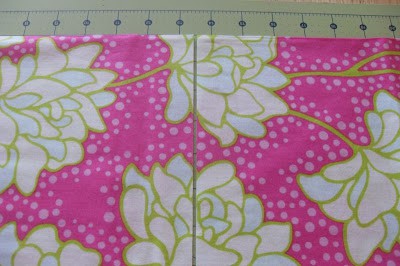 I'd seen some cute skirts with inverted pleats, so I wanted to do this with the car seat tent. I saw a skirt that had a coordinating fabric hanging out underneath the pleats, and I thought that would be a fun way to pull the print from the underside of the cover to the top. So I took the 13 1/2″ of the bottom print that I cut off and cut it into 6″ sections. I actually only used three of them, although you see five cut.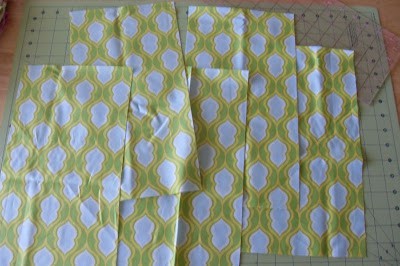 You'll need to iron the long edges down so that you don't have a raw seam hanging out when you sew these pieces on to the other fabric.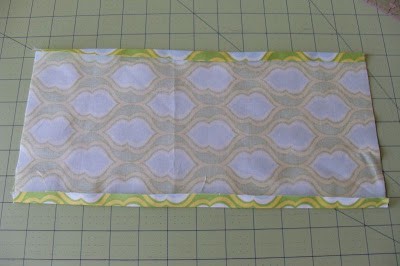 Now, at this point, I had a realization. I was going to be making this lovely pleated front, but when I turned back the car seat tent to let baby see out, the back side of those lovely pleats was not going to be so lovely. So I took a quick break here and sewed some strips of fabric together to make up the backside of my pleats. (Don't worry, this isn't the only mistake I made while making this. There's still more to come!) So here you can see on the left side, the pink fabric (top) for the front of the pleats with the backside of the pleats folded over on top of it. I pinned them together, wrong sides facing, and sewed the side seams together.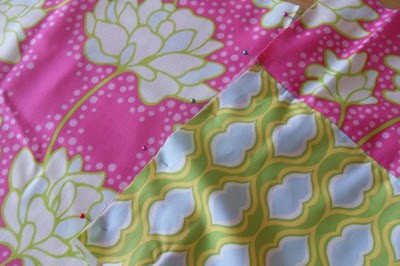 Looking better now.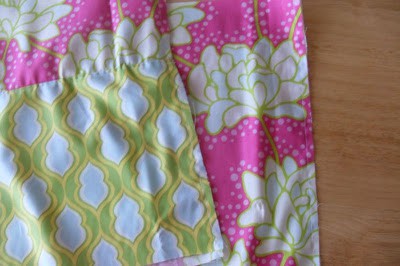 Moving right along.
Next it's time to put the bottom fabric that will be peeking out from your pleats. Find the middle of your strip of your main fabric and stick a pin in there. Then take one of your fabric panels of bottom fabric, find the middle of it, and pin its middle to the middle of your main fabric. Did that make sense?
Depending on how big your strips are and how big you want your pleats to be will determine your next measurement. I did 6″ from my middle pin and stuck another pin there. Do this to each side out from your middle pin. Then attach the panels in the same manner as the first one. This is what it will look like with the three panels pinned in place to your strip of main fabric.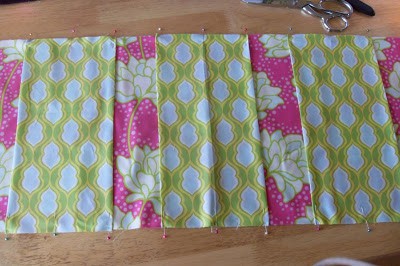 Another view.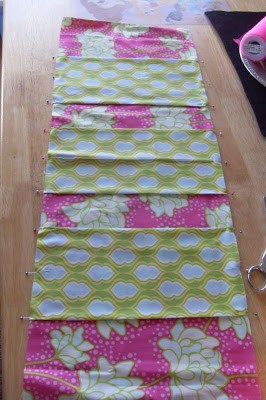 Now you're going to sew those panels on. Sew the edges down, making sure your edges are still ironed under.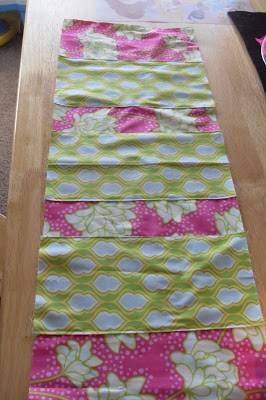 Up close.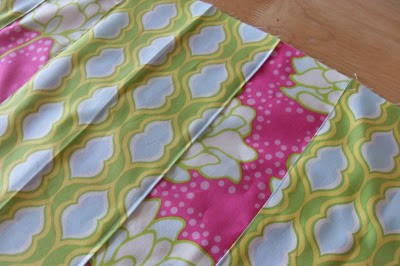 At this point, I hemmed up the bottom edge of this strip, but it's not necessary to do yet if you want to skip it. You'll see why later – that's my next mistake!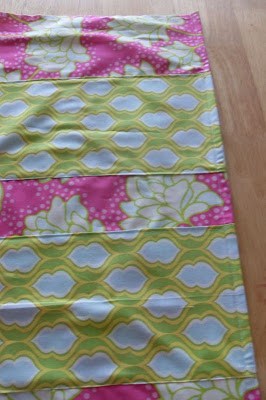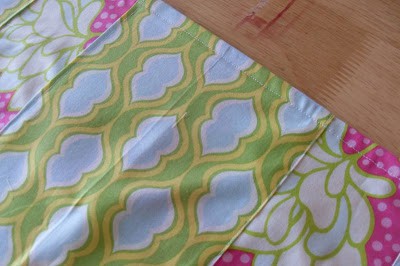 Shall we get pleating?
Starting with your middle panel, fold in your main fabric (the pink in my case) until the edge meets the middle of the panel. Iron it down.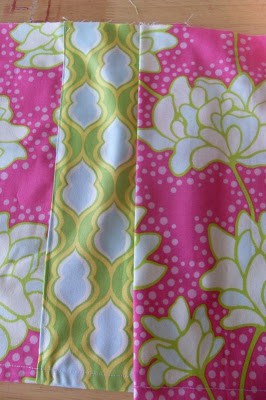 Repeat on the other side of the panel, meeting pink to pink in the middle of the panel.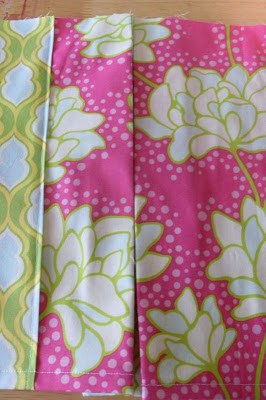 Say hello to your fabric peeking out from underneath!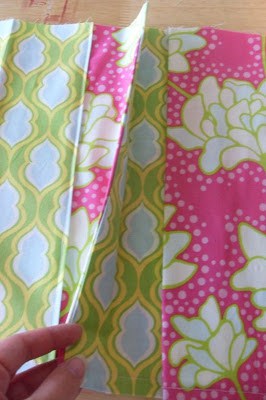 Do this to your other two panels.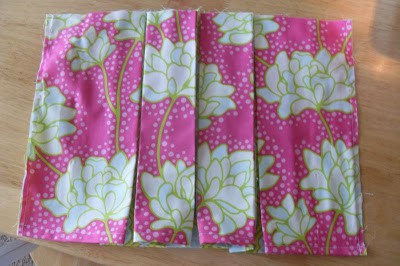 Don't they look lovely?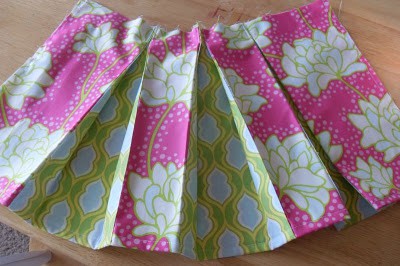 Here's where mistake number two came in to play!
When I had first cut the strip off of the body of the car seat tent, I thought everything was going to measure up perfectly. I hadn't taken into account that I was going to be losing some width from pleating! Oops!
So I had to add a couple of non-pleated strips to the sides of my pleated part to make up for the width difference.
Basically, if you make this, you can either be sure to make more pleats or if you add strips like me, you could do that before you start pleating and hem it all up at the same time. Because of my error, I had to attach strips together, hem them up, and then attach them to the pleated part.
For some reason, I didn't take a picture of the strips added on to the pleats before I attached it to the body of the car seat tent – sorry!
But now that you've got your strip, pleats and all, ready to go, it's time to attach it to the body of the car seat tent. Lay out your main top fabric (pink for me!) with the right side facing up. Pin your pleated strip to it, right sides facing together.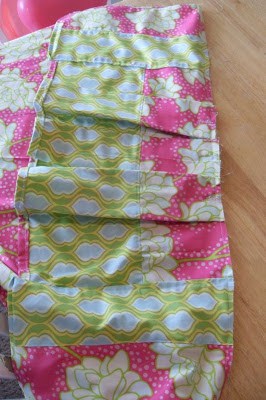 Then, making sure your pleated strip is still in place, lay your bottom fabric on top, also right side facing in, and pin all around the edges.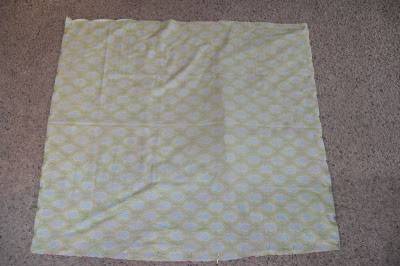 Sew all the way around, leaving an opening of 6-12″ to pull your fabric through.
Iron the seams in of your opening, and top stitch all the way around. Here's what the top looks like.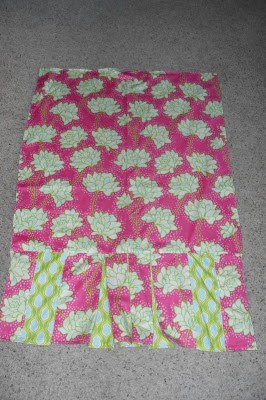 And the bottom.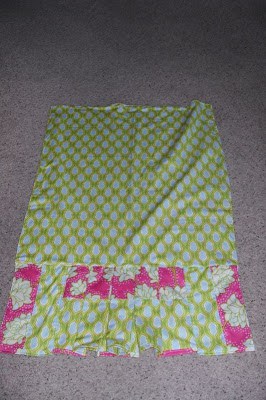 Now we need some handles!
I cut two strips of pink fabric and two strips of green fabric using the measurements 3 1/2″ x 15″.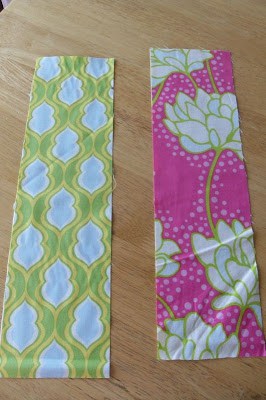 I wanted one fabric for one side of the handle, and the other fabric for the other side, but you can certainly just use all one fabric if you like.
Lay the two pieces, right sides together,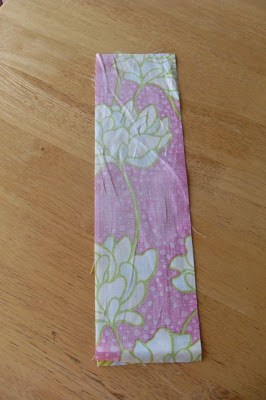 and sew around the edges, leaving a small opening to pull the fabric through.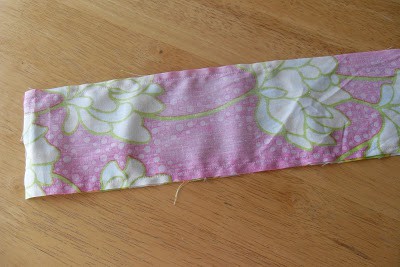 Iron in the seams, and top stitch all the way around. Repeat for the other handle.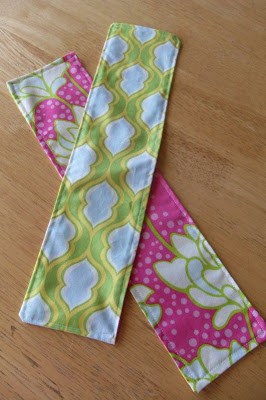 I knew I wanted my handles to just be tie handles, but if that's not your thing, you could attach some velcro at this point.
To attach the handles, you could definitely just throw the car seat tent on your infant carrier and pin where you want the handles to be. I didn't have my own infant carrier handy, so I used this trick. Fold your car seat tent in half, and then in half again. Measure in three inches from your middle point, and put a pin on each side of the fabric. This is where your handles will go.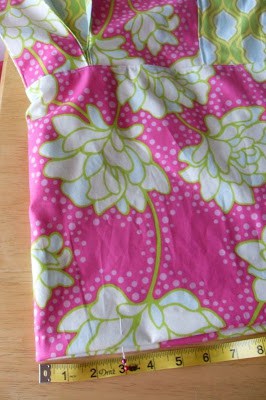 Open up your car seat tent, and pin your handles in place where your pins are from measuring.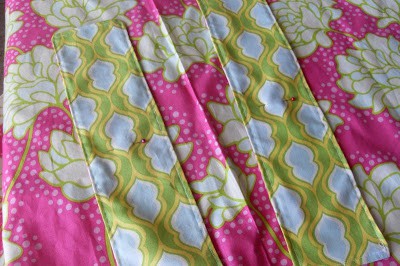 Sew the handles in place. I just front stitch and back stitch the width of it a few times.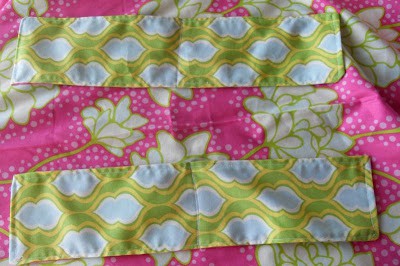 See, like this.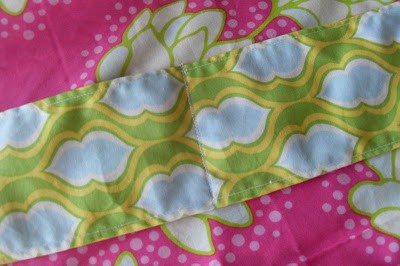 Tie it on your infant carrier (I borrowed one!) and admire your work!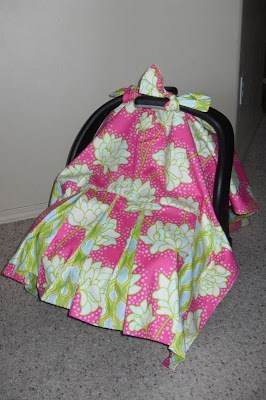 I have to admit, I wasn't sure if this was going to turn out, especially with all of my mistakes, but I just love how the pleats hang down over the front!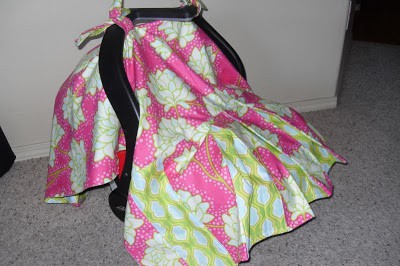 Won't baby girl just be stylish being toted around in this?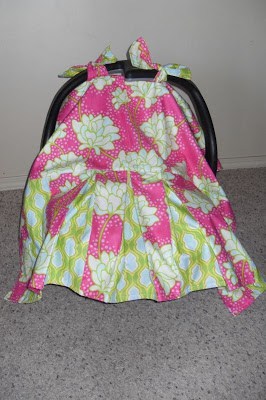 Kind of a fun twist on the usual car seat tent!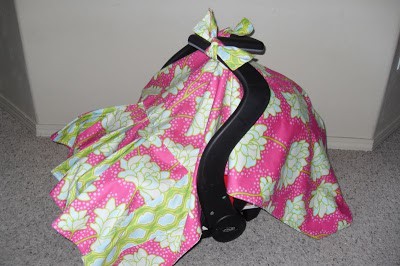 Thanks for hanging in there through my long tutorial! And thanks to Kate for having me here today! I'm definitely in good company with all of the other amazing guest bloggers!
Happy Pleating!
………
Thanks Summer!
You can find more of Summer here: