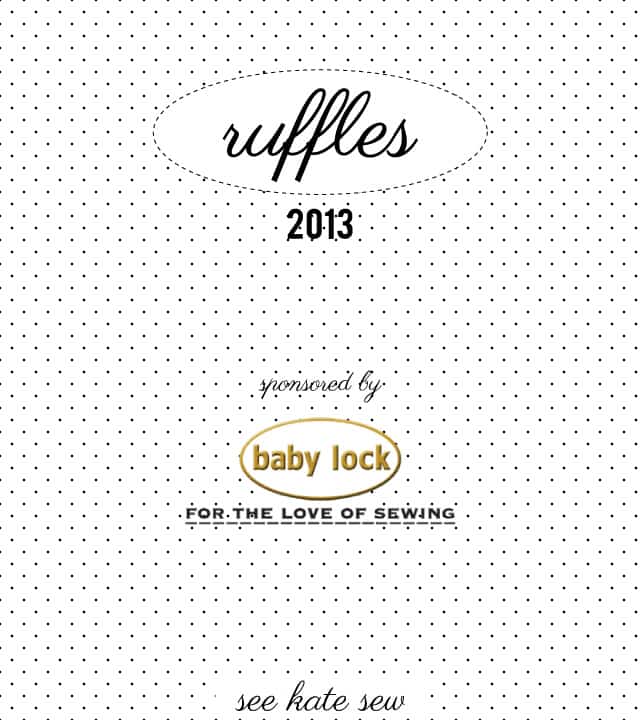 Whew! Another RUFFLES event has come and gone. Thank you so much for following along! And a special thanks to my amazing guests for really bringing it this year! This series is always fun for me, so thank you for indulging a ridiculous love of ruffles! I hope you enjoyed it also and found some fun projects and inspiration!
And SUPER thanks to Babylock for sponsoring this series! It was fun to bring Melody and Diana into the see kate sew world in style. I am having fun with these machines and am excited to keep showing you all their tricks!
Here's a quick wrap-up of all the ruffled posts!
ruffles 2013 intro
sewing 101: how to make a ruffle
ruffled apron pattern and sew-a-long details
the sydney skirt Free pattern
Meet Melody
ruffle zipper pouch with geometric stitching
Meet Diana
ruffled fold over clutch tutorial
free ruffle bib pattern
the ruffled apron unruffled
bubble ruffle shorts tutorial
the mystery fabric ruffle challenge
ruffled heart top tutorial
ruffle tuxedo dress
ruffled house shoes
the ruffle duster
ruffle raglan hack
ruffle gift bag
ruffle zipper pouch and purse
colorblocked and appliqued ruffle apron 
maternity ruffled apron
butterfly ruffle sleeve tutorial
DIY clothing labels
DIY ruffled nursery art
DIY ruffle shirt for boys
the ruffle foot revisited
Metallic silver baby tank free pattern