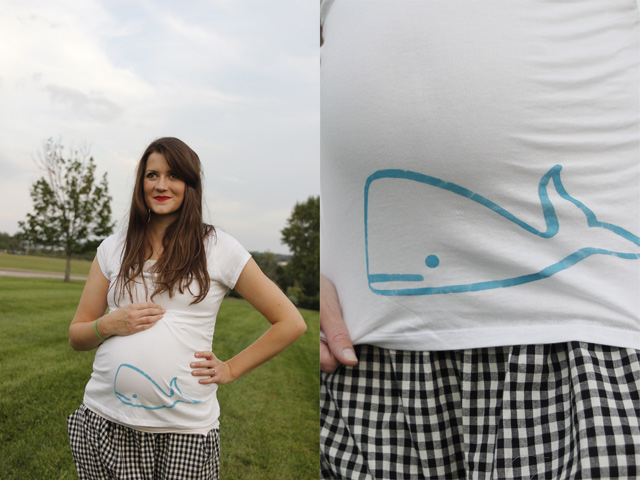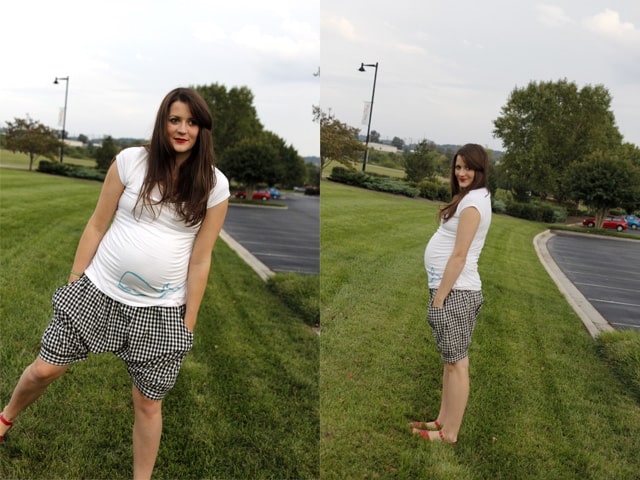 +I'm so scattered lately. I can't keep anything straight. Emails are the worst. Run-on sentences of nothing. Want to see? Send me an email. It will either get lost or a really strange reply. (Probably with lots of !!!!)

+These shorts have an elastic waist and pockets. Awesome times two. Husband said I'm not allowed to wear them in public. Whatever.

+You guys leave the nicest comments a pregnant lady could hear. I want to kiss you. Thank you for telling me I look cute. I don't feel it, and it won't last. Until then, you are seriously the best. And NO, YOU'RE CUTE!

+I had a serious nightmare a few weeks ago that I went in for another ultrasound and it was a BOY. Then I bawled (full-on bawled) at the doctor's office. I woke up out of breath. (It's still a girl.)

+If it were a boy though, I wouldn't tell anyone until delivery. Just so I could keep crafting for a girl. I'm having too much fun.

+I printed a whale on this shirt as a foreshadowing of what is to come. (I thought I was SO clever, hah!) I'll share the tutorial with you soon!