I'm excited to introduce you to one of my sponsors Erin from Sewbon today! Erin is a newish sewing blogger with some great tutorials and a cute little poodle. I got to hang out with Erin a little at ALT summit, which was really fun!
Today I have a little sewing interview to share with you. We did this interview via email but let's just pretend we did it while sitting down to cheesecake at ALT. (There wasn't cheesecake at ALT, but doesn't that sound good?) Okay….
sks: When did you start sewing?
Erin: I took my first sewing class in 2010 at a local fabric shop. After turning a pile of fabric into a useful bag, I was hooked! I got a sewing machine for Christmas that year and have been obsessed with making things ever since.
 sks: What is your favorite thing to sew?
Erin: Garment sewing is quickly becoming my favorite thing to sew! There was definitely a hurdle with figuring out how to fit things and pick the correct types of fabrics, but now that I'm learning how to pick fabrics that I'll actually wear (helloooo knits!), it has become a lot more fun.
sks: What inspires you?
Erin: I love to find inspiration window shopping at Anthropologie, Madewell and JCrew. Those stores are so perfectly curated and styled, it's impossible not to leave with a million ideas of things I want to make.
sks: What is your favorite sewing tool?
Erin: My rotary cutter is pretty fabulous! I've finally learned how to cute patterns with my rotary cutter and it's been such a time saver! Also, my seam ripper still gets plenty of use!
Erin is giving away a really rad sewing prize!
This prize pack includes:
-$50 gift card to Joann
-Gingher Gold-Handled Stork Embroidery Scissors
-Rifle Paper Company Notebook
-Essie Nail Polish in Watermelon
-Handmade Leather Pouch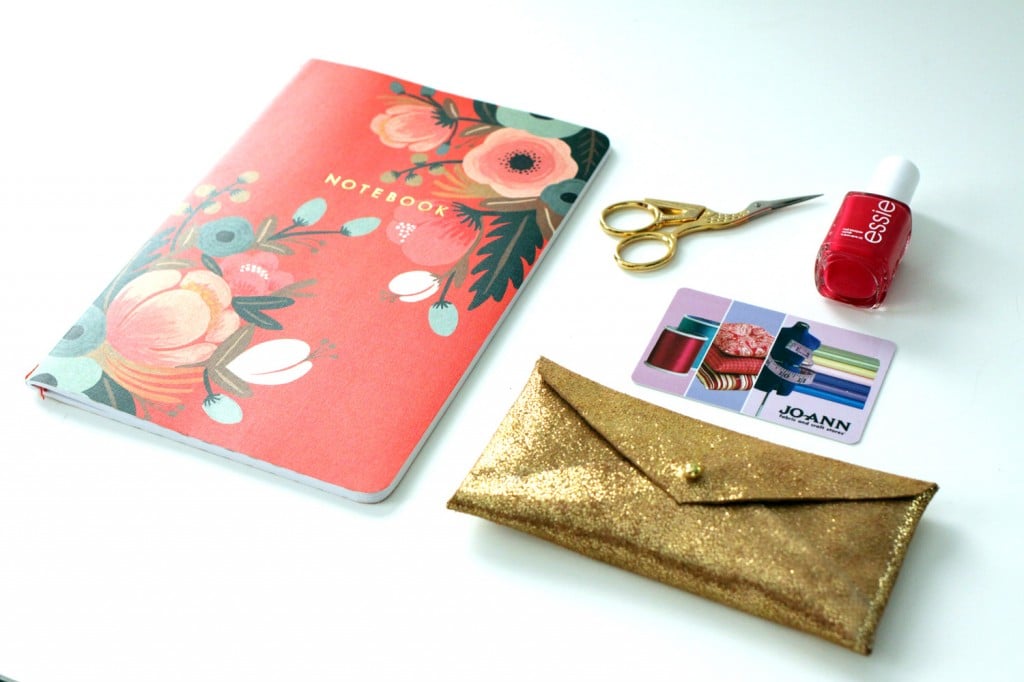 Enter to win in the Rafflecopter widget below!