The kind of news that makes you happy but also utterly terrified, nervous and intimidated!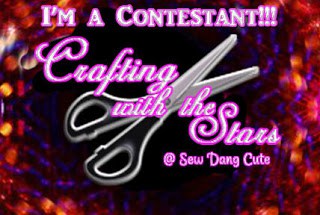 I nonchalantly entered my toy camera into the Crafting with the Stars Season 2 Audition. And then on yesterday I looked at the contestants and was surprised to see my little name there next to my "star" Shelley from How Does She? 
Cool, huh? I'm excited. But mostly nervous. This competition is only 4 weeks long and they kick people out like 3 at a time! YIKES! And there are so many way great audition projects entered by some super crafty bloggers. So I'm looking forward to at least one good round :). 
And the first project is due on Sunday! Like in three days Sunday. Gah! You may not hear from me until then.