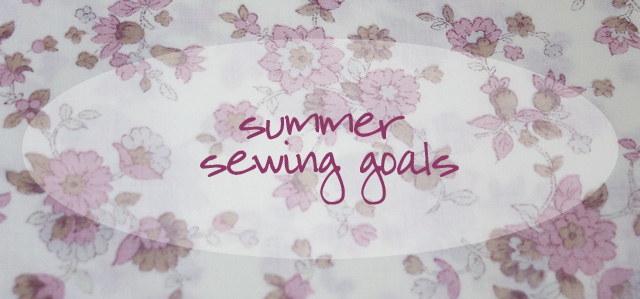 I love new goals for new seasons. This summer is a little challenging since we're on a long trip without a serger and without so many of my sewing supplies. So I thought it appropriate to make a few sewing goals just for this summer. 


+Sew 5 new blouses for myself. I know that sounds like a lot but apparently I stink at packing for long summer trips and only brought about 5 shirts with me. I'm so bored already! Luckily, I have lots of fabric ready! 


+Sew shorts for Little C. I don't know why I haven't done this yet.


+Learn to use my new rolled hem foot
. (So excited about this one!)


+Use a few sergerless seam finishing methods that I normally don't use. (Serger less summer, wahh!)


+Sew a pair of leggings for myself.


+Sew a few presents for Little C's upcoming second birthday (what!!)








Lots of me sewing, some boy sewing and learning new techniques. Sounds about right! 
I'm keeping it pretty short since there is so much stuff to do outside of sewing this summer, like family get-togethers and bike rides. Oh, and eating coconut popsicles.  


What are some of your summer sewing goals?