Aside from a pair of Keds and a pair of running shoes, all I ever wear is flats. Flats flats flats. I even replaced my flip flops with them. It's not really great for my arches, I know. But they are just so easy and versatile. So after shoe re-do #1 and #2 I couldn't stop thinking about fun things to do to a simple pair of flats.


A little shimmer for the holidays: perfect!


#3= glitter + mod podge + fabric poufs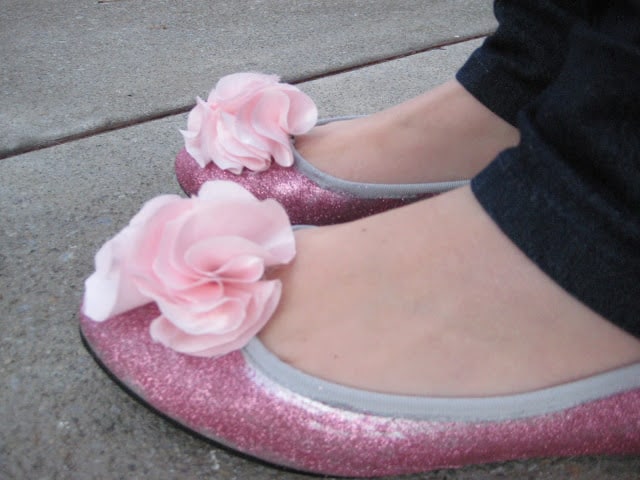 Did you know that they sell decent flats at Wal-mart for $5? I didn't either. But they do! So I grabbed a pair of shiny silver ones, some very fine pink glitter and mod podged them together.


What you need: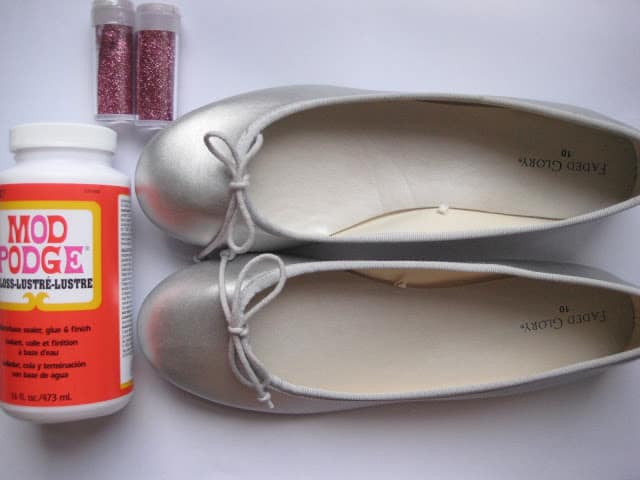 1: Grab those flats and cute off the string bows.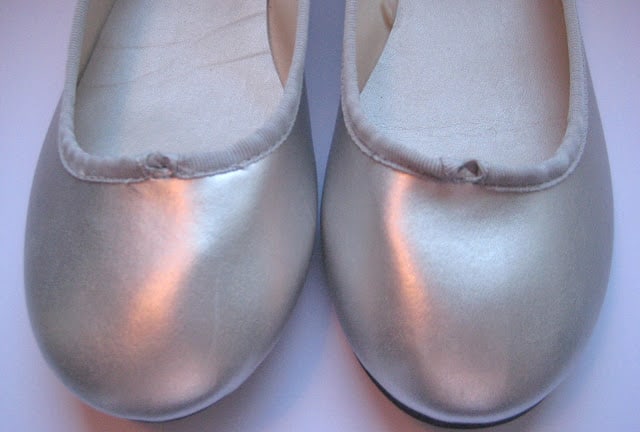 2: Apply Mod Podge generously, but smoothly with a large paintbrush.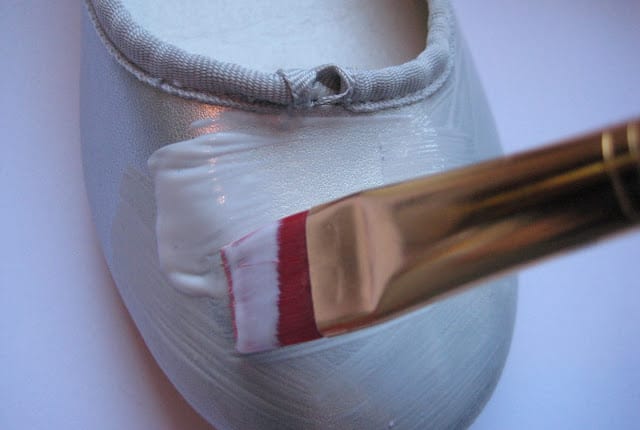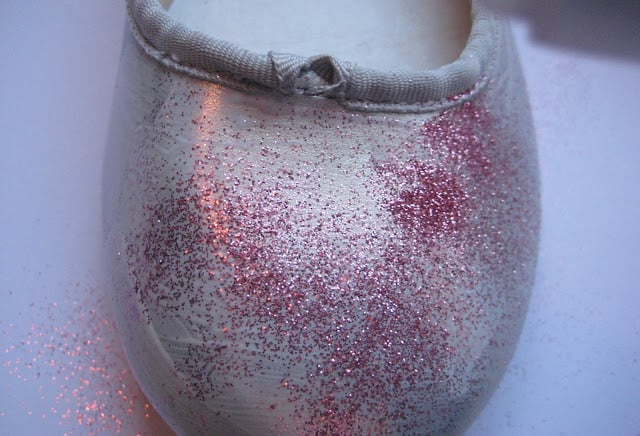 4: Keep going until your flats (and everything around them) are covered with glitter.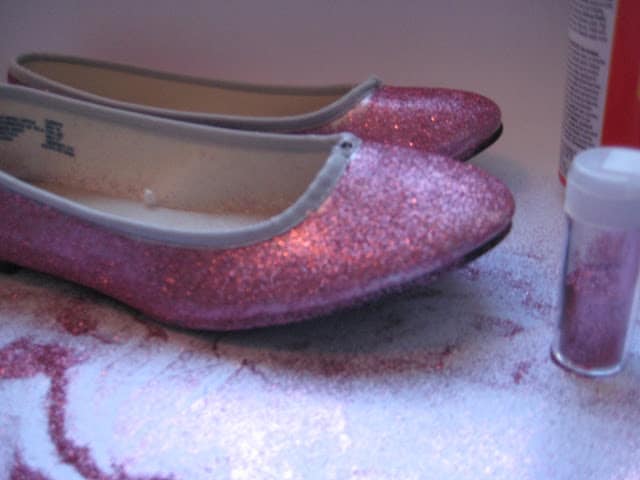 5. Let the glitter dry for 15-20 minutes. 
6. Then apply Mod Podge all over again to seal the deal. (This step scares me every time, Mod Podge is just so pasty white. No matter how many times I use it, it's always a wonder that it doesn't dry white. Don't worry it will dry clear.)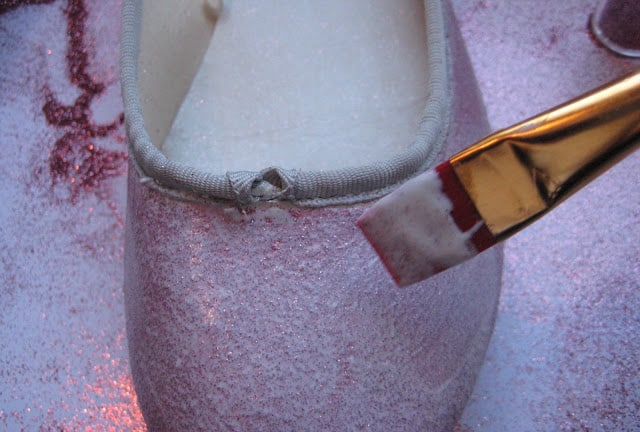 7. Let those princess pink(or whatever color you choose) flats dry!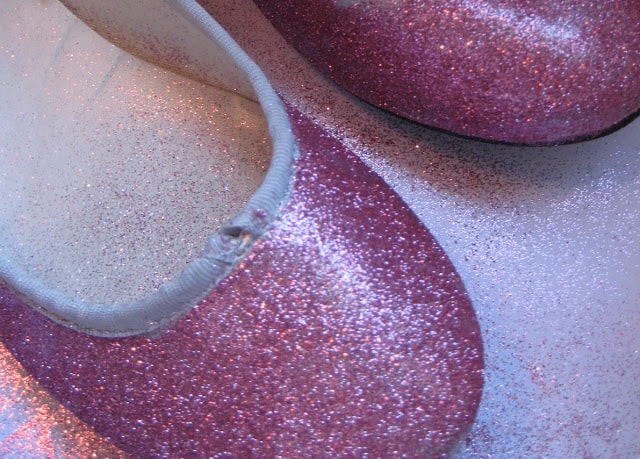 8. While you're waiting make the poufs.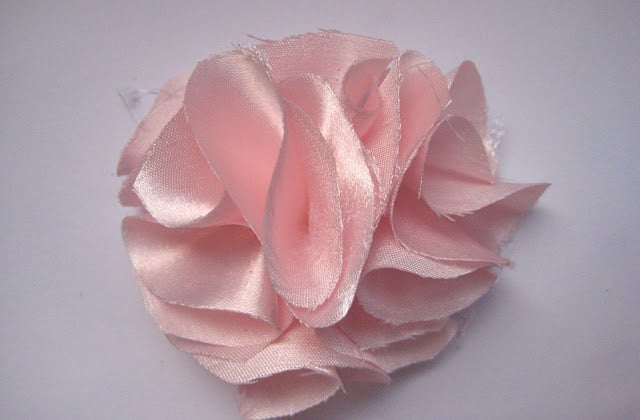 You'll need 7-10 circles of fabric. They should be about 2″ in diameter.
Fold a circle in half and apply glue with a glue gun in the middle and fold the fabric over again onto the glue.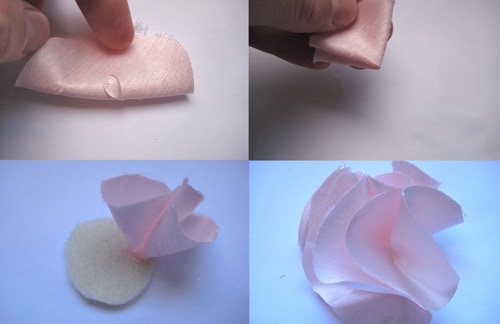 9. Apply glue to the bottom of your folded circle and stick it to a 1″ circle of felt. 
10. Keep doing this until your pouf is poofy enough. I used 8 circles and arranged them on the felt to make the flower rounded. 
10. Glue the felt circle to your flats with lots of glue gun pumps.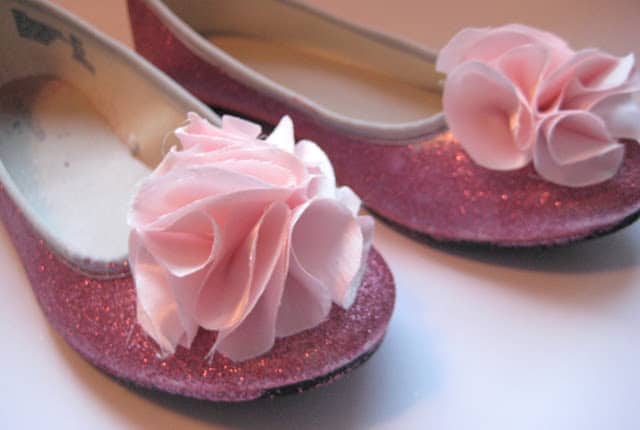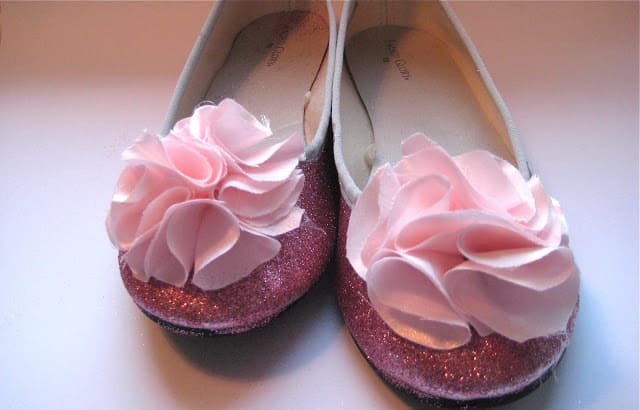 The perfect pink girly girl flats for the girly girl I never was.  Better to have a girly stage in my 20s than never, right? Really I just couldn't pass up that super fine pink glitter. It says "delicious" on the package and I think that's a good description!
These would also be great for princessy little girls (for Christmas?) or anyone else. The color combinations are endless. And the fabric on the flowers will fray beautifully with wear.
Even though I'm not a princessy little girl I think I can pull these off with the right outfit. Maybe they'll go with my rit dye dress!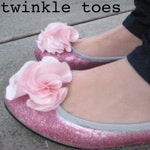 Find this tutorial and more on the TUTORIALS page!