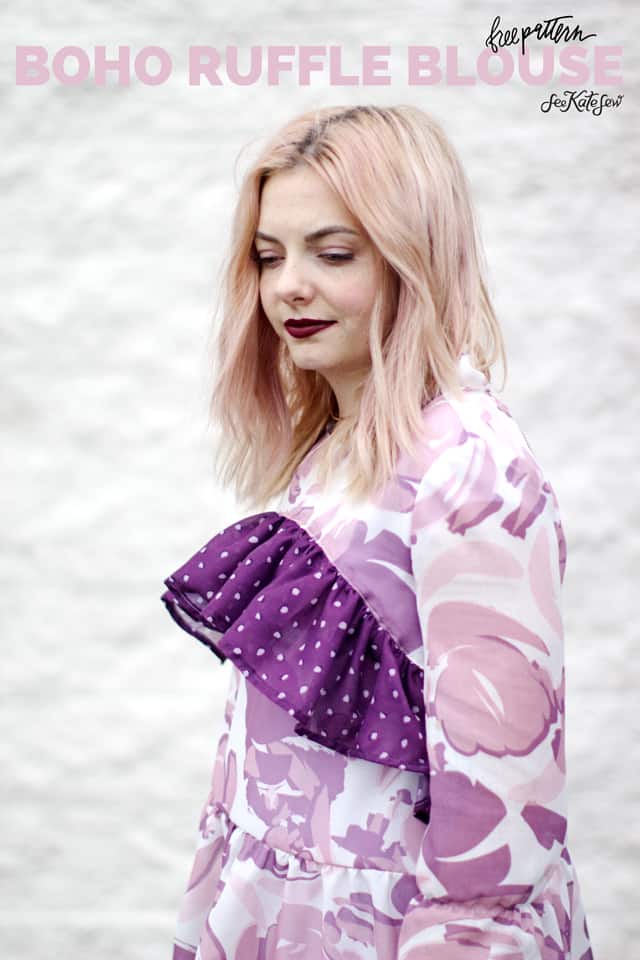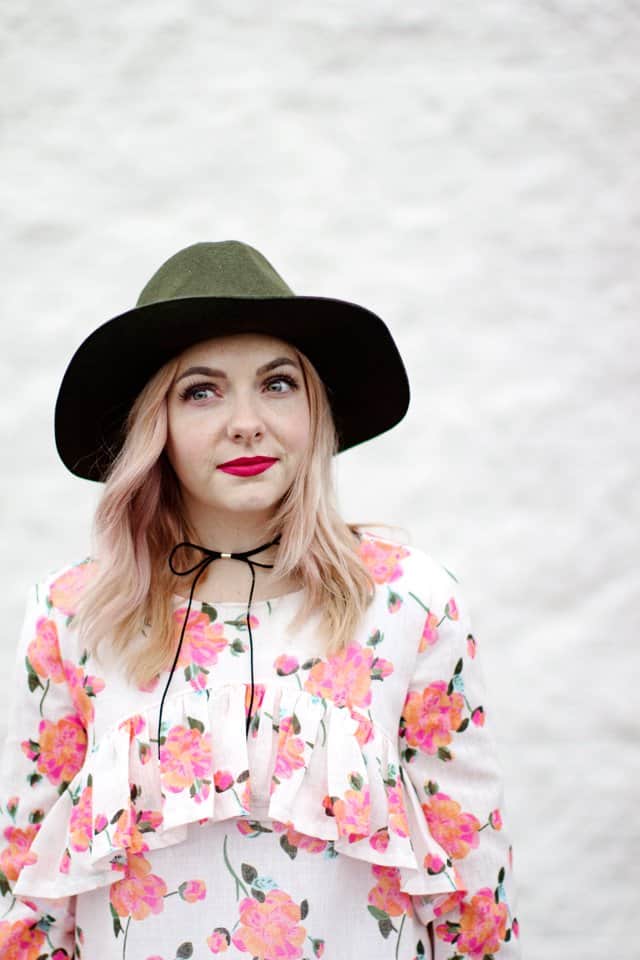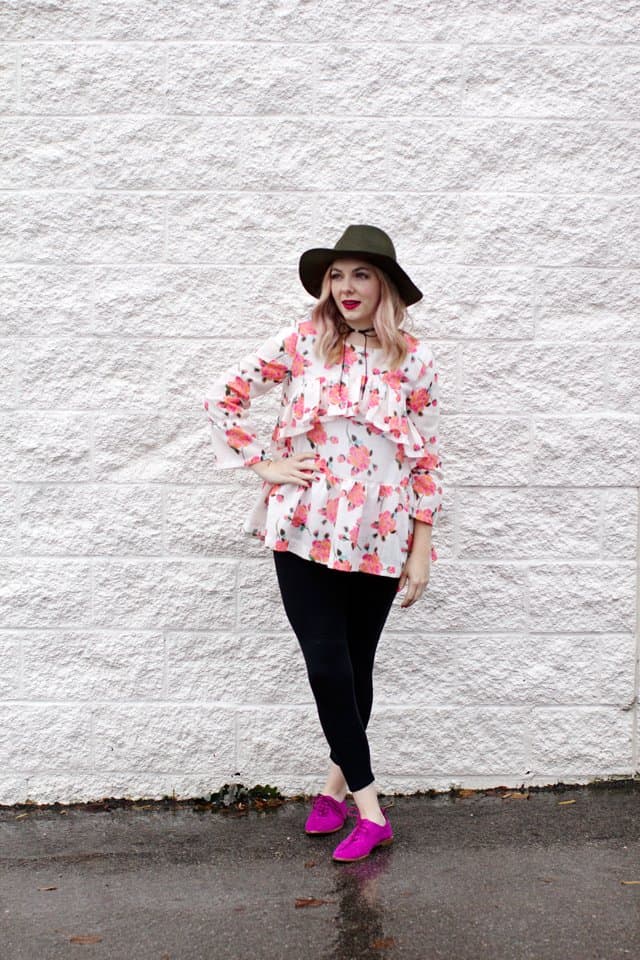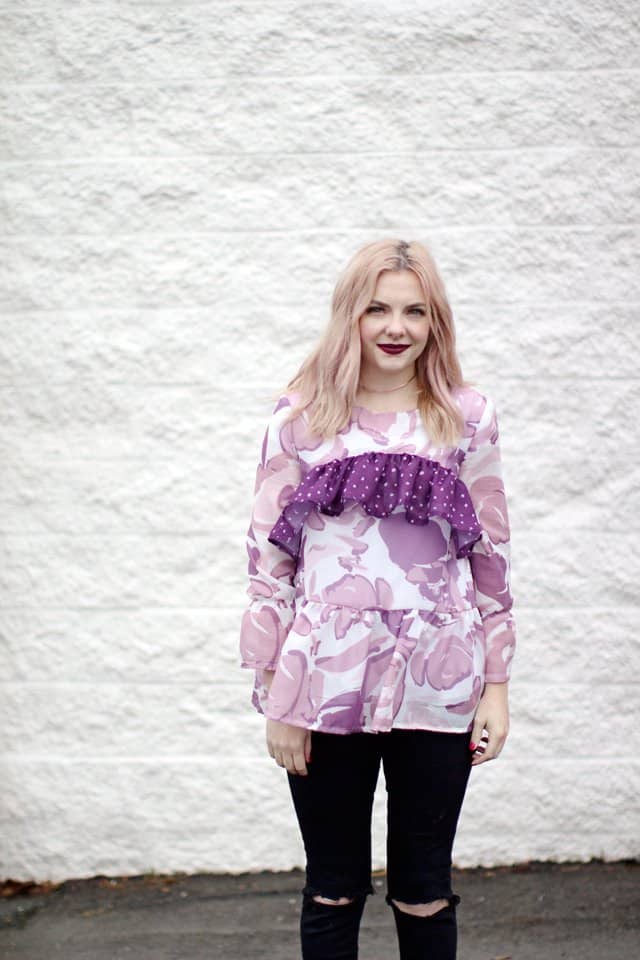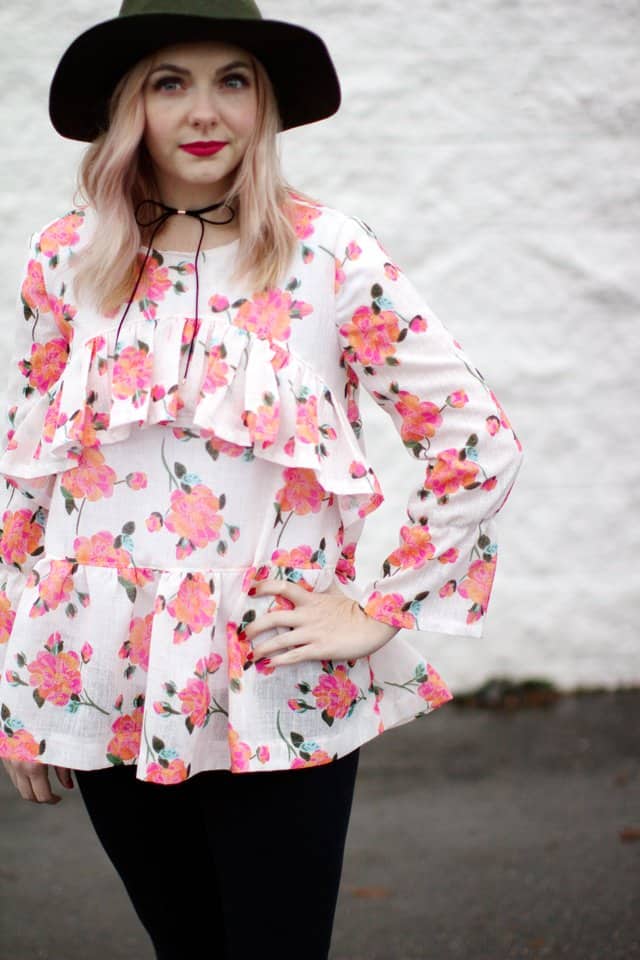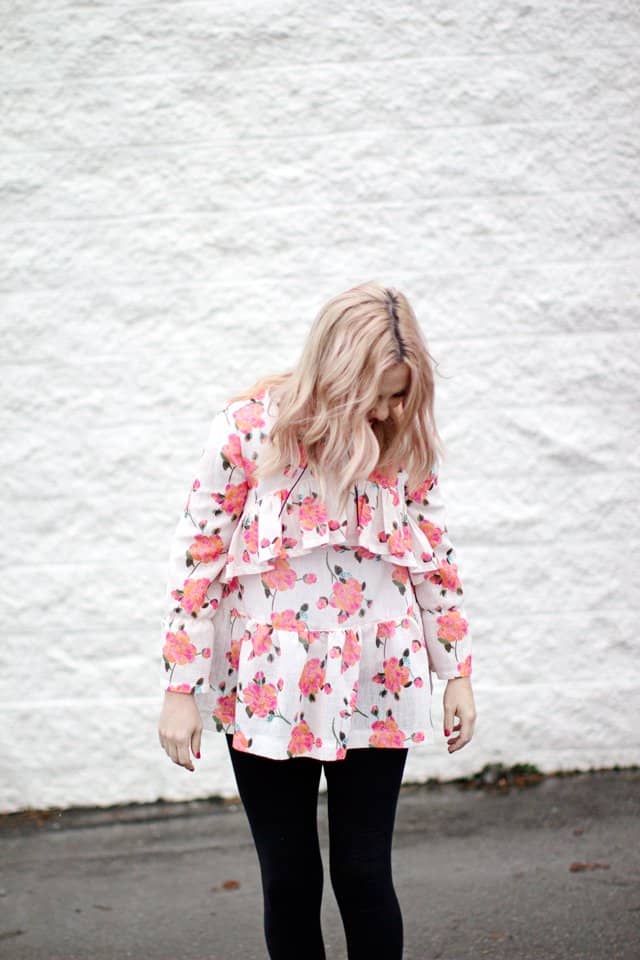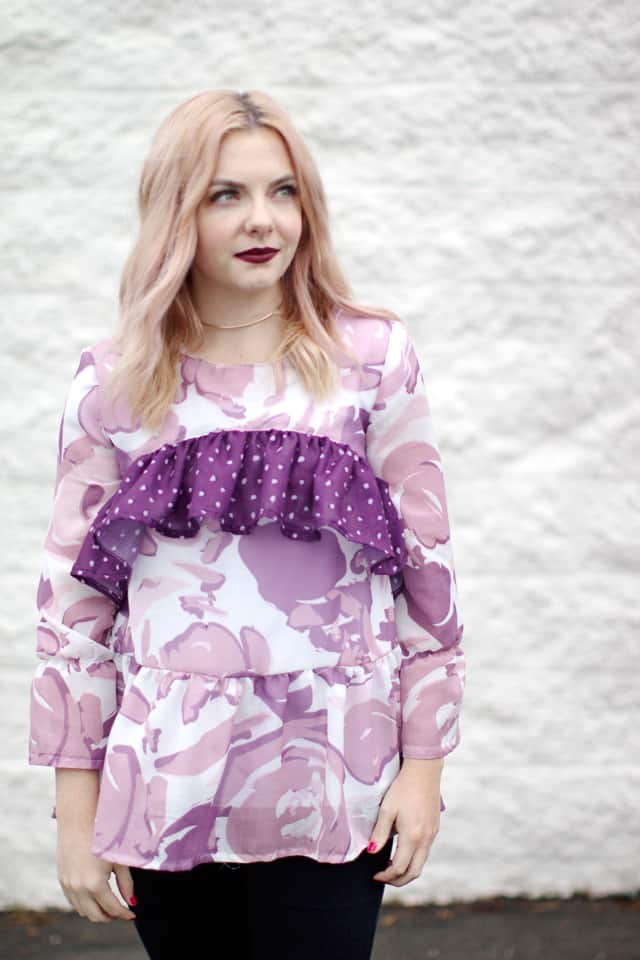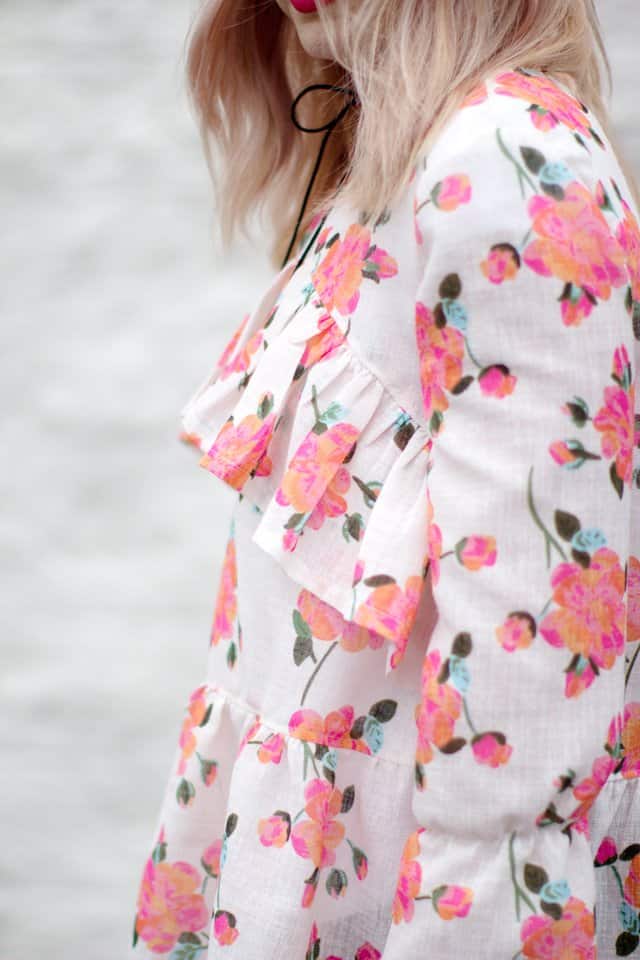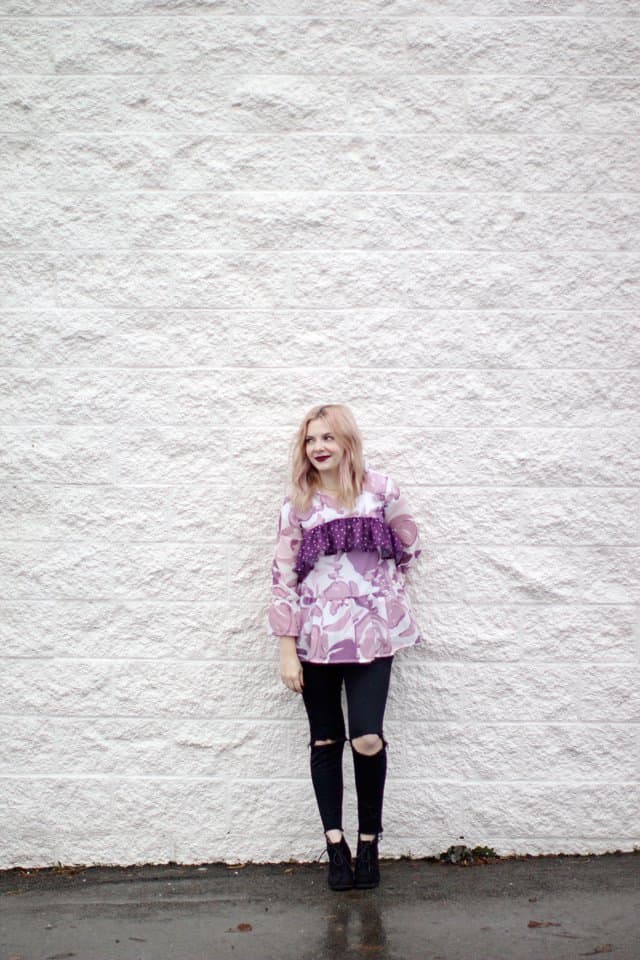 This is a little Christmas gift to you from me and WeaveUp, a FREE women's sewing pattern in 4 sizes! FOUR! This boho blouse pattern has a big ruffle on the front and a slight gathered skirt. The sleeve is long enough for cooler weather and has elastic to softy gather it in a little! I love this top with skinny jeans or a pencil skirt! I also love how you can style it for different occasions, a little punky or a little boho.
It could even be a little fancy with a chunky necklace! I used fabric from WeaveUp to create 2 blouses, each in a different fabric type and print. WeaveUp is a new fabric source with an awesome customizing tool! You can upload your own fabric designs or pick from the thousands already uploaded! The best part is the colors are totally customizable! You can change the whole color palette of a particular fabric, or just choose a few colors to change.
I fell in love with this floral, but it was a little too orange for me.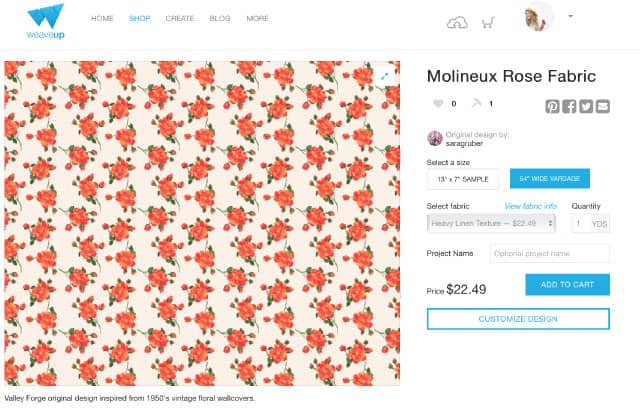 Here is the customization screen: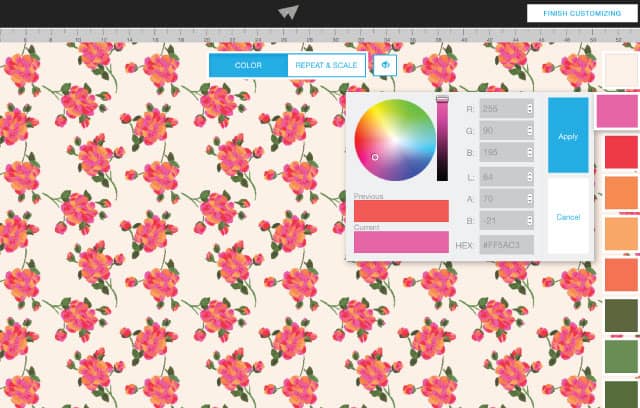 And my final product: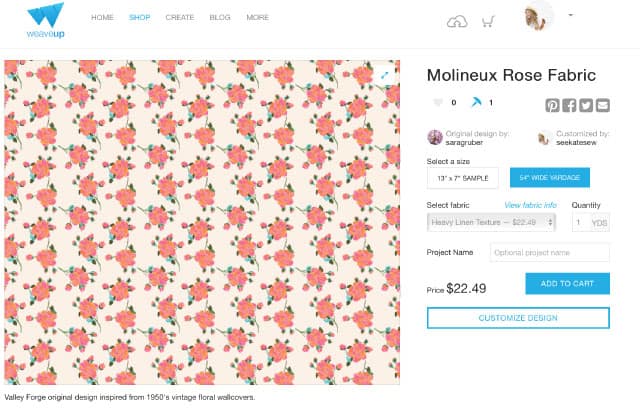 I designed this pattern for lightweight apparel fabric and WeaveUp has a bunch of those, including Batiste, Voile, Faux Linen,  ! The orange and cream floral is called Faux Linen Sheer. It's thicker lightweight with a nice woven texture! I LOVE this pattern. The design was originally different colors but I tweaked it to an orange/pink/aqua and I love how it turned out. It's really fun messing with the colors on the WeaveUp app! That means if you want to use two contrasting fabrics on one pattern, you can alter the colors so they match! It's brilliant! You can also input your own hex codes, etc to match anything, even home decor! Sometimes I go into a project with a pattern or fabric in mind but can't find it on the market. Usually what I really want doesn't exist, so with this cool design tool, those visions can be reality! You can view my design boards to see some of my favorite fabrics and sign into WeaveUp to start making your own!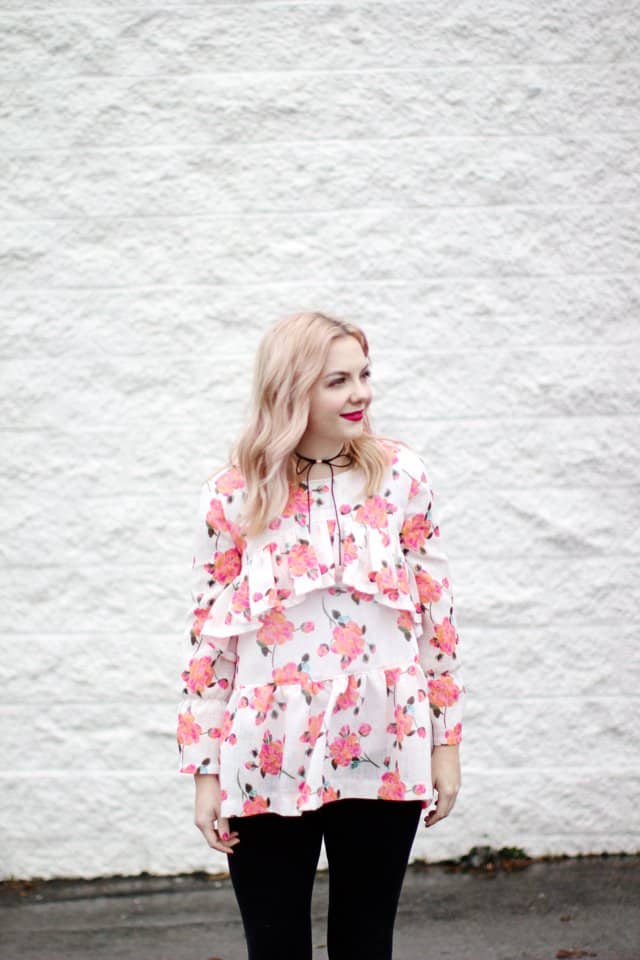 This floral was a no-brainer, it's so gorgeous and I love the scale of the flowers. The second fabric I used is this large scale abstract floralish print. I had this printed on batiste and it's a nice fabric, it was fun to sew with! I made the ruffle a contrasting fabric. I picked this spotted fabric from the options on WeaveUp and changed the colors completely to match the main fabric. It's so cool that you can pick two totally different patterns and make them work together by customizing the colors!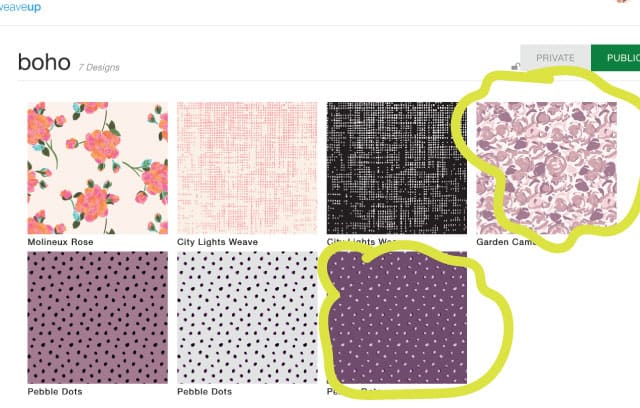 I made a few options for myself, and ultimately chose the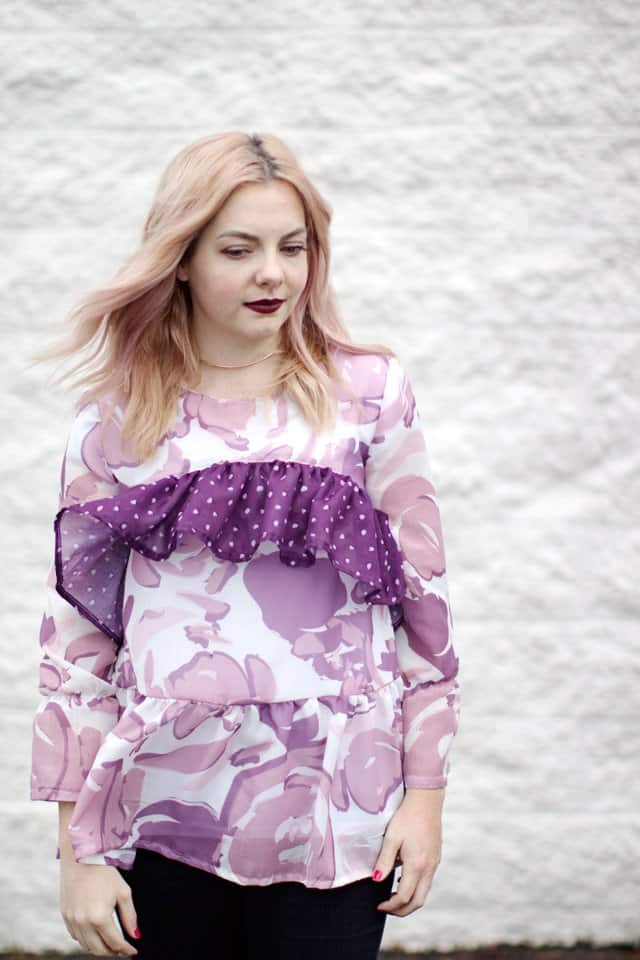 Details: -slight peplum top -no closures! -super fancy ruffle across the front -flowy and fun, perfect for lightweight fabrics (and holiday treat season ;) )
Materials: -2 yards Batiste, Faux Linen Sheer or similar fabric
-1 yard same fabric type for coordinating ruffle, optional
-matching thread -pattern download, see below
BOHO RUFFLE BLOUSE PATTERN DOWNLOAD
  Instructions: Cut out pattern pieces according to pattern pieces.
You'll have the following:
-1 front upper
-1 front lower
-1 back
-2 sleeves
Use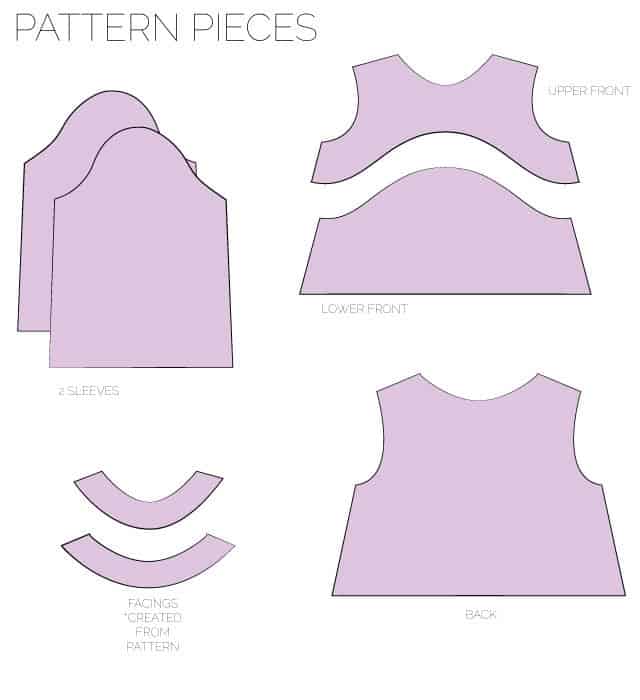 Cut from measurements -1 front ruffle
-1 front skirt
-1 back skirt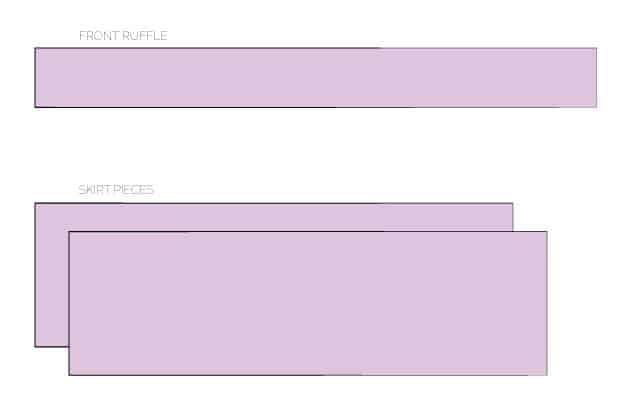 Ruffle Measurements:
S: 52″ by 6″
M: 55″ by 6″
L: 58″ by 6″
XL: 60″ by 6″
Skirt Measurements (cut 2):
S: 36″ by 10″
M: 38″ by 10″
L: 40″ by 10.5″
XL: 41 by 10.5″
Alright, let's start sewing! Start by hemming the bottom edge of the ruffle. Serge and press under 1/2″ OR press under 1/4″ TWICE and sew. Press well. Sew 2 rows of basting across the top of the ruffle piece. Pull threads to gather fabric.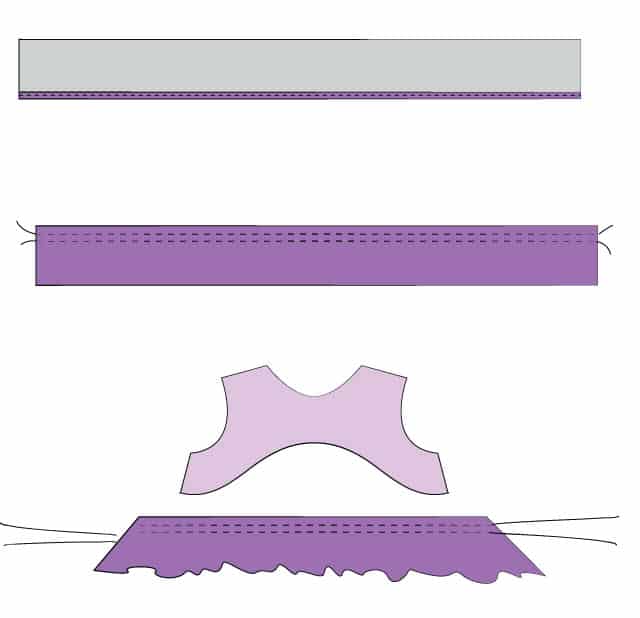 Gather the fabric to match the bodice top piece. Pin and sew across the bodice top piece.


Attach the bodice bottom piece with right sides together, contouring the lower bodice piece to match the upper bodice piece.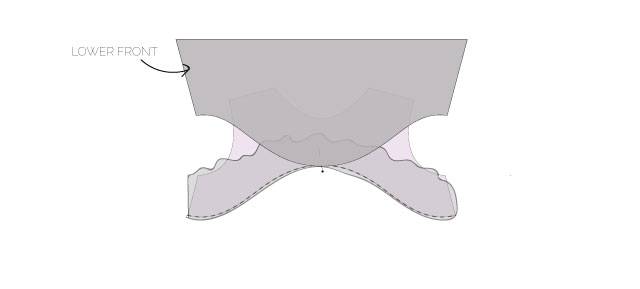 Finish seam allowance and press up. Topstitch above the ruffle.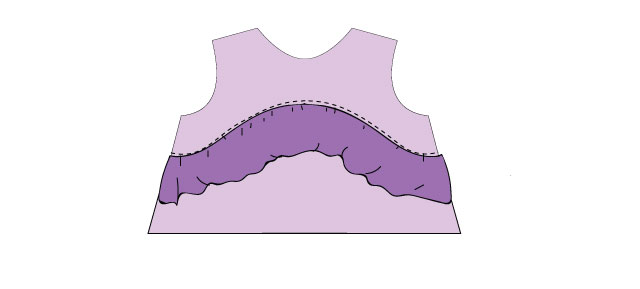 Press. With the skirt piece, first gather the top edge with two rows of basting.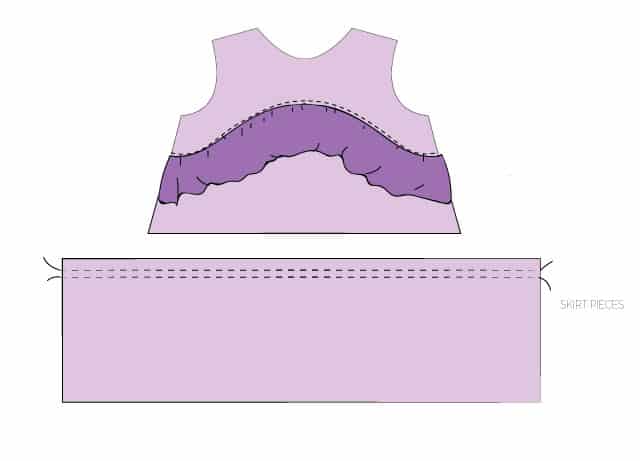 Pull the stitches to match the bottom edge of the bodice. Sew together with right sides together.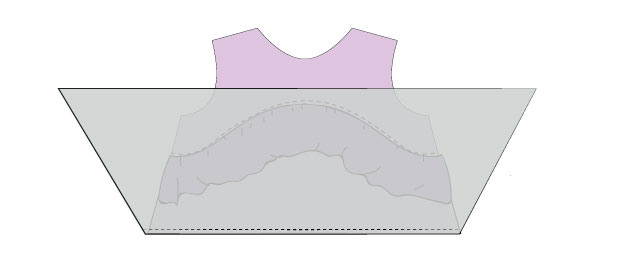 Press seam allowance up and topstitch.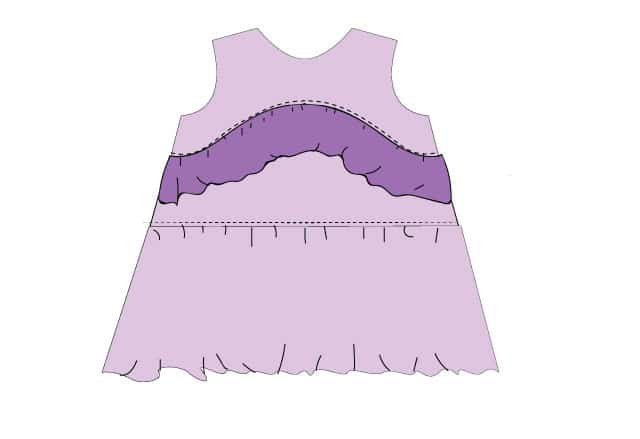 Attach back skirt to back the same way.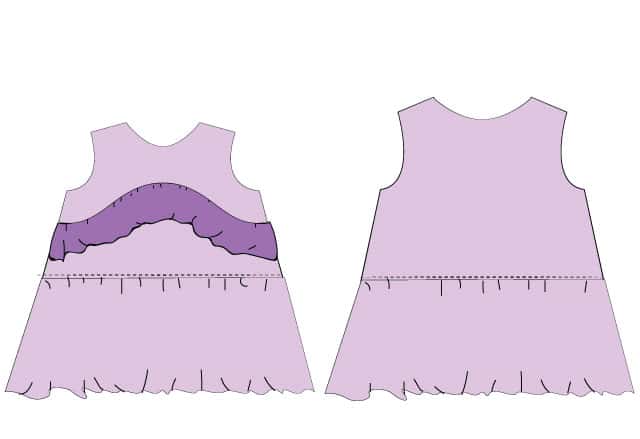 Sew front and back together at the shoulder seams with right sides together.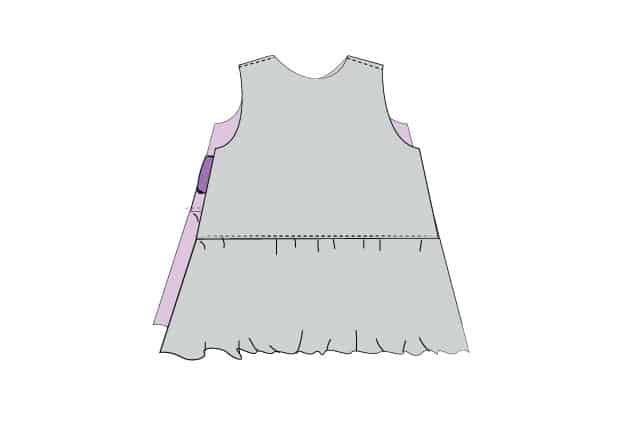 Use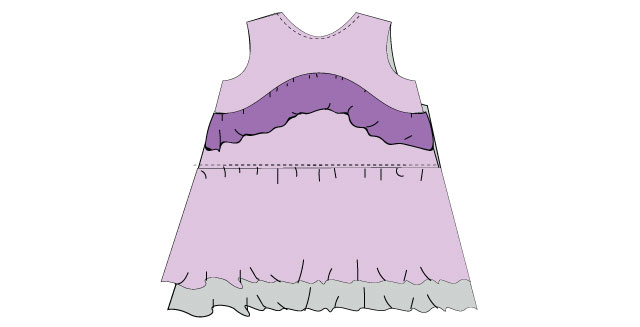 Stitch along the top of the sleeve with a regular stitch length. Hem the bottom edge of the sleeve by pressing under 3/4″ and sewing. Stretch a 9″ piece of elastic across the sleeve 5″ above the hem.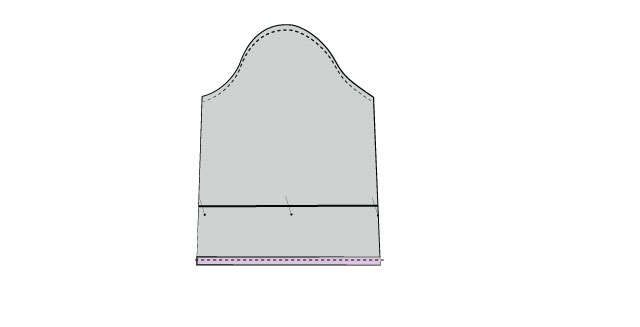 Pin to each side and in the middle. Sew the elastic to the sleeve, stretching as you sew. This will gather the sleeve just a bit.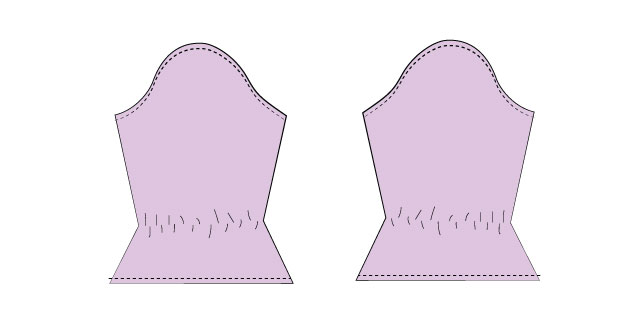 Pull the threads a little bit to tighten the top curve of the sleeve. Insert sleeve into armhole from the front to the back using the "flat method".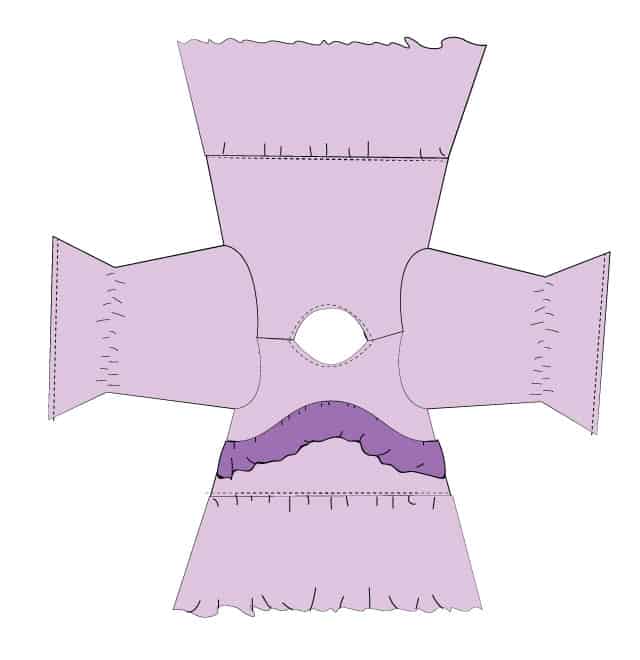 Fold the shirt in half with front to back. Match up the sleeve hems, the armscyes, the peplum seam, etc. Right sides will be together. Sew all the way from the sleeve to the bottom of the shirt. Press and finish seam allowance.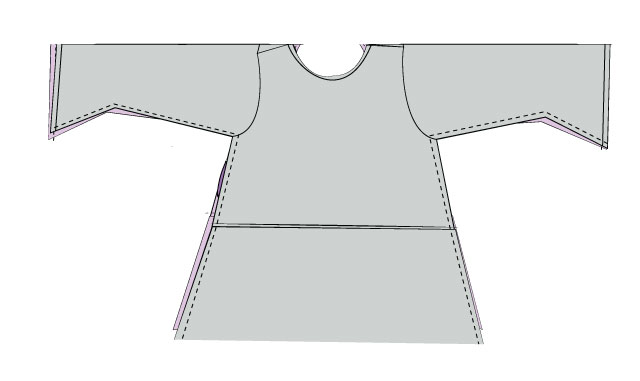 Turn right side out and hem the bottom of the shirt. There is a 1″ hem allowance, so finish the edge and flip under 1″. Sew. And you're done!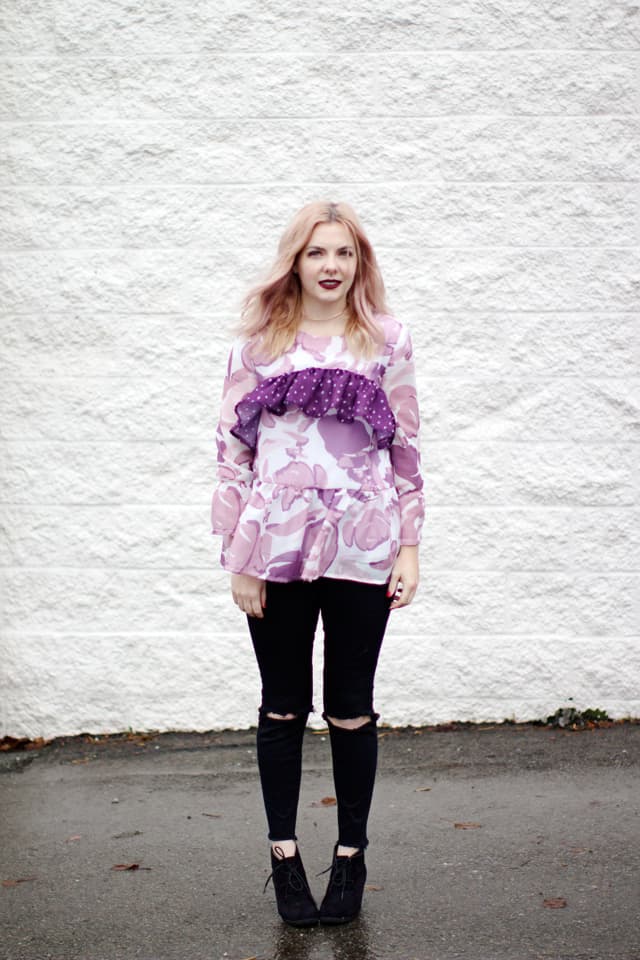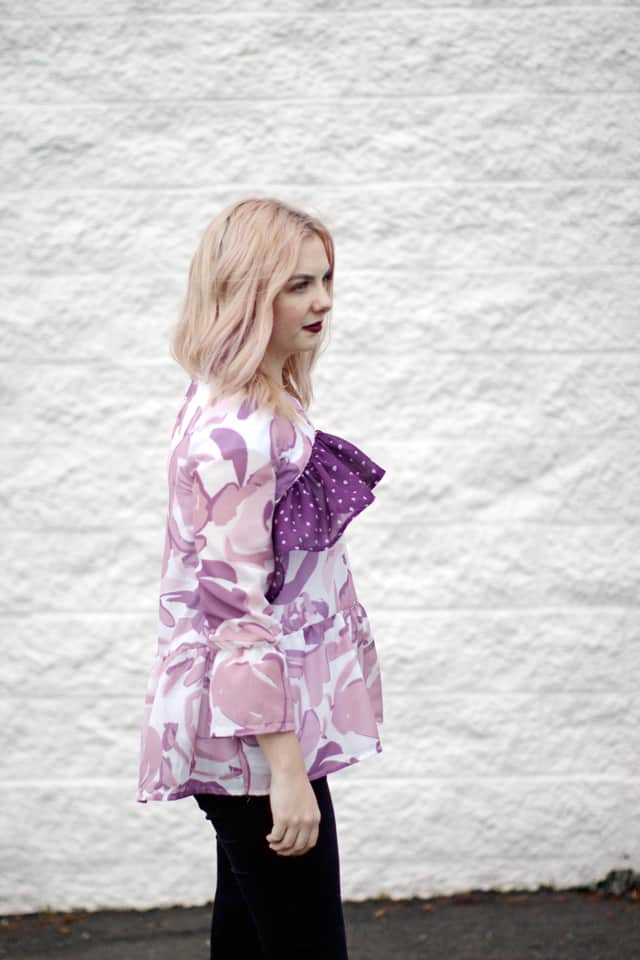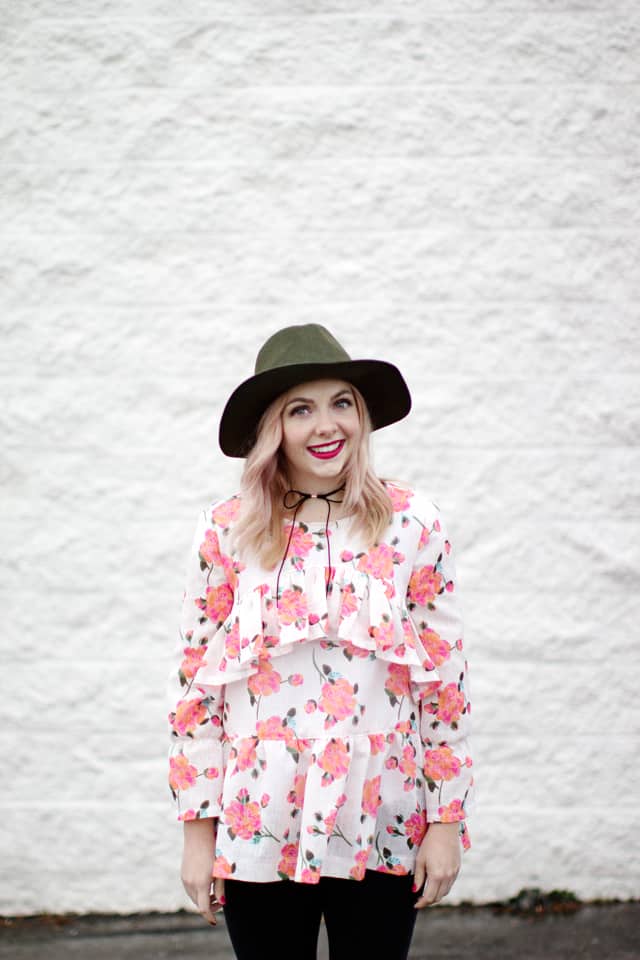 Remember to use code OURGIFT16 to save 15% off all yardage and clothing at WeaveUp until Jan 2!
Happy Sewing!