If you read the December issue of Martha Stewart Living (or just looked at the pictures, like I did) you may have seen a lot of shimmer. And a lot of pink. I loved it all! And that's when I decided glittery pink is way better than red and green. (Actually I decided that a while ago. Red is my least favorite color. Just doesn't look good on me, but I do love it on apples, wagons and other things. And the red and green combo gets so old so fast.) But glittery pink is perfect. So I made these flats.
And then on a retail therapy kind of day I bought mini plastic globe ornaments in shimmery pink while roaming the craft store when I shouldn't have been. (They were 60% off!) I thought they would make a pretty simple and pretty fun necklace for the holidays.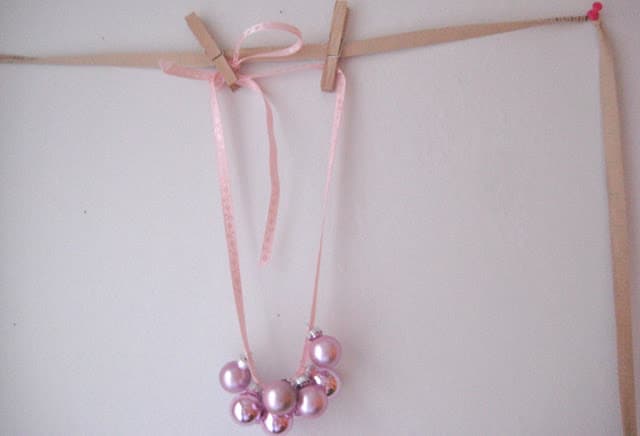 And they go perfectly with these:
I just strung them on a pink ribbon and tied a bow. Then I had my trusty photographer/husband take a few pictures in the aftermath of the huge snowstorm. 6 inches!
Twinkle toes + ornament necklace + white maternity tutu shirt + dark wash skinny jeans = perfect holiday party ensemble

(After I had my baby I vowed to never wear maternity clothes unless I was pregnant again. But I love them too much. So comfy, so easy and so cute! So there it is, a big huge white maternity shirt in the middle of a pretty white winter.)

And if your husband is like mine you might get some photos like these: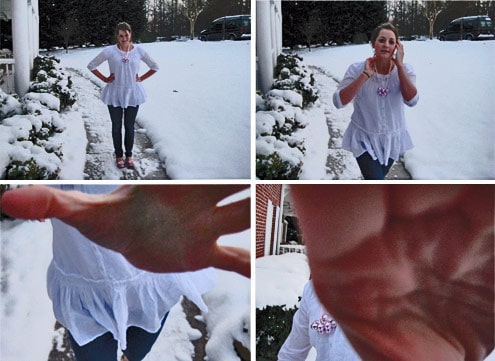 That is my hand grabbing for the camera because we were done. Or so I thought.


Happy holiday partying to you!