This post, including the baby hoodie pattern and track pants pattern, is sponsored by Fabric.com!
Time to get cozy with this french terry set! Baby hoodies and sweat pants make me want to snuggle! This little set has a free pattern download and a few hoodie ear options to make them even cuter.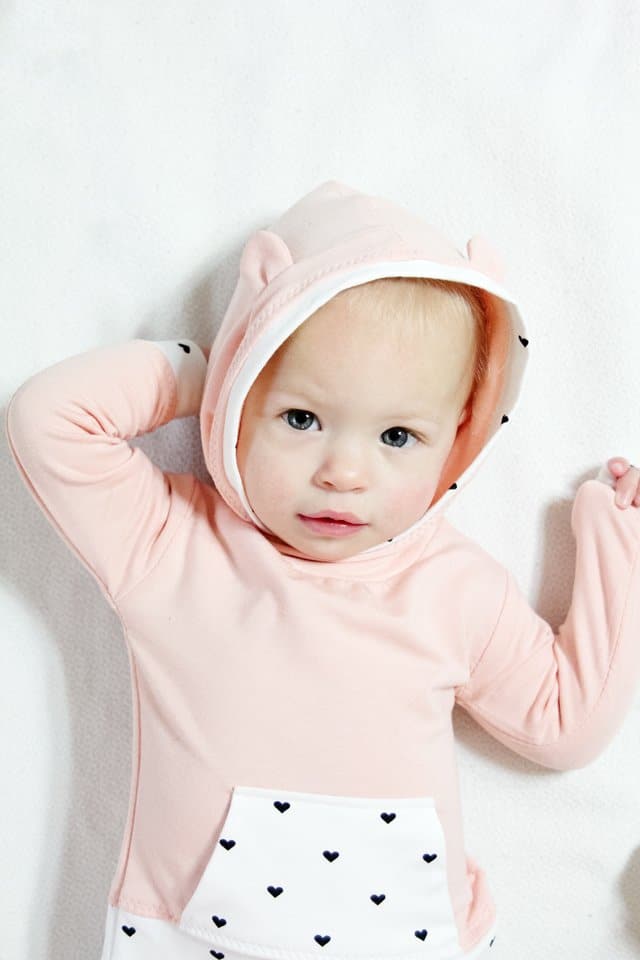 It's super quick and easy to sew and you'll get great use out of it all fall and winter! Fabric.com has a ton of french terry solids so you can whip up a whole wardrobe for your little girl or guy!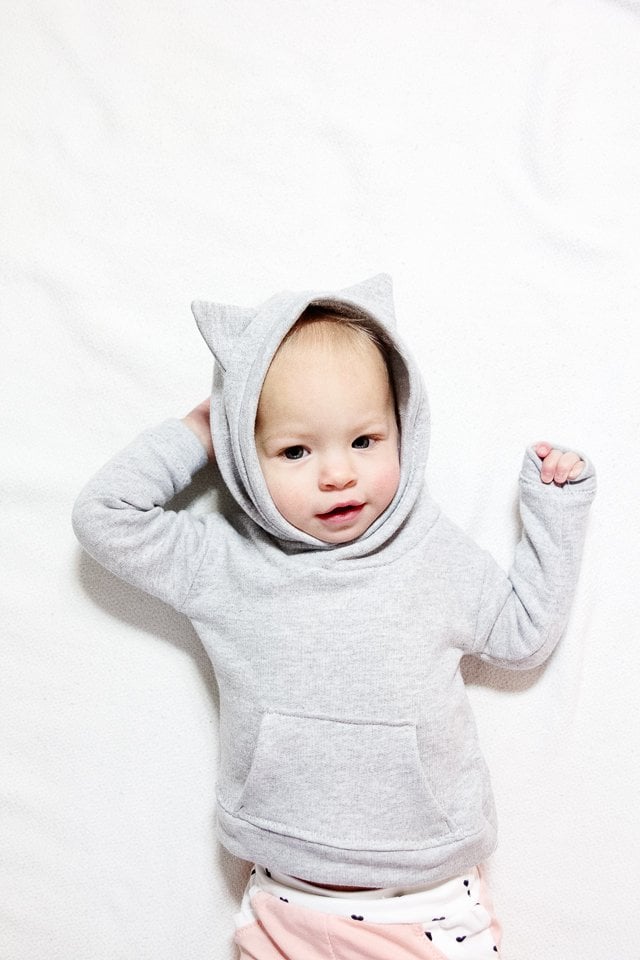 I love this little outfit because you can make it for a boy or a girl, it's a great baby shower gift, and you can chug them out assembly line style to fill up your baby drawers! And they make me wanna snuggle!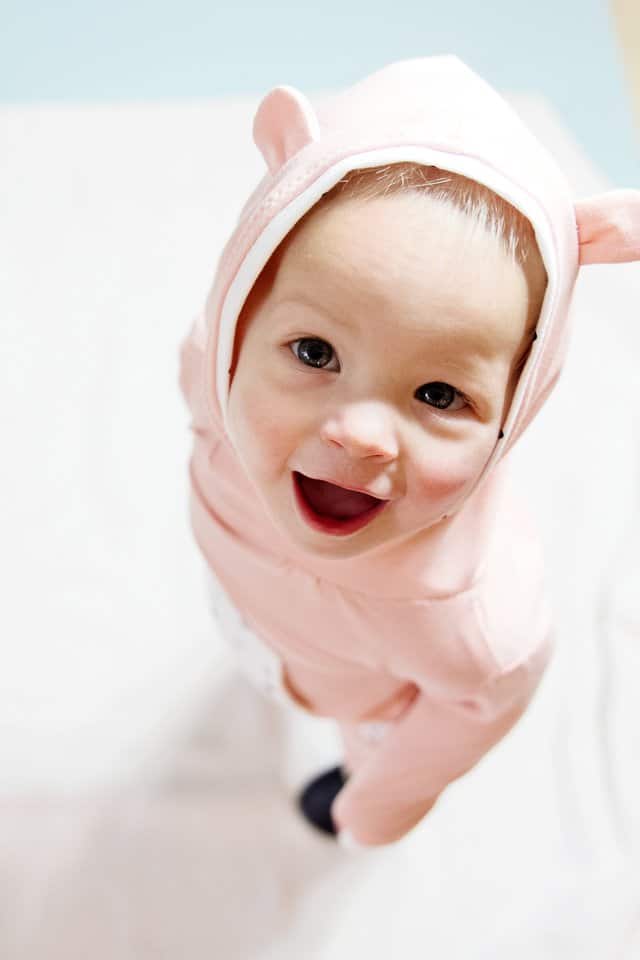 This little baby is small for her age, but average height. So I made this pattern 9-12M to fit her and then added length for her long legs and torso. You can adjust your lengths accordingly if needed.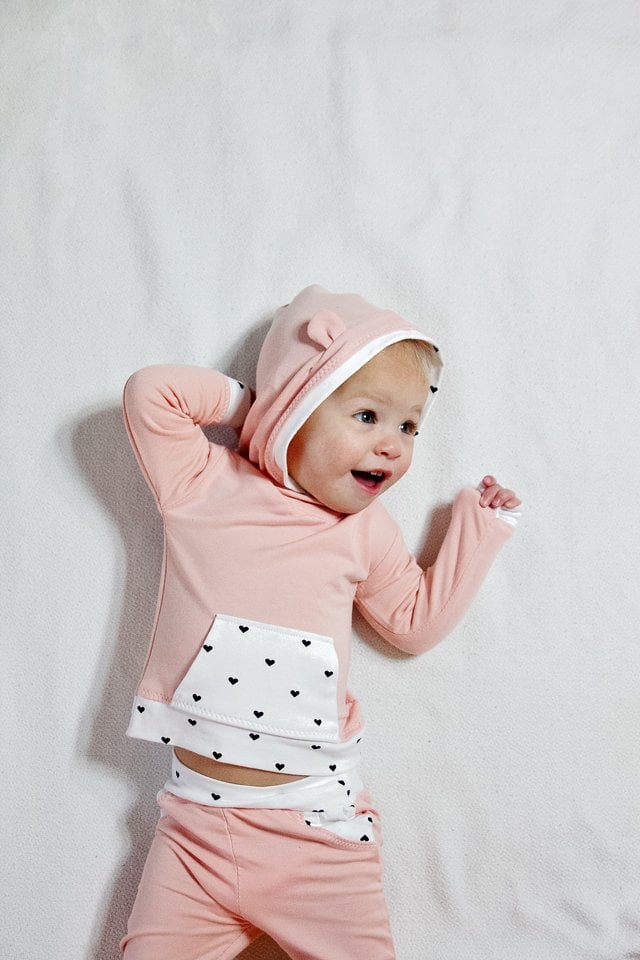 Outfit features//
free pattern size 9-12M! (or probably 6-9 for chunky bebes!)
hoodie with overlapped neckline
Cute little ears to add
Simple soft pants
Super cozy
Fabric Selection//
French terry is one of the coziest winter fabrics, it's fun to sew with and really soft. I highly recommend French terry for these little sets, but some other suggestions are sweatshirt fleece, ponte de roma, spandex jersey and similar knits. It has one side that looks a bit like a towel and the other side is smooth and pretty. These are super similar to sweater knits and perfect for cardigans, comfy pants, etc. French Terry is awesome for fall and winter. Fabric.com has a ton, great solids and some super cute patterns too!
Stretch percentage should be at least 50% and I recommend mid-weight knits.
Here are the fabrics I used in this post: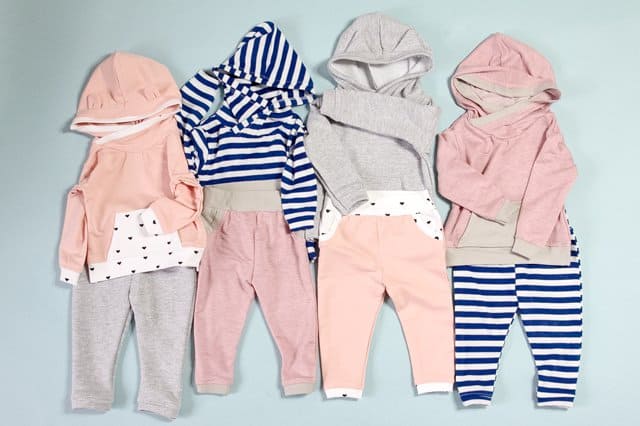 Dusty Rose French Terry | This is the peachy one. It is rayon bamboo which means it is double soft and amazing!
Blush Rayon Blend (!!) French Terry | I paired this with the Khaki, its a really pretty mauvy color with some heathering in it. Super soft.
Khaki French Terry | I used this for accents but it would also be a great base color for a boy or an outfit that you want to put an iron-on or decoration on. It's also bamboo rayon and its top class!
Nautical Blue/White Stripe | Blue and white stripes forever! These stripes are the perfect size and it's a cotton/poly blend.
Thick Grey French Terry | This one is super thick and warm! Its not quite as stretchy so I added some width the the bands. I love the fabric for winter, so cozy.
I also used Riley Blake's heart jersey for accents on the peach one. I love this fabric and the little bear suit looks like a Care Bear with the hearts and perfect peach color. So cute!
I've got a list of more I want to make starting with a more french terry and stretch velvet! Both are great for fall and winter. Stretch jersey is an awesome lighter weight option that is fun to sew! I'm thinking Unicorns needs to be first!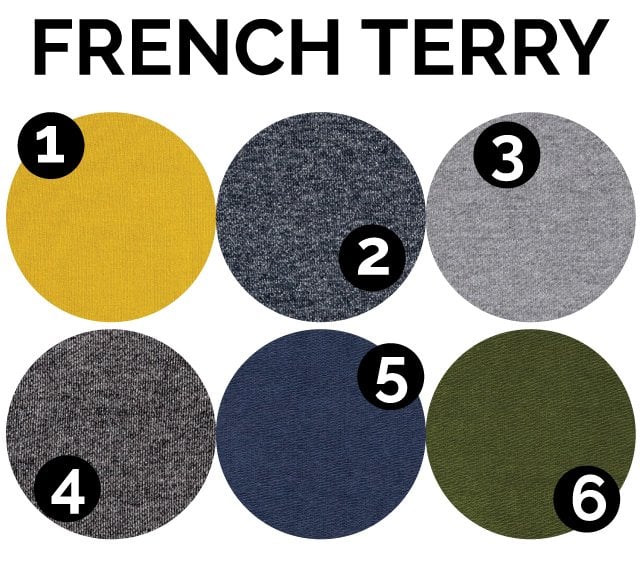 1.Mustard French Terry | 2. Navy Blue French Terry | 3. Light Grey French Terry
4. Dark Grey French Terry | 5. Midnight Blue French Terry | 6. Olive French Terry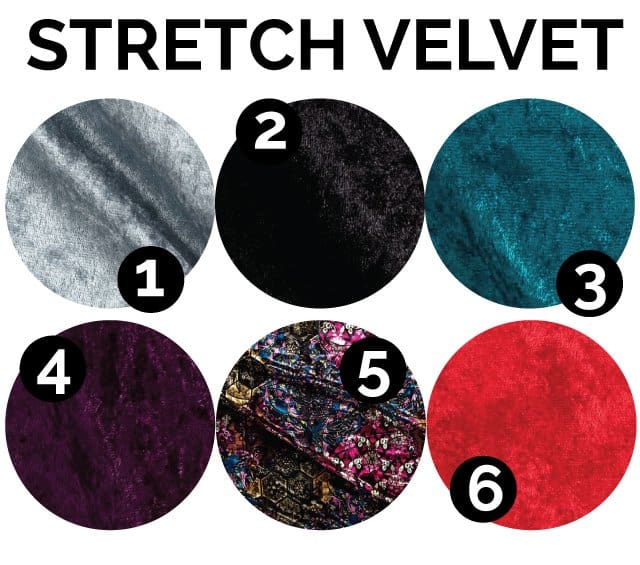 1.Stretch Velvet Velour Grey | 2. Stretch Panne Velvet Black 3. Teal Stretch Panne Velvet
4. Stretch Velvet Plum | 5. Floral Burnout Stretch Velvet |6. Crushed Panne Red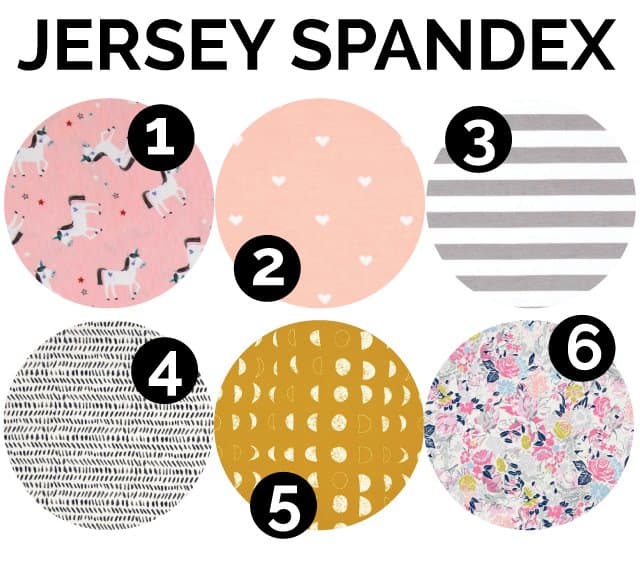 1.Unicorns |2. Pink Hearts |3. Light Grey Striped Jersey
4. Wonderfull Things Art Gallery |5. Nightfall Jersey Knit |6. Etheral Fusion Jersey Knit
Sewing with French Terry//
French terry is pretty easy to sew with and you'll love wearing it. Here are a few tips for using this fabric:
Prewash it! French terry is a loose knit fabric. Prewashing will help keep your sizing correct, as the fabric may shrink a little.
Stay-stitch! Because french terry is such a loose knit weave, the stretch recovery is not very good. That isn't necessarily a bad thing because it has awesome drape and is also super comfortable. But, as you sew you may stretch out parts of the garment like necklines. Staystitching is 2.5mm stitching (basic stitch) sewn at your seam allowance, in this case 3/8″ from the raw edges.
Press the edges. The edges of french terry curl up a lot so be sure to press as you go.
Zig zag. Use a zig zag or stretch stitch to sew. Optional: finish seam allowances with a serger for flatter seams.
Hoodie and Pants Pattern Options
A few variations with the pattern pieces and fabric! Chose your options to make unique patterns!
Cat or Bear ears to stick in the hood
Colorblocked bands – use a coordinate for bands, and pockets.
Baby Hoodie Pattern Materials
1 yard french terry
coordinating thread
coordinating fabric for accents (optional)
patterns, download below
Baby Hoodie Pattern Instructions
Seam allowances are 3/8″ unless otherwise noted. The baby hoodie pattern includes seam allowance in the pattern so you don't need to add any!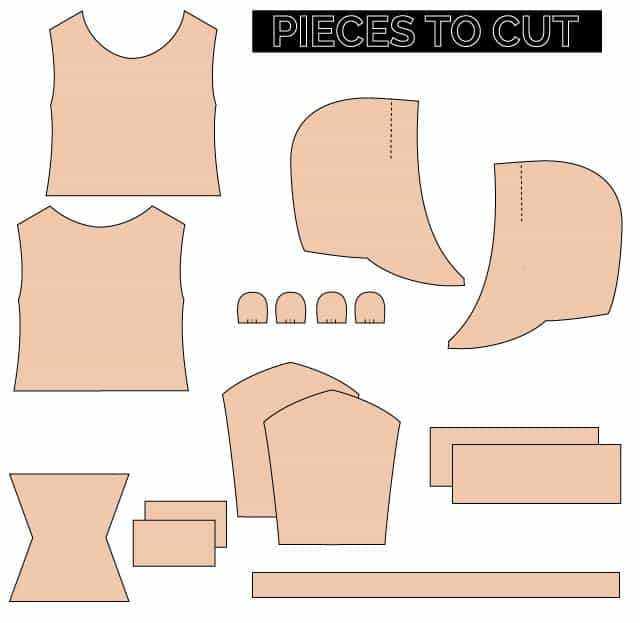 Cut out the following pieces:
-1 front (on fold)
-1 back (on fold)
-2 hoods
-2 sleeves (on fold)
-1 pouch pocket (on fold)
-1 hood band
-2 waistbands
-2 armbands
-4 ears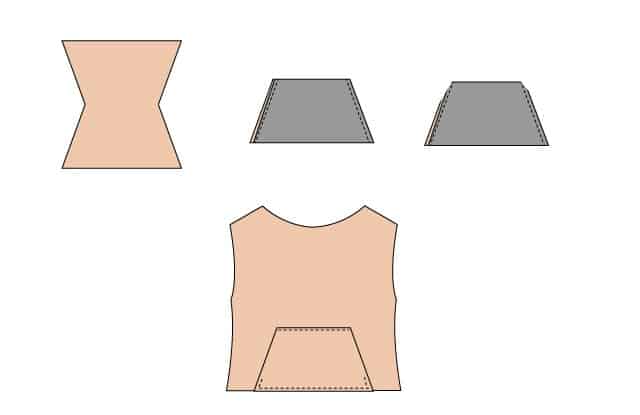 Fold the pouch pocket over the top with right sides together and sew up the sides using a 1/4″ seam allowance. Clip the corners and turn the pocket right side out. Press and center on the hoodie. Sew across the top and about 1/2″ up each side on the bottom backstitching at each end. Baste across the bottom.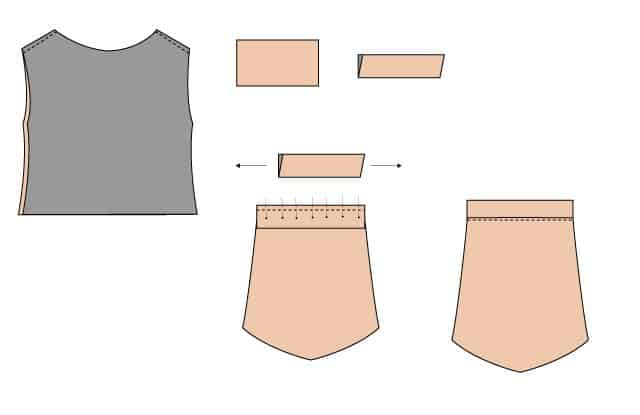 Sew the back bodice to the front at shoulder seams. Fold armband fabric over itself with wrong sides together. Press. Stretch armband to fit sleeve hem and pin. Sew at 3/8″. Fold over and press the seam allowance up towards the top of the sleeve. Topstitch along sleeve edge.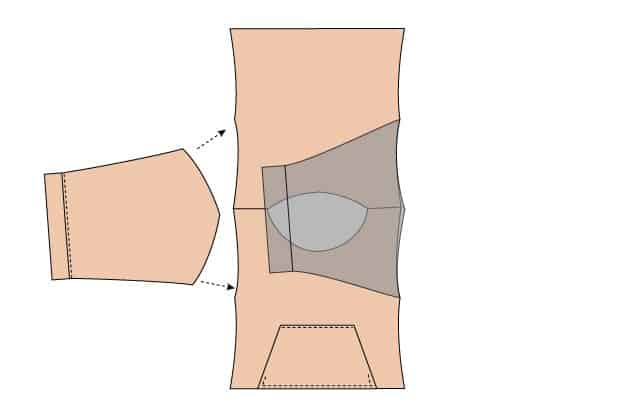 Insert sleeves into armholes with the flat method. Stretch to fit and contour curves. Sew.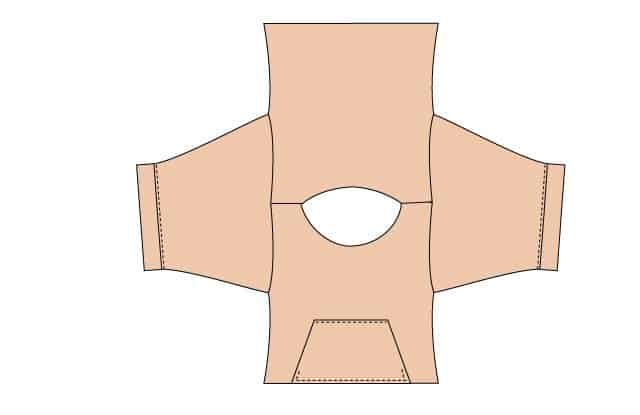 Repeat with second sleeve.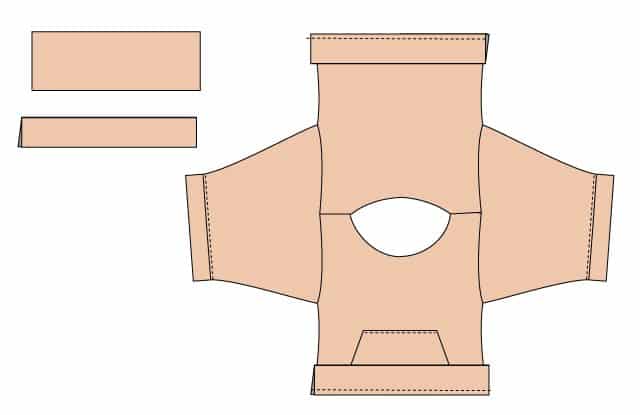 Attach waistbands the same way you attached armbands. Press and topstich.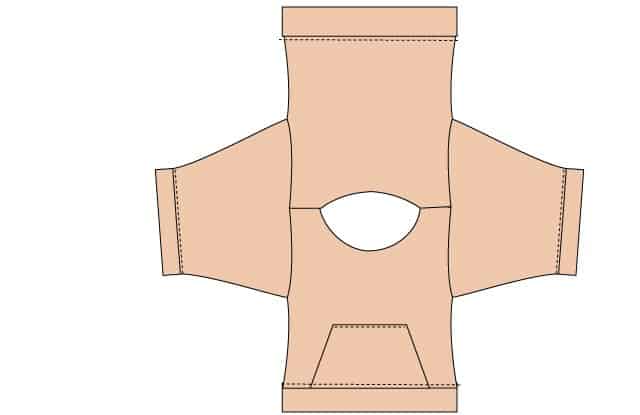 Checkpoint! Lay your hoodie out as shown above.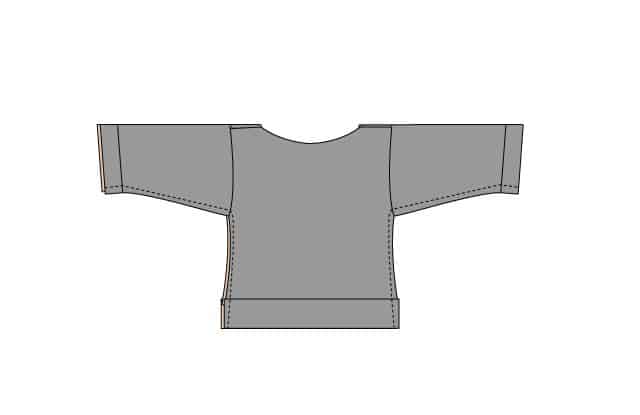 Fold hoodie over itself with right sides together. Sew up side seams from armband to waistband, pivoting at the armhole. Finish seams.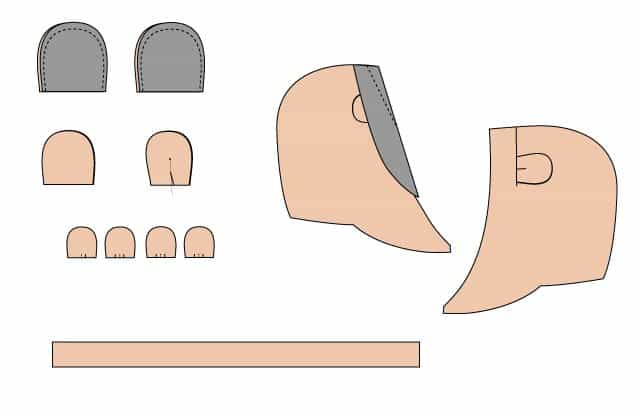 To add ears to the hoodie, cut line on hoodie pattern piece. Sew ears together right sides together with a 1/4″ seam allowance. Follow pleat markings on bear ear to create a small pleat in the middle of the ear. Place ear in slit in hoodie and sew the ear into the hoodie like a dart, starting 1/4″ at the top of the hoodie and ending in a diagonal line right after the ear. Repeat.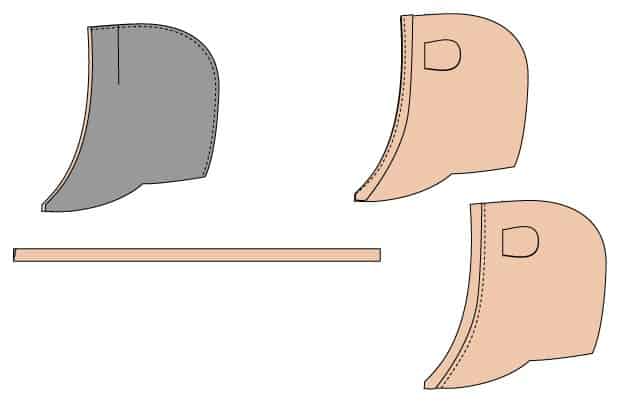 Sew hoods together along the curved edge. Fold hood band over with wrong sides together and pin to hood opening. Sew on at 1/4″ and press seam allowance up. Topstitch along hood.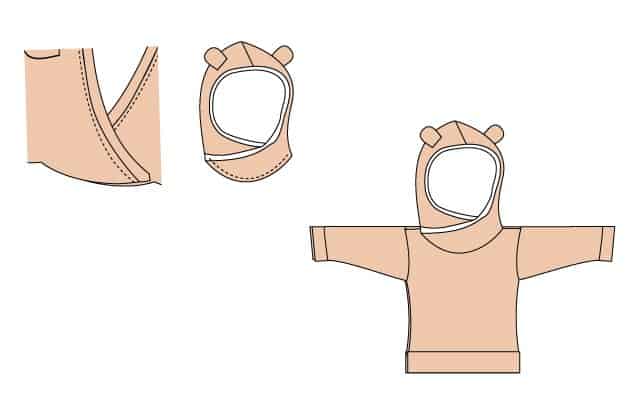 Overlap hood fronts to overlap point and baste. Staystitch neckline edge. Sew into the neckline opening with wrong sides together. And you're done!
The overlapped hood makes it easy to get on and off baby, which is a total plus in my book!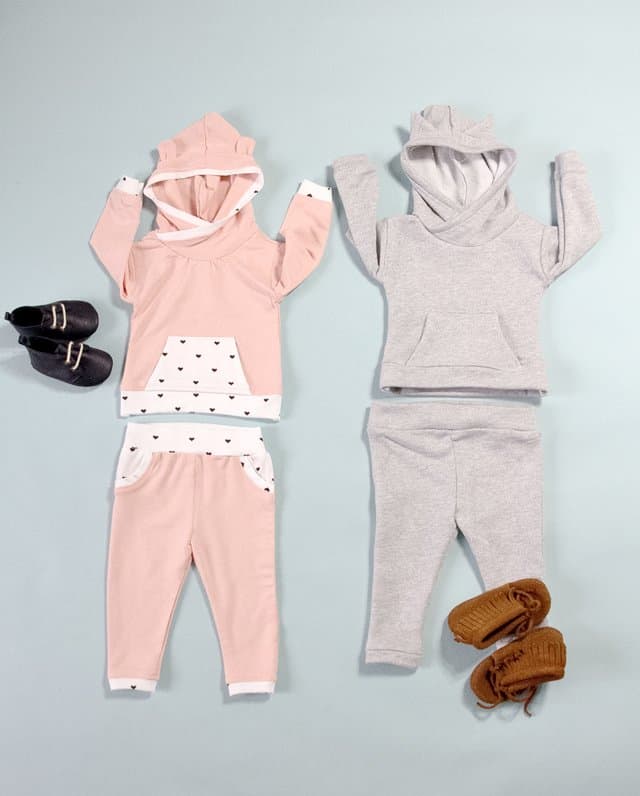 Pants Instructions //
Okay pants time! These are fast! Like 15 minutes fast!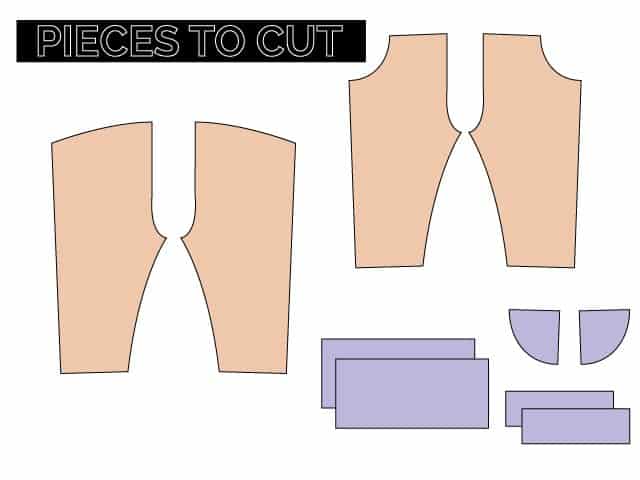 Cut the following pieces:
-2 fronts
-2 backs
-2 waistbands
-2 leg cuffs
-2 faux pocket facings
-2 pocket binding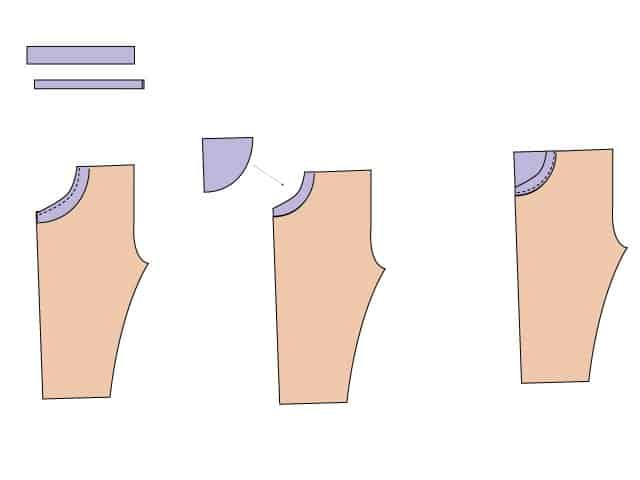 Skip this step if you aren't sewing faux pockets. Fold the pocket binding over with wrong sides together and press. Stretch and pin along the right side of the pocket curve. Press seam allowance down. Place pocket facing behind the binding, lining up the curved edge of the facing with the curve of the binding. Topstitch the binding and sew the faux facing to the pocket opening at the same time. Repeat.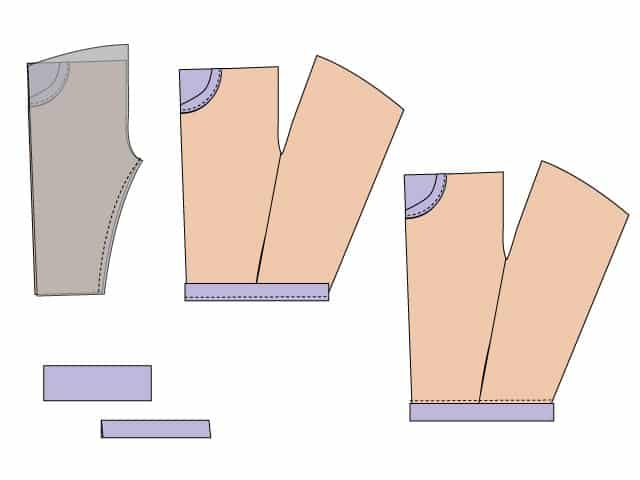 Sew front to back along the inside leg curve. Press open. Fold over leg cuffs and sew on the same way you did to the hoodie sleeve cuffs. Press seam allowance up, press and topstitch.
Sew the other side seam with right sides together. Repeat with second pant leg. Leave one pant leg turn right side OUT and one WRONG sides out. Slip the right side out one into the wrong side out on and match up the crotch seam. Sew together and turn right side out.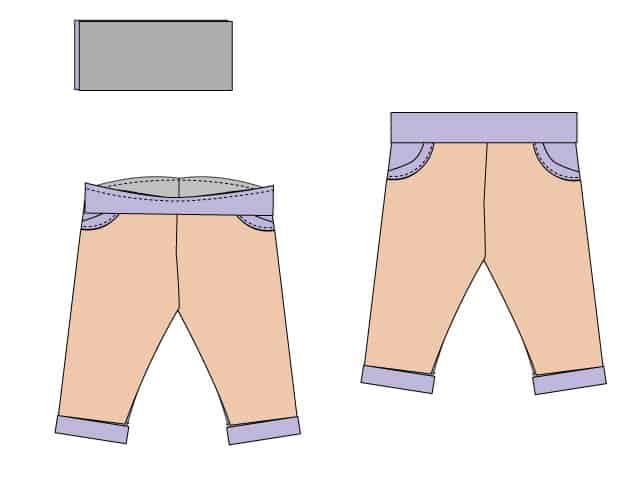 Sew the waistband pieces together along the short edges. Fold waistband over with wrong sides together and sew to the top of the pants, stretching as you go. Done!
Pair this gift with a wooden ring teether, bandana bib, high waisted baby shorts, or boho baby romper!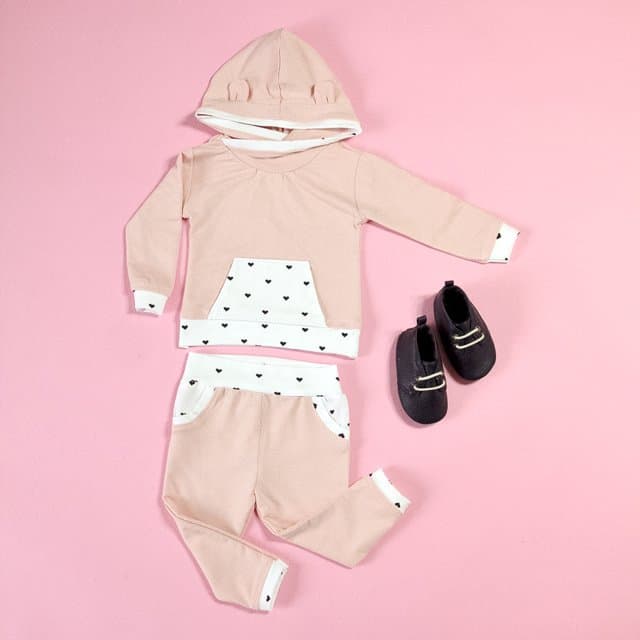 SaveSave