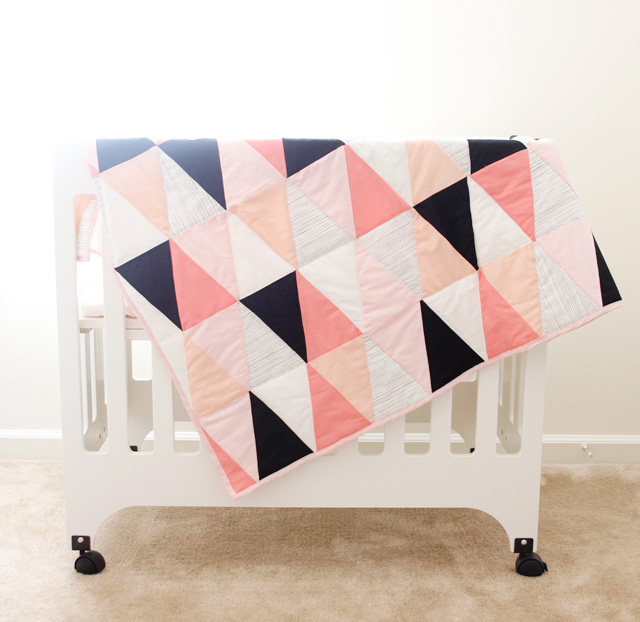 I've been wanting to make a triangle quilt forever, so having a new baby girl to sew for became my perfect excuse to get it done. It took me a few weeks, as quilts usually do. I did it little by little, but it was a really simple process and in this post I am sharing the triangle quilt tutorial! The triangles are a decent size, so it doesn't take forever and it's simple quilting. So, if you've never made a quilt before, this could be a great project for you! (And if you have quilted, it's still a fun project!)
See my updated post for a better pattern piece and tips for getting sharp points!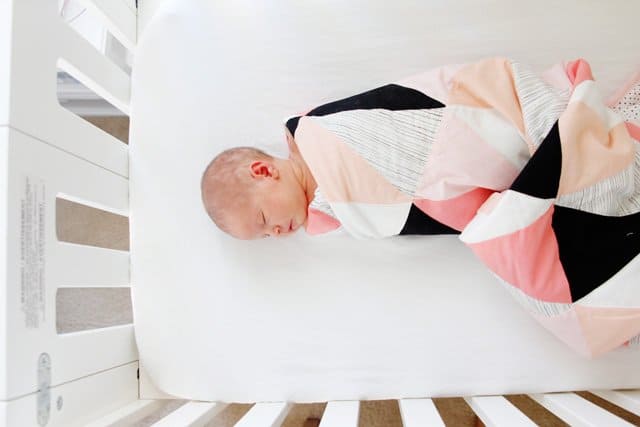 Since this is my first girl, I'm not sick of pink. I don't LOVE overly pink things, but I thought using stark black and white also would give it a good balance. Feminine but not too girly. I love how it turned out. The ombre effect with light pink, pink and peach is just what I was going for! I had to go to two fabric stores to get the colors just right.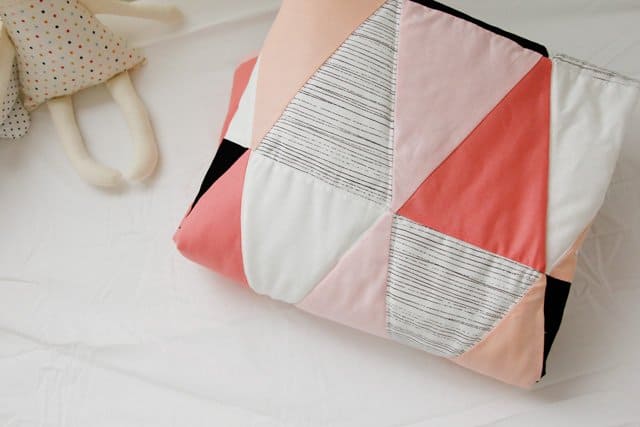 I also used black and white because babies love contrast! I remember my son staring at my black and white polka dot shirt in awe when he was a newborn, so I backed this quilt with black and white polka dots and used a black and white stripe as one of the triangle prints.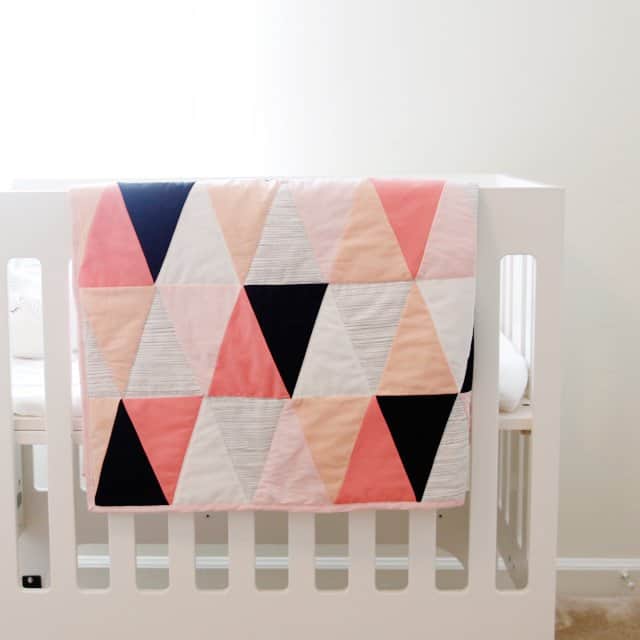 Triangle Quilt Materials
*1/2 yard each of 6 different cotton fabrics
*1 1/2 yards fabric for back
*1 1/2 yards batting, this is my favorite (affiliate link)
*binding tape
(If you can't print it, the top is 5 3/4″ and the two sides are 8″)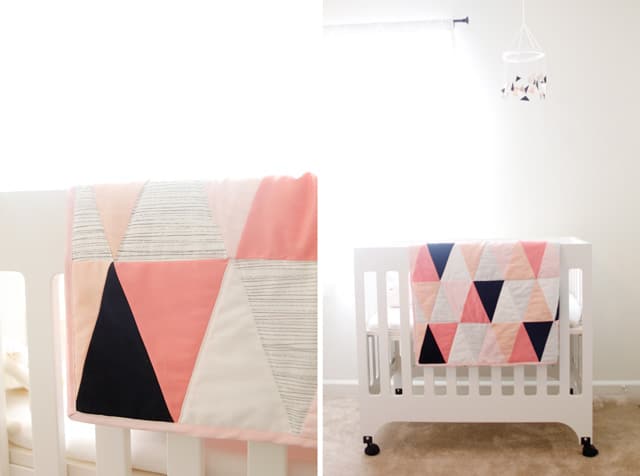 Notes:
*use 1/4″ seam allowances
*finished quilt is approximately 42″ by 48″
*I used a black, white, b/w stripe and 3 shades of the same color to get the modern ombre look in this triangle quilt tutorial. You can replace the three shades of pink with three shades of another color to make this quilt suitable for any occasion and still get the same effect.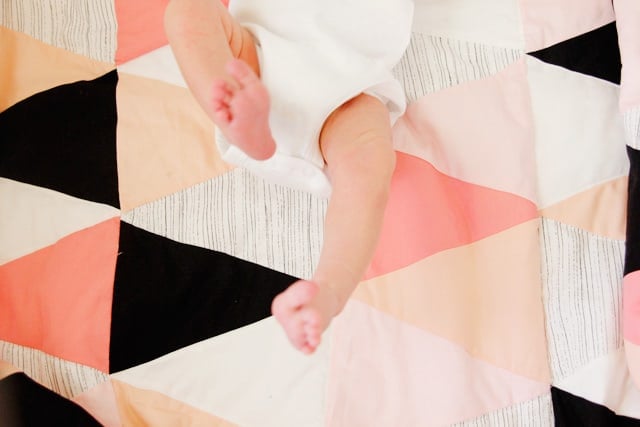 Triangle Quilt Instructions

1. Cut 19 triangles of each color. Slice one of each in half down the middle. These little pieces will go on the sides.
****
UPDATE: I had a few questions about cutting the triangles, so I wanted to give you a few options if you're new to quilting.
1. Scissors! Yes, you can use scissors to cut these out. It's not the fastest way, but it works! Pin your template to a layer of 1-4 pieces of fabric to make the process faster. I use Gingher dressmaker's shears
, which is a great trusted pair of scissors.
2. Acrylic Ruler + Rotary Cutter: This is a faster method of cutting that I definitely recommend! Place your template over the fabric (you can use multiple layers here, too), line up your acrylic ruler with the edge of the template and use a rotary cutter to cut along all edges. A rotary cutter is just like a pizza cutter. I use this one, which has a safety lock. I keep my rotary cutter up high and locked in a baby proof room. I have two acrylic rulers, this pink one from Fiskers
and this yellow one from Omnigrid
. They are of comparable quality, but you get a color choice. I have two because I always step on them and so my Friskers one is missing a few inches ;)
My rotary cutter
is a Fiskers.
****
2. Arrange triangles how you want them on the floor. I used this pattern: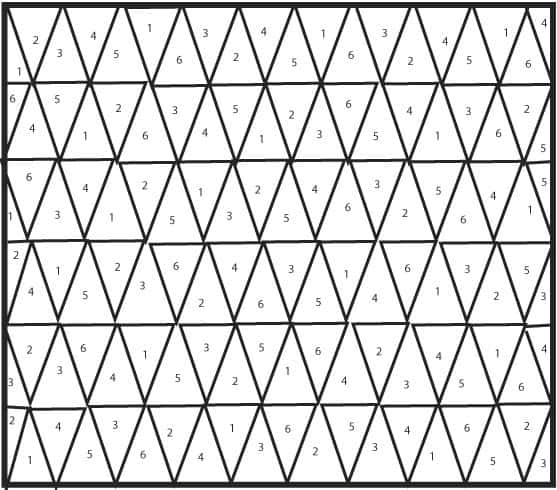 3. Sew strips of triangles together from left to right. Press seam allowances open.
4. Sew strips together from top to bottom. Press seam allowances.
5. Layer batting and backing and sew over white and striped triangles with white thread 1/8″ from triangle seams. You can sew over all of them if you want, just sew enough to "quilt" it.
6. Bind.
Quilt Coloring Page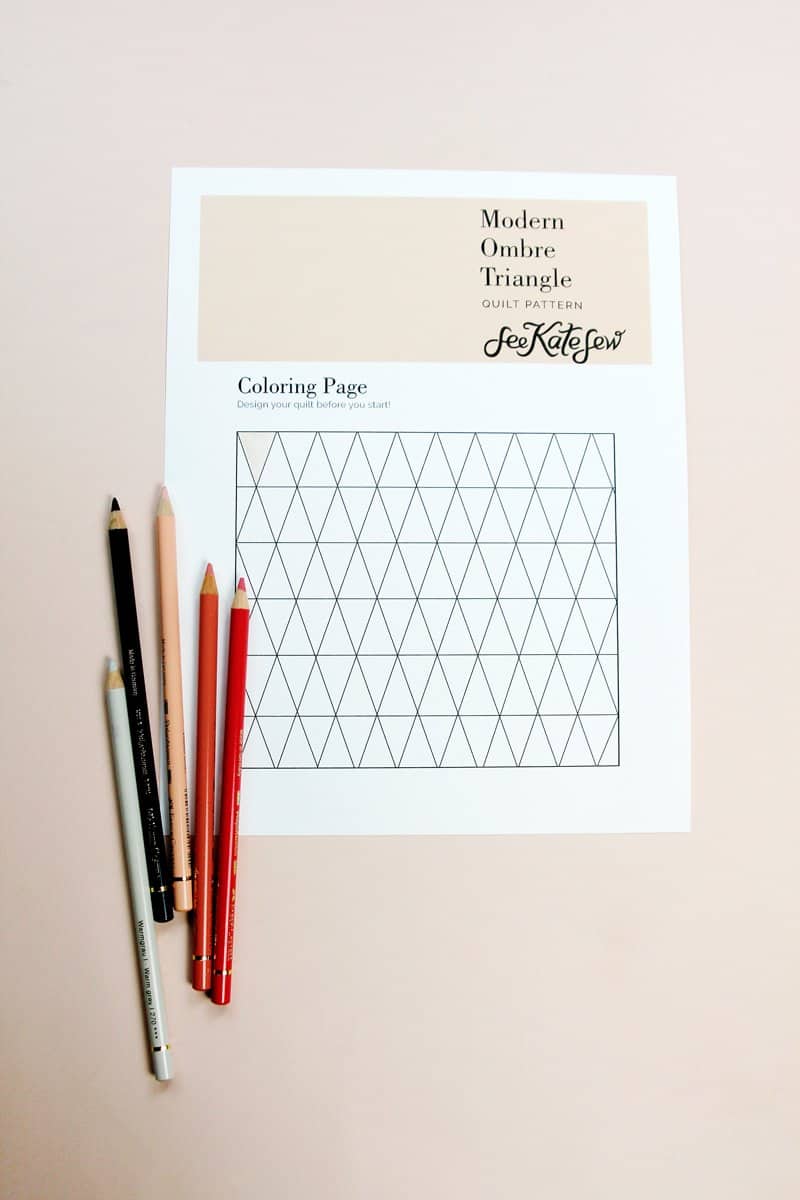 Use the Triangle Quilt Coloring Page download to design your quilt before you sew! This will help you decide fabric placement.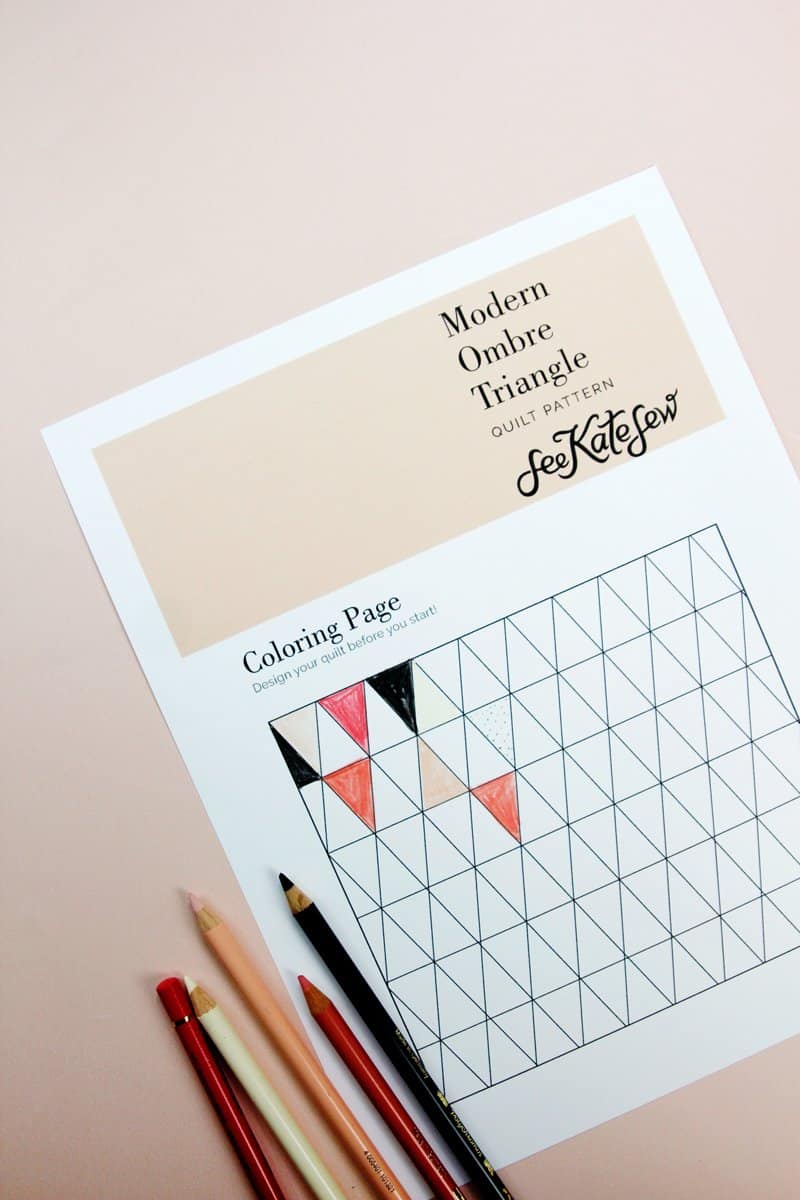 Just use colored pencils to fill it in!
If you enjoyed this triangle quilt tutorial, check out my other patterns! All See Kate Sew Quilt patterns include a design sheet like this!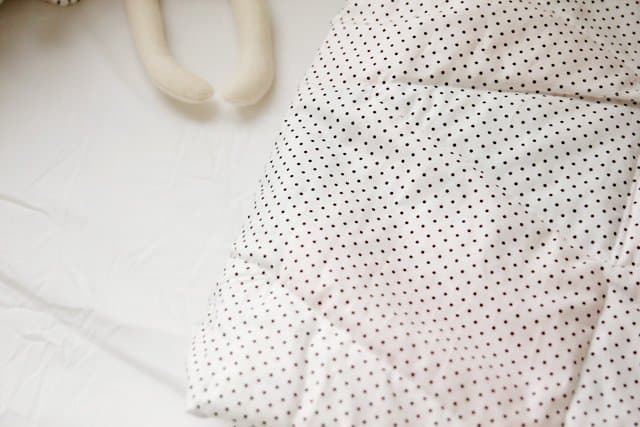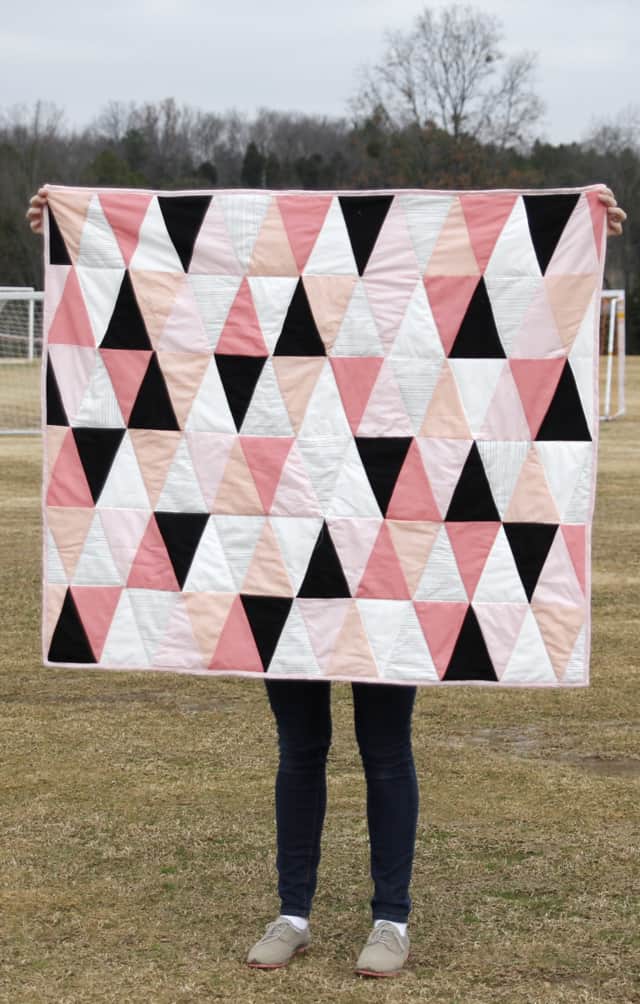 Love quilting? Join Pattern of the Month and get a new modern quilt pattern emailed to you EVERY SINGLE MONTH!