The Original ScrapBox recently changed their name to Create Room and sent me the Sew Station sewing cabinet to review! The Sew Station is a free-standing sewing machine desk that can also attach to the DreamBox for the ultimate sewing machine table! If you have been looking at sewing machine tables for your sewing space – look no further!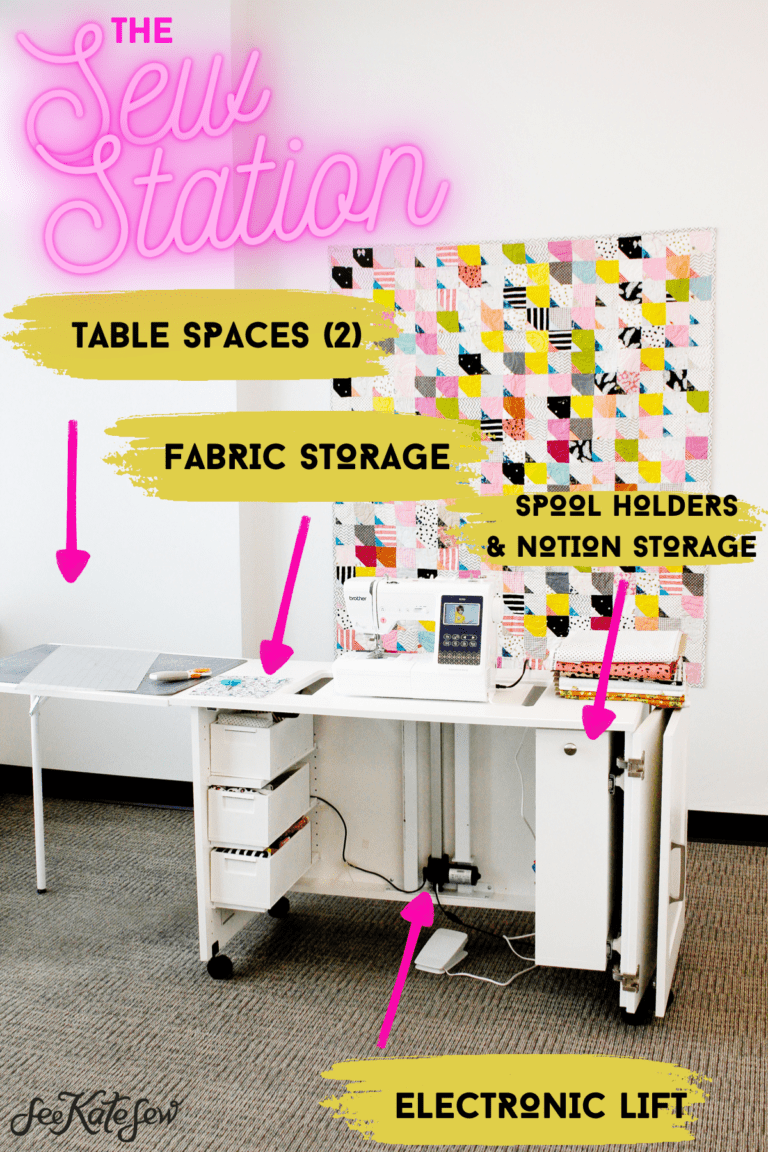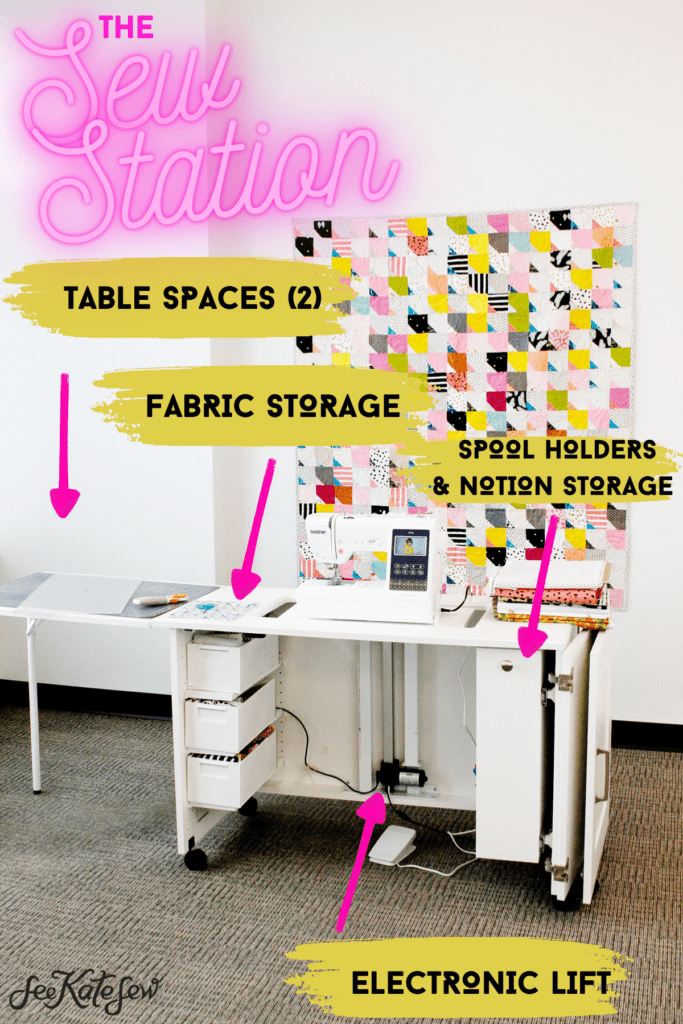 Here is my Create Room Sew Station review with lots of information about the recessed sewing table, storage and workspace tables.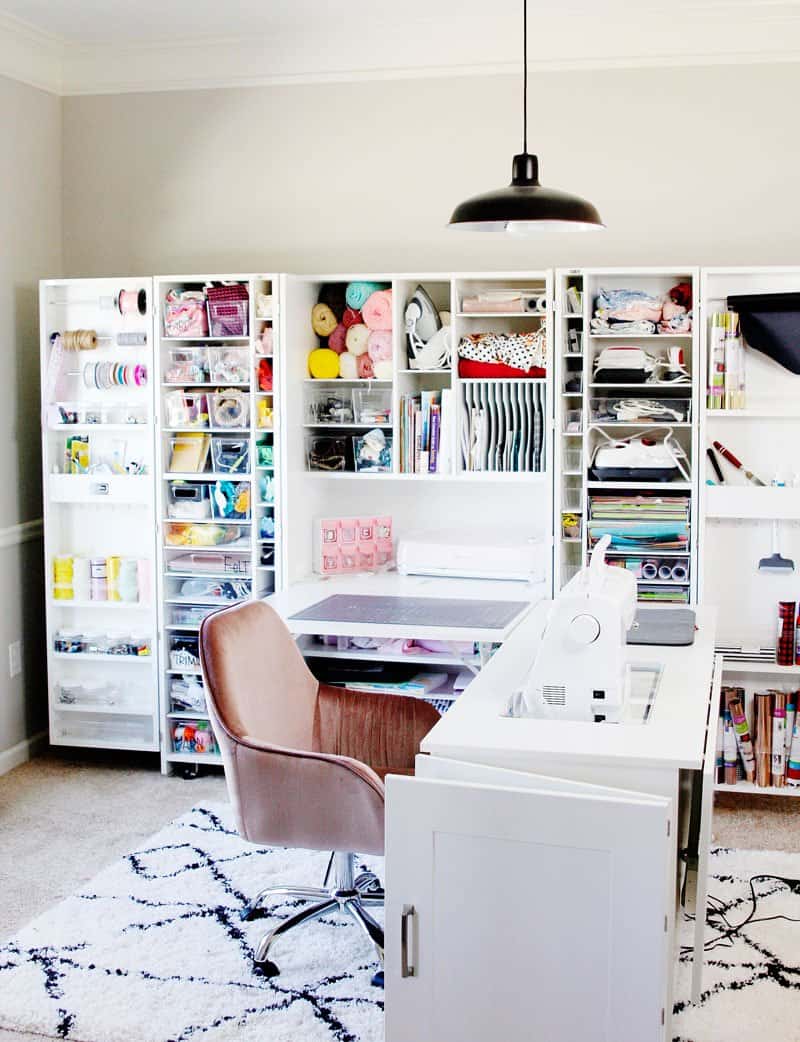 Sew Station Coupons and Promotions
Use code SEEKATESEW to save $100 on the DreamBox or $200 on the DreamBox + Sew Station combo.
Use code SEEKATESEW50 at checkout to save $50 on the Sew Station purchased alone.
I sewed at a desk like the Sew Station in college with a recessed sewing machine platform and storage for supplies. I love having a serious craft table and the Sew Station coordinates with the DreamBox perfectly.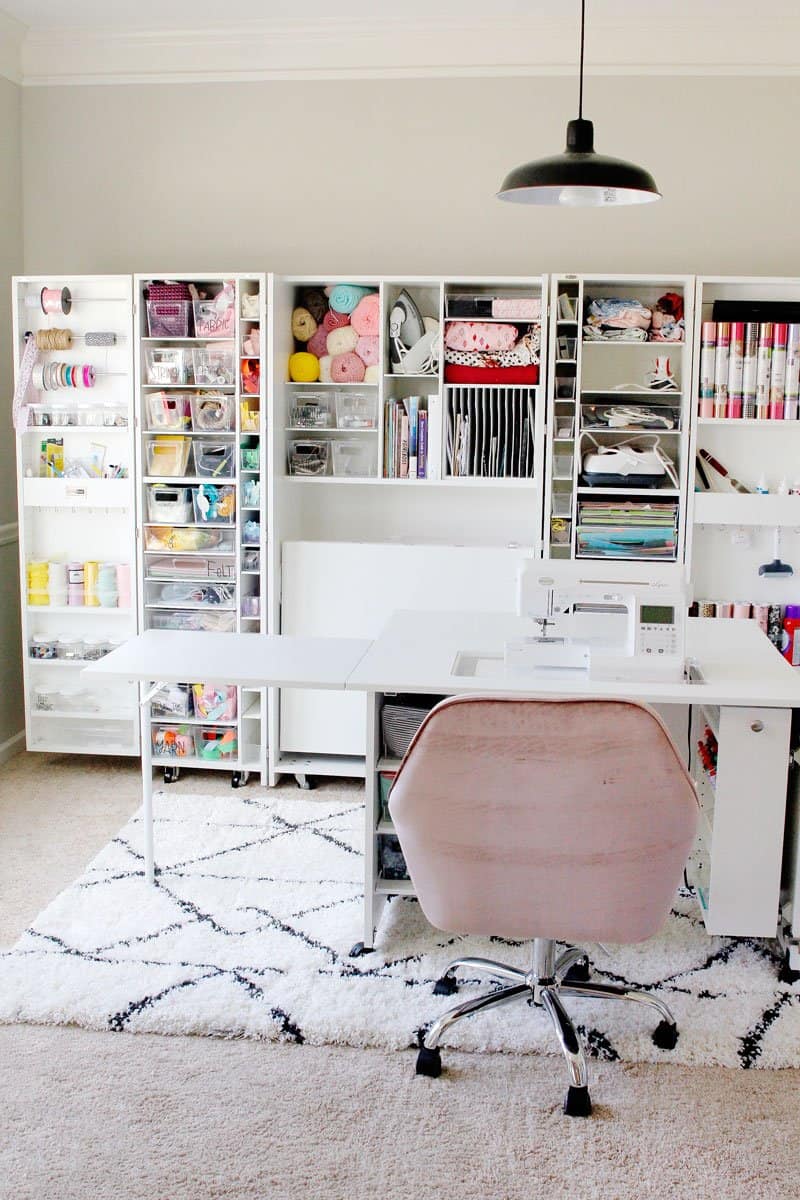 It's amazing to have one in my own sewing room and makes organization easy.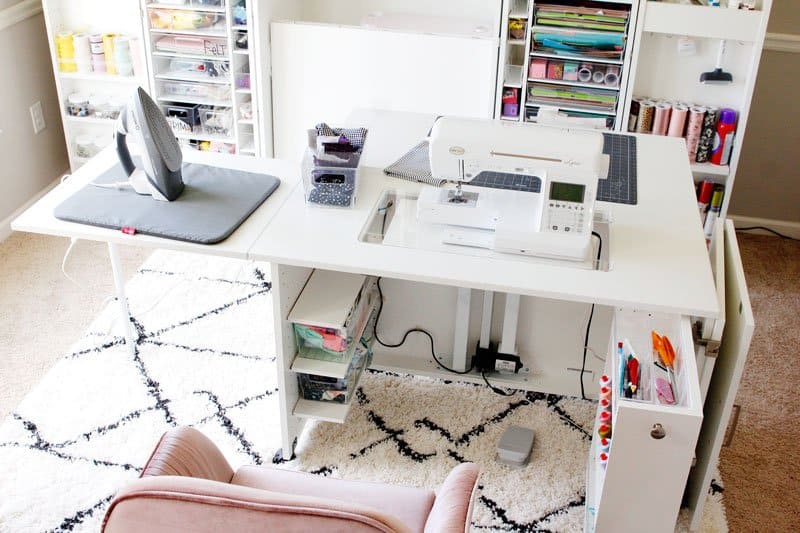 I am so productive when I sit down at this space dedicated to sewing with a tabletop with sufficient space and built-in storage!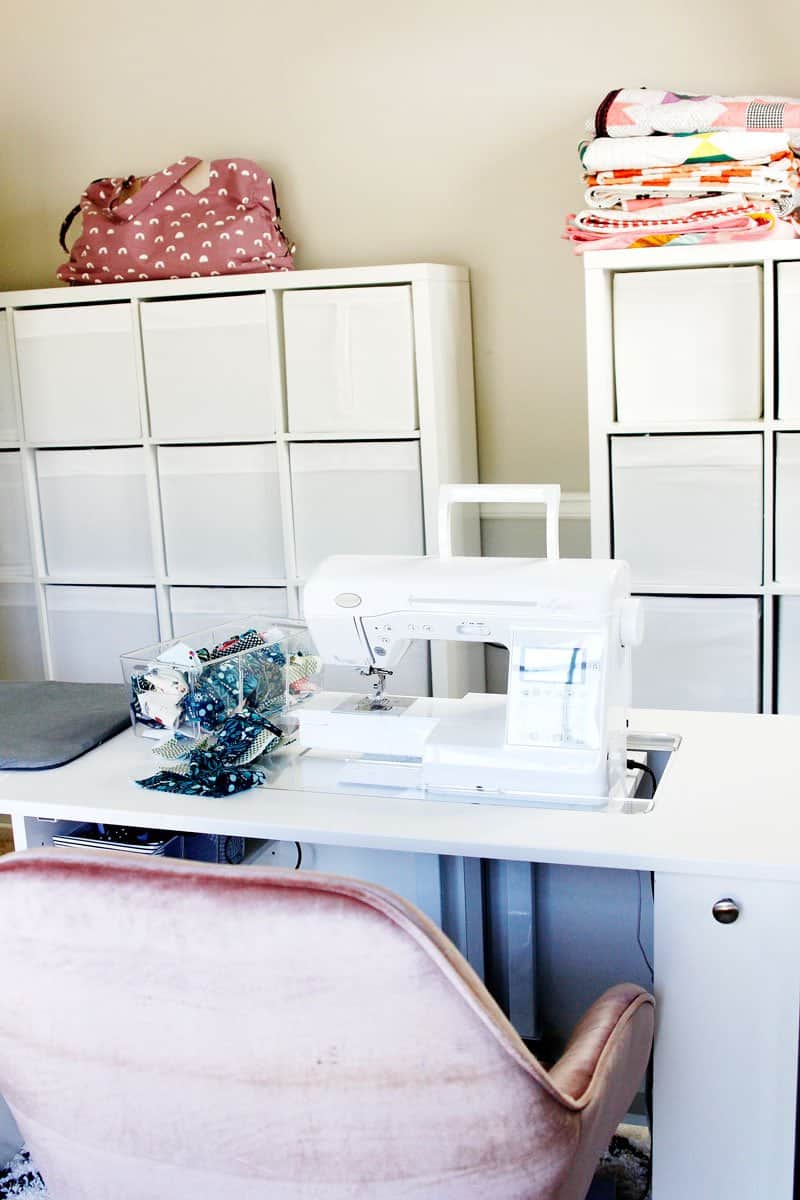 Use code SEEKATESEW50 for $50 off the Sew Station. Purchase it with the DreamBox (and code SEEKATESEW) for a bigger discount!
This post contains affiliate links.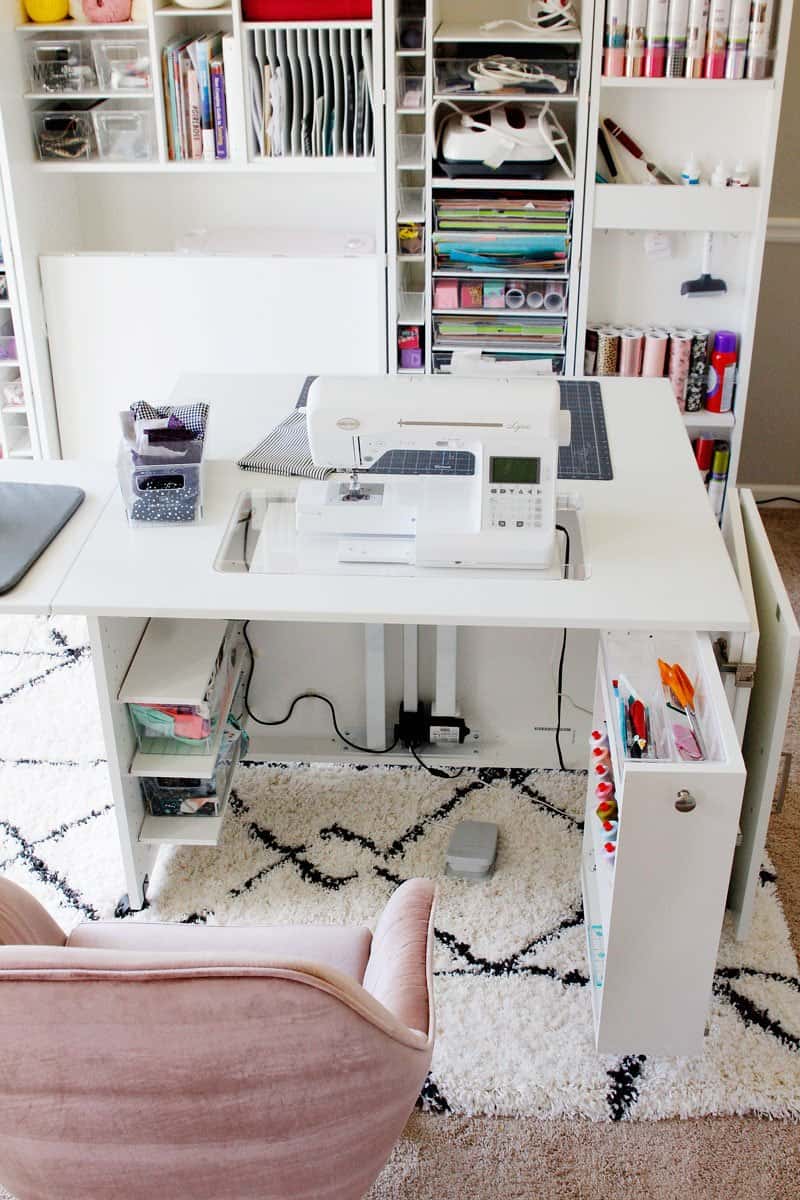 Every time I sew at the Sew Station I feel ready to sew. It's such a clean space and has everything at your fingertips. I have been loving my DreamBox on it's own, but adding the Sew Station has been amazing!! Both pieces function on their own, but together they are the perfect craft storage solution!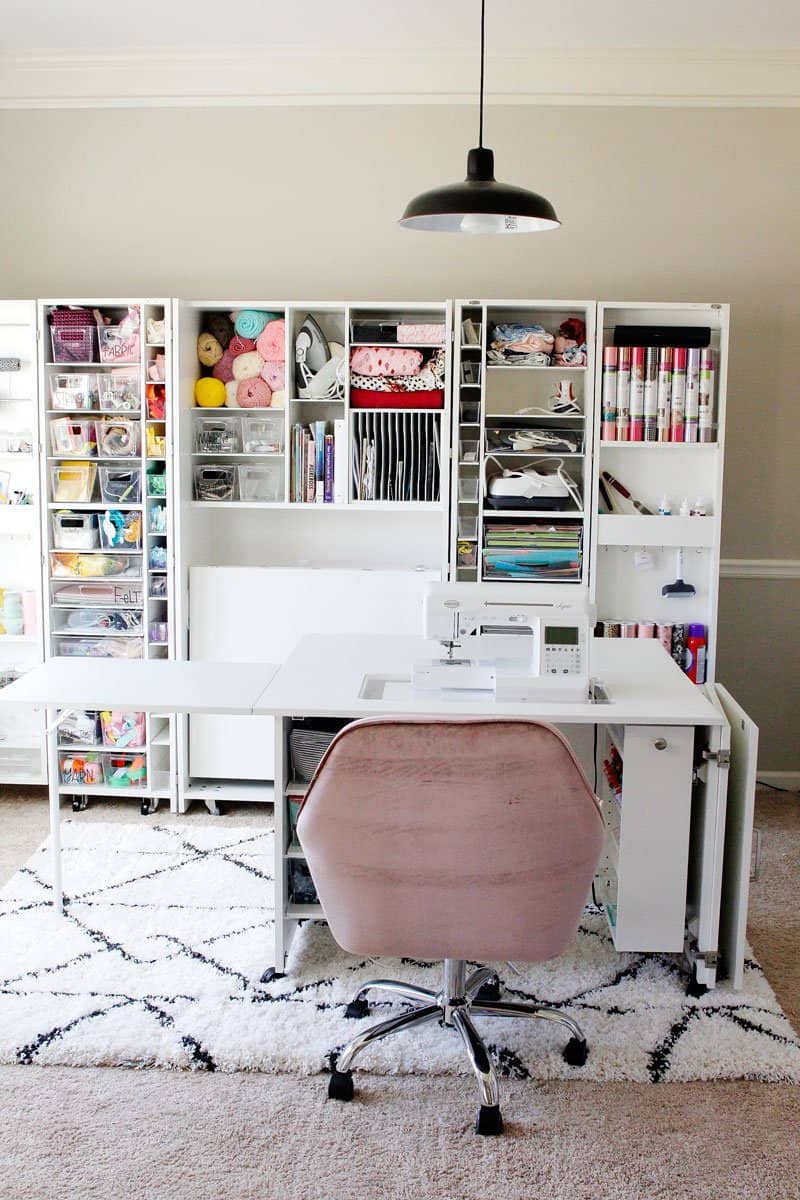 Sew Station Features:
Recessed sewing machine shelf
3 totes or bins for fabric storage with adjustable shelf – lots of storage space
Drawer with thread holders and more easy storage
Side table as a workspace
Back table for more workspace
Attaches to DreamBox or functions alone
Folds up to a cute little dresser – great for a smalls sewing space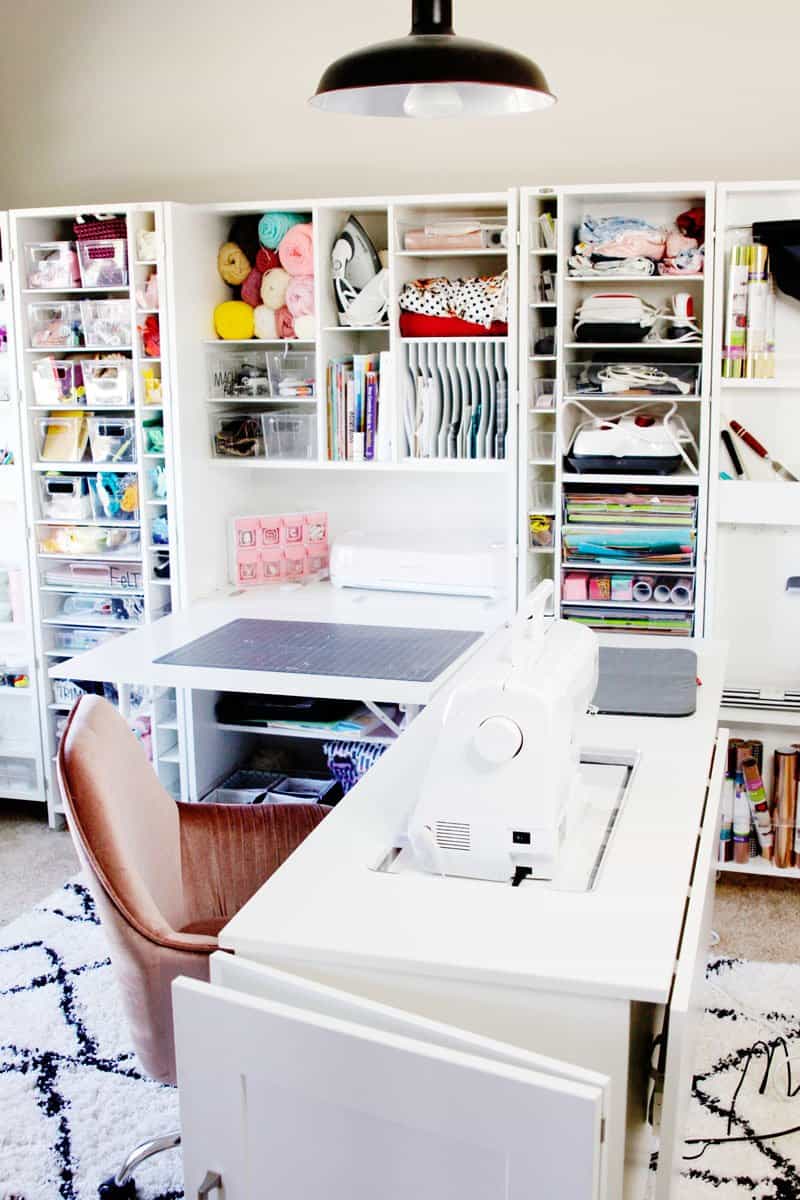 Recessed Sewing Machine Table
The main desk has a sewing machine holder.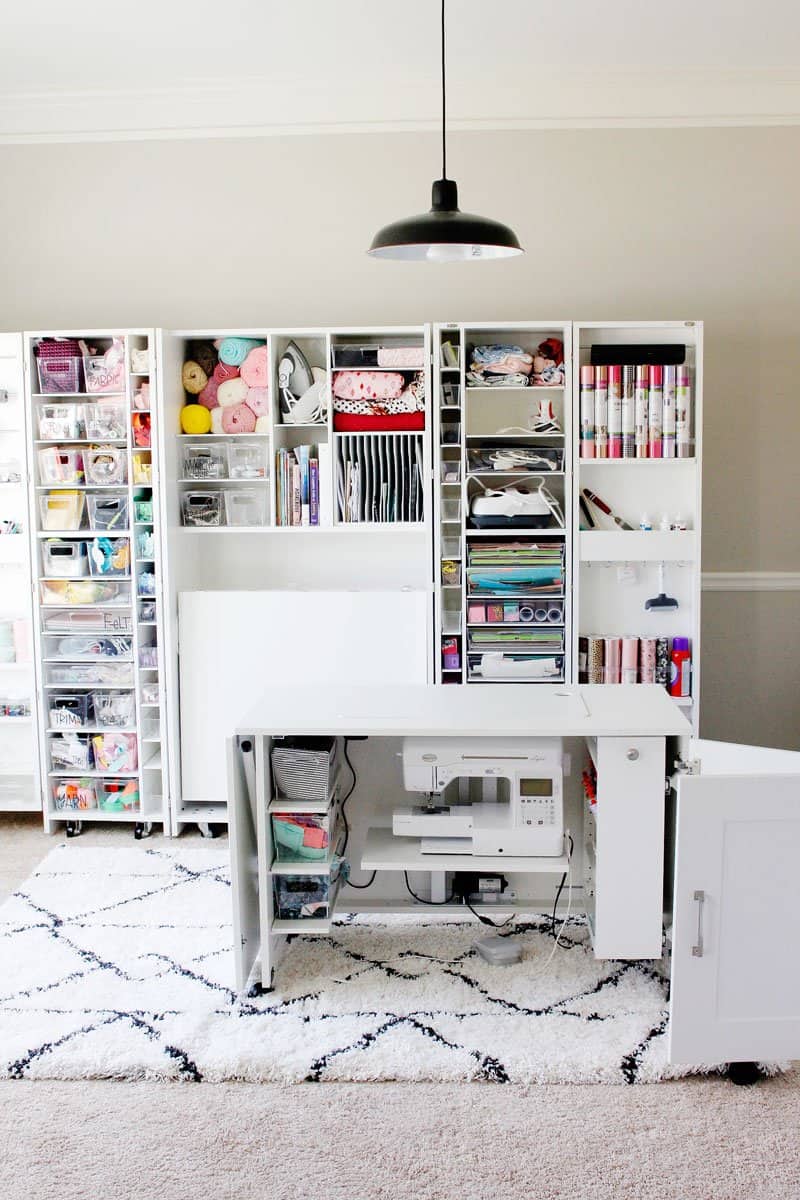 It's a shelf connected to an electronic lift that lifts up and down with a button under the table.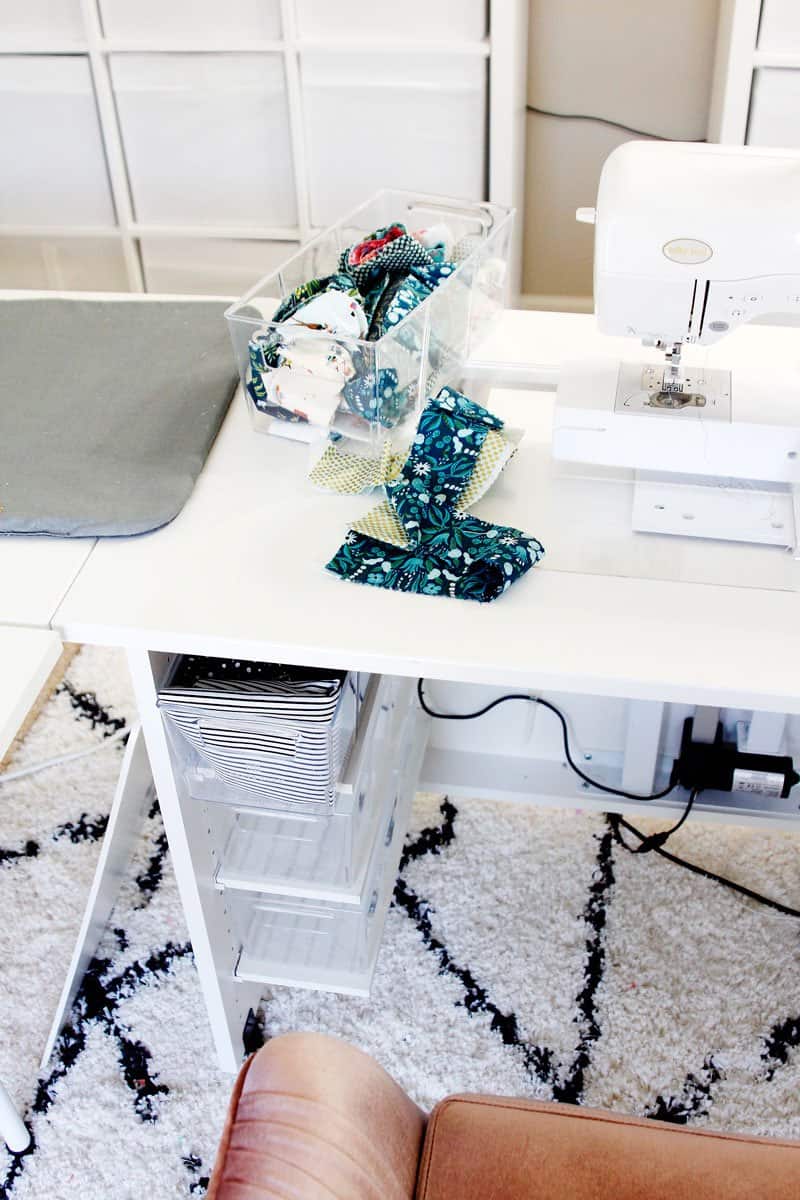 Storing your machine away helps protect it from dust and is a great safety feature if you have kids or pets that may get into it.
Create Room also sends a custom acrylic piece to go under your machine so the surface is completely flat when you are using the machine. It's gorgeous!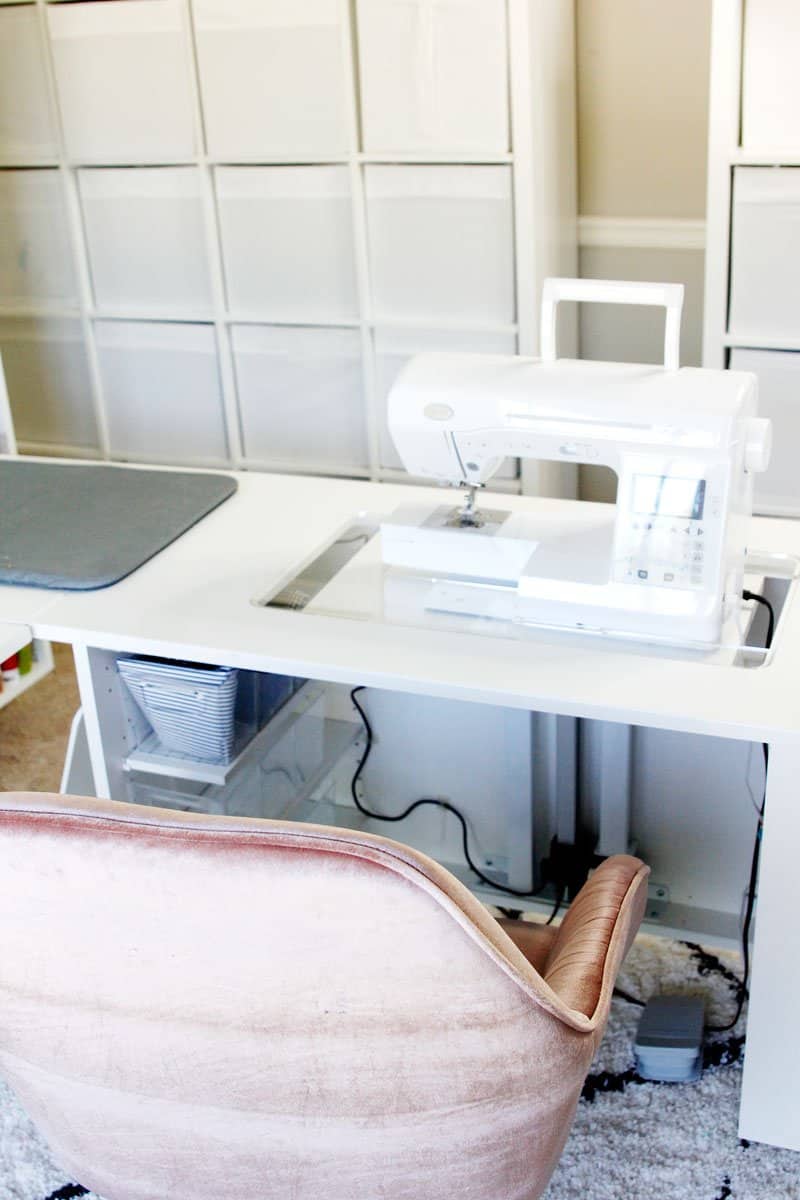 When you aren't sewing, you can lower the machine and then replace the table opening with the table insert for extra table space.
Tote for fabric storage
You can technically put anything in these totes, but if you're sewing, these are perfect for fabric!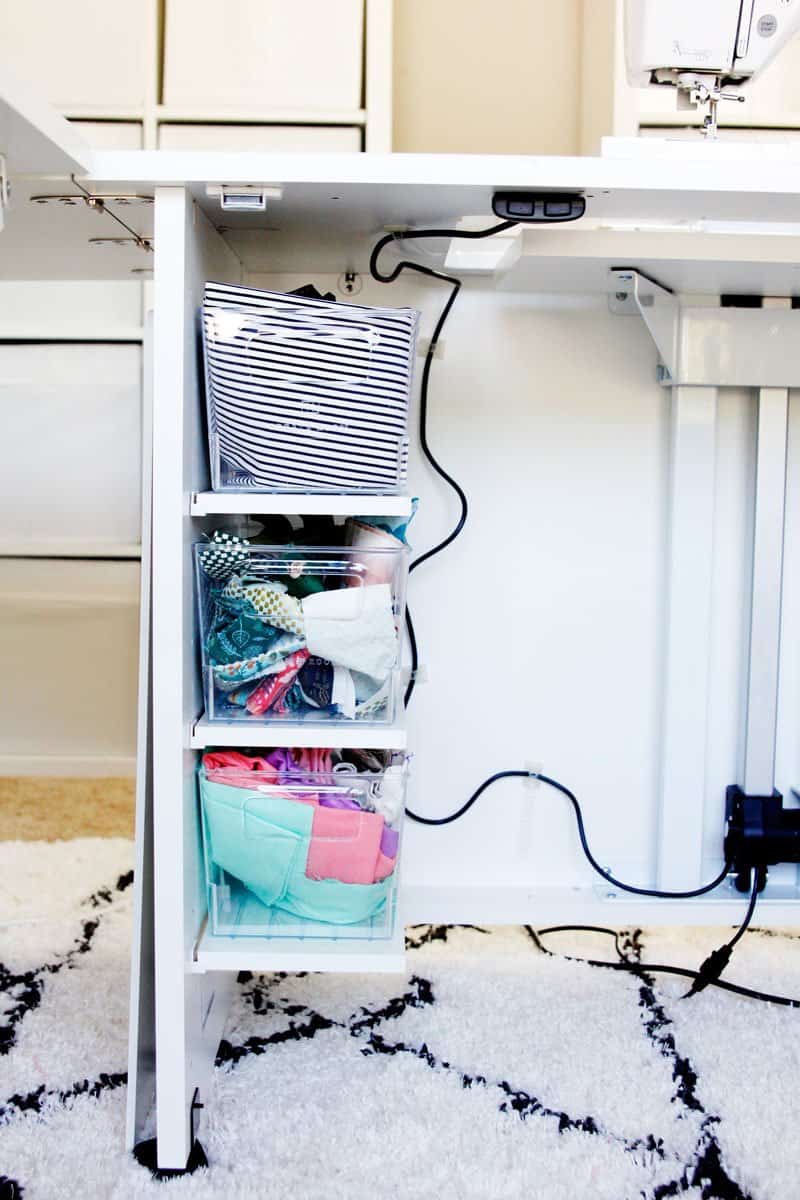 I like to keep a whole work-in-progress project in a tote so I can just pull it out when needed.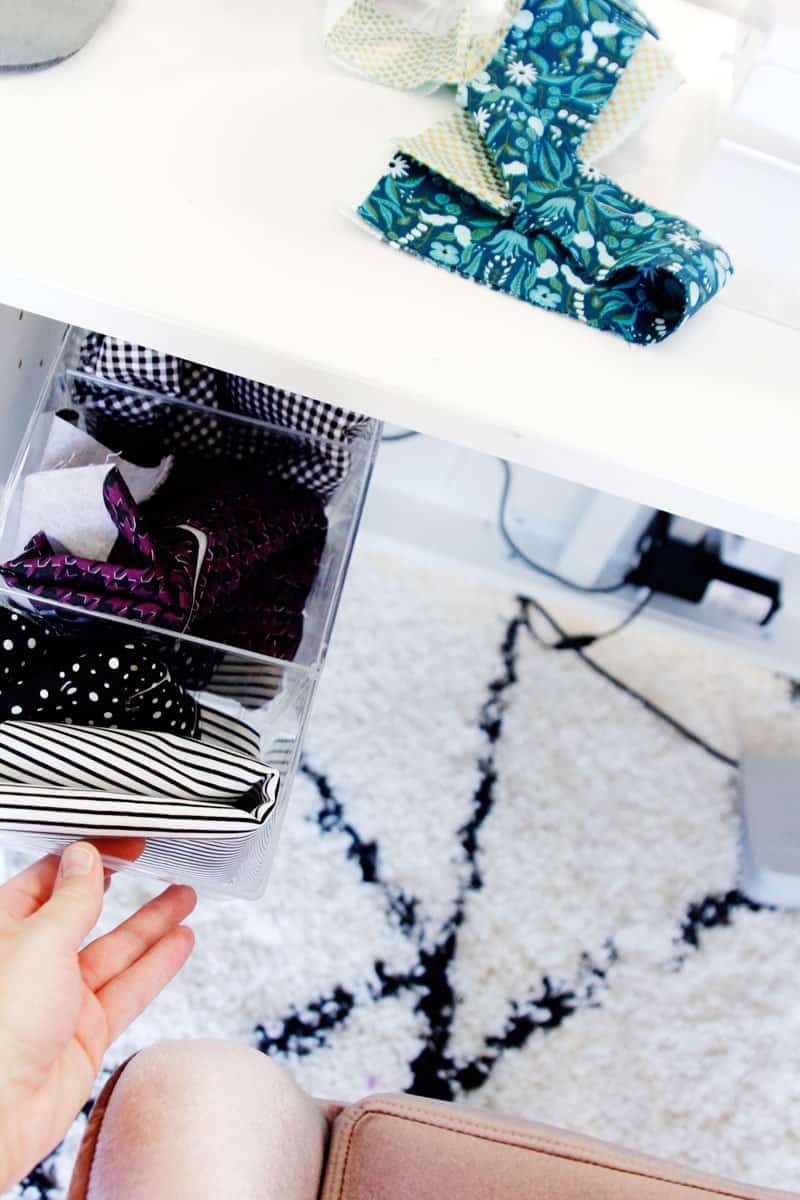 Drawer with thread holders and more storage
The thread holders on the side are in a pull-out drawer. There is space for 96 spools of thread!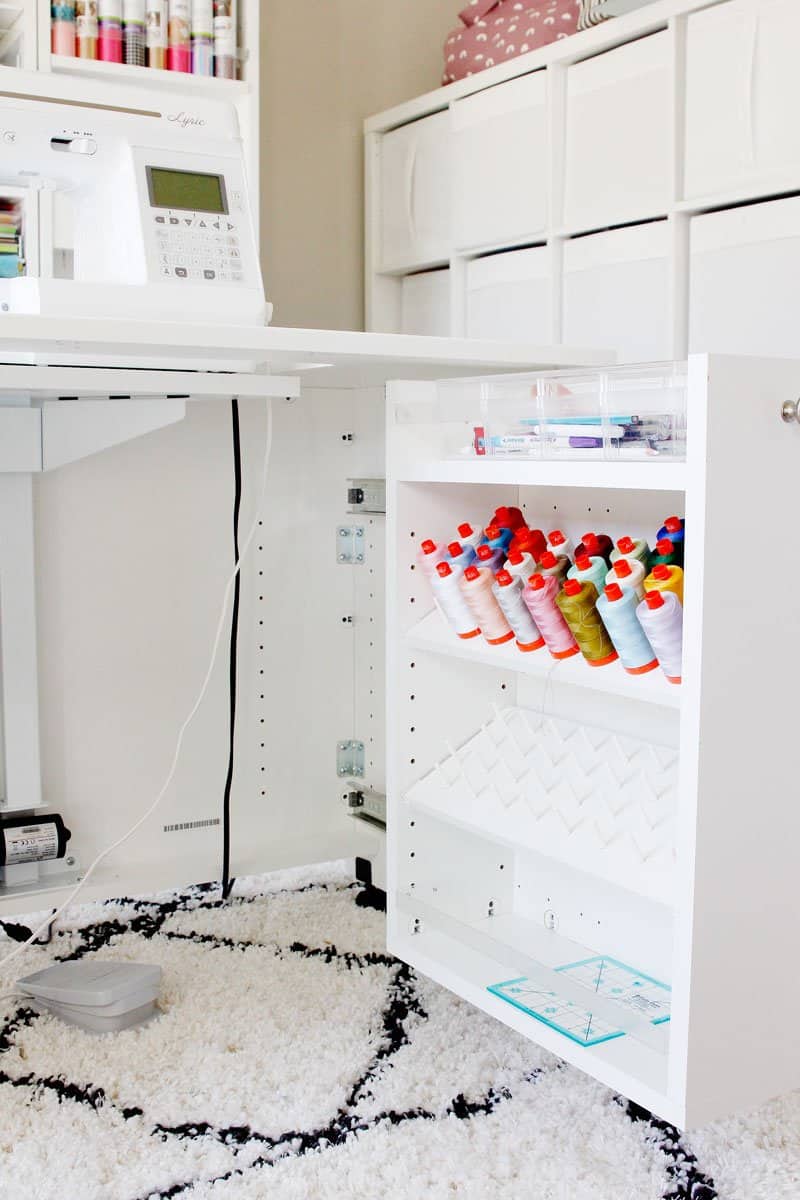 Plus an extra drawer at the bottom and top which are great for notions, needles, extra bobbins, and fabric markers.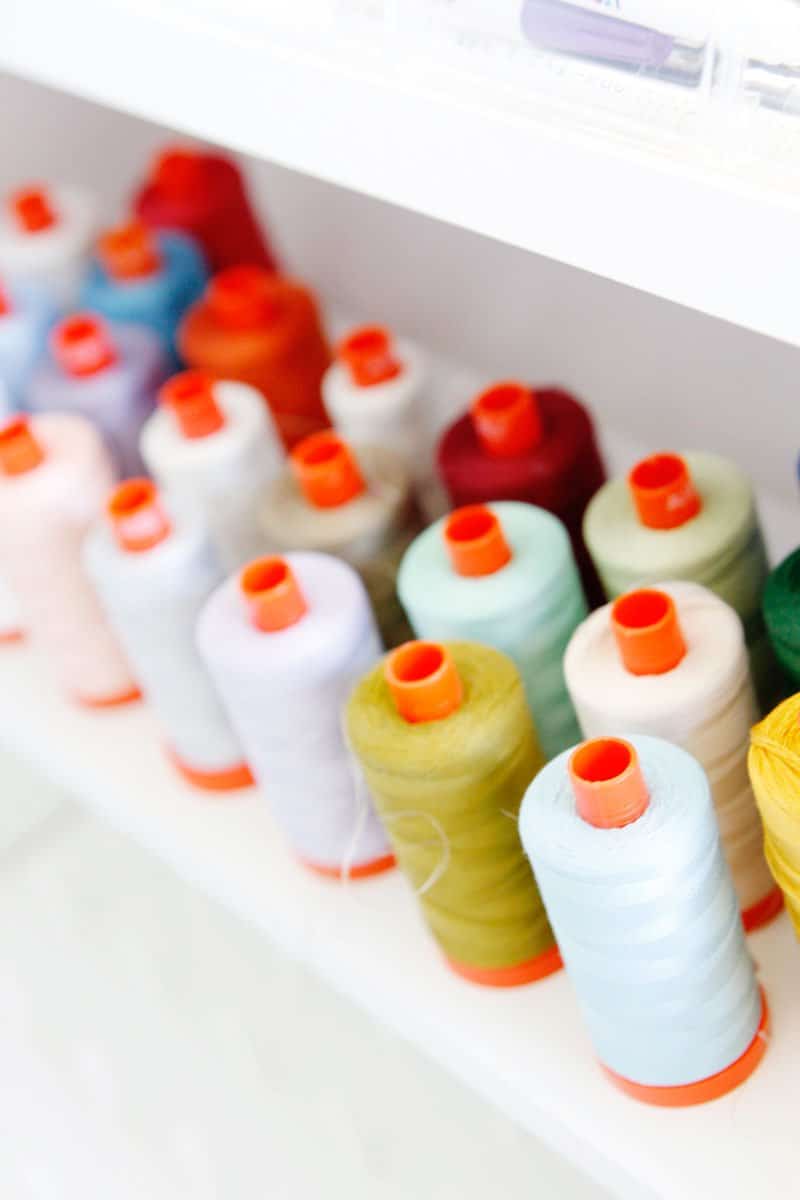 Side table as a workspace
On the left side of my Sew Station, there is an extra table space that flips up.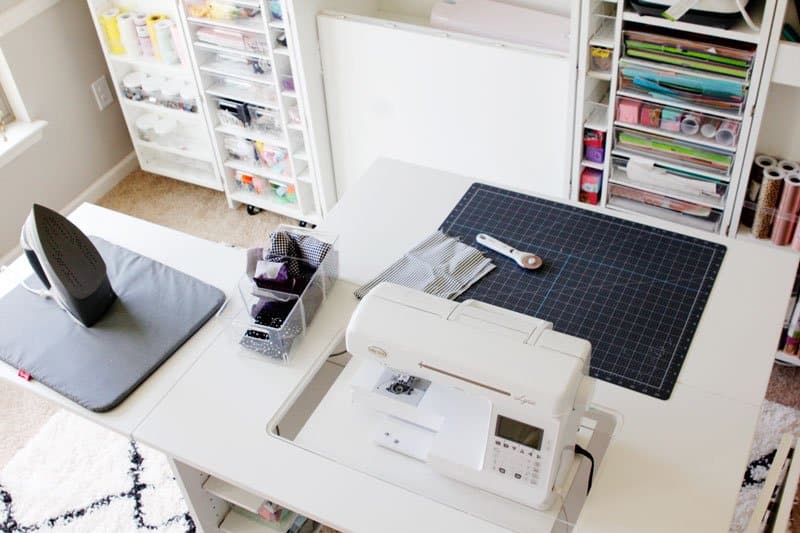 The table latches into the DreamBox for a nice level and extra big workspace that you can use for cutting fabric, ironing, or tracing patterns.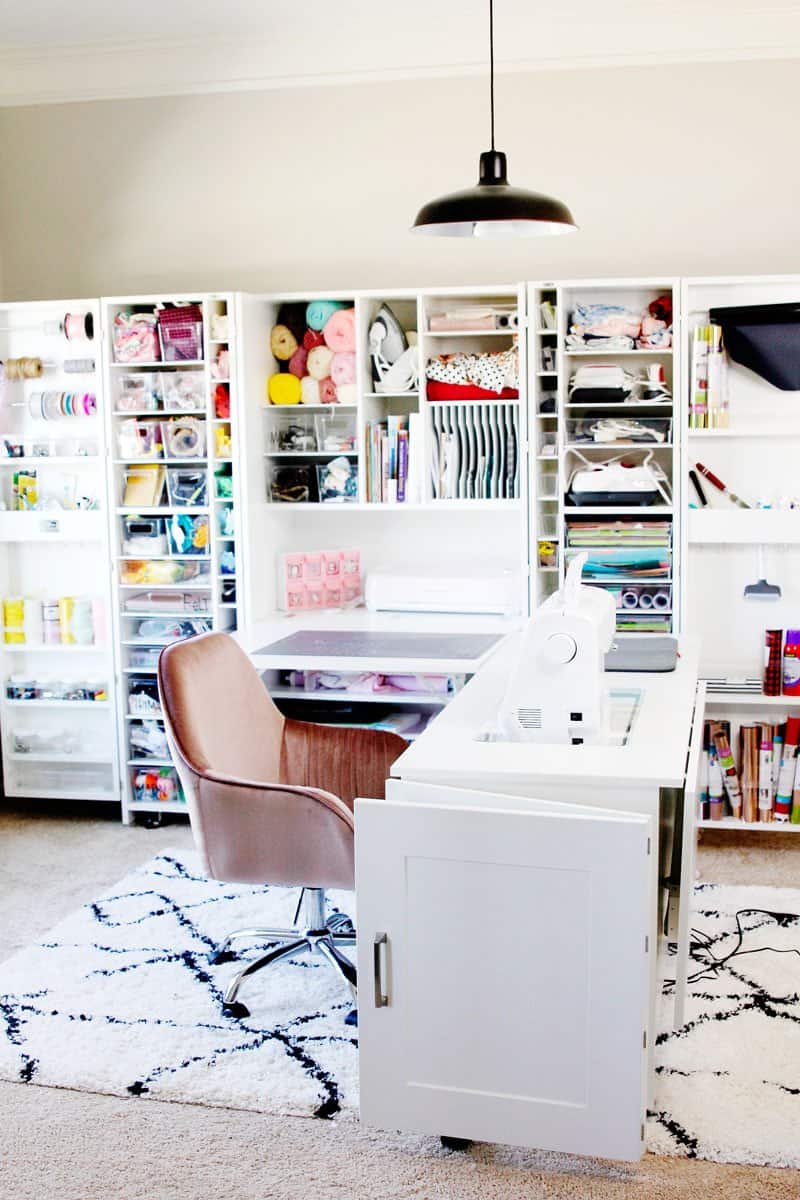 In the photo below I have the Sew Station turned so you can see all the parts!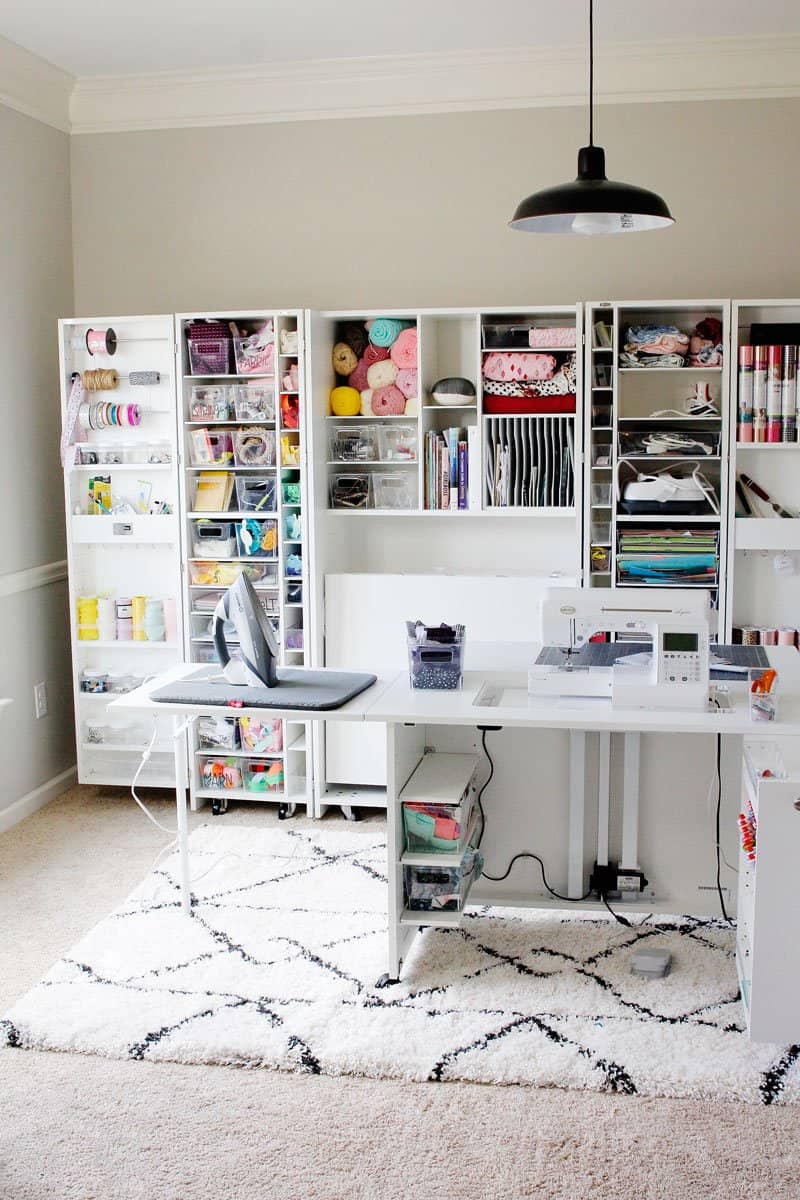 I use the side table on the left as an ironing board with a little mat. The table's leg flips down easily so you can stow it away if you want!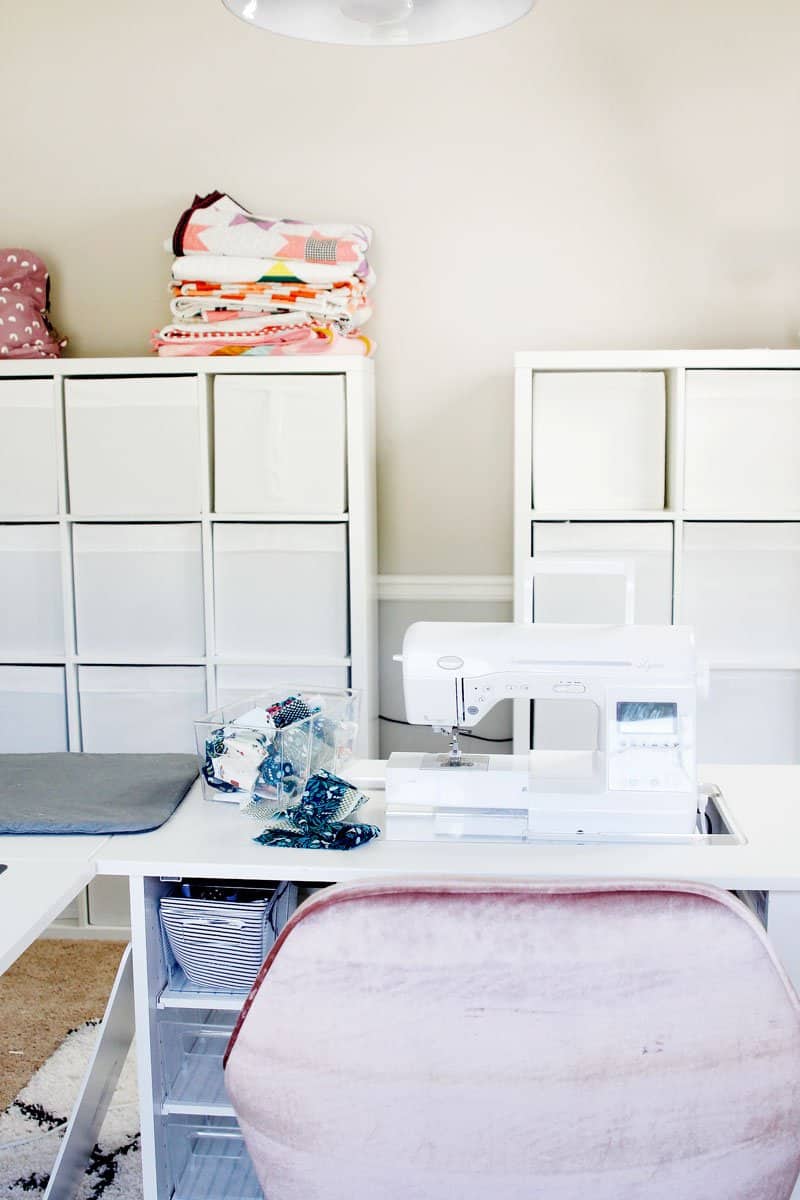 Back table for more workspace
The back of the sewing cabinet has another table that flips up for even more space! I love this one for cutting out patterns and tracing pattern pieces before sewing.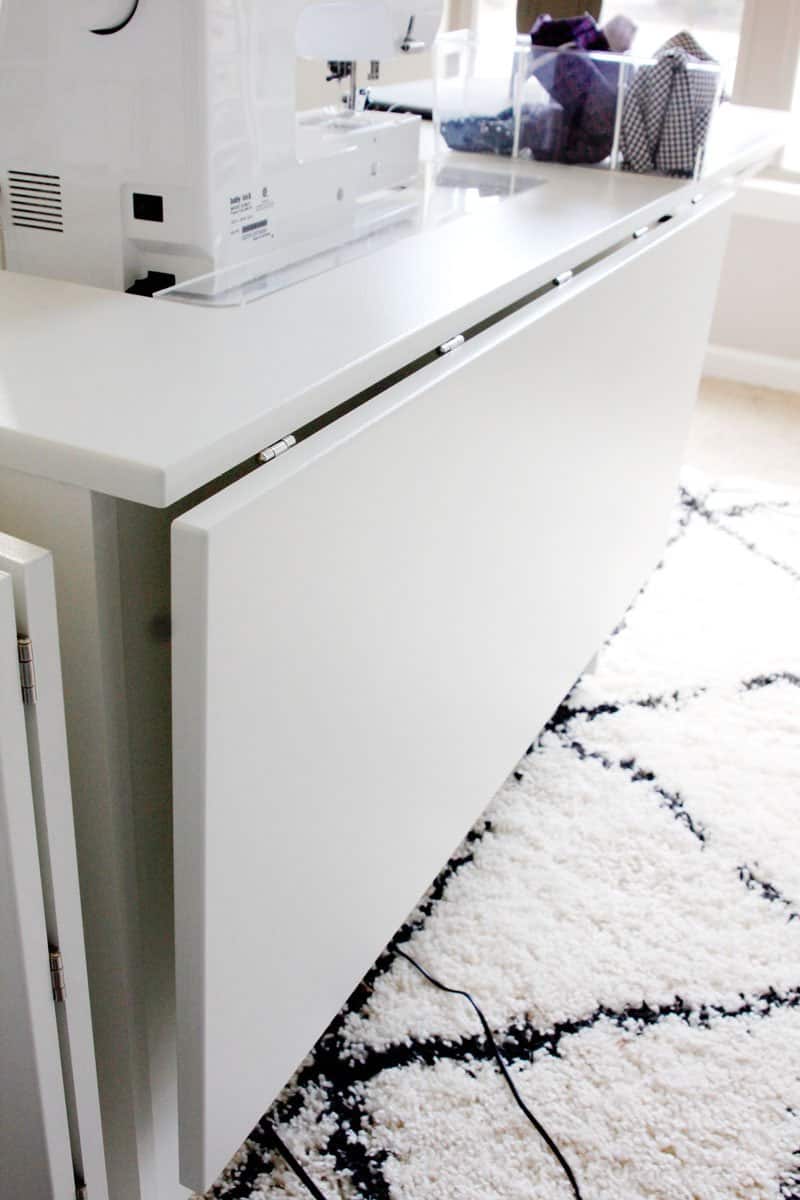 If you are quilting with this table, it's a great spot for stacks of patches and blocks.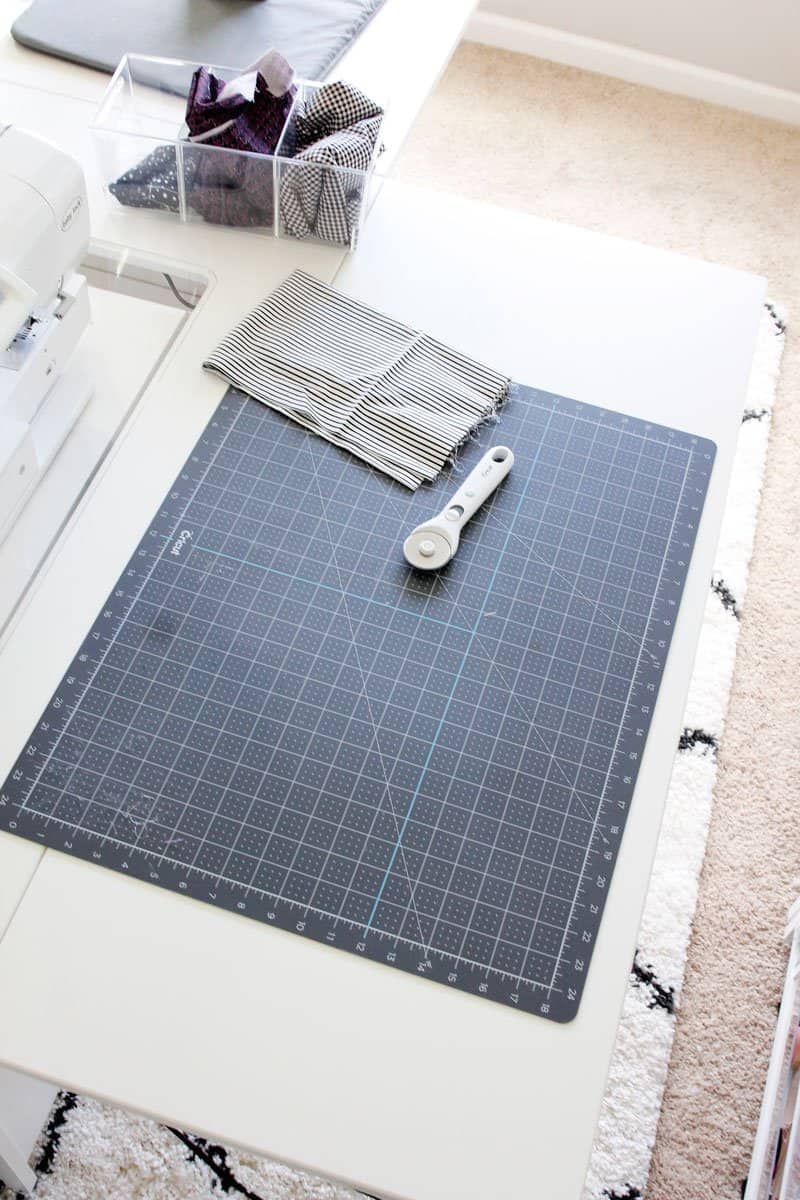 Attaches to DreamBox
The DreamBox is awesome! Adding the Sew Station just makes it the perfect sewing and craft nook with all your supplies right at hand!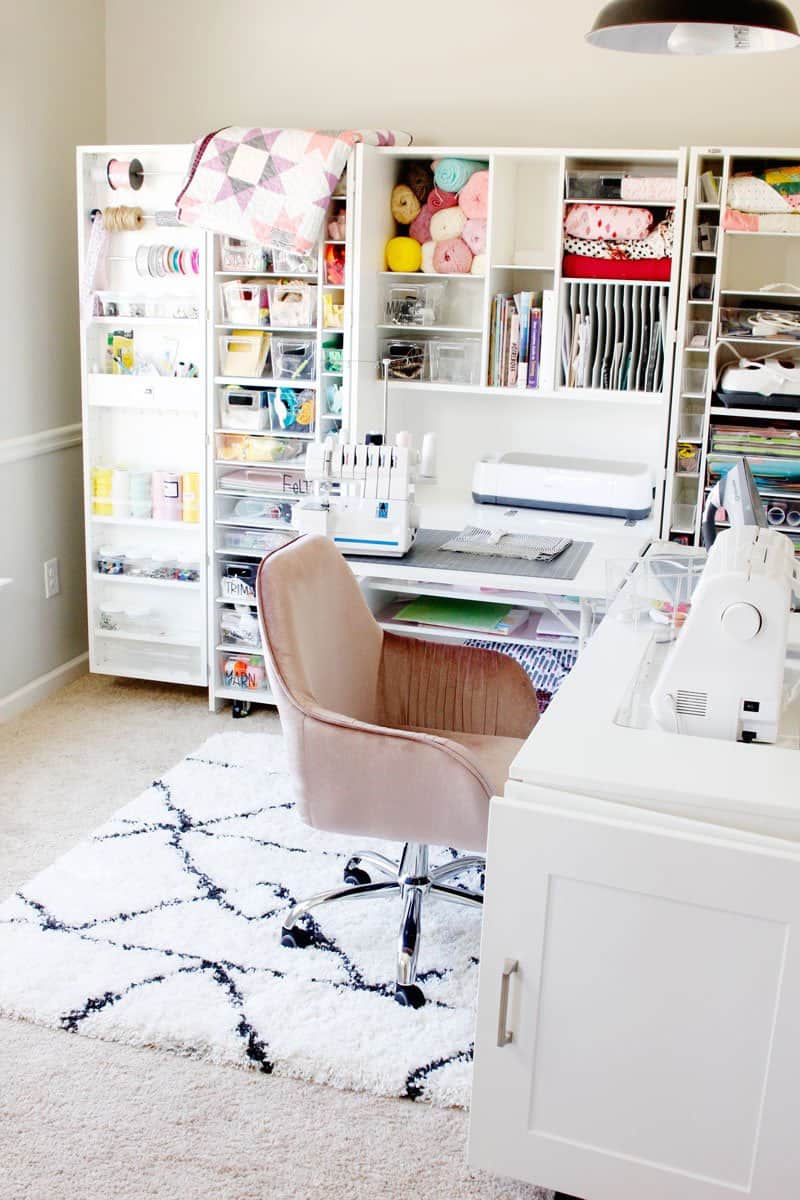 The side table of the Sew Station latches into the DreamBox's center table, so you have an extra big table for cutting, stacking, pattern tracing and more.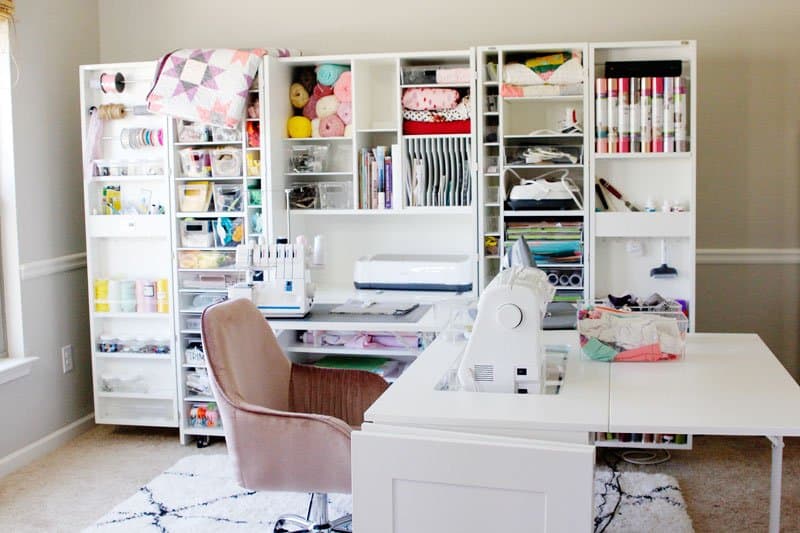 This setup is the best sewing table I've ever had and it makes me want to craft every day.
Folds up to a cute little dresser
The Sew Station can stand alone and makes a great alternative to the kitchen table sewing set-up. You can fold this up every night and it turns into a sweet little dresser.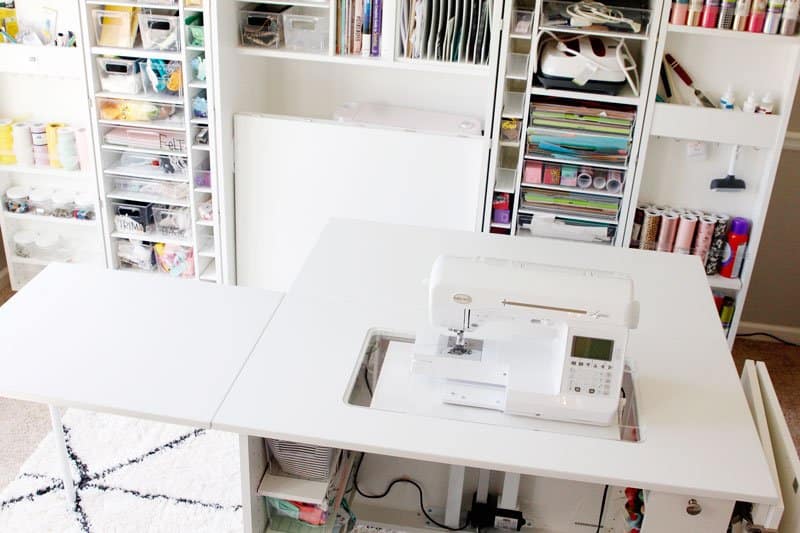 This also makes it easy to stick in a shared room, like a guest room. It's seriously easy to fold up and down.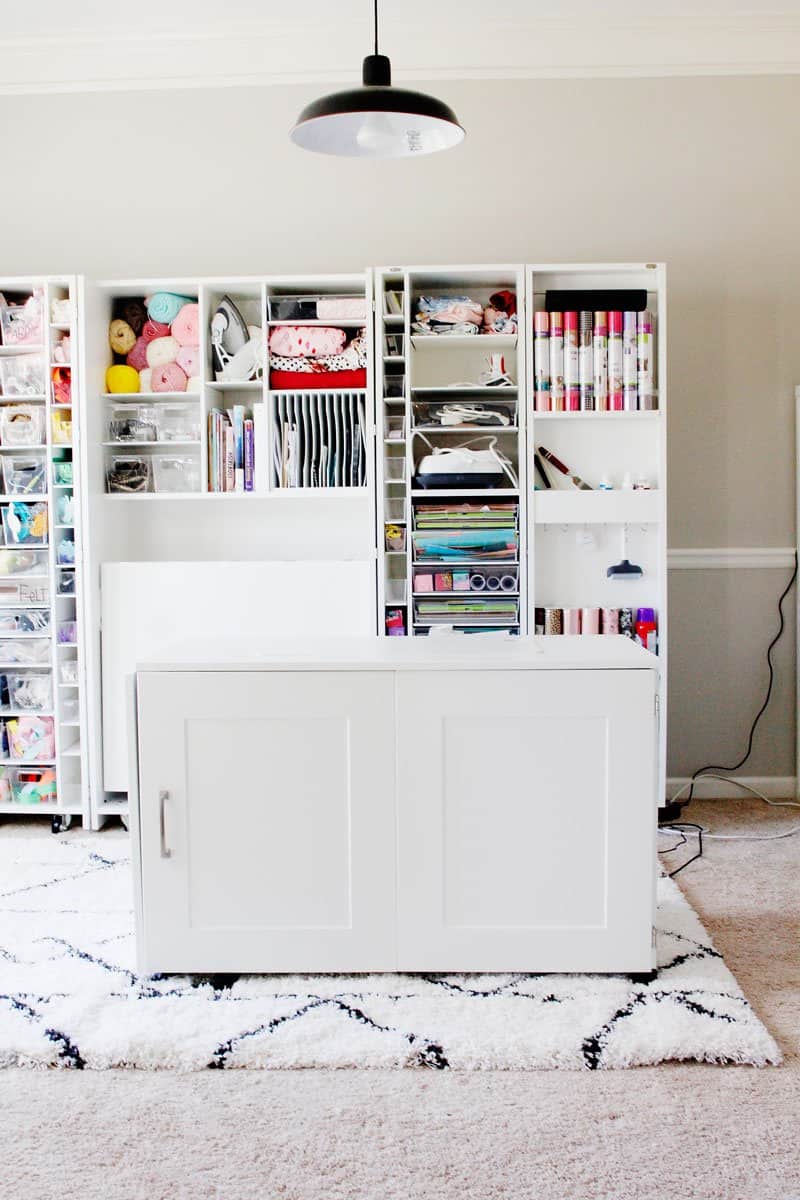 Get the DreamBox here (use code SEEKATESEW for $100 discount on the DreamBox or a $200 discount when you get the DreamBox AND Sew Station)
Get the Sew Station here (use code SEEKATESEW50 for a $50 discount)
I have sewn on all sorts of surfaces including a card table, my dining room table, and various other desks. But I finally have the best sewing table, the Sew Station by Create Room – made especially for sewing – with features that you will love.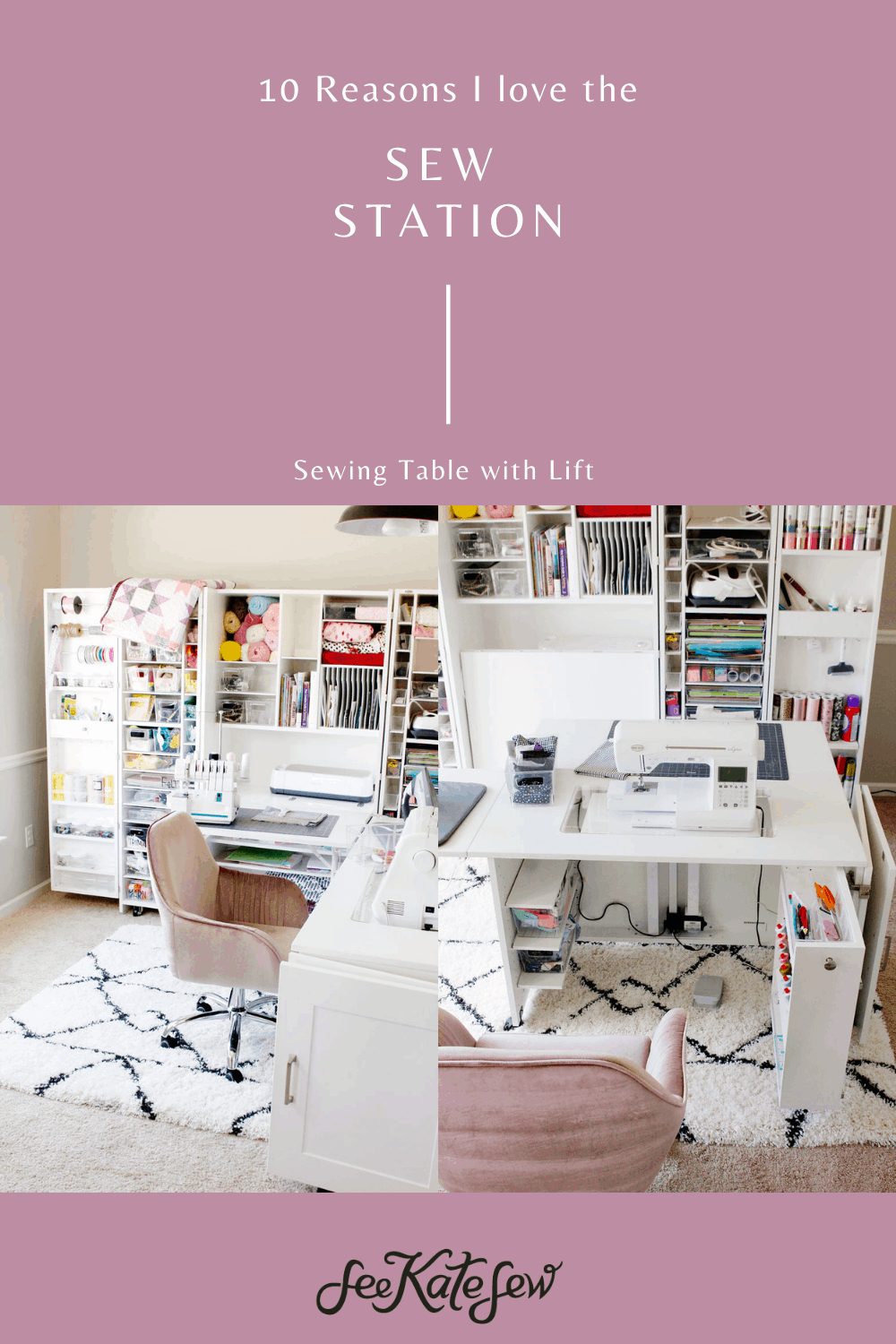 The Sew Station is made by Create Room which is formerly the Original Scrapbox. It has all the features you want and a few you didn't know you needed! In this post I will outline ten reasons I think its's the best sewing table!
This post contains affiliate links.
When you aren't sewing, you can lower the machine and then replace the table opening with the table insert for extra table space.
When you aren't sewing, you can lower the machine and then replace the table opening with the table insert for extra table space.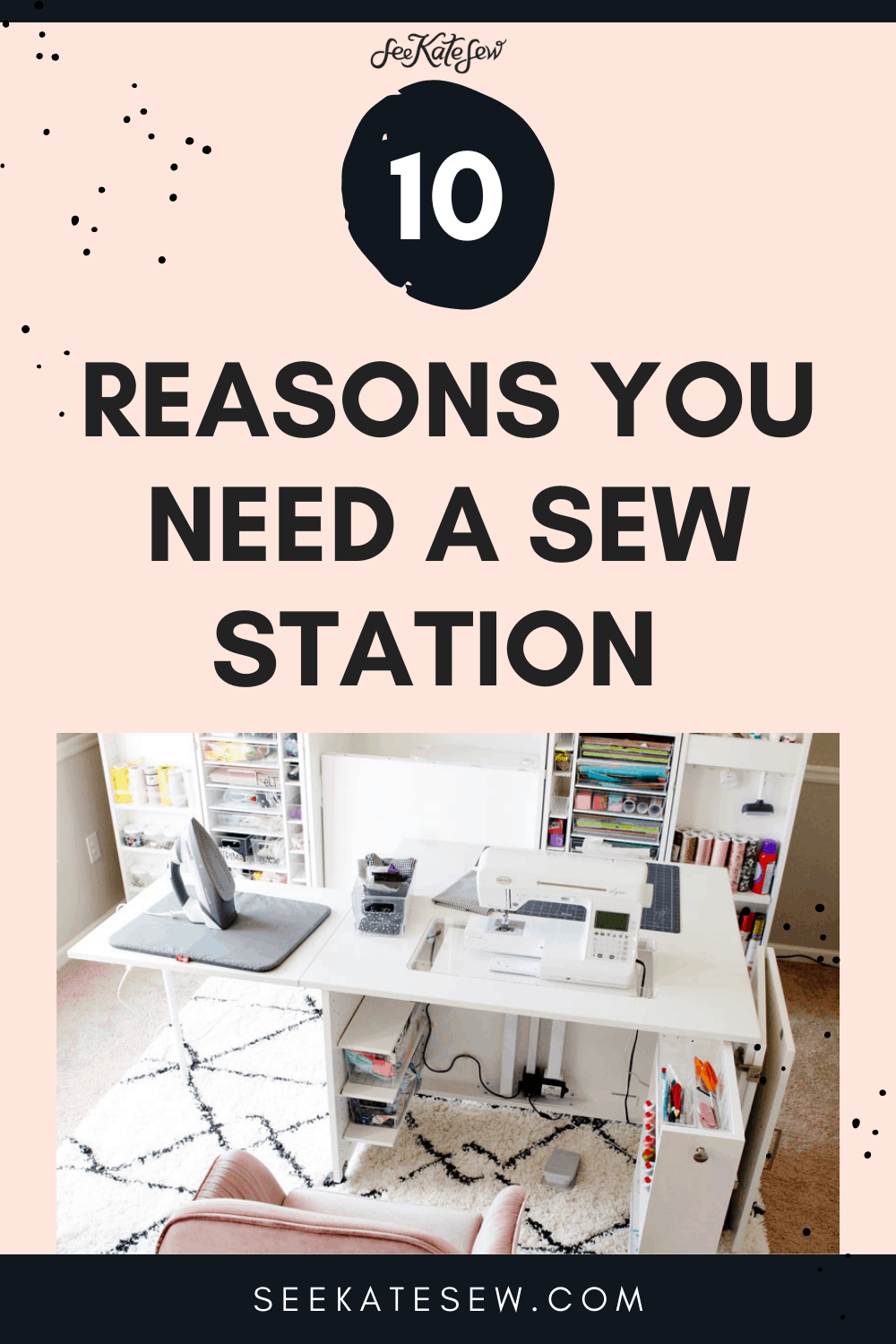 1. Recessed Sewing Machine Lift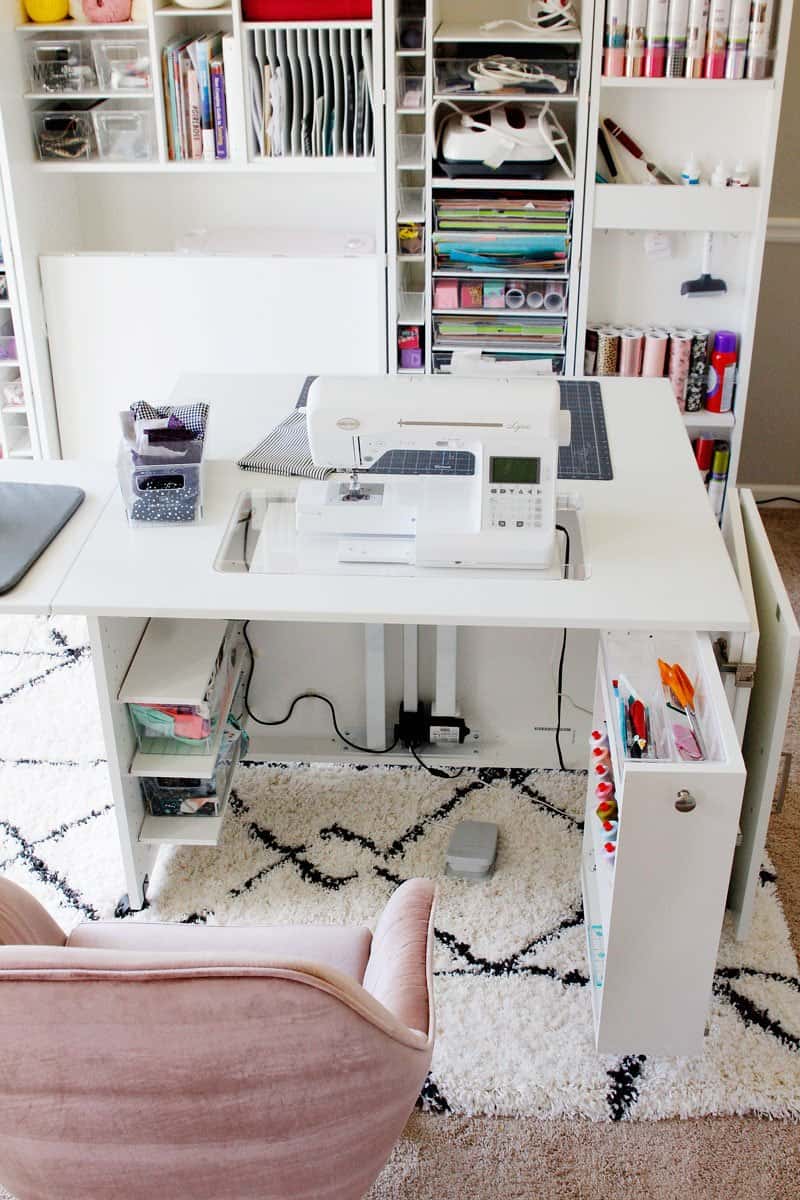 This my favorite feature and truly makes this piece of furniture into a specific sewing table.
2. Thread holders
What is a sewing machine table without a place for thread? The Sew Station has spots for 96 spools of thread right in a pull out drawer below the desk! That's amazing.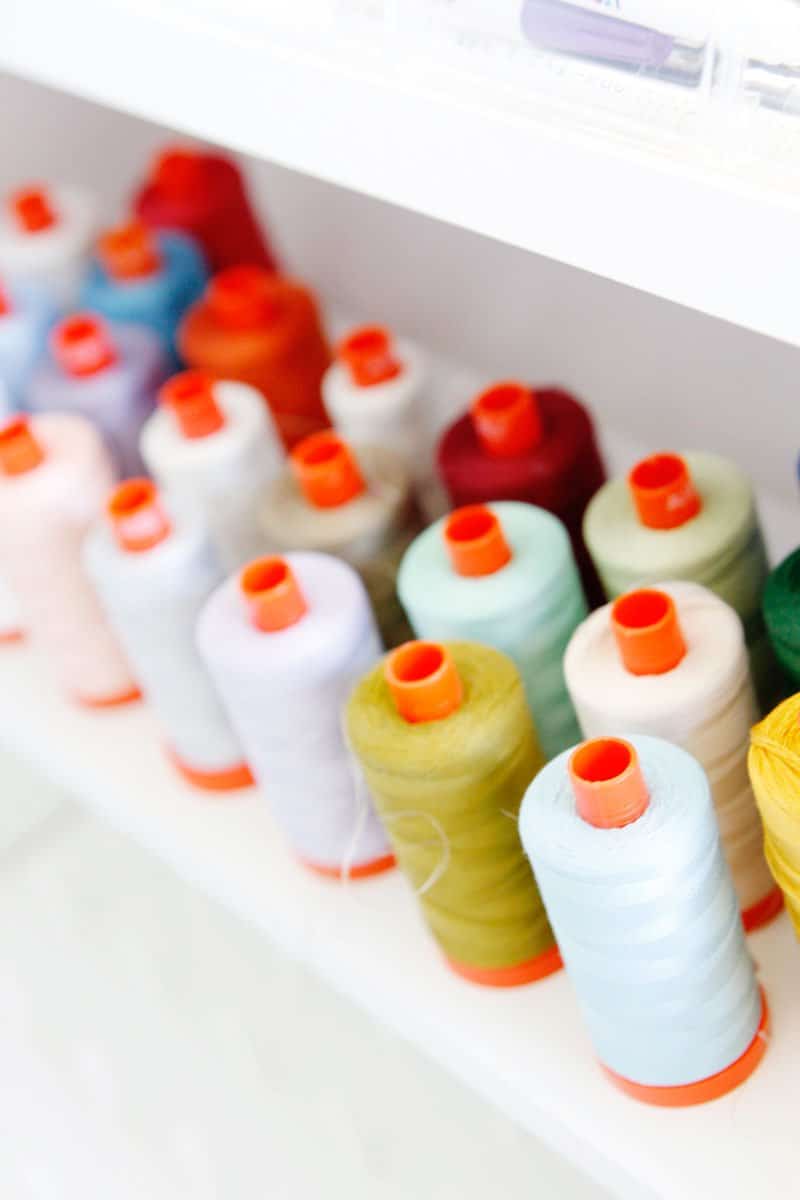 You can see the plastic thread holder pegs below and my beautiful thread there too! I love how pretty and accessible they are in this drawer.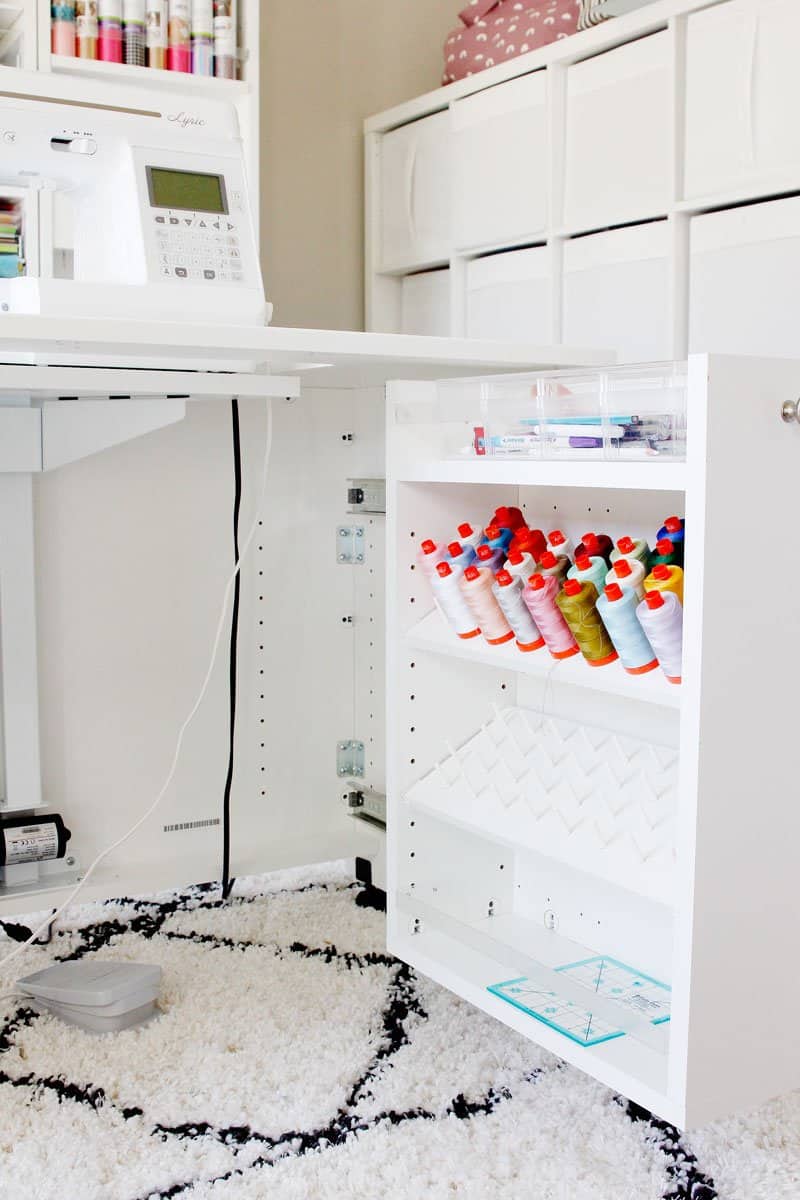 3. Desk with Fabric Storage
Fabric storage is possibly the most important part of a sewing table, am I right?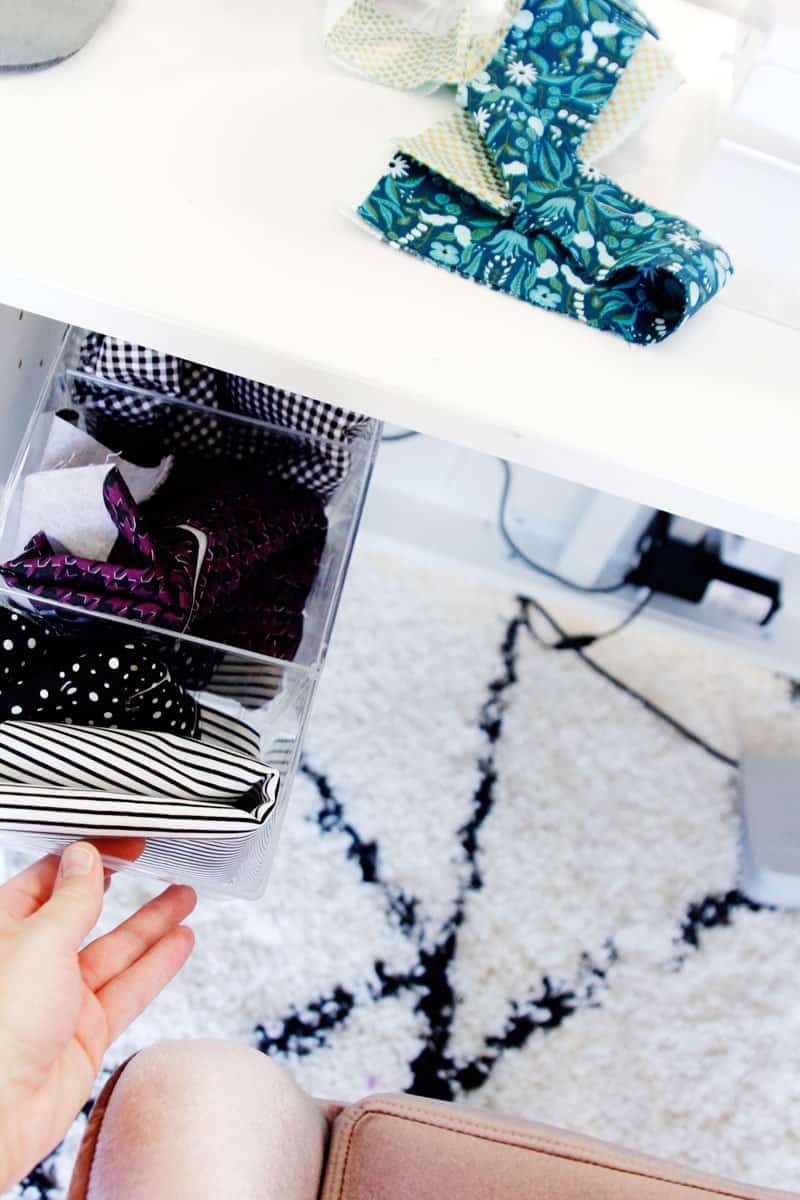 There are 3 large shoebox size totes and shelves underneath the sewing desk.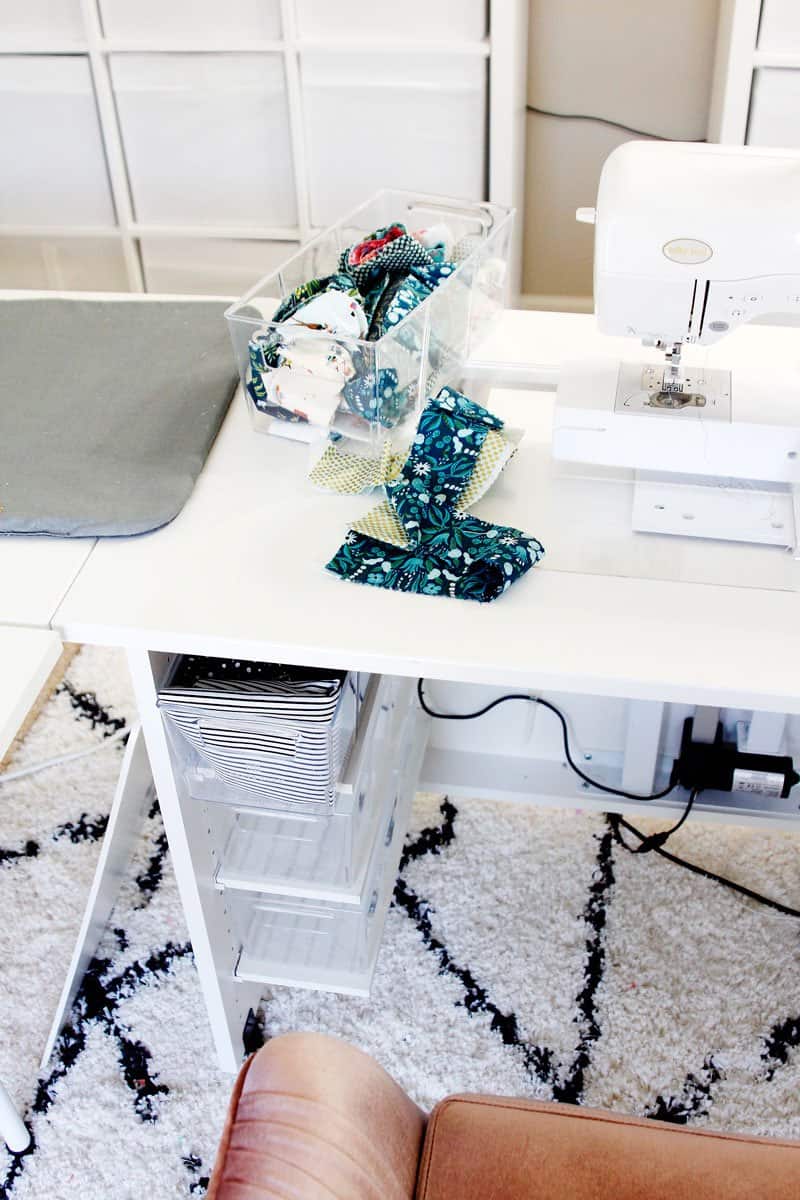 These actually fit quite a bit of fabric! You can sort by color or put all the fabric for a specific quilt or project in one tote for easy access.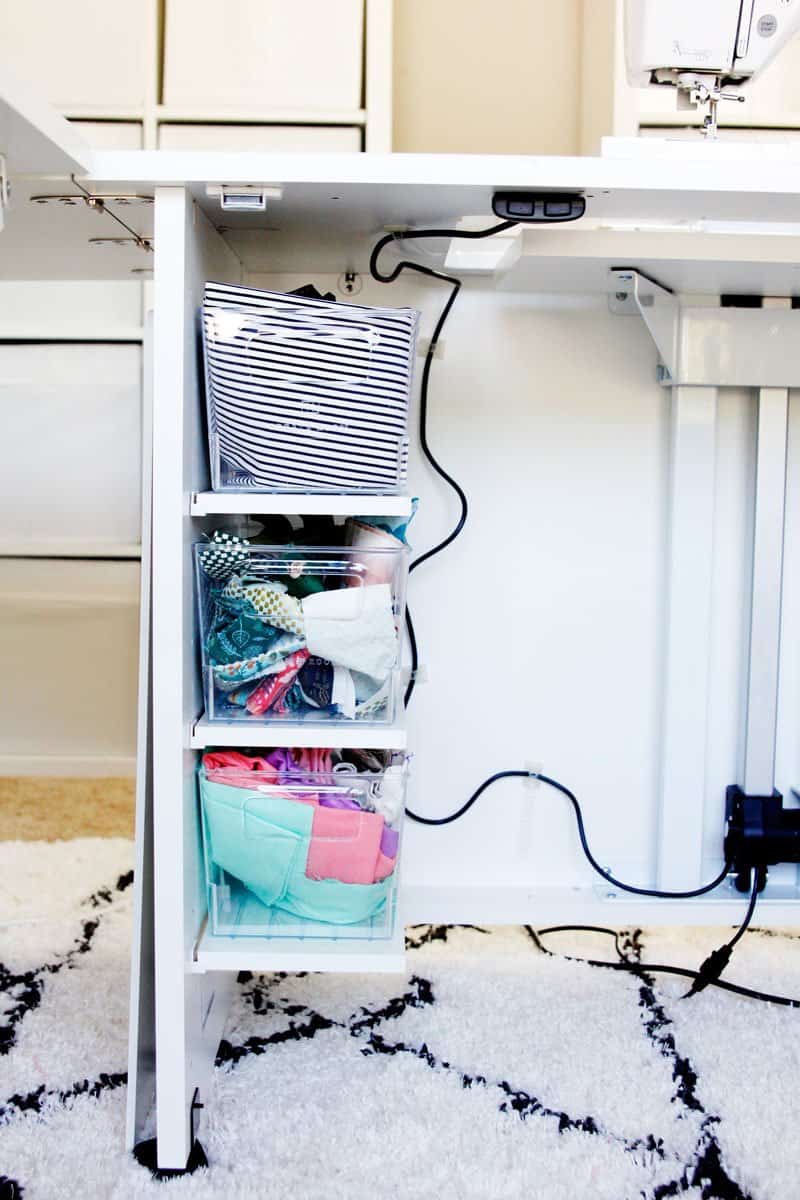 4. Notions Storage
On the right side there is a pull out cabinet with thread holders and more space for notions. You'll see at the top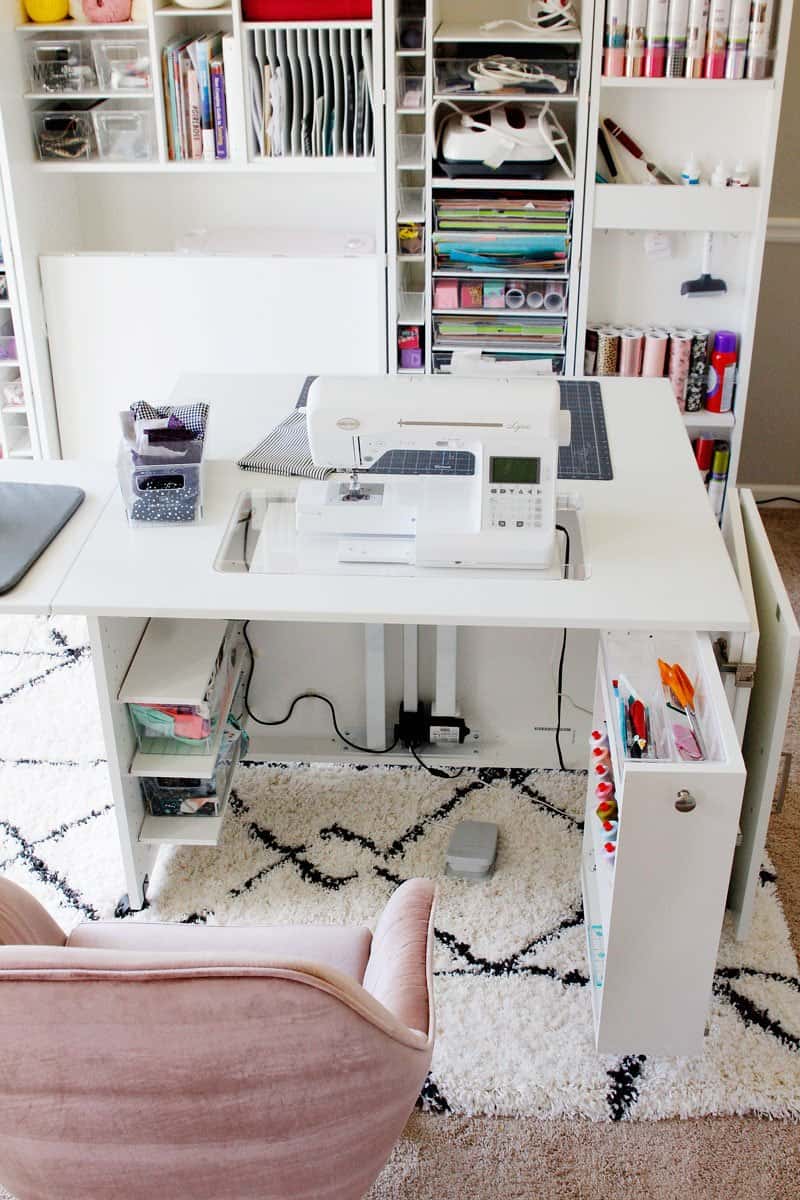 5. Fold out Side Table Space
I love the side table because it is a great place for my iron. If I am piecing quilt blocks, it's so handy to have that right next to me. You can use a mini ironing board on this or use a mat like I have.
If I'm not pressing my project as I sew, this side space is a great place for fabric or pattern instructions.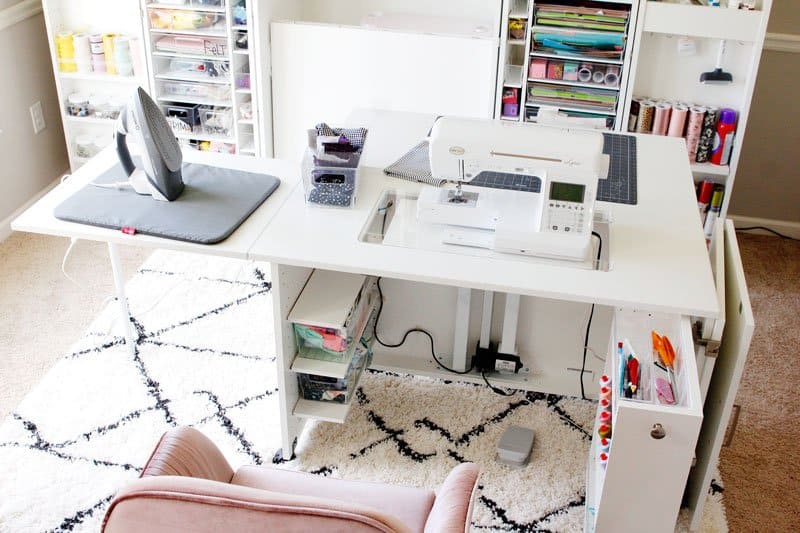 6. Back table space is big enough for cutting mat
The back table is a large surface that is great for cutting! Quilters can use this space to cut and organize pieces when creating quilt blocks.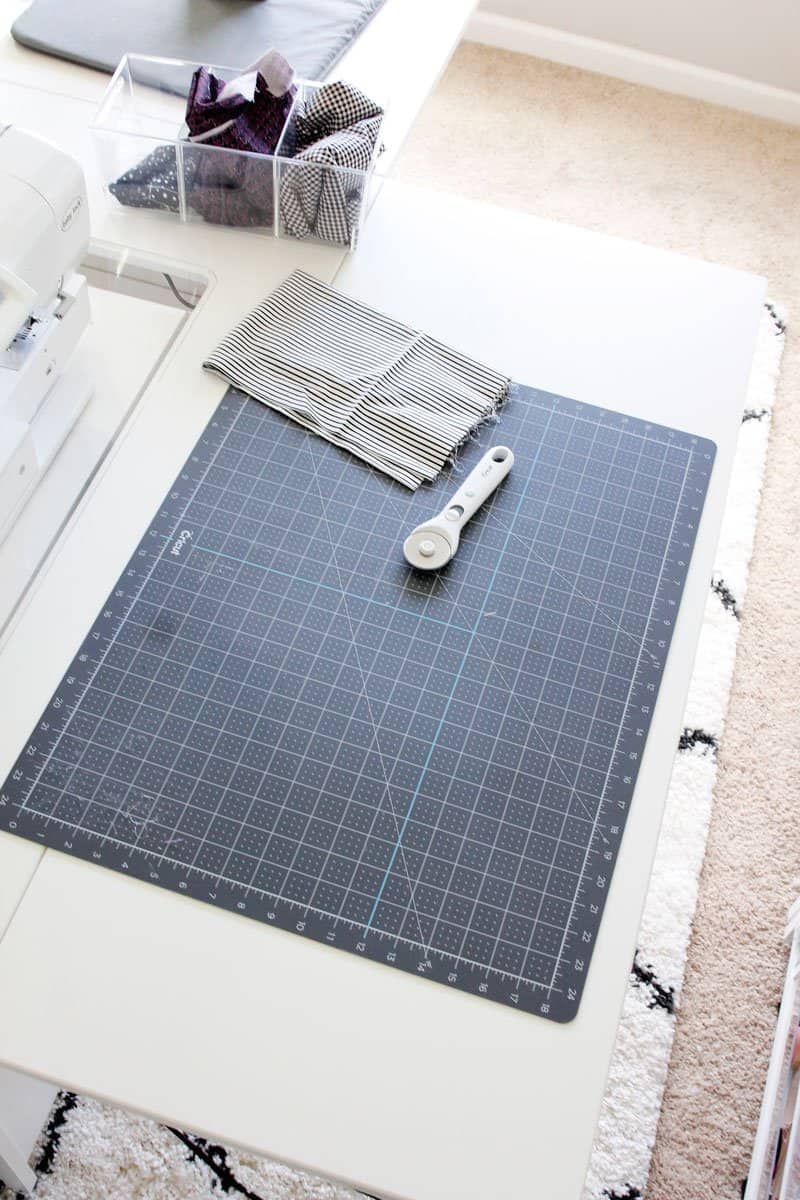 Apparel sewists can cut out whole pieces here as well. The back table hangs down when not in use. There is a fold out leg that holds the table up.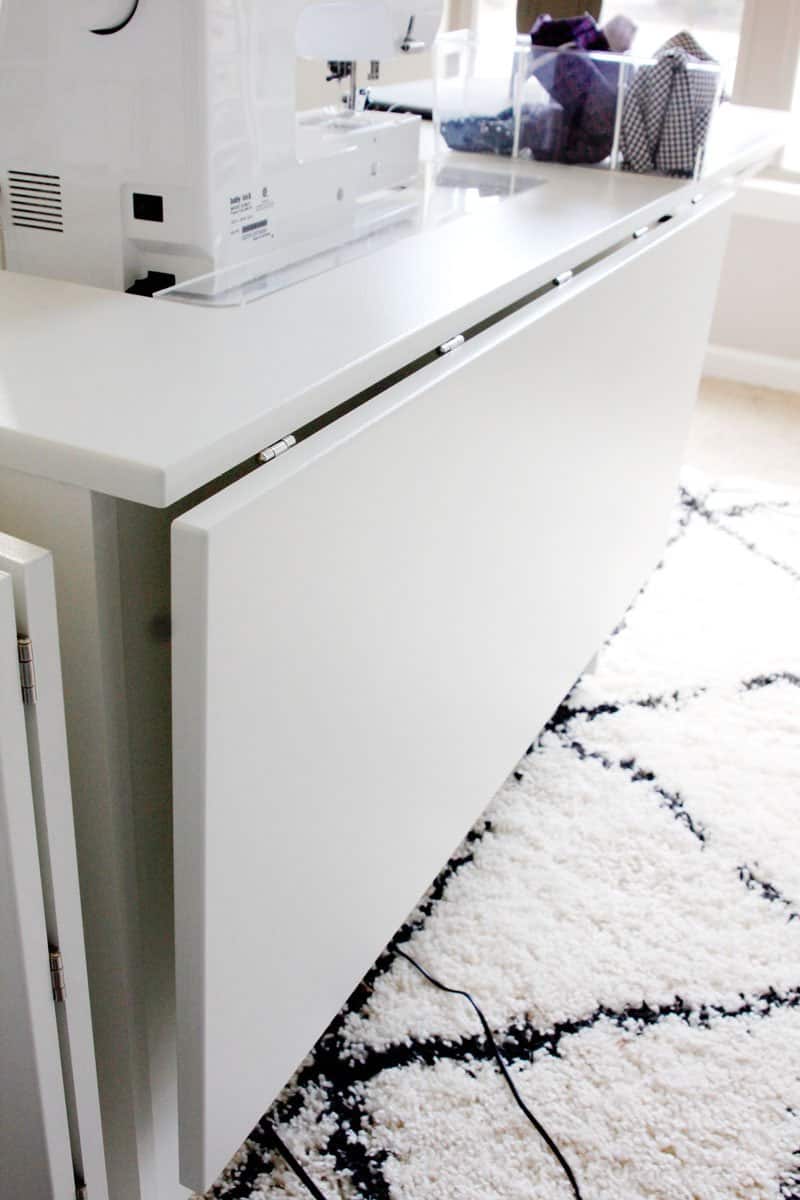 All the elements of this table are very sturdy which makes cutting very easy!
7. Sew Station Connects to DreamBox
The Sew Station stands alone, but if you want the ultimate craft room you can attach it to the DreamBox for a flawless sewing room set up!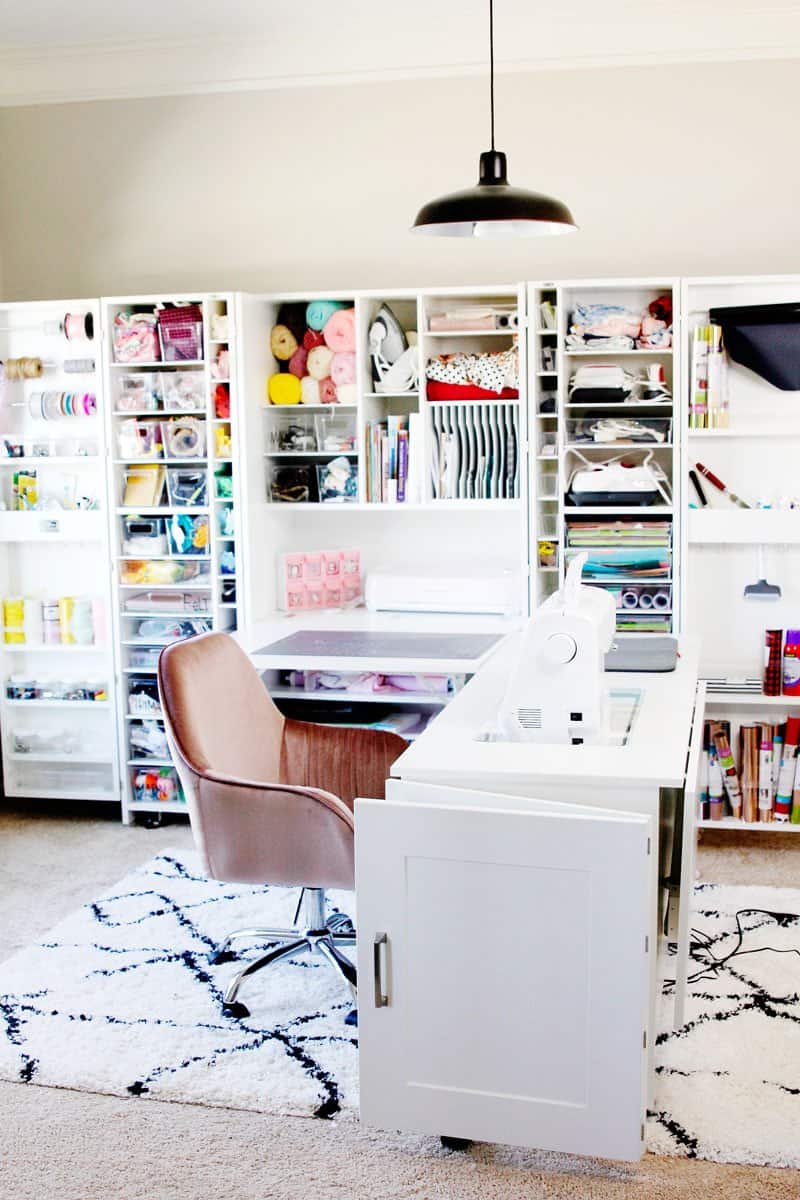 \
The tables are designed to line up exactly with a few little metal pieces to attached them.
8. Easy to set up
The Sew Station was simple to build, it only took me a few hours to build by myself. It comes with an instruction booklet that walks you through each step.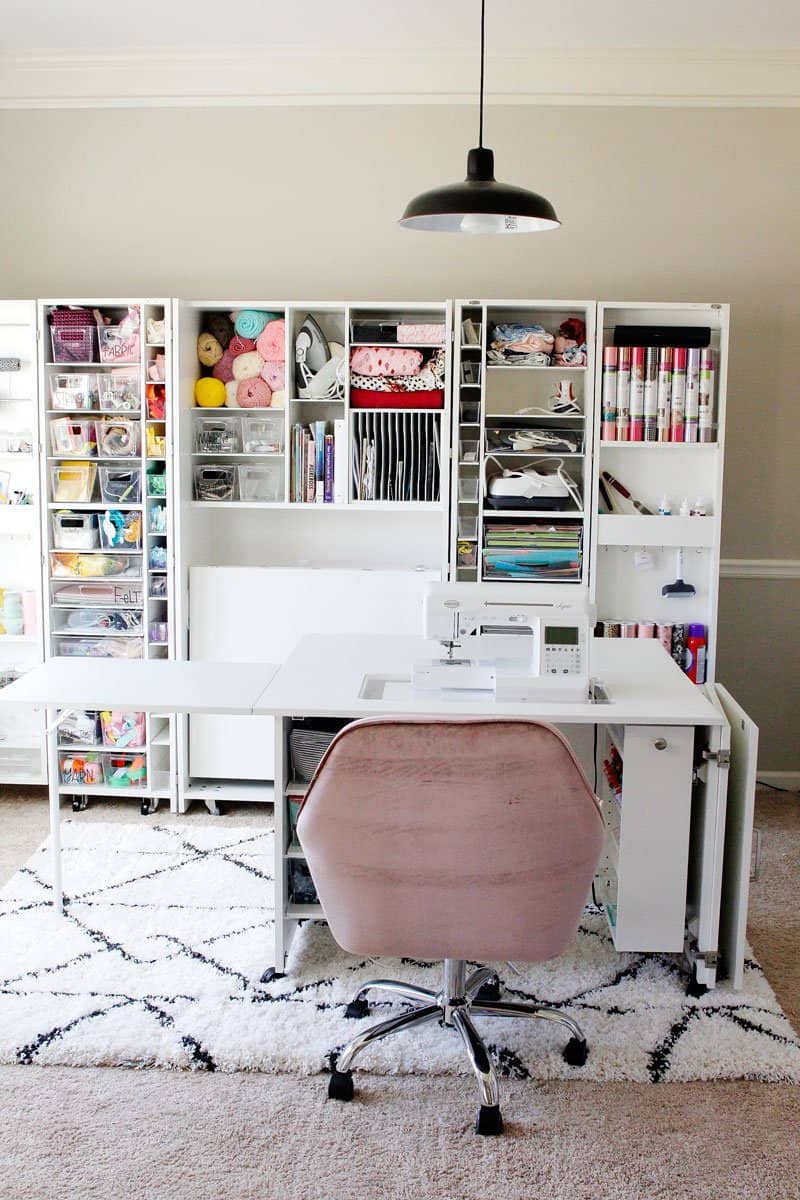 9. Sturdy Sewing Table
This is not a cheap piece of furniture – it is solid! The tables, drawer and door are heavy and high quality. This piece is built to last.
10. Fold-up sewing table
If you are sewing in a shared room, the Sew Station is a good option – it folds up and just looks like a small buffet. You can tuck this in a corner of your dining room or guest room.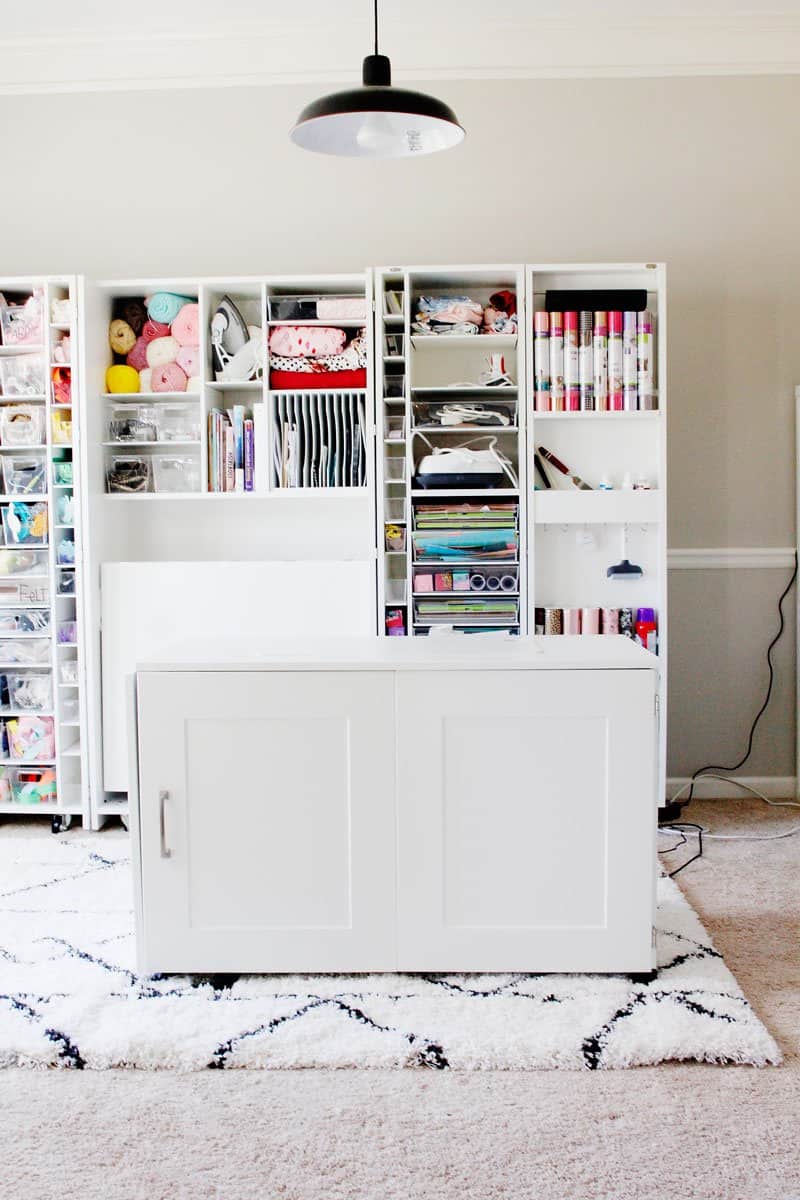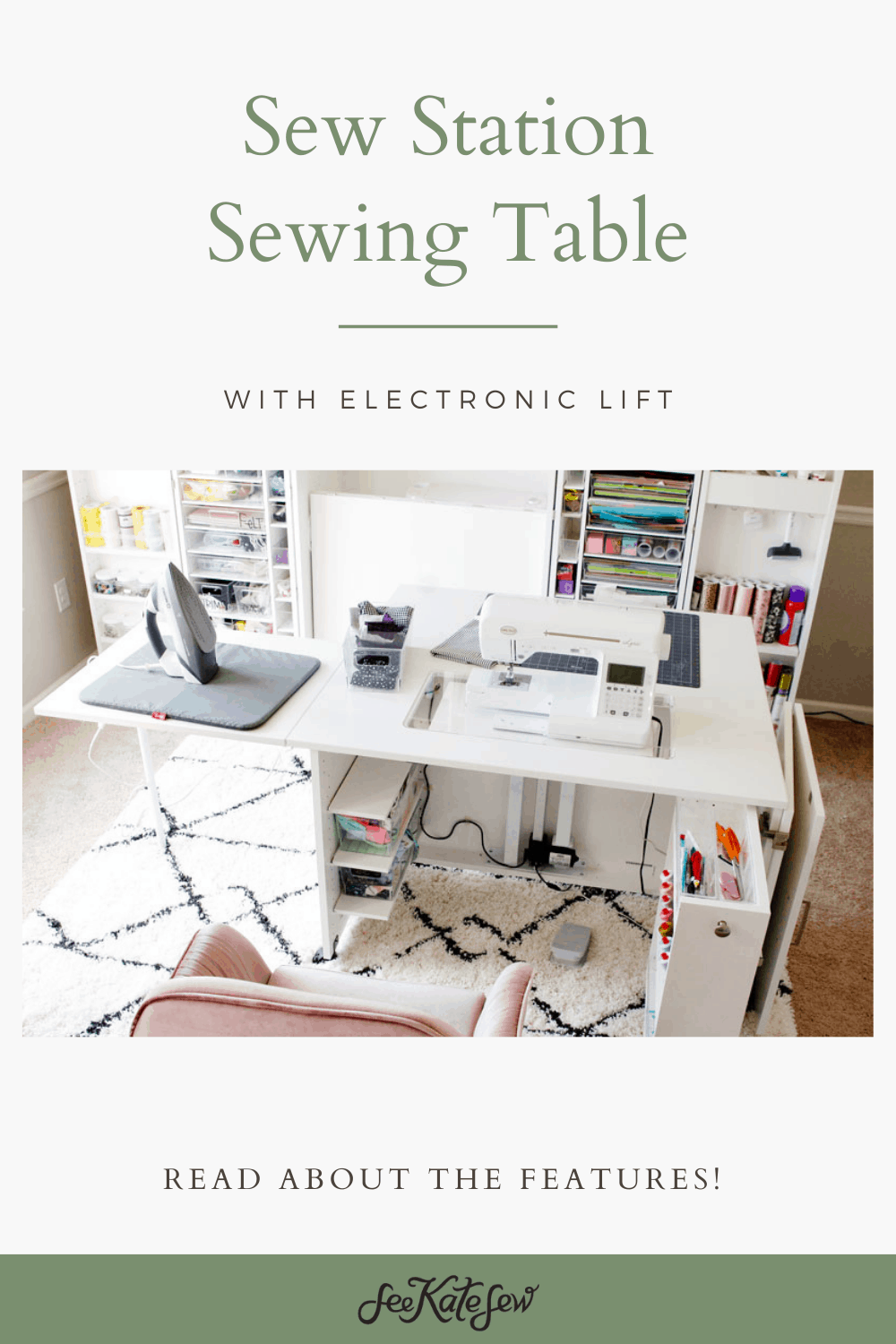 More information about Create Room crafting furniture: