To kick off the metallic thread series, I thought it would be fitting to tell you how to sew with metallic thread!
It's not super hard, but does require some prep work for a smooth sew.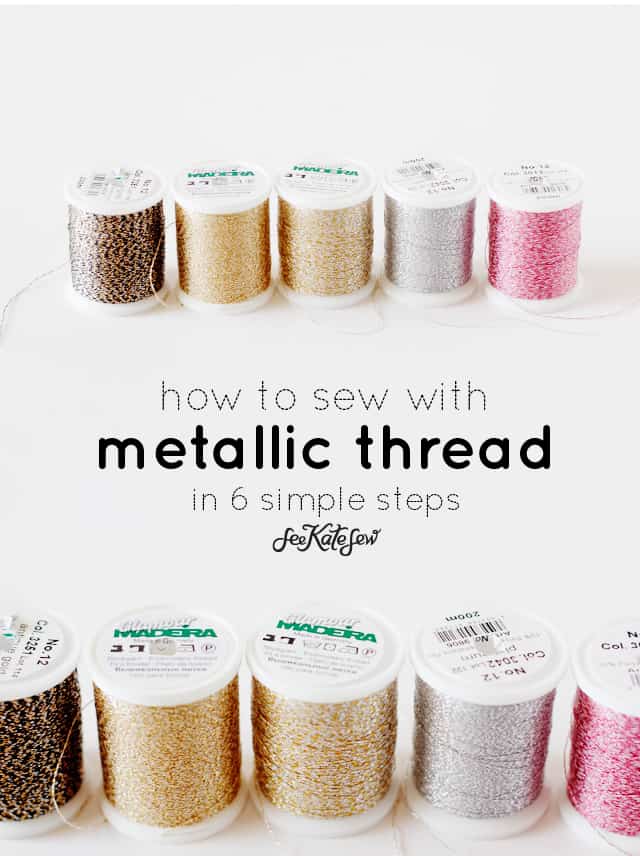 A couple years ago I tried metallic thread but I did everything wrong and it was really hard to sew with. It was one of those experiences that made me avoid metallic thread for a while. It's such a bummer when something turns out like that when all I needed were a few simple tools to make it work. So despite your past experiences with metallic thread, let's get started!
//how to sew with metallic thread
Materials:
–metallic thread
–metallic thread needle
-extra spool(empty) and spool bobbin
6 steps to successful sewing with metallic thread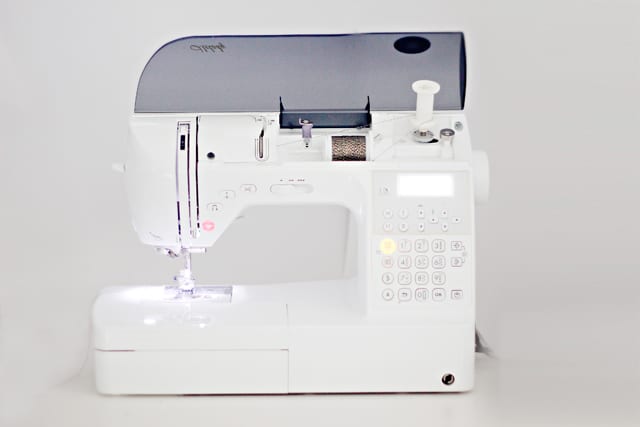 1//THREAD: I recommend using metallic thread that has a few strands woven around each other for your first time using it. (Do not buy the plastic-y thread, it is difficult!) Obviously I recommend Madiera, it's top quality and you won't regret! They make all types of thread, here are a few that I've been using:
Glamour Thread is my favorite! It's a two-tone thread that is super pretty and thick.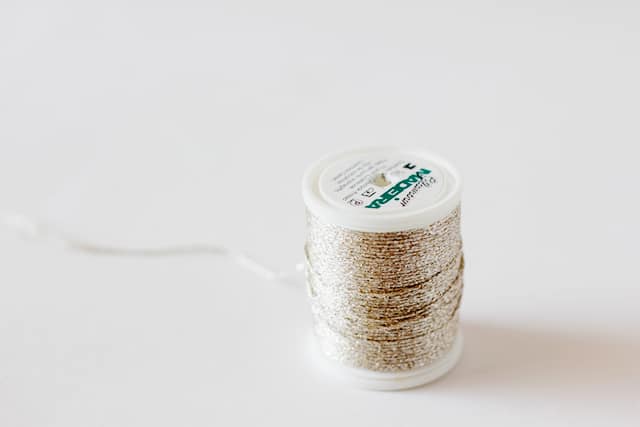 Madiera Metallic is thinner than Glamour but also very pretty. It is harder to get this one to show up on your fabric, but I love the glittery effect.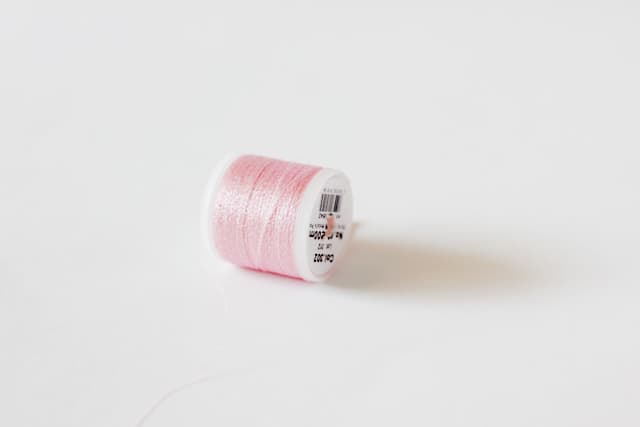 Madiera Heavy Metal is sleek and shiny. If you want a true metal effect this is the thread for you!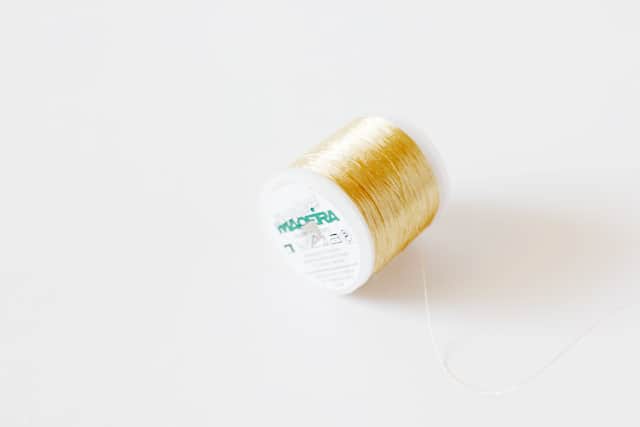 Madeira Jewel is a reflective foil, not thread. This one is a little trickier to sew with but it is super shiny and comes in some fun colors!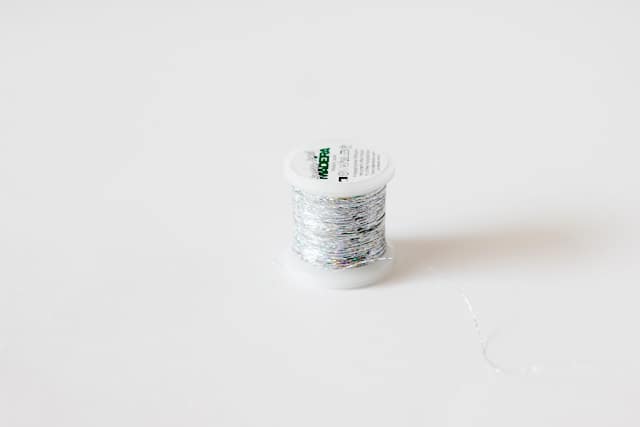 2//NEEDLE: The main components of metallic thread sewing are the needle and an extra spool bobbin. Needles made for metallic thread have a larger hole to prevent chaffing and spliting. Since the thread is a few threads wound around each other, it's important to give it space to move without rubbing against the needle too much.
I'm using Klasse Metallic Needles
, sent me by Tacony. The hole is noticably larger which also makes it easier to thread! The size of the needle needed depends on what type of metallic thread you are using. This site lists the required needles under each thread type.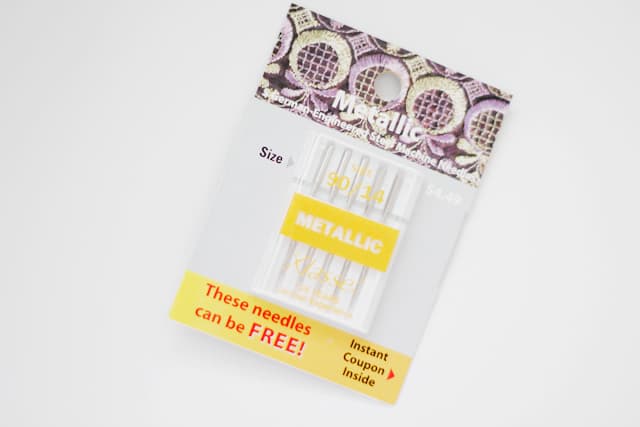 3//EXTRA SPOOL HOLDER: The extra spool holder is important to the thread feeds into the machine correctly without knotting or twisting. Feed your thread from the spool cone over around your extra spool and then thread normally. This will position it just right, so it feeds in horizontally.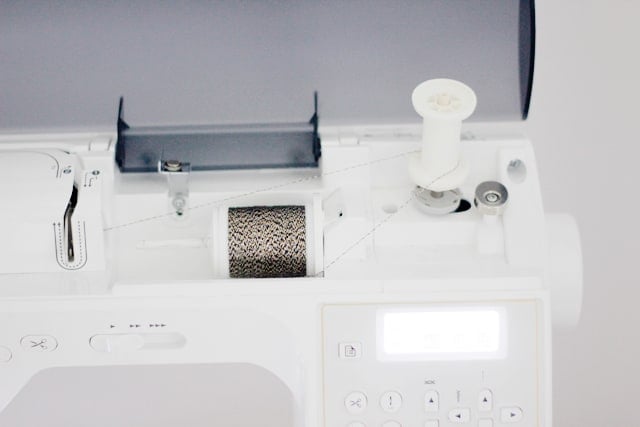 4//ADJUST TENSION: Lower the tension on your machine to 2 or 3 to give the thread more leeway.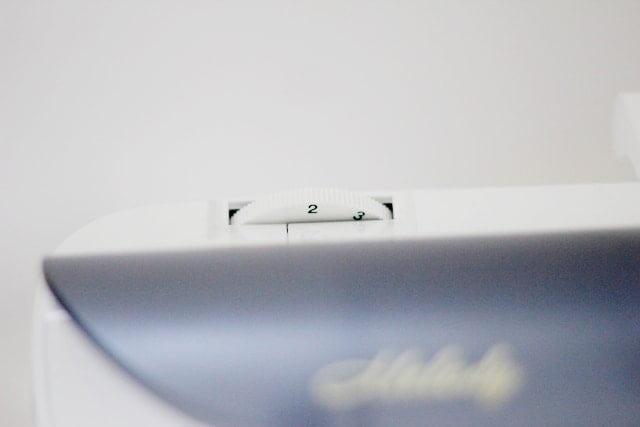 5//STITCH LENGTH: A wider stitchlength will help you sew more smoothly. Bump it up to a 3 or so.
6//SLOW IT DOWN: Slow sewing will help avoid common pitfalls. It's hard for me to sew slowly since I am generally a speedy sewer, but I promise it is worth it when sewing metallic thread. This step makes the biggest difference for me! Even if everything else is in place, sewing too quickly ruins my thread.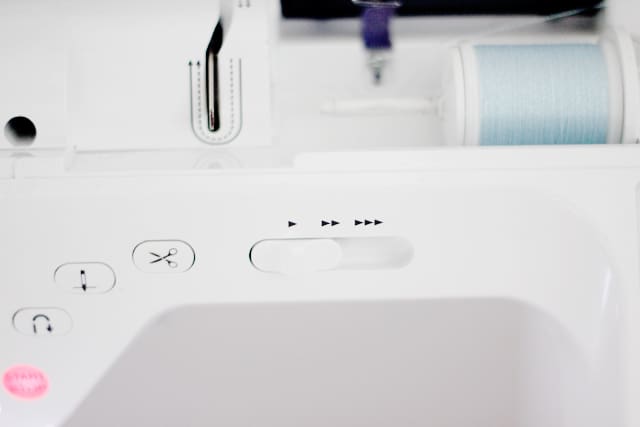 Sewing with metallic thread is all about letting the thread move through the machine without chaffing and unraveling. Use these measure to give yourself a smooth sew!
//where to buy Madeira metallic thread
-Babylock retailers. Find one here.
-You can also order Madeira Thread
and Klasse Needles
on Amazon
.
Tomorrow I'll share the first metallic thread project! See you soon!