I always get a lot of questions about sewing machines to buy around this time of year, usually from people looking for a starter machine for a kid! I LOVE chatting about sewing machines and love knowing that there are sewing machines under Christmas trees for new sewers. I can't even imagine how fun that would be! I definitely believe that everyone should sew (haha!) so the more machines floating around the better! There are a few essential features I recommend for a starter machine so I'll compare a few that I've used along with a few other popular machines in this post to help you find the machine that is right for you! I typically recommend machines under $200 for a first machine, especially if you aren't sure the hobby will stick. However I never recommend the cheapest or a toy machine because a bad machine can ruin a sewing experience (and instill a lifetime of fear of sewing!) and I wouldn't want that! I hope this list helps you find the best sewing machine under $200 that fits your needs!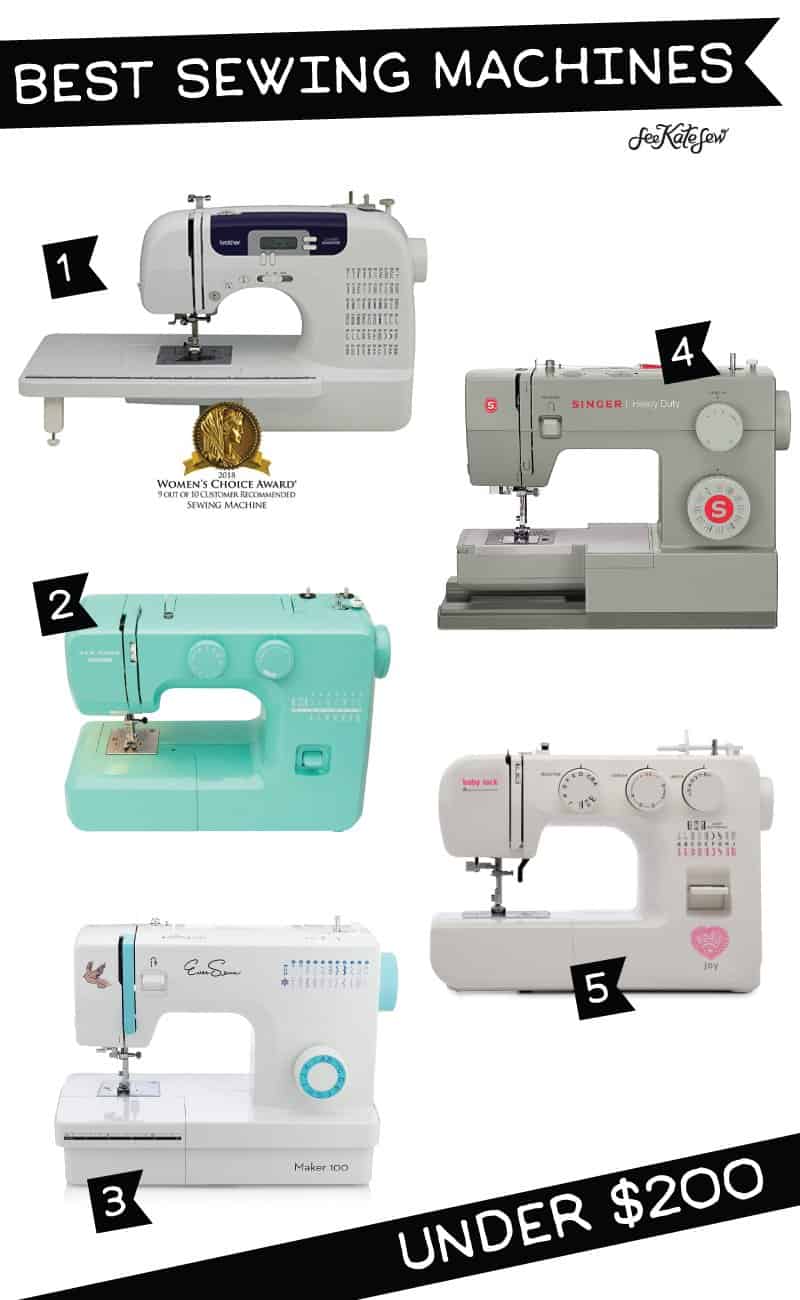 Best Sewing Machine Under $200
Here are 5 trusted machines and brands that I'd recommend in the $100-200 price range:
Brother cs6000i
I had the Brother cs6000i machine for a few years before upgrading! I wrote a little review of it here (7 years ago -what!?). I loved this machine! It's a really great machine for a really good price! It has everything you need for most basic sewing – quilting, clothing, bags, accessories, etc. The stitch selection on this machine is the widest of this lot with 60 different stitches and it also has an LED stitch selection screen. I've recommended this machine to loads of people and no one has been disappointed with it! Get it for $140 on Amazon! Currently in-stock at Walmart!
60 Stitches
LED stitch selection
Thread Cutter
1-step buttonholes
Drop-in Bobbin
Janome Easy-TO-Use Sewing machine
I currently have the Janome Easy-to-use Crystal in my sewing room! It got me through my quilt market sewing this Spring when my other machines were out-of-comission! This is a great machine at a great price, just barely over $100 (price varies by color) – it's the cheapest on this list! Honestly, I bought it for the color – such a pretty mint green! It also comes in Cobalt blue and pink! But I can safely recommend it because it is a workhorse. There is no thread cutter on the side, which drives me a little nuts, I used the side cutter all the time, so it was hard to get used to not having it. Otherwise, cute and awesome! Get it for $113 on Amazon!
15 stitches
Manual stitch selection
No Thread Cutter
4-step buttonholes
Front-load Bobbin
EverSewn Maker 100
I love my new EverSewn Sparrow 30 so this is the "little sister" of that! The machine has 21 stitches, a cute bird logo and 1-step buttonholes! I love how simple this machine is with a knob and letters to choose stitches. I think this Maker 100 would be perfect for a child's first machine! Get it for $119 on Amazon!
21 stitches
Manual stitch selection
Thread Cutter
1-step buttonholes
Front-load Bobbin
Singer Heavy Duty 4423
I've had this machine on my Amazon wish list for years! The Singer Heavy Duty series is a line of machines made for thicker sewing. If your goal is leather, denim, vinyl you may want to start with an HD machine. This machine is great for bag makers, home decor, quilts, clothes, etc. Brother also makes a Heavy Duty machine with high ratings! HD machines have stronger motors and are built to last. Get it for $125 on Amazon!
23 Stitches
Manual stitch selection
Side Thread Cutter
1-step buttonholes
Front-load Bobbin
Baby Lock Joy
Since I've sewn on a lot of Baby Lock machines, I trust the quality of the new Baby Lock Joy machine. It has the Baby Lock quality with a few less features that a beginner wouldn't need! It has a cute pink heart logo and clean silhouette, which would be so sweet for a beginner. This machine has a 4-step buttonhole process, so if you are sewing a lot of clothing, I may not recommend it as much as a 1-step buttonhole. However, it would be perfect for a quilter! Get it for $199.
19 Stitches
Manual stitch selection
Side Thread Cutter
4-step buttonholes
Front-load Bobbin