Sew your own DIY dog leash with this simple tutorial. Use any fun fabric to sew a custom dog leash fit for your stylish pup! Your dog's size doesn't matter – this leash can be made to accomodate any size and can really be used for any furry friends including cats.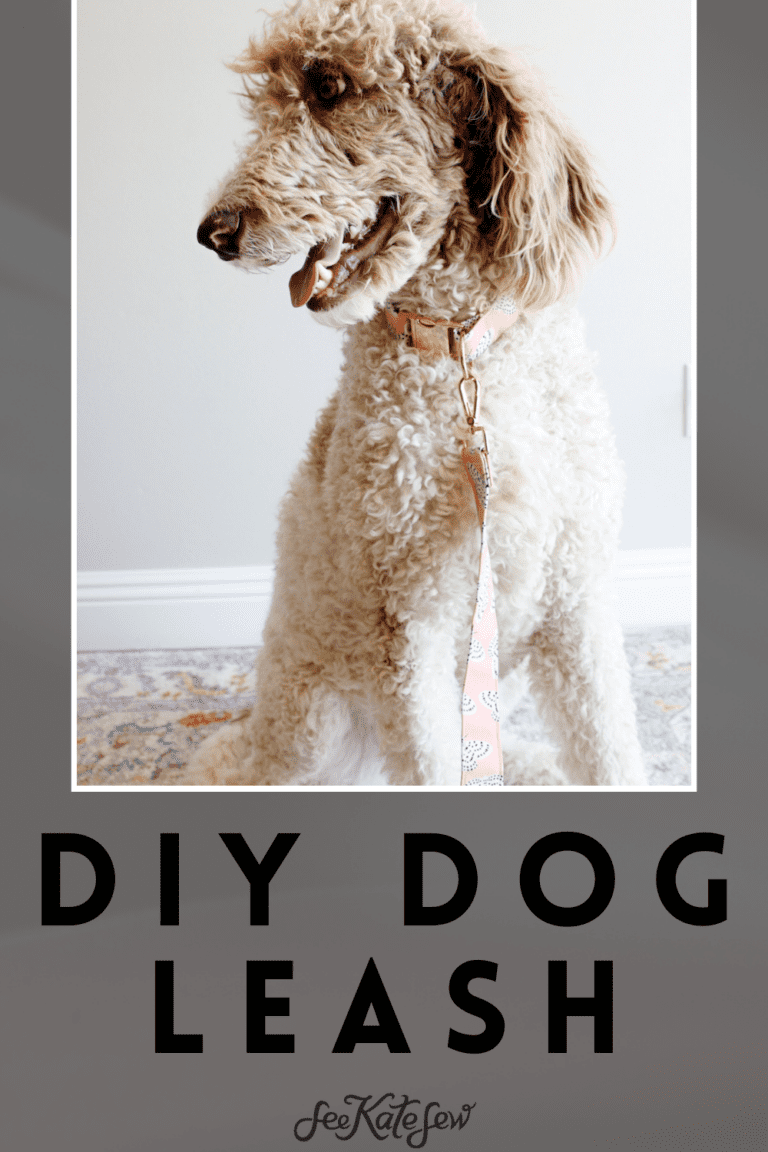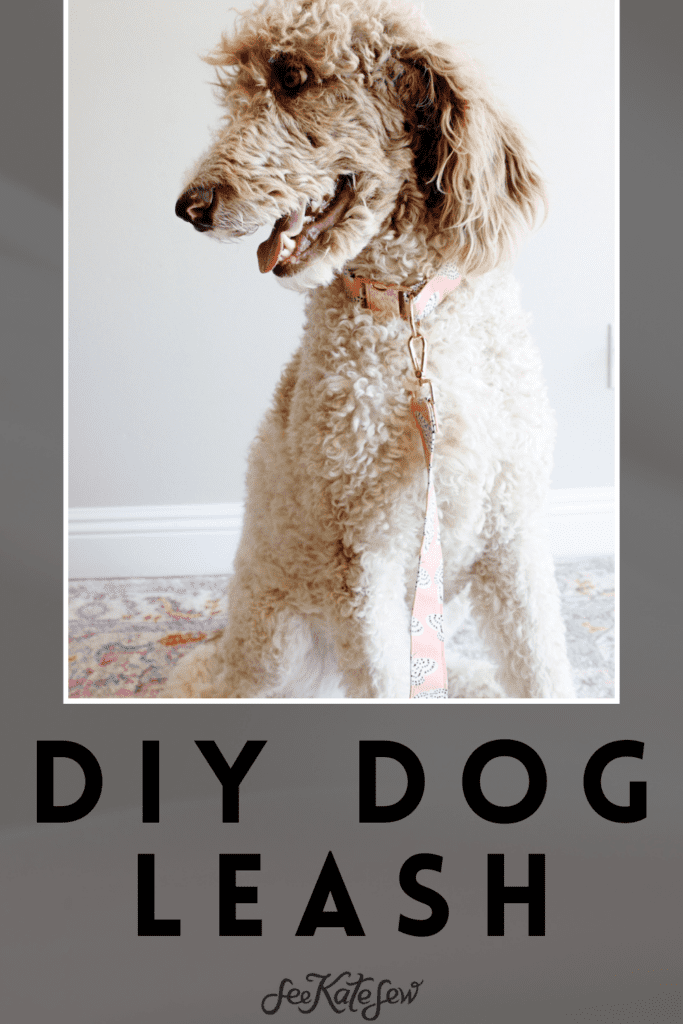 Making a custom leash means you can use any fabric you want! This easy DIY dog leash can even be made in leather for a sleek look.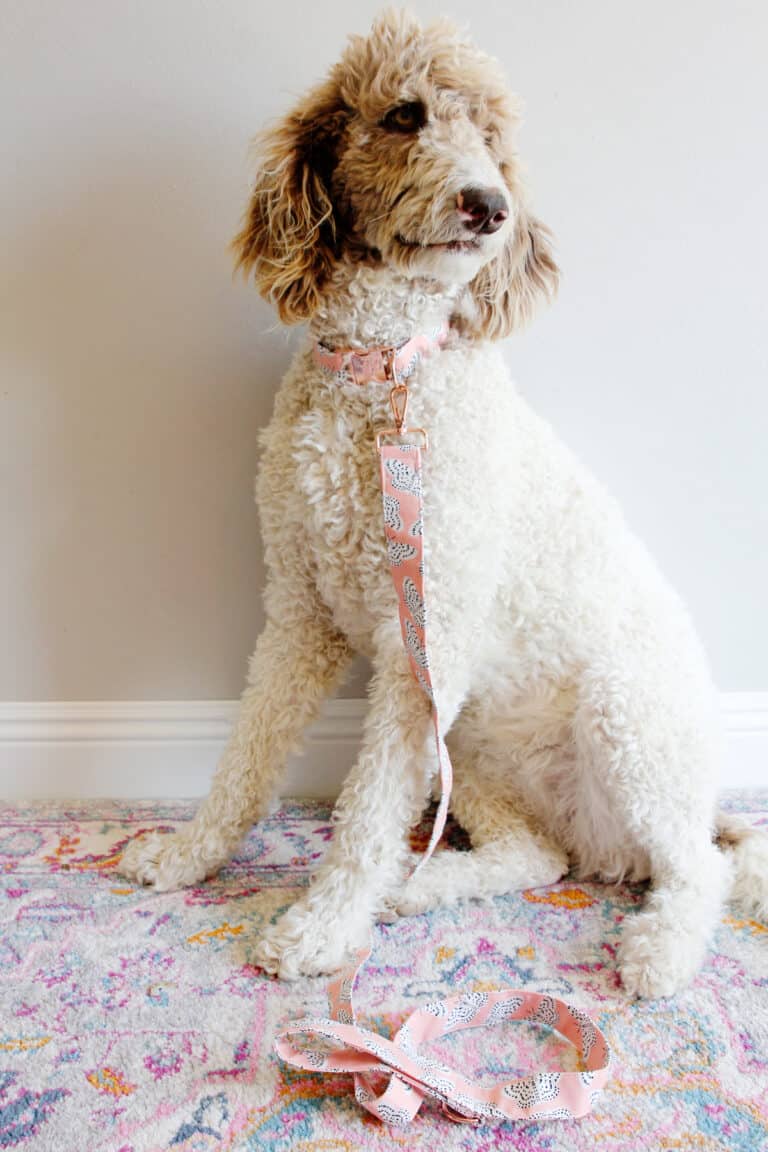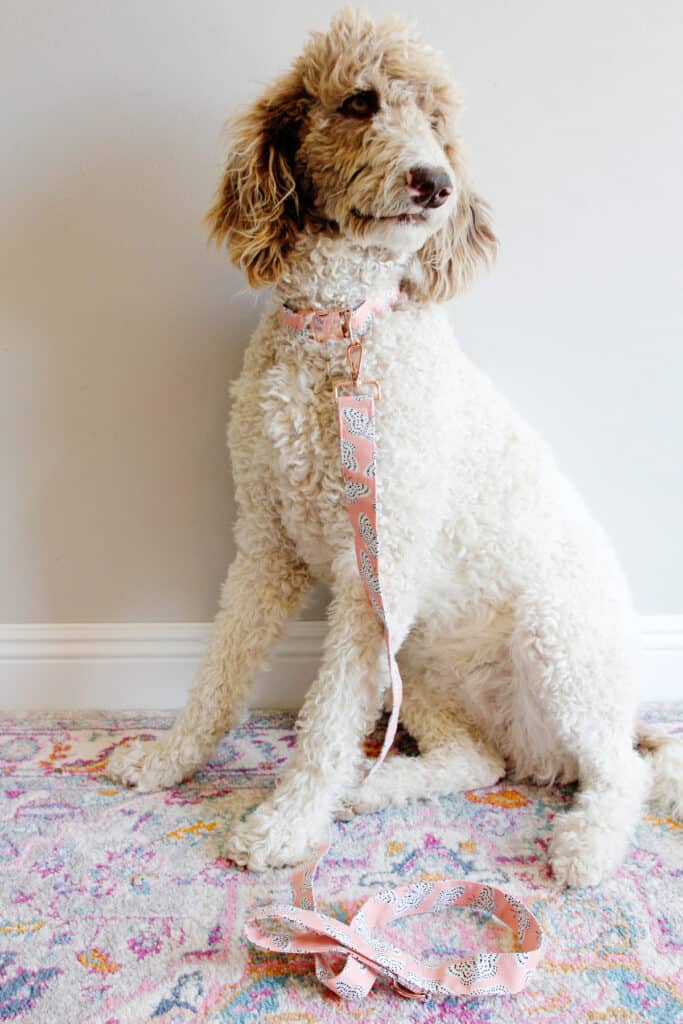 Make your pooch a custom dog leash for every occasion. Use white lace fabric for a wedding or make a new leash for every holiday! I love the look of a fabric leash but if you prefer you can use nylon webbing in place of fabric.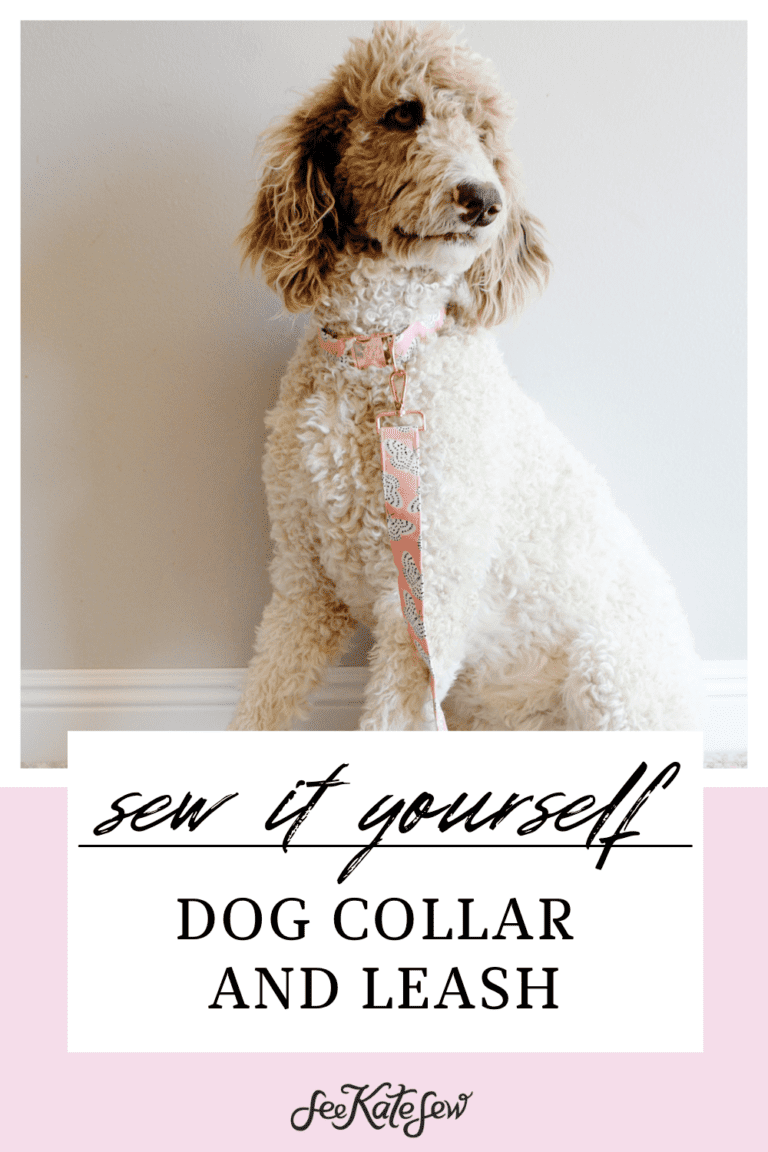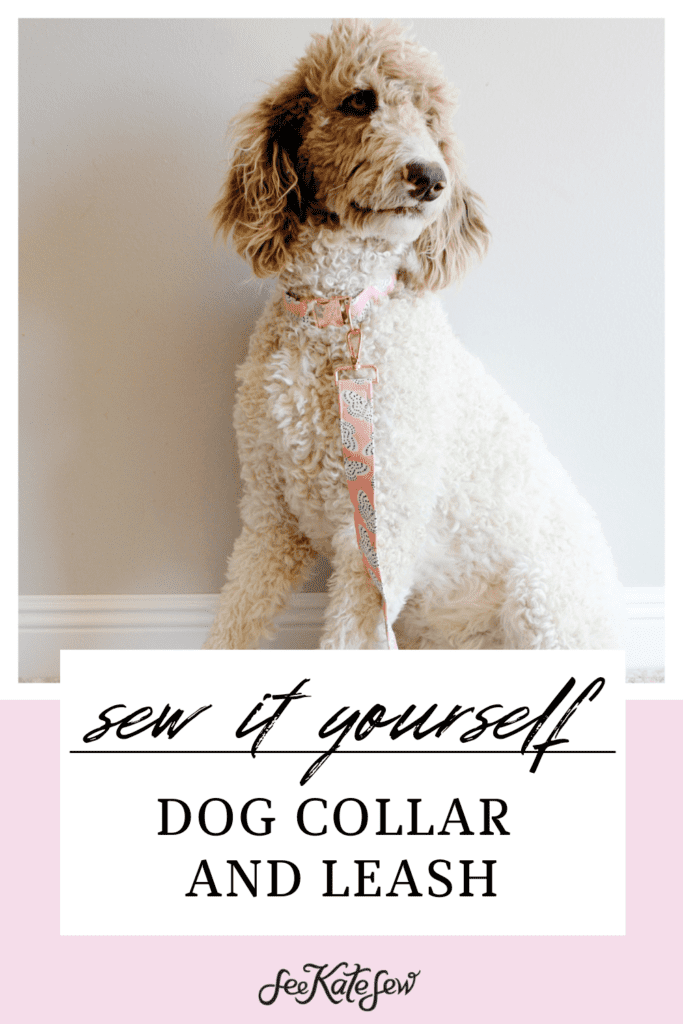 DIY Fabric Dog Leash Supply List
1/3 yard cotton fabric or 2 yards to create a leash with one continuous piece of fabric
Leash hardware
1/3 yard Shape-Flex fusible interfacing
Sewing machine, thread, scissors, rotary cutter, mat and ruler
Iron and ironing board
Custom Dog Leash Pattern
To download the dog leash template, click the button below to sign up for See Kate Sew newsletters. Then print your pattern at 100%.
This will print out on 4 pages. Trim and tape together as shown:

Leash Measurements
To make the leash from measurements, see the following chart and choose a leash size based on your dog's size. Cut a strip of fabric 72″ long (or your desired length plus about 12″ to account for the handle and hardware) by your desired width (see below). You will probably have to piece two strips of fabric together to make up the length. For a colorful leash, sew a lot of fabric scraps together to create your leash fabric strip.
The fabric width is adjustable based on the size you are using. If you are also making a matching dog collar, choose the same size or width you made for that!
XXS – 2″ wide (1/2″ Hardware)

Toy breeds, micro minis and cats

XS – 3″ wide (3/4″ Hardware)
S – 4″ wide (1″ Hardware)

Boston Terrier, Jack Russel terrier, and similar

M – 4.5″ wide (1.25″ Hardware)

Australian sheperd, border collie,

Large – 4.5″ wide (1 3/16″ Hardware)

Boxer, Doberman, Lab, Golden Retriever, Standard Goldendoodle

Extra Large – 5″ wide (1 3/16″ Hardware)

Larger Dogs, such as Newfoundland, English Mastiff, German Shepard etc.
You can adjust the length to your liking. 72″ will give you a leash about 5′ long. Use a measuring tape to measure an old leash to help you decide how long to make your leash.
How to make a dog leash – Instructions
Cut strips of fabric and sew together to make your desired leash size. I'm making a large leash so I cut my strips 5.5″ wide and pieced two together to make up a 72″ length. Press the seam open.
If you have a whole bolt of fabric, you can cut the fabric piece in one long continuous piece.
Back the fabric with interfacing. The width of your interfacing will be the same as the width of the leash. Use iron to fuse to the back of the fabric strip.
Fold long edges of the long piece of fabric and press so they meet in the center. Wrong sides will be together and the fabric side will be facing up.


Then fold fabric in half so the folded edges match up. Press. Topstitch leash 1/8″ from both edges. You'll close the raw edges inside to prevent fraying.


At the end of the strap, fold under 1.25″ and press with a hot iron. Slip D-ring into the fold.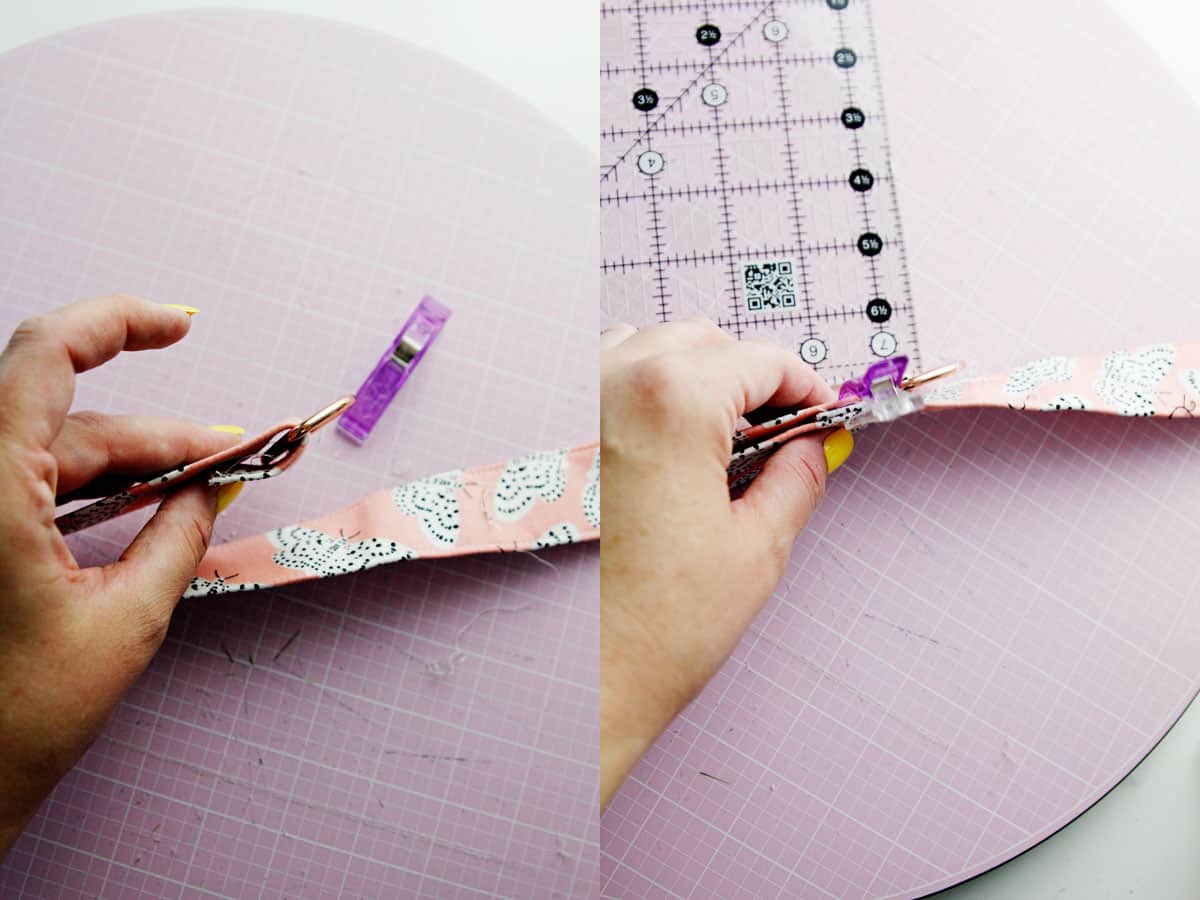 Then fold the leash over 7.5″ to create a wrist strap to grip the leash with. Clip in place. Sew around the folded fabric creating a rectangle about 1″ by .5″. This part of the dog leash can get pretty thick so use a heavy duty needle if needed. Backstitch to hold in place.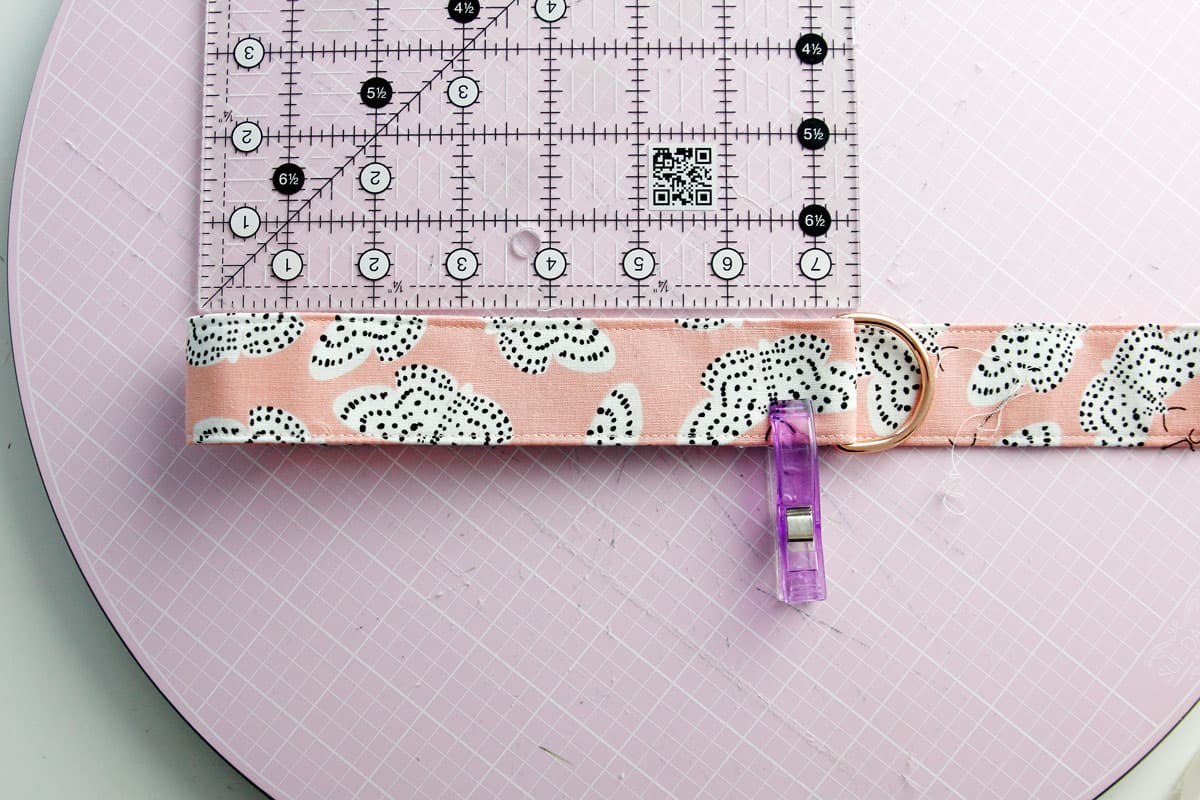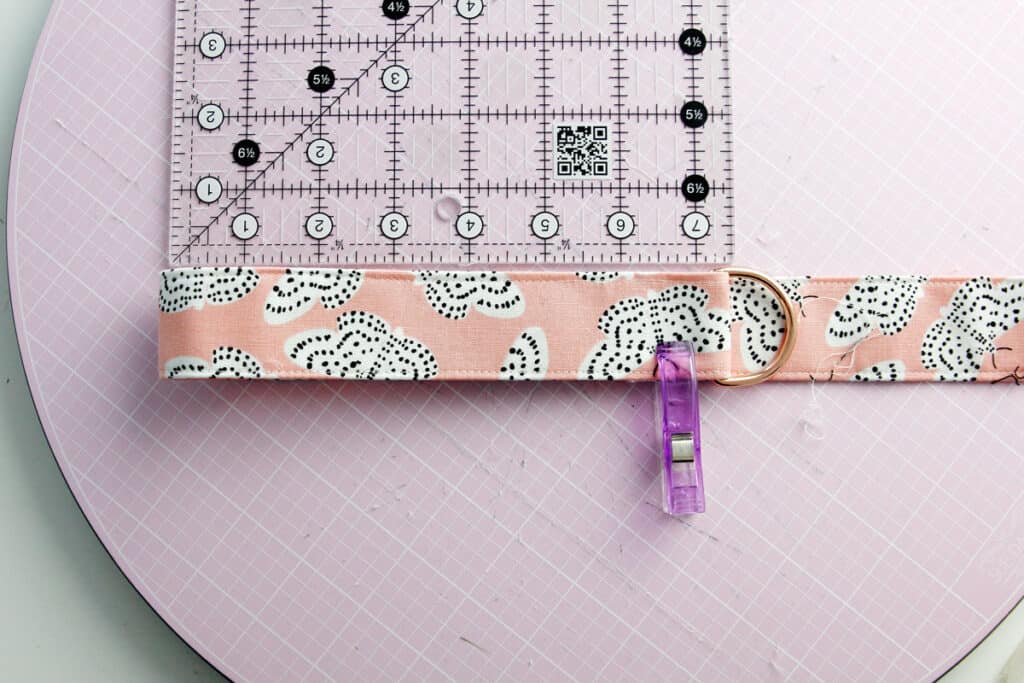 Add the lobster clip
At the bottom of the leash loop the leash around the swivel lobster clip and fold fabric under 1.25″ twice as shown.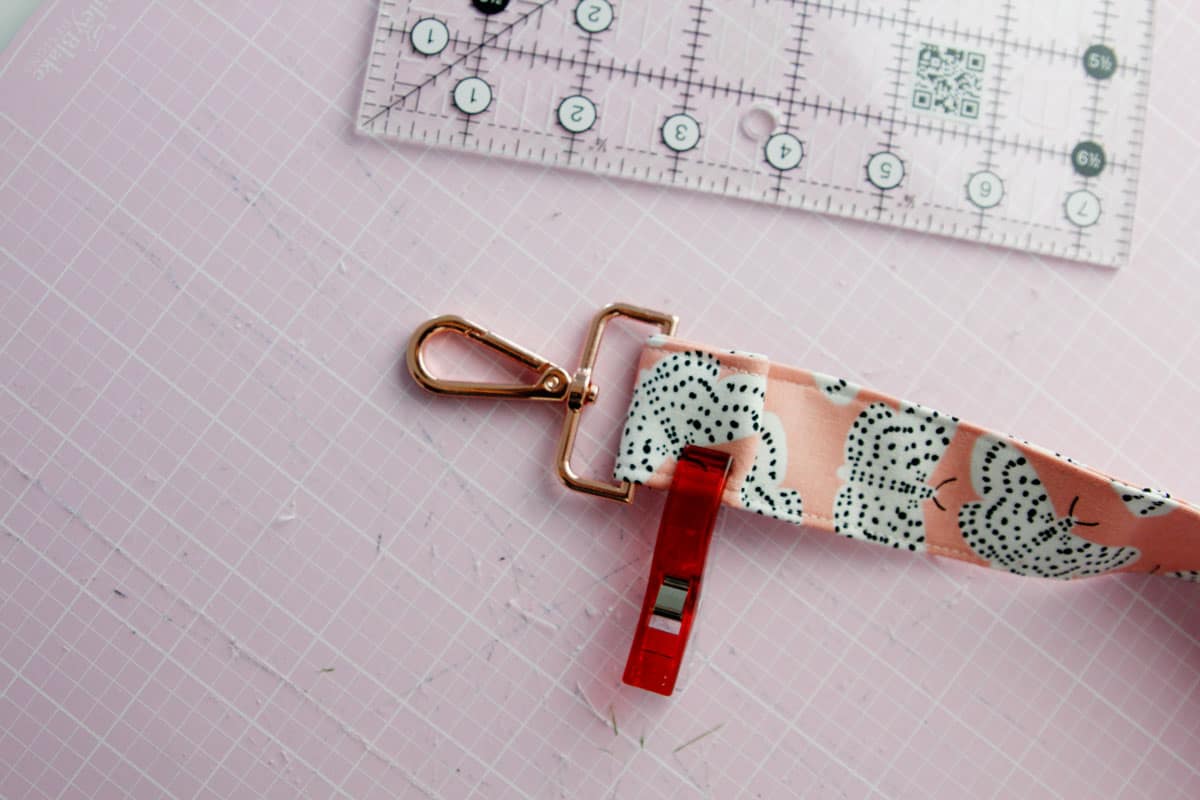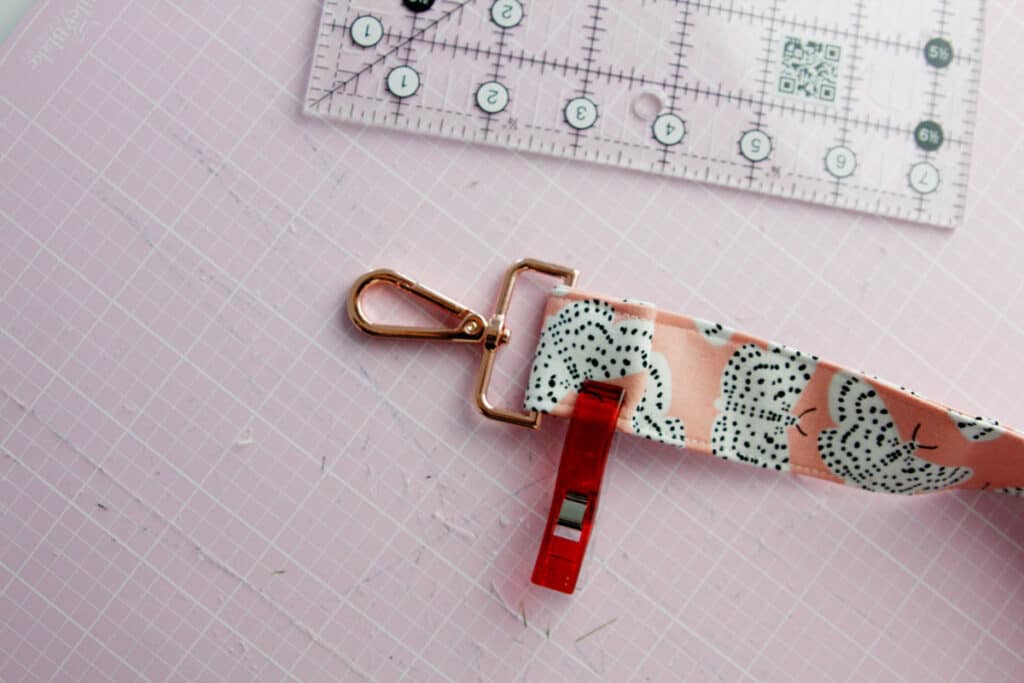 Press and sew a rectangle to hold in place. Adjust the placement of your needle to help you get your stitches closer to the lobster clasp.Go over the rectangle at least twice for a stronger hold.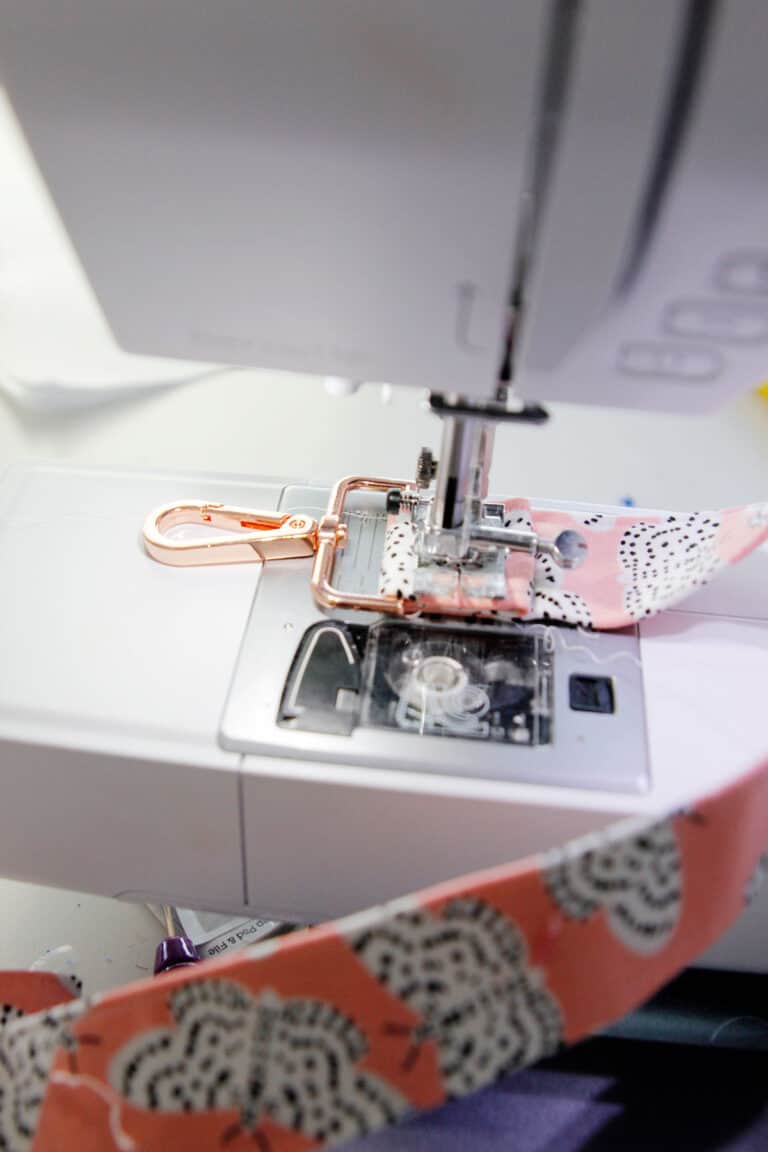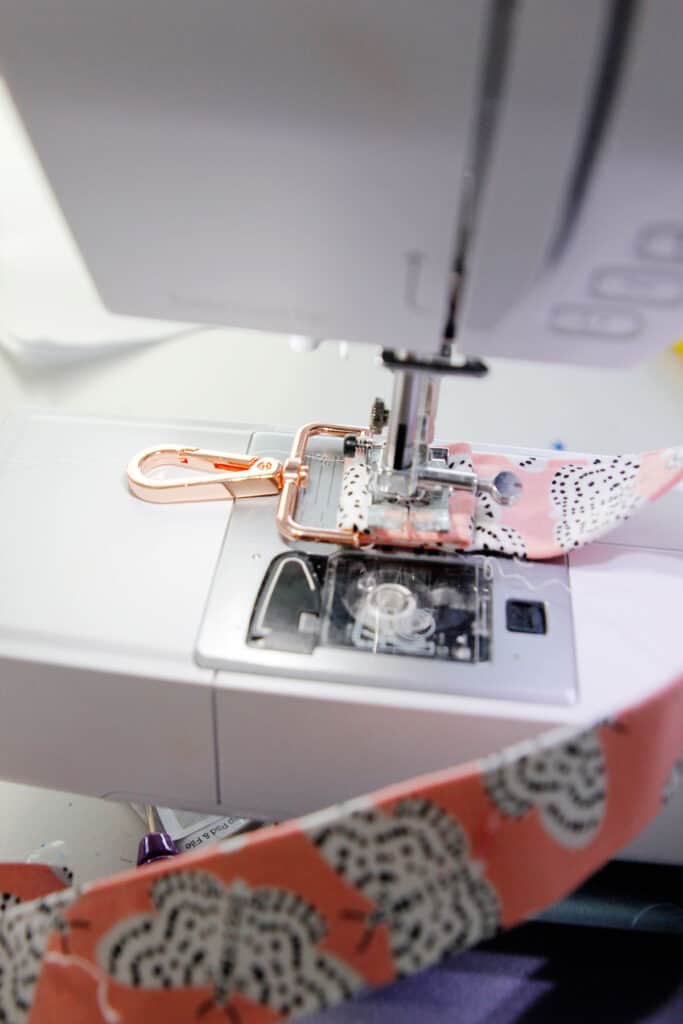 The best part about making your own dog leash is that you can machine wash them with a mild detergent. The metal hardware may scratch the inside of your washing machine, so you might want to put the leash in a soft washable bag before washing.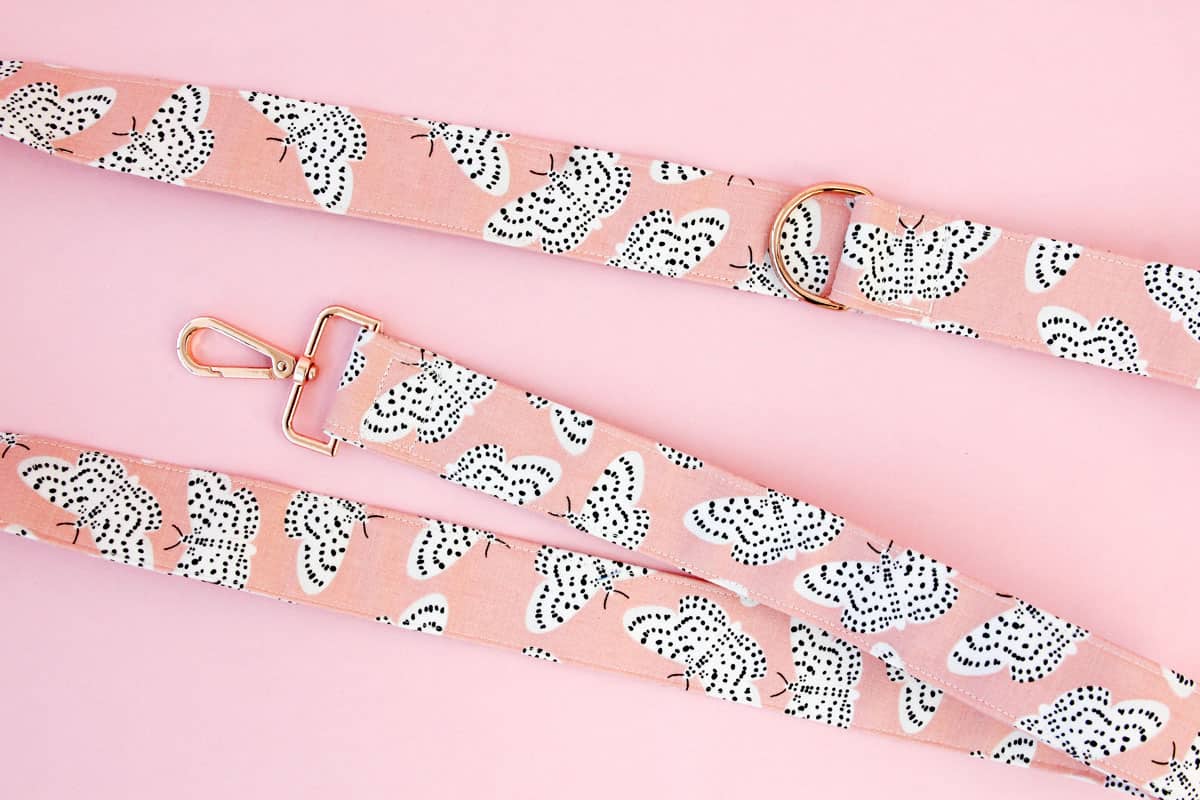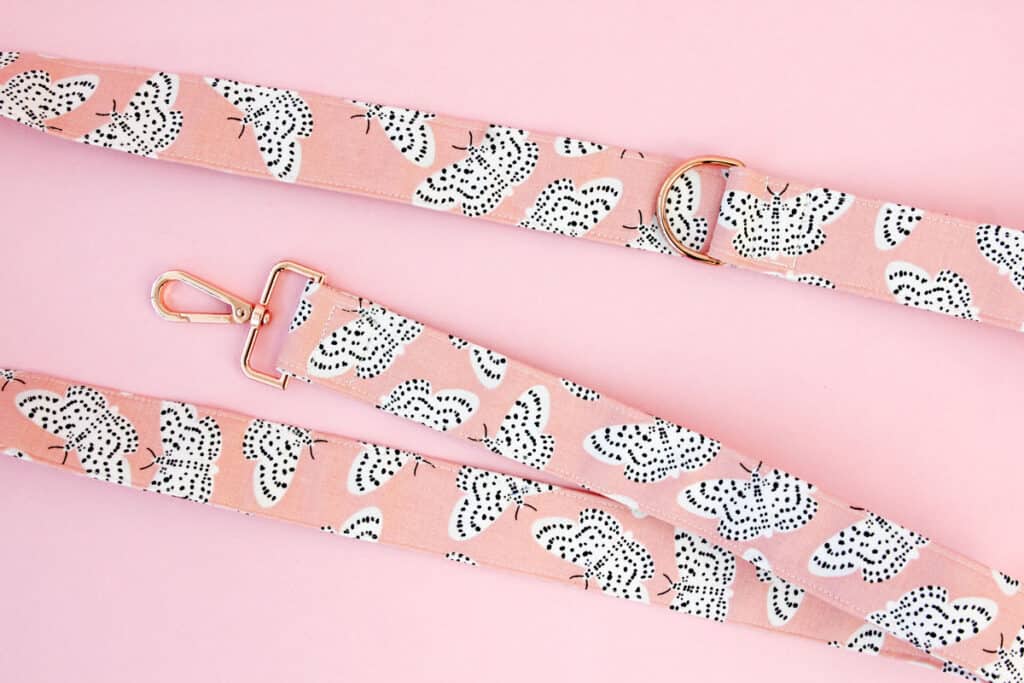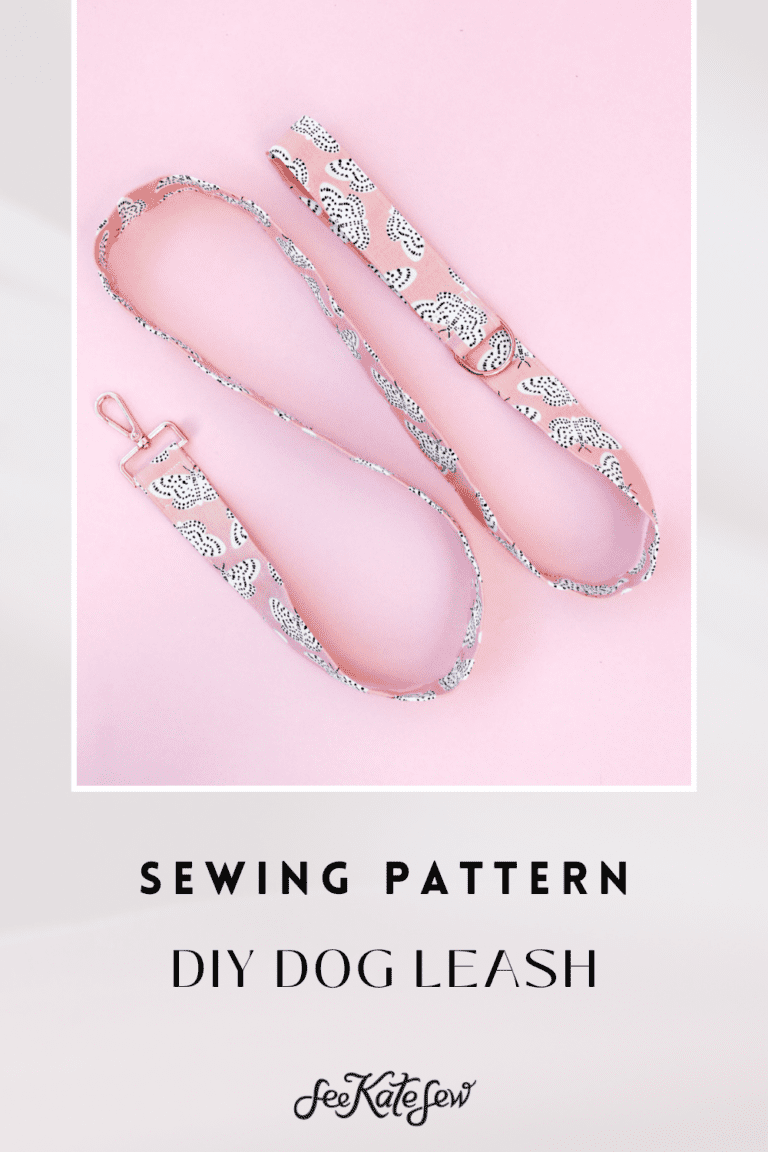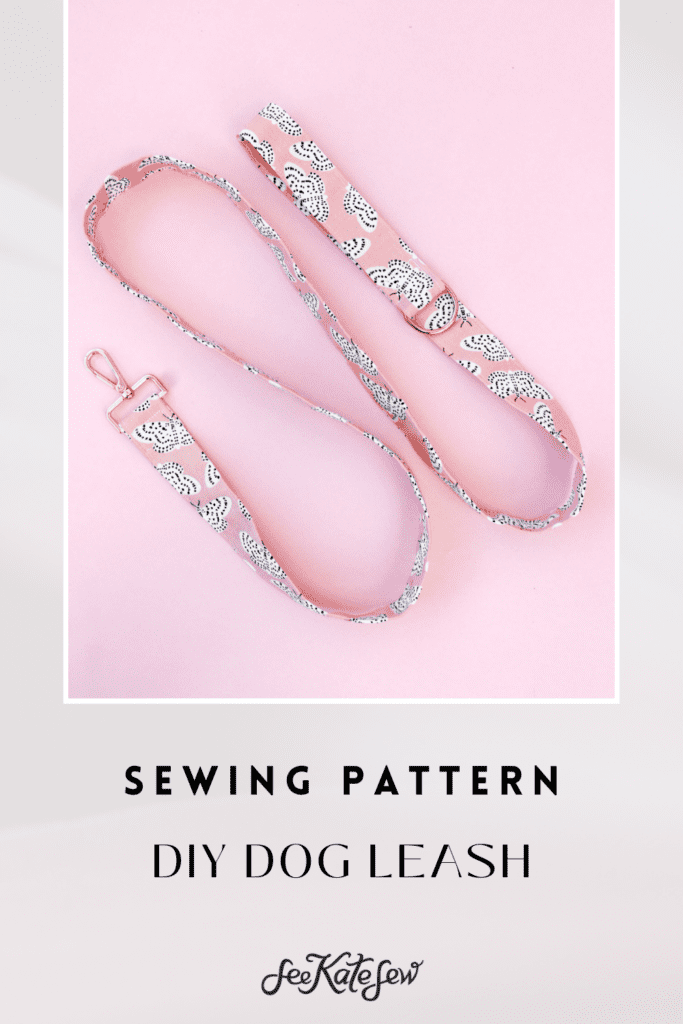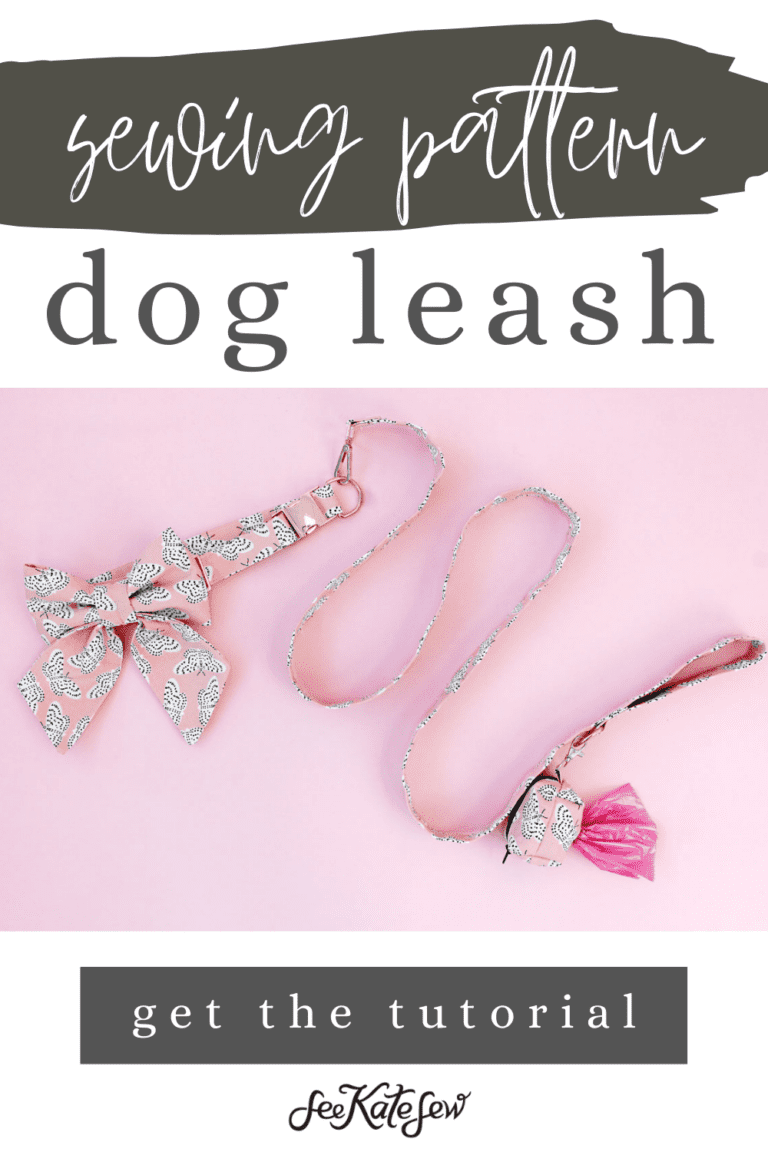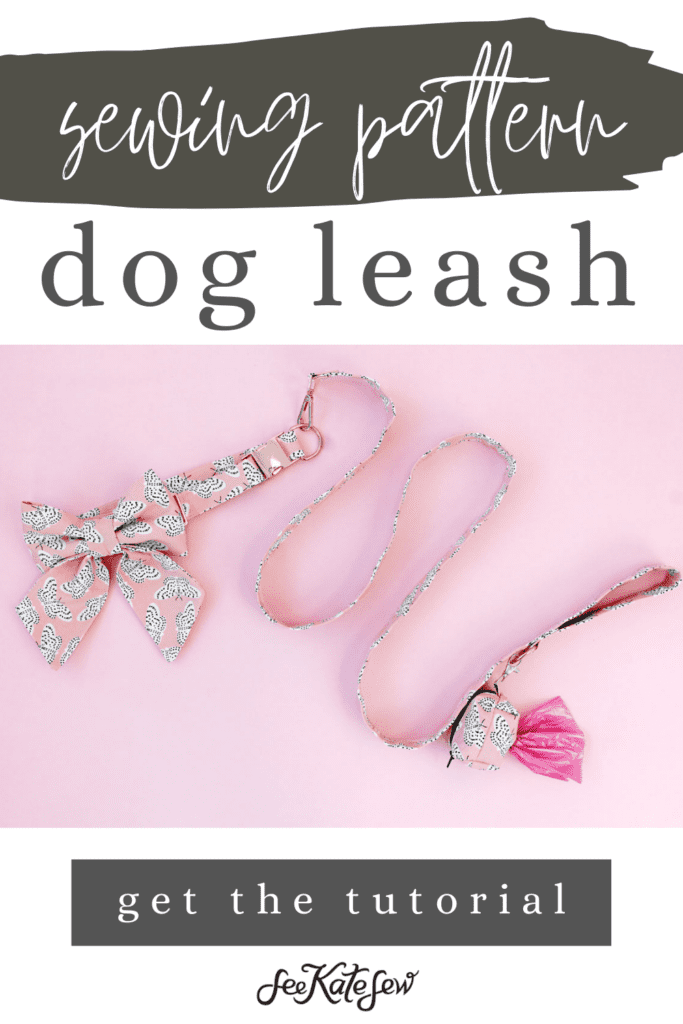 More Dog Sewing Projects
Share your stylish leash in the Facebook Group or tag See Kate Sew on Instagram!