We got a puppy!! Meet Rosie – our newfiedoodle pup! We're so excited to have a dog in the house! I had to make her some homemade accessories so I hope you enjoy this easy dog bandana pattern. In this post I will show you how to sew a puppy bandana from start to finish!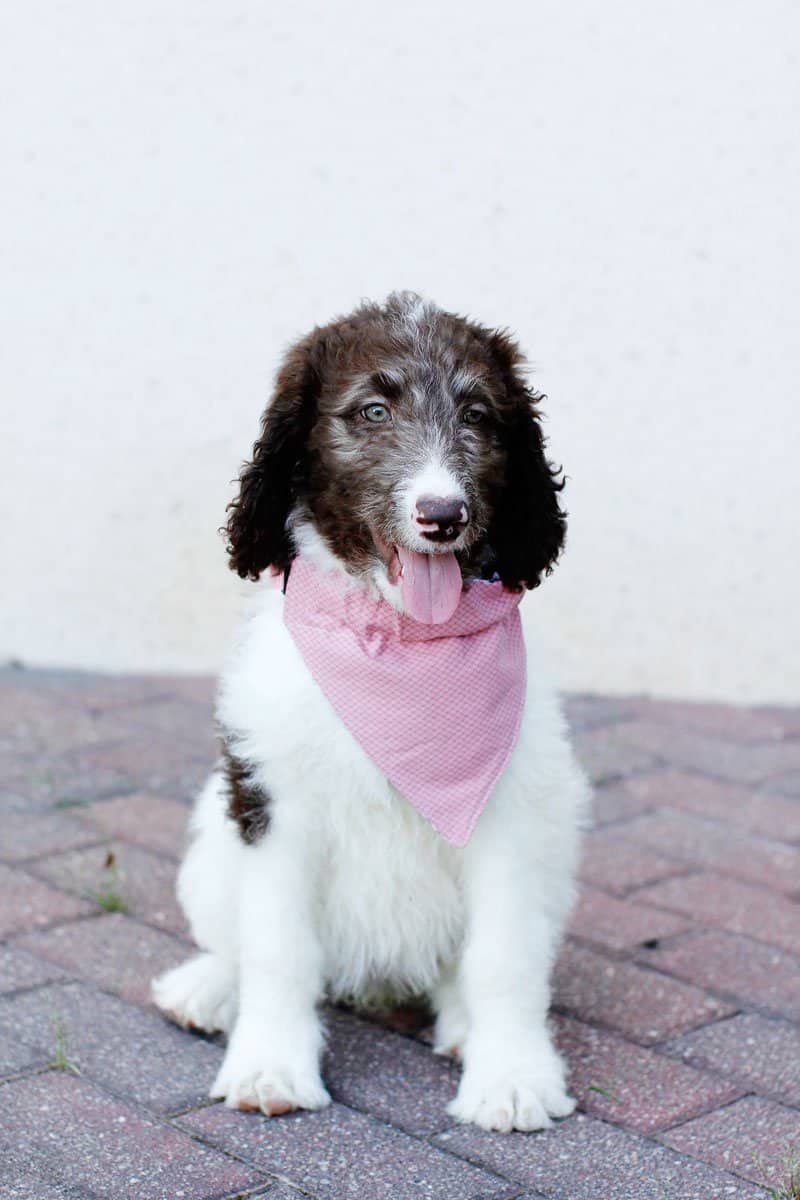 I've done a little bit of dog sewing, like this little sweater project. But I'm excited to sew more for dogs! In this post I will show you how to sew a dog bandana scarf from the provided free pattern. This dog scarf slips over the collar before you put it on, so it's really easy to put on and wear.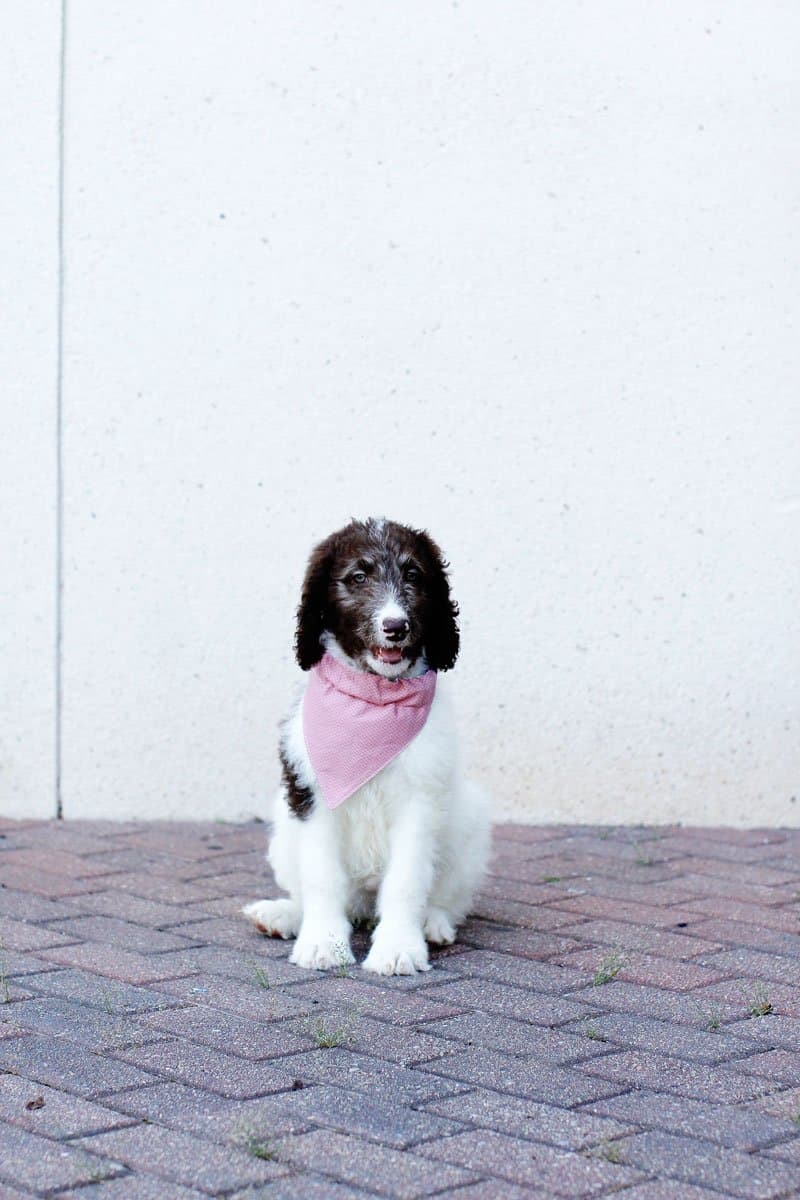 We've had Rosie for a week now and she is just a doll! So sweet and so much fun. She is 9 weeks old and is so worn out at the end of the day from being chased by the kids!

We have been wanting a puppy for over a year but were not quite ready to dive until recently. Now that the baby is sleeping a little better, why not add a puppy that whines at night to the mix!?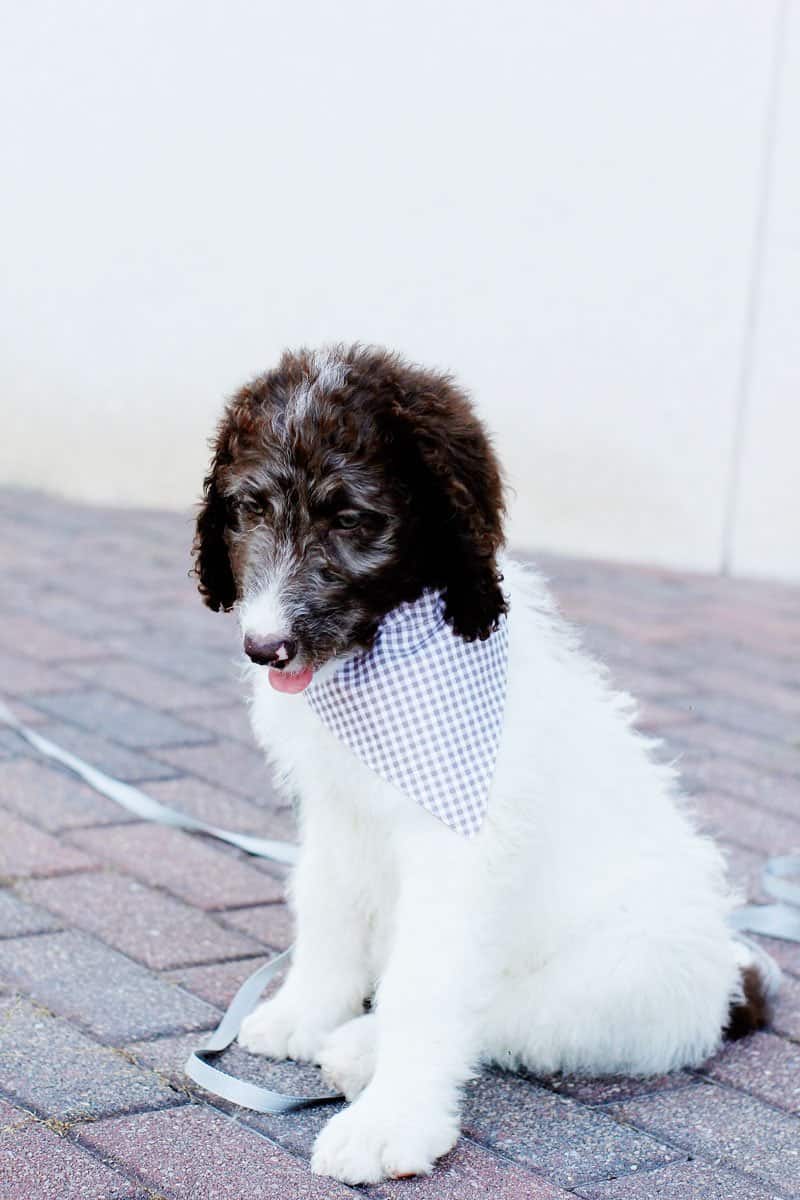 I definitely feel silly trying to chase a toddler and a puppy back into the house, but it was definitely a good idea! We're working on the potty training, of course, but otherwise Rosie is a sweetheart and loves to play with 4 kids all day. They wear each other out and I love seeing them play.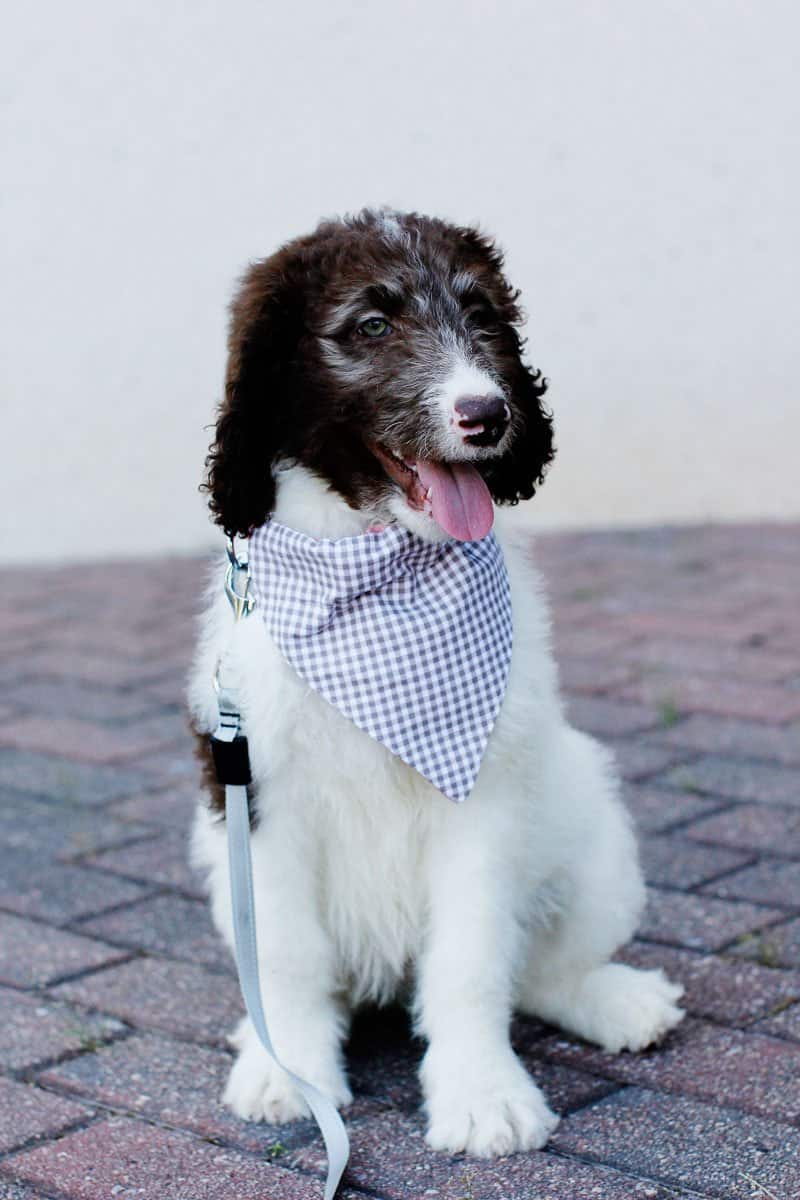 Rosie is a Poodle and Newfoundland mix, Newfiepoodle (or Newdle if you want to get silly!). She has the curly hair of a poodle so she shouldn't shed but got some extra fluff from her Newfie side. I think her face looks more like a Poodle right now.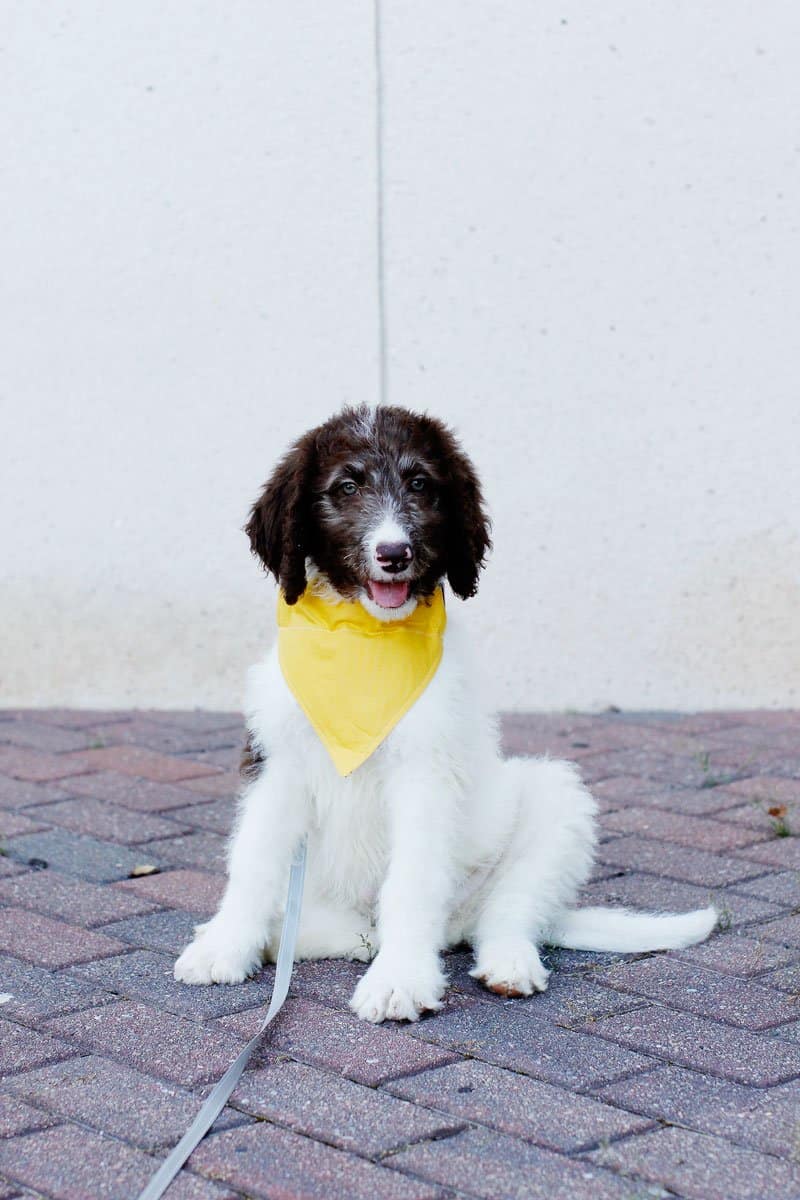 We aren't quite sure how big she will be, but 50-60 lbs is our guess. Newfoundlands are really big dogs, sometimes called bears because of how large and furry they are. So she has some bigger dog genes, we'll see! But if you look at her paws, they look pretty big! She is about 9-10 weeks right now.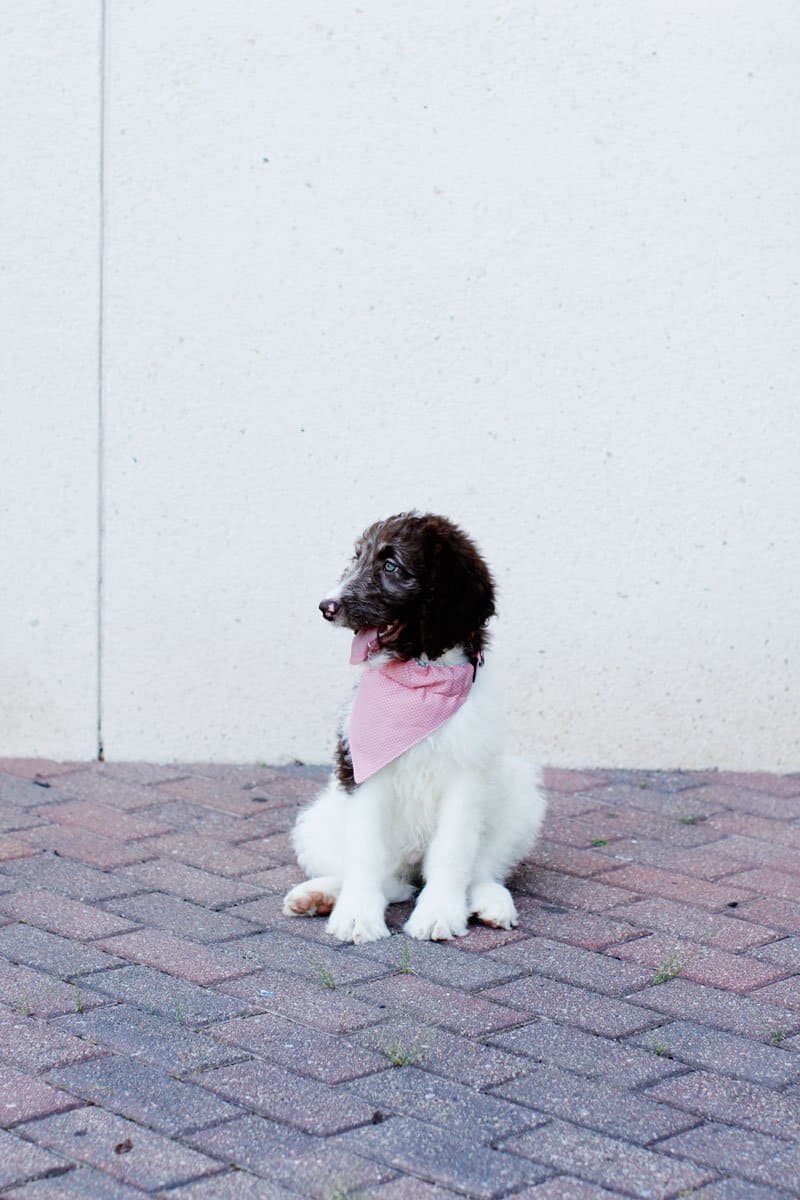 I am excited to learn how to groom her! Do you have any tips? She has the cutest curls on her ears!
Puppy Bandana Materials
1/4 yard fabric, fat quarters or fabric scraps. Hit the fabric store or use extra fabric from other sewing projects. This bandana is reversible, so choose 2 different fabrics. I'm using cotton fabric but you can also use other woven fabrics such as flannel or lawn. Any light or medium weight fabric will work. Fabrics shown in this post are listed below:
Basic sewing supplies such as: fabric scissors, thread, sewing machine, measuring tape, cutting mat, rotary cutter
I think gingham is the perfect puppy bandana fabric! It has farmhouse vibes and it just so great for a dog. I also love the red, white and blue floral that you will see in the tutorial photos – it's great for summer and the 4th of July!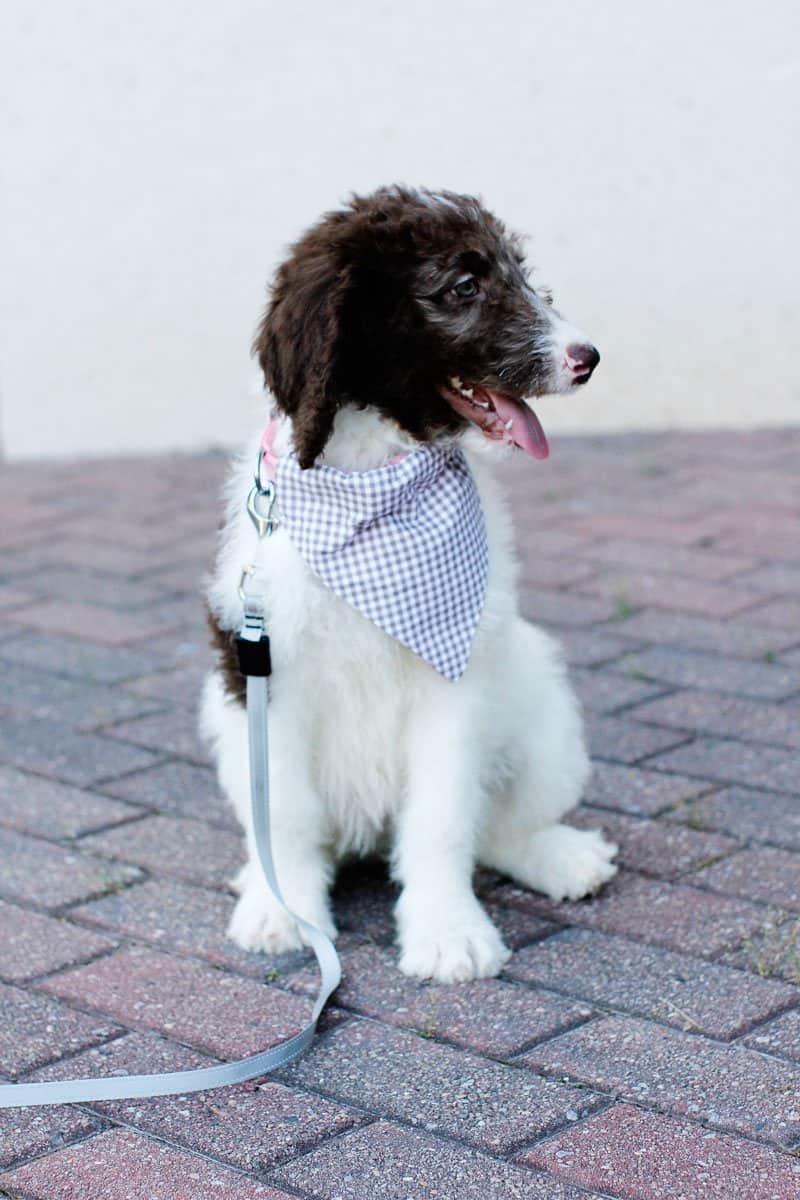 DIY Dog Bandana Sizes
The free pet bandana pattern has 5 sizes, XS too XL. Sew a small dog handkerchief if you are making it for a cat!
If you are unsure of which size to choose, sew the same size as the collar you use.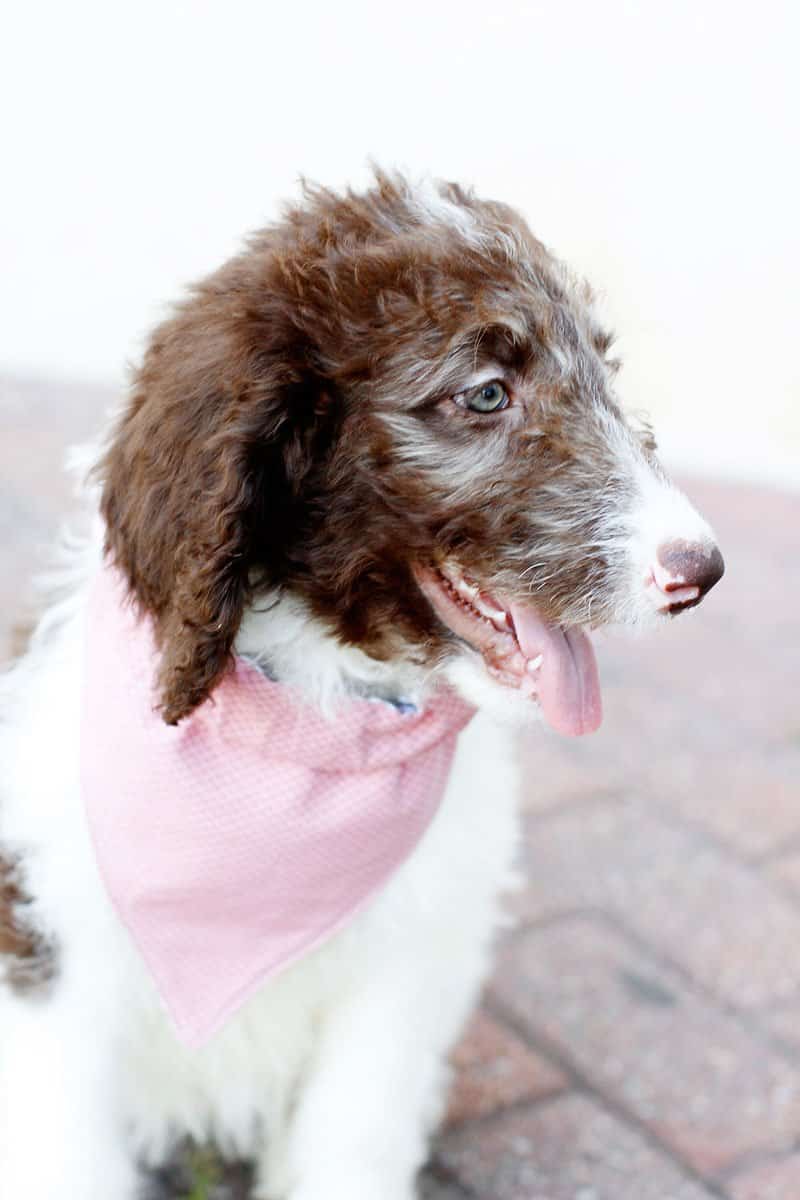 XS – fits small dogs such as chihuahuas, puppies and even cats
S – small dog breeds and large breed puppies
M – medium size dog breeds and large breed puppies
Large – large dog breeds
Extra Large – biggest dog breeds
Free Pattern Dog Bandana Download Instructions
Click the purple button below to be taken to the download page. If you are already an email subscriber, just enter your email again and it will bypass the signup. Your computer will probably download it directly to your Downloads folder.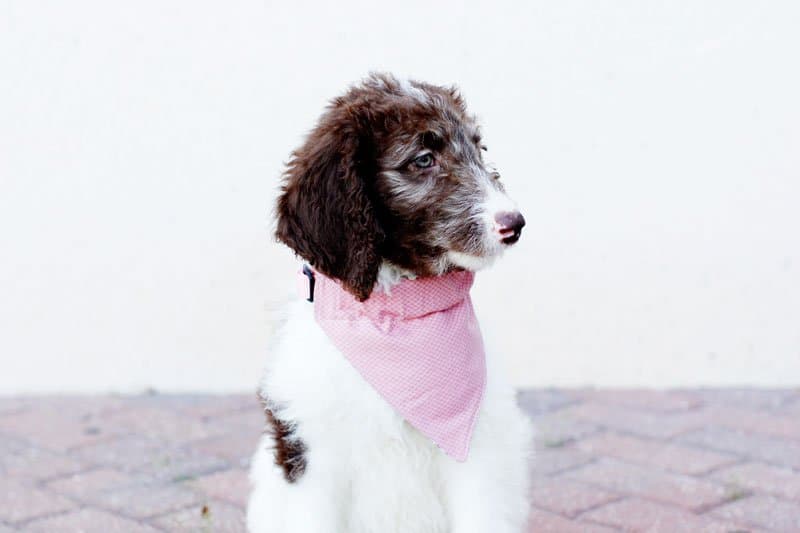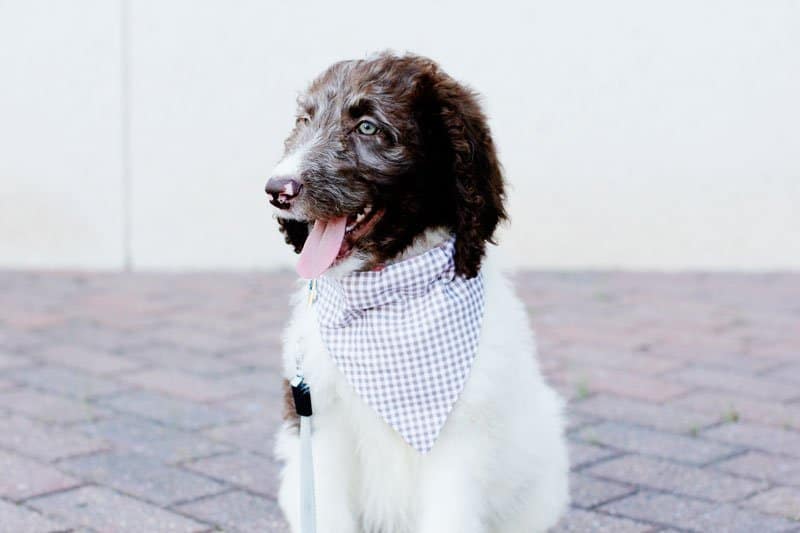 How to Sew DIY Dog Bandanas
Use a 1/4″ seam allowance, included in the pattern pieces.
Start by printing off the printable dog bandana pattern above.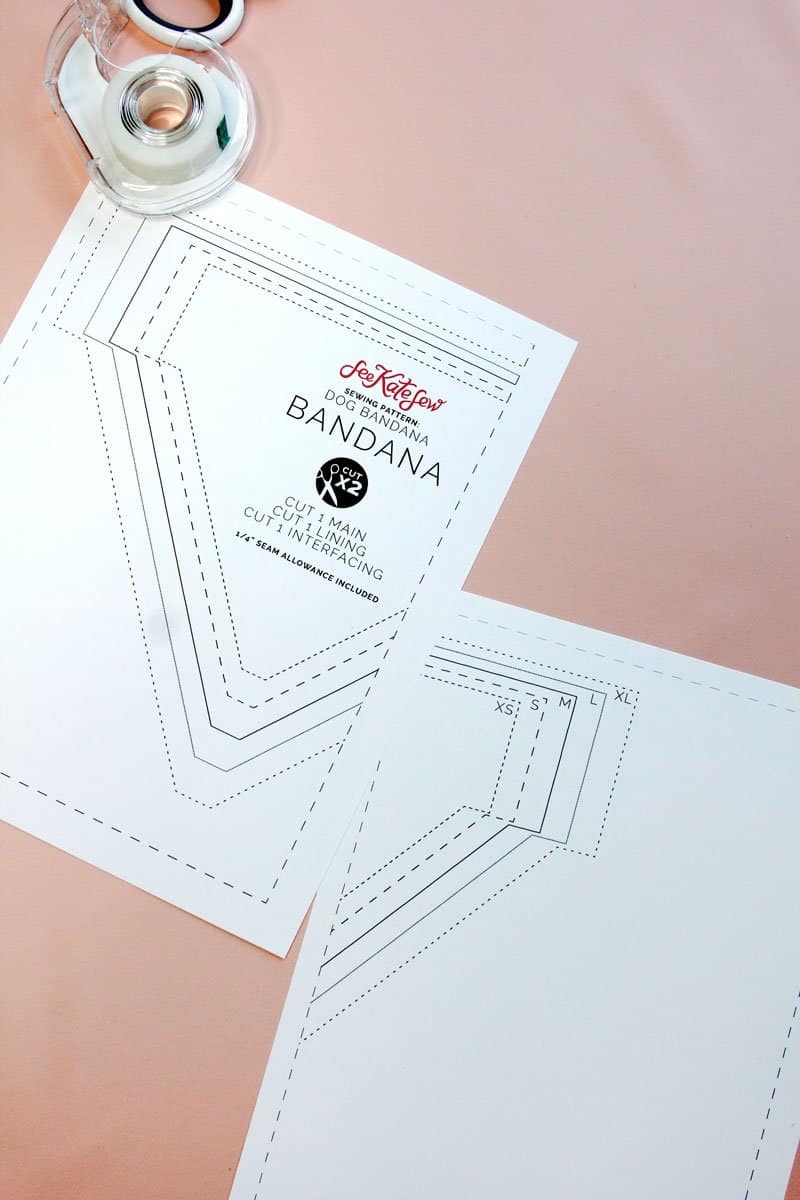 It will print on 2 sheets – trim along the dotted lines and tape together.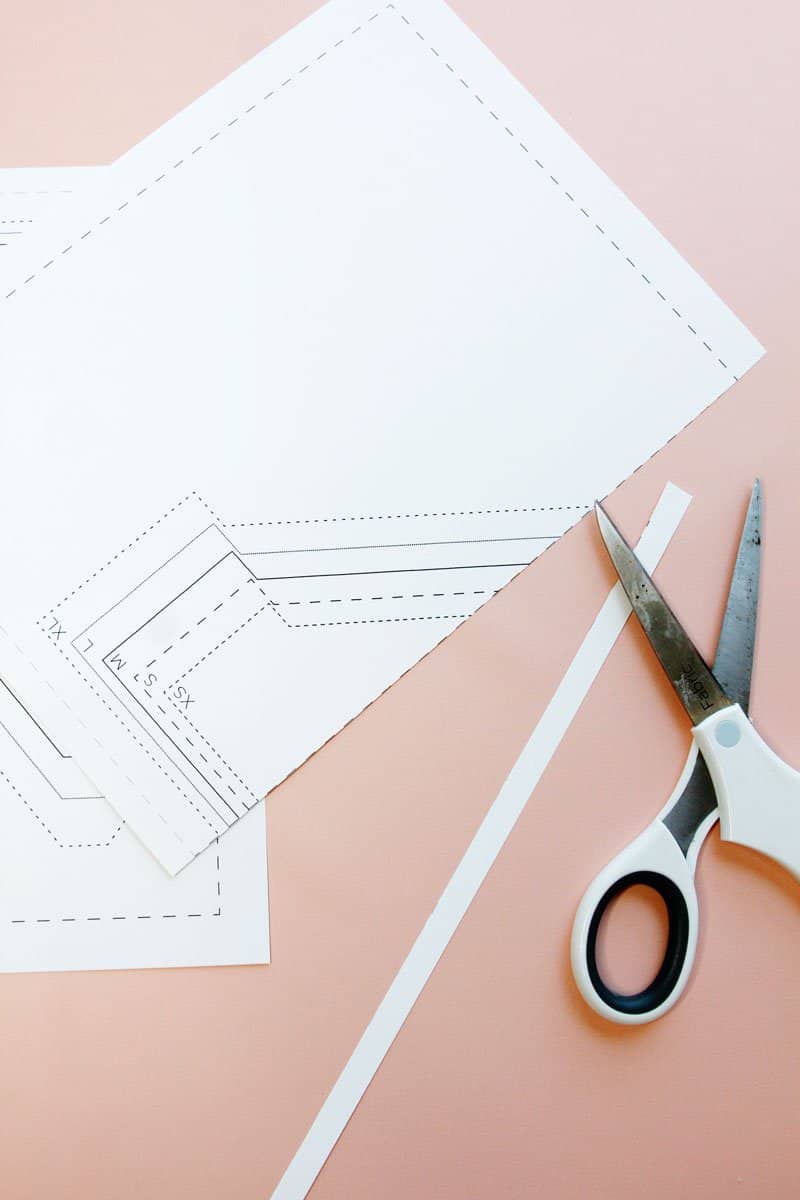 Tape them together as shown: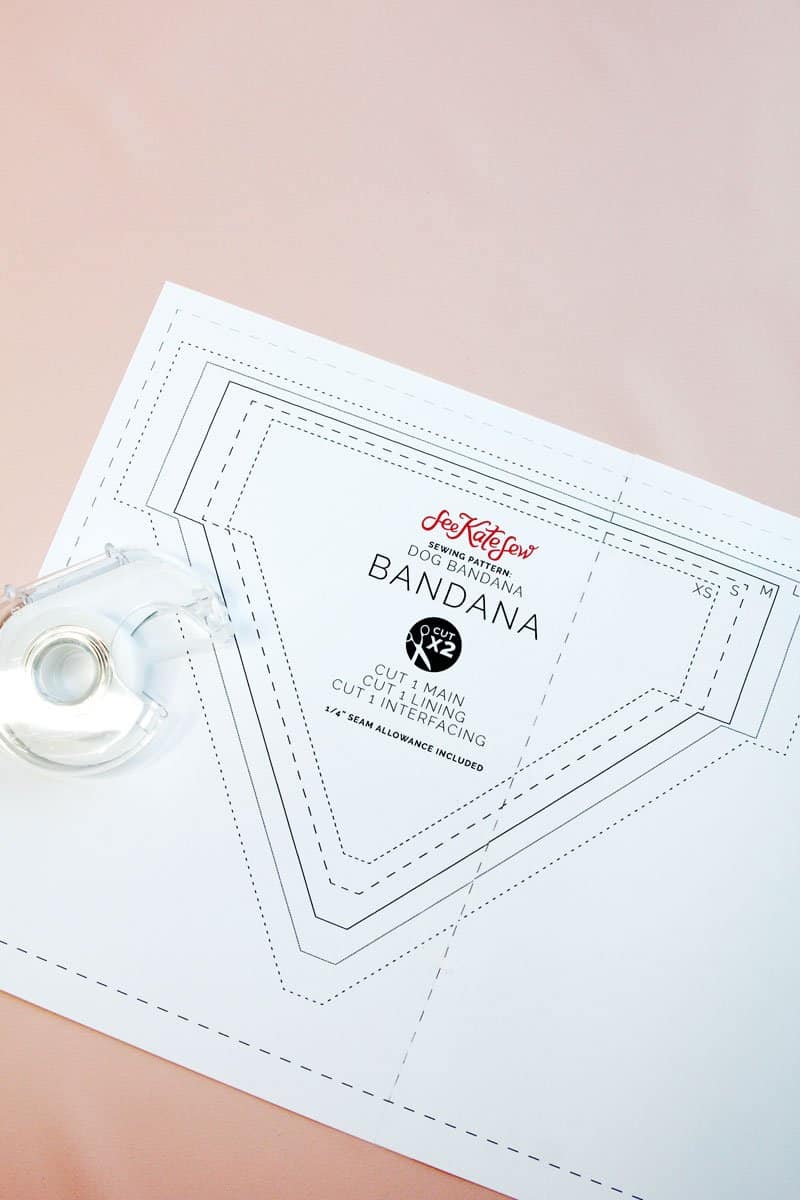 Cut out your chosen size. Then cut 2 layers of fabric, one from each print.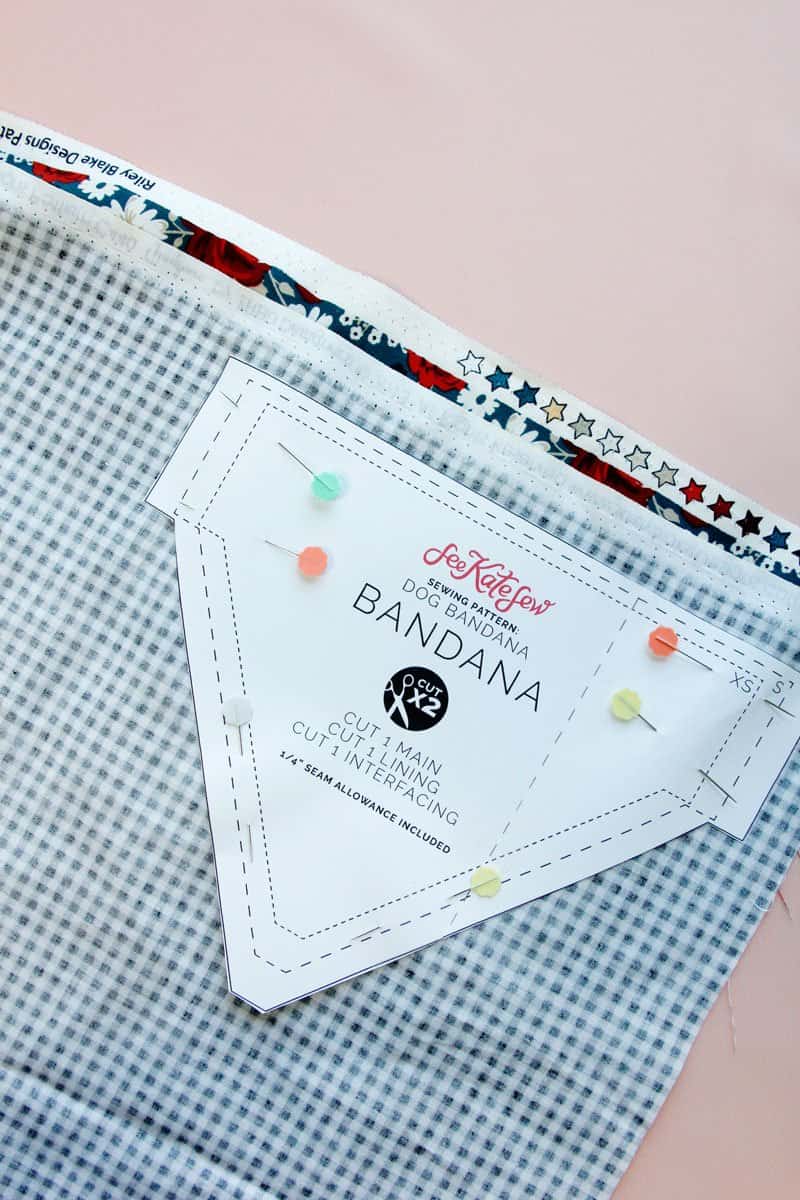 Use the same pattern piece to cut 1 layer of fusible interfacing. Fuse the interfacing to the back of lighter fabric with an iron. This will help prevent the darker fabric from showing as well as give the bandana a crisp finish.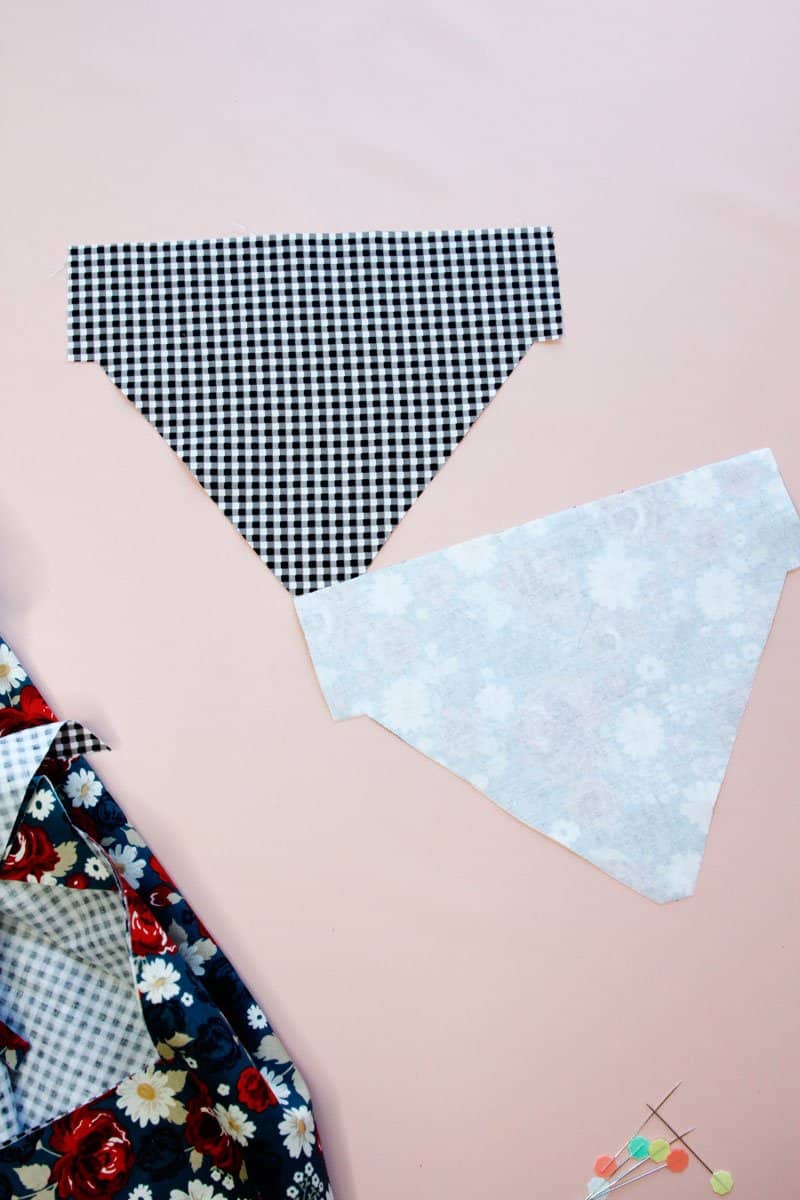 Lay the lining face down on the main fabric.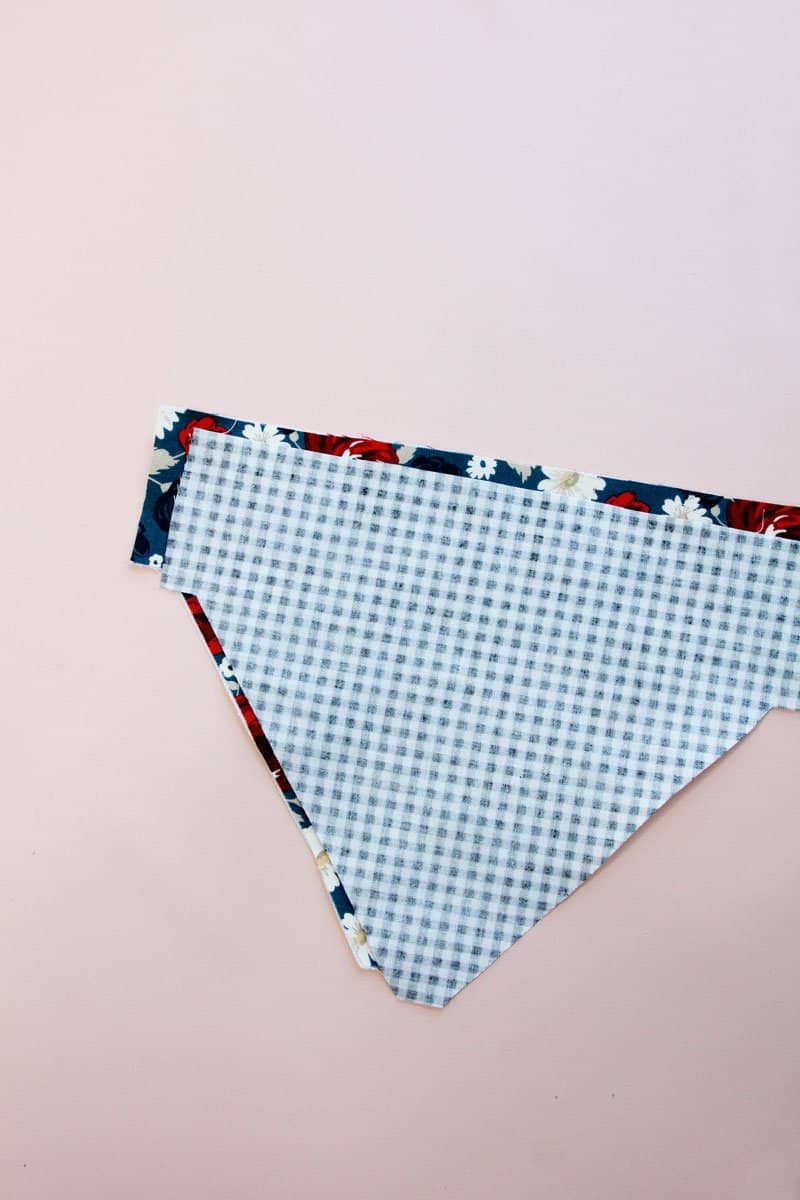 Pin along the top of the bandana.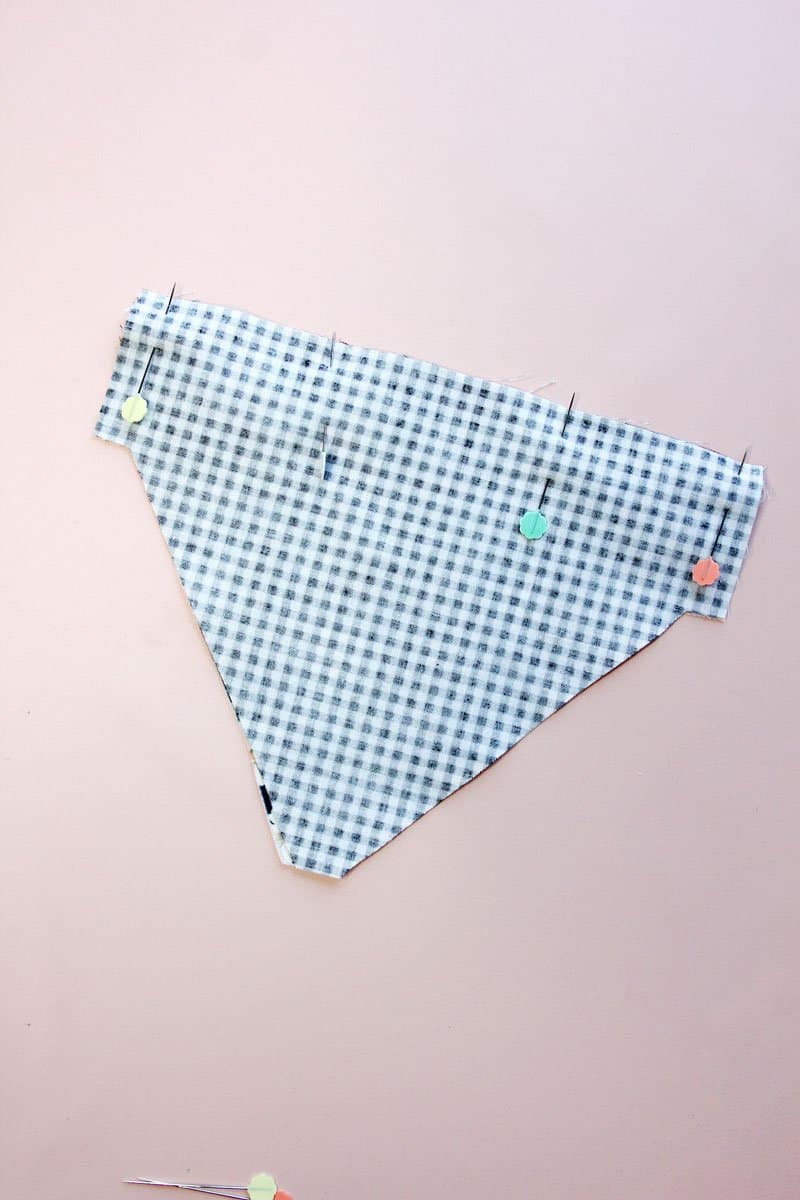 Sew across the top 1/4″ from the raw edges.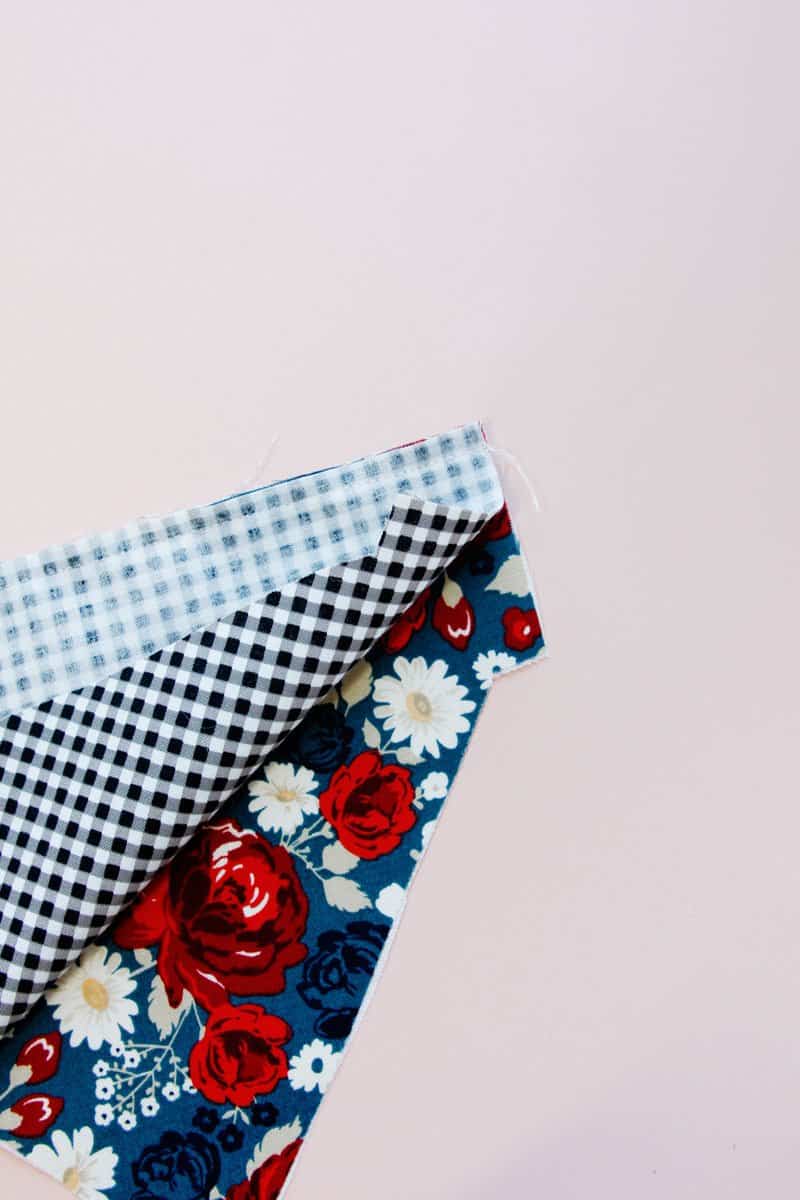 Open bandana and press seam allowance towards lining fabric (fabric without the interfacing). Topstitch along the lining fabric to secure the seam allowance, 1/8″ from seam.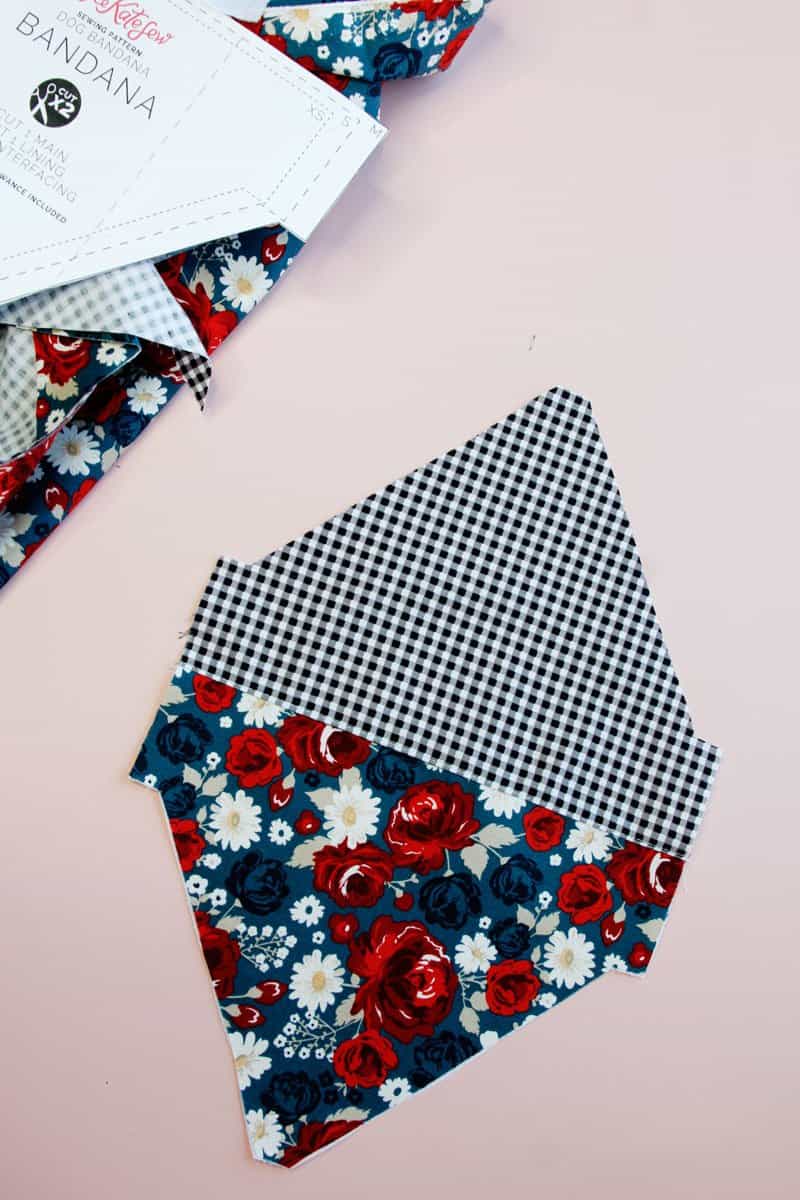 Press sides under 1/4″ TWICE.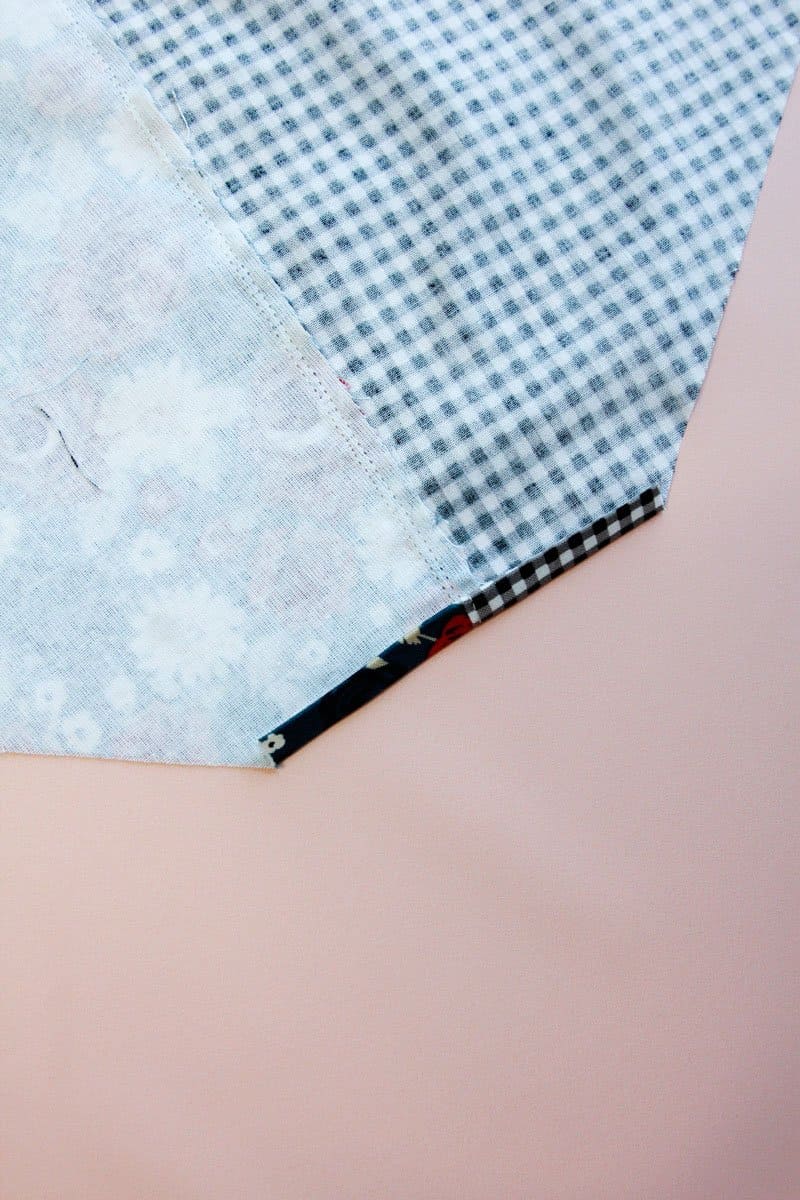 Stitch in place. Repeat on the other side.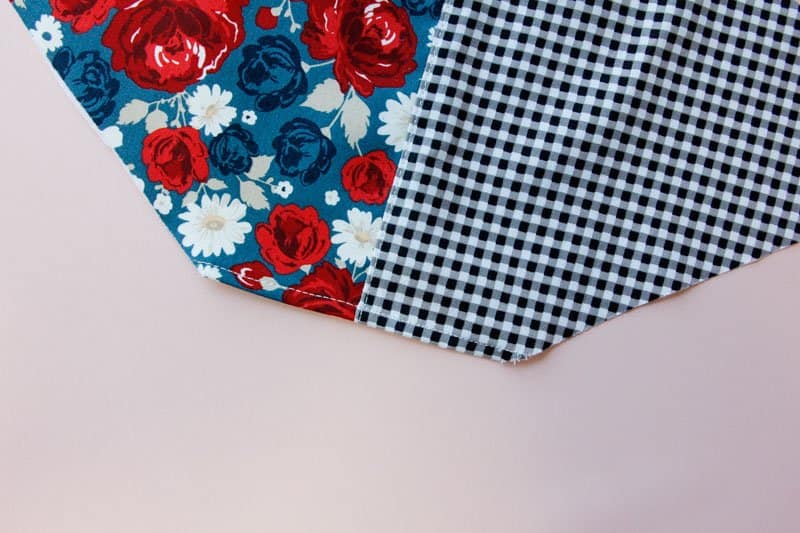 Fold bandana over and match the points. Pin along the raw edge.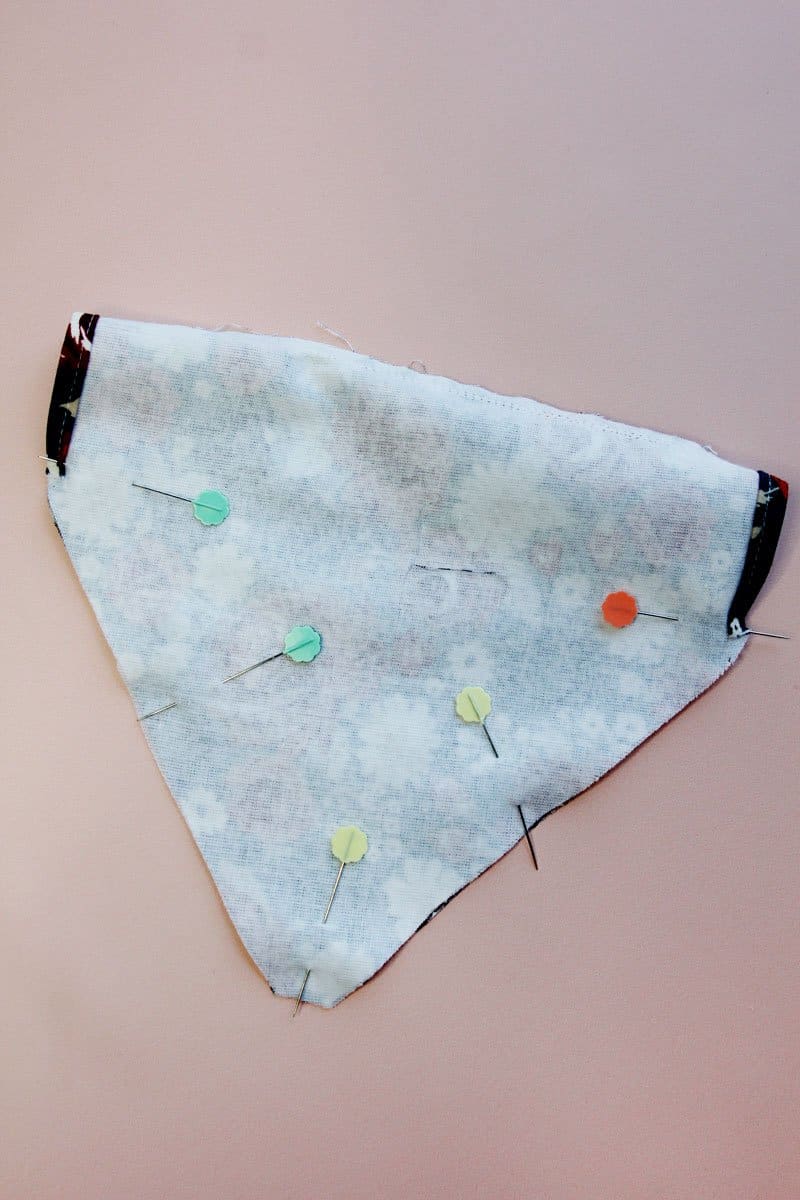 Sew along the sides, starting at the finished side edge. Pivot at the point and sew back up the other side. Backstitch at the beginning and end of your stitching lines. Clip seam allowance near point.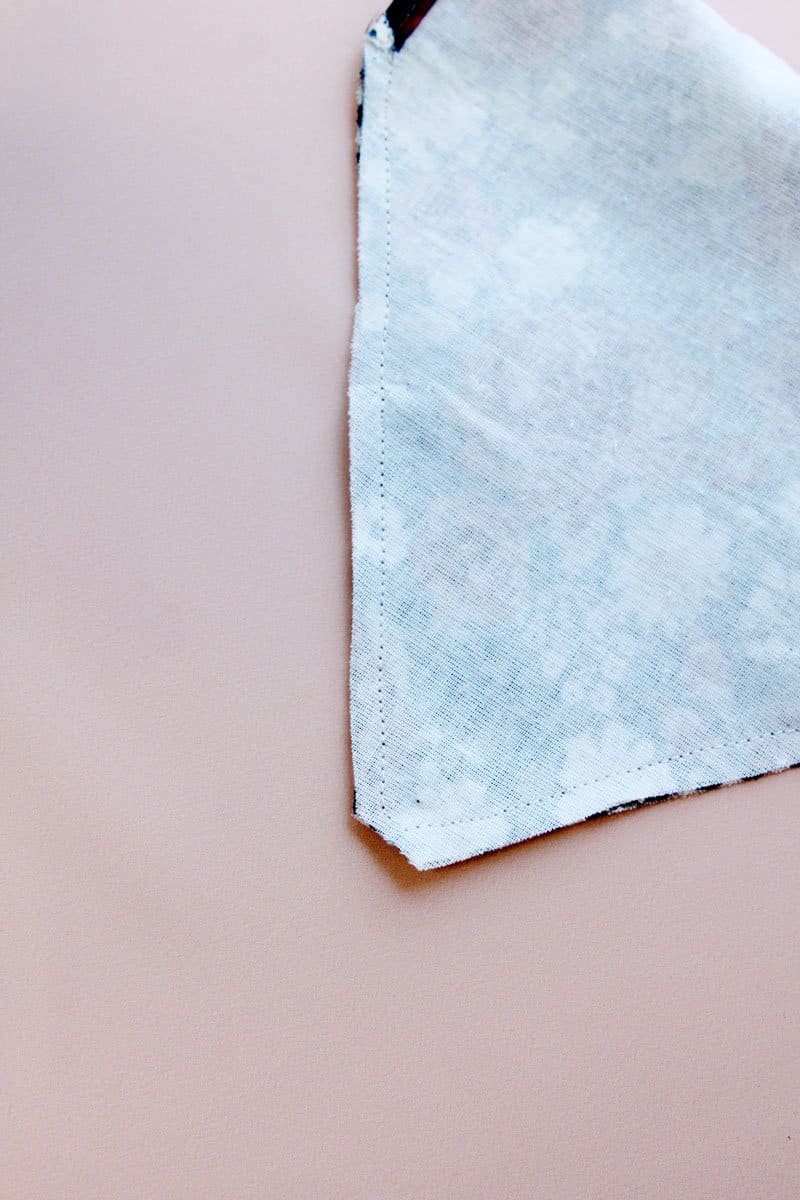 Turn bandana right side out and press well. Draw a straight line with chalk from one side to the other, starting right where the opening is. This will create your casing to hold the collar.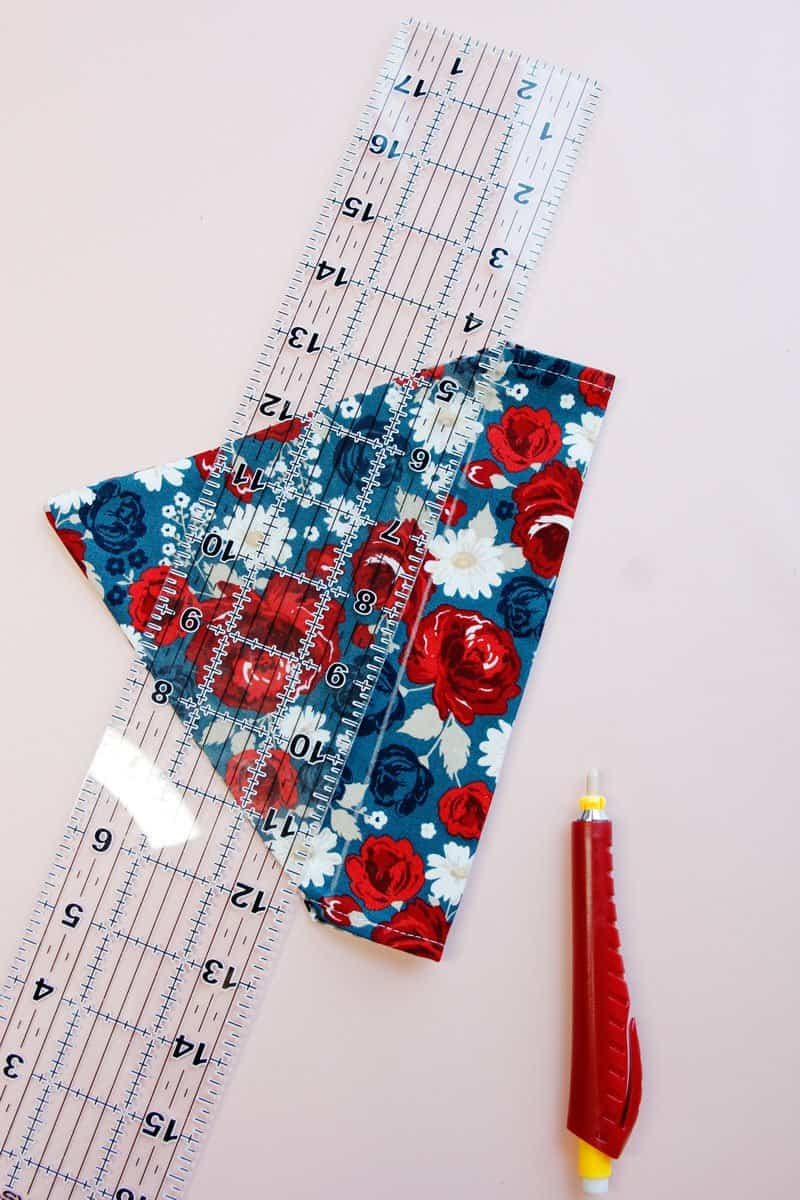 Sew along chalk line and then topstitch sides of bandana. The top stitch will give it a nice finished look and also prevent crumpling when you wash the bandana. Clip threads.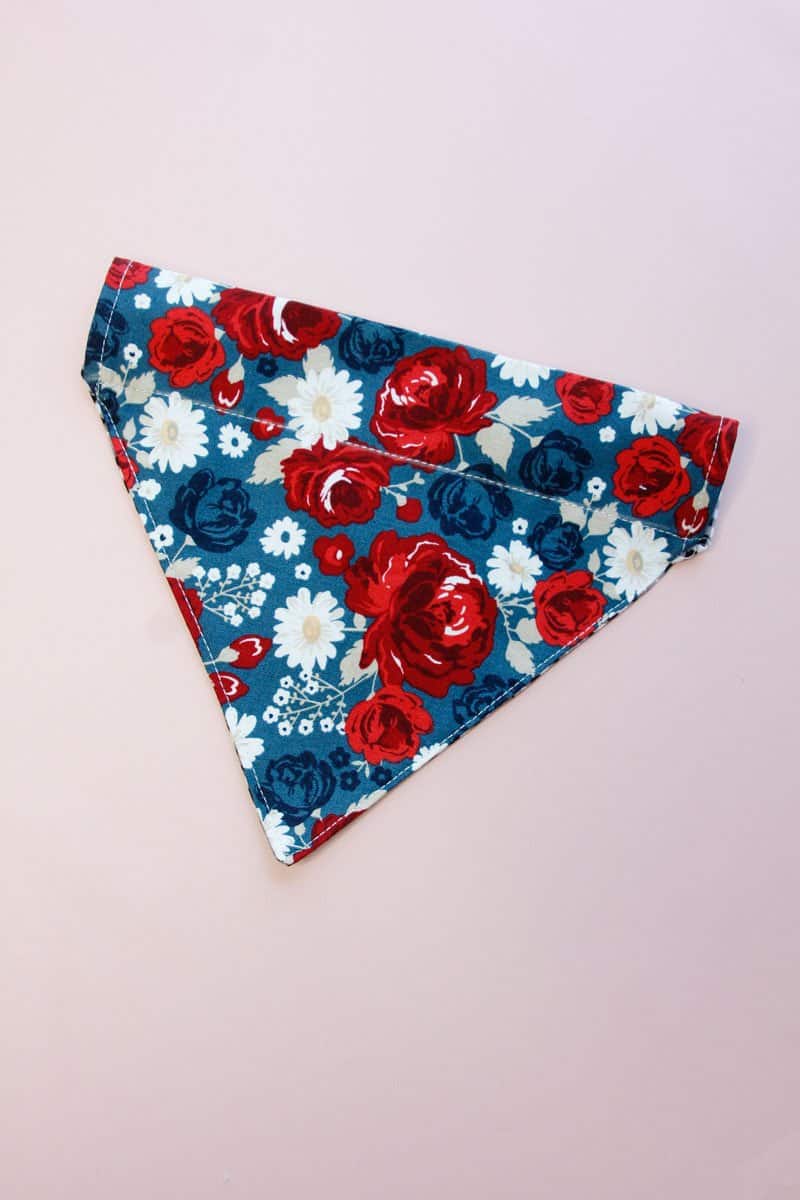 To wear, unbuckle the dog collar and slide it through the casing.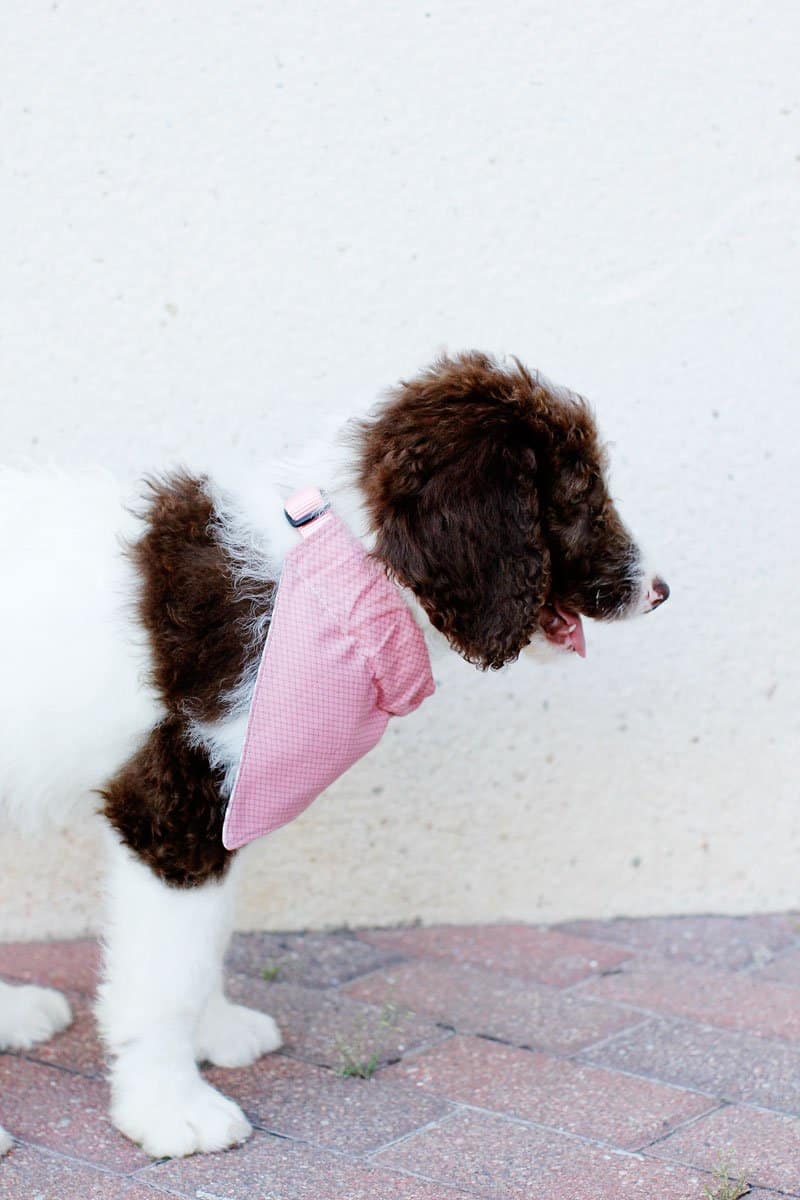 So cute! Check out this puppy sweater tutorial if you have a small dog. And if you have a cat, you must make this awesome cat bed!