Make your own DIY dog collar for a custom accessory for your pet! This post will show you how to make a dog collar with a free pattern download. Follow the step-by-step photographs or view the video!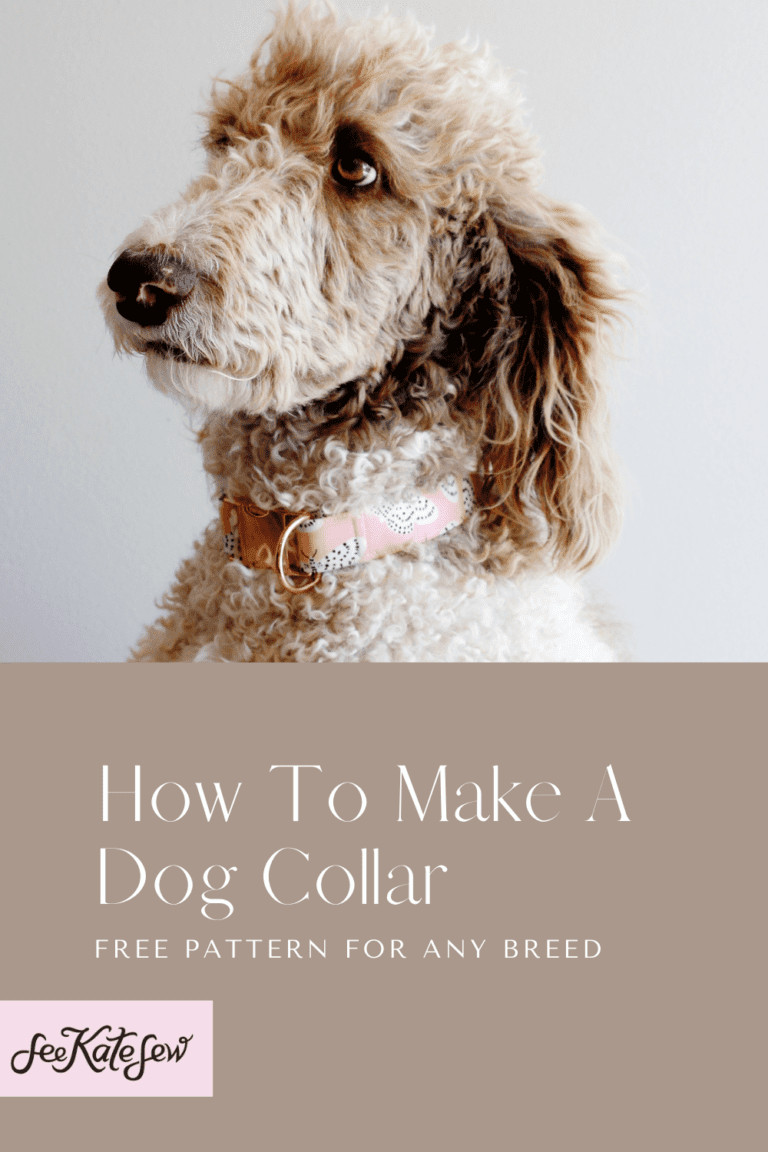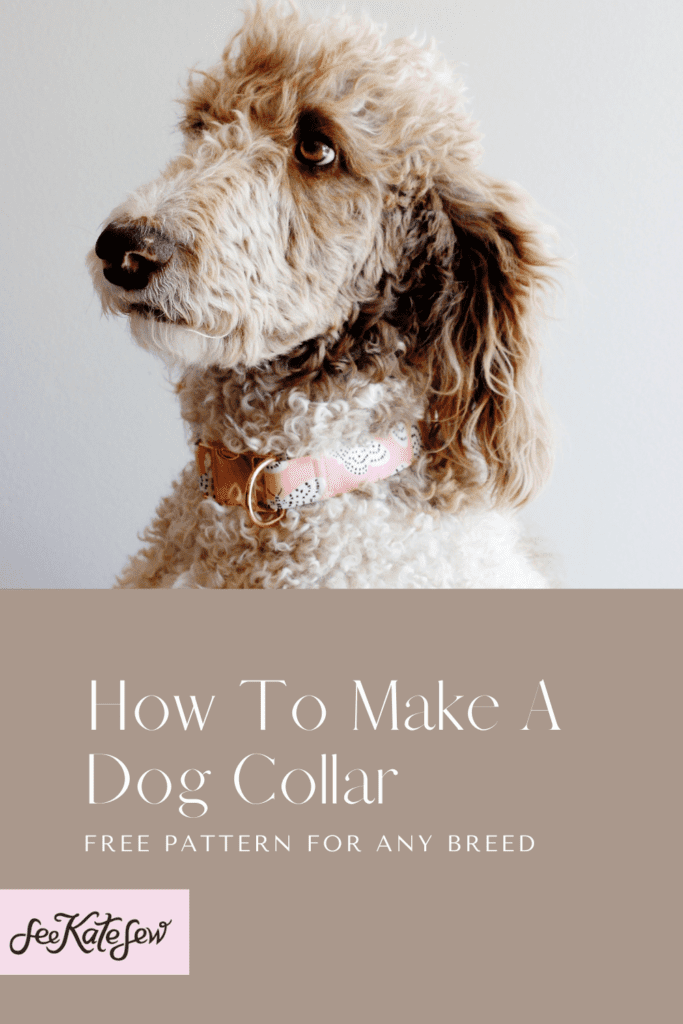 You can make a collar for any size pooch or even a cat. This is a fun and simple project that will give you some experience using hardware like buckles and clasps.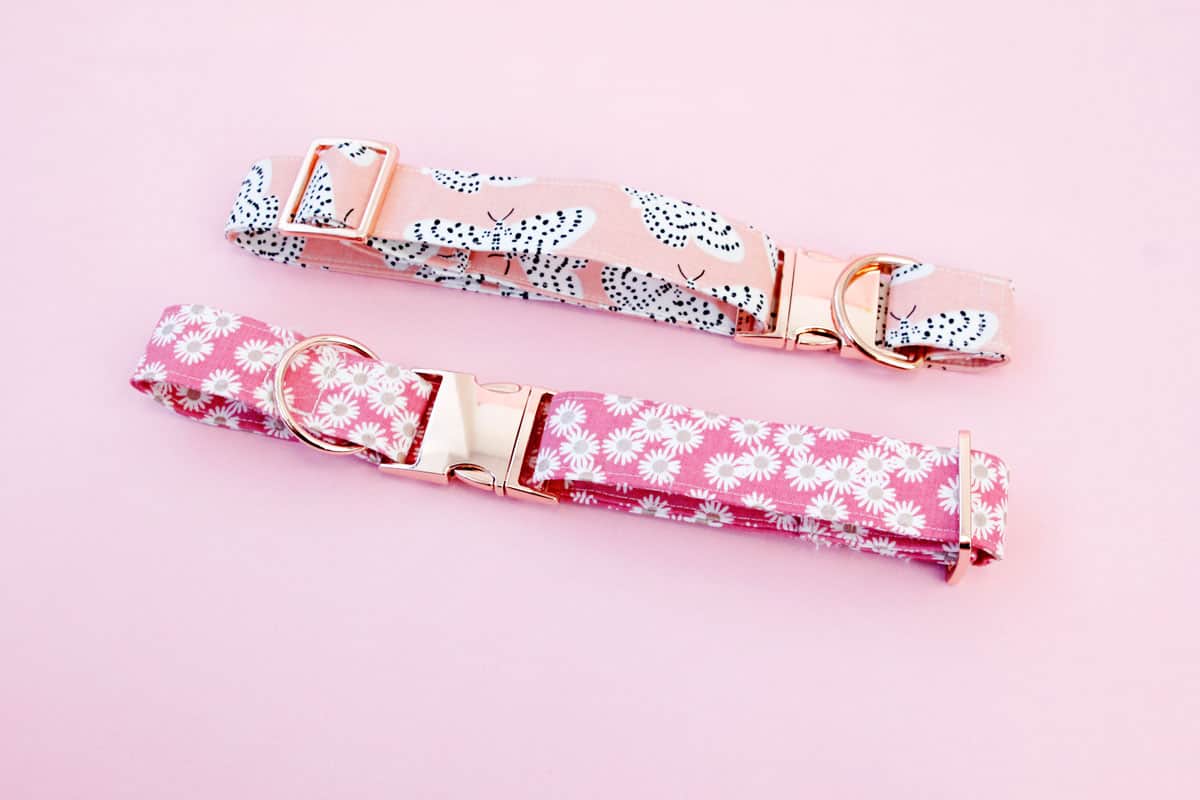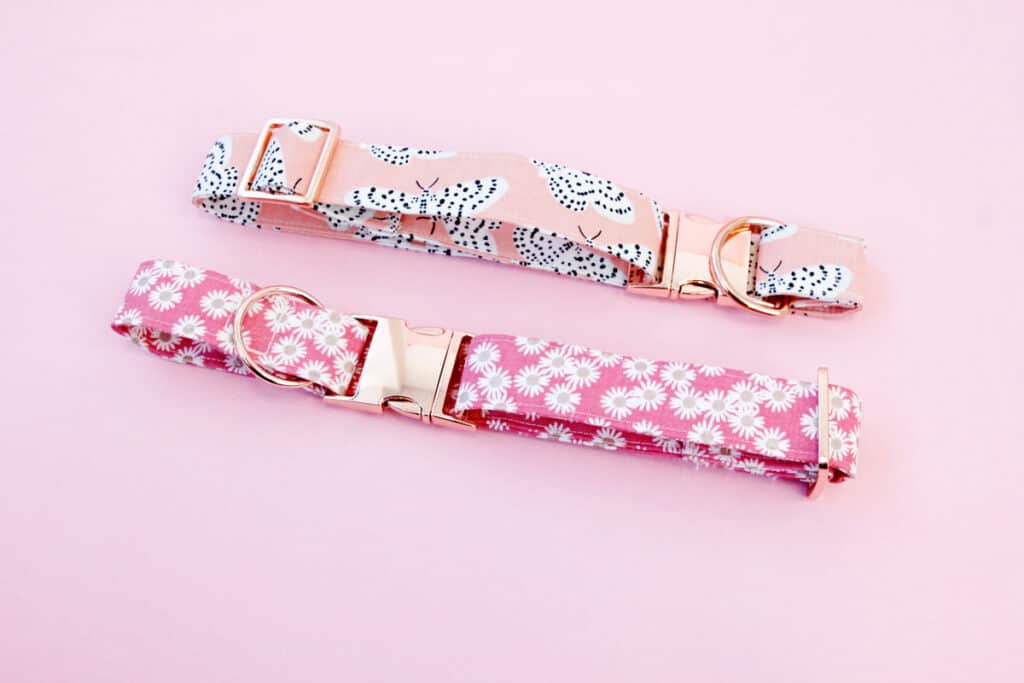 I found this gorgeous rose gold hardware and had to use it! I love how fancy it makes my pup! If you are sewing for a small dog or cat you can use plastic hardware for a lighter weight collar.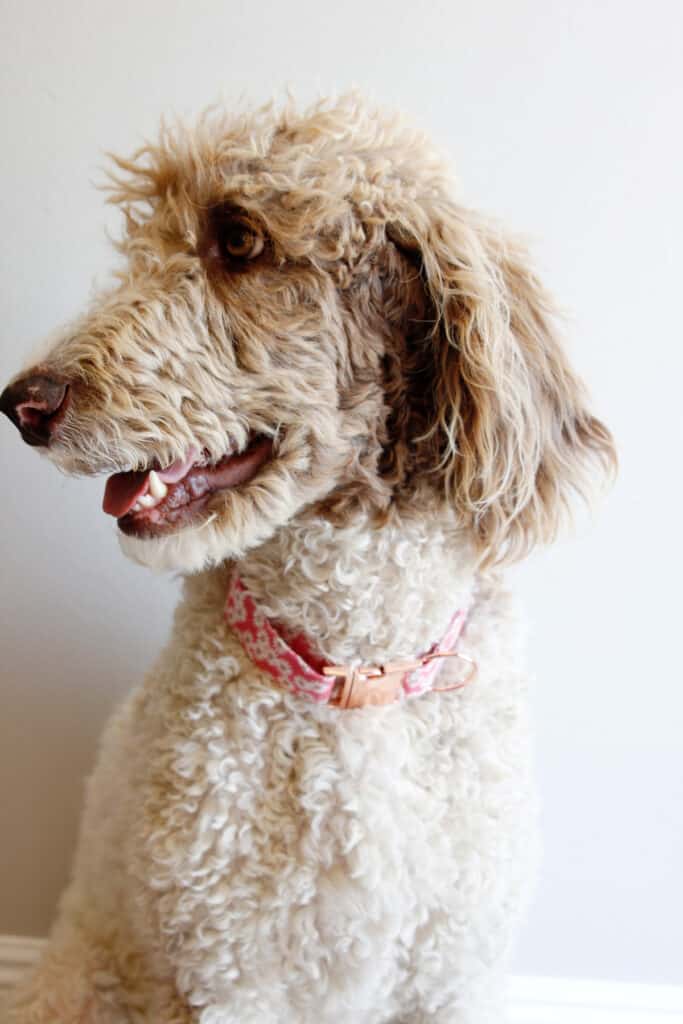 But if you have a medium or large dog, metal is just fine and will last a long time.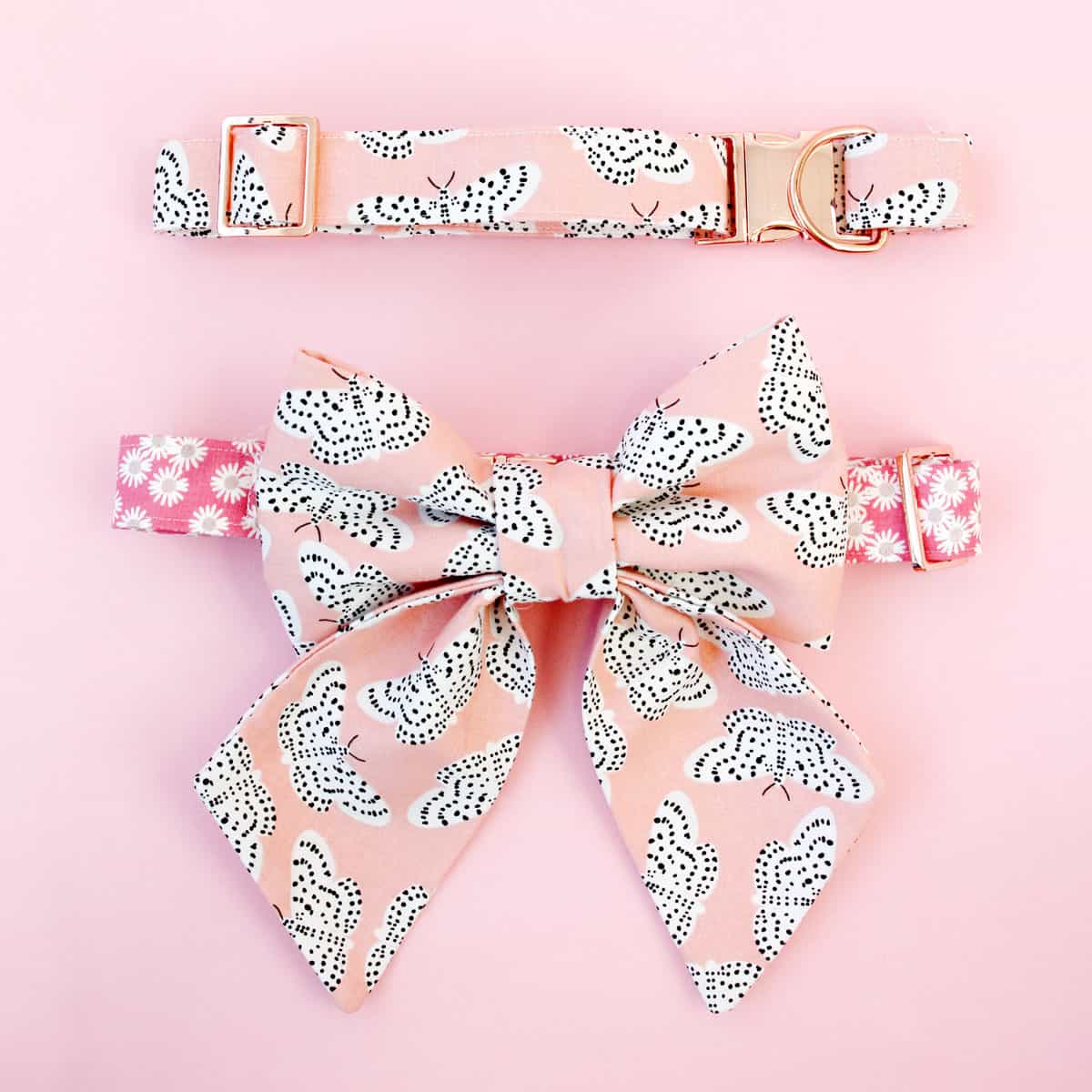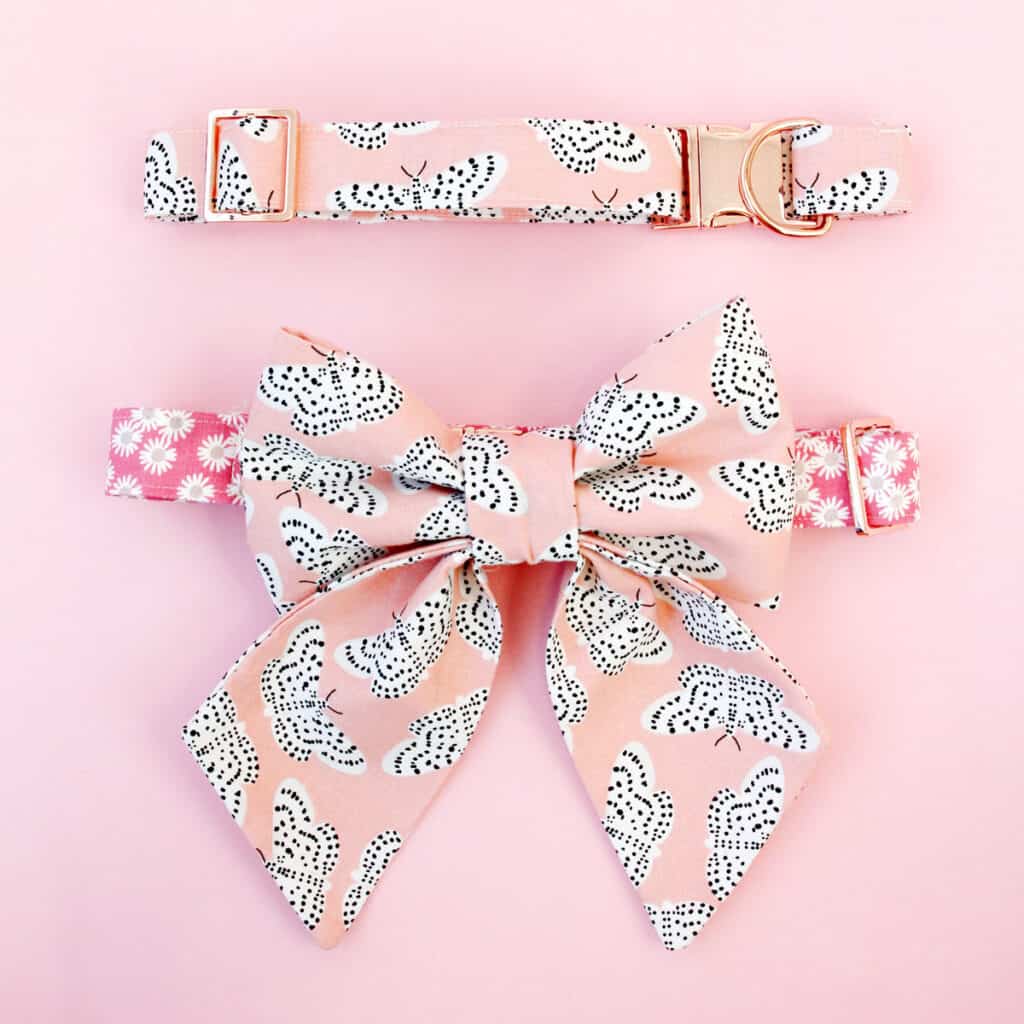 Make a matching dog collar bow using the same fabric for a full accessory set! This is a great gift for your best friend or sew it as a gift for someone who has a new pet!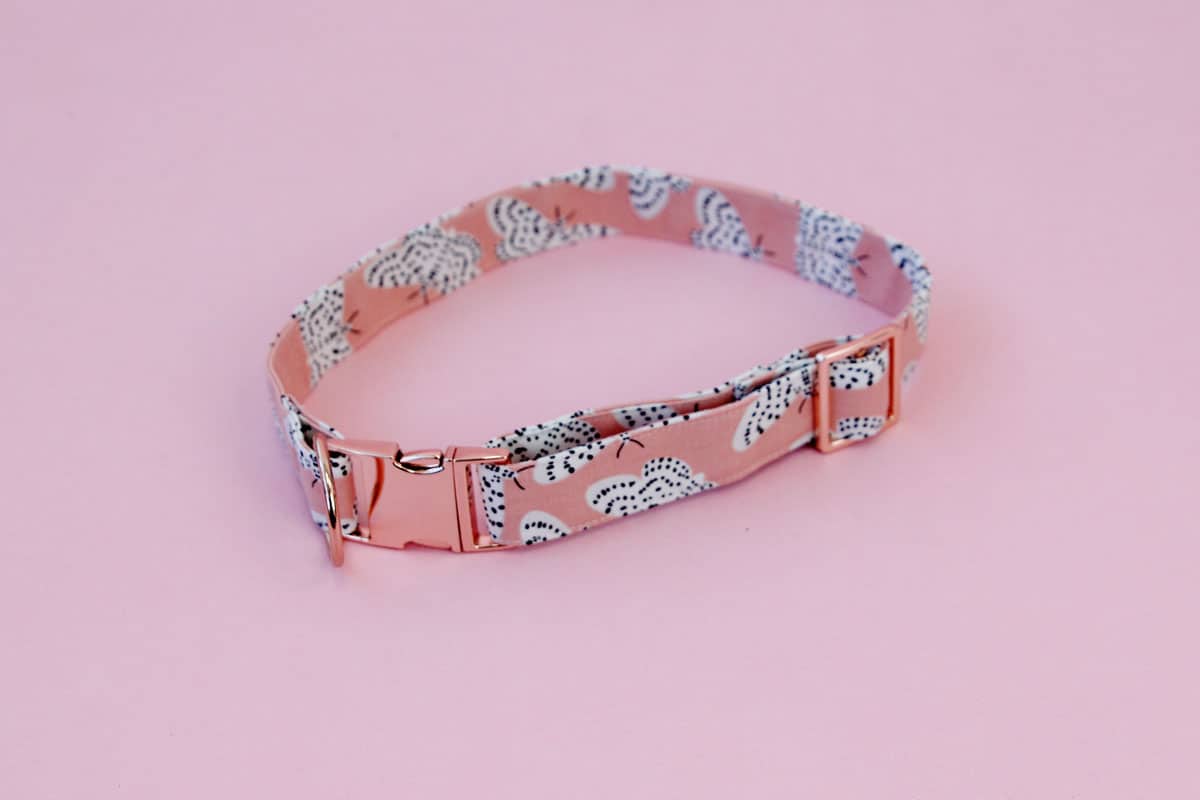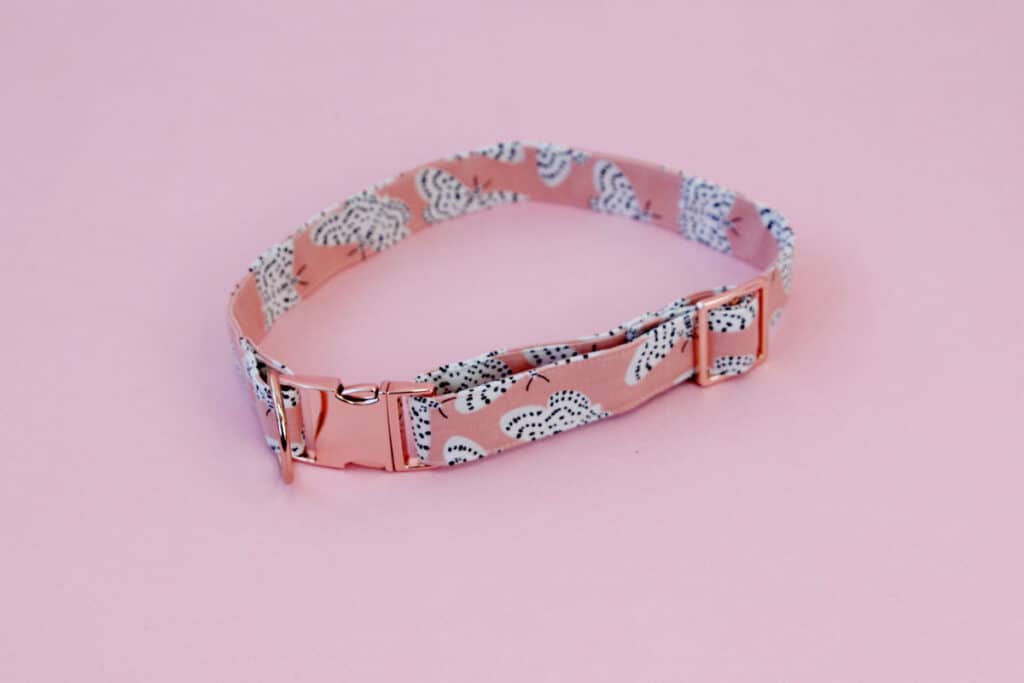 Dog Collar Tutorial Materials
1/4 yard fabric, I'm using 100% cotton Spotted Butterflies in Salmon(affiliate links)
Hardware (affiliate link)
Rotary cutter, mat and acrylic ruler
Thread for topstitching
Sewing machine, iron and scissors
Dog Collar Sewing Pattern Download
Use the measurements in the next section or download the printable pattern below.
Print the pages on standard letter paper or A4 size at 100% or DO NOT SCALE. Trim the pages and tape together as shown: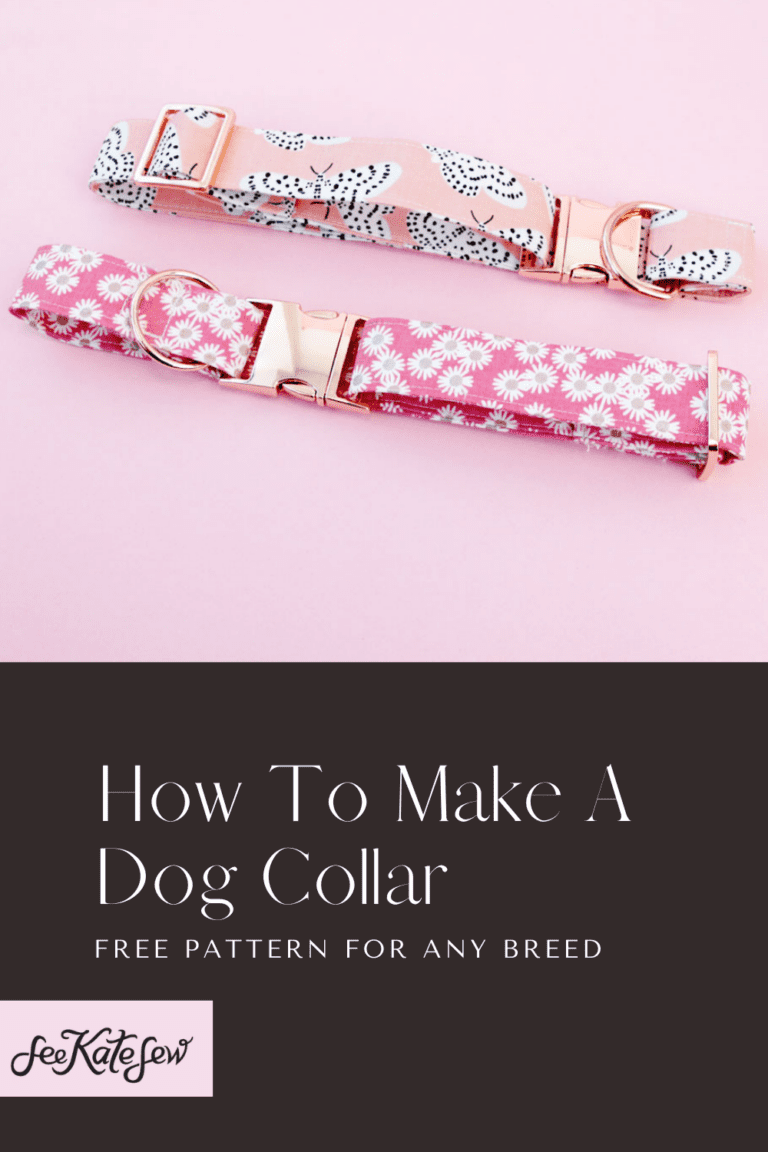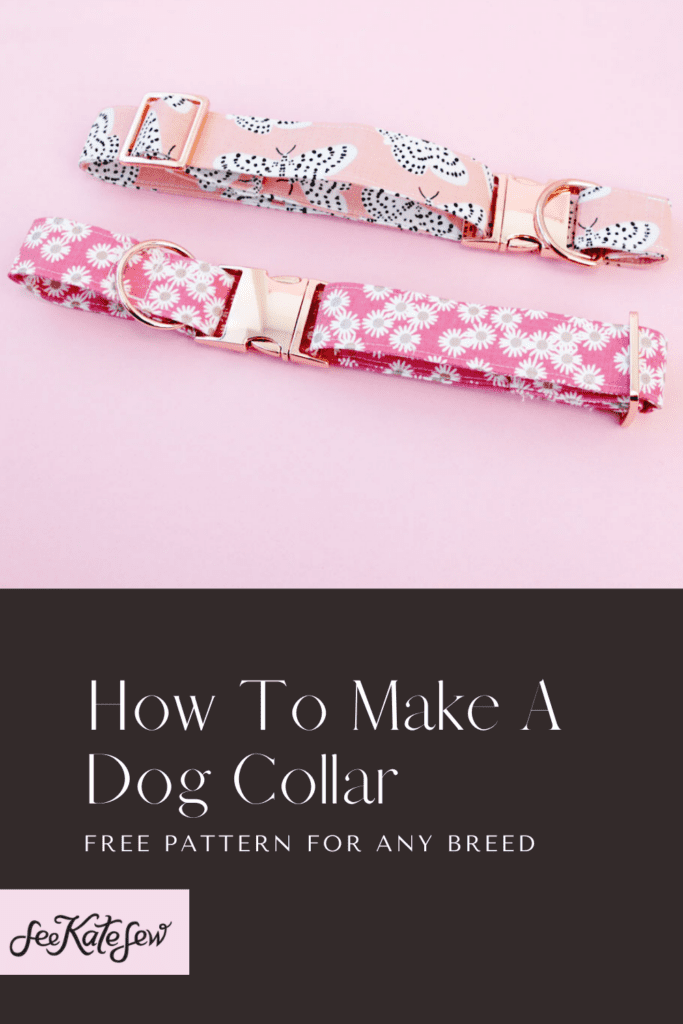 Collar Length & Cutting Measurements
Use a measuring tape to measure your dog's neck size. Pick a size based on that measurement or choose based on breed if you are sewing for someone else. My dog is a fairly large breed but has a smaller neck when shaved and she is wearing a size Large. Each collar size has some adjustability, too, so keep that in mind when choosing!
These measurements include varied widths for smaller and larger dogs, so adjust your hardware as needed.
XXS (fits up to 10″) – Cut a strip of fabric 2″ x 14″. (1/2″ Hardware)
XS (fits up to 10″) – Cut a strip of fabric 3″ x 14″. (3/4″ Hardware)

Good size for chihuahuas, Maltese, etc

S (fits up to 14″) – Cut a strip of fabric 4 x 18″. (1″ Hardware)

Good size for Boston Terrier, jack Russel terrier

M (fits up to 20″) – Cut a strip of fabric 4.5 x 24. (1.25″ Hardware)

Australian sheperd, border collie,

Large (fits up to 26″ neck) – Cut a strip of fabric 4.5 x 30″. (1 3/16″ Hardware)

Boxer, Doberman, Lab, Golden Retriever, Standard Goldendoodle

Extra Large (fits up to 28″) – Cut a strip of fabric 5 x 32″. (1 3/8″ Hardware)

Newfoundland, English Mastiff, German Shepard etc.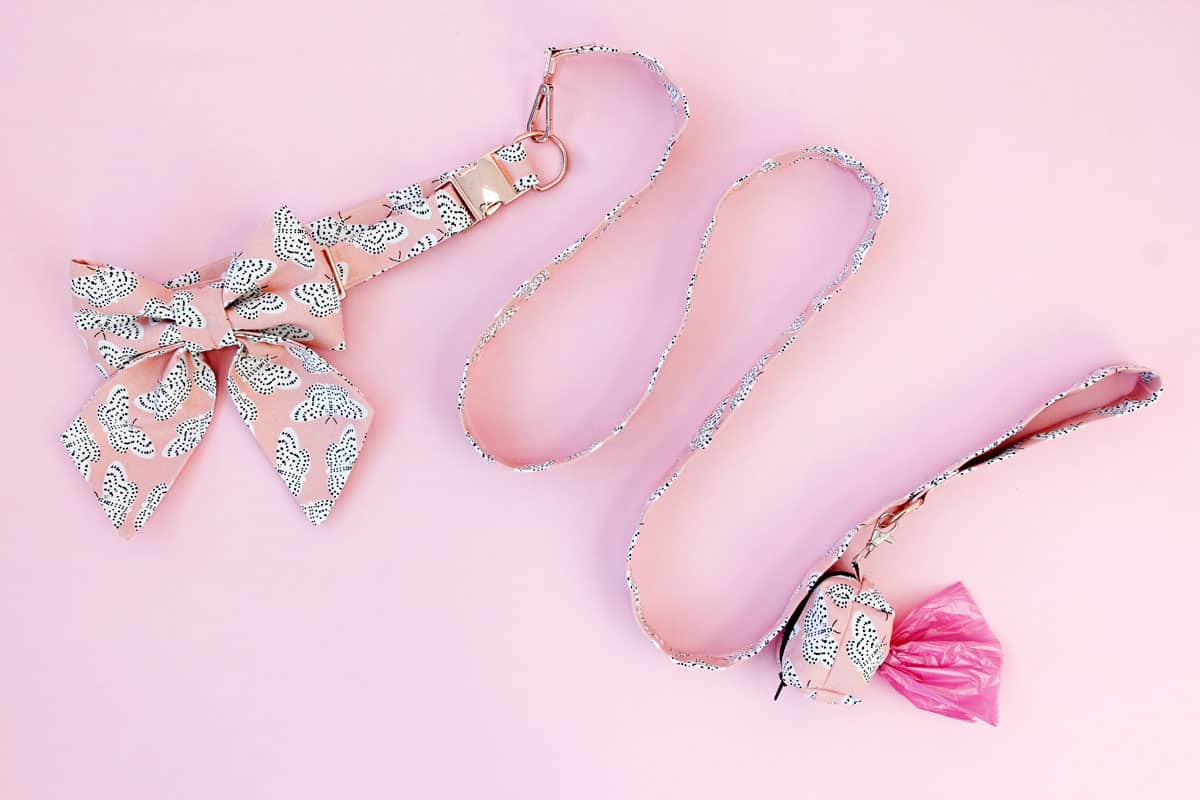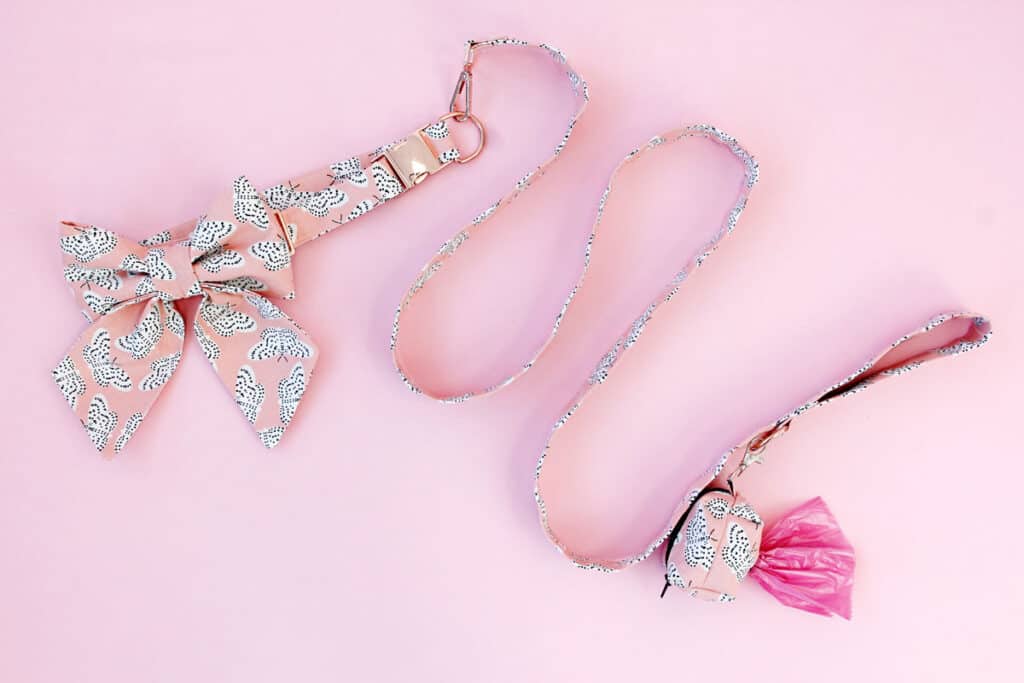 How to sew a dog collar
Here are the instructions for sewing a personalized dog collar.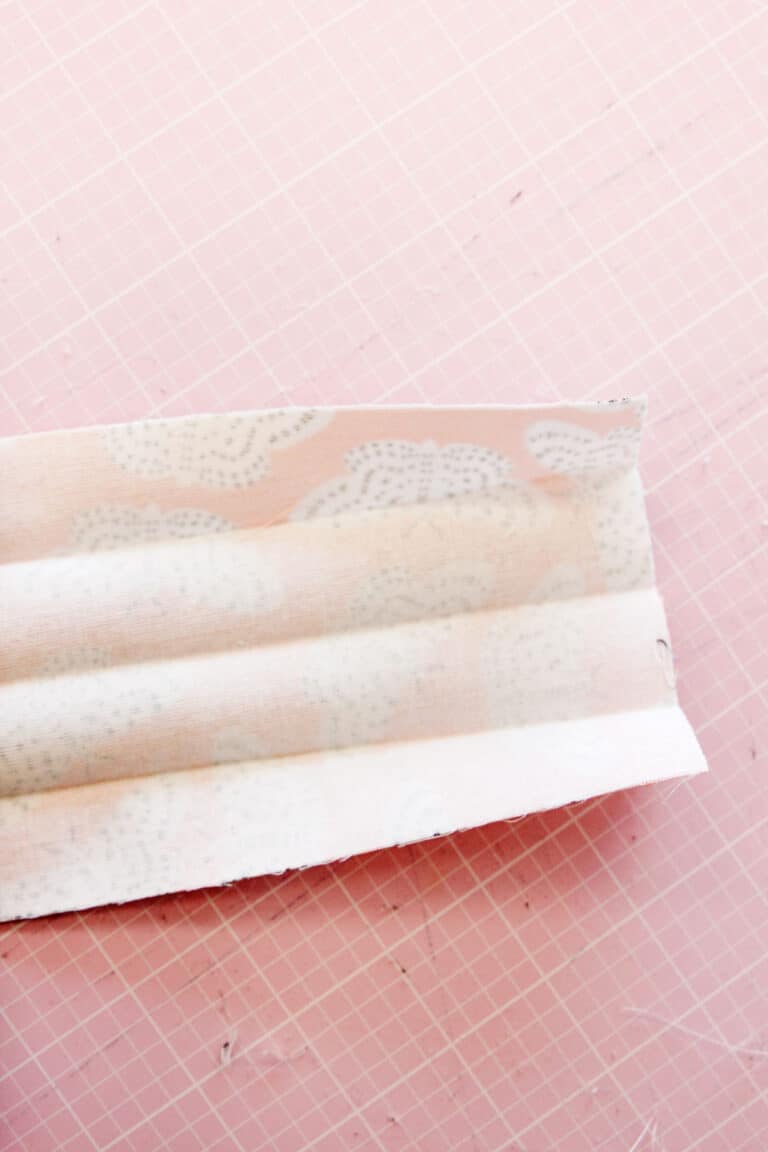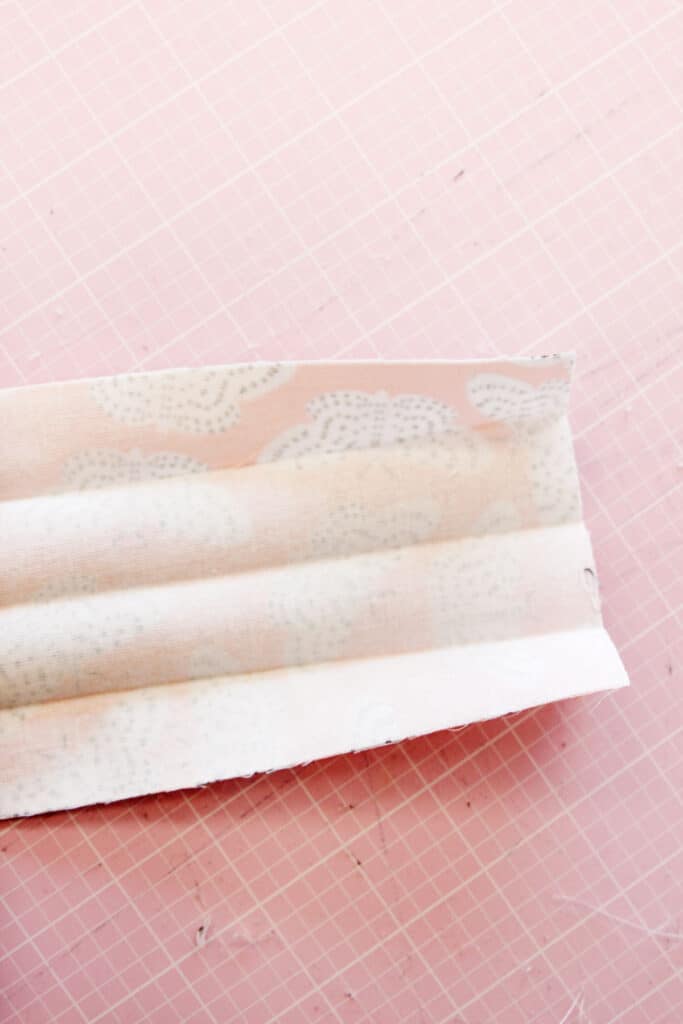 First up, fold the raw edges of the fabric strip into the center lengthwise and press.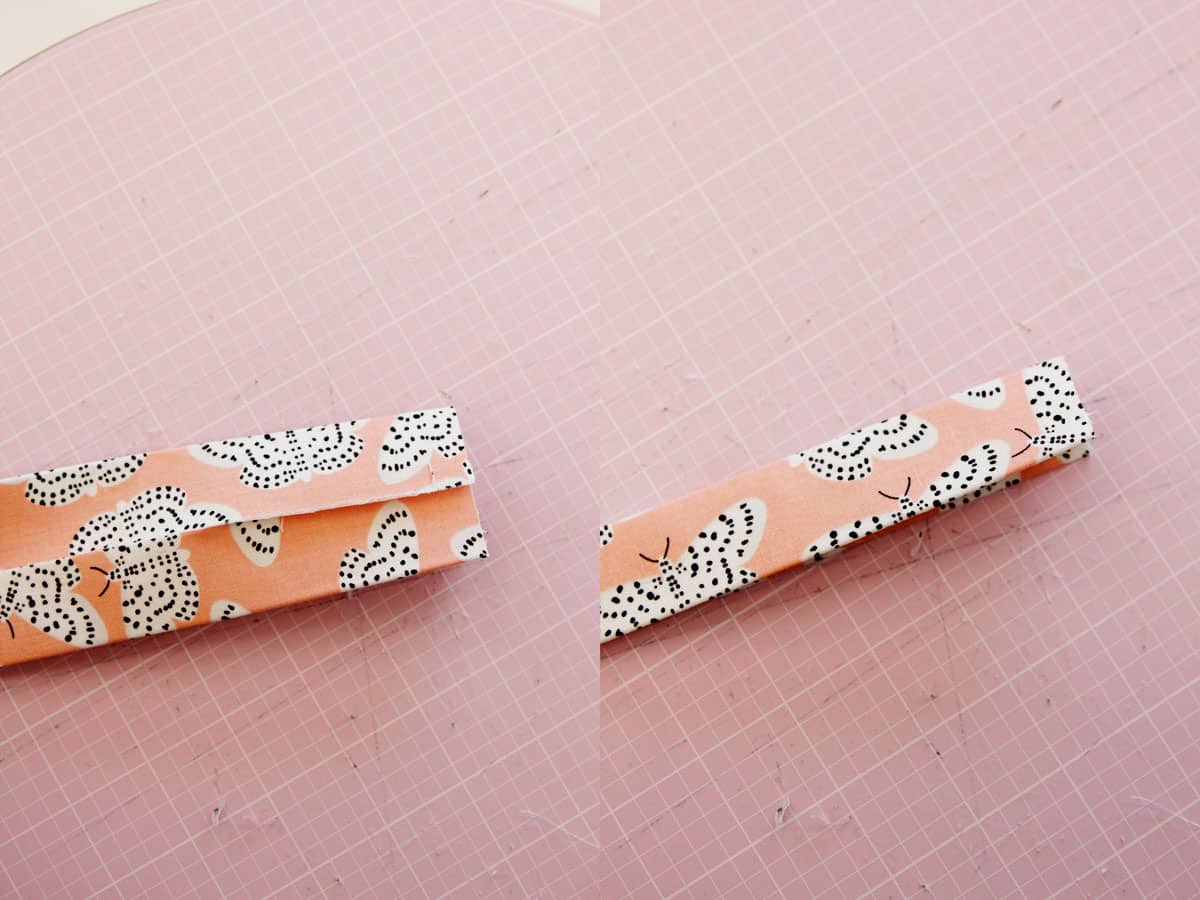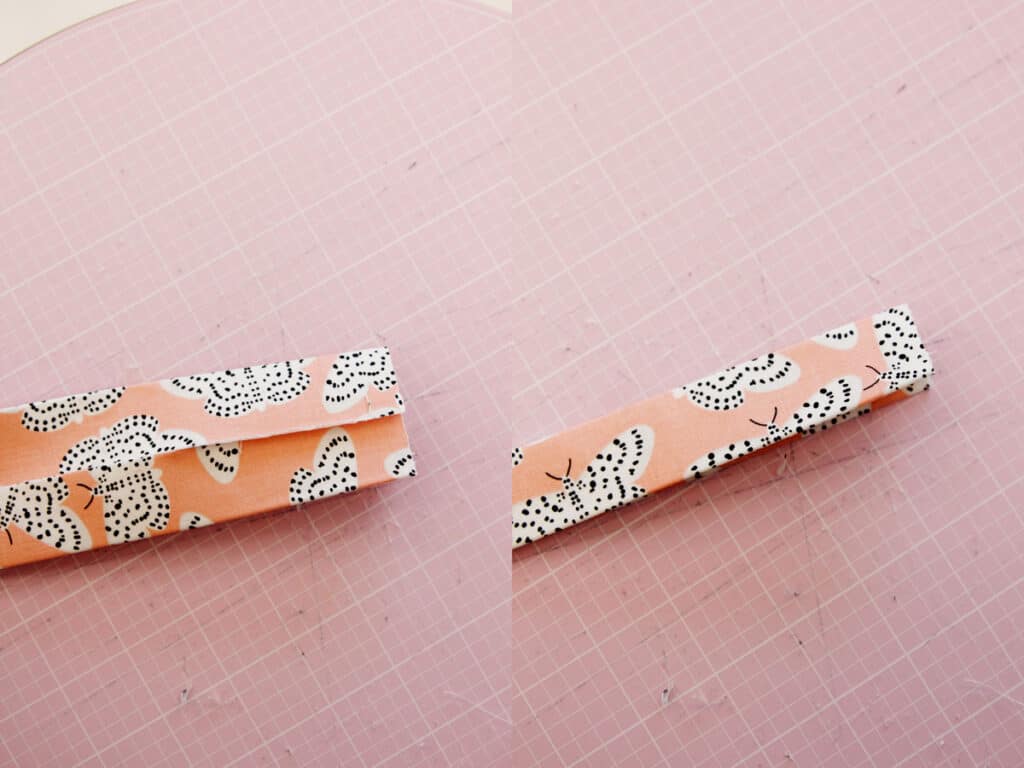 Topstitch on both sides of the length of fabric, 1/8″ from edges using a straight stitch.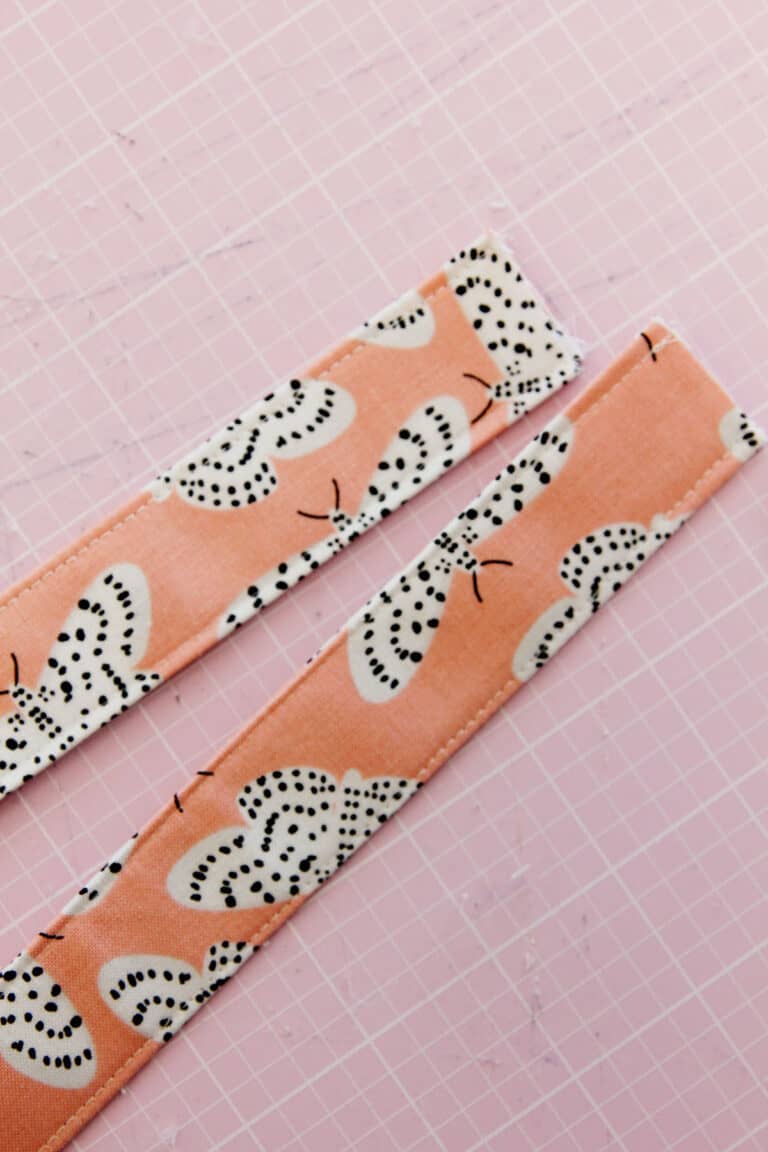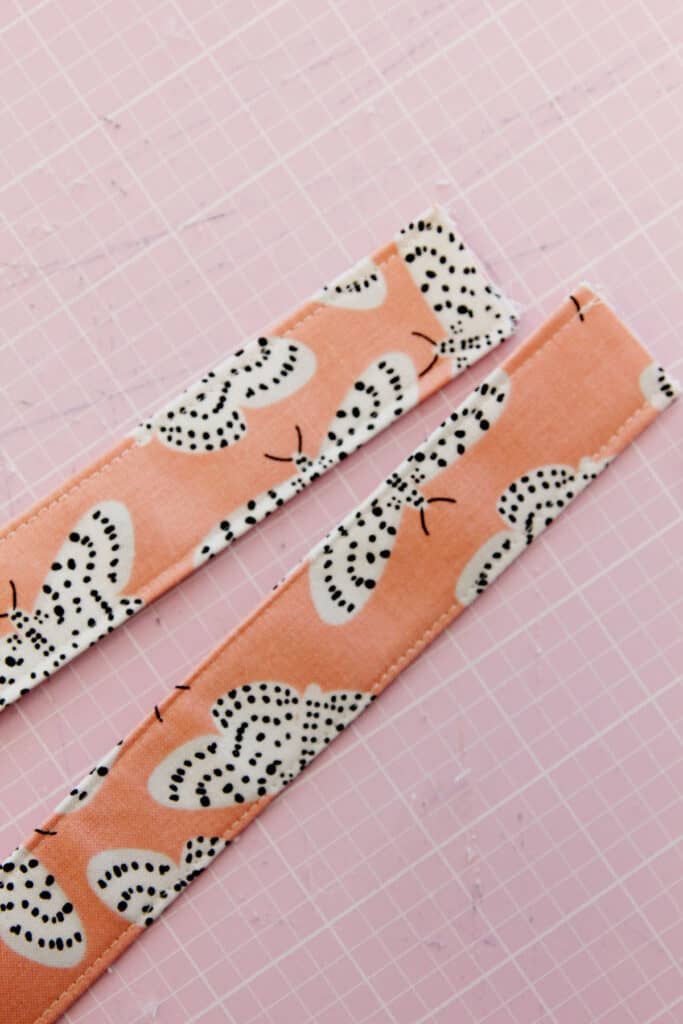 Press under 1/4″ on the end of the strip. Then slip the clasp hardware and a D-ring onto the leash. Fold the collar over the hardware leaving about 1.5″ at the end.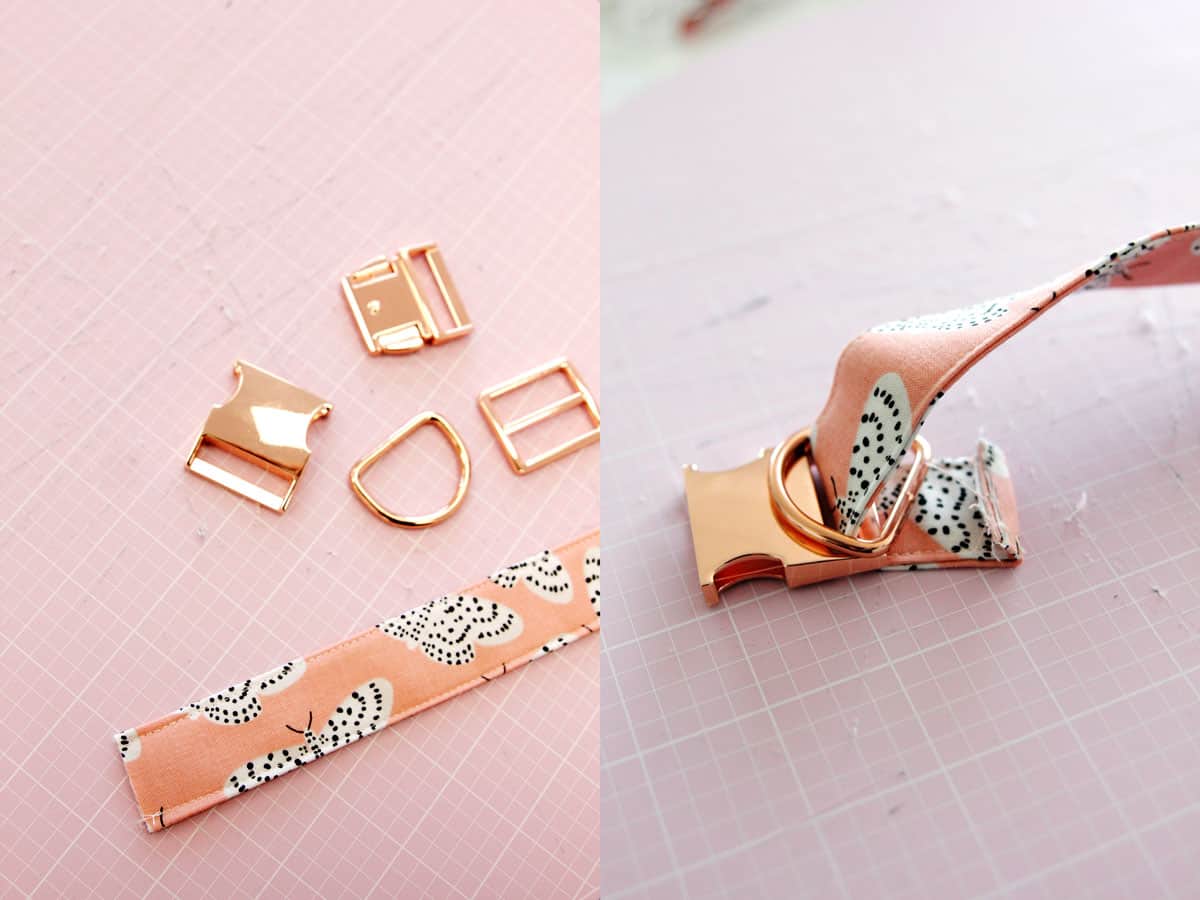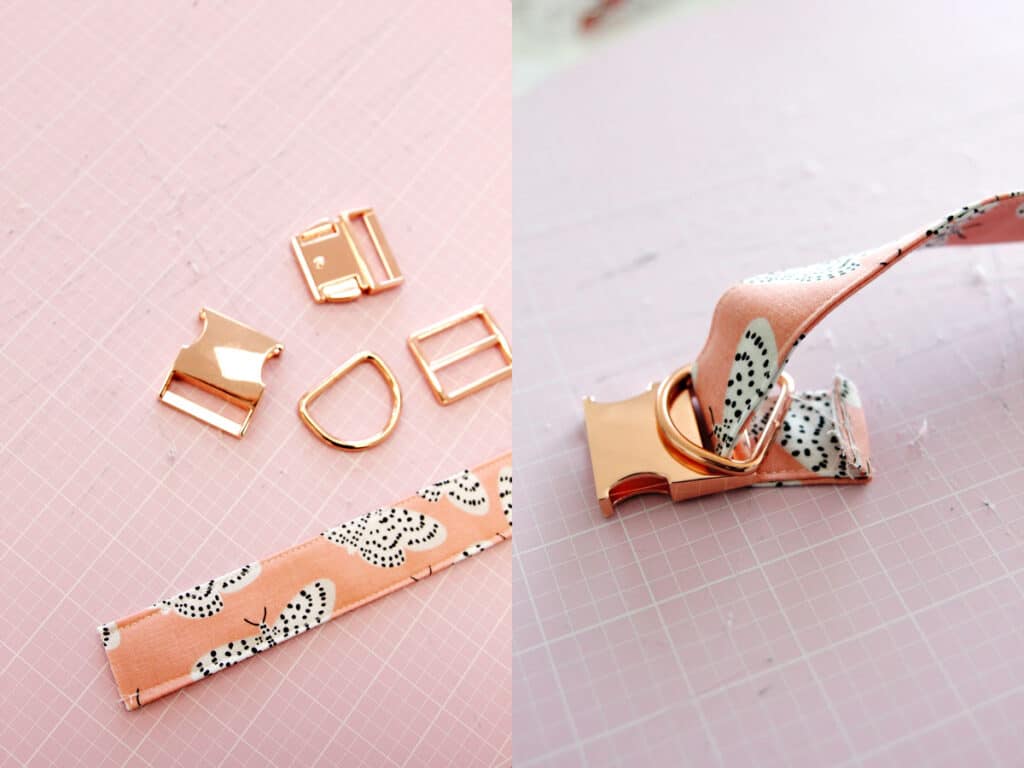 Clip the collar in place, folded over the hardware. Then sew a small rectangle to hold them together. Backstitch stitches for a stronger hold.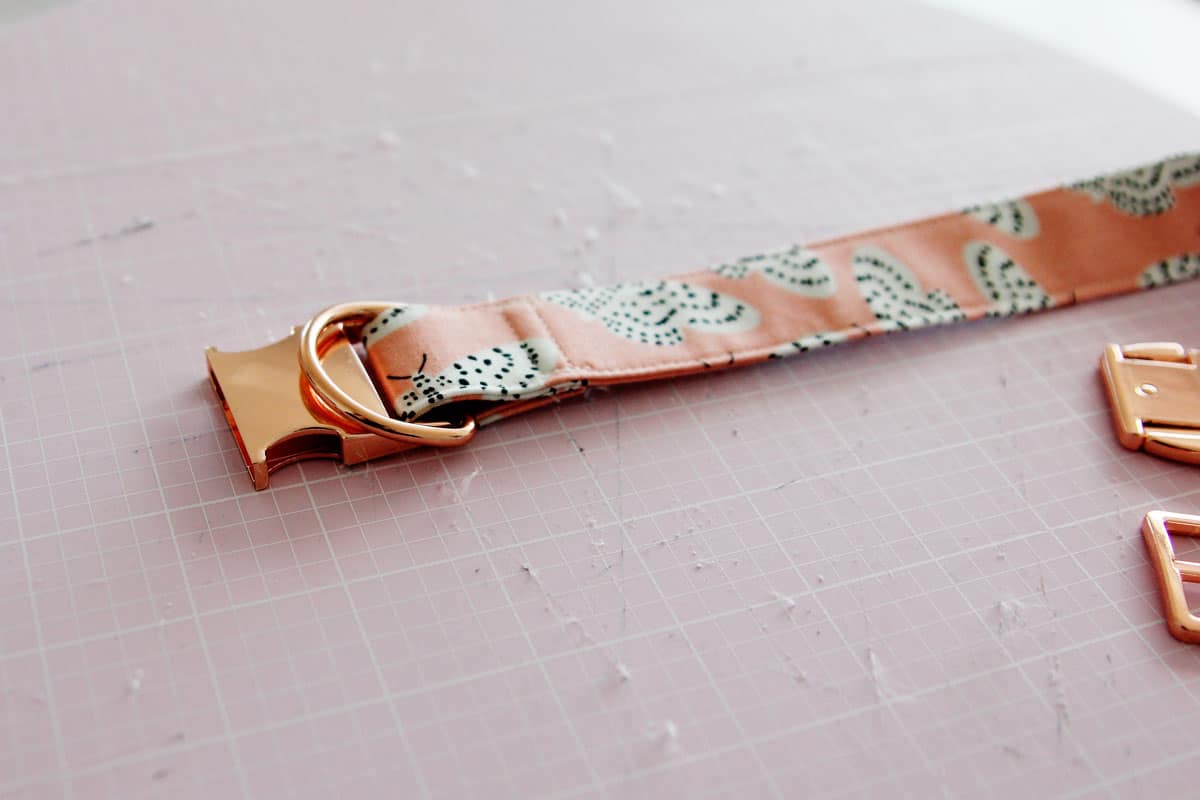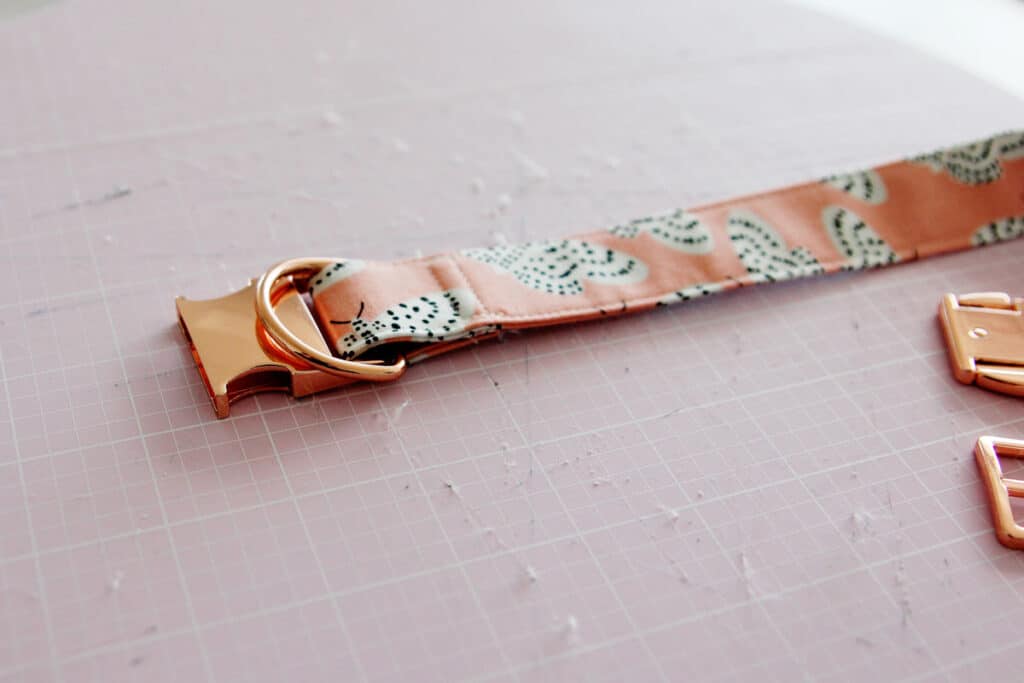 Slip slide or strap adjuster onto collar with the collar fabric over the slide's crossbar.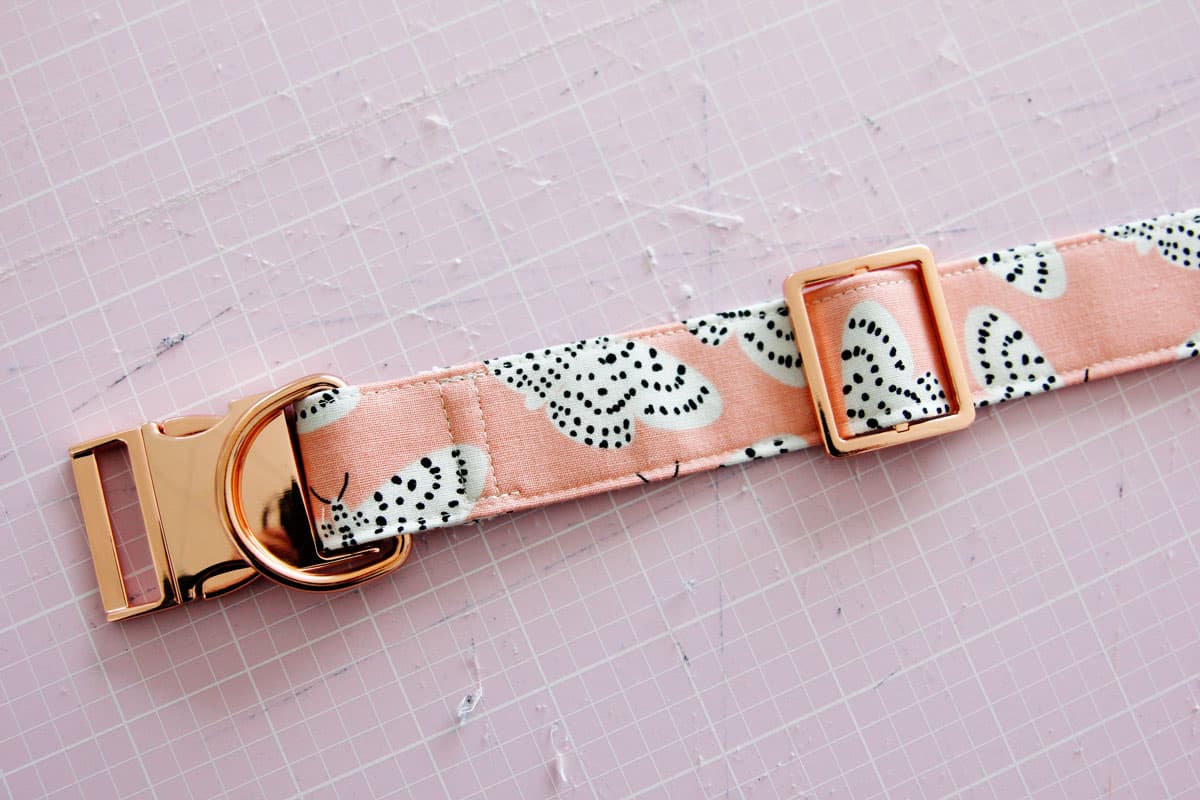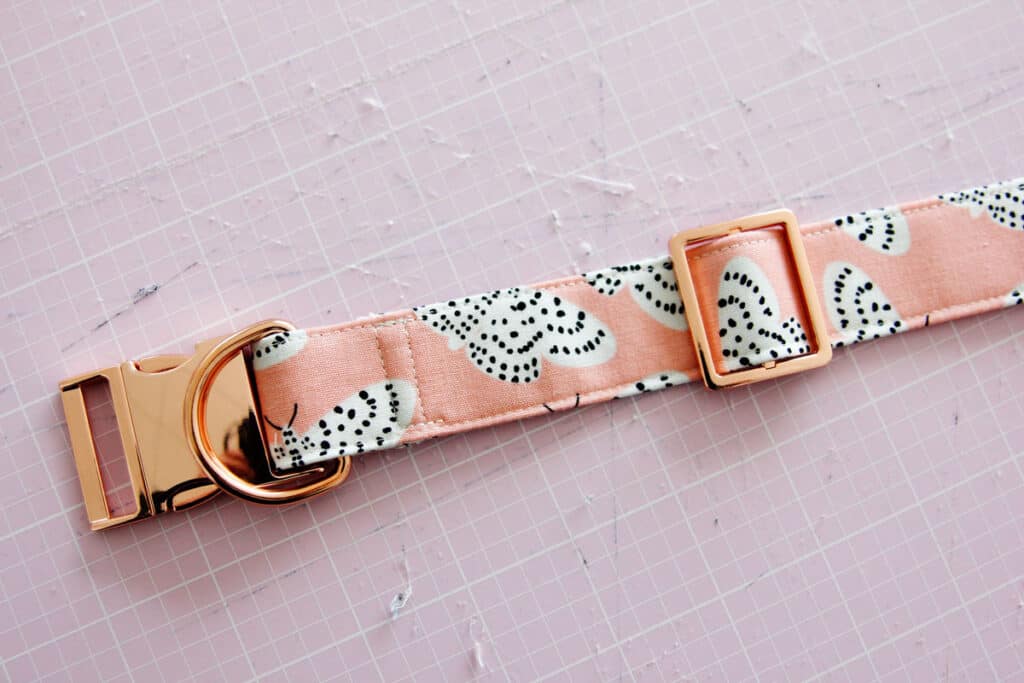 Clip the other half of the buckle together and slip the collar into the other side as shown. You'll come over the top of the buckle and into the middle of the collar.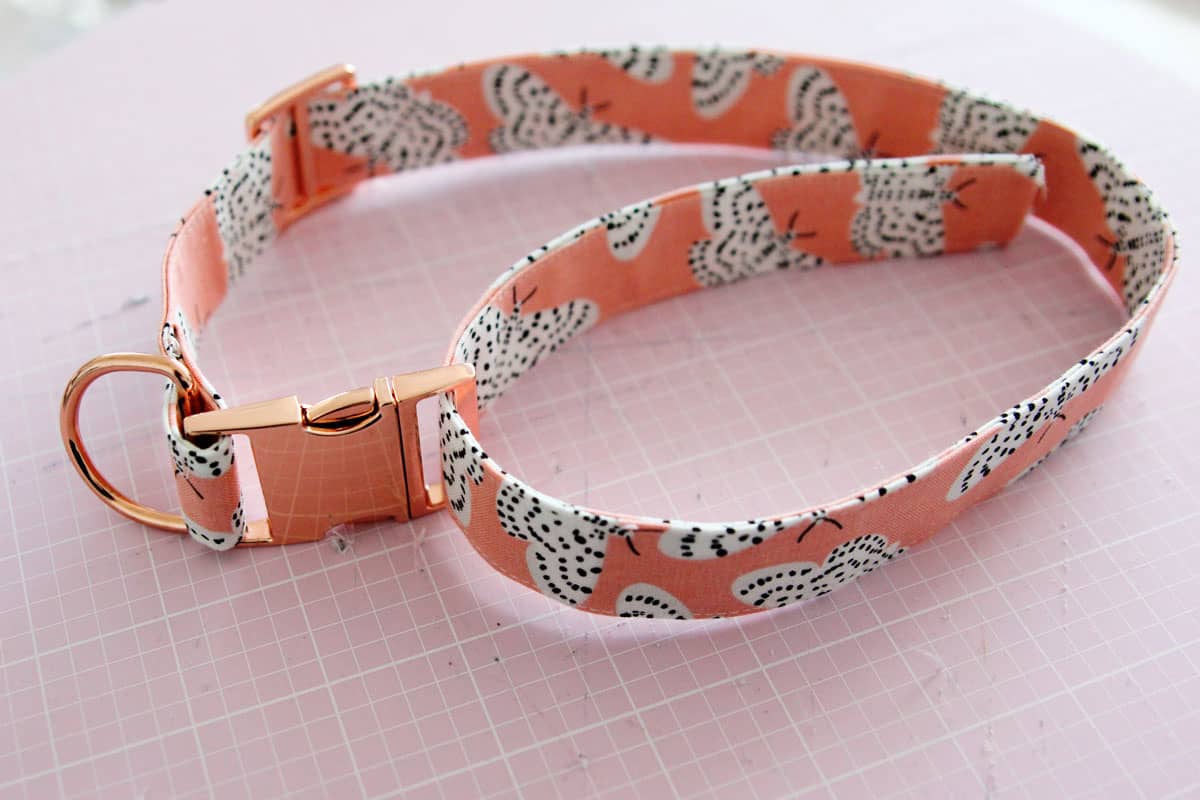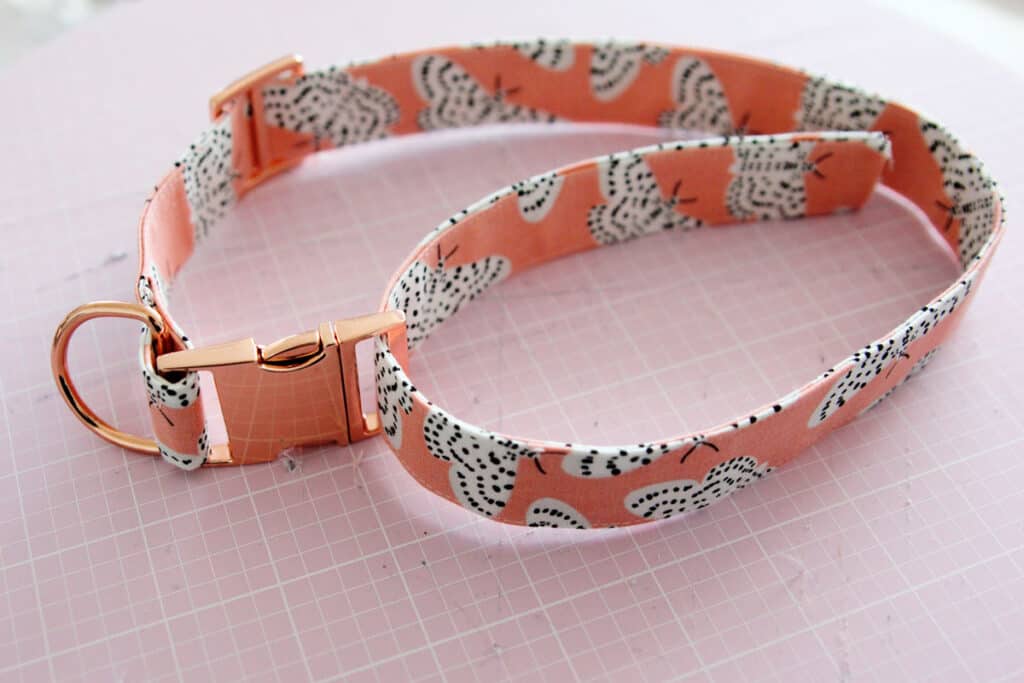 Unbuckle the clasp and slide the end of the collar back through the slide as shown.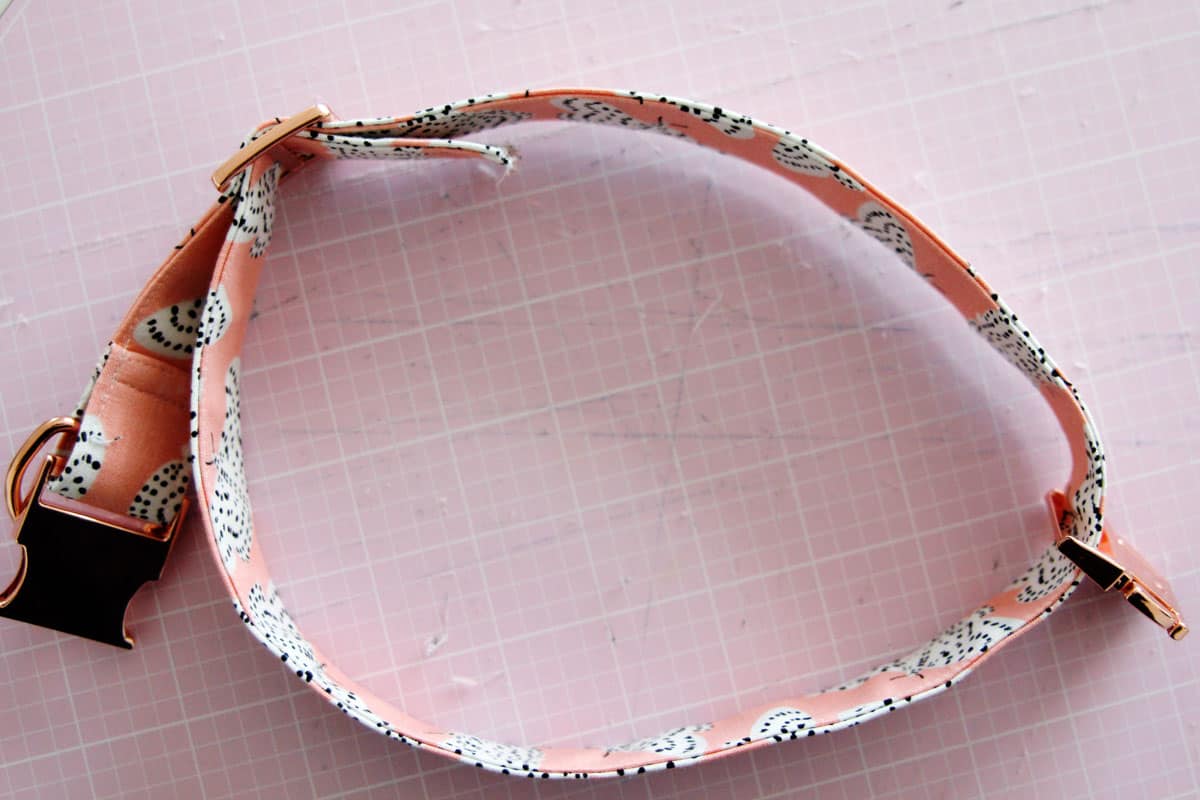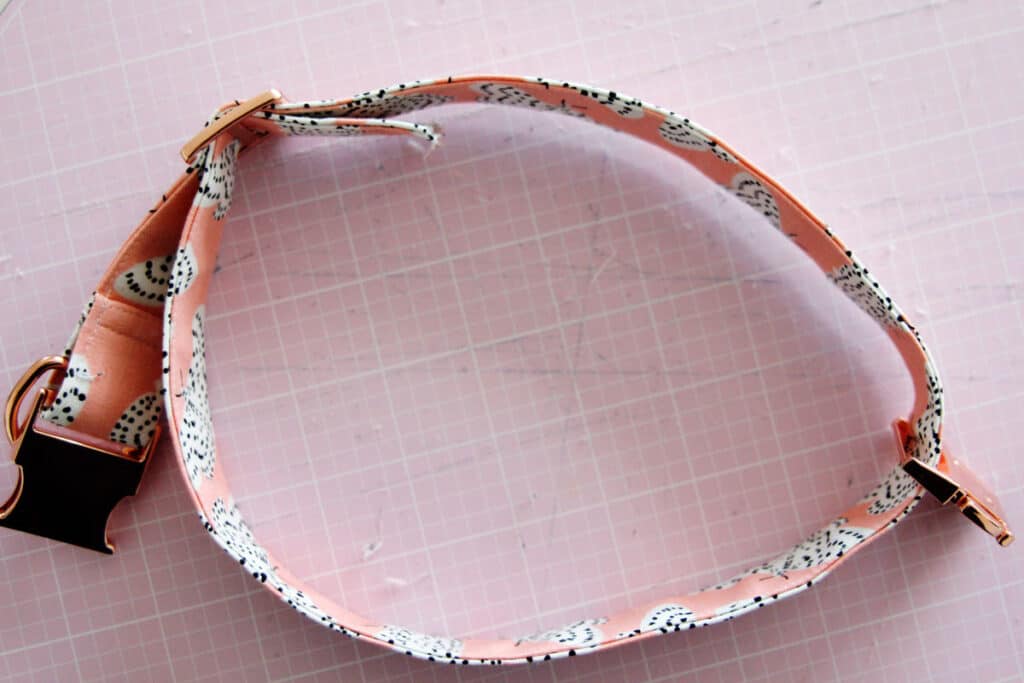 Press under 1/4″ at the raw edge of the fabric.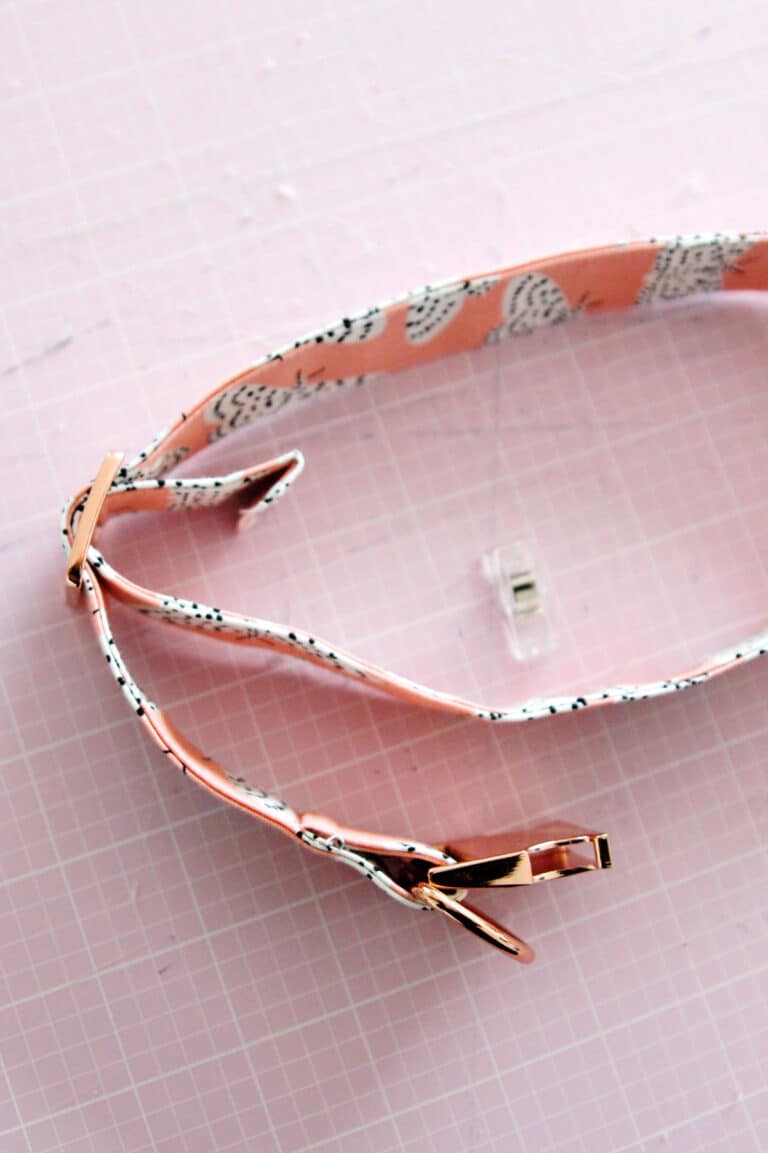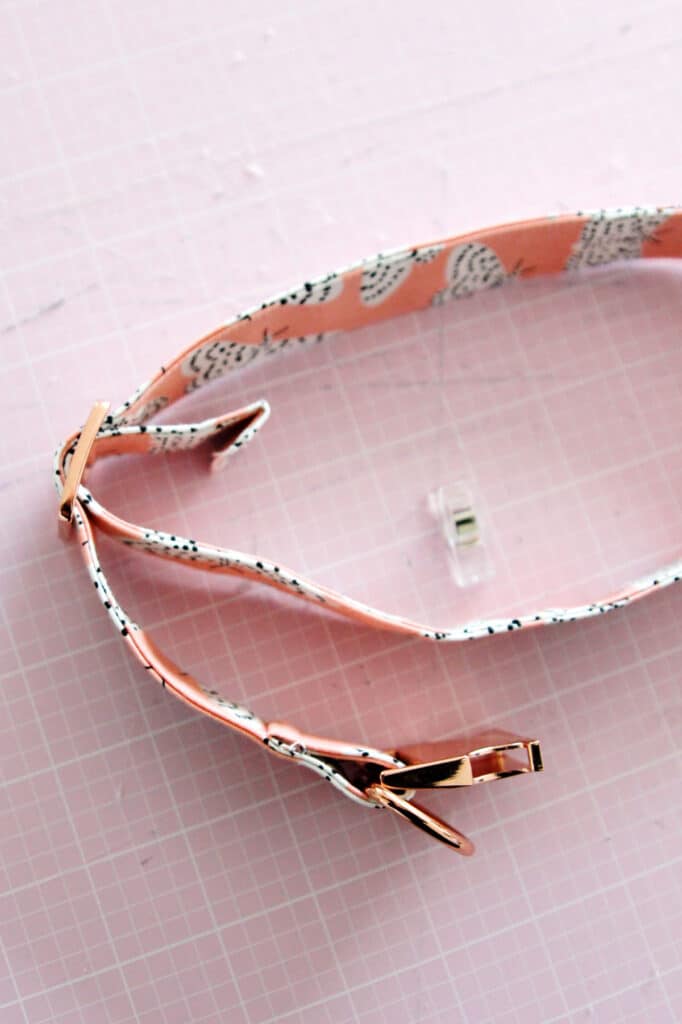 Be sure you press it back towards the buckle as shown. Loop the fabric around and clip folded edge about 1″ past the buckle and sew.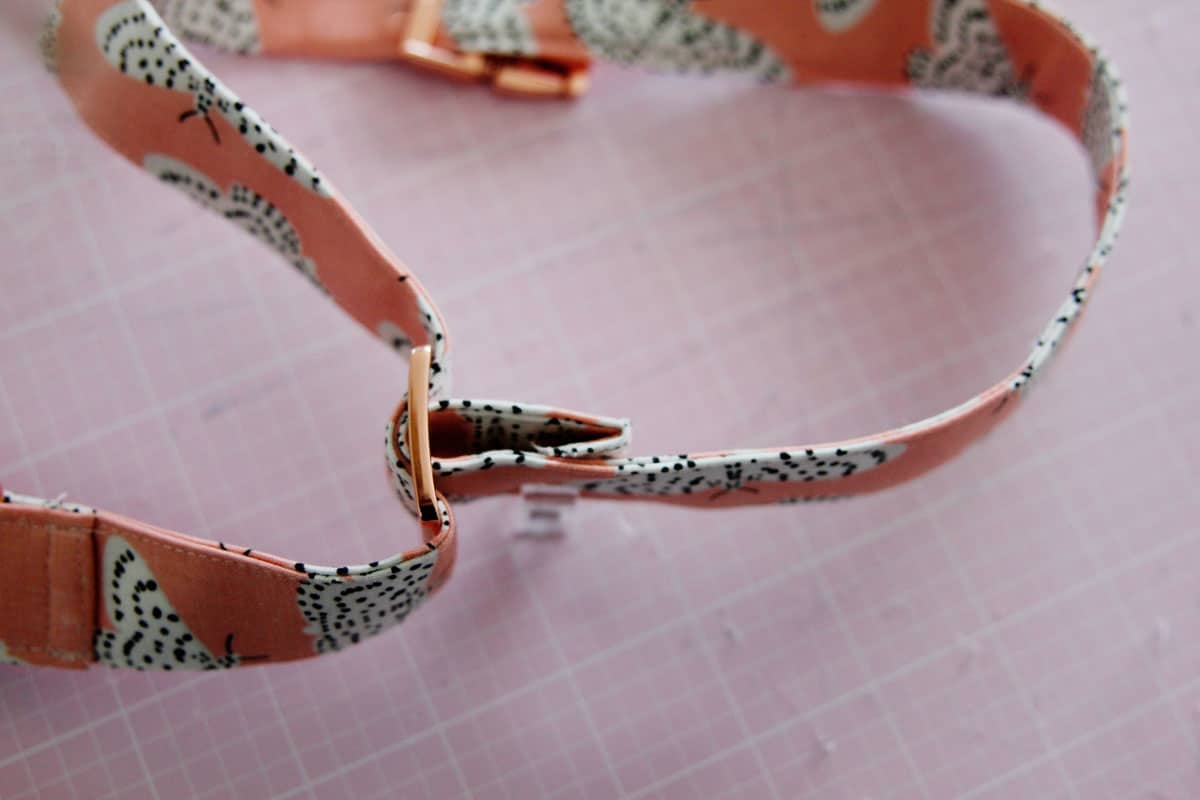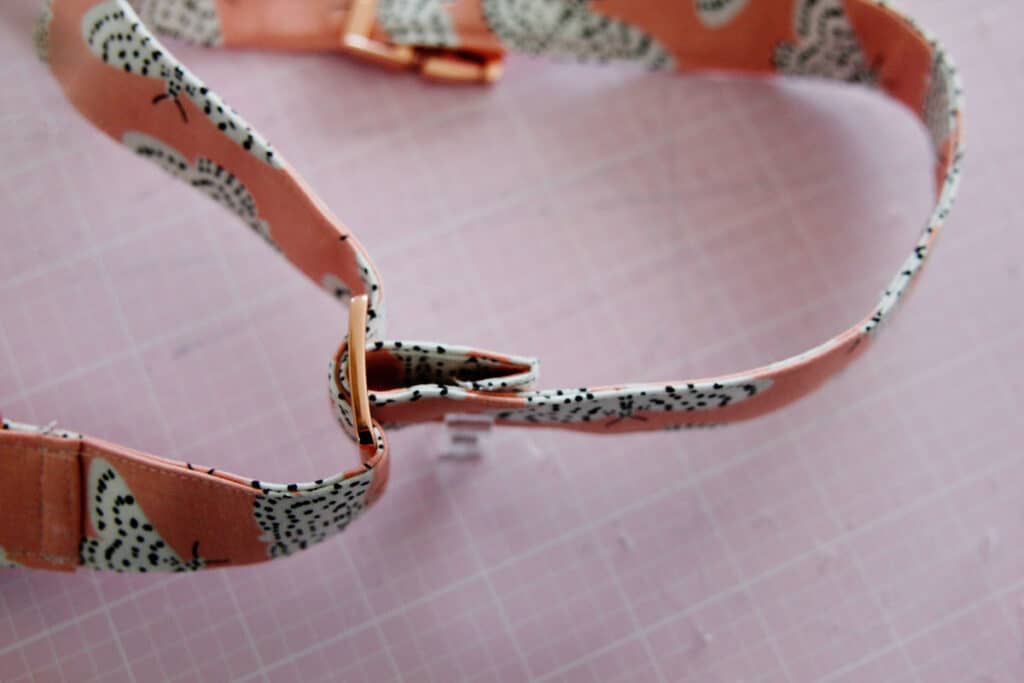 Clip threads and your collar is finished!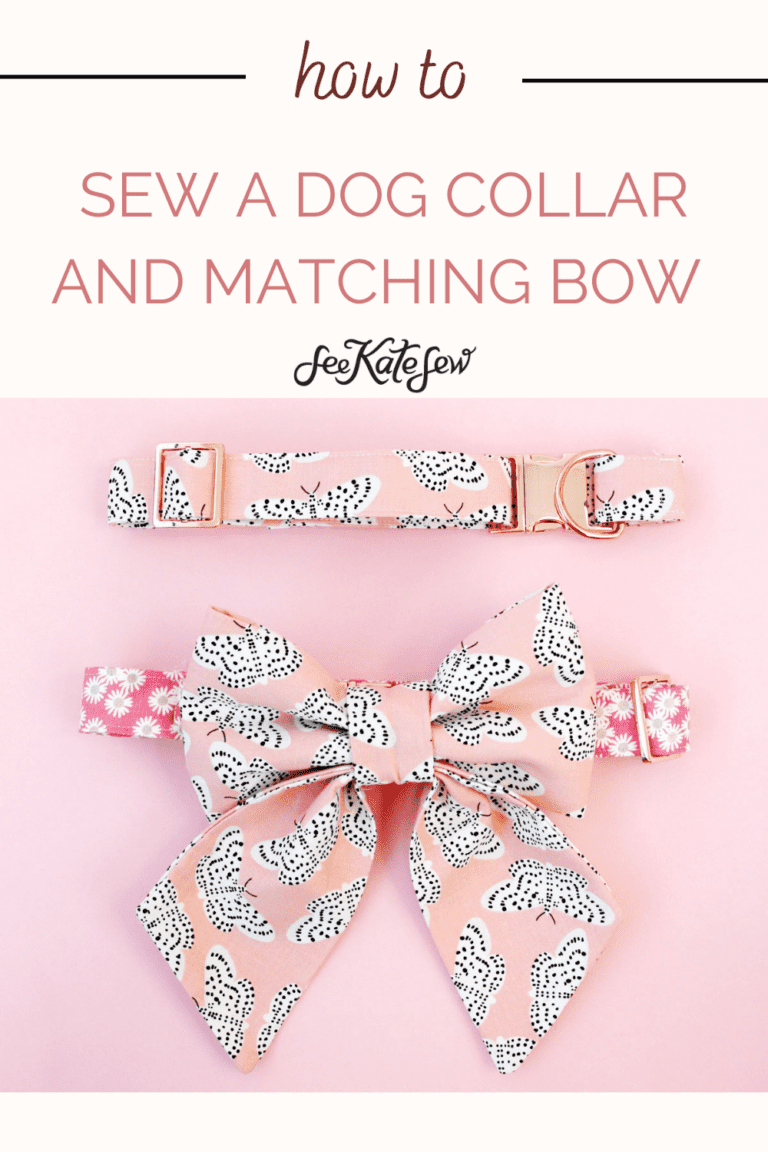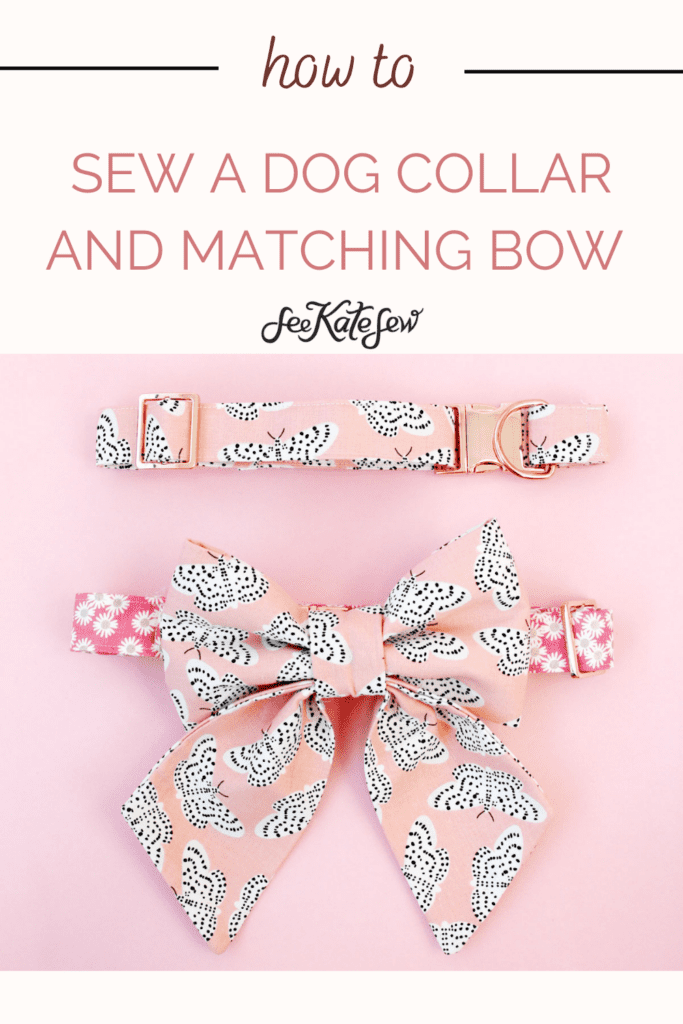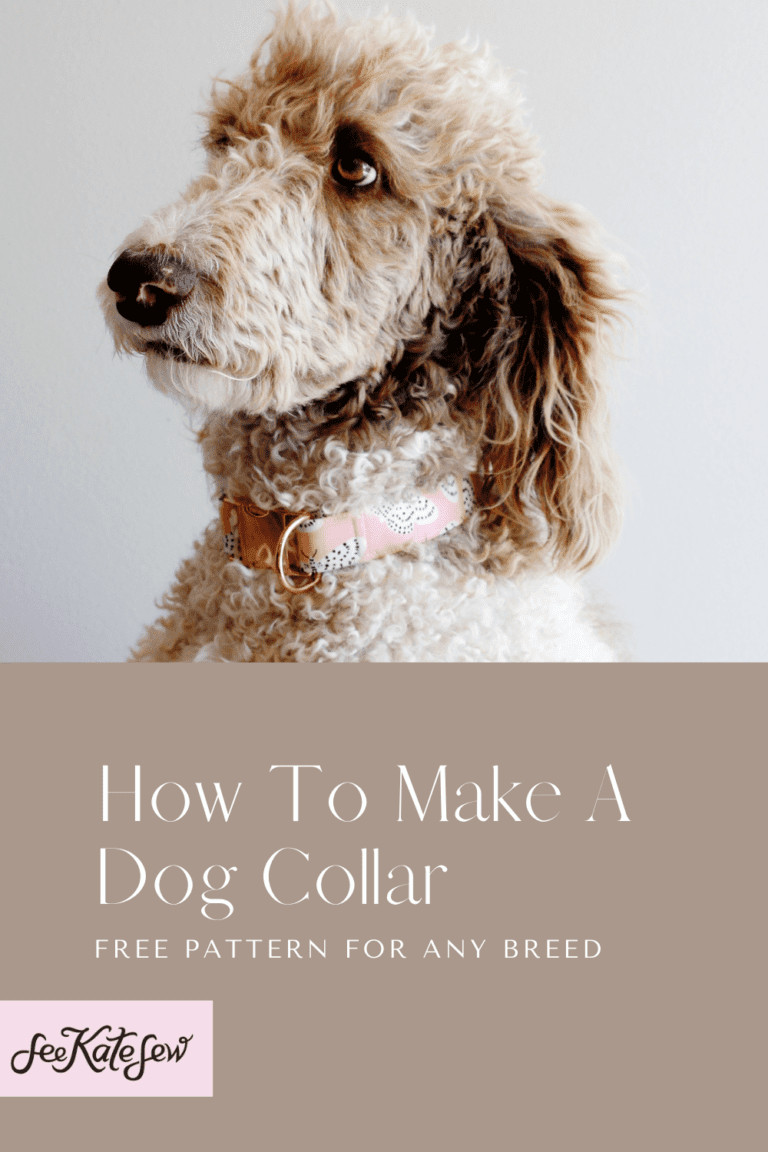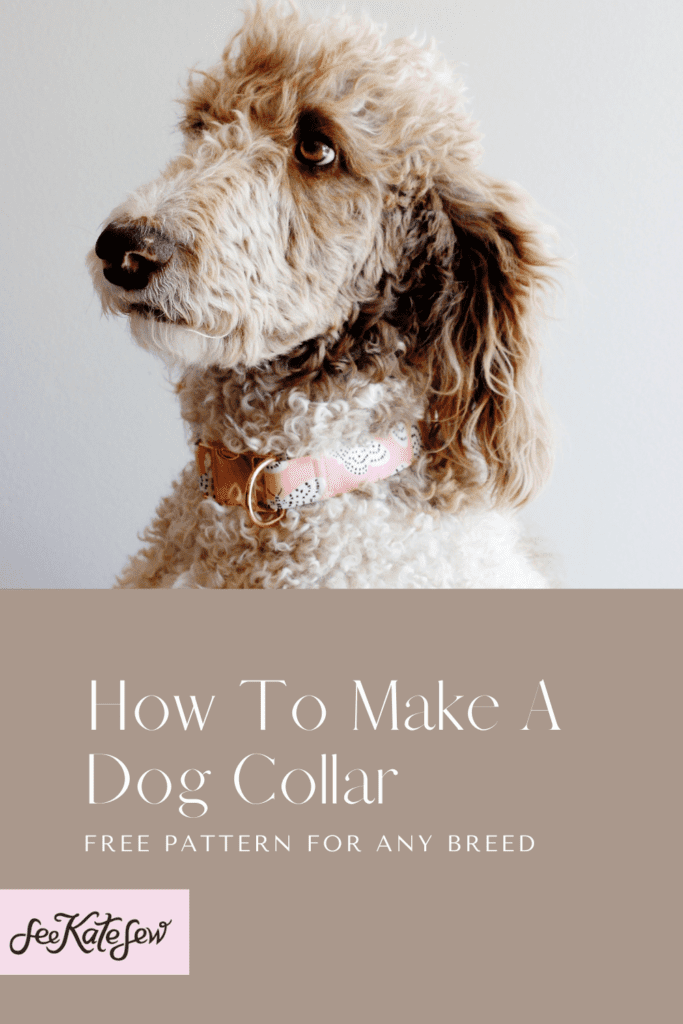 More Dog Sewing Projects