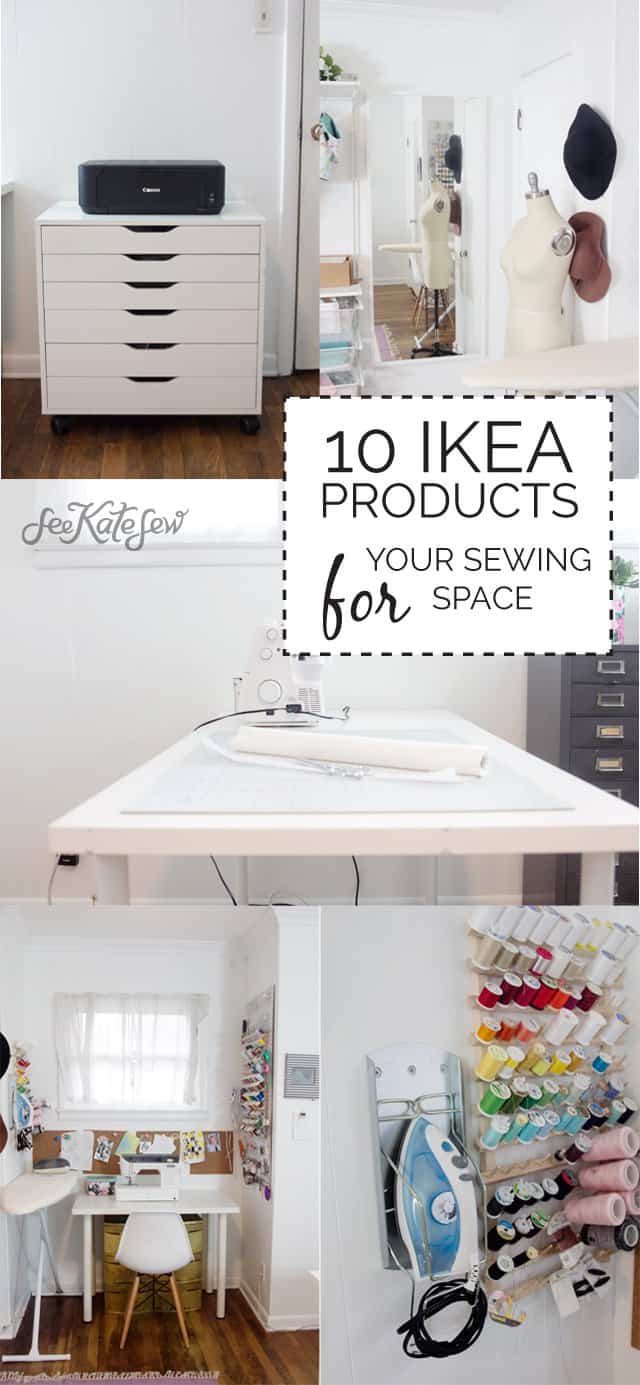 After sharing my sewing room tour and the complete source list, I realized that a whole lot of the room is straight from ikea! I compiled this list of my favorite things that are perfect for sewing spaces of all sizes! These are my tried and true recommendations!
10 IKEA products for your sewing space
1. Linmon Tables with Adils Legs. At $20 a pop, these are nice study tables for sewing. An upgrade from the card table I used to sew on. I also love the space underneath!
2. Raskog Utility Cart. This caddy on wheels is super cute, comes in 3 color options, and holds in-progress sewing projects or fabric nicely.
3. Stave Mirror. This large mirror is my favorite for seeing how things fit and look while I'm sewing garments.
4. Bumerang Pant/Skirt Hangers. These hangers have two clips, which is so nice for hanging printed patterns!
5. Iron holder. This is an amazing product! It holds an iron and the cord, keeping it out of reach for young kids. Plus, it's always right there when you need it!
6. Magnetic Knife Strips: There are so many metal things when it comes to sewing. I have these strips right next to my machine to hold nippers, needles, pins, machine feet, etc right next to my machine.
7. and Spice Holders: The spice holders hold things like buttons, wonderclips and others that don't stick to the magnets.
8. Alex Unit: This is a versatile piece. In the sewing room, I use it to hold flat patterns. The drawers are really big and flat, so it's great for that.
9. Algot System: If you're sewing clothes, a wardrobe in or near your space will change everything! It's motivating to hang up all your finished makes and also keeps things tidy and wrinkle-free. I have a whole wall of this, but even one shelf and hanging rack would be great!
10. Sortera Plastic Recycle Bins for scraps: I have a problem keeping scraps, but these things are SO nice! I just throw them all in and go through it when I need to.
What are your favorite IKEA products for your sewing space?