I've partnered with HP and Intel to show off my sewing room today as a part of their #workfromhappyplace campaign.
I'm SO excited to show you my sewing space! I spend a lot of time in here and it is truly my "happy place"! I spent the last few weeks putting the finishing touches on this room, making sure everything has a place. I have been working in here for over a year, but it just now feels "done". These photos will probably shock you if you follow me on instagram. I often post photos while I'm working on projects and I am not very organized when I'm in the middle of a project! Stuff goes everywhere. I feel like I have finally had a chance to stop working and really get this room in order. So I'm hoping it will stay sparkly and clean(er) from now on.
So, come on in!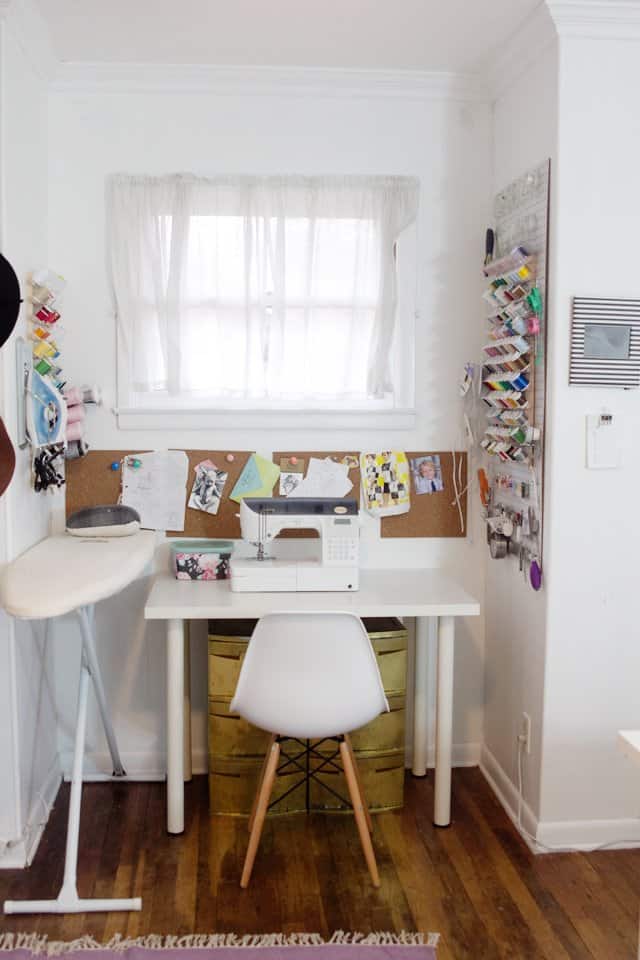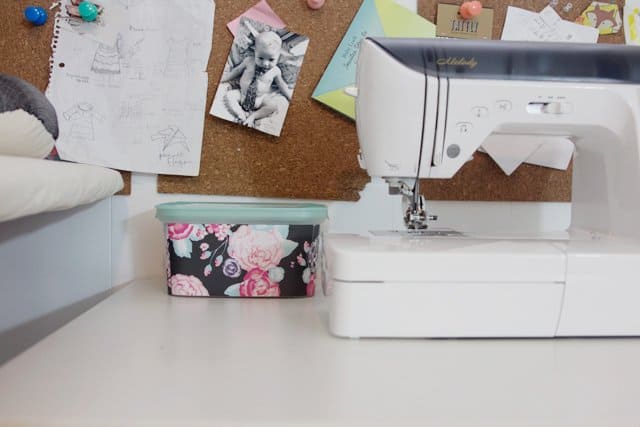 This is my little sewing nook, tucked in between two closets. It's nice and bright with a window above. I have my Babylock Melody on this desk with a little floral box full of sewing stuff. I like to keep all my notions and thread handy so I put a pegboard one wall to hold just about everything. There is also a thread rack on the left side, along with my iron. I have a lot of thread, hah! I keep inspiration photos, pictures of my family and sewing notes/measurements on my cork board above the sewing desk. I didn't "stage" that part of the room, that's how it always looks.
Underneath I have spray painted rubbermaid bins full of patterns, zippers, notions and things. I have a whole drawer dedicated to zippers! That should tell you how much I like zippers!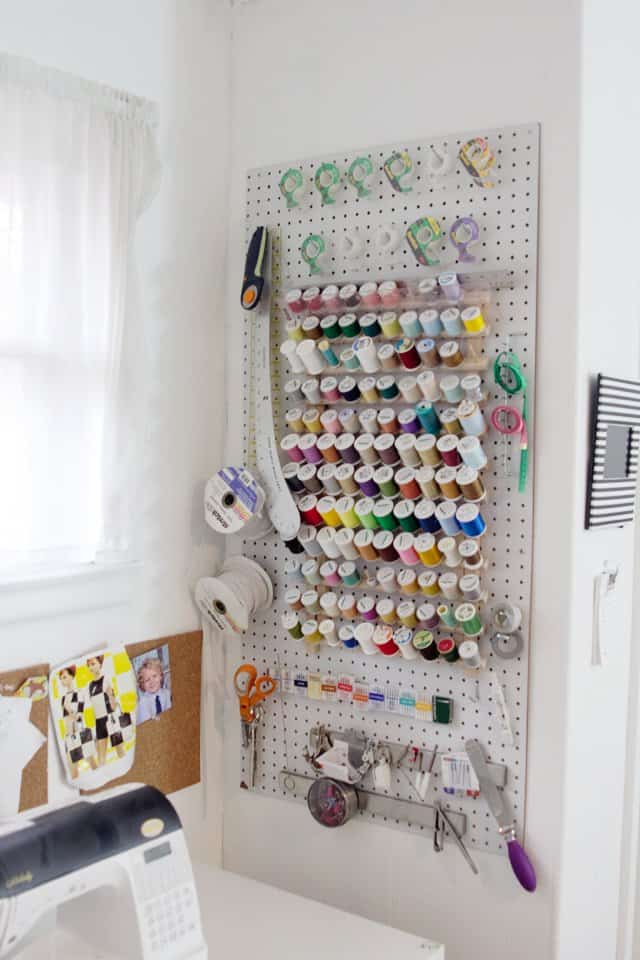 It is so handy to have every thread color at your fingertips! Babylock sent me a whole lot of Madiera thread last summer and I had to upgrade my thread rack (and then get another one) to have room for all the spools. I hang up my tape at the top of my pegboard. I use tape often when I'm printing patterns, so I like to keep a lot handy. And doublestick tape, too. My rulers hang on the left, along with huge spools of 1/4″ and 1/2″ elastic. I also keep my rotary cutter way up high. My kids are always supervised if they are in this room, but still, it's super high and locked. I actually don't like using the rotary cutter much, so I also have all my scissors handy.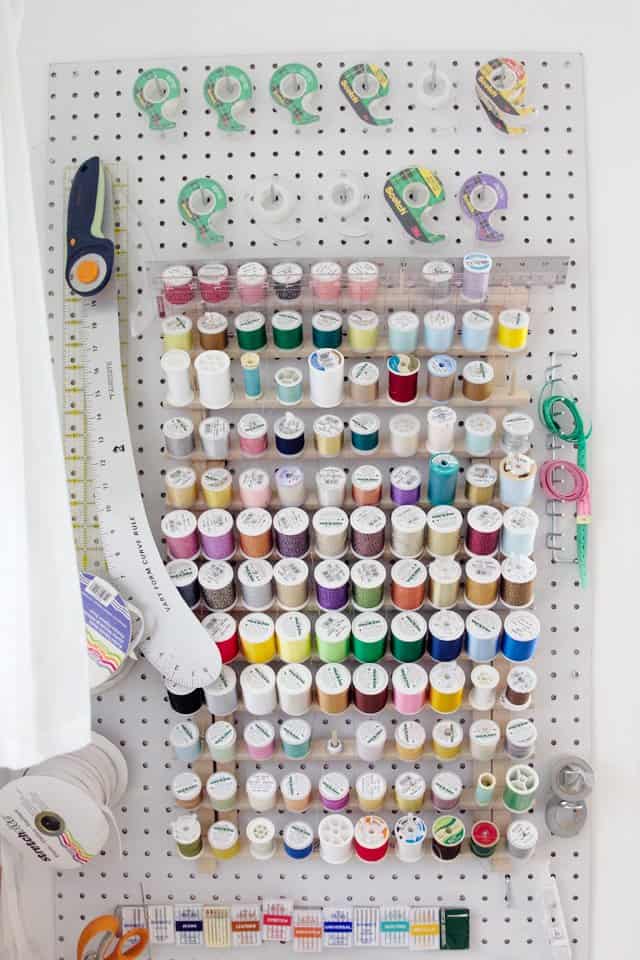 Below my thread rack I have 3 IKEA magnetic knife holders. They are AWESOME for the sewing room. The top one is completely covered in every type of needle in the plastic case. The magnet is really strong, so the needles stick even through the plastic. And it's just right next to my machine so switching out needles is a breeze.
The second magnetic knife holder has machine feet: a ruffler, a walking foot and other various attachments for the machine. I also keep sewing machine screwdrivers here and my cake froster.
The third rack has IKEA spice holders full of various items. The one shown is full of binder clips. I have two more of these holders but I can't find them anywhere! My son likes to play with them, so I'm guessing he took them. I also have sewing machine tweezer and nippers here. Scissors also stick to them so I often have my sewing scissors right here. So handy! I recommend these knife racks so much!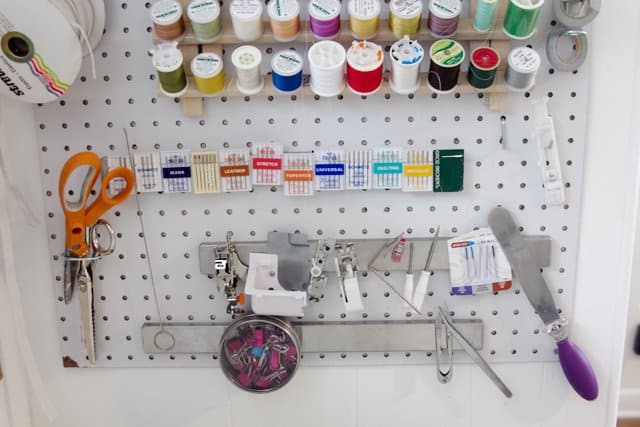 I keep my ironing board right next to my machine. The board just fit right into that little space and I also need it handy all the time. Pressing is so important to sewing! So the iron is on the wall (mostly for safety) but also so it's nice and handy. I have my pressing ham ready on top, too.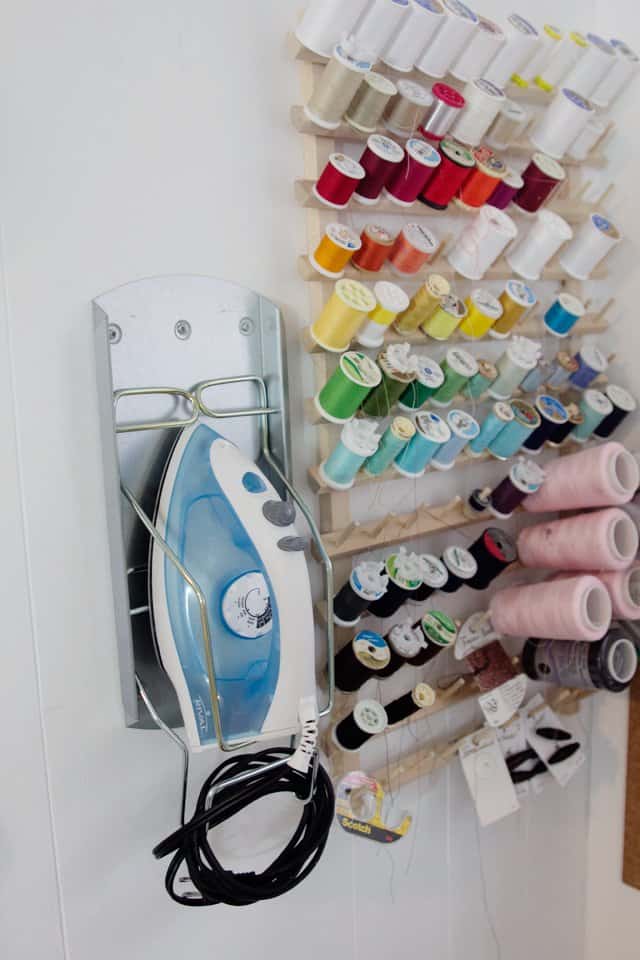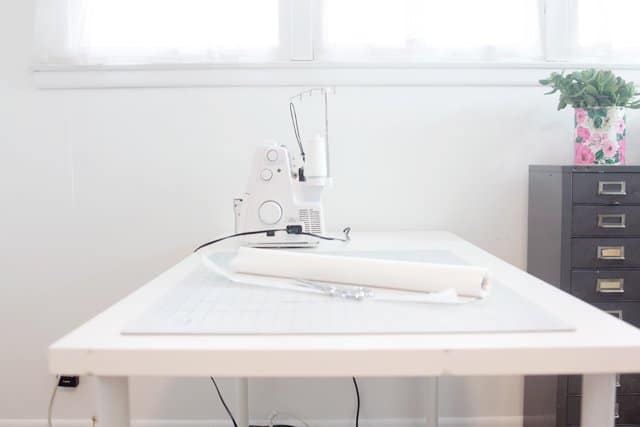 Pan over to the middle of the room where I keep a supersized table for patternmaking and cutting. I also keep my Diana, the Babylock serger and coverstitch machine over here. I like sewing at this table because I have a view into the room.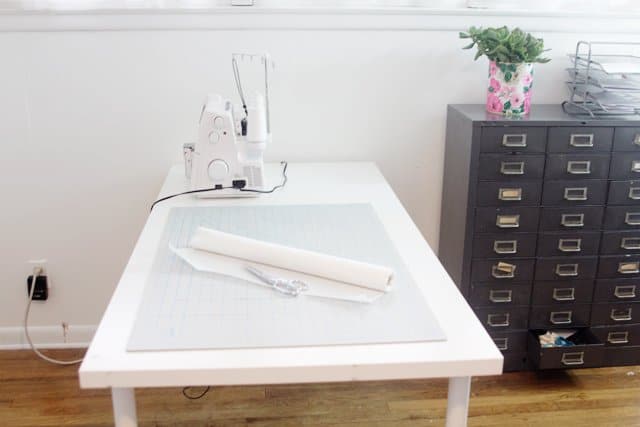 My big metal drawer unit used to be my grandfathers. I carted it to college and then across the country and back. I really love this thing. It's very nostalgic to me, and still has little labels written by my grandpa. He kept it in his office and was full of things like ink, glue, envelopes, etc. It is SO useful to have a unit like this in my sewing room. Since there are so elements to creativity! I keep most of my "craft" stuff in here: glue guns, paint, glitter, yarn, string, etc etc etc. So much stuff in this thing. It's also VERY heavy. But adorable, right?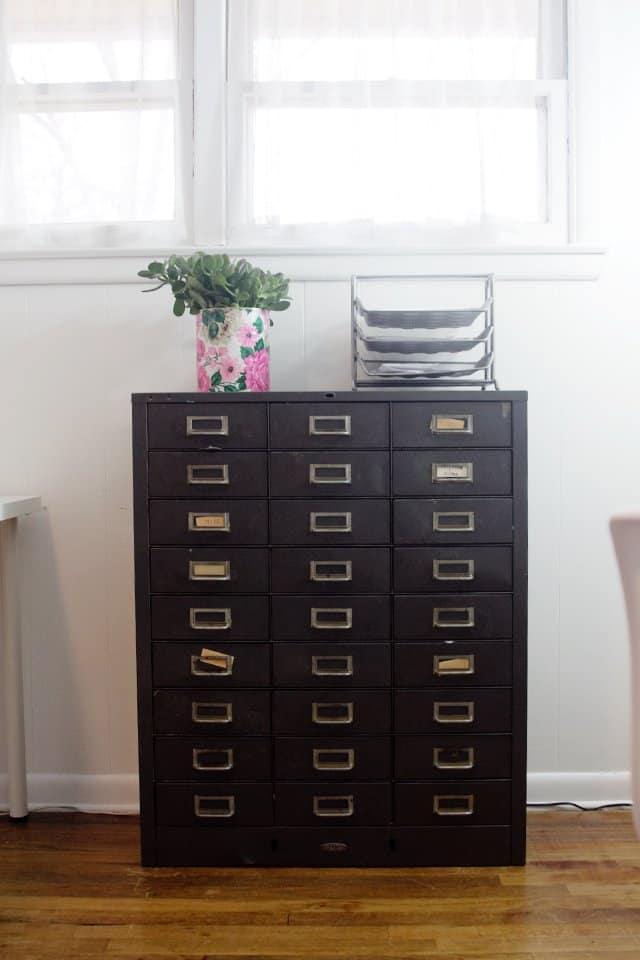 On top of it I have a desk organizer for "important" documents. And I made an oilcloth planter with Dana's tutorial. I put a jade plant it in, so I'm taking bets on how long it will last. I'm not very good at indoor plants.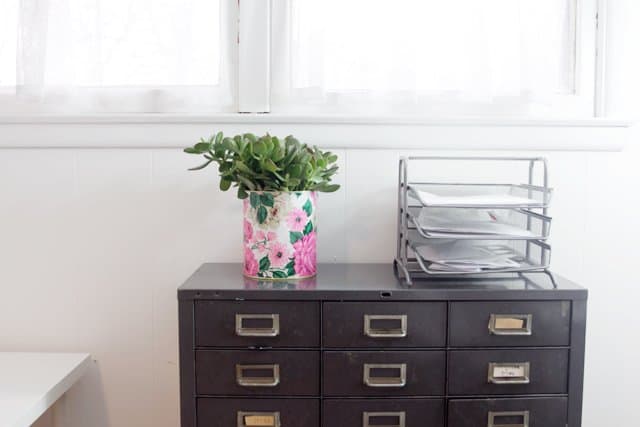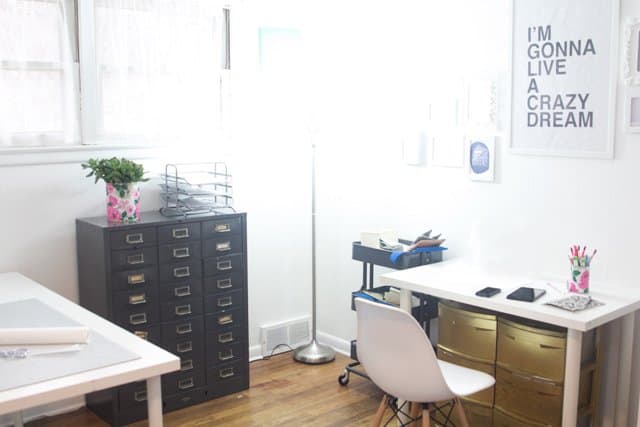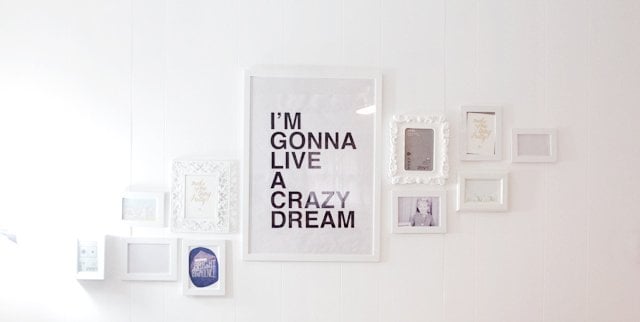 My work desk is over to the right. I'm still collecting things for my big frame wall, so some of the frames are empty. I like to keep inspiring and motivating things on my sewing room walls. The big print is one I made with lyrics from one of my favorite songs. The rubbermaid bins under this desk are just full of junk that doesn't have a better place. (hahaha)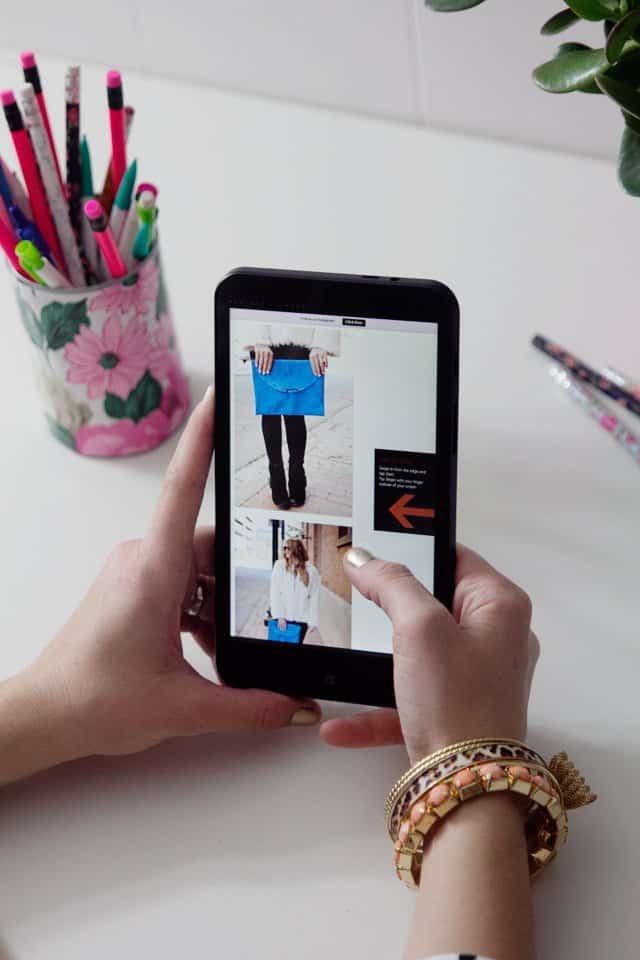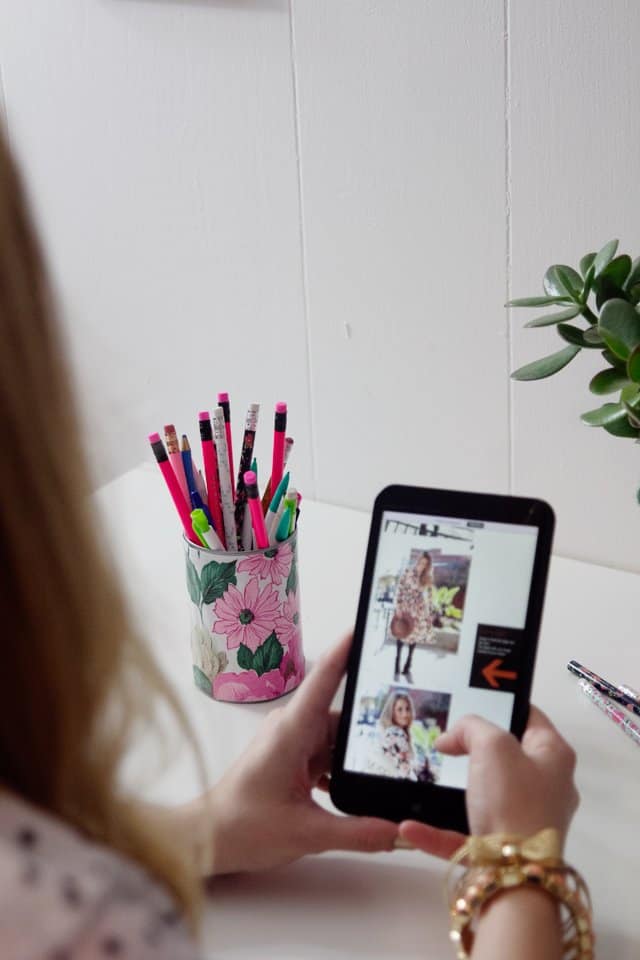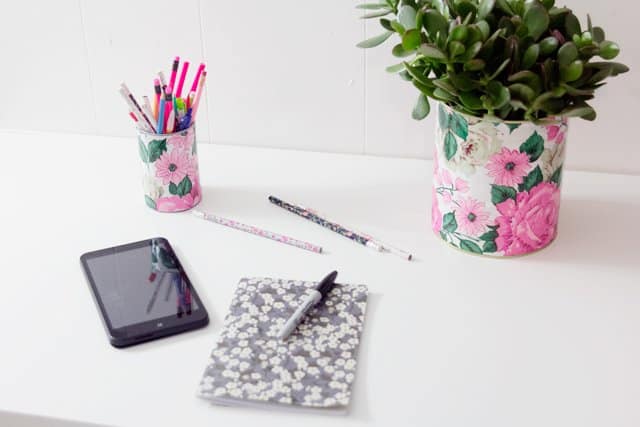 I try to keep this desk simple and clean with only a few essentials on it! And of course, all my gadgets. I probably spend the most time at this desk when I'm in my sewing room. It's where I brainstorm, plan and dream. The HP Stream 7 is my new favorite tool! HP Stream is a new kind of tablet with Intel Inside®. It comes with 1TB of Cloud Storage and Office 365 are also included for a year, and lightening fast performance thanks to the built-in Intel processor.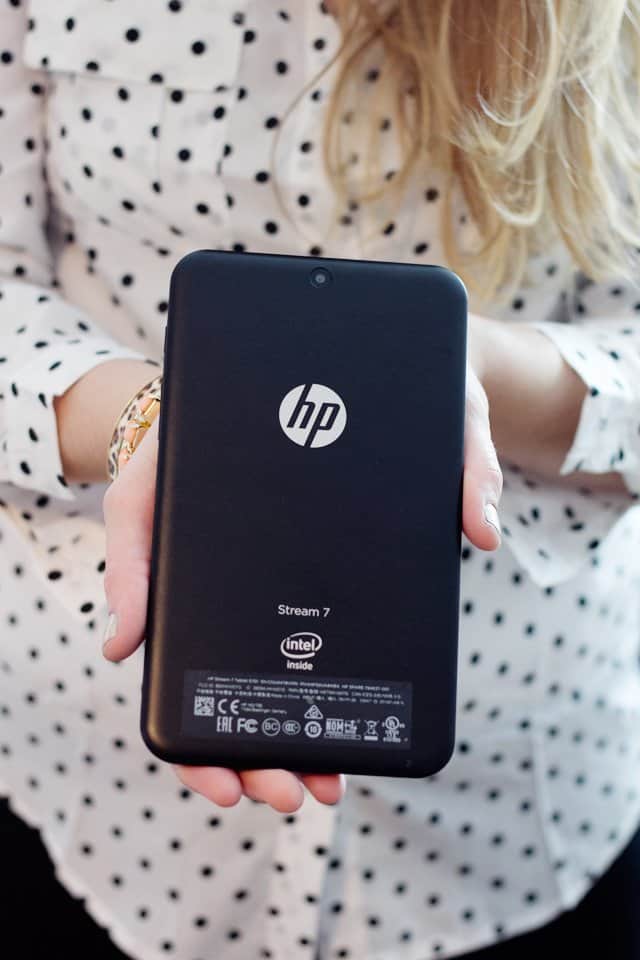 This sweet little tablet accompanies me in my sewing room and for working on the go. The processor from Intel is lightning fast so you really can work from your happy place, wherever that might be! I use it most for organizing my tasks with the calendar and responding to emails. It's also handy for streaming music and movies, which is a must when you spend hours sewing. I can bring the tablet over to my sewing nook and stream as I sew.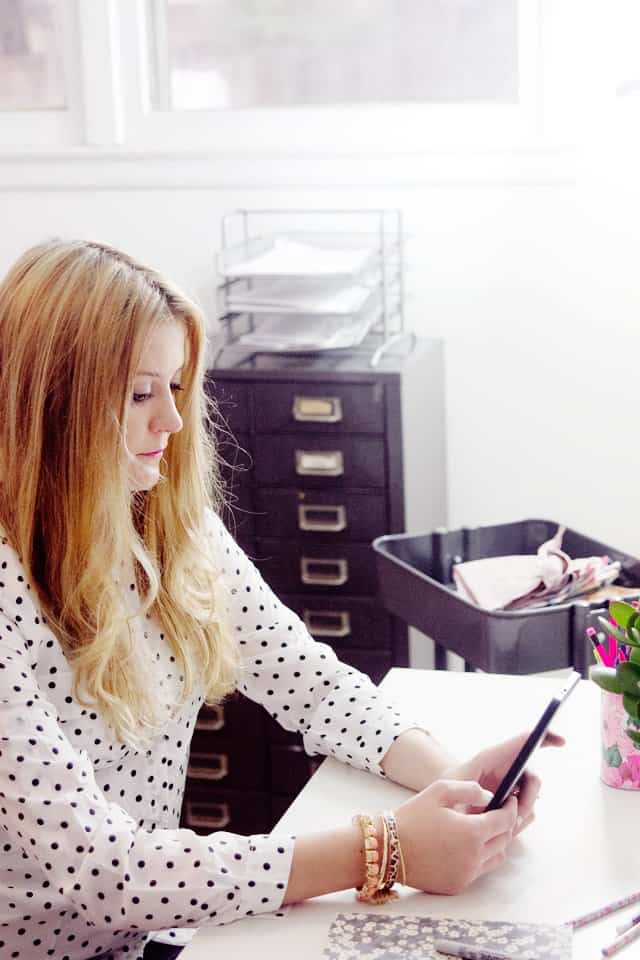 You can also personalize the whole thing, starting with a color! I chose bright pink to match the pencil holder on my desk.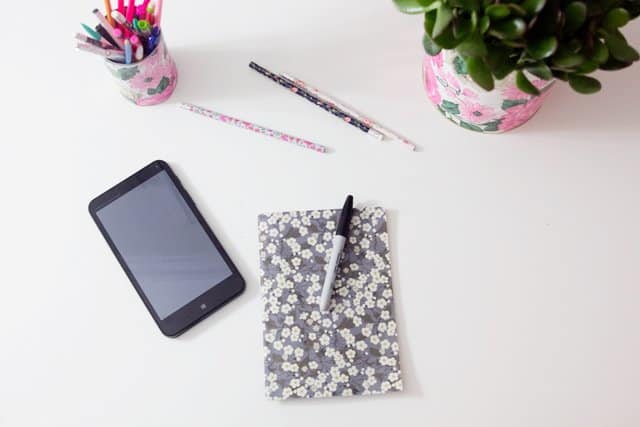 I keep my printer on top of an ALEX unit from IKEA. I'm always printing patterns and things so it's handy. The drawers are full of paper, patterns, envelopes and other flatish things.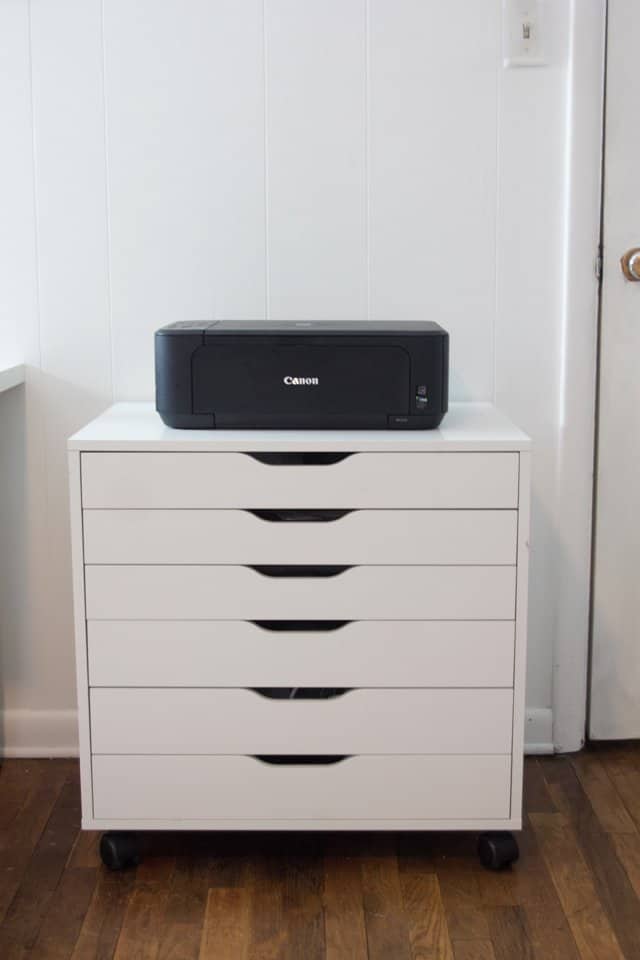 So that is where I spend the most time "working". The rest of my job is more like playing. Here's my styling wall.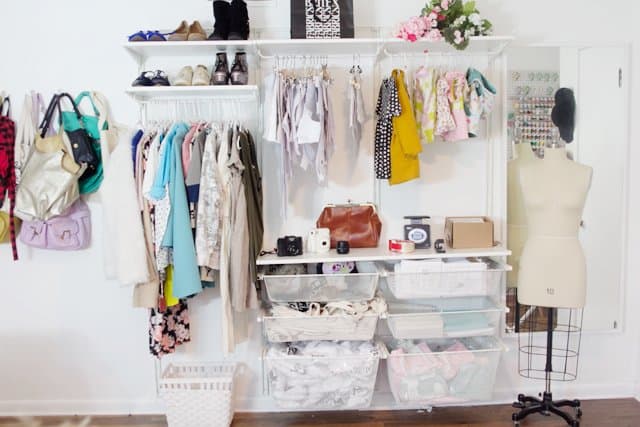 My "styling wall" might be my favorite part of this room. I have never had the space to have a styling wall in any of my previous sewing spaces, but when we moved here I knew I needed a wall dedicated to it. Fashion is all about outfits and the mood you're trying to project so it's important for me to have lots of things at my disposal including shoes, accessories, bags and hats. I used the Algot system from IKEA for the shelves, bins and clothes racks. It's totally perfect.
I have recently finished makes hanging on the left, paper patterns hanging in the middle and kid clothes hanging on the right.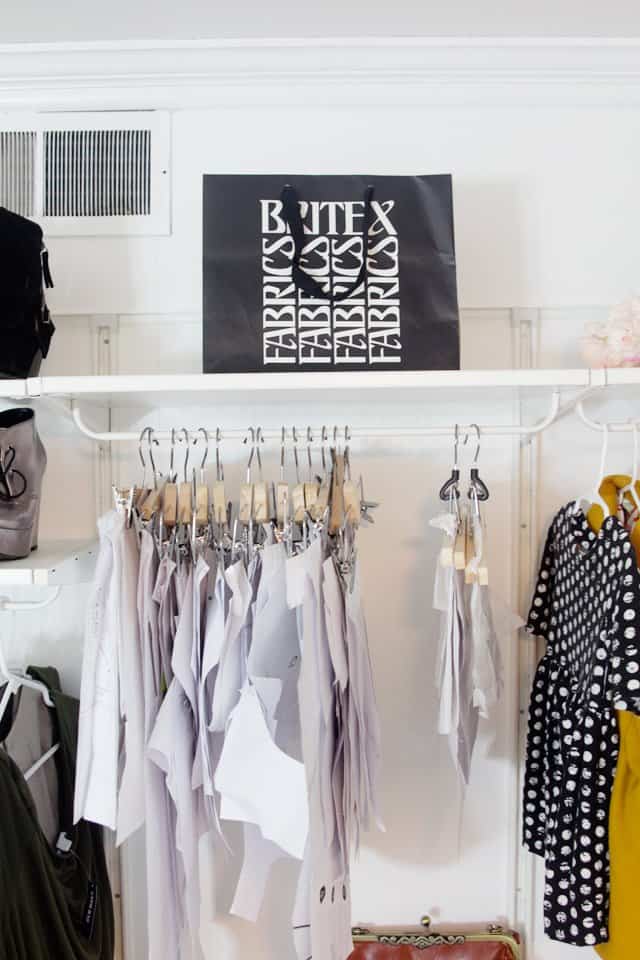 I keep my handmade clothes hanging here until they've been properly photographed and blogged. Then I can move them into regular rotation in my bedroom closet. My room is the only place they are safe from peanut butter fingers until then.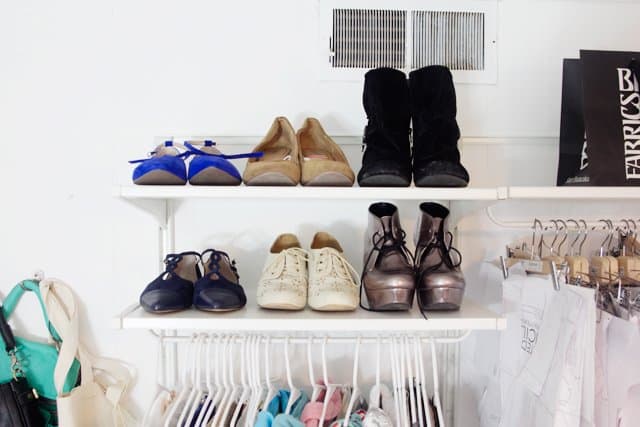 I also keep my merchandise here, handy and ready to ship. You can see the tshirts at the bottom, the totes in the middle and patterns on top. I also keep shipping envelopes and accessories (for styling outfits) in the drawers.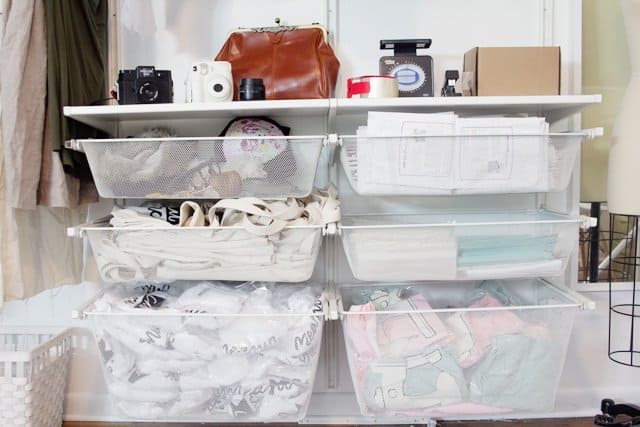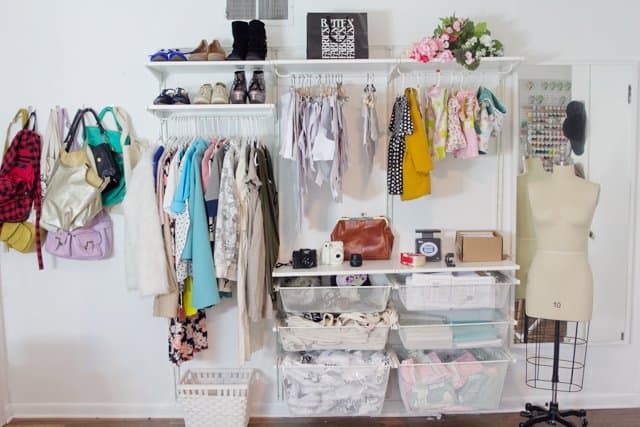 And lots of bags in the corner! Never enough bags.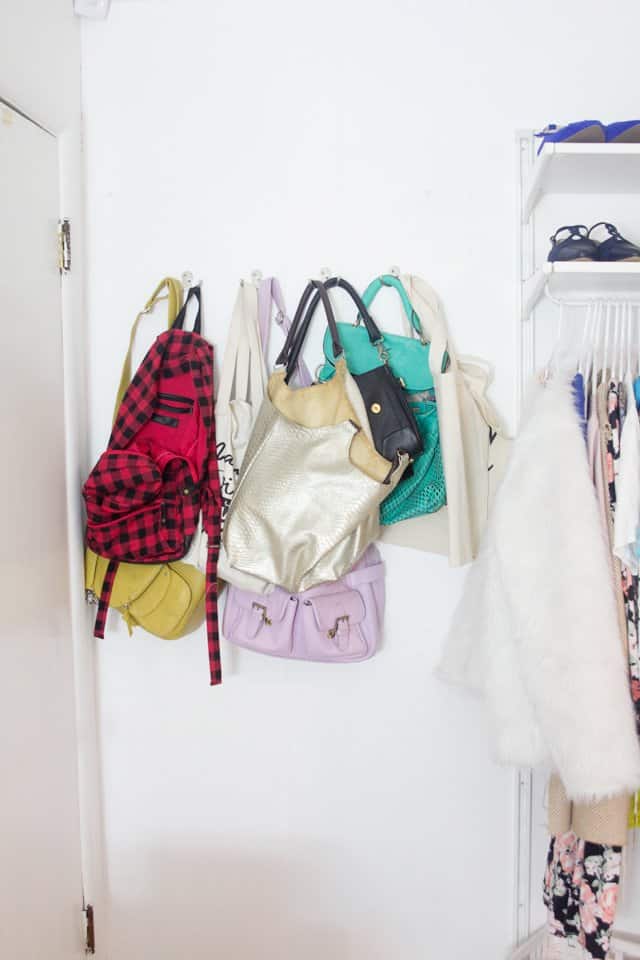 This little spot is my mirror corner where I take all of my sewing room selfies. Having a mirror in my sewing space has been a game changer. It's just nice to try things on as you are sewing. My little dressform hangs out here, too. And there are some hats on the well.
I have two large closets in this room, which is great. One is chock full of, you guessed it: FABRIC! It's a mess in there, so I'm not showing you just yet. It's just a little embarrassing. And the other one packed with craft supplies, silkscreens, my silhouette cutter, and more. It's just full of things that I need but don't use every day.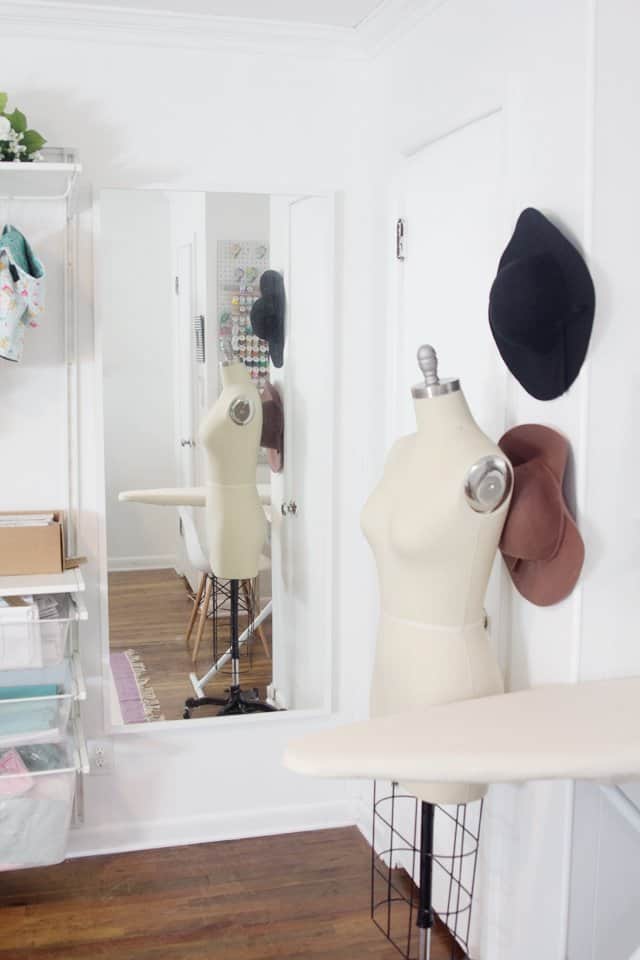 Thank you HP & Intel for giving me a reason to share my Happy Place!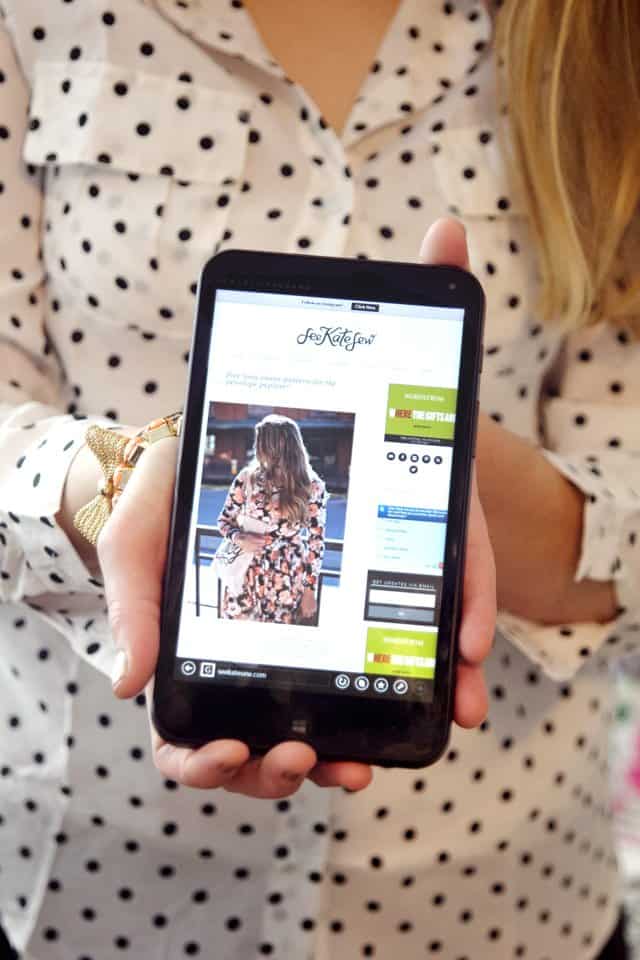 Polka dot shirt and black hat c/o OASAP
SaveSave