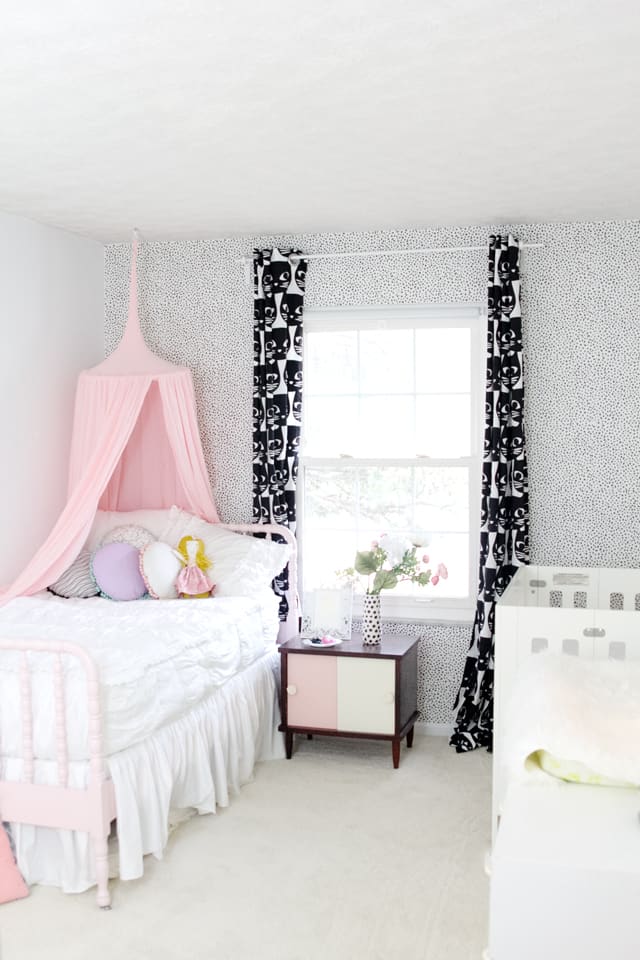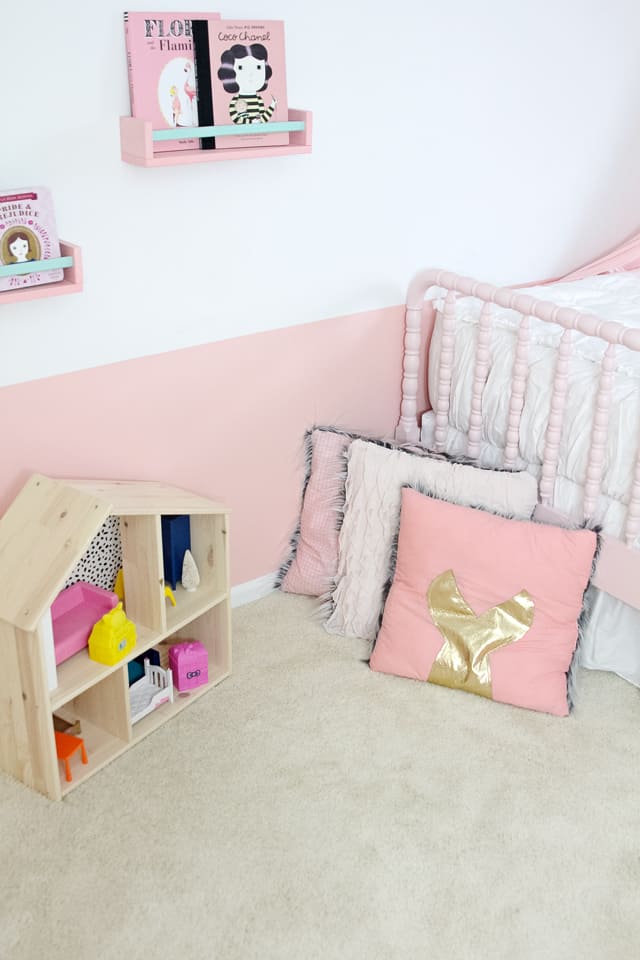 Reveal day is finally here! I've been working tirelessly on this room for the last 2 months and I'm thrilled to say it's done! I originally took on this big girl room project to help my almost-4-year-old transition a bit. We moved recently and having a new sister on top of that has sort of thrown her world a little bit. It's been evident in her behavior and I knew we needed a big project to work on together to make her feel special! I already shared the nursery side of the room in this post. Lena is so excited to share with her baby sister!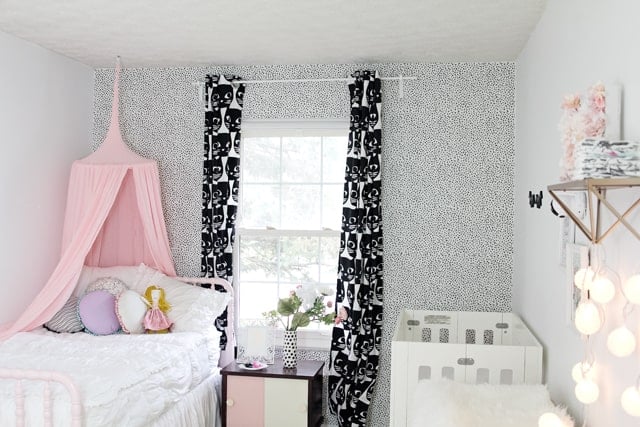 The first step was a new bed, a big girl bed! I found a Jenny Lind frame on Craigslist and painted it with Sherwin Williams Rosy Outlook. The original plan was to paint it white, but I had a galloon of this soft pink and felt like that would be cuter! I'm glad I did, we're embracing pink over here! My whole vision for the room was pink and soft details contrasted with some stark black and white which we pulled in with the wallpaper and curtains.
We also gave the room a fresh coat of Extra White, also from Sherwin Williams and painted the bottom of the room Jazz Age Coral. I measured up 25″ from the baseboard and taped it off along the two side walls. The last wall we covered with vinyl wallpaper from Chasing Paper Co. I'll tell you more about the wallpaper in another post, I love it!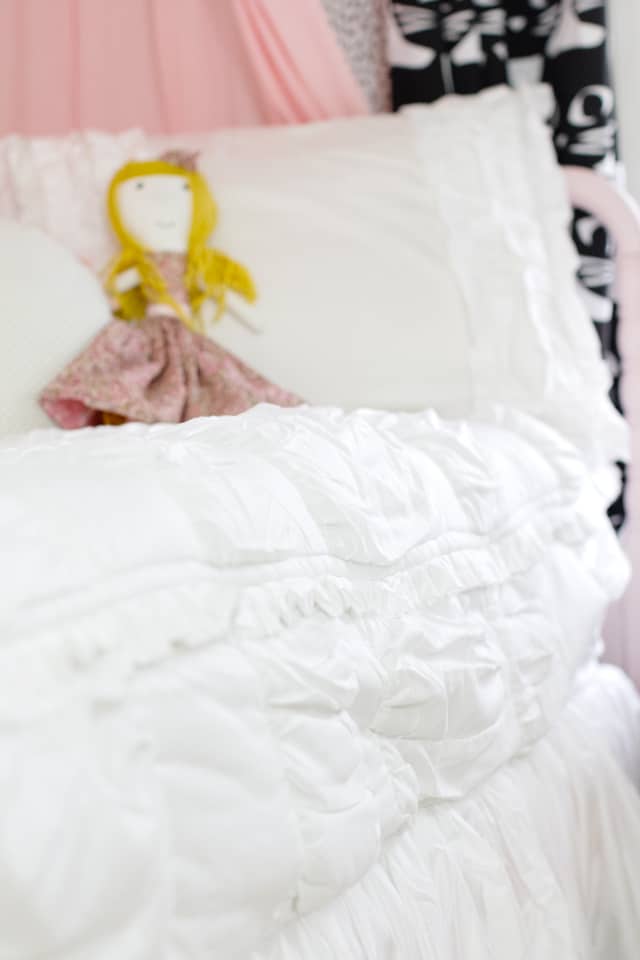 The real focal point of this room is the bedding! This set is luscious and ruffly! Beddy's sent us the Chic White set and bedskirt for us to include in this bedroom. I was really excited about this bedding because it has two big zippers up the sides making it easy to make the bed. With a new big girl room comes new responsibilities, like making the bed! The big zipper pull makes it easy to zip right up and it makes her feel like a big girl! It's also super cozy and comfortable inside when it's zipped up.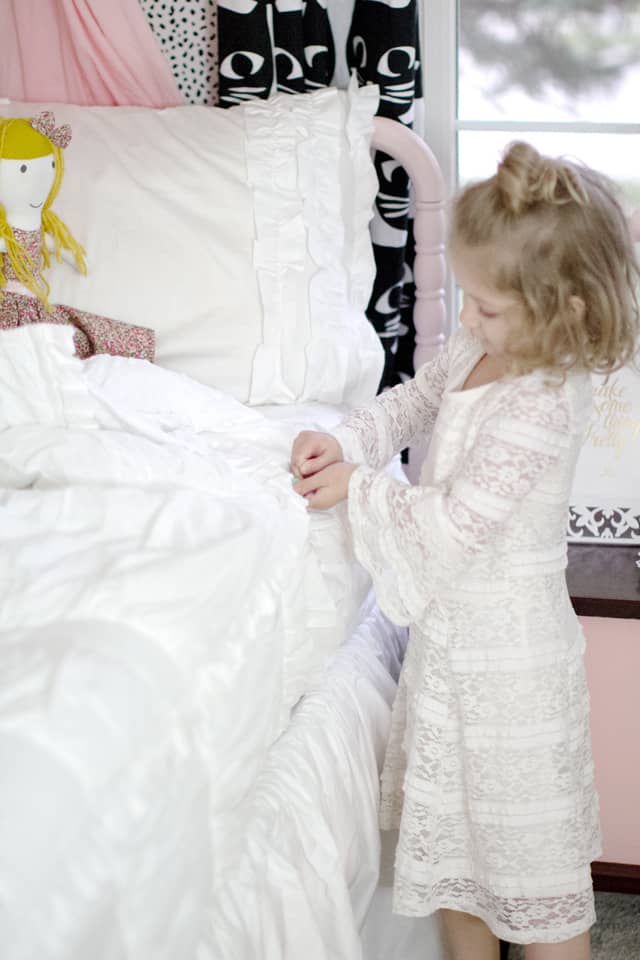 The set came with 2 pillowcases, one with ruffles all over. The top of the set is lined with minky fabric, I'm so jealous of this cozy bed! There is also a partial layer of minky to cover the zipper when it is all zipped up. The ruffles on this bedding are so perfect, any ruffle lover like me can appreciate a good ruffle. I'm really impressed with the high quality of this bedding and can see it lasting for years! It's so cute and chic and I just don't think I could have found a more perfect set for this feminine room! Beddy's (bed. ease) sets comes in all different sizes and styles, including toddler up to king size! Beddy's is offering See Kate Sew readers 15% off your order through December 19 with code: "KATE15″.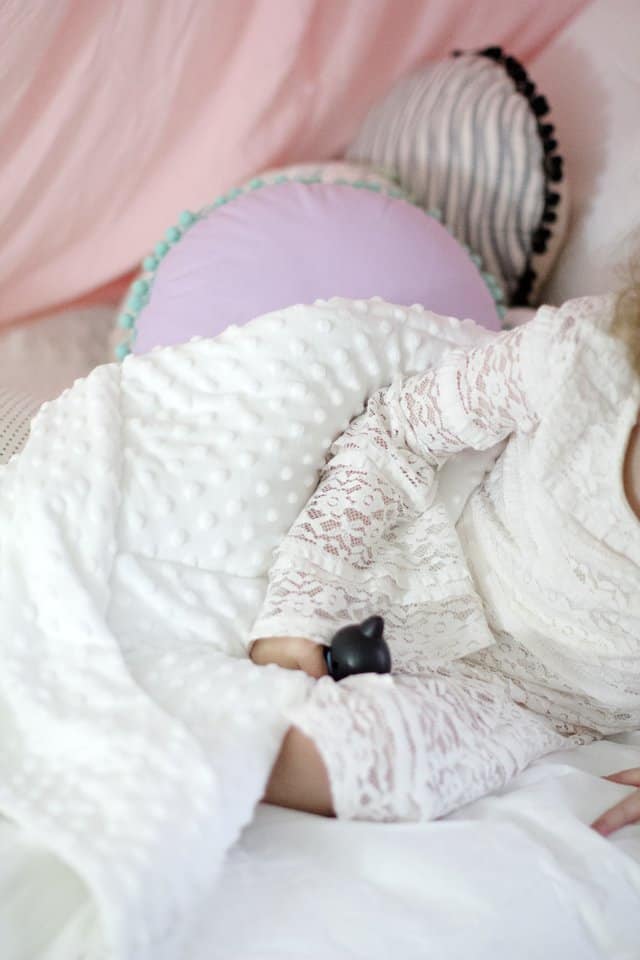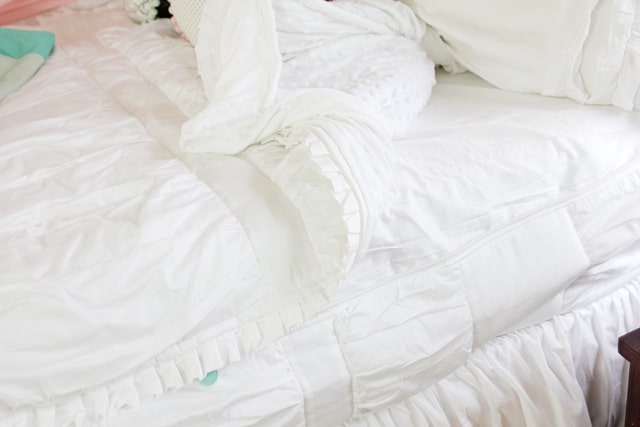 That pleated trim! It's just so nice to have a put-together bed instead of a million blankets strewn all over the place! It just always feels clean in there.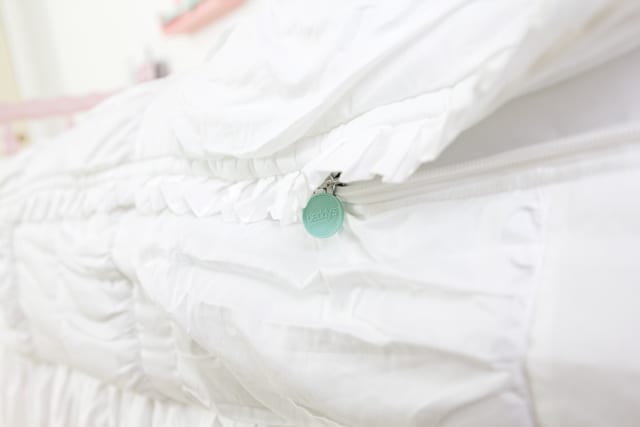 At the end of the bed, I made a little pillow nook. The tutorial for these large floor pillows will be up soon.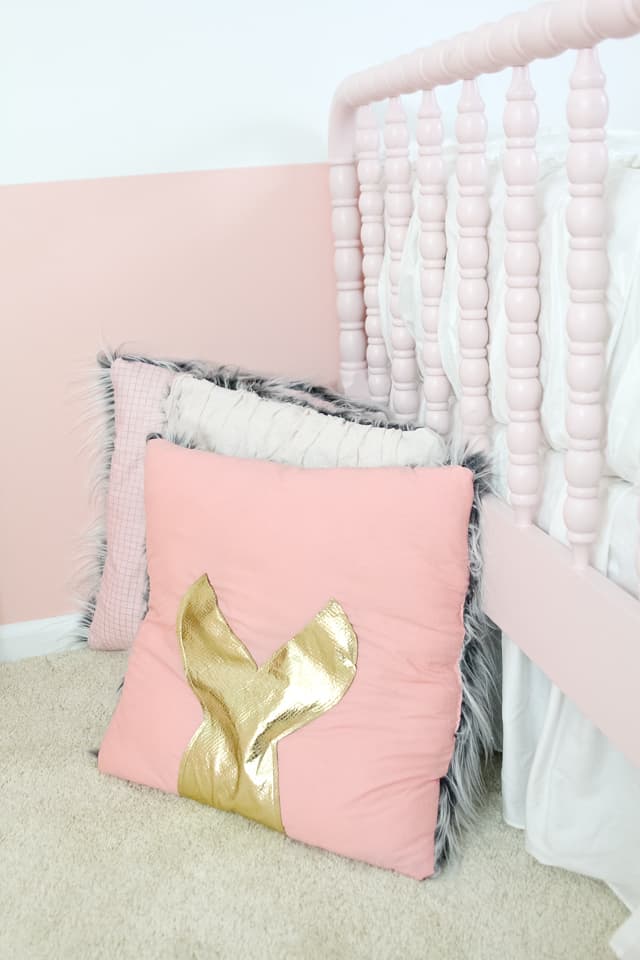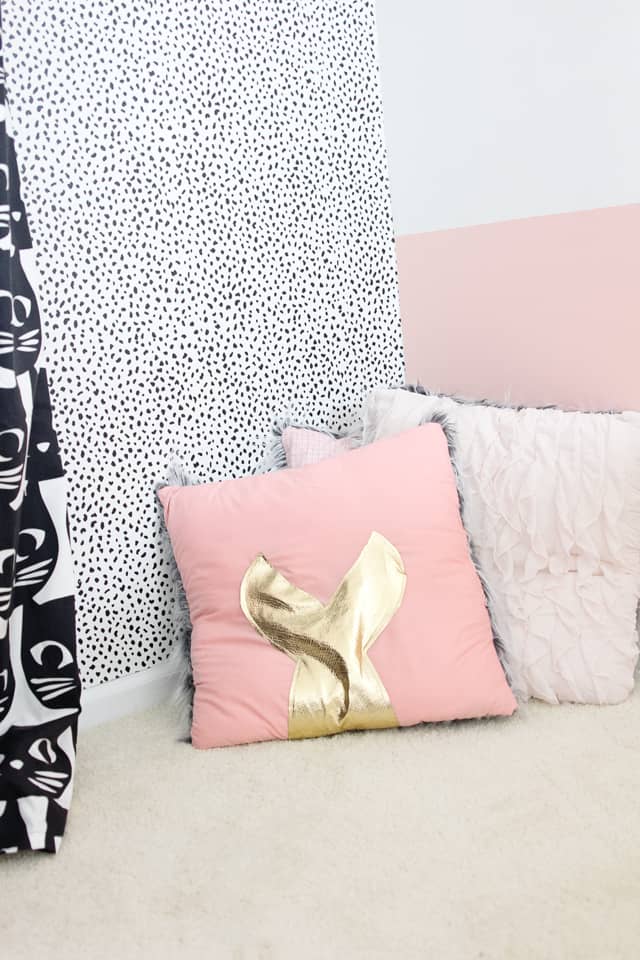 I used faux fur on the back for extra coziness.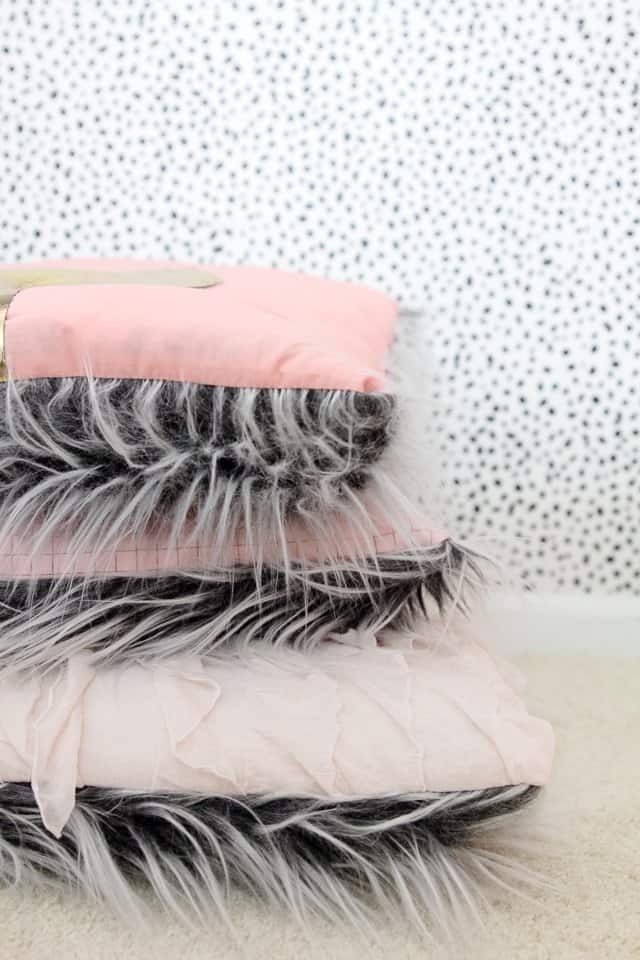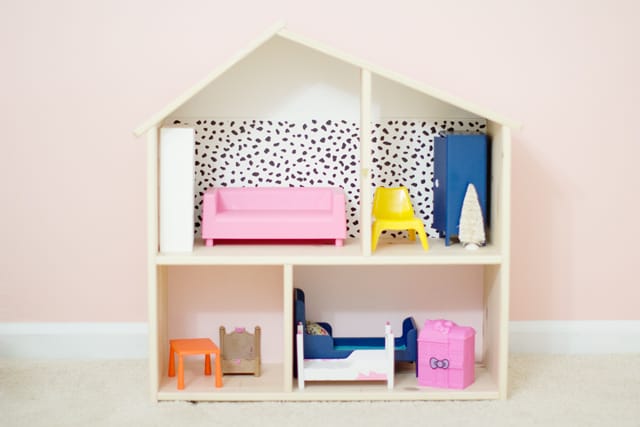 There is a dollhouse and books for playtime in this little nook. I used an extra scrap of wallpaper for the top floor and extra Rosy Outlook paint for the bottom floor. And then we stuffed it with way too much furniture! This dollhouse is from IKEA, I think it was $30 and we've gotten so much creative play out of it so far!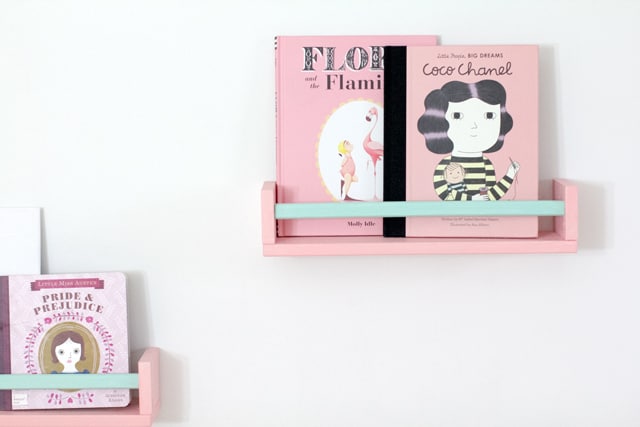 The closet doors are painted to mimic the nightstand doors with Coral and Vanilla, sort of a Neapolitan color scheme.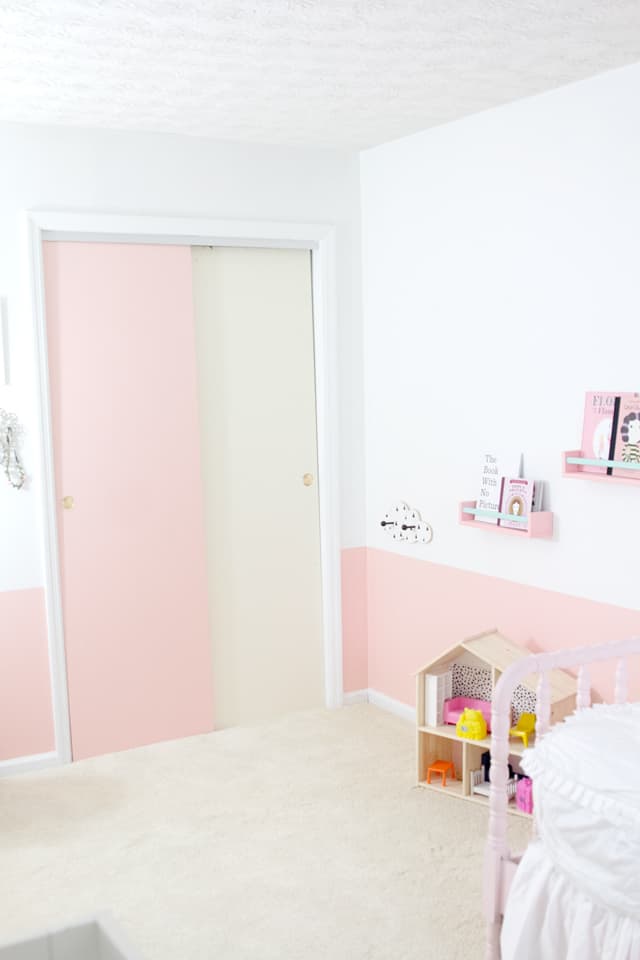 There's a tutorial for this ombre mermaid tail coming soon! ;) The pom pom pillows are another pattern from my book!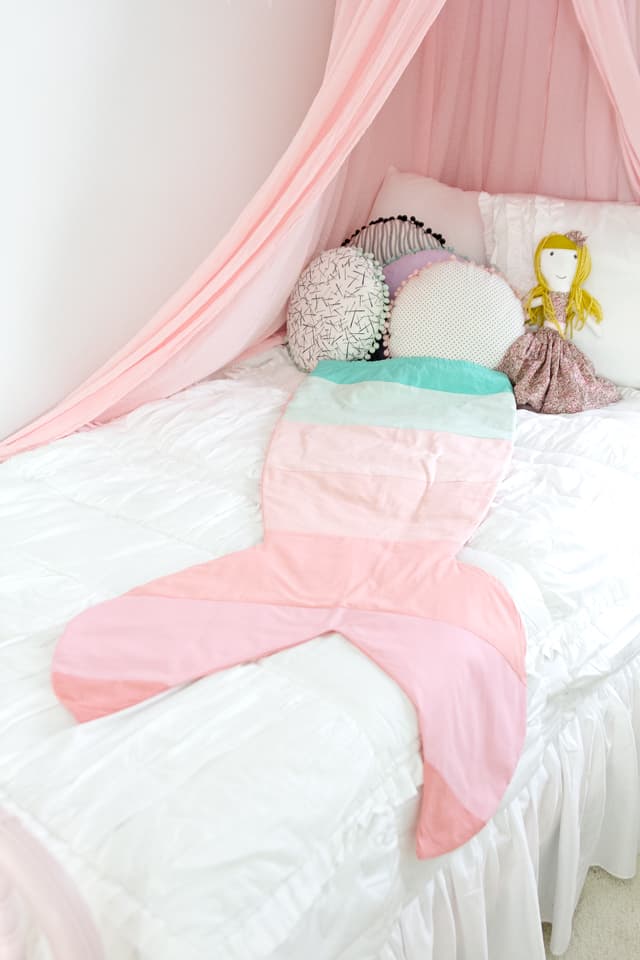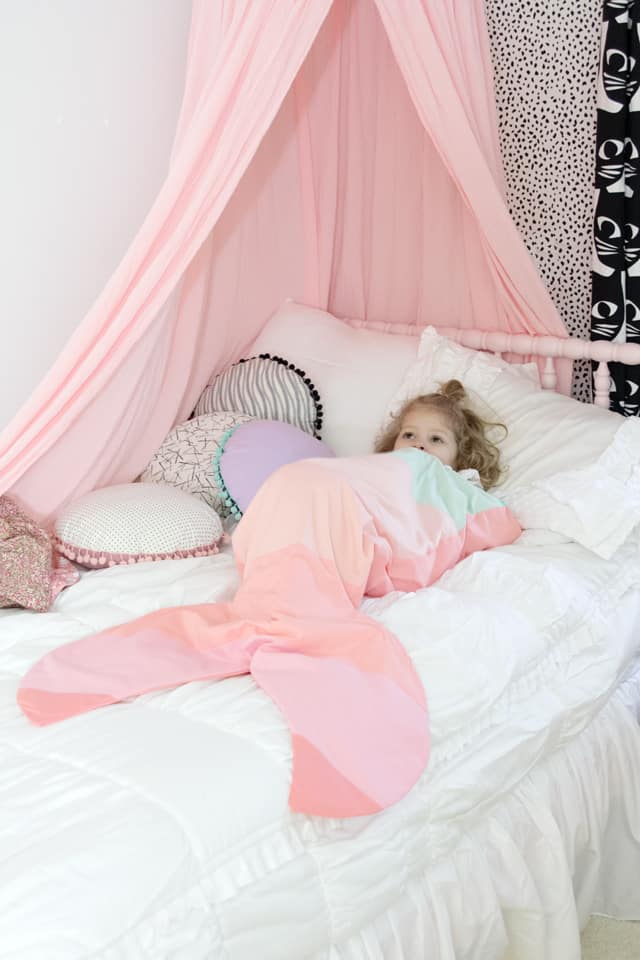 I love the canopy from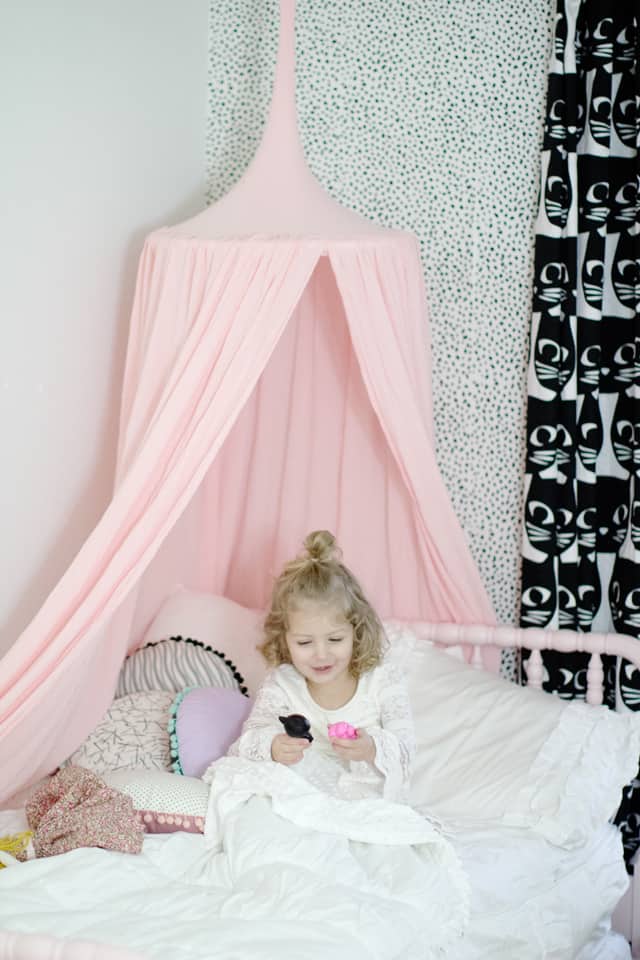 I found this nightstand at a garage sale ($5!!) and instantly loved it. I think it's an old record cabinet. I used the same paint from the wall for the pink side and a cream color for the other side. We also painted the closet doors the same. The floral knobs are from Urban Outfitters but seem to be sold out. They are simple resin knobs that pack a punch of style! I love how cute but serious this piece turned out!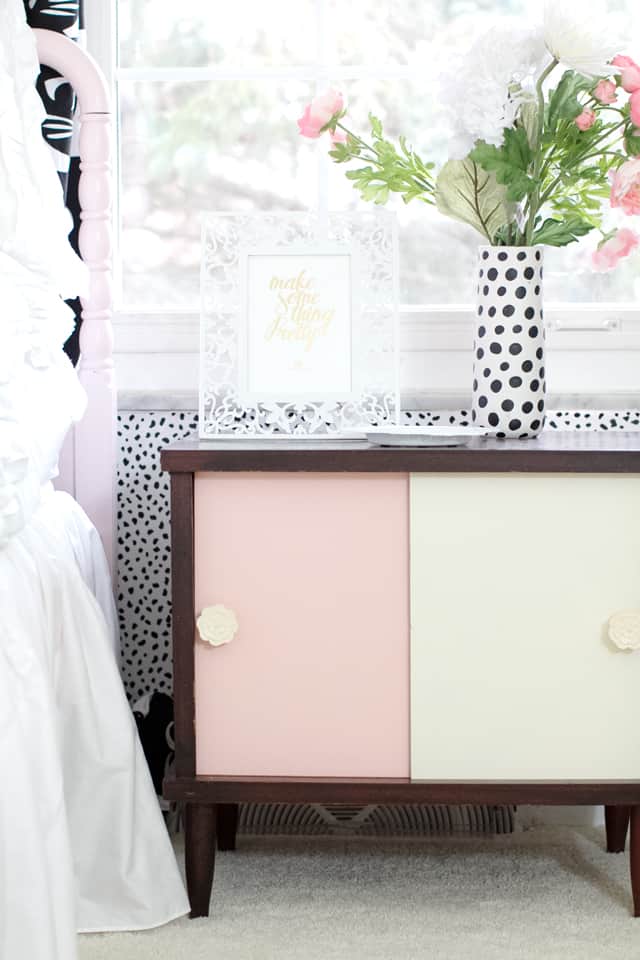 This unicorn print sort of sets the theme of the room. Bright and happy and fit for a unicorn! We hung some headbands on these jewelry holders.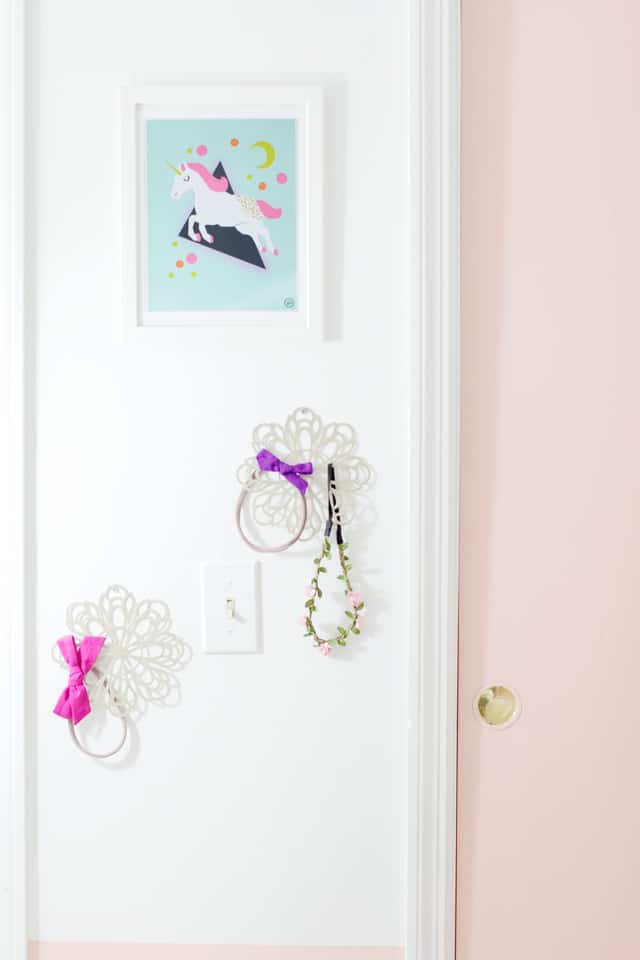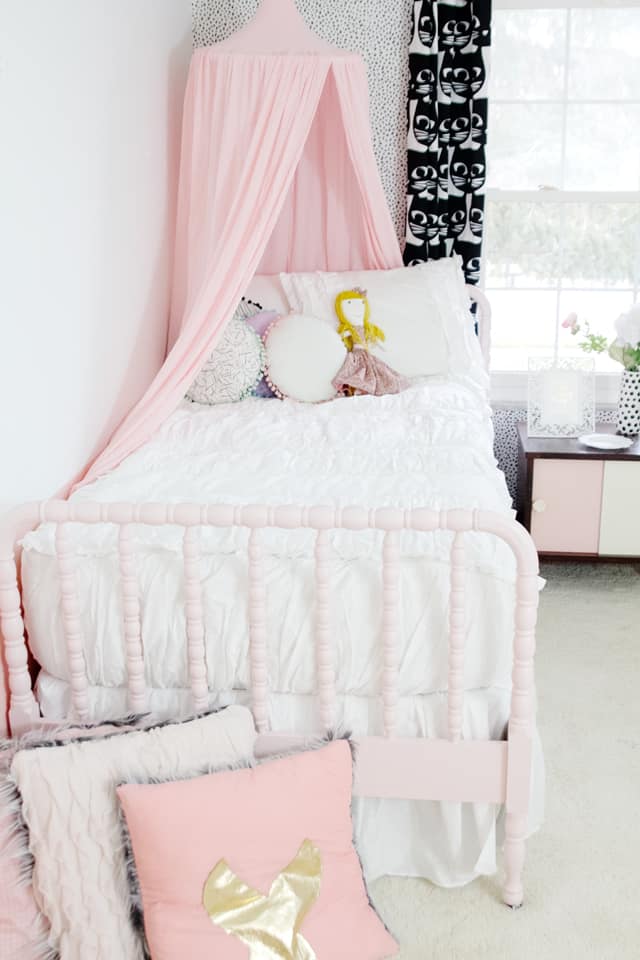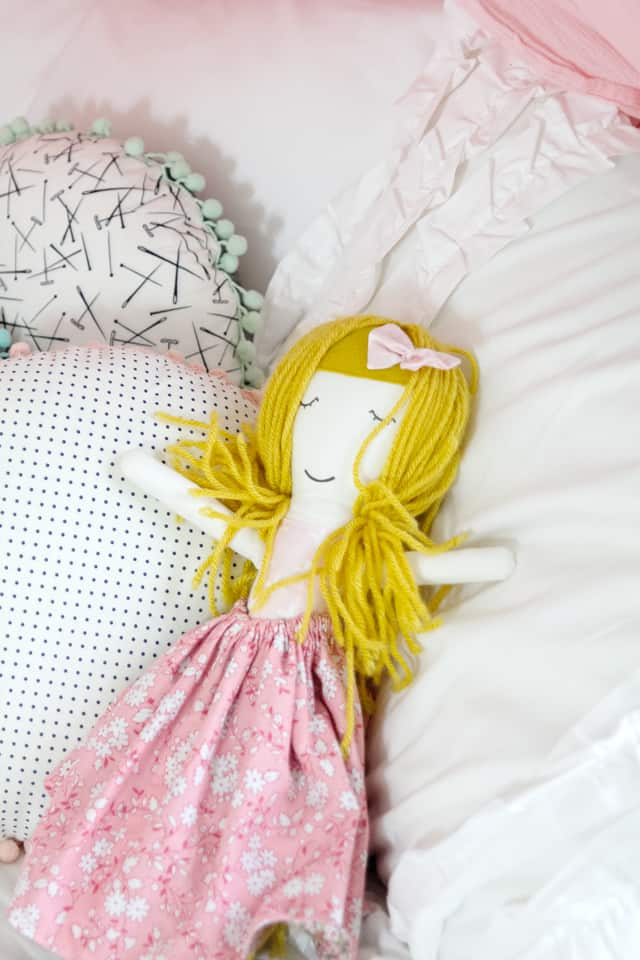 This is the Flip Doll pattern from my book. She's sleepy on one side and awake on the other!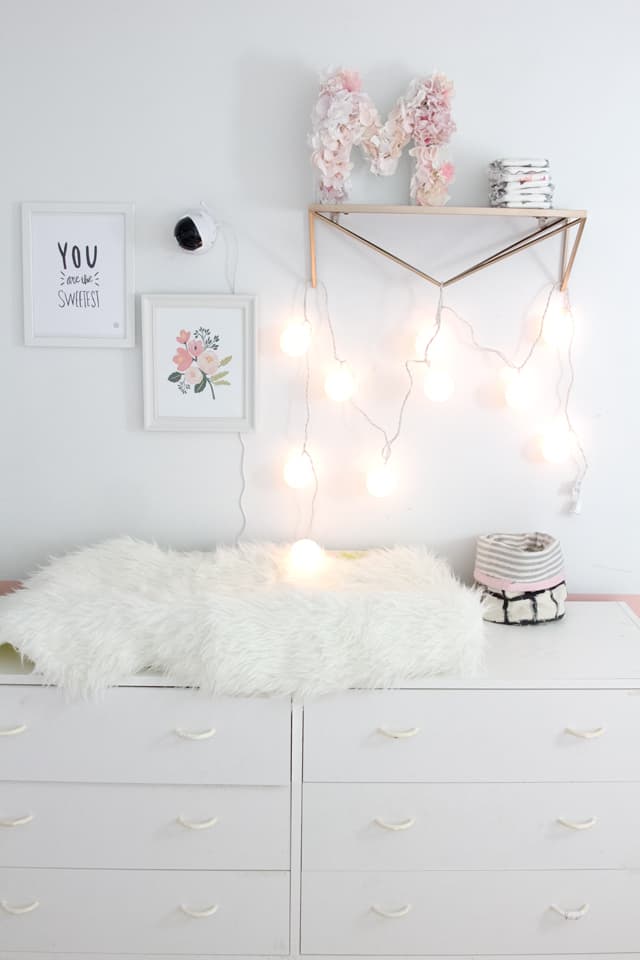 So that's a wrap! I hope you enjoyed this little tour as much as I enjoyed collecting and  putting it together! I'll be back with a tutorial for the mermaid tail pillow and the mermaid tail blanket (my daughter is obsessed) later this week!
Sources:
Ruffle Bedding in Chic White + Bedskirt c/o Beddy's (KATE15 for 15% off your order. Expires Dec 19)
Cat Curtains: IKEA
Jewelry Holders: Urban Outfitters
Mattress c/o Helix Sleep
Wallpaper c/o Chasing Paper
Dollhouse: IKEA
Paint: c/o Sherwin Williams – Jazz Age Coral (closet door and bottom wall), Vanillin (closet door), Extra White (Walls), Rosy Outlook (Bedframe) all with a Satin finish.
Nightstand: Garage Sale + Paint + Knobs
Dresser: Garage Sale
Shelf and vase: Hobby Lobby
Canopy c/o Blue House Joys
Book Holders: IKEA spice racks + Paint
Rifle Paper Co Floral Print
Unicorn & You are the Sweetest Print c/o Hi Kids Co
Some of our Favorite Books: Flora the Flamingo, The Book with No Pictures, Little People Big Dreams Coco Chanel, Pride and Prejudice BabyLit Countin Primer