I originally wrote this post for Gugu Guru back in February! But there's nothing wrong with wearing a heart onesie all year long so I wanted to share it here so you can always find it!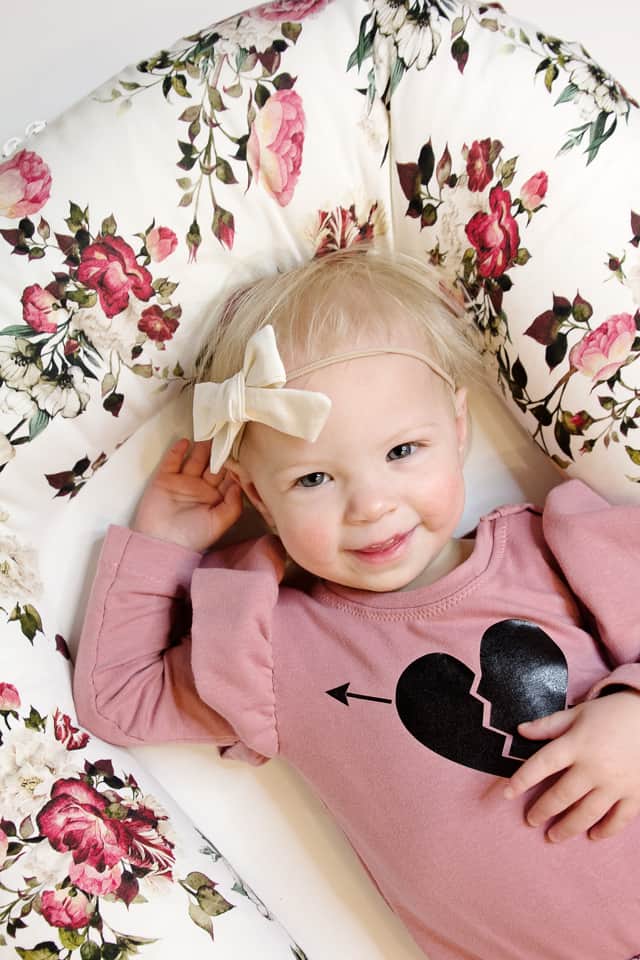 I made this using my ruffle onesie pattern with the big ruffle! (There are two ruffle sizes in this pattern, I love the option of going big but have a more conservative ruffle as well!) This is a fun baby shower gift for the newest heartbreaker in your life and I think could work for a boy onesie too – just pick the colors to work with your onesie and maybe add the word "heart breaker" somewhere on there.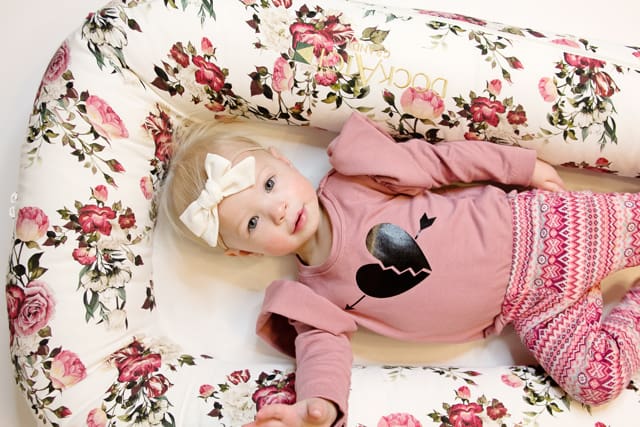 This post includes a download for the heart design.You can purchase a blank onesie (bonus points if it's pink or red, but white works too!) or make your own. I used my ruffle onesie pattern with the large sleeve ruffle! There are a few ways you can use the download to get the design on the onesie!
We worked with DockATot for this post, I've talked about this awesome invention a few times! We used this for Mae when she was a baby right up until she didn't fit in it anymore! It's such a lifesaver while traveling and especially when there are siblings all around here. Read more about the DockATot Grand in this post!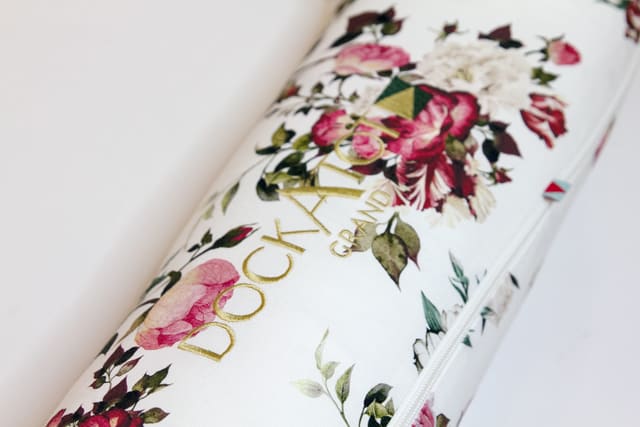 Back to the onesie! <3 <3 The decoration is made with iron-on vinyl that I cut with a Cricut machine and then pressed on with the Cricut EasyPress (but an iron works, too!). If you don't have a cutting machine you can use the design as a template for fabric paint or an appliqué with fabric.
Ready to make it!?
Valentine's Day Heart Onesie
-Ruffled Onesie, I love this lace ruffle onesie or make your own with this pattern
–Iron-on vinyl and cutting machine OR
–fabric paint OR
–fabric +heat n bond
-heartbreaker file, sign up below to access!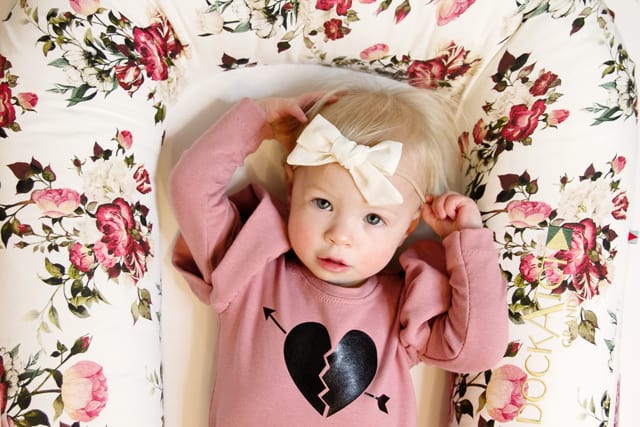 Heartbreaker SVG Instructions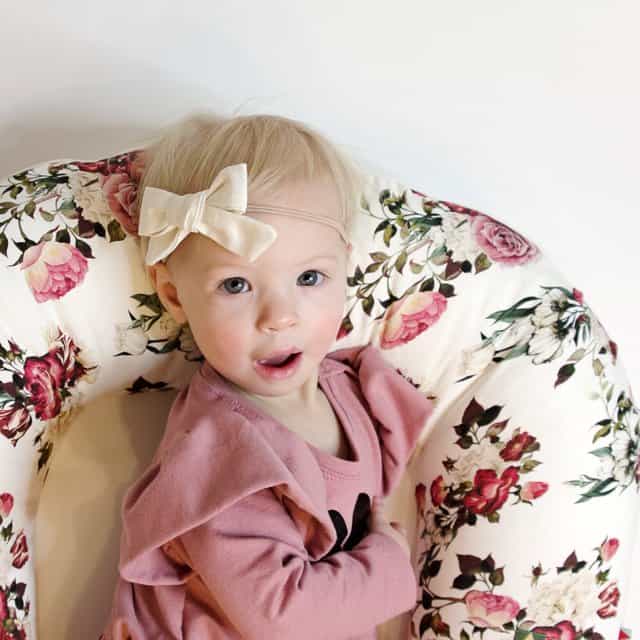 Depending on how you are going to complete this project you'll have different steps. But for the iron on, upload the attached svg file into your cutting machine interface and cut it with MIRROR ON with iron-on vinyl. I recommend bold black, or maybe glitter pink!
Peel the negative space from around the design and lay centered on the onesie, about 1.5 inches from the neckline.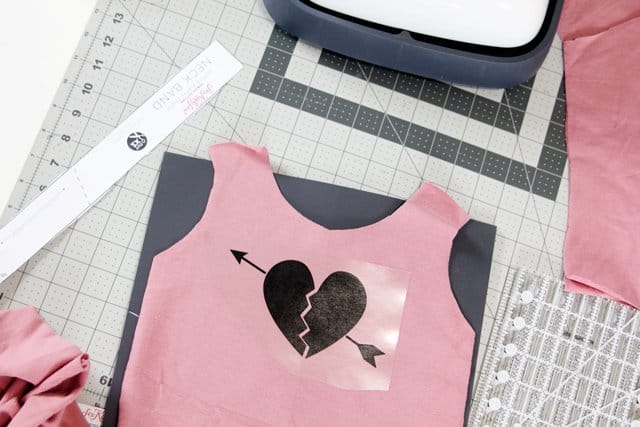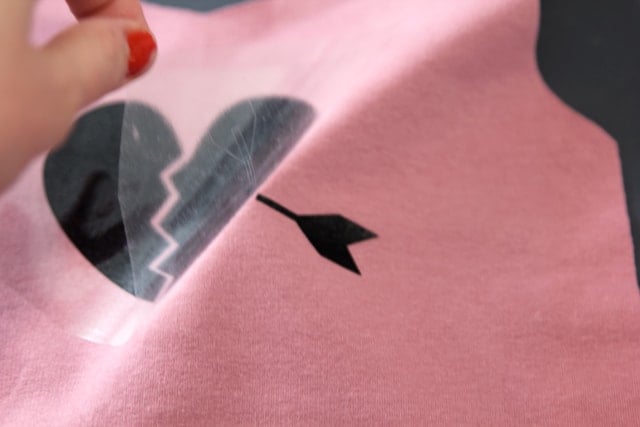 Iron the design onto the onesie based on the instructions that came with the vinyl. Peel it off!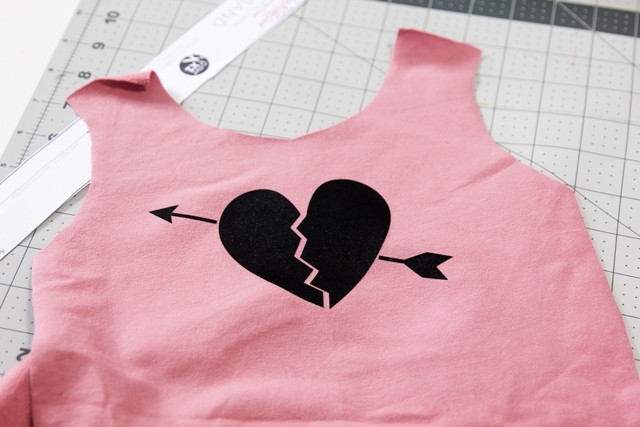 That's it! Now try it on that cute lil' baby.