Today I'm collaborating with Gugu Guru to sharing a DIY Yoga Mat! This is a perfect postpartum project to get you back into exercise! I love yoga as a first postpartum exercise because of how low impact it can be! But I also use this yoga mat for other at-home exercise!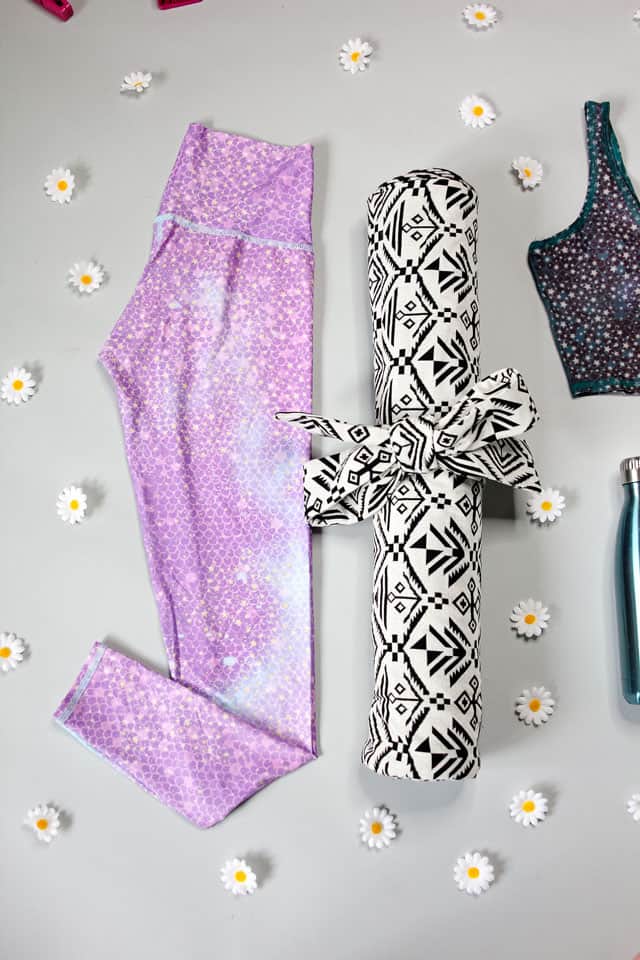 We worked with Teeki for this post because MERMAID LEGGINGS! Teeki is an activewear brand that has the most adorable prints. They are so unique and you won't find similar stuff anywhere else! I had a hard time deciding which to have them send me for this review post, but the mermaid scale print won out.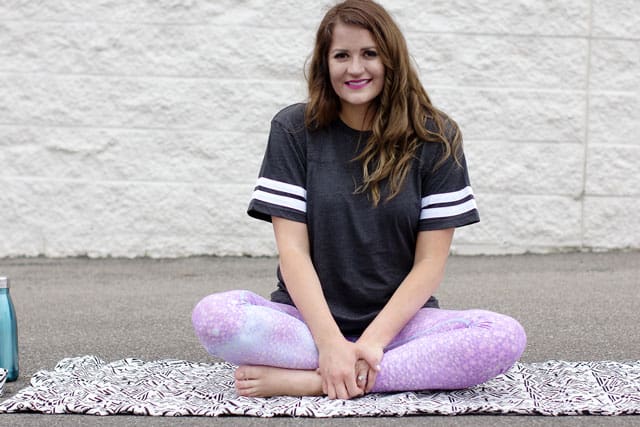 These leggings are so so nice! They are super thin compression material that is breathable and perfect for workouts! I almost think they are too pretty to workout in but breaking them in with a yoga session will be perfect! I also got a matching tank bra and love it too!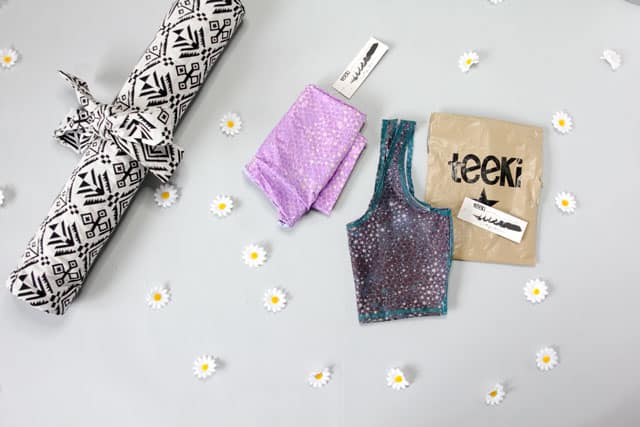 This brand feels very "coachella" with super cute and way unique prints! Visit Teeki.com to find all their clothing! I was sent these items for review and love them! I'm also swooning over this Sunrise print!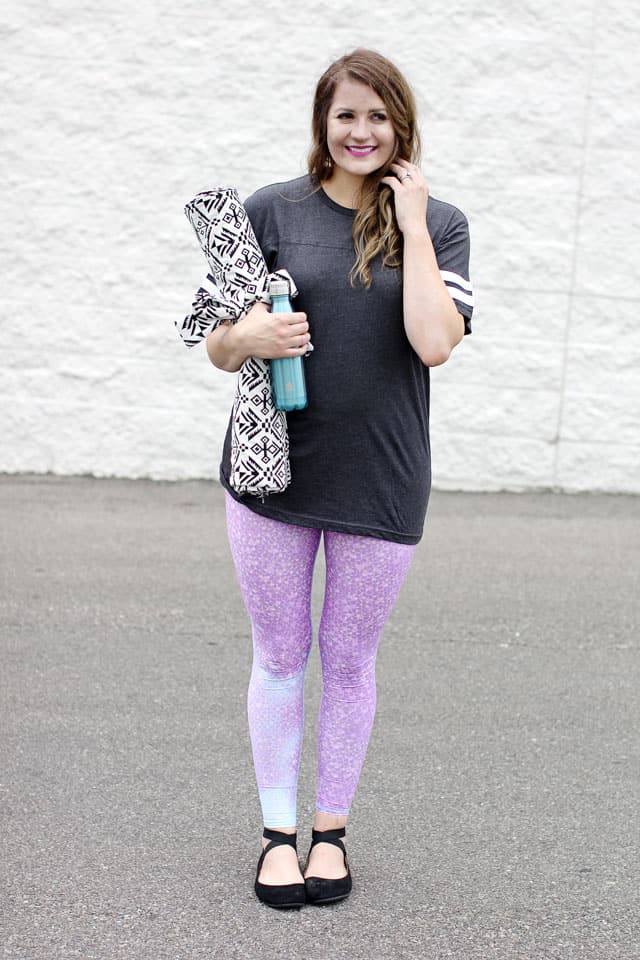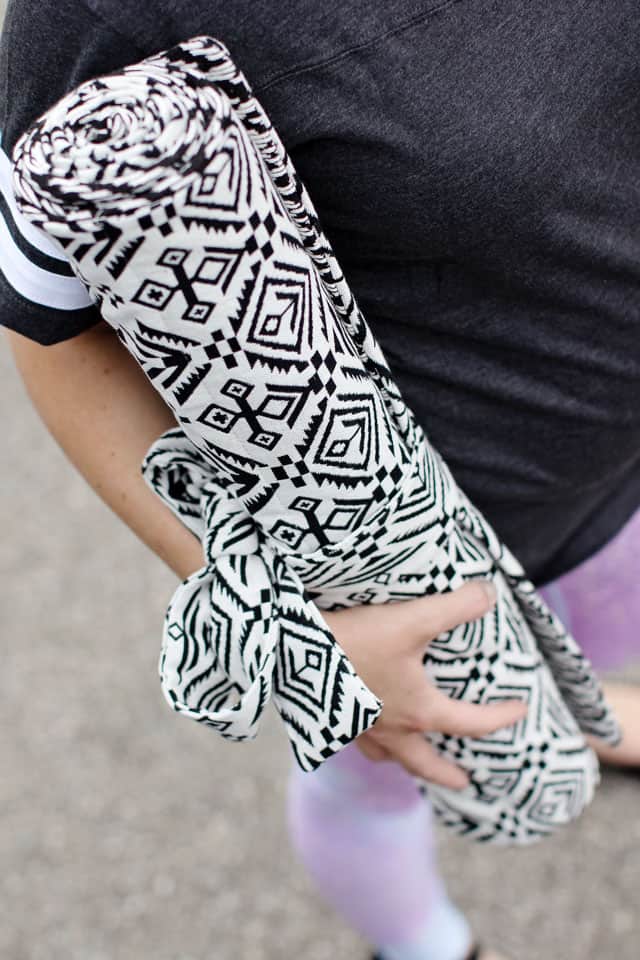 I'm wearing the Mermaid Hot Pants in purple and Mermaid Tank in teal. The best part about a DIY yoga mat is that you can choose cute fabric prints to match your yoga pants! ;) I choose two black and white fabrics, one knit, one canvas. New workout clothes and accessories is the perfect way to motivate yourself after having a baby and I love yoga in the postpartum period because it's generally low impact and can be easily adapted to how you're feeling! I always leave a yoga session feeling better body and mind!
DIY Yoga Mat Supplies
Fabric for top

Choose any fabric for the top of the yoga mat! I'm using a medium weight knit. I chose this because it's cute, but also it is a soft fabric that will be nice to perform yoga on!

Fabric for bottom

I'm using a heavyweight canvas for the bottom of the yoga mat. This type of fabric is easier to brush off than a more clingy cotton. The surface won't really be wipeable, but you can dust it off

Interfacing
Yoga Mat Sewing Instructions
Use a 1/2″ seam allowance.
Cut out two pieces of fabric 25″ by 69″, one from your top layer and one from your bottom layer.
Cut a piece of lightweight fusible interfacing the same size.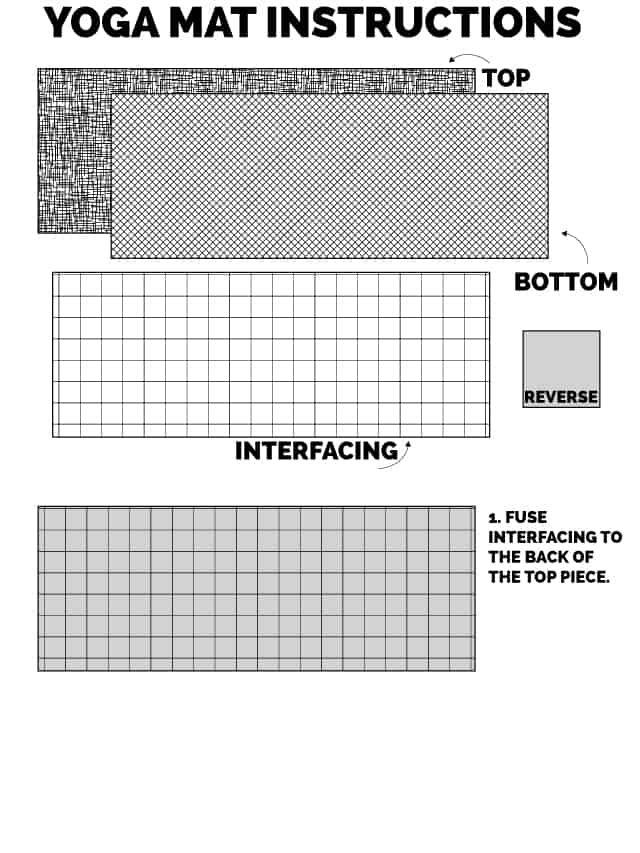 Cut out 2 pieces of fabric 3.5″ by 20″ for a tie