My last faux fur post was just too much fun, I couldn't stop there! I really wanted a white fur coat, fake of course! I was eyeing a real fur coat at an estate sale last summer. I was thinking about it but real fur kinda grosses me out. I love the look of fur in the winter though. And it's also really warm. This post includes a faux fur coat tutorial with a free pattern download.
This is instant fancy and as a bonus it is really easy to make! Even with a lining, this coat will only set you back an hour or two. (Plus fur-vaccuuming time.)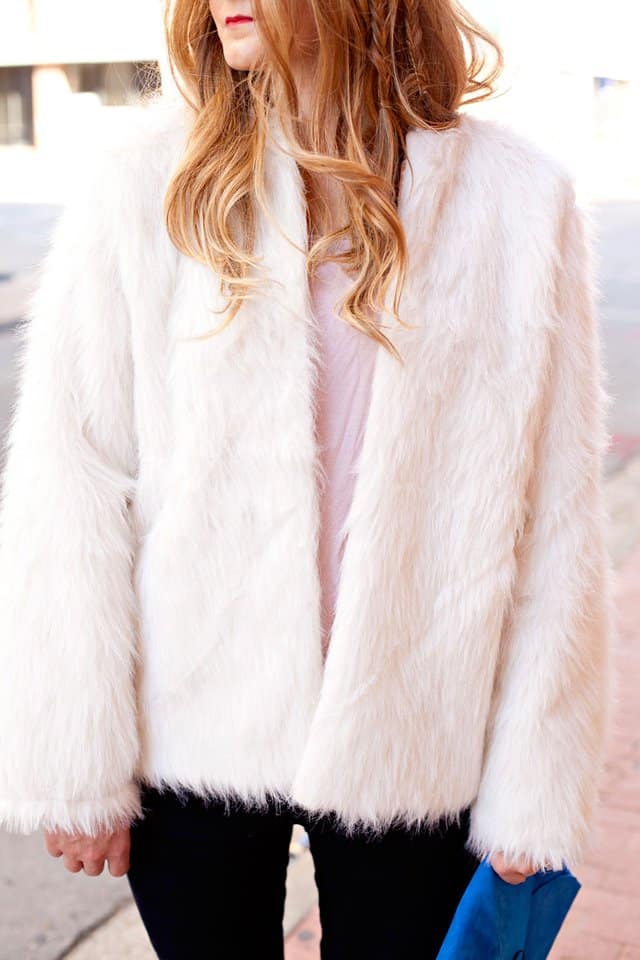 I included a pattern download with this post. It's a generous fit, so it will accommodate about a S to XL. I used faux fur from Joanns. The funny thing about this coat is that is looks SO fancy, but I spent less than $20 for the whole thing! Maybe even less! I used a lining fabric I already had and that's all you need!
The tutorial is simple, too! We aren't setting the sleeves in the round, so it will be EASY and quick!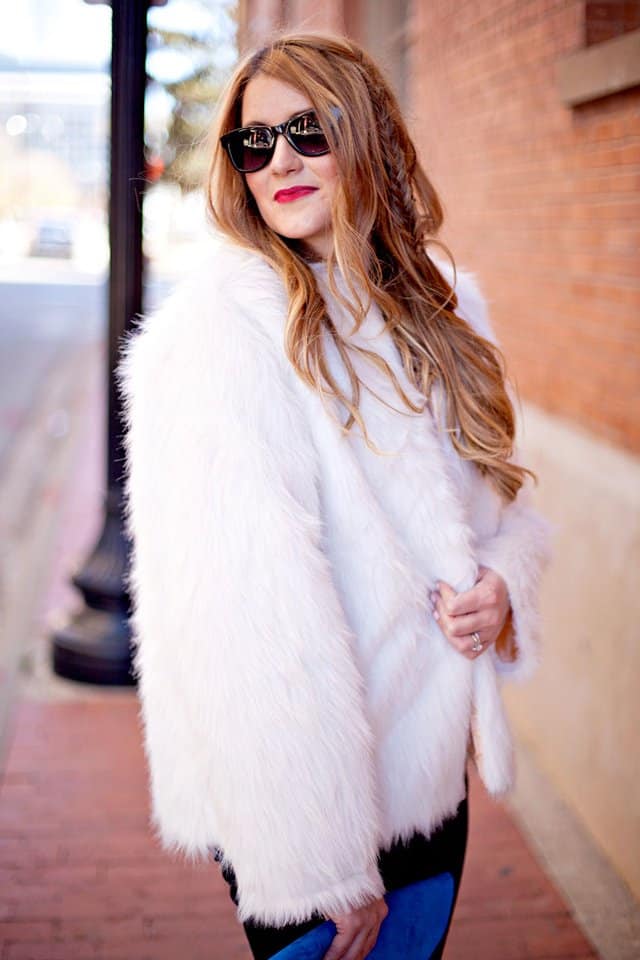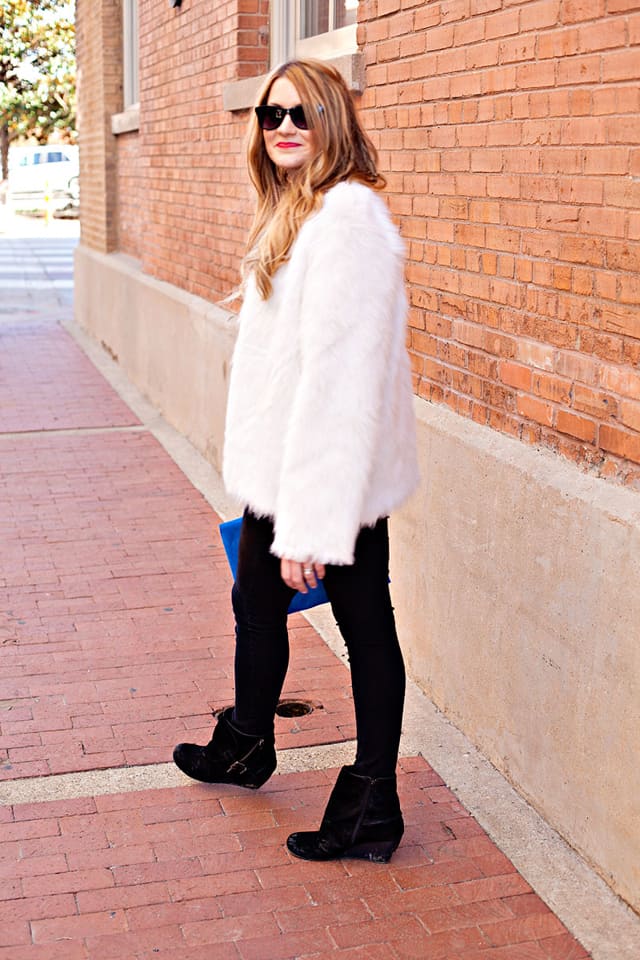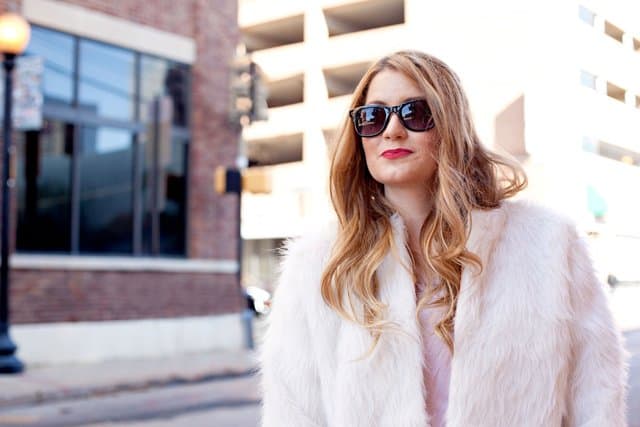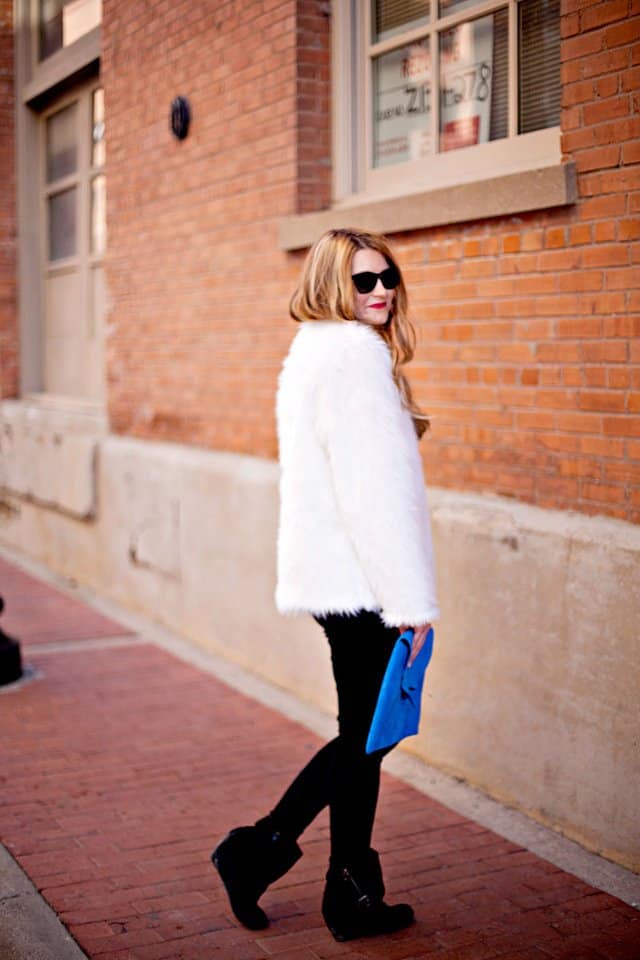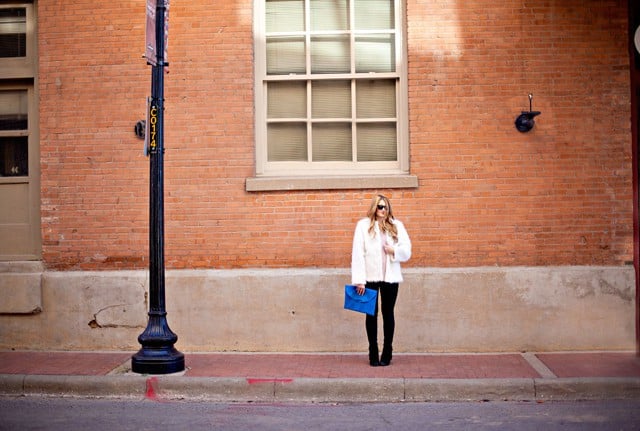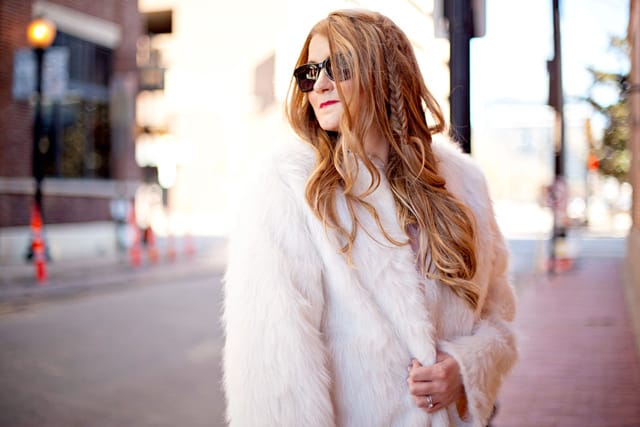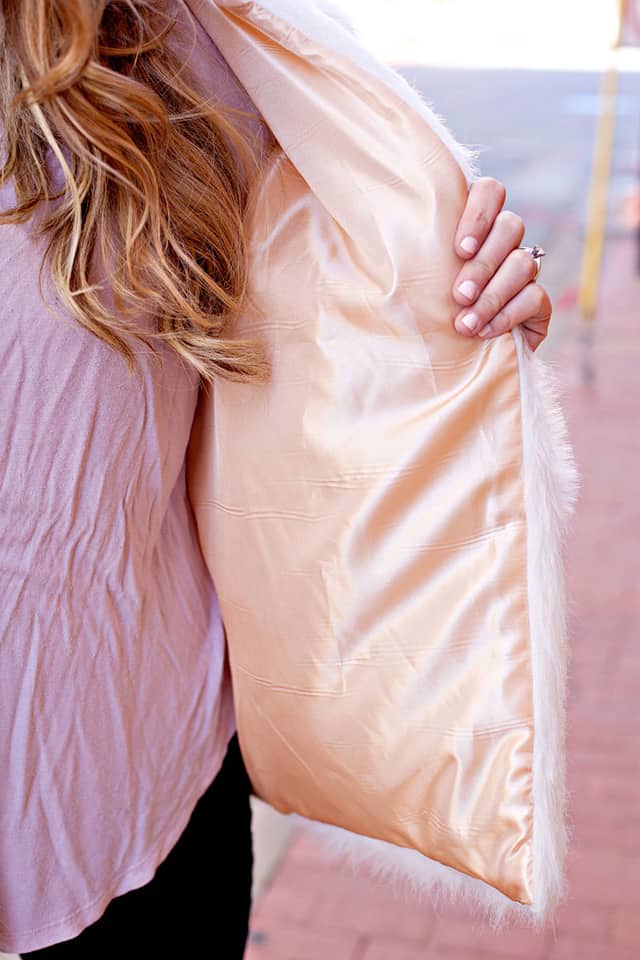 I made this bright blue envelope clutch, too! I'll share the tutorial for it soon. I'm all about easy statement pieces these days I guess. I just love how the cobalt blue looks against the bright white.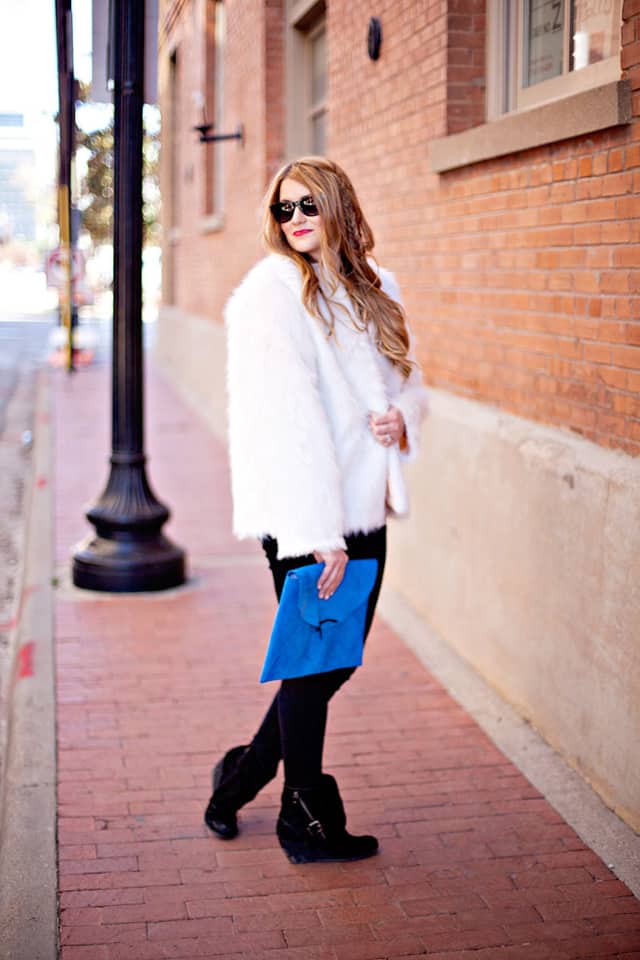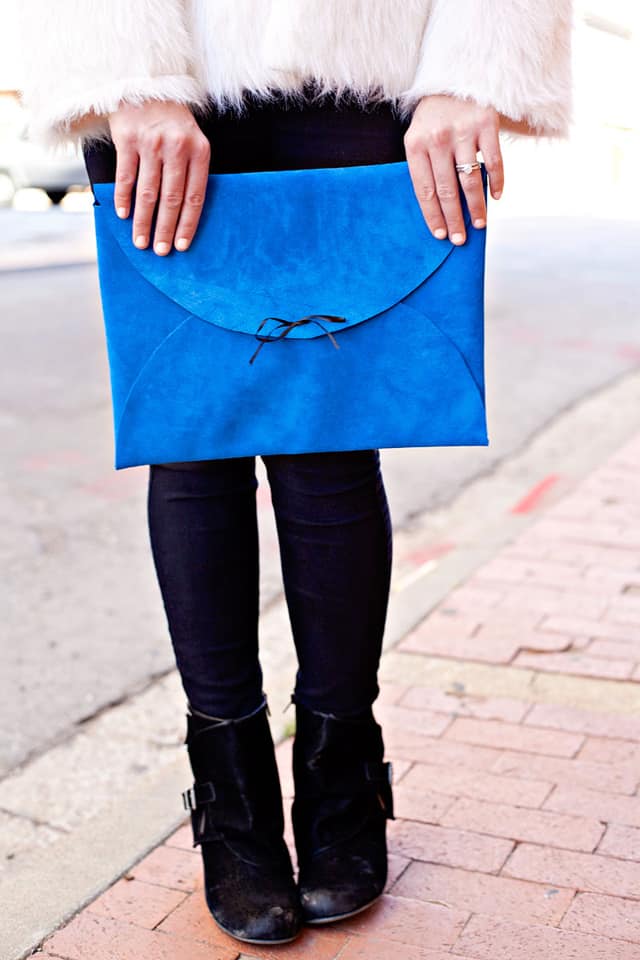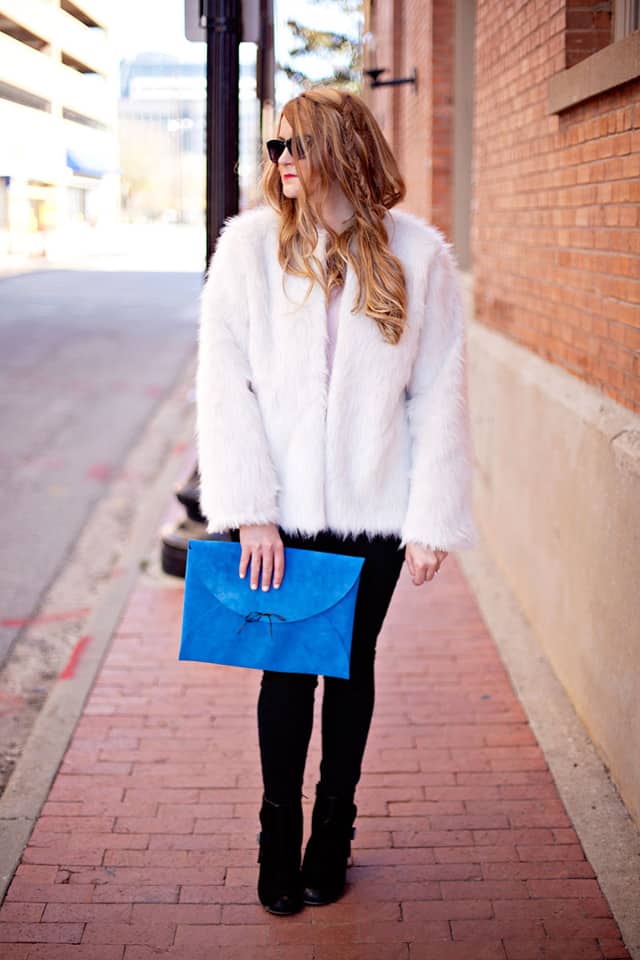 Fabric/Outfit Sources:
Faux Fur: Joanns
Cobalt Leather Clutch: Tandy Leather (Tutorial coming soon!)
Pants: Forever 21
Shoes: Blowfish
……………………………….
Faux Fur Coat Tutorial//
Materials:
2 yards faux fur
2 yards lining fabric

Print out pattern and tape together as shown below. You'll have to trim off the excess on the edges of the paper. The pattern will print on 8.5″ by 11″ or A4 paper.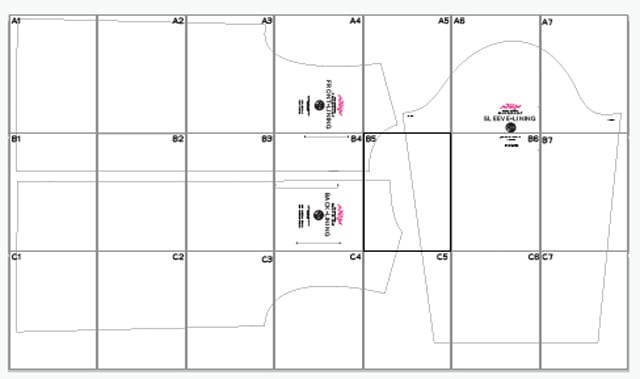 Cut out from fabric: 2 fronts, 1 back (on fold) and 2 sleeves from both the MAIN fabric AND the lining fabric.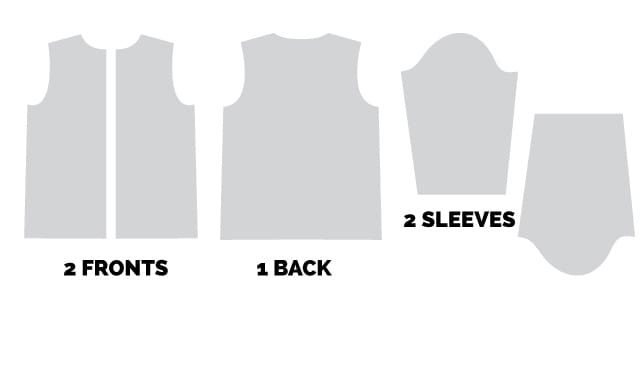 Sew the front and back of the coat together at the shoulder seams.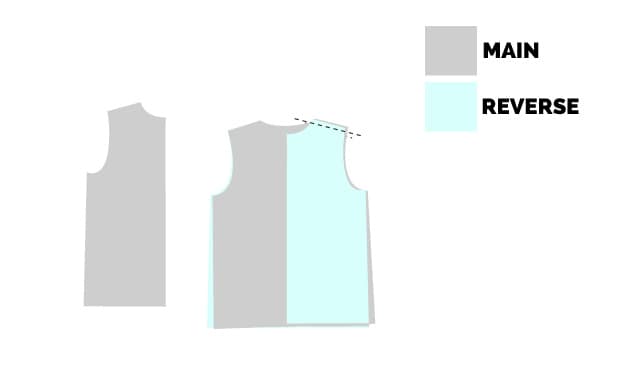 Lay coat with armscye facing you and pin sleeve into armscye. Right sides will be together. Straighten the sleeve and armscye as you go, pin well and sew.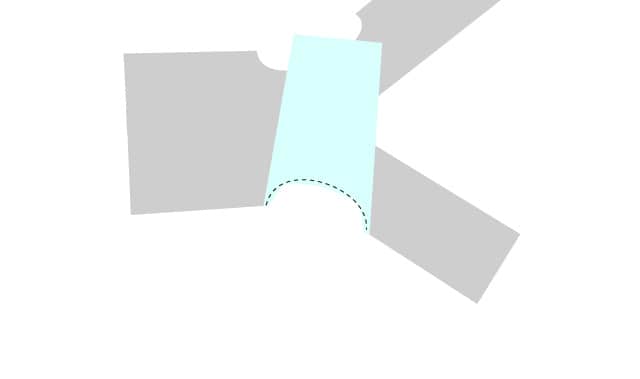 Sew the other sleeve in place also.
Then fold coat over and match the side seams and under sleeve seams.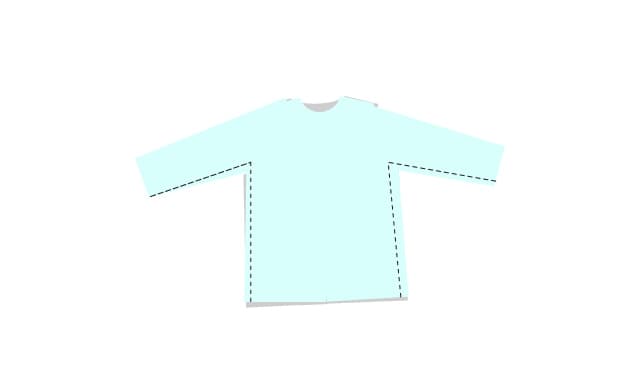 Repeat this process with the lining.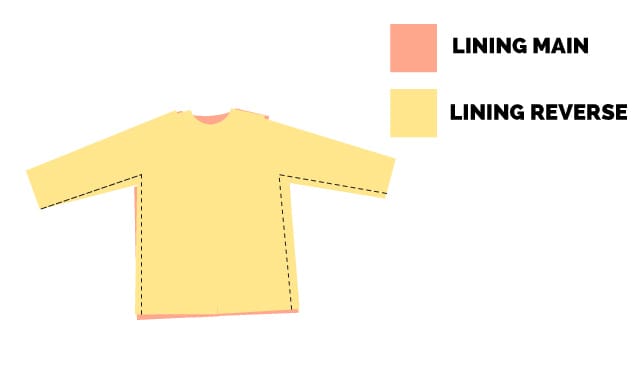 Turn both lining and outer coat right sides out. Then match them with right sides together. Stuff the sleeves into each other and pin the front, neckline and hem seams.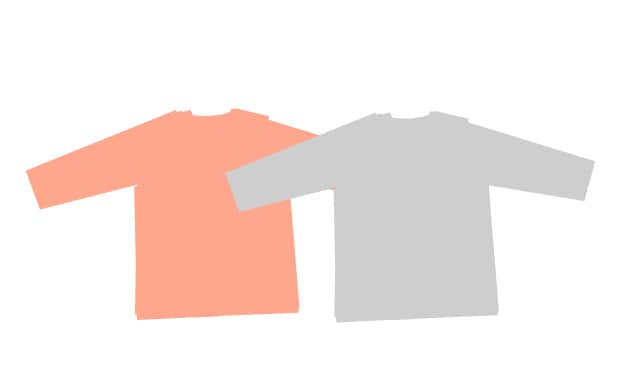 Stitch around neckline, center front and bottom of the coat. Leave a 5-6″ opening at the bottom back of the coat to turn.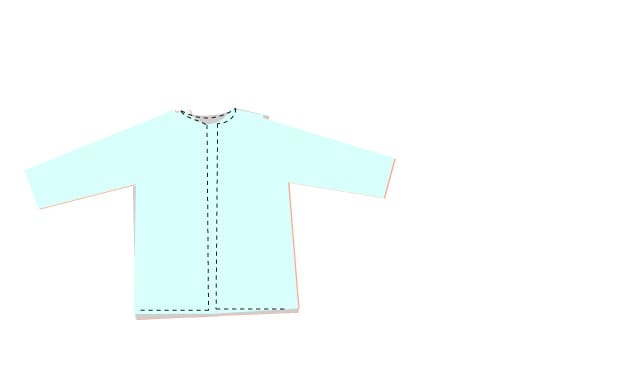 Turn coat through opening and tuck under 1″ of the sleeve hem, catching the lining in it. Topstitch around the sleeves with a matching thread. Machine or hand stitch the 5-6″ opening closed and you're done!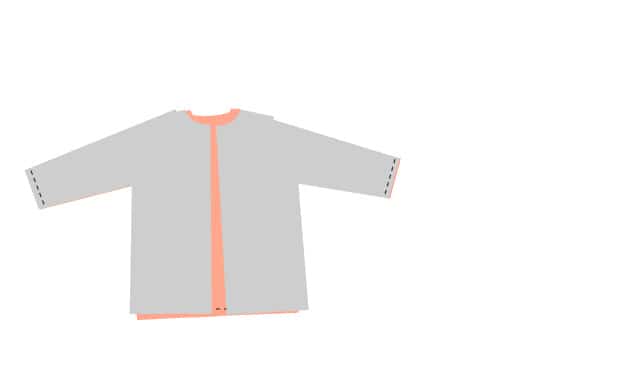 Now enjoy your fancy, warm coat all winter long!

SaveSave
SaveSave