Written by Jessica of the Ladyette!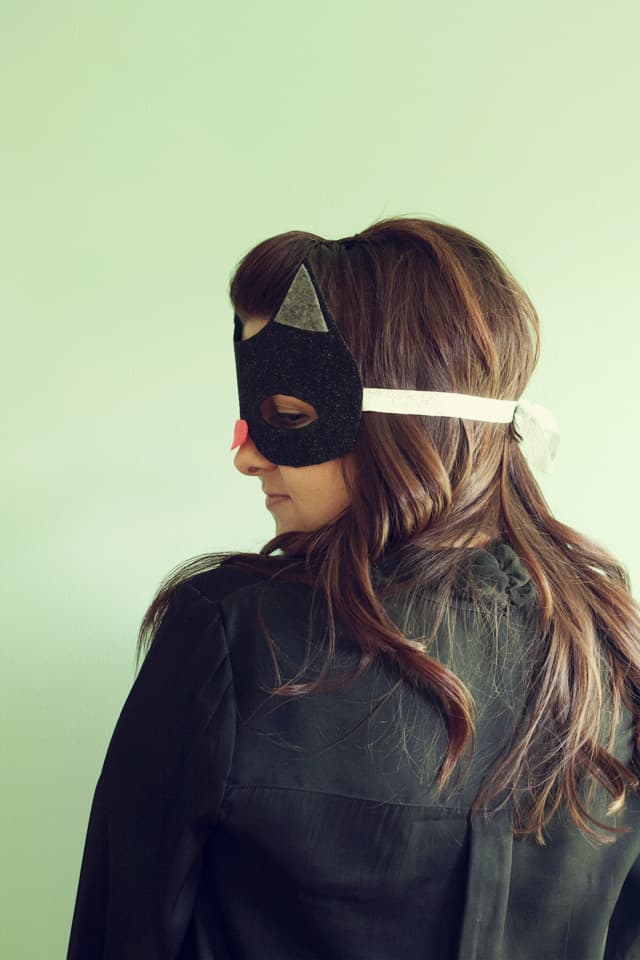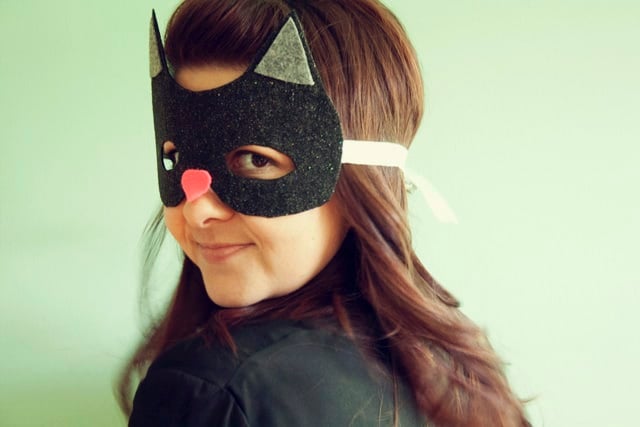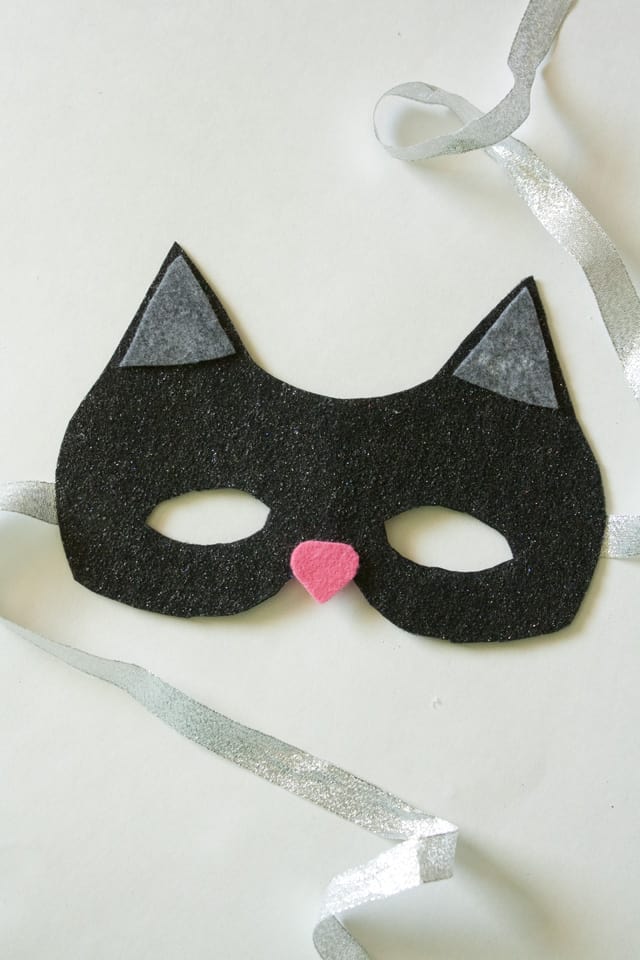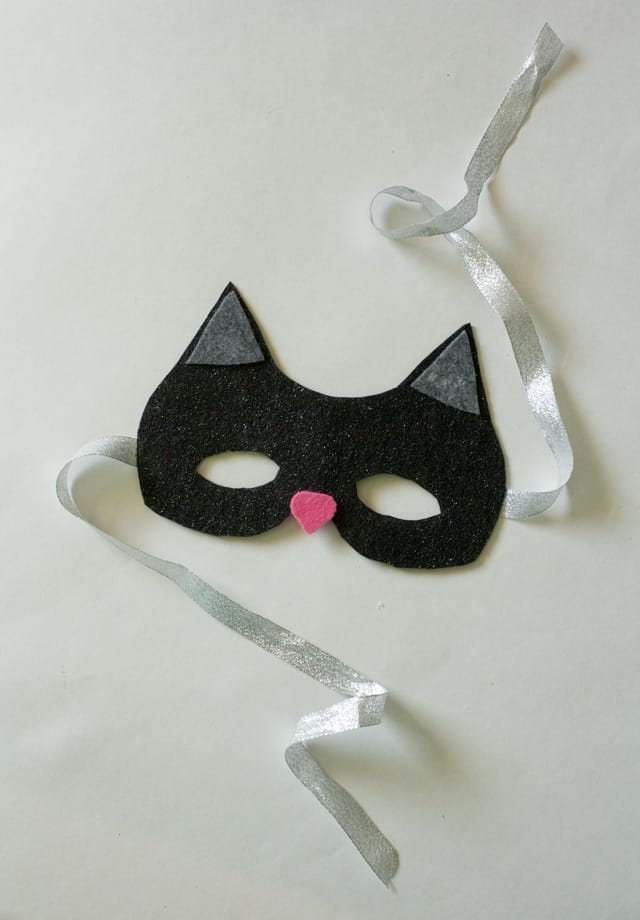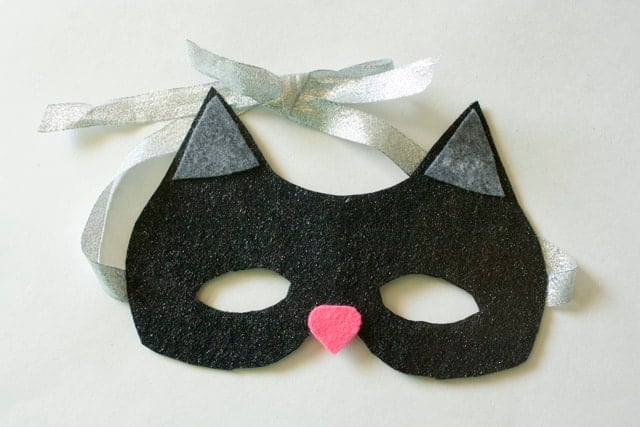 Cats have always been a popular choice as the PURR-fect Halloween costume!  They are super fun, and it's pretty easy to create a costume.  This no sew cat mask is very simple and very inexpensive to make!  Let's get started right MEOW!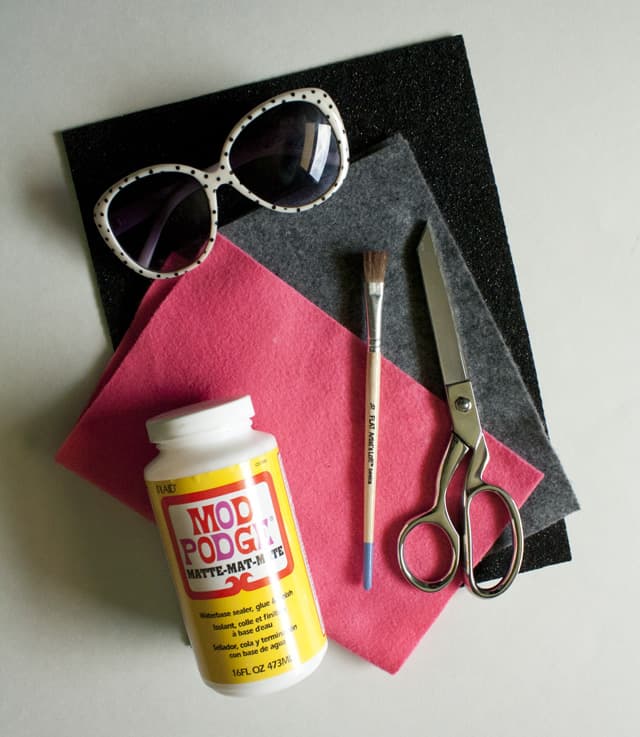 No Sew Cat Mask Tutorial
Supplies Needed: half a sheet of black glitter felt (the stiff kind), scrap pieces of gray and pink felt (the soft kind), scissors, Mod Podge, a brush, a pair of glasses or sunglasses (for measuring), and some sparkly ribbon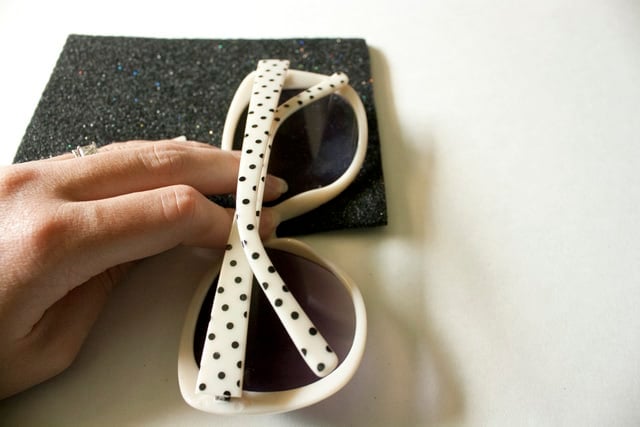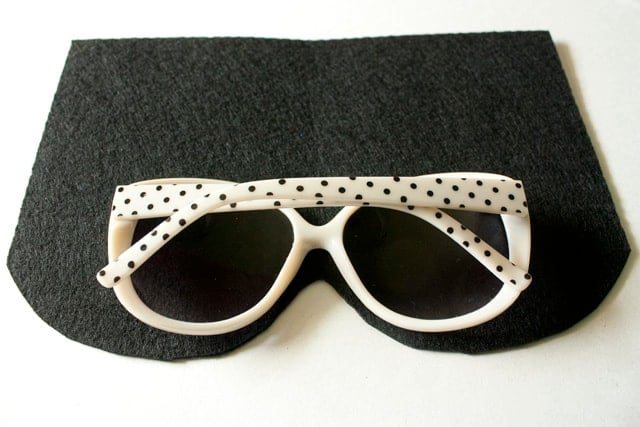 Step 1: Use the glasses as template for cutting the mask.  Fold the black felt in half before cutting to make both sides symmetrical.  Round the bottom edge, which will be the cheeks, and don't cut the nose indention as far as the glasses (because you won't want your entire nose exposed!).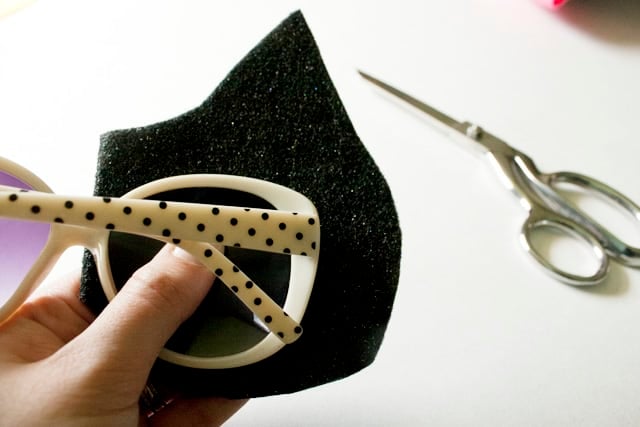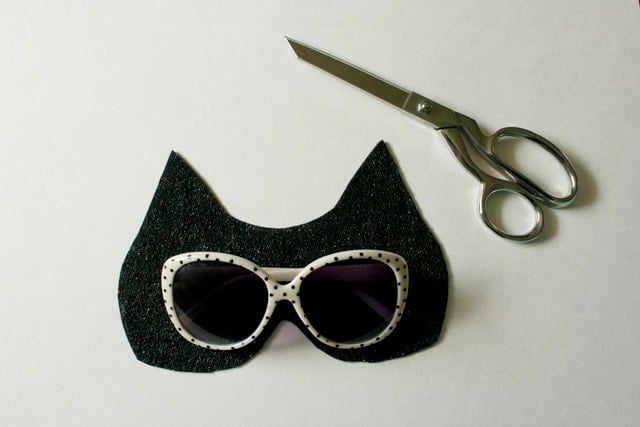 Step 2: Continue to use the glasses as a guide and cut out the ears and top of the head for the cat.  Depending on your face size, or if the mask is for an adult or child, you may need to trim the sides down.  Do not cut the sides the same width as the glasses because the mask should wrap slightly around the sides of your face.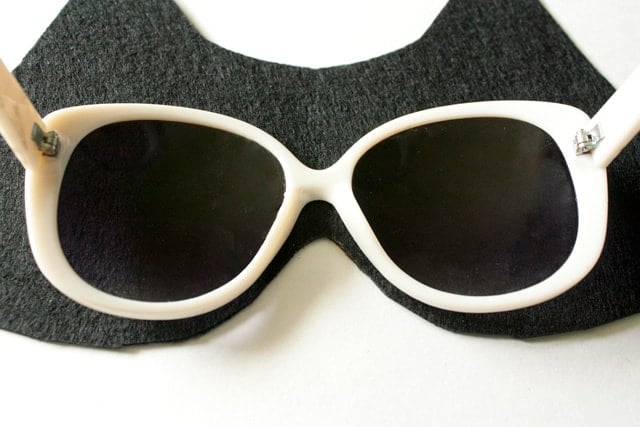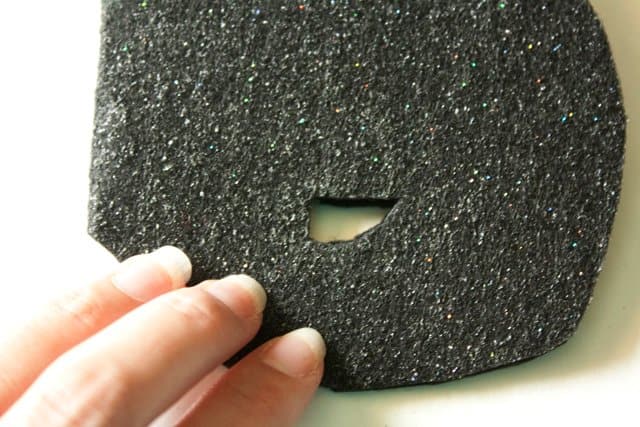 Step 3: You may also use the glasses to determine the appropriate placement for eye holes.  Remember to cut small openings in the beginning and continue to cut larger openings as needed.  To begin, cut a cross (one vertical slit and one horizontal slit) then you can maneuver the scissors to cut cat eye shaped openings for your own eyes!  Try the mask on every now and then to make sure your openings are correctly aligned and sized.  Make adjustments as needed.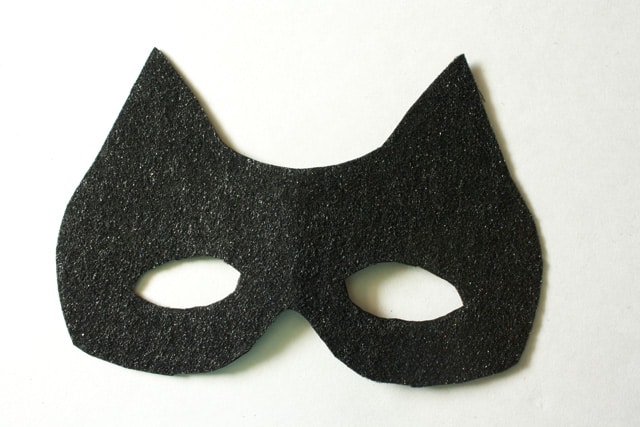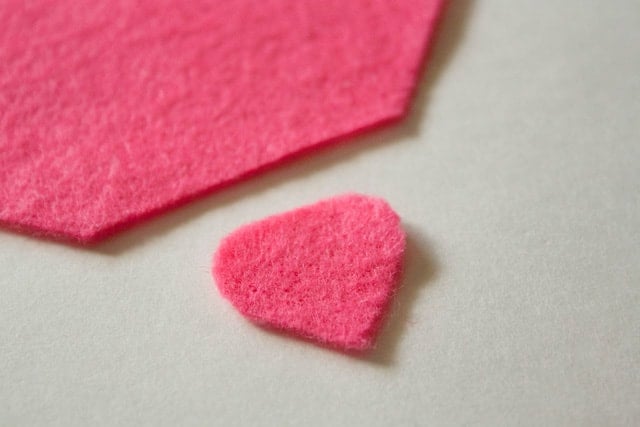 Step 4: Using the gray and pink felt, cut small triangles for the ears and nose.  For the ears, you can cut the felt the same size as the black part of the ears and then trim down until the gray felt is proportionally smaller.  For the nose, snip off a corner of the pink felt and round the top edges. Using the brush, apply Mod Podge to the back of the tiny felt pieces and attach them to the mask.  For the nose, only apply it to the top edges so the nose hangs over the mask edge.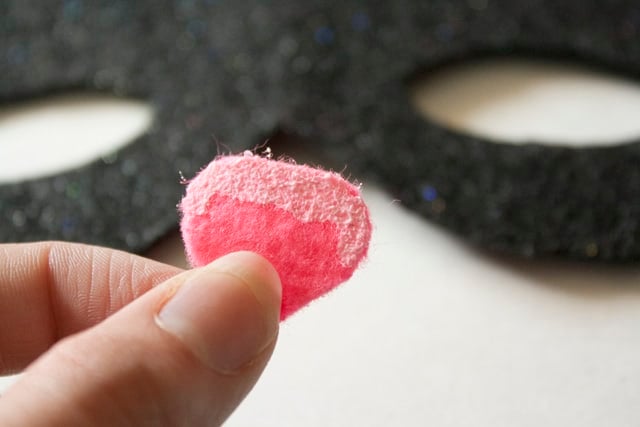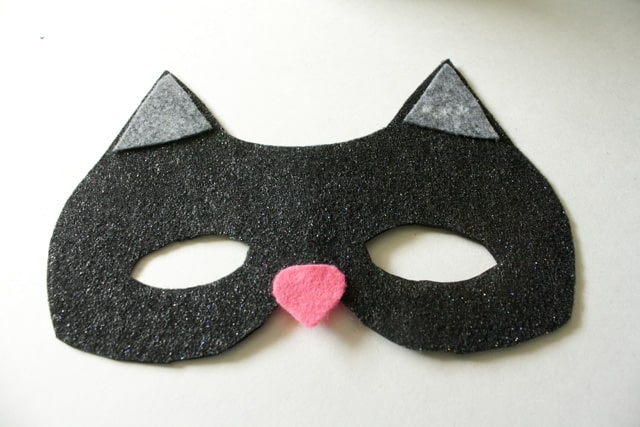 Step 5: To create a way to tie the mask on your head, apply Mod Podge to the ends of two long pieces of ribbon.  Once all the glue has dried, try the mask on and trim the ribbon as needed.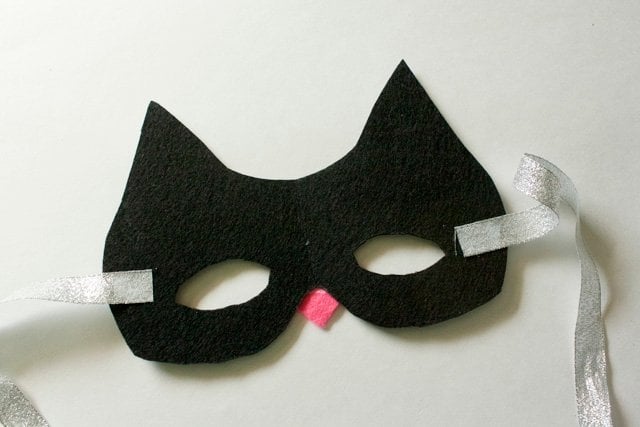 Ta-da!  Happy Catober!