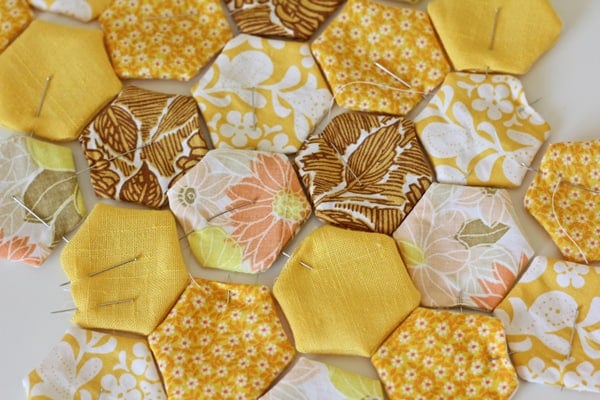 I've been meaning to make a hexagon quilt forever. It's one of my lifelong dreams. All my sewing idols have done it. They are so pretty and would be such a neat keepsake. I really want a full size one to drape over my bed.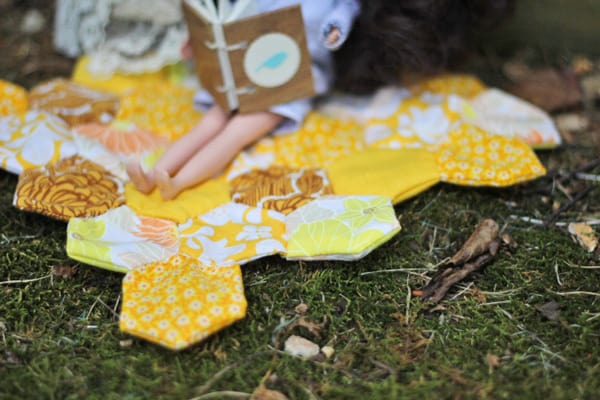 But every time I think about making one I think about how stinkin' long it is going to take to cut out all those hexagons. Forever. Or maybe longer.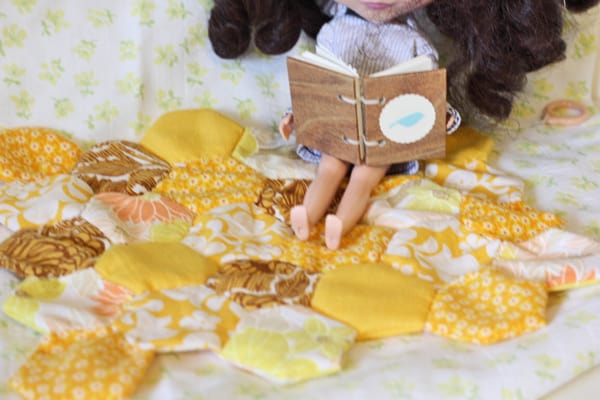 go! baby to the rescue!!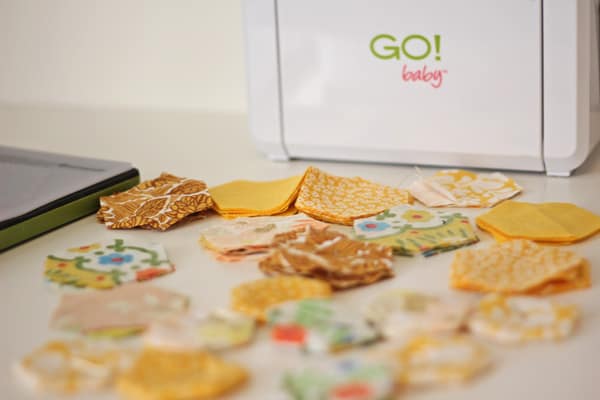 Accuquilt asked me if I wanted to review their Go Baby fabric cutting machine. Did you know such a thing existed? It cuts fabric into quilting shapes and appliques for you! I was in scissor/rotary cutter mindset, thinking rotary cutters were SO fast. This baby cuts your fabric for you into pieces even faster so you get to the fun parts like piecing, quilting, and applying appliques. I really love it. I think it's so useful and I'm not even much of a quilter. (Although I aspire to be one.) I have lots of projects to show you! I got to choose three different dies, and the very first I decided on was the hexagons. It was a no brainer.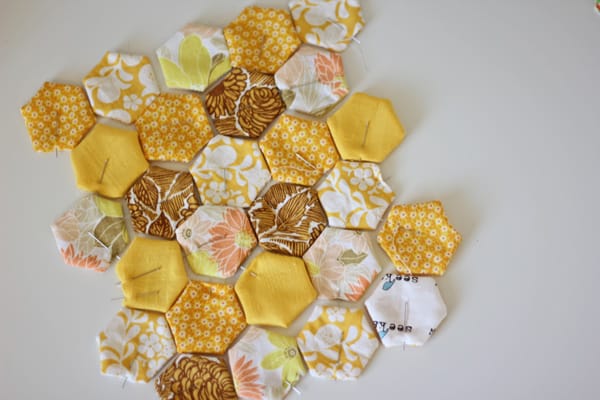 I started small with a Blythe quilt. It's the perfect use for pretty scraps. I think it would look great framed too.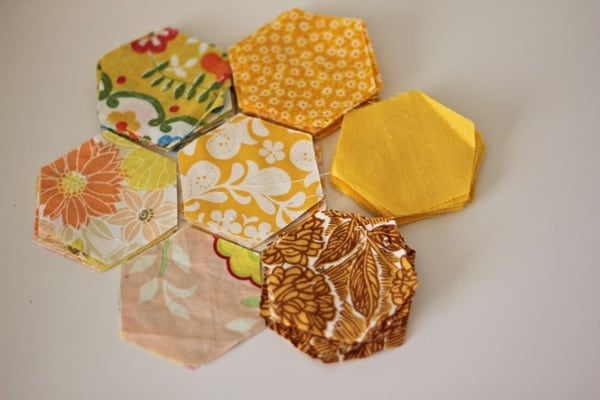 I raided my scrap pile for anything sorta yellow and vintage. In the end I chose just 5 prints to use. 
I used four vintage yellows. And one modern yellow print that sorta looks vintage. (That's the one in the middle.)
Start out by cutting out your hexagons. 
I used the 3″ die to make this quilt.
 The go baby cuts up to 6 layers at a time, so I folded up strips and sent them through the cutter. The blades are hidden in foam until you put it through the press, so you won't get cut. I thought that was pretty smart.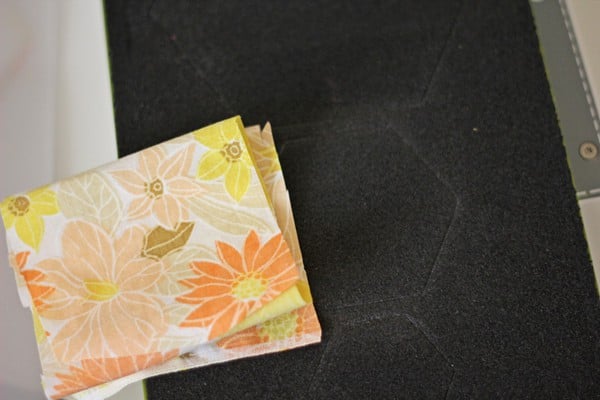 You just reel the handle and out comes the shapes. I have a hard time throwing away useable scraps, but that little bit leftover that you see below? I can handle getting rid of that. I feel like I'm getting the most out of my fabric if I can use up every square inch.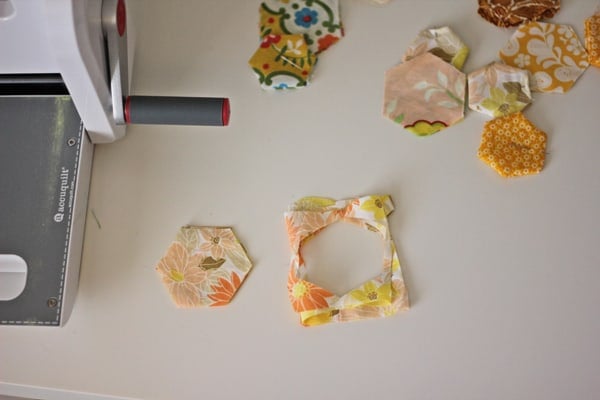 Traditional hexagon quilts are made with quilt tops and a backing. I made mine differently because I wanted it to be reversible. It requires a little hand sewing, but the result is worth it!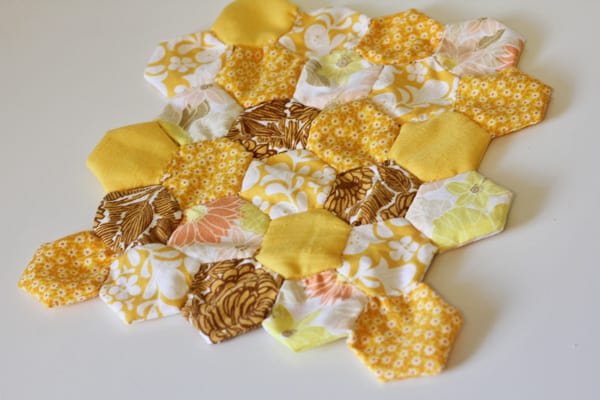 To assemble each hexagon, pin two pieces together, right sides together.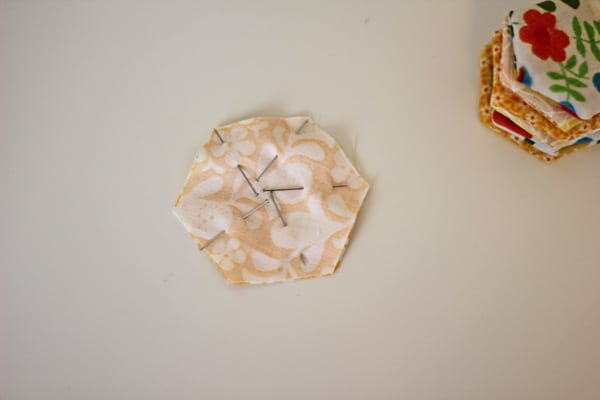 Machine stitch around the edges, leaving a tiny space on one of the hexagon's sides. Backstitch where you start and stop.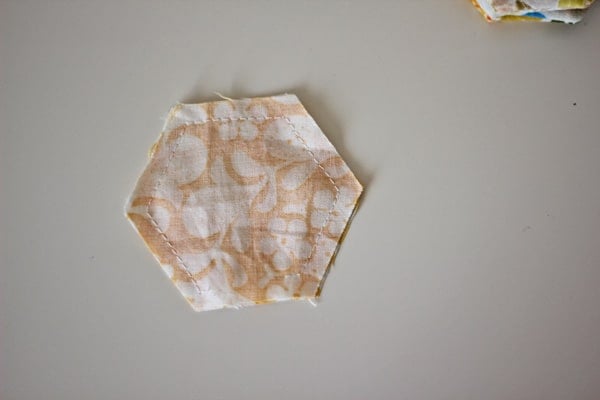 Clip the points.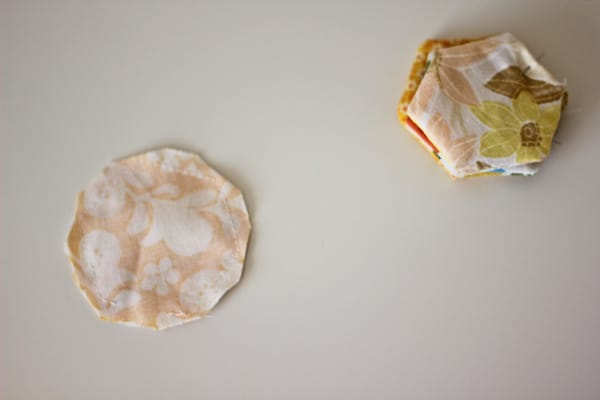 Now turn and pin the opening closed.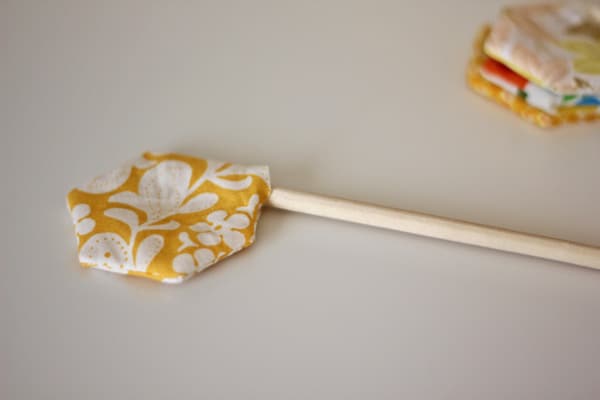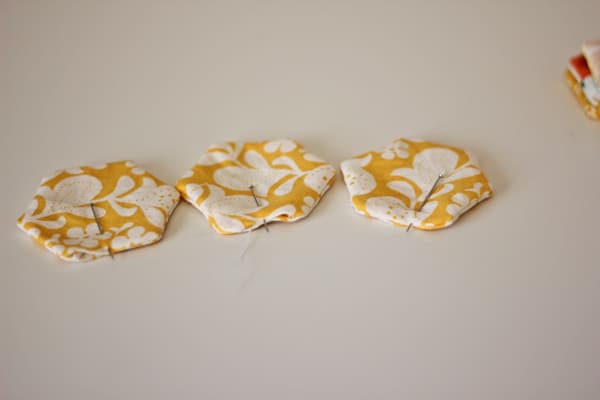 Now you have a hexagon! You'll need 27 for this project. This tutorial can easily be adapted into a larger quilt, just add more hexies! 


Sew the hexagons together with a blind stitch. While you sew the two hexagons together you'll also close the openings. Instead of sewing two open edges together, I sewed each open edge to a closed edge of another hexagon to make it easier to close up everything in the process.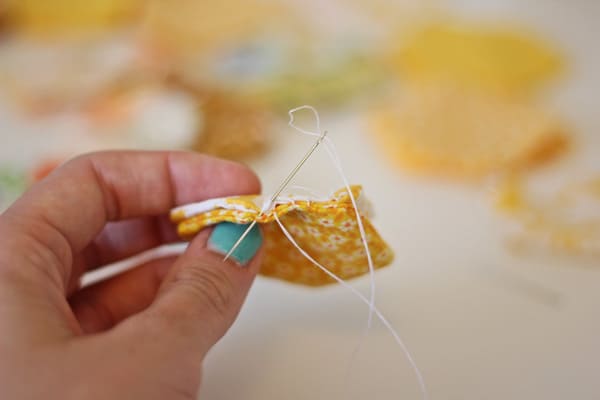 When you're done it will look like this: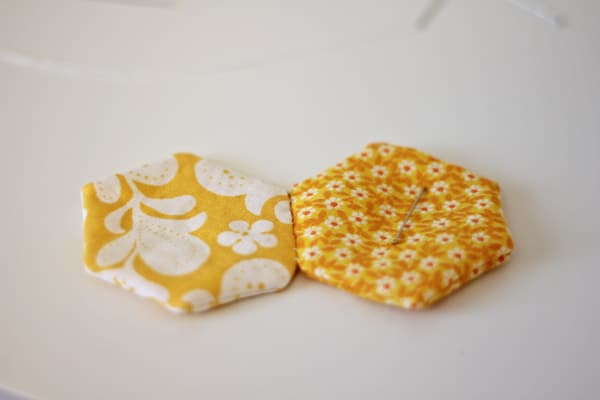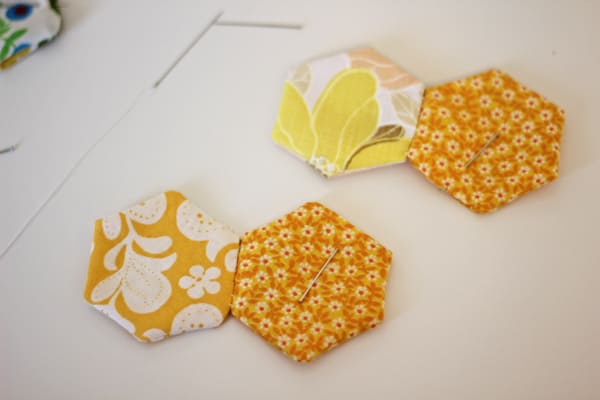 Lay them all out and sew them ALL together.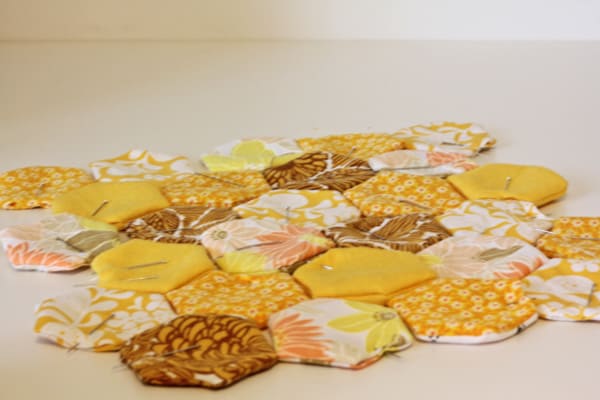 I didn't go by any specific pattern. I just made sure no two like prints touched each other and that the quilt as a whole balanced out.


When it's all sewn together, it will look so great! I didn't press my hexagons because I like the sorta puffy dimension you get by not pressing them.


Blythe watched me put it together. She looks so excited.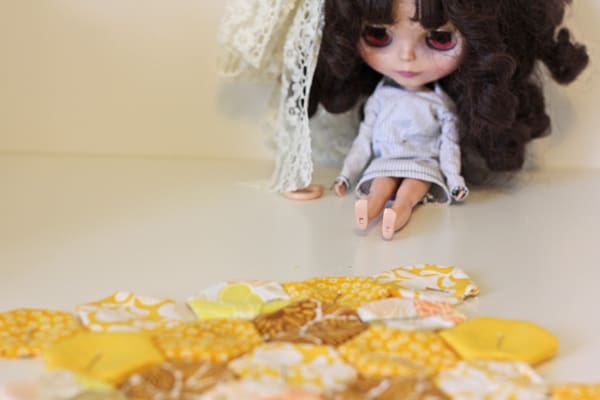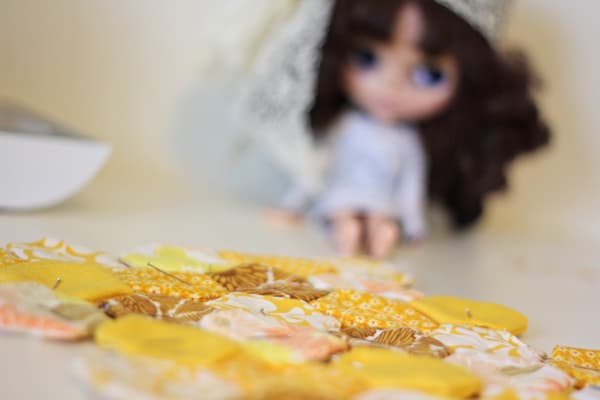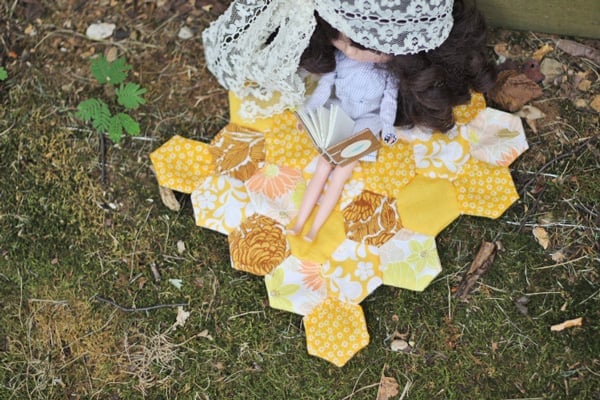 Ah, all done! Lay it out in the grass and grab a good book!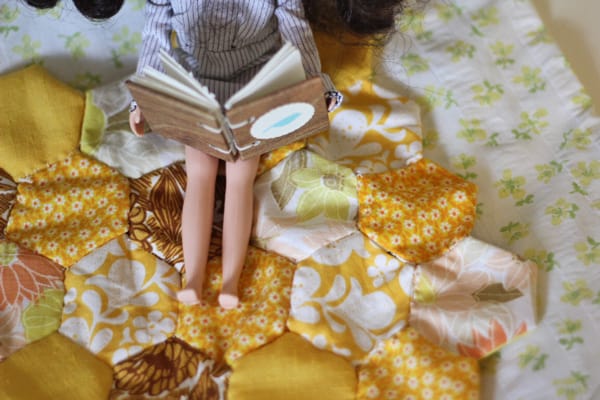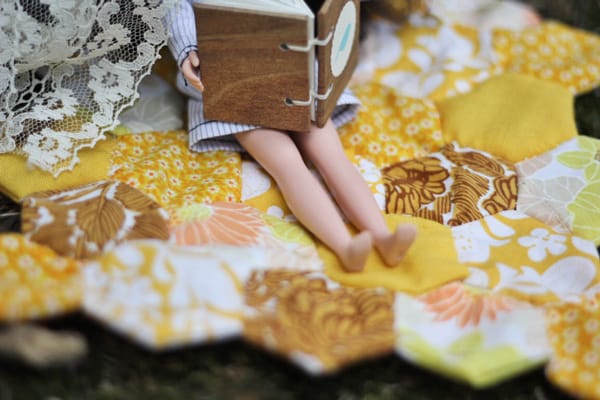 So how do you feel about hexagons? Love them or too much work?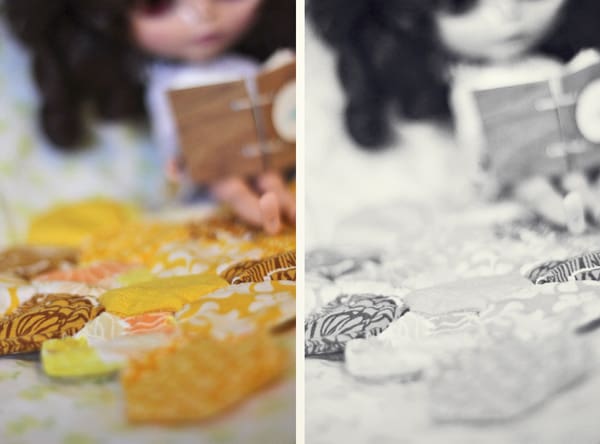 Sign up here for 22 FREE patterns from Accuquilt! (Or click the button below.) You just have to put in your email. I signed up and looked through all the patterns, they are so cute! There are some great ones for the holidays and for most other occasions, too!