I'm excited to tell you about my sewing machine today. I have been using this machine for over a year now, so I've had a good chance to use lots of the features so I feel comfortable writing a Bernette b79 sewing embroidery machine review. I bought this machine myself but this post contains affiliate links.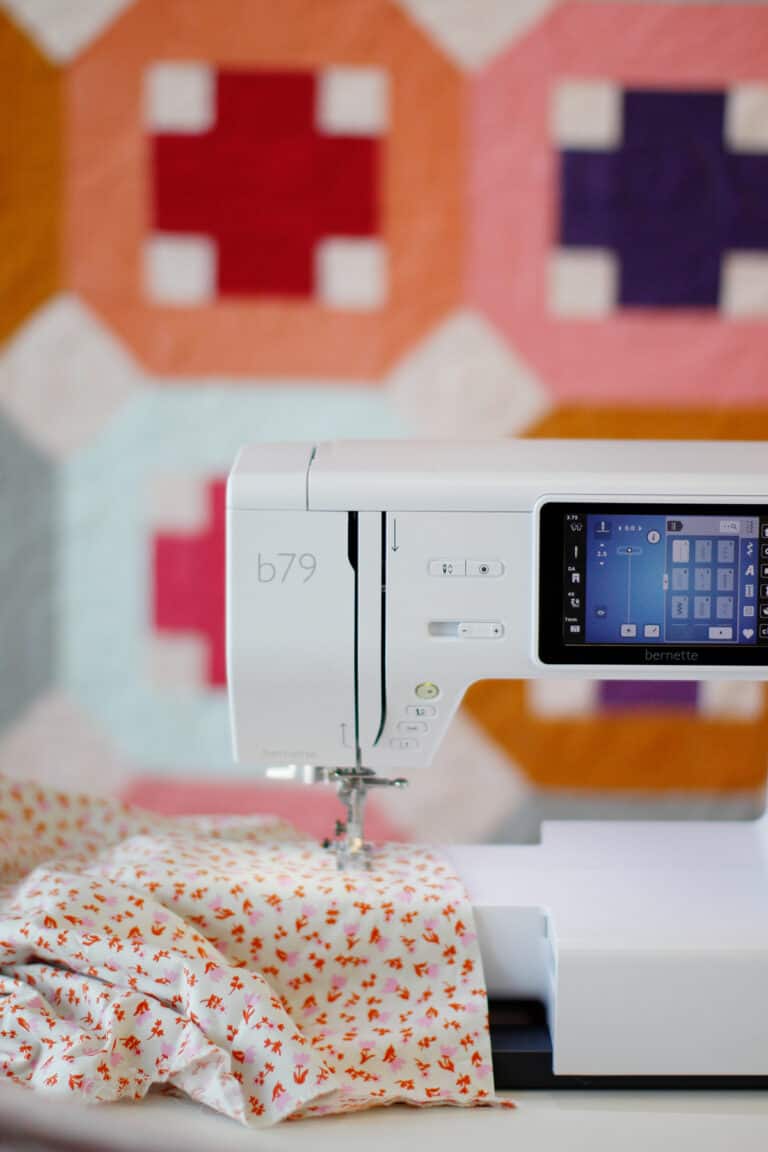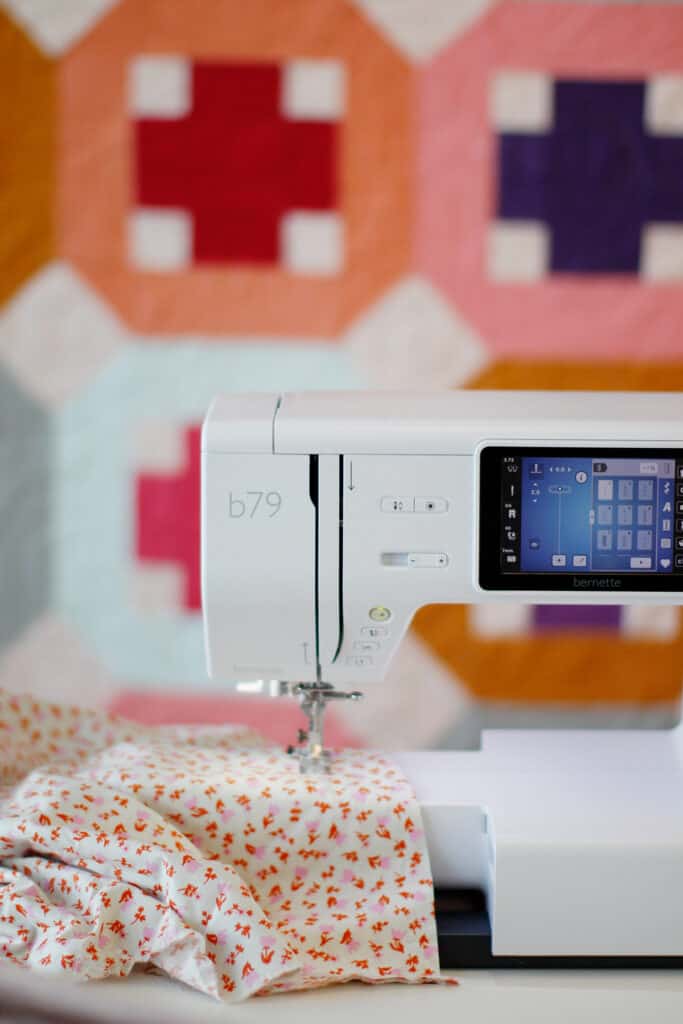 This machine is what I would call a "level-up machine". If you're looking for a beginner machine, I wrote a list of machines I recommend for beginners in this blog post.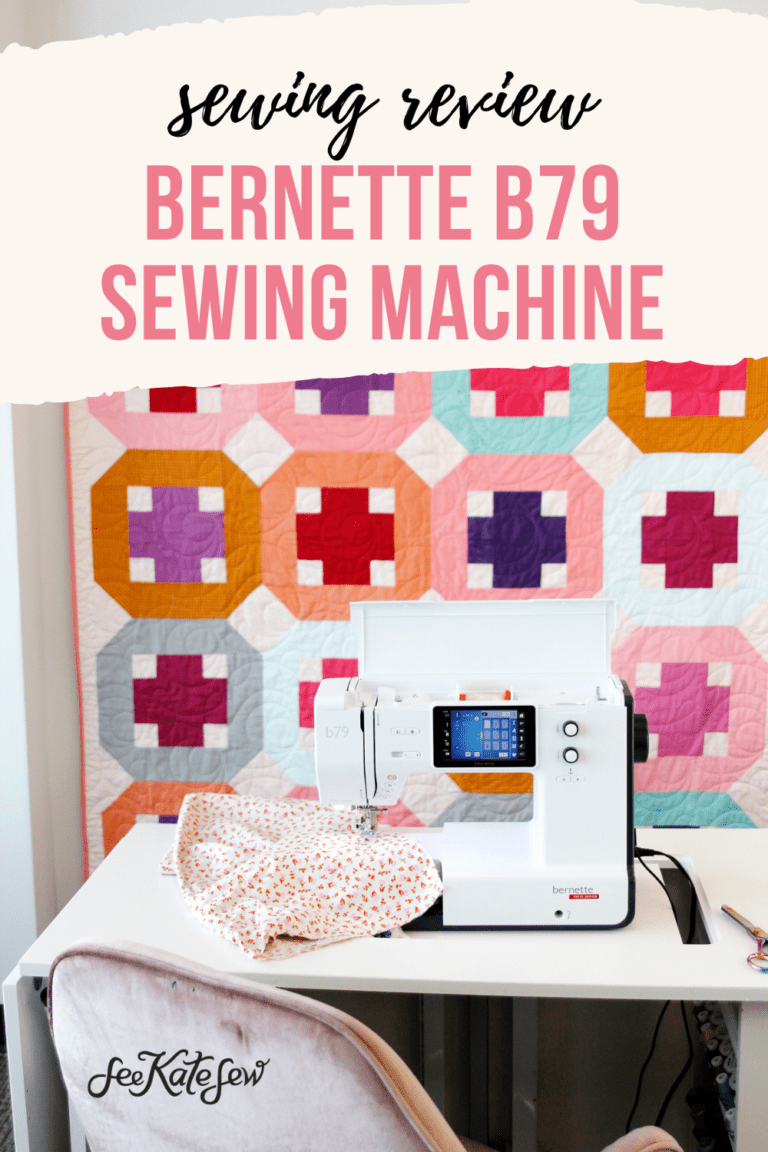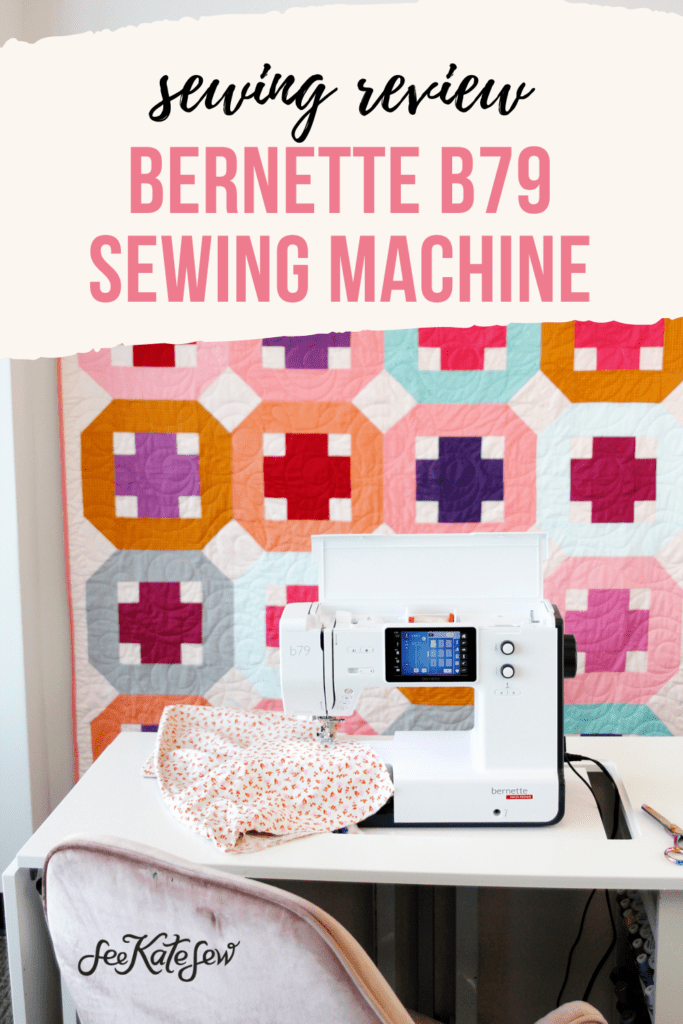 I recommend a beginner machine if you are new to sewing and don't want to invest a lot of money into a machine or if you are purchasing for a beginner. Beginner machines tend to have less bells and whistles so they are easier to use at first.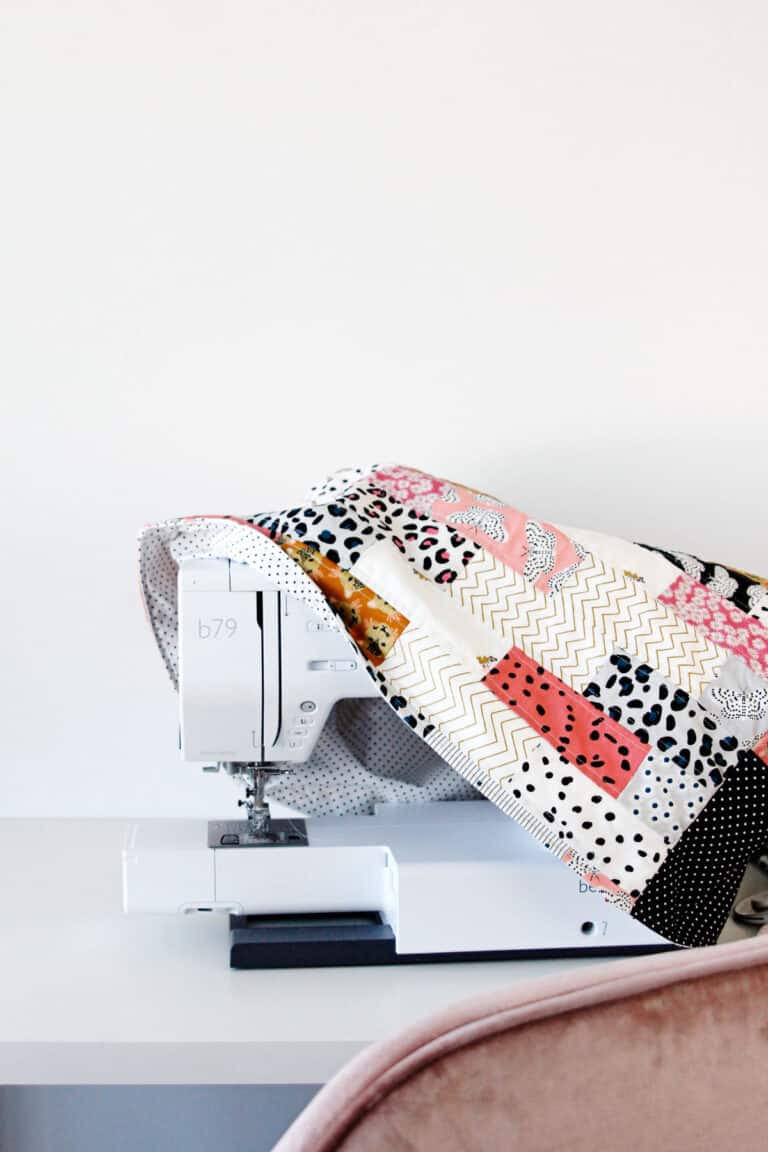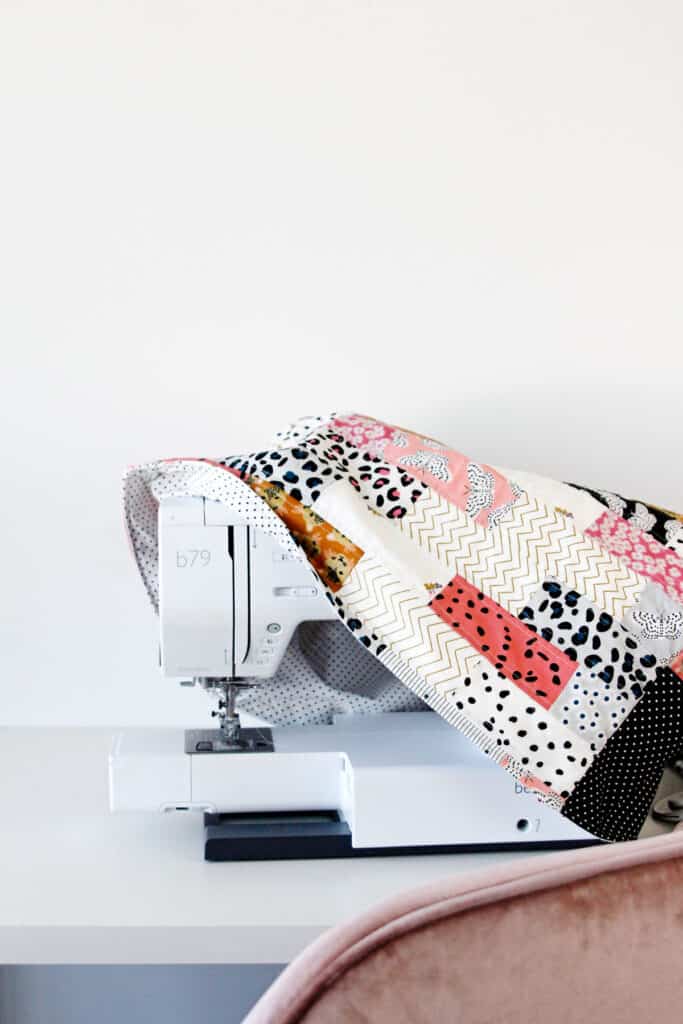 I think of this machine as more of a commitment machine. If you know you love sewing and want a few more features and have some money to spend on it, the Bernette b79 might be a good one for you! I have loved it.

Bernette b77 vs Bernette b79
I spent a little while deciding between the Bernette b77 and the Bernette b79. They are essentially the same machine, but the b79 includes an embroidery attachment and software.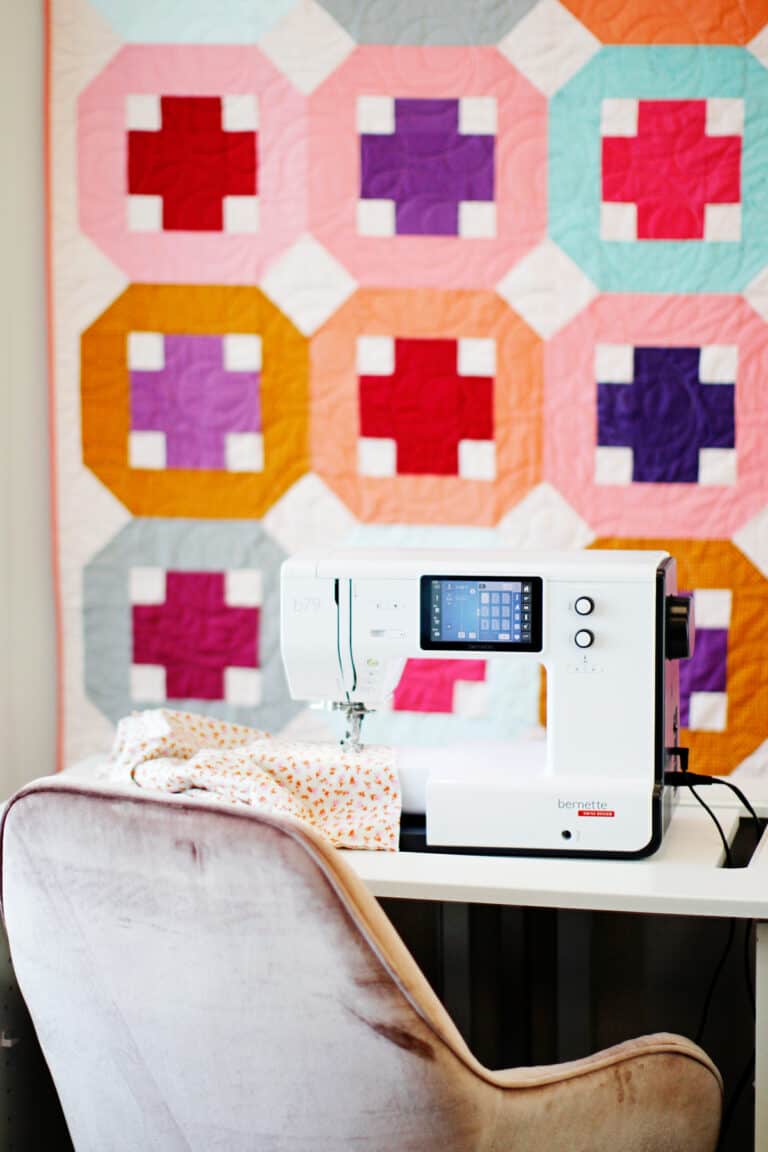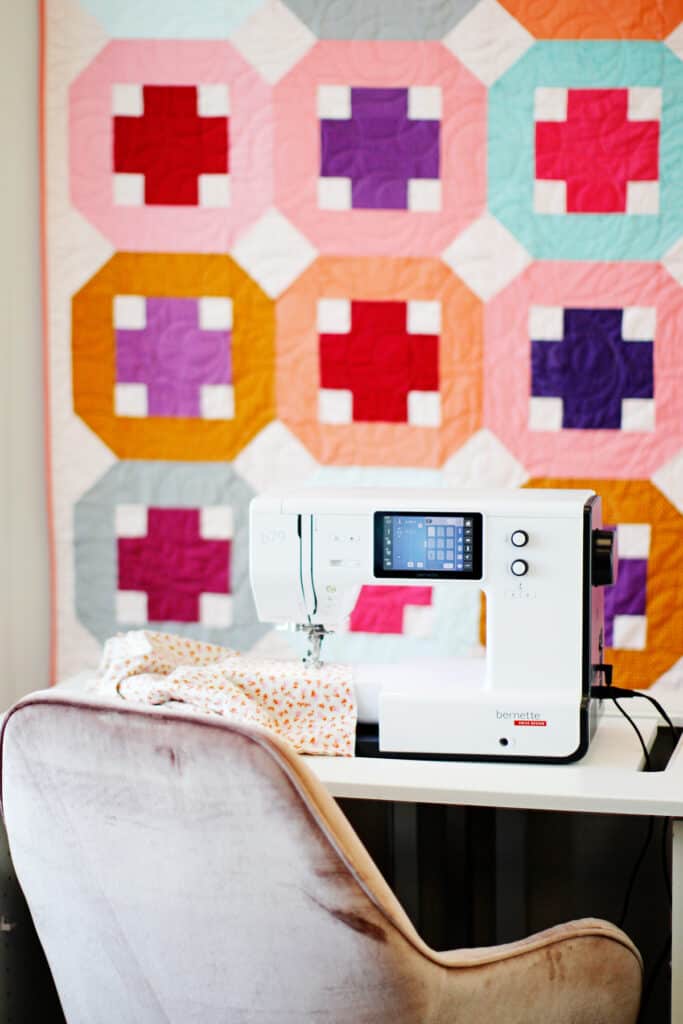 I don't do much embroidery yet (read: any), but I wanted to have it as an option in the future, so I went with the b79. It's a few hundred dollars more to get the embroidery included but it's not something you can add later, so that's what made my decision. However, I have not yet used the embroidery element. I'll be sure to share my review of that part of the machine when I do. So for now this review is reviewing the Bernette b79 strictly as a sewing machine.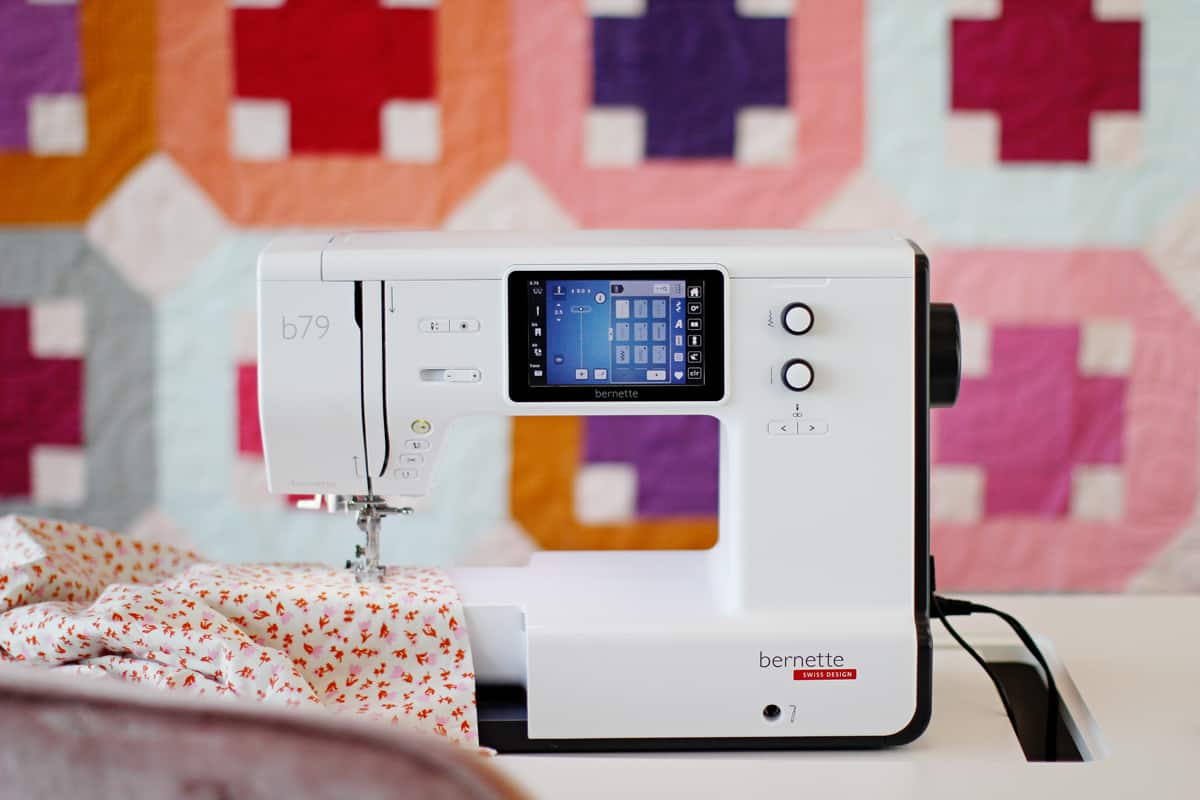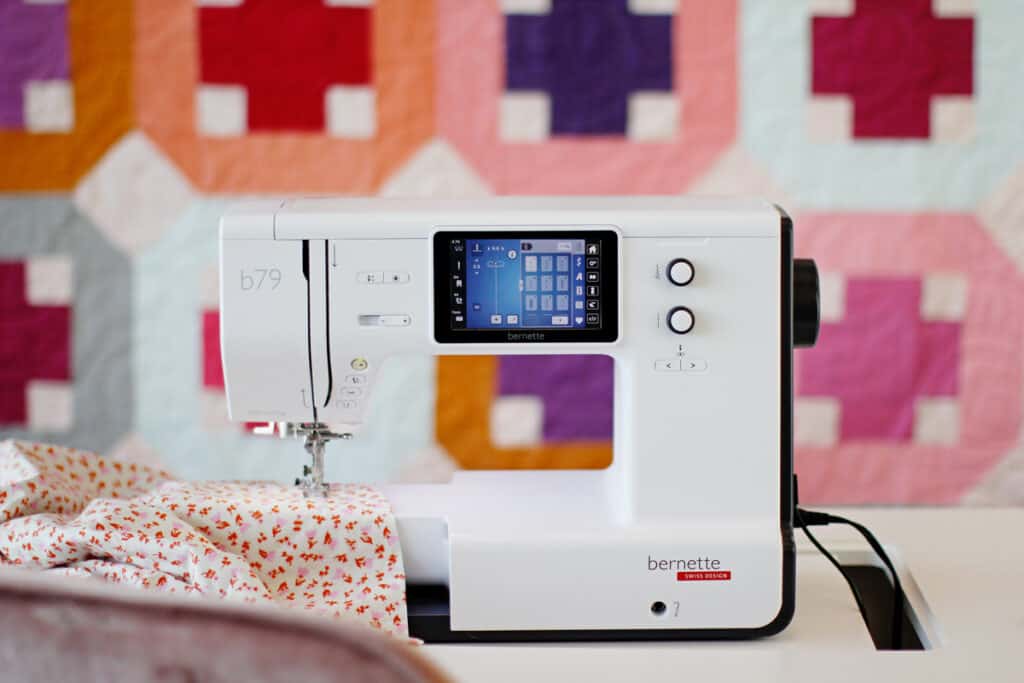 I've been really happy with this machine! Bernina has been a leader in the sewing machine space for a long time and I sewed on one in college. The Bernette series is a lower price point but has a lot of the Bernina features.
Bernette b79 features
There are a few features I always make sure a machine has before considering it. I prefer a top-load bobbin, I need a wide stitch length and ability to make buttonholes. I also love a side thread cutter and options! Here are a few of the features that I love on this machine:
Computerized screen with stylus pen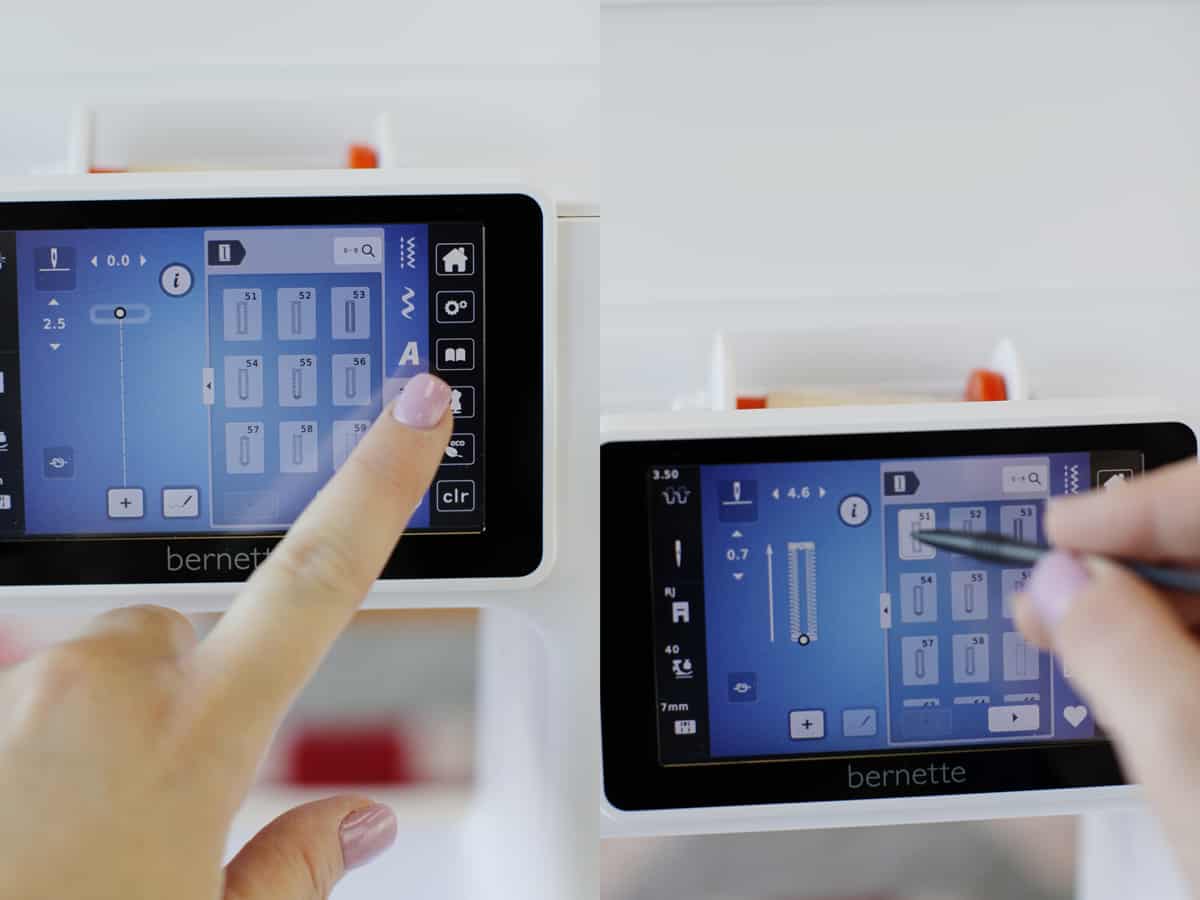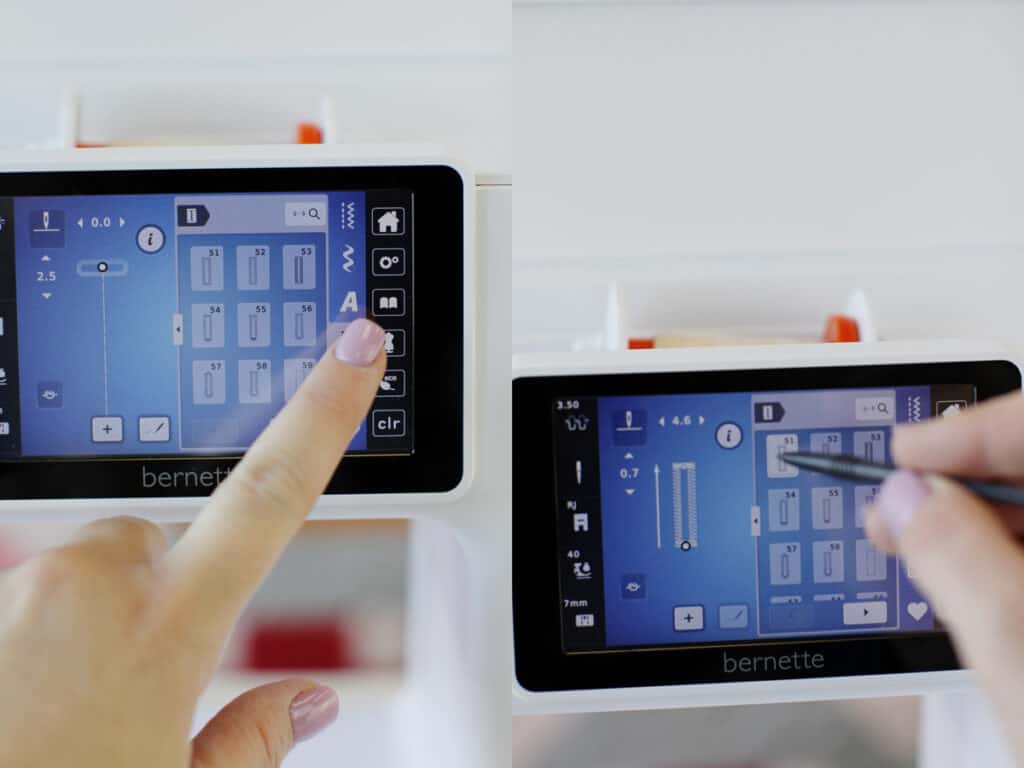 The computerized screen makes it so easy to switch between stitches, adjust stitch length and change needle position. It comes with a stylus pen for this screen but I just use my finger.
Side thread cutter
Some machines don't have a thread cutter. It's a feature I use all the time, so I always make sure a machine has it before purchasing. The Bernette B79 has a thread cutter on the side. I use it after every line of stitching to detach my project. There is also a built in thread cutter that will cut it for you with the press of a button.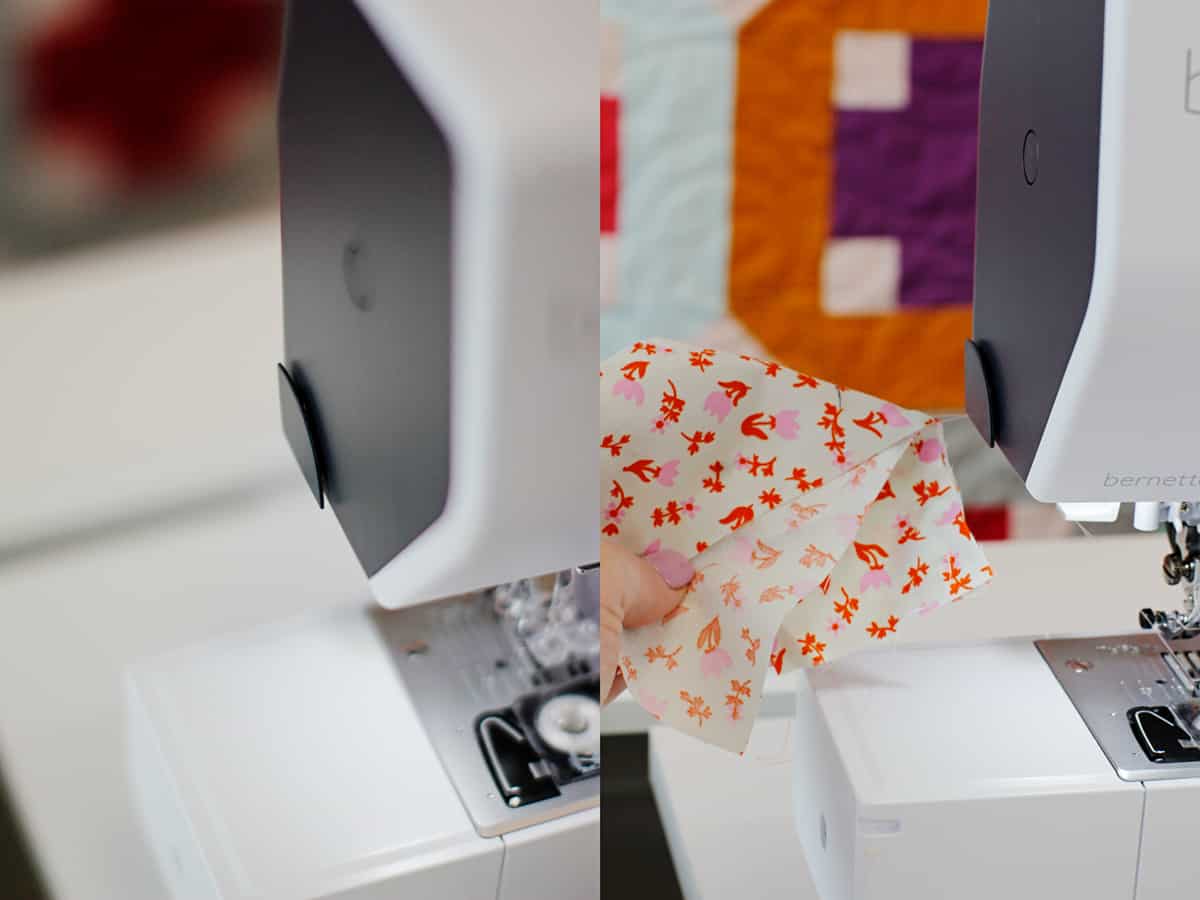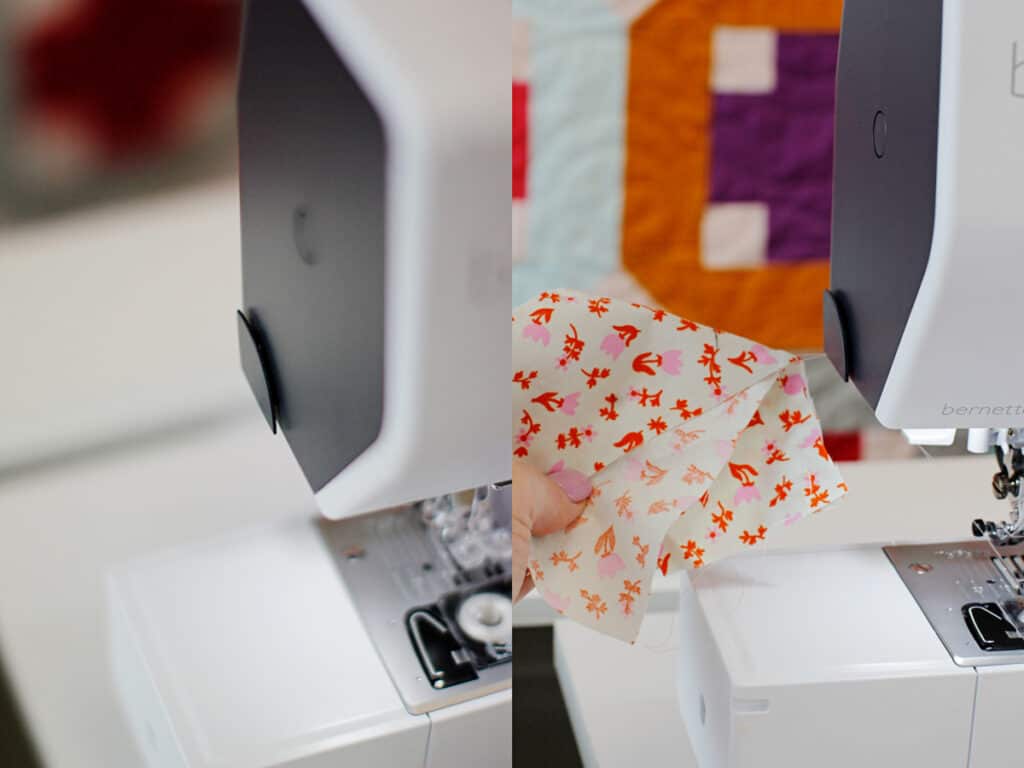 Lots of stitches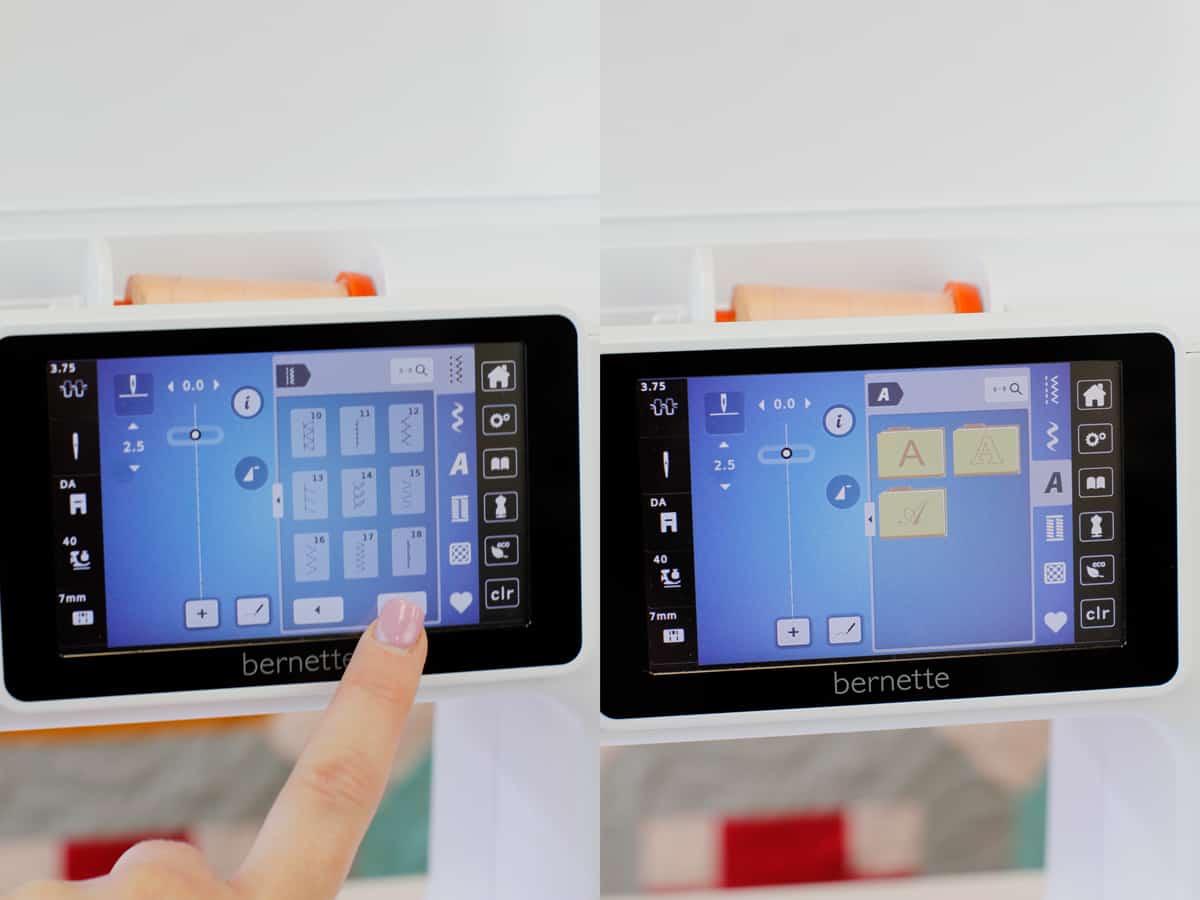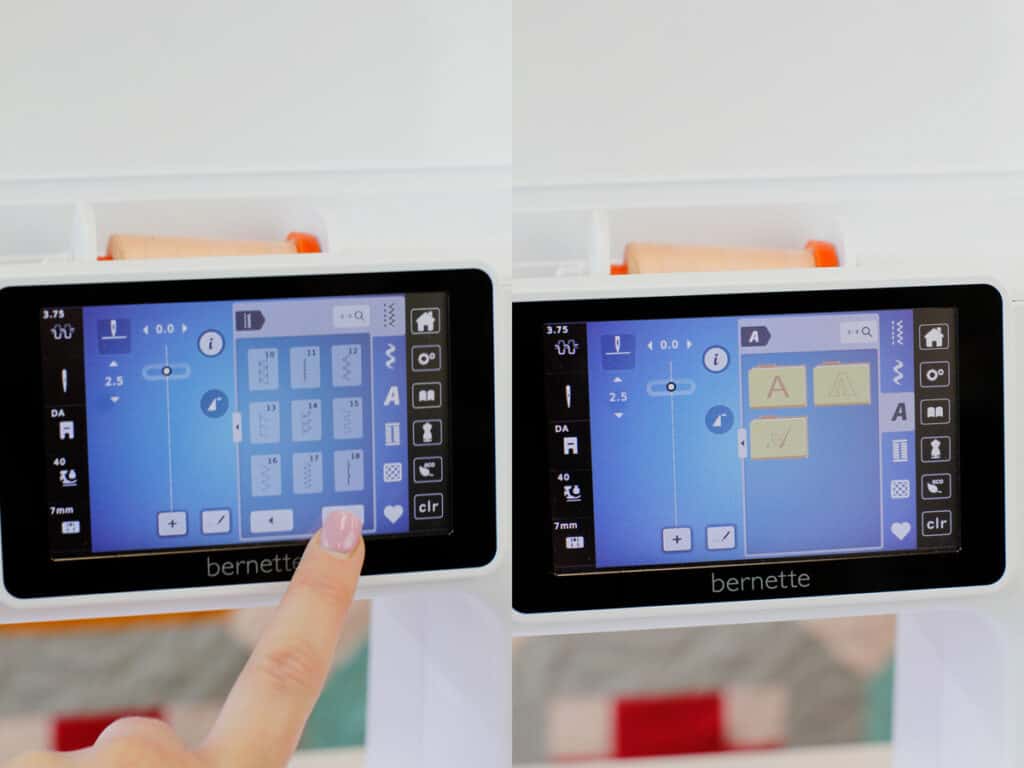 I use the straight stitch, zig zag and buttonholes the most. But it is so nice to have options! This Bernette even has 3 alphabet fonts.
Low Bobbin Thread Alert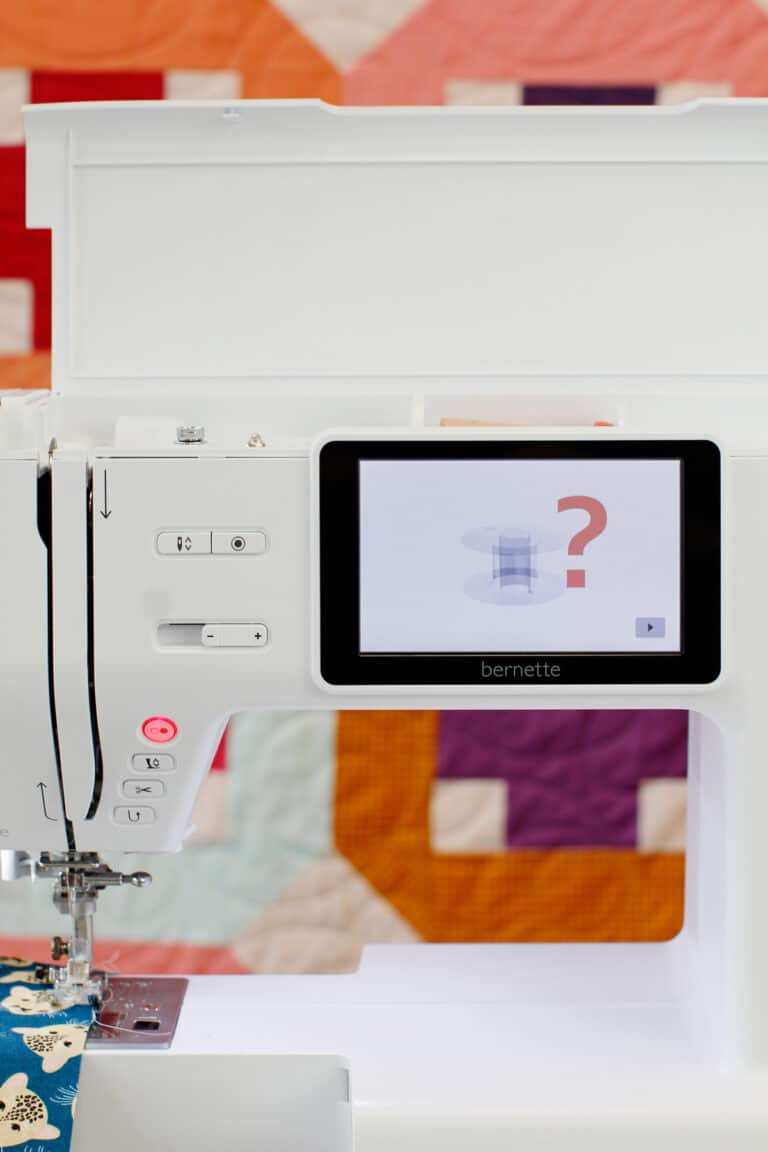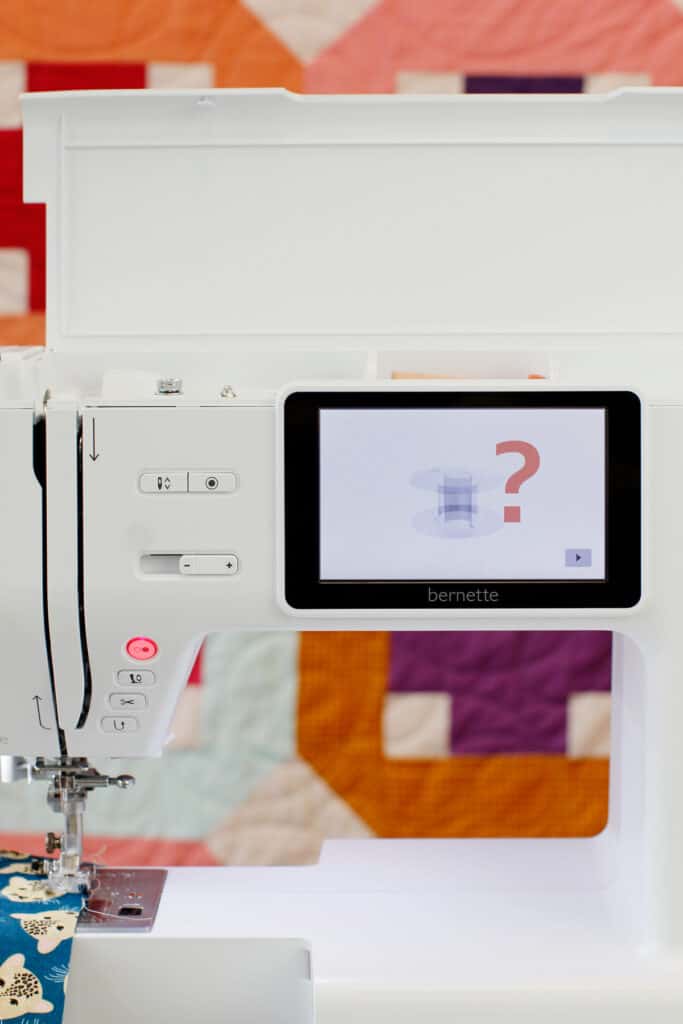 There is nothing worse than running out of bobbin thread but not knowing it! With the low bobbin thread alert, you get a nice and annoying beeping and screen alert to tell you to change your bobbin thread.
Amazing tension control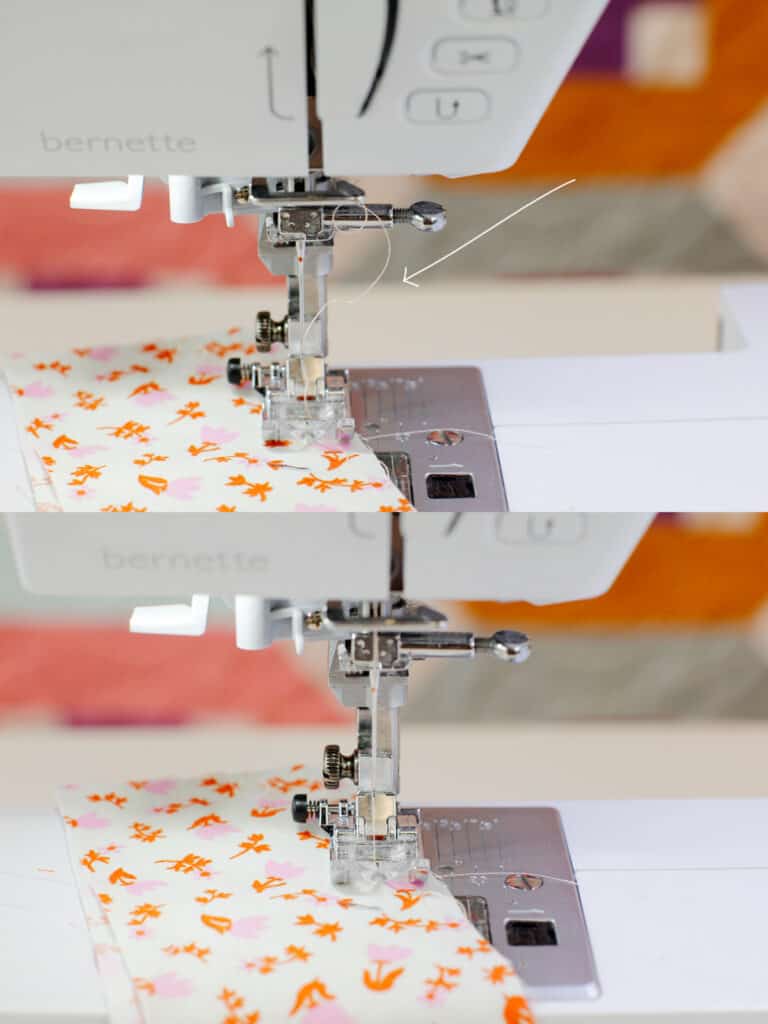 If your thread is loose the machine will just suck it up before stitching. Tension is always the main problem with sewing and machines so a good tension control is just icing on the cake. It takes away so much of the stress of sewing!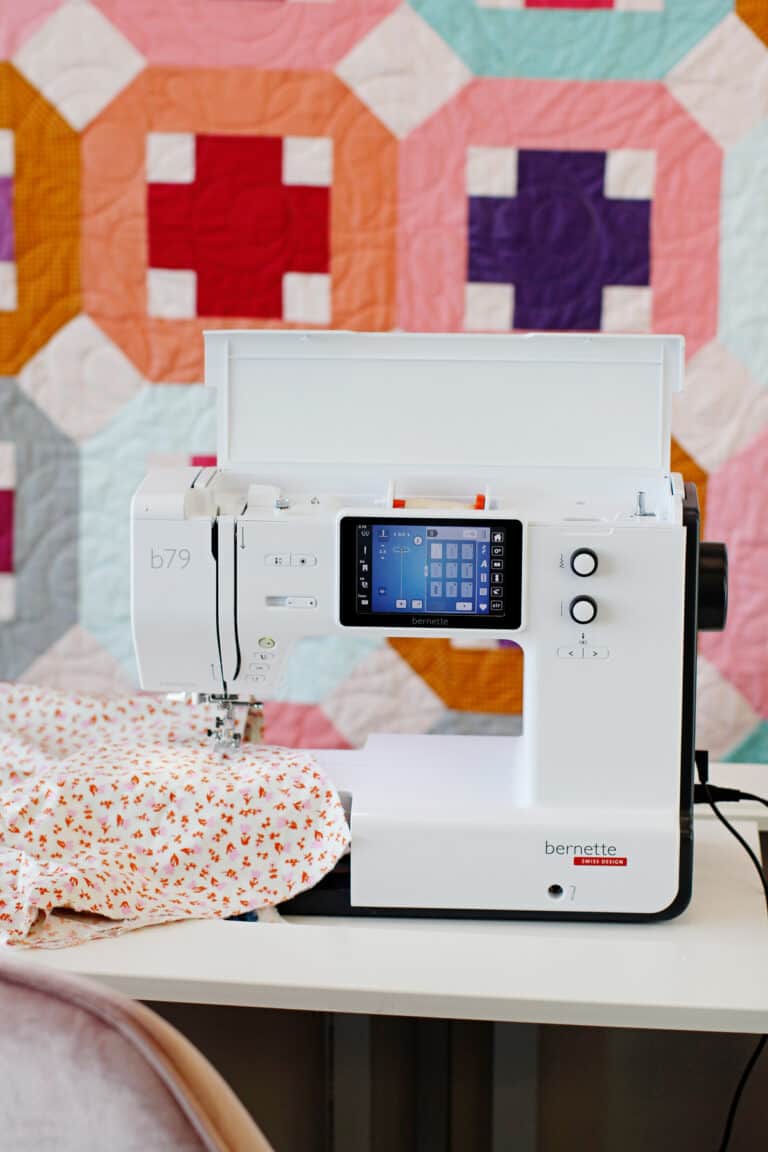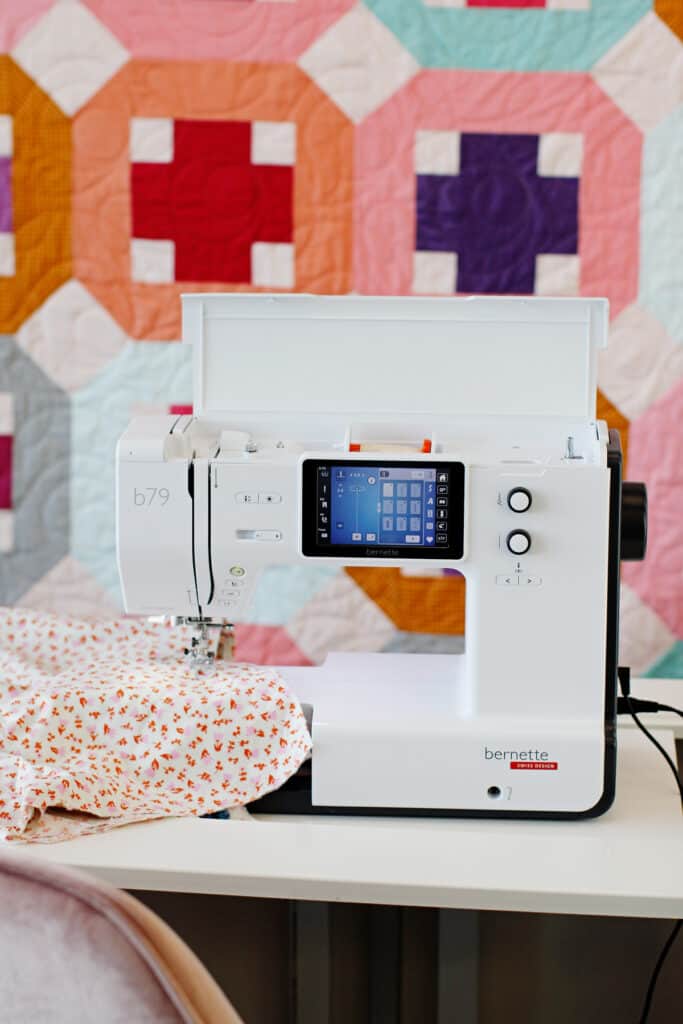 A few more favorite features of the Bernette b79
Regular bobbin size and top load bobbin
Easy and beautiful buttonholes
Easy to thread
It's such a sleek and pretty machine, it looks great in my sewing room!
The backwards stitching button is so easy to access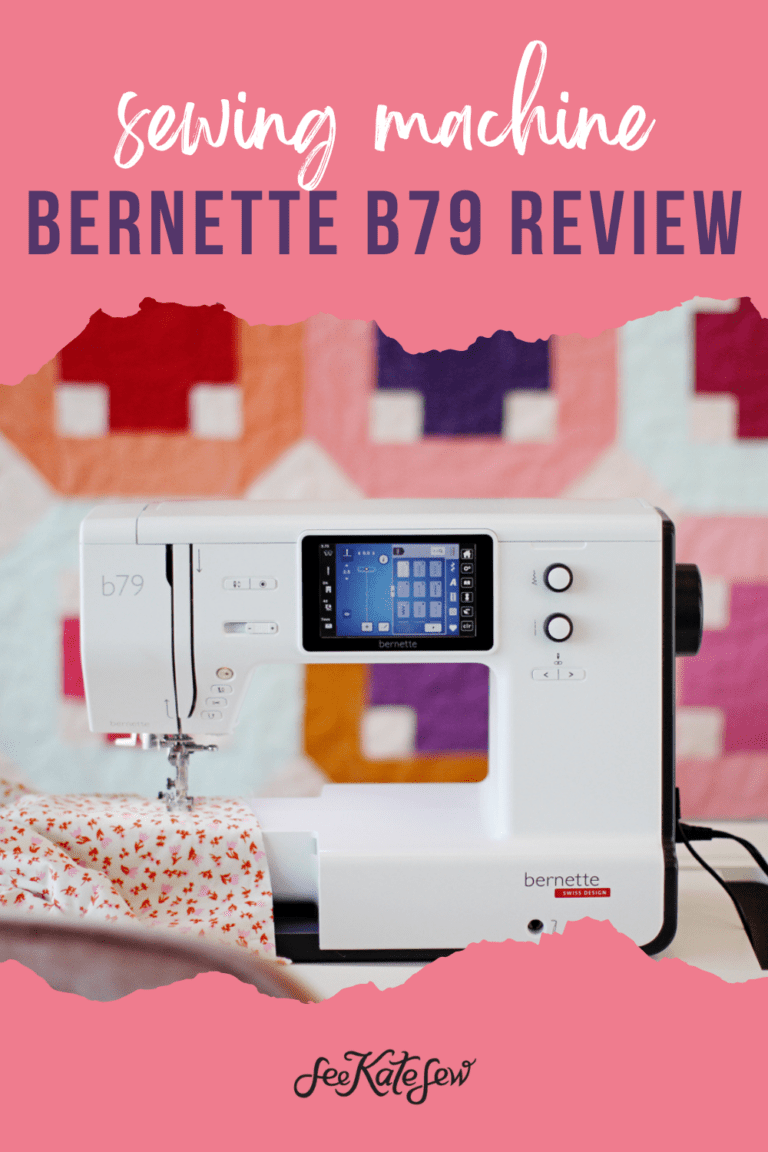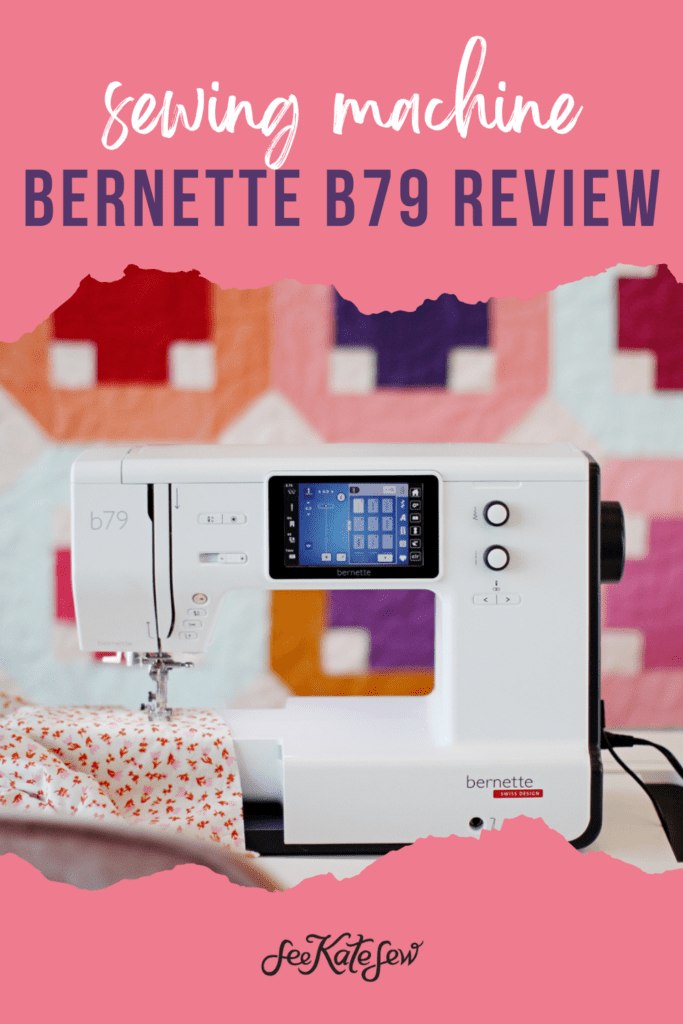 Bernette Buttonhole Attachment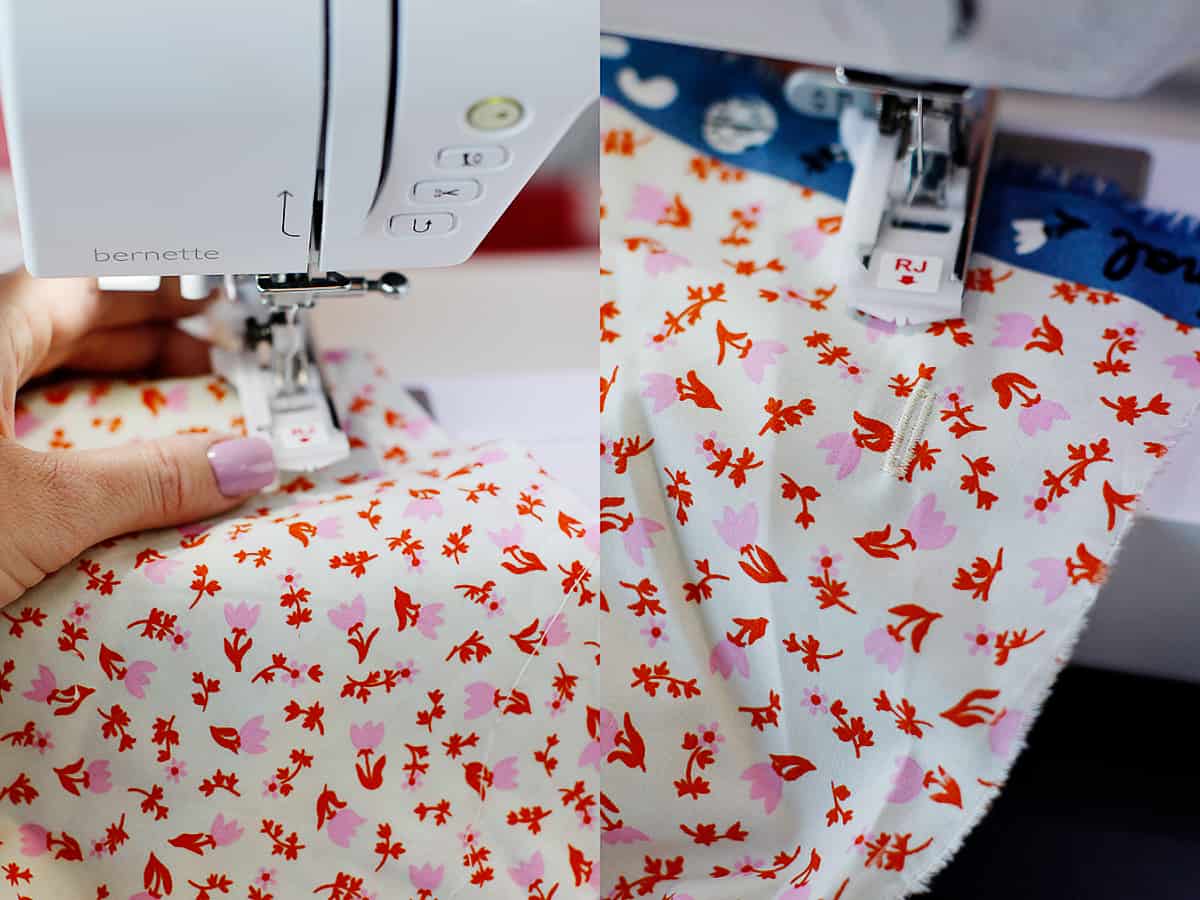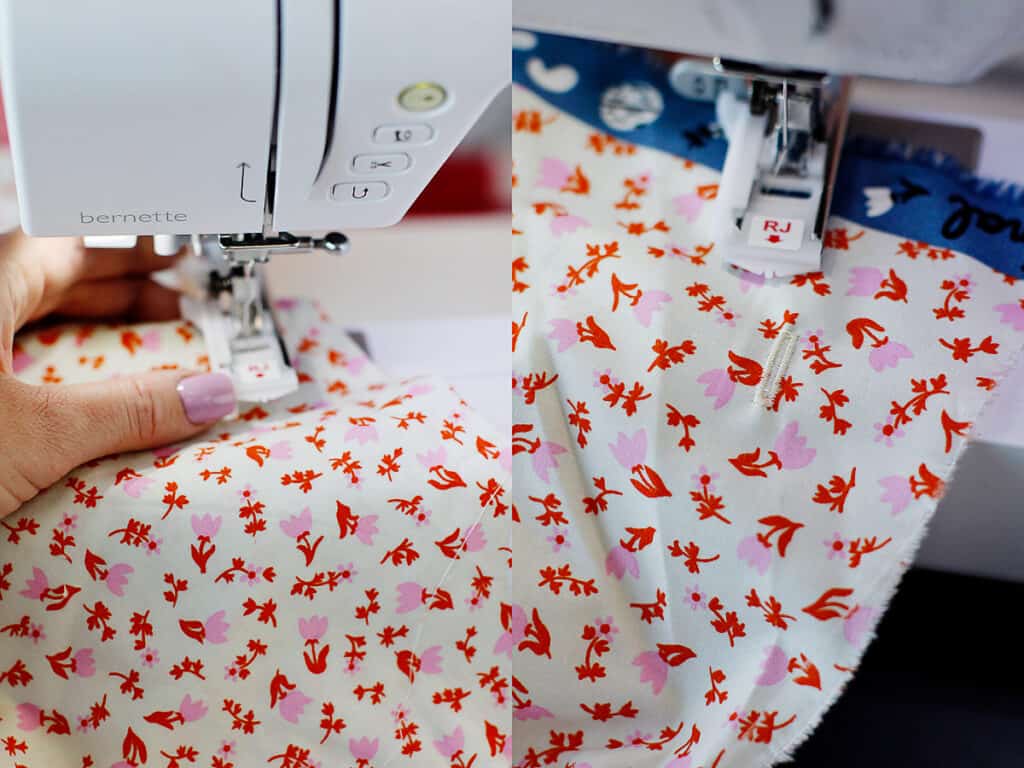 I have to tell you about the buttonholes on this machine because they are such a breeze to add to your project! Buttonholes can be scary, I feel like most people that sew have some bad memories with trying to make buttonholes and with good reason. Lots of buttonhole attachments are just so cheap and the machines don't always come through. Sometimes the attachment parts aren't very sturdy and you end up with wonky buttonholes that are too big or uneven and have to be unpicked.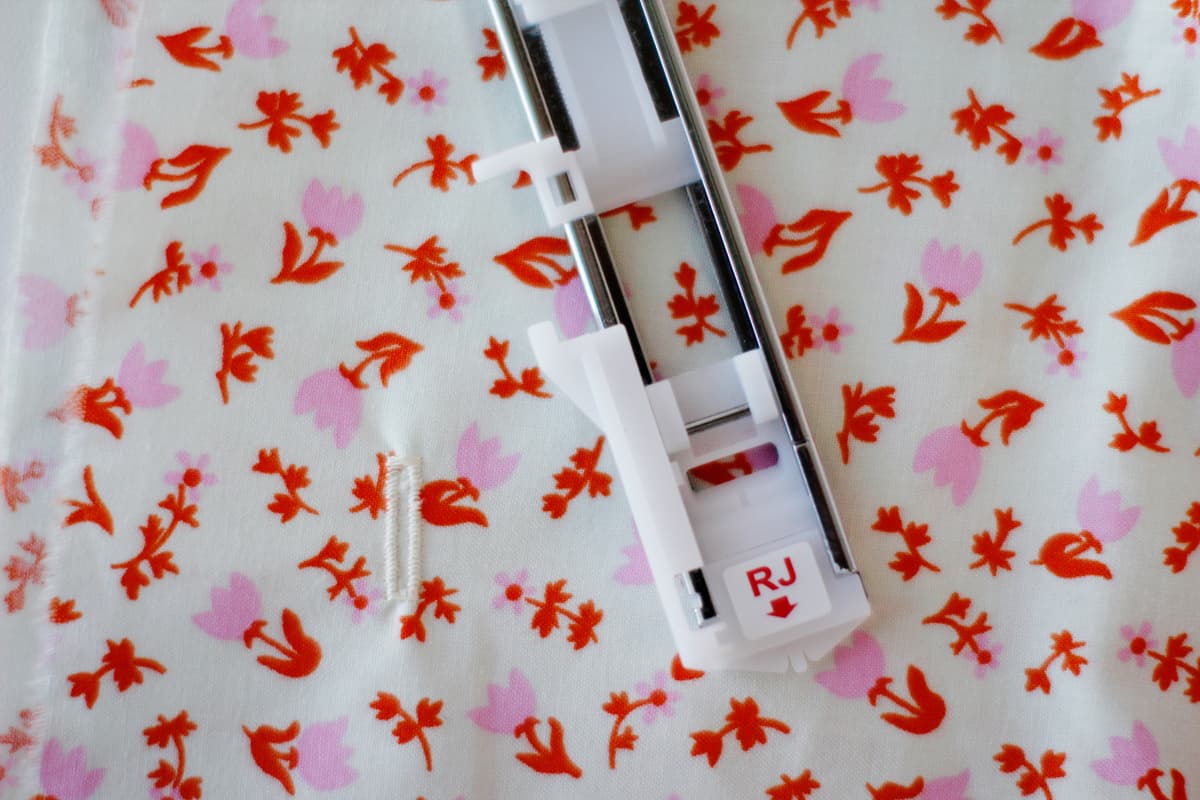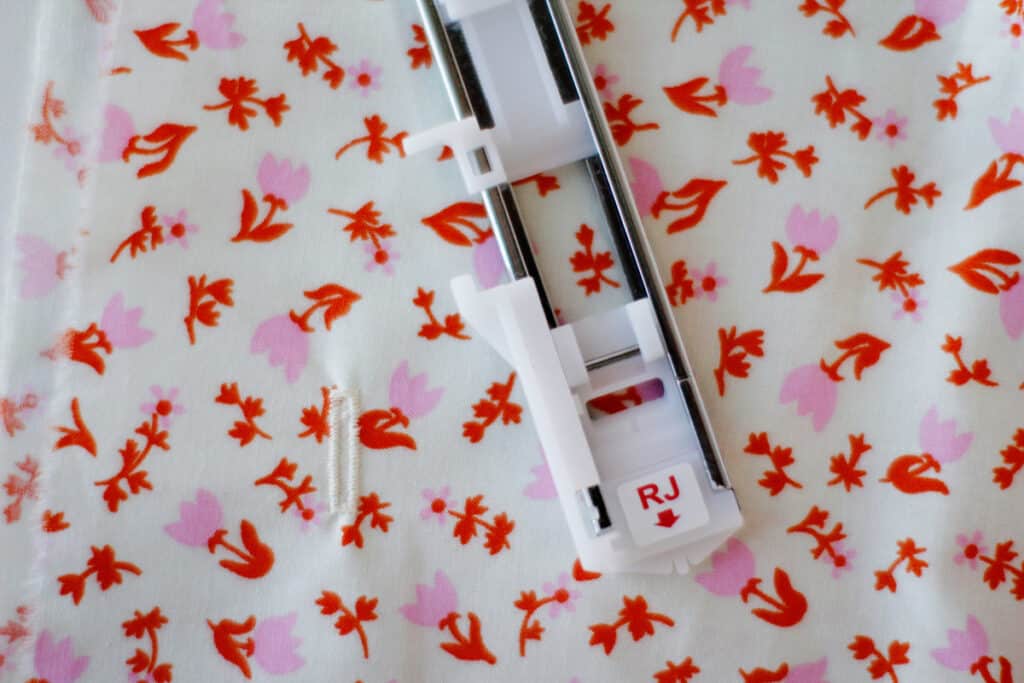 After creating a few buttonholes with the Bernette b79, I'm am looking for projects with buttonholes just so I can use the attachment again! It is SO easy and the buttonholes are so beautiful and perfect!
The Bernette B79 comes with it's own buttonhole attachment and it just feels different than my others. It's more sturdy and seems to make a tighter buttonhole. They are so quick and easy!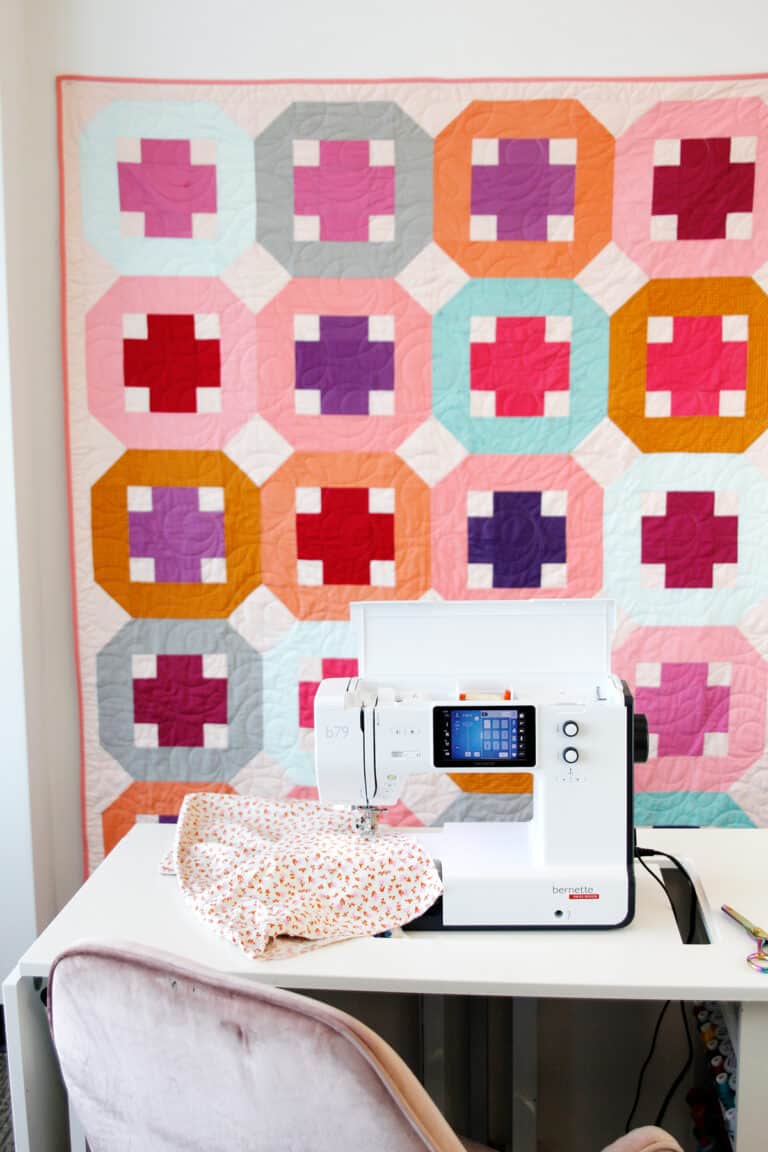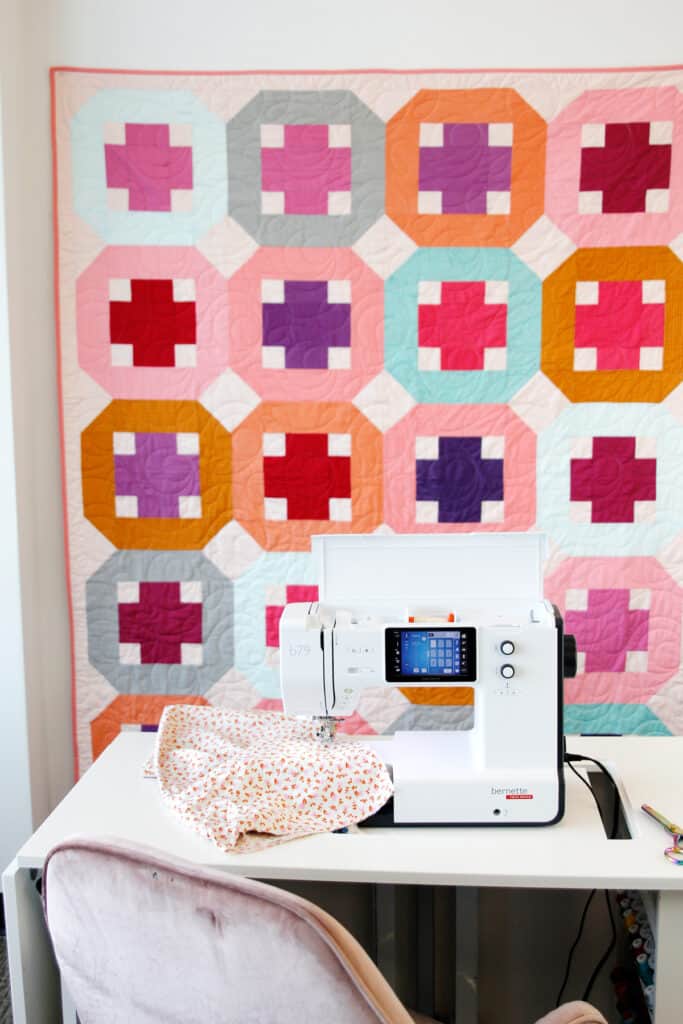 Things I don't like
It takes a second to turn on. I think it might be the computer screen and software loading but I'm super impatient so I've had to learn to turn it on before prepping my fabric. I wonder if the B77 would load faster.
I had to get used to the presser foot not having a lever. Instead there is a button to make it go up and down. This was new to me but I'm used to it now so I guess it's a neutral issue now! The button is shown below: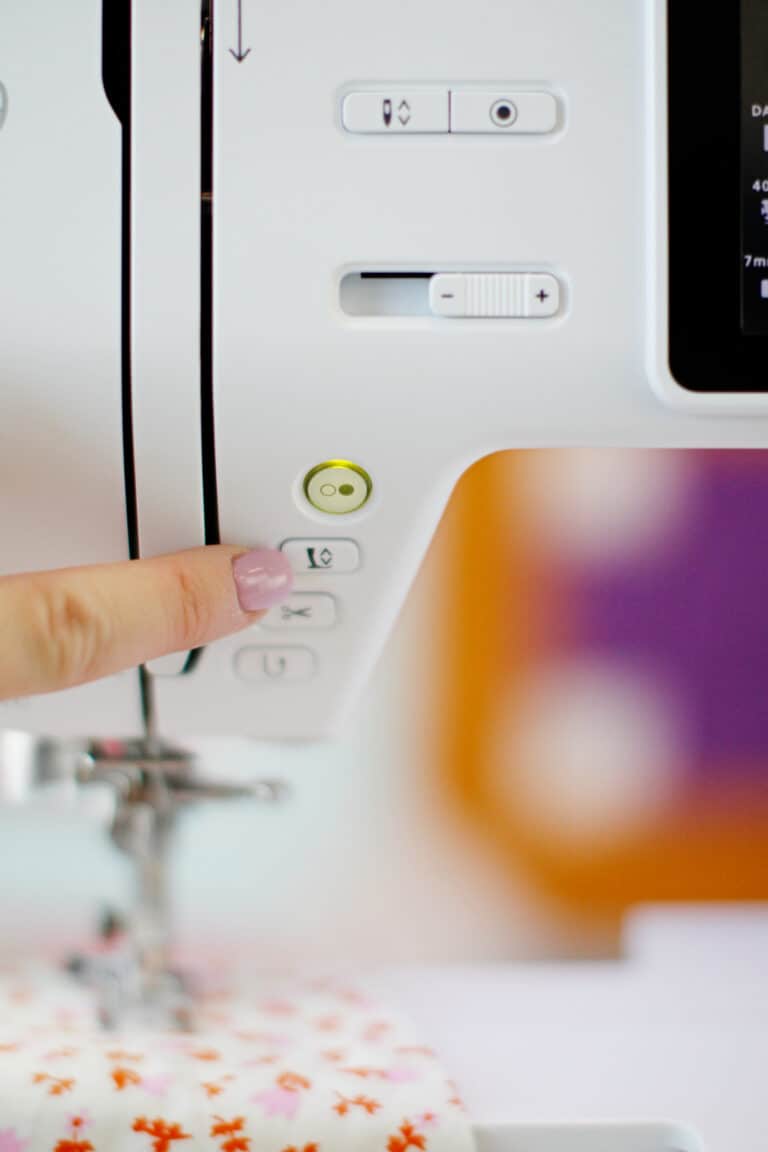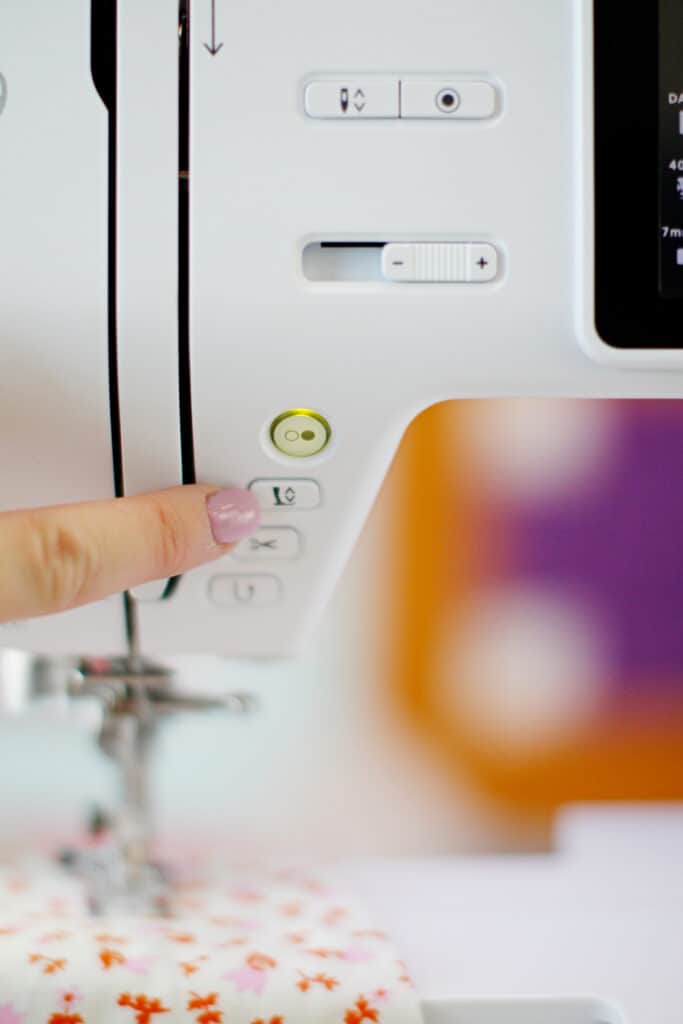 The quilt pattern featured in this post is called the Ingrid Quilt available in my shop!
I hope this review helps you if you are in a quest for the perfect sewing machine! If you have any more questions about this machine please let me know in the comments! What machine do you use?