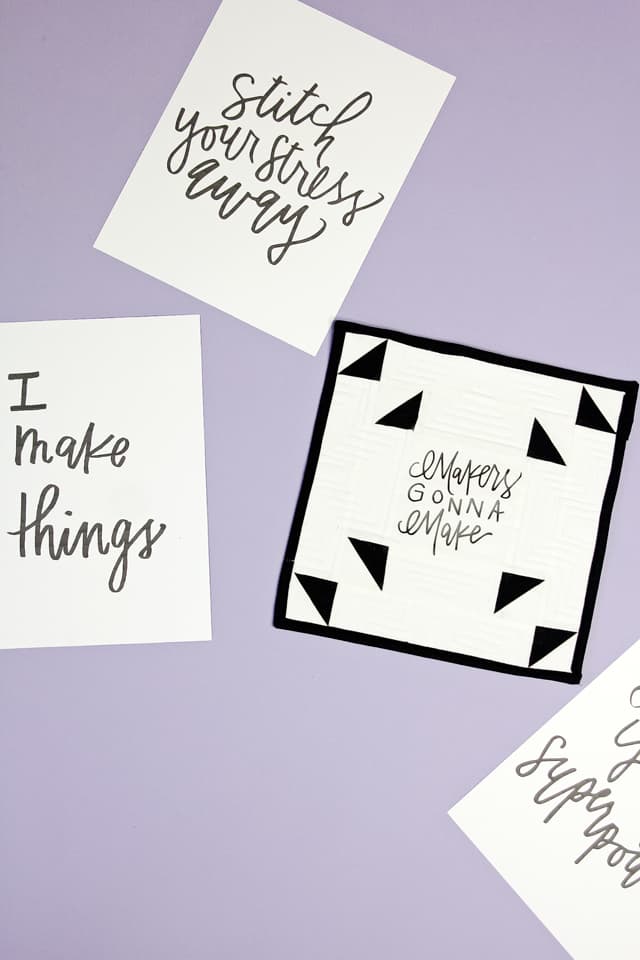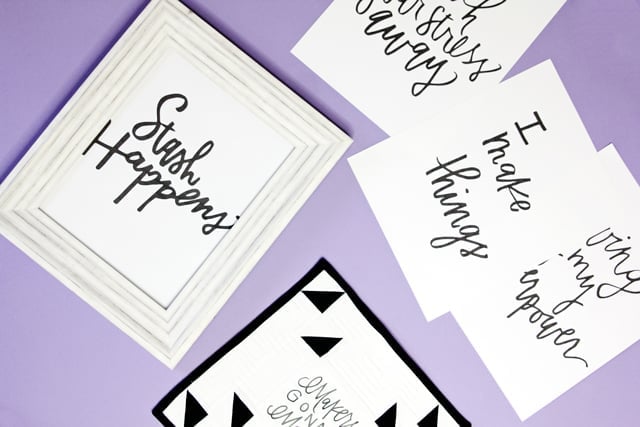 free quilt block pattern: Maker's Gonna Make Block
It's Quilt Block of the Month time!! Instead of giving you a full quilt, I'm sharing this tiny little mini-quilt I made with this block. I love the simplicity of a quilt block and this one is super easy! Each QBOM is the same size – 10″ by 10″ so you can sew them all together, or mix and match them into a big quilt. Or you can just sew one and make it a little wall hanging or use it on another small sewing project.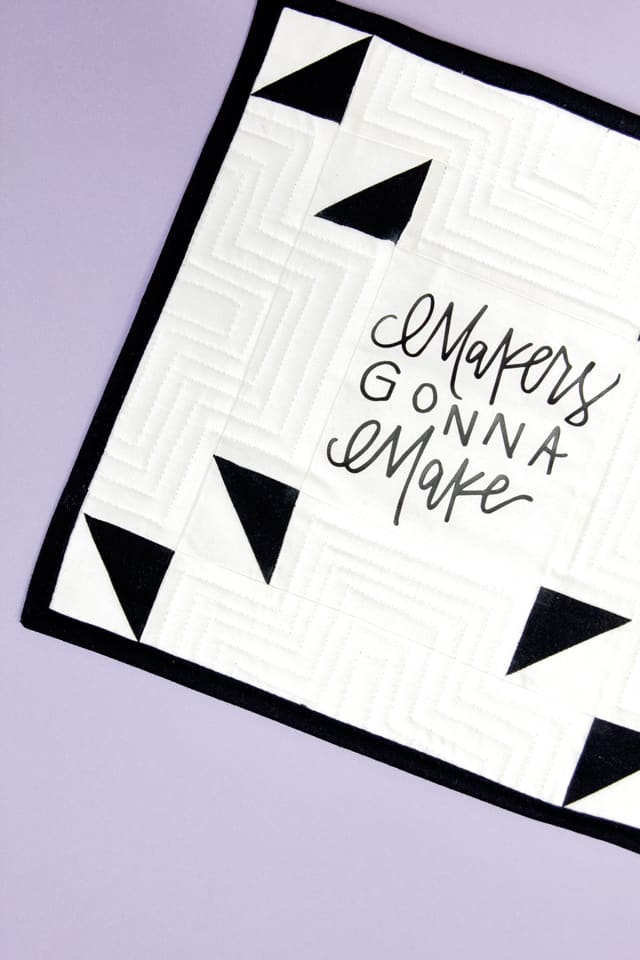 The whole idea behind starting a Quilt Block of the Month series was to bring quilting to those who get bored doing the same thing over and over with a modern twist. I've loved sharing these quilt blocks and I've even loved sewing them! There is something about having control over a 10″ by 10″ piece of fabric at the end of a crazy day that is empowering. (Someone did what I told it to!!!) Here are the other quilt blocks I have shared so far:
–You're a Gem Quilt Block and Pattern
–Coffee Cup Quilt Block (full pattern coming soon!)
This block is called the Makers Gonna Make block because I used vinyl and one of my new Sewing SVG designs to add that little cute phrase in the middle! The block surrounding the phrase sorta frames it with little arrows pointing to the middle. You can use any colors for this but I always fall back to my fallback of black and white.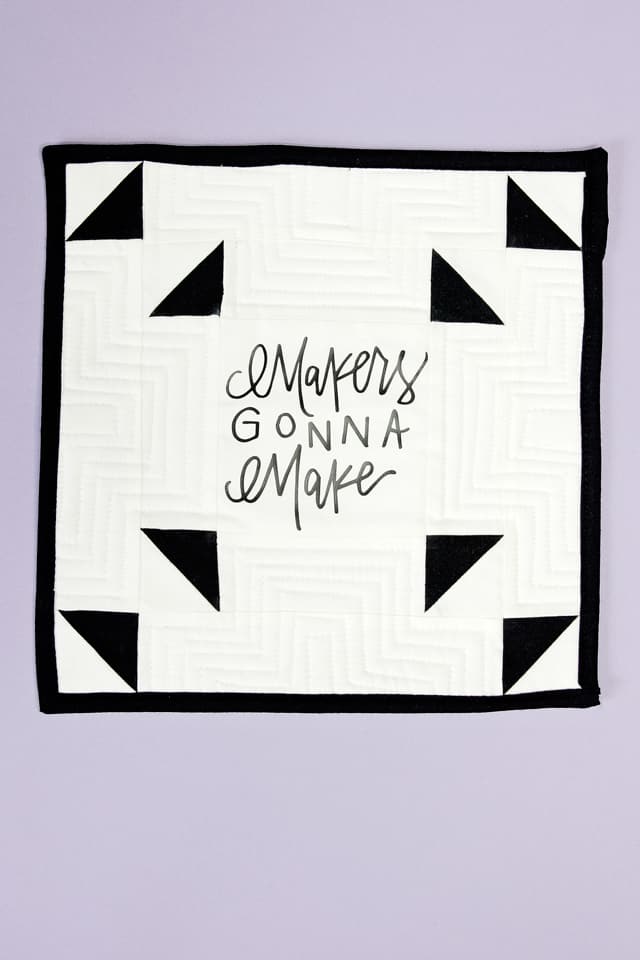 I included a PDF template if you are going to be cutting these pieces out by hand. The SVG file will cut the quilt pieces out for you on the Cricut Maker. It takes about 2 minutes and it's amazing not having to cut the pieces. You'll get right to sewing!
Materials//
-1/3 yard black cotton
-1/3 yard white cotton
–black binding or more fabric to create your own
–Sewing SVG + PDF Bundle for Maker's Gonna Make SVG cut file
-Pattern templates, see below:
Makers Gonna Make Quilt Block – SVG + PDF (Free!)
Instructions//
Use scant 1/4″ seam allowance.
Cut the following pieces:
4 long rectangles (7.5″ by 2″) in white
4 short rectangles (4.5″ by 2″) in white
1 square (4.5″ by 4.5″) in white
16 triangles, 8 in white, 8 in black
Choose your sewing saying to add to the middle of the block and shrink it down to about 4″ by 4″ on your cutting software. Here is a screenshot of Cricut Design Space. Hit "attach" before you make it.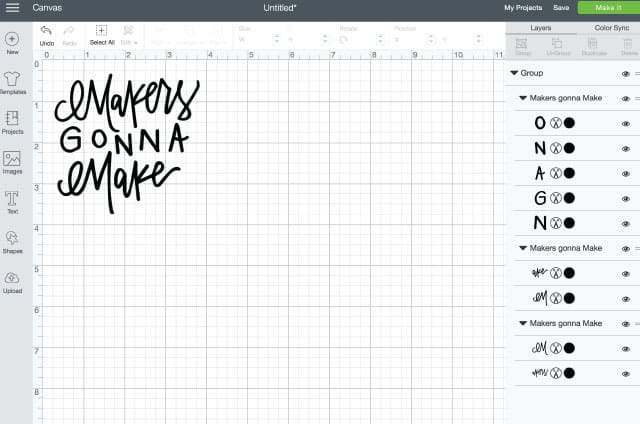 Be sure to have the Mirror button ON (green).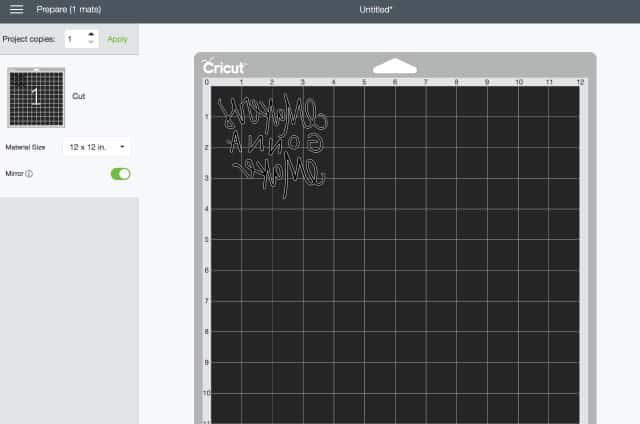 Most of the SVG Bundle designs will work for this, but the ones that are more "square" shaped will work best! Here are a few suggestions:
Makers Gonna Make
Sewing is my Superpower
You're Sew on Point
Make Do and Mend
Respect the Machine
Crafty Maven
Quilty as Charged
Iron the design onto the square piece.
Start sewing. Piece the block together as follows:
Sew the white triangles to the black triangles and press the seam allowance towards the black sides. This will give you 8 squares. Sew two of these squares to either end of 2 long rectangles and 2 short rectangles.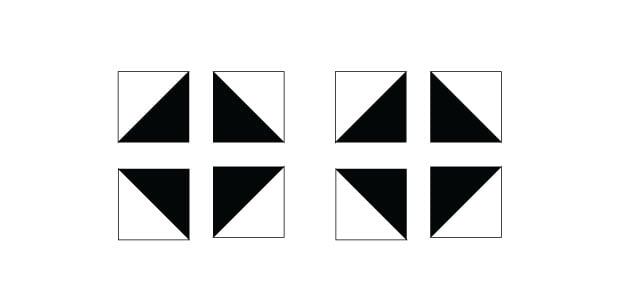 Sew 2 short rectangles to the sides of the square and press. Press the seam allowances open or towards the "dark side" depending on what colors of fabric you are using.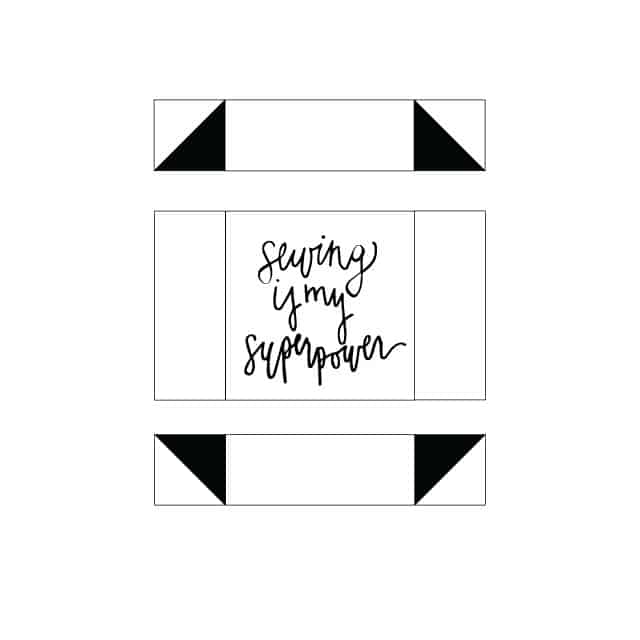 Sew the short rectangle with the squares attached to the top and bottom of the square piece.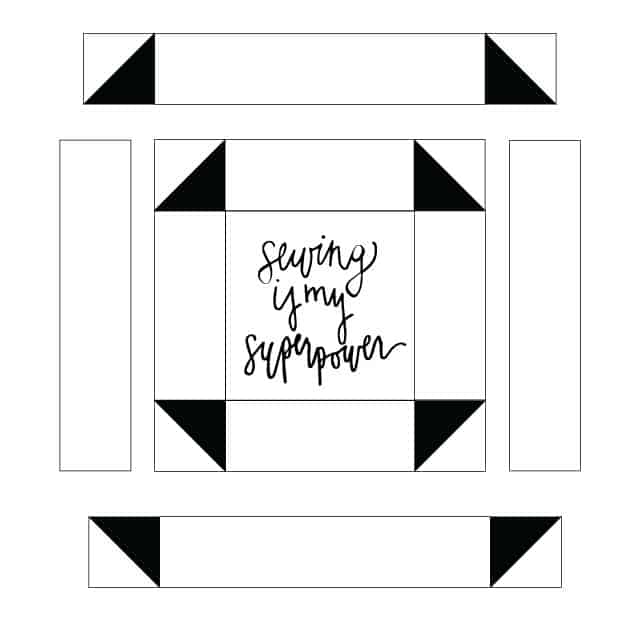 Press and repeat on with long rectangles.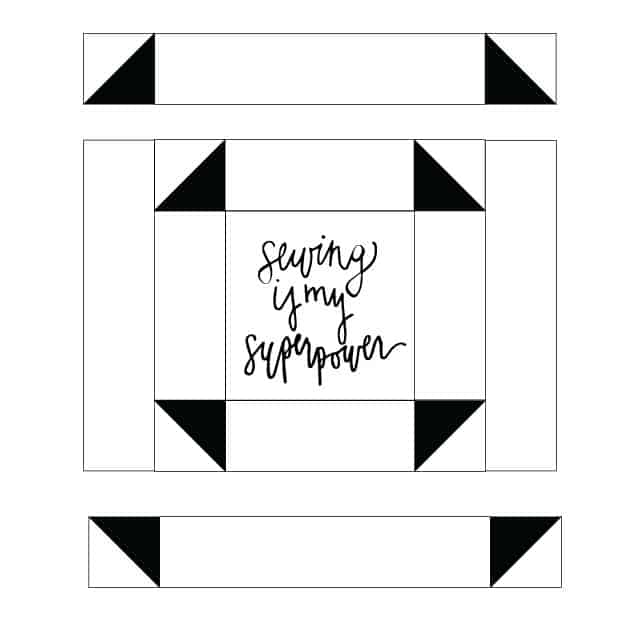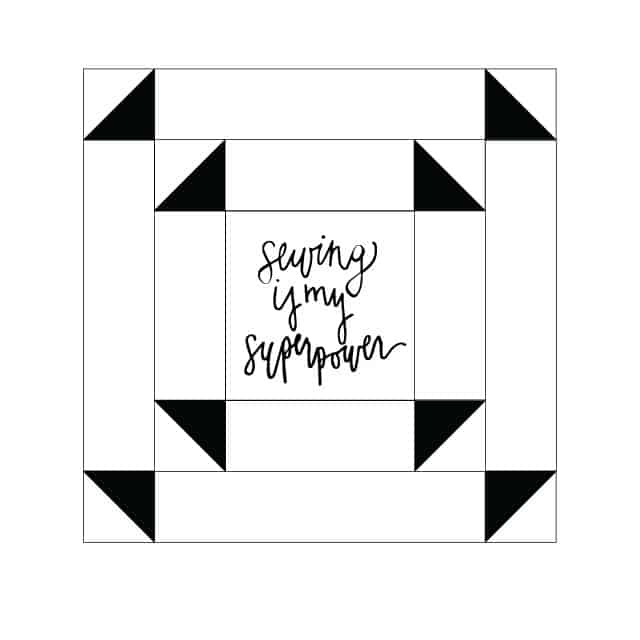 To finish the mini quilt, add batting (or felt) and a backing. Then quilt it. I used a geometric pattern.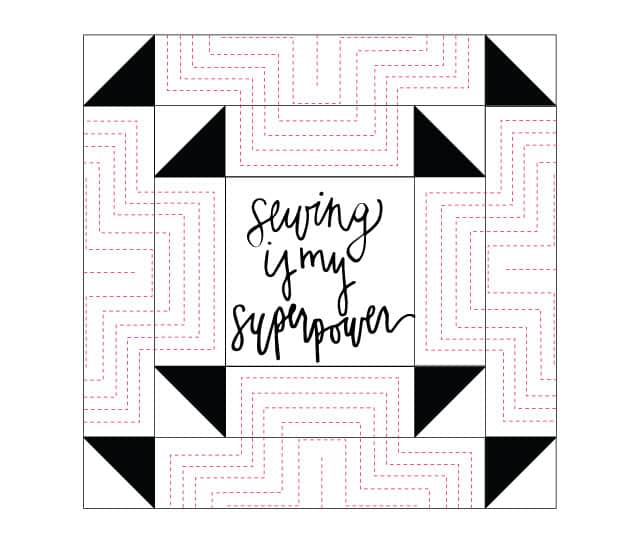 Bind the mini quilt.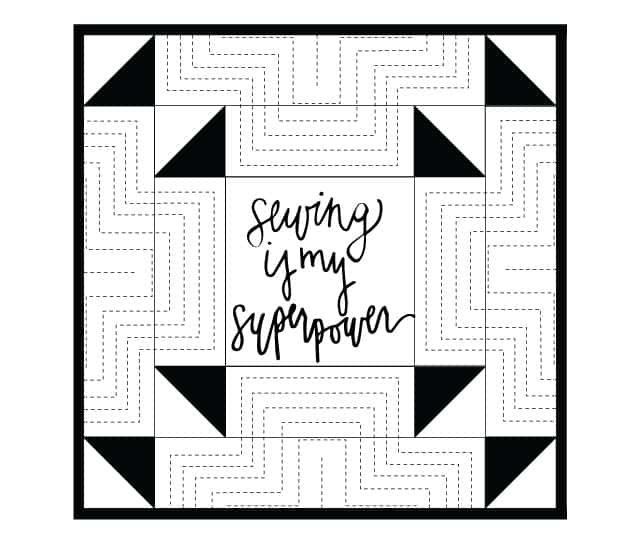 And you're done!
Love quilting? Join Pattern of the Month and get a new modern quilt pattern emailed to you EVERY SINGLE MONTH!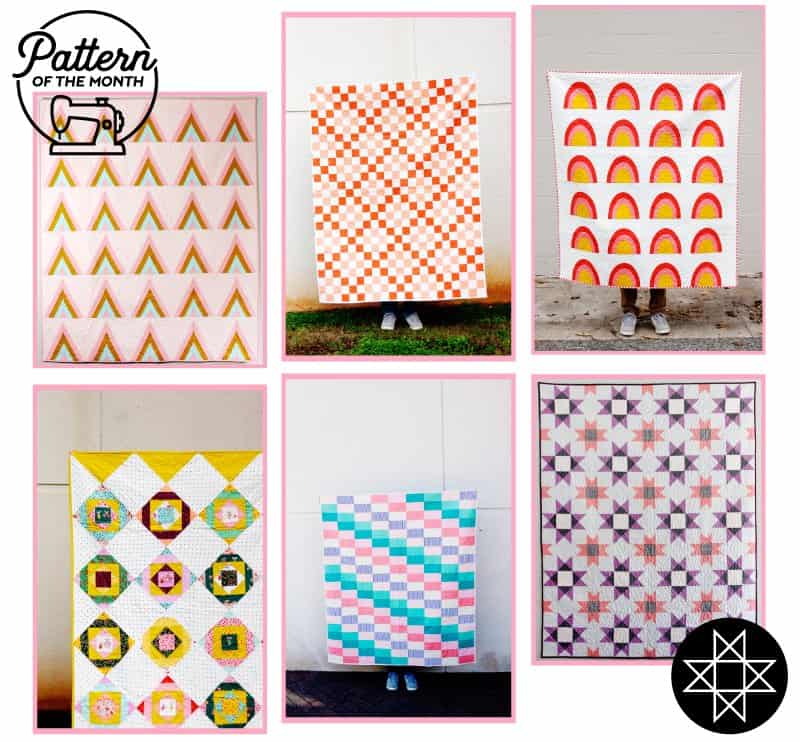 SaveSave