This post, Coffee Cup Quilt Block, is sponsored by Cricut.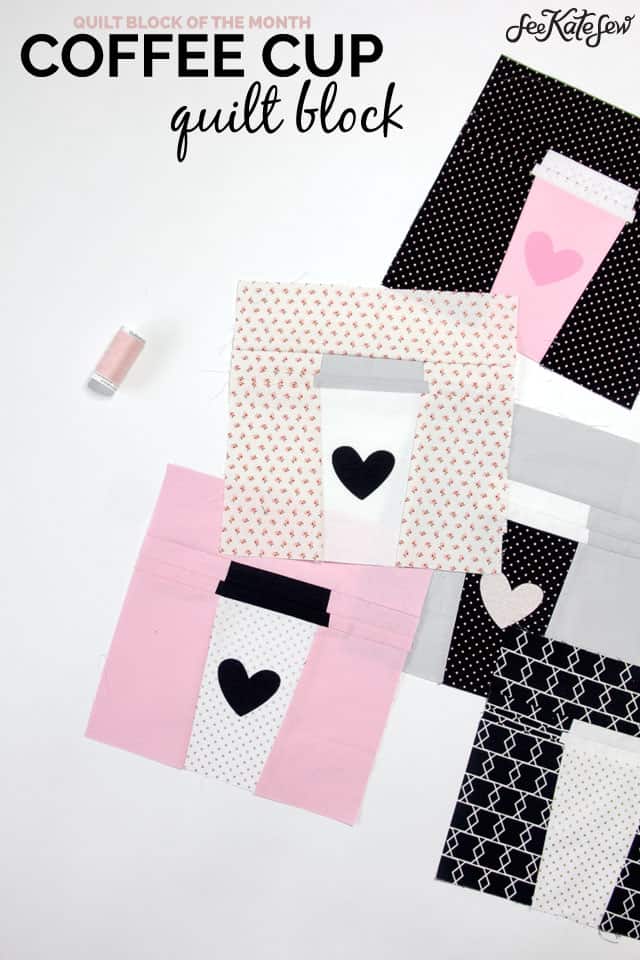 Quilt Block of the Month is back this month with a new super fun and super fast block – the Coffee Cup Quilt Block – that will turn you from "not-quilter" to quilter!
COFFEE COFFEE COFFEE! Name that show! This Coffee Cup Quilt Block can also be made to look like hot cocoa or even soda cups!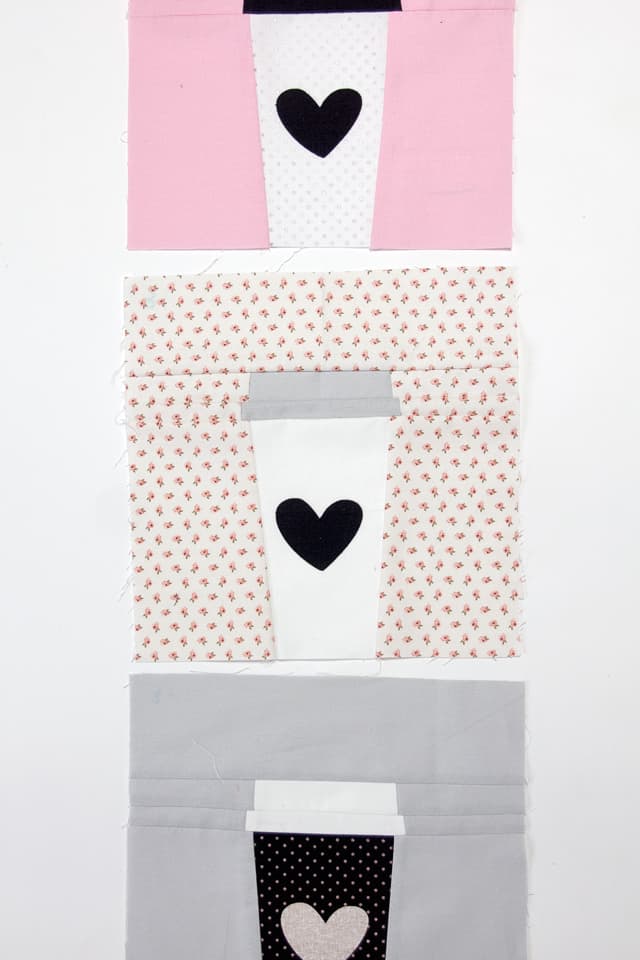 I don't actually drink coffee, but I spend a lot of time with the same paper cups filled with a very specific peppermint hot chocolate combination. With soy milk if I'm feeling extra sweet.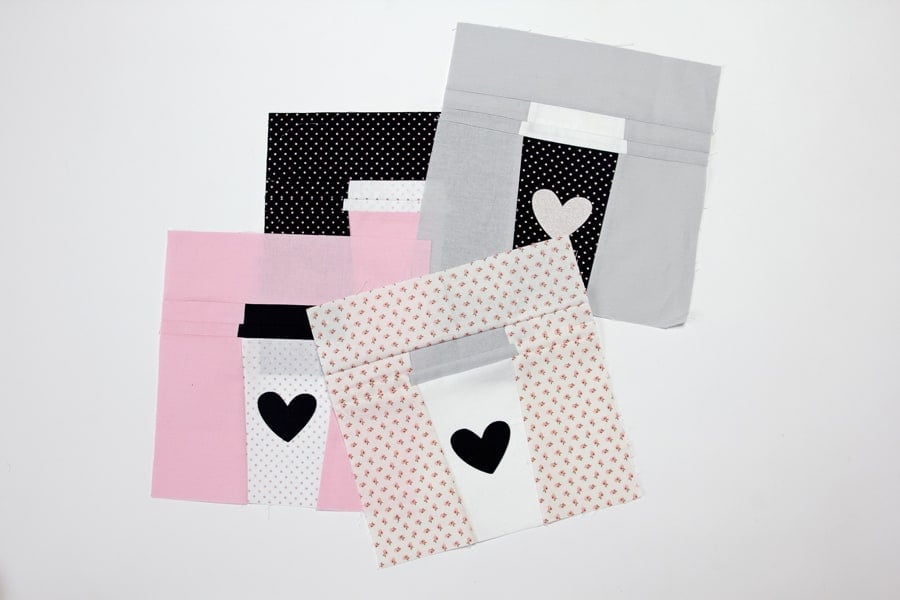 I came up with this fun block based on those cups! This Coffee Cup block is really fun to make! It's such a satisfying sew and really quick too! And you can even change up the front of the cup: embroider the sloppy misspelled name on the front, make it look like your favorite coffee brand, or add a little heart!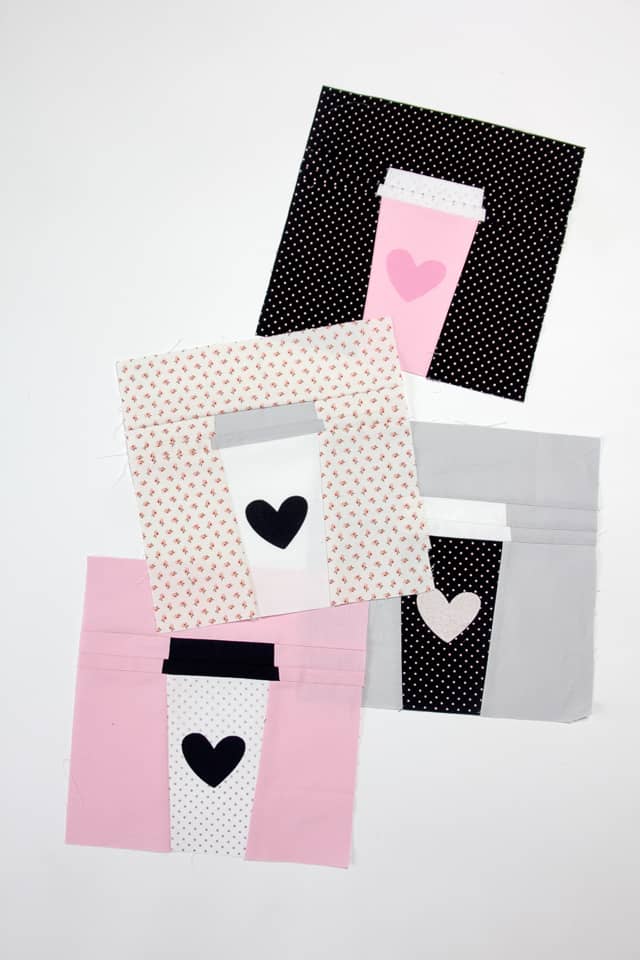 I wouldn't have attempted this type of block without the Cricut Maker. I'm still a new quilter. But look! I look pro! ;) I used to always say "oh I don't quilt" but now I'm thinking it was always inside of me! Deep, right? Quilting is such a fun medium and I'm so excited to explore it more this year. I'm already addicted. Not having to cut the fabric by hand and worry about precision has changed everything for me! Not only did it only take me an hour to cut out 20 blocks for a whole quilt, but the pieces are SO precise (PERFECT) that I don't have to worry about the quilt looking wonky. They look so clean and nice when they are done!
My first Quilt Block of the Month is the You're a Gem Quilt.
If you're still not sure about quilting, check out the You're a Gem block zipper pouch! You can do the same thing with this block- make one and turn it into a pouch. A nice way to get your feet wet in piecing!
I've shared before how the Maker cuts fabric but here is a little gif visual of the process: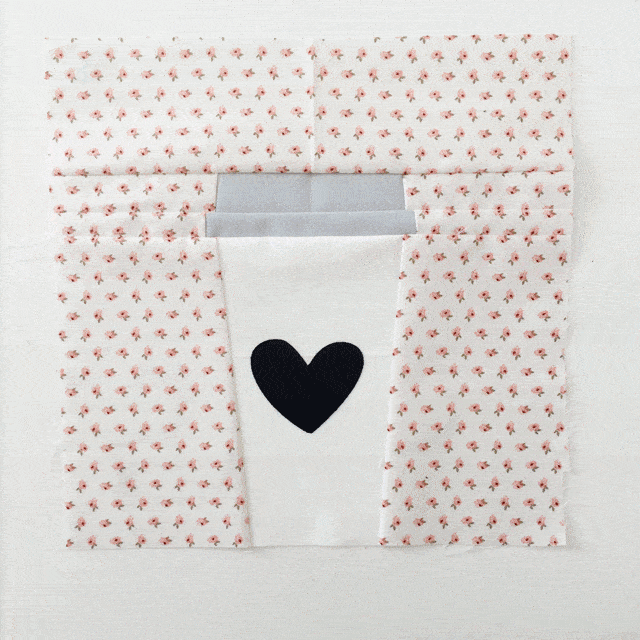 The pink mats are the adhesive Cricut Mats that hold the fabric in place while it cuts You can see line lines appear between the fabric after I pulled the negative space out from the blocks! After the Cricut cuts the fabric you can hardly tell it has even been cut until you take it off! I use this tool to get the fabric off smoothly without fraying.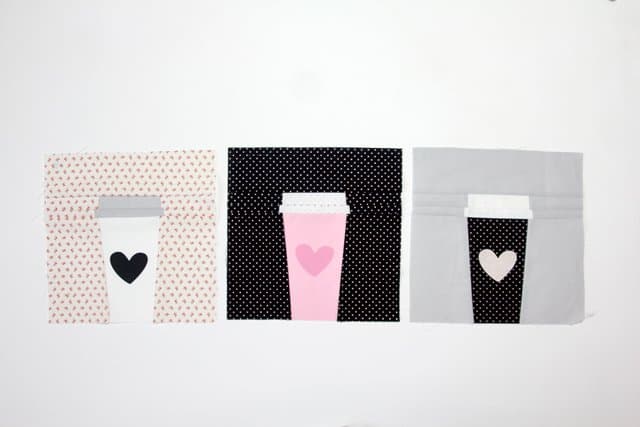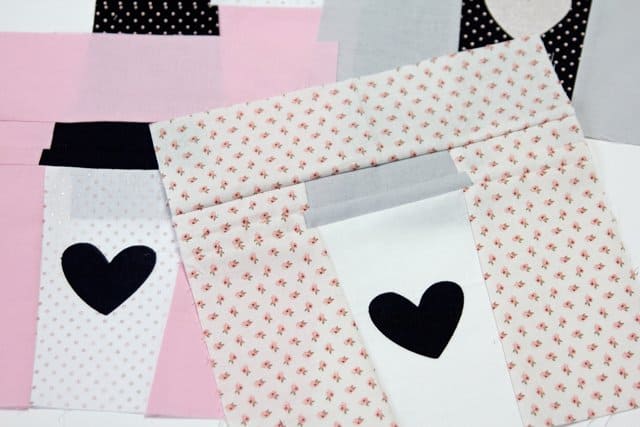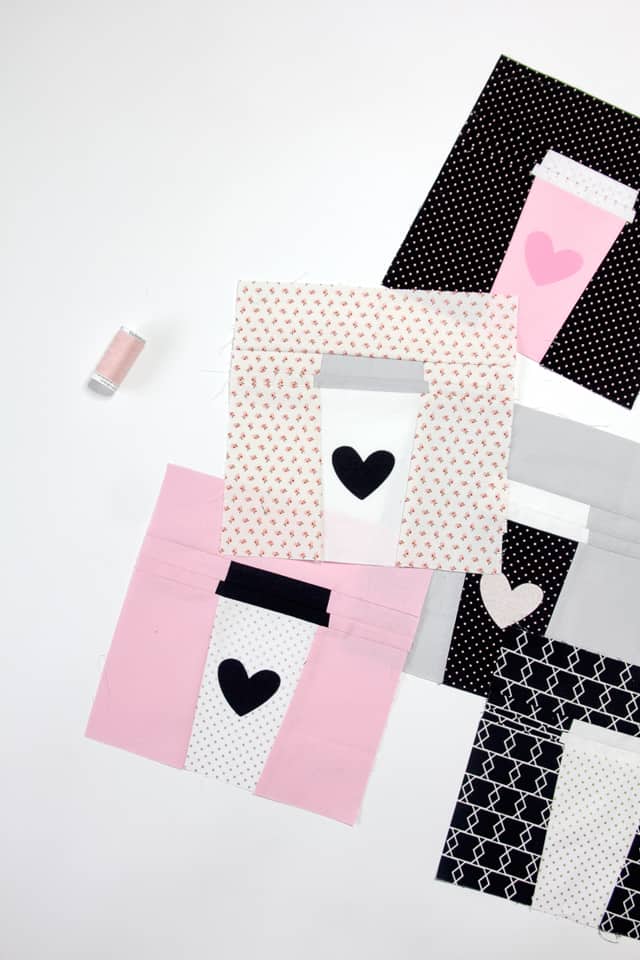 COFFEE CUP QUILT BLOCK PATTERN
This pattern makes 3 quilt blocks! A full pattern will be available soon but you just make 20 of these to make it!
Coffee Quilt Materials
-1/3 yard 3 different fabrics (1/3 yard is 12″ wide which will fit right on the mat)
-Scraps of a 4th fabric for heart appliqué
–Applique doublesided fusible interfacing
–Project on Cricut Design Space (everything is preloaded so you just click it and make it!)
-The Heart Applique is separate
***Make a pattern template! If you don't have the Cricut Maker, but you do have another model, use a thick card stock to create a thick template that you can use to cut the pattern pieces with a rotary cutter.
Cricut Tools Required
If you are cutting the fabric with a Cricut machine, you need the following
–Cricut Maker
–FabricGrip Mat
-Basic Cricut Tool Set
Coffee Cup Quilt Block Pattern
Download the PDF pattern to cut by hand.
If you prefer SVG files for the Cricut Maker, use the form below:
Coffee Cup Quilt Block Directions
Prepare your mats! Cut pieces of fabric 12″ wide and as long as you want. Fabric can hang over the mats which is great for using it efficiently. The Cricut precut fabric is sized about 12″ by 27″ which fits the long FabricGrip mat perfectly. I don't mind trimming my
Click on the Coffee Cup Quilt Project.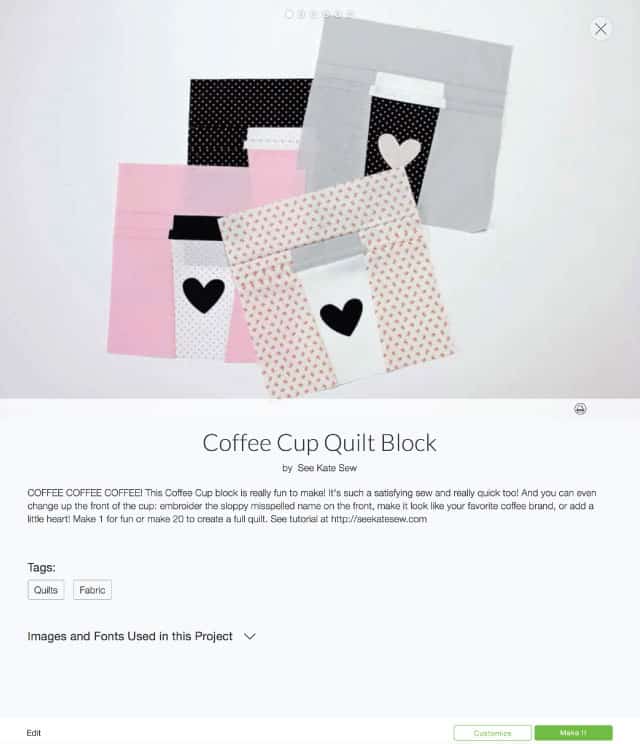 Click that little green button at the bottom that says MAKE IT.
It will pull you to a screen that looks like this: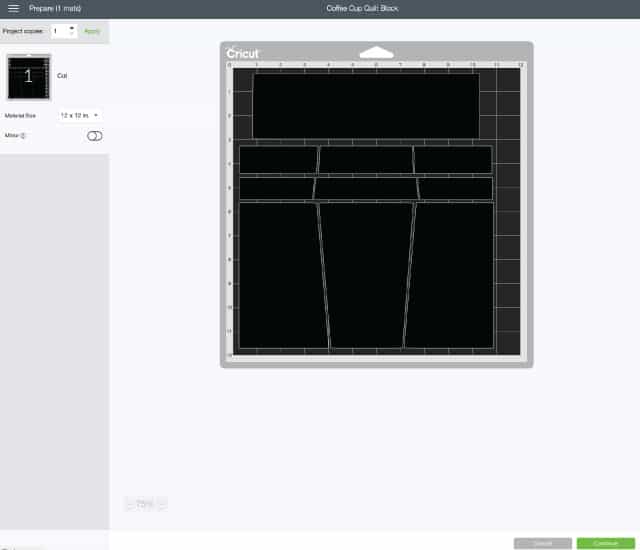 Cut 3 total of the whole block. Now we will mix up the lid and cup pieces so they contrast! You can get creative here or just line them up and move the cups to the left and the lids to the rid and you'll get a nice blend of colors!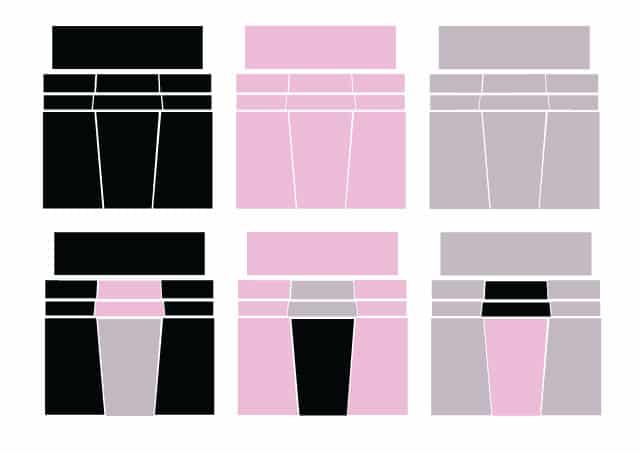 I like to keep the pattern pieces laid out just how I want to sew them so they don't get lost and so the angles stay right. Sew the rows together across, be sure to angle the lid and cup pieces, the angle is slight but it makes a huge different!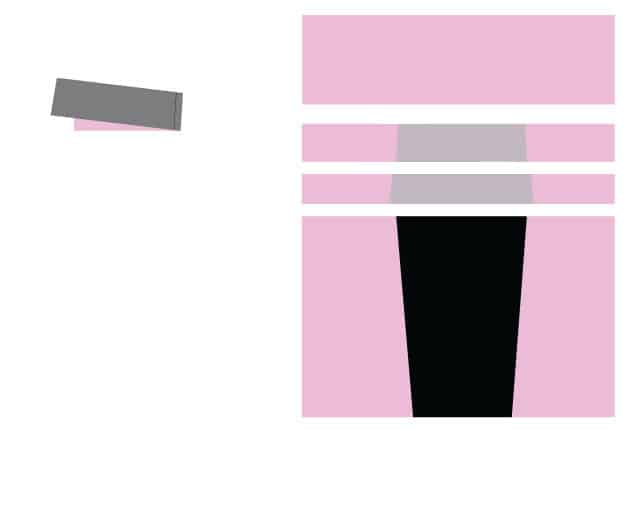 Sew the rows together vertically!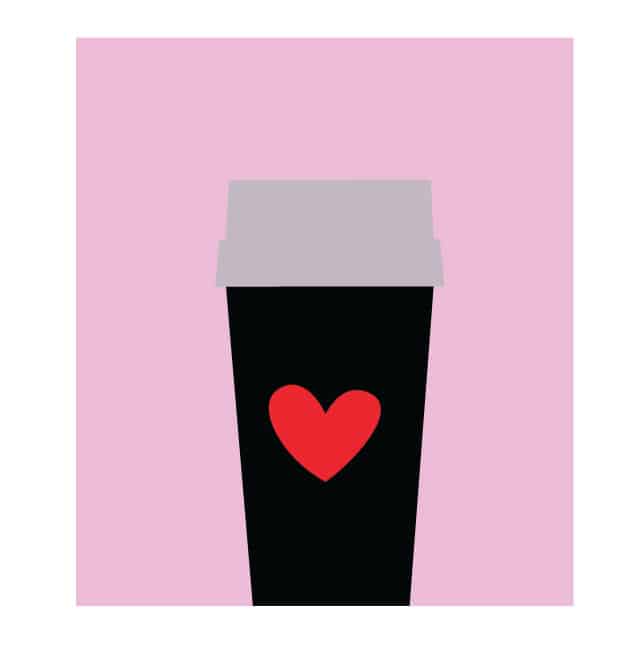 To add a heart, use quilt appliqué heat n bond or interfacing to back the heart fabric. Run it through the machine using this heart project! Peel off the backing of the heart fabric and iron it on! Use an appliqué stitch to topstitch the heart.
Give the whole block a good press! This is what the back will look like. And BAM – you're a quilter!!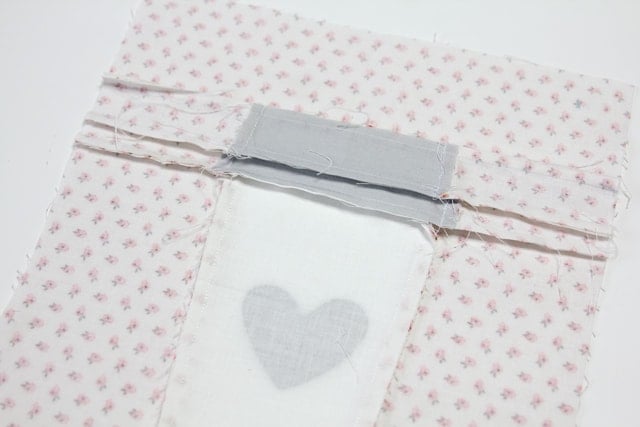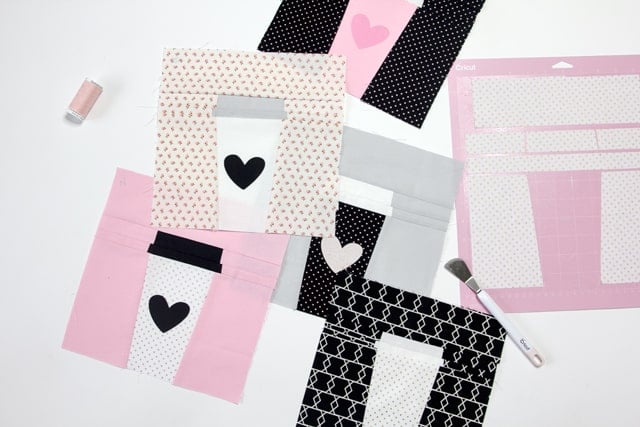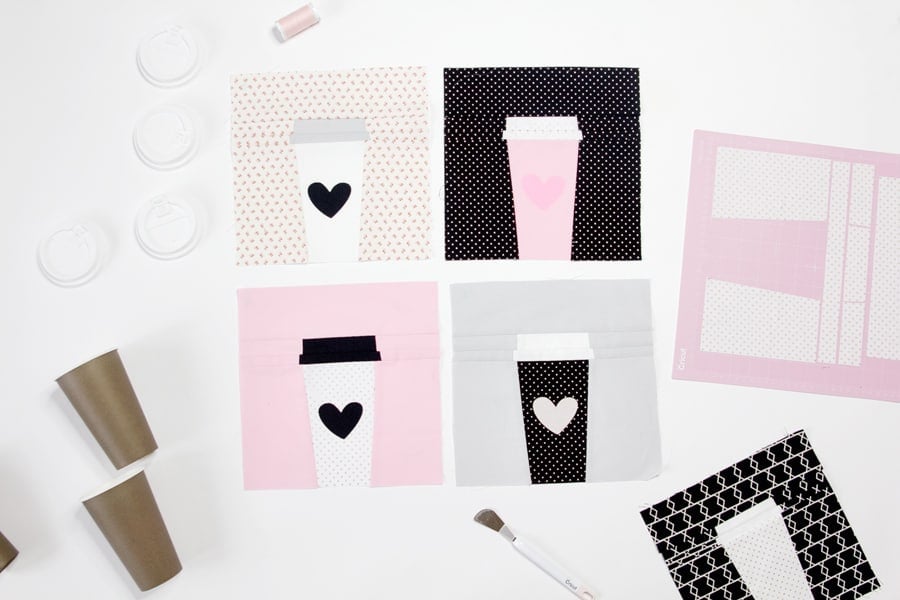 This is a sponsored conversation written by me on behalf of Cricut. The opinions and text are all mine.
SaveSave